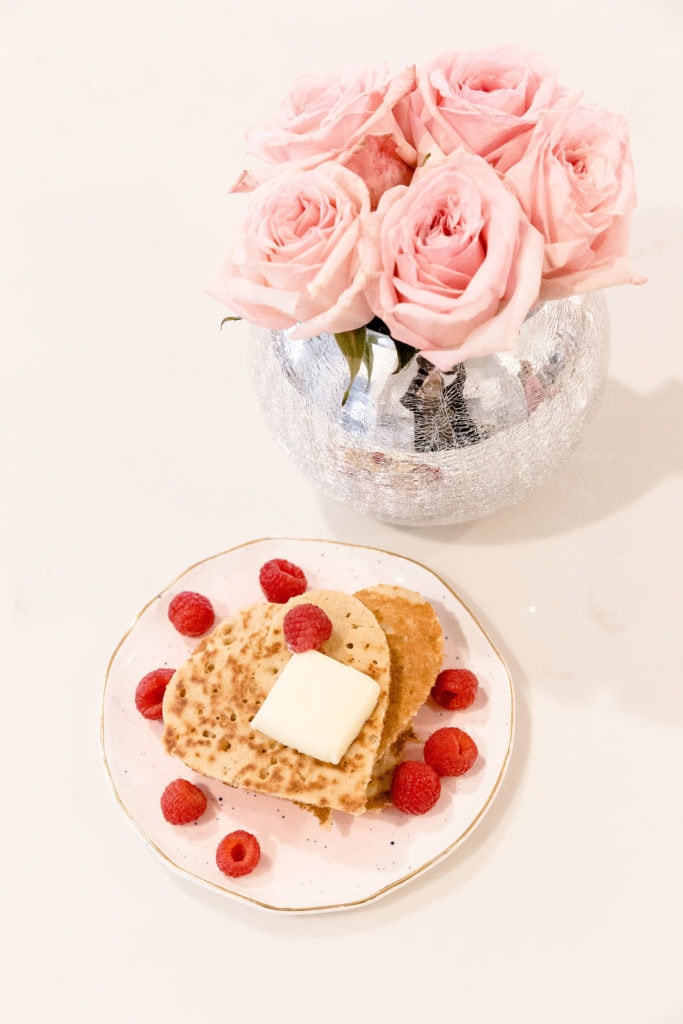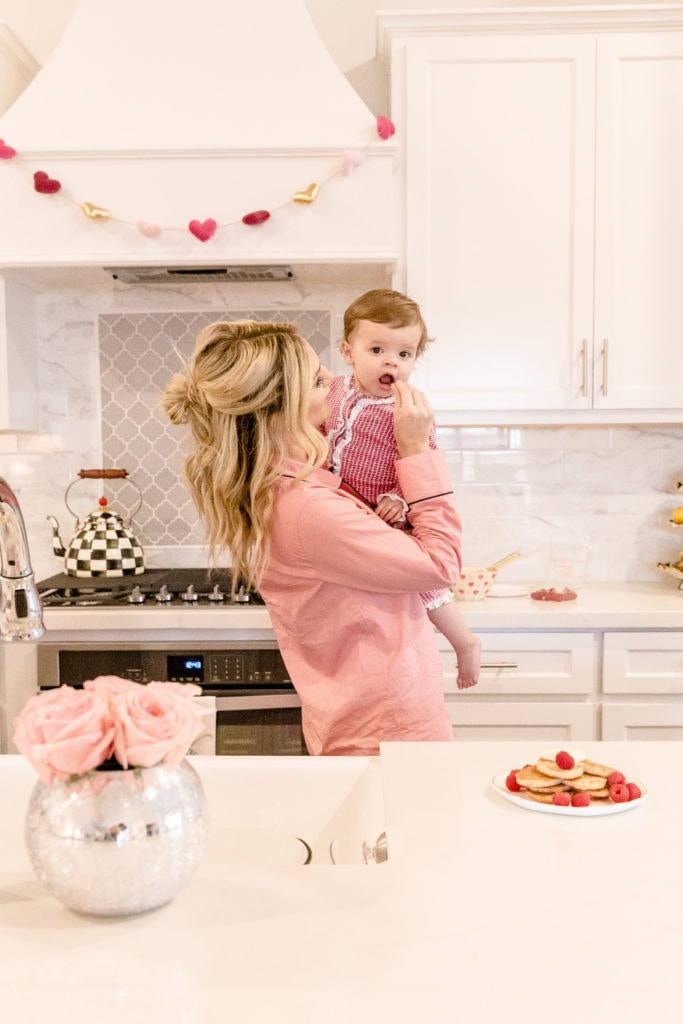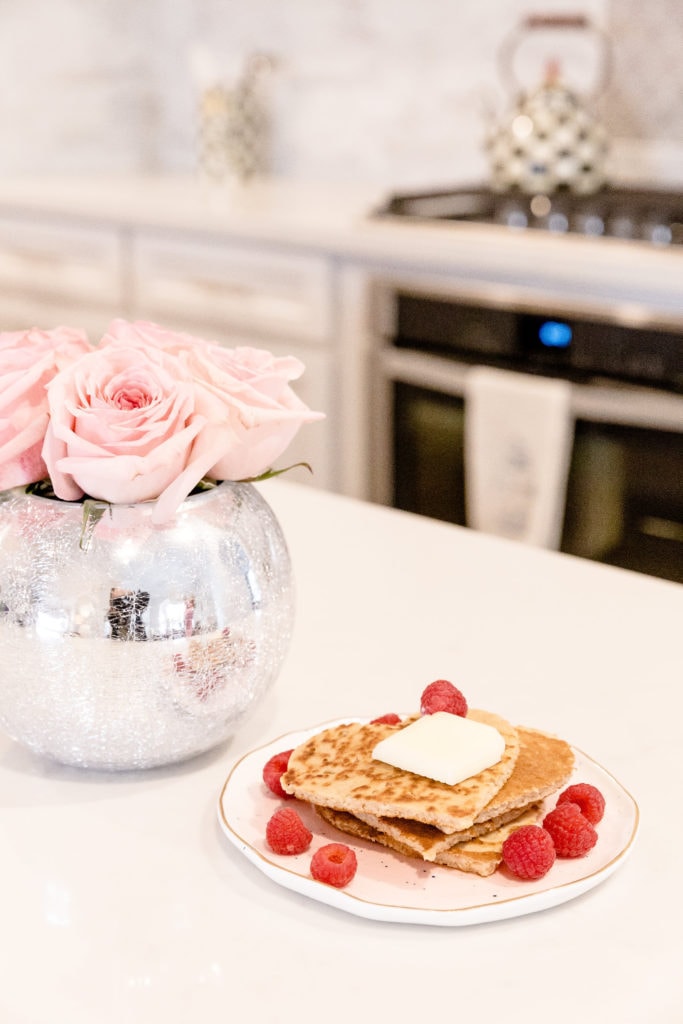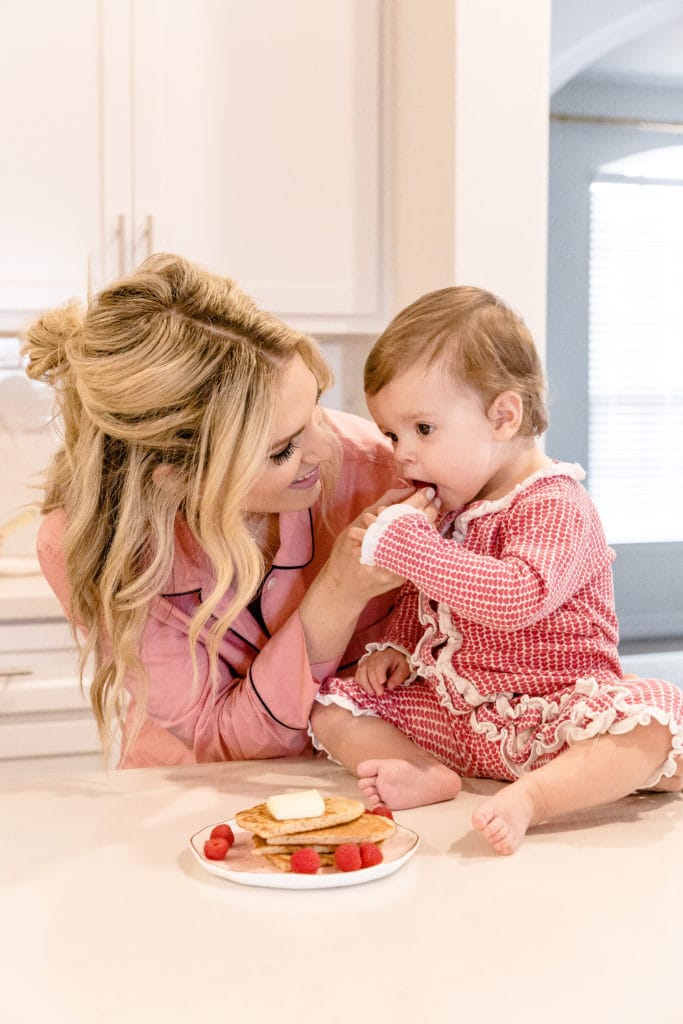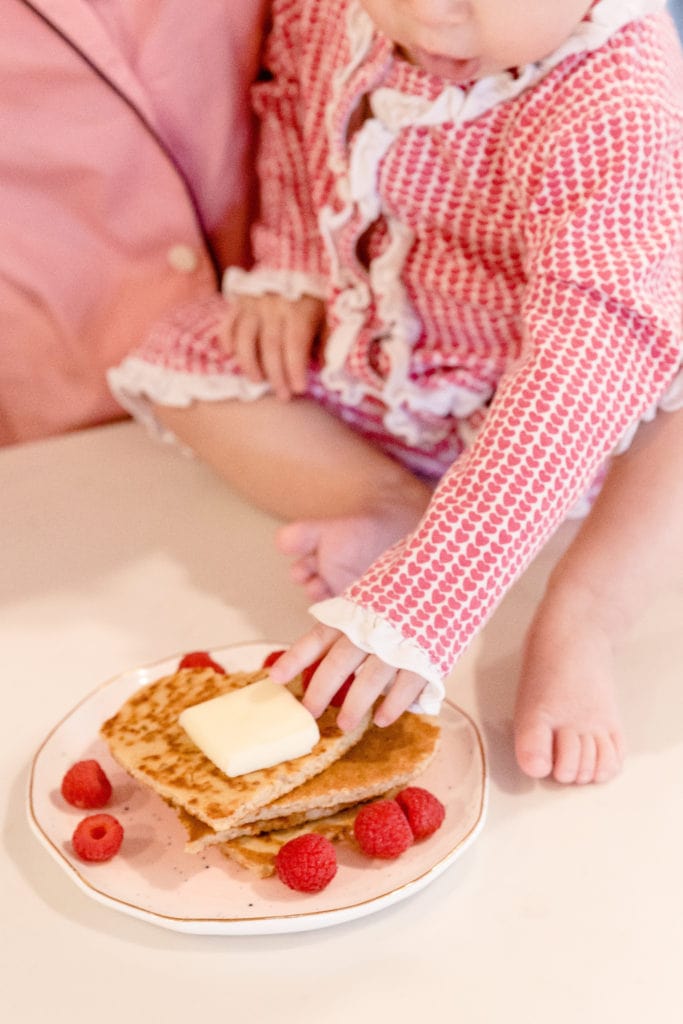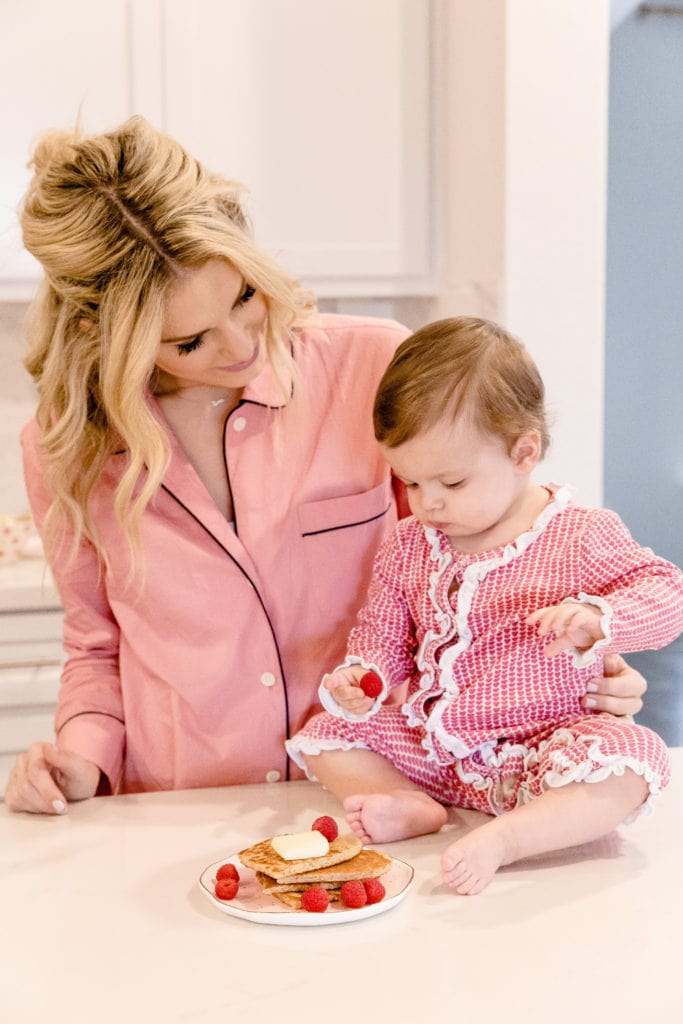 Pajamas: J.Crew, Similar | Plates: Anthropologie [old] | Pancake Mix: Kodiak | Granola: Purely Elizabeth
Photography by: Madison Katlin
---
Happy love day! I'm far too obsessed with Valentine's Day and now having a daughter, I feel like I get to go even more over the top with it. I have a little gift with books for her and can't wait to celebrate with Paul this evening. We are keeping things quite simple and I'm just going to be making a recipe I found off Pinterest [please let it turn out well!] and we'll just relax. However, we are going to go on a proper date this weekend. My birthday is in two weeks, but I have to turn around the day after and hop on a plane for work, so we decided to just celebrate both occasions at once. Does that mean double dessert?!
Speaking of meals, I have to share what I'll make this morning for my little Valentine! About a month or so ago we picked up this protein mix at Target. I'm not a pancake person [at all] so when Paul threw them in the cart I thought, "Those will never get eaten." I just bit my tongue and didn't say anything. Fast forward to a week later, Paul got the mix out and started to make them for us. He handed me one and I thought I'd just do what I always did, take a bite and move it around on the plate as to not hurt his feelings. He's been making me pancakes since we started dating and we laugh about it because I seriously do not like pancakes at all, and he ALWAYS forgets. I would never in a million years order them. What happened next? I ate 3.
These are fabulous. They are called Kodiak Cakes and we get them at Target. They come in a ton of different flavors and options for waffles or muffins. The protein-packed flavor is what I always get for us now. We make big batches on the weekends and I eat them plain for a snack throughout the week, or I toss almond butter on them for breakfast. Maxi is obsessed with these, too. So while a bit random of a post, I had to share these so you can try them on your next grocery run. I can't harp enough about these, and I'm not sure what makes them so great. They aren't overly sweet and the texture is phenomenal. We make ours pretty thin and they just melt in your mouth. It's been a really easy way to keep a healthy snack on hand for me around the house.
And while we are on the topic of food, y'all have to try this granola. I'm also not a granola person. I mean the thought of it makes me nauseated. [Can you sense a trend here? I'm a bit opinionated on food.] So it's truly beyond me while I picked this up at Central Market one day. I was intrigued that it was filled with probiotics and y'all know I'm low-key obsessed with probiotics. I'm hooked! Honestly, it tastes like crisp cookies. I could eat an entire bag, but I have to resist. I was trying to be better this month about sugar, and so this is what I've been doing. When I want something like an entire cake [lol!] I just have a few bites of this. It's made with coconut oil and coconut sugar so it's definitely the lesser of two evils. A serving only has 6 grams of sugar, which obviously isn't  perfect but a coke has 39 grams of sugar- so it's a step in the right direction! Plus, I find that just a few bits of this granola [less than a serving] in my greek yogurt does the trick of fighting that sweet tooth. I know this sounds silly, but I'm telling y'all, my sweet tooth is just beyond since I was pregnant. If you took my entire fridge and pantry from me but left me with Peanut Butter and Hershey's Kisses, I'd say, "Fine by me!" so the fact a little bit of this granola cuts my sweet tooth speaks volumes. Purely Elizabeth has a lot more flavors, so I'll grab a few more bags on my next grocery run.
Do you have any fun plans for Valentine's Day and you must spill, what's your recent favorite grocery find?!