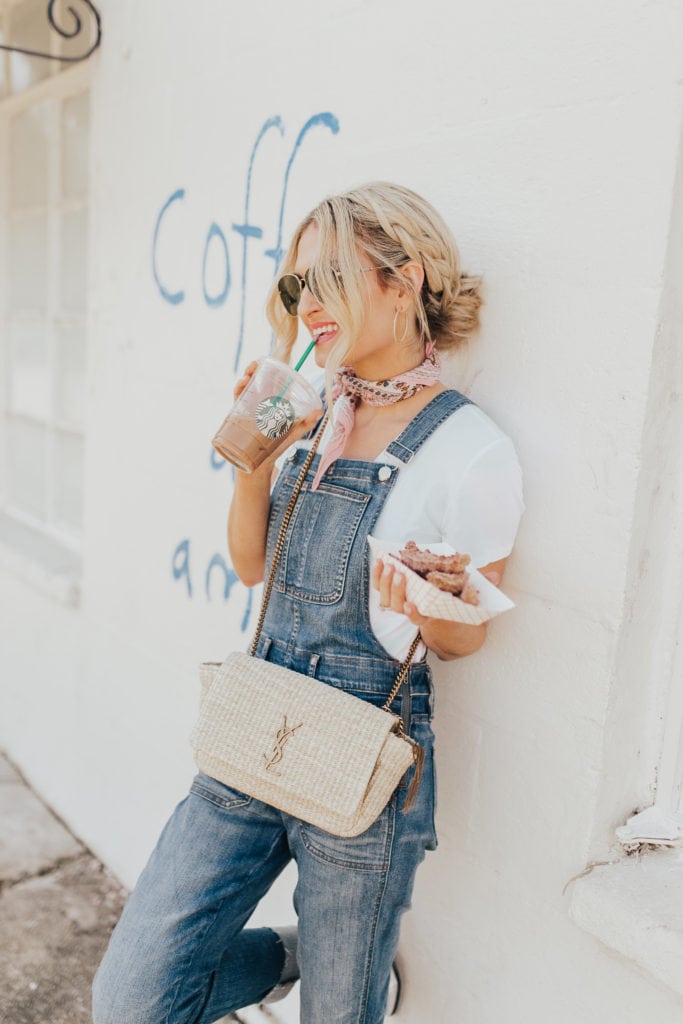 Overalls: Madewell [wearing size small] | Tee: Halogen [go down a size] | Bandana: Madewell | Flats: Sam Edelman [c/o] | Bag: YSL {old}, Similar | Sunglasses: Burberry | Lipstick: Infatuation
Photography by: Angie Garcia
---
Well if this wasn't the best blog shoot in my life, I don't know what is or ever will be. I got to wear overalls, eat churros and sip iced coffee. Is this what the gates of heaven are like?
I've had my eye on overalls for a few years. I even have a mirror selfie I took in a Madewell dressing room on my phone circa 2015. I felt a little self conscious and wondered if I'd feel like my 4th-grade self running around town.
But I took Maxi shopping one evening a few weeks ago and we were in the Madewell dressing room, Maxi finished her Cheerios and she was done. Over it. Ready to leave. Giving me the face of, "Mom could you not?"
I felt flustered as many first-time moms do, and I'm trying to get my jeans back on and grabbing the overalls. The sales associate can probably hear my struggle and goes, "Need any help?"
I handed her the overalls and said, "I'll take them."
Guilt purchasing via my daughter.
We leave the store. She's thrilled again [always happens that way doesn't it?!] and I start to think, "Okay am I even going to wear these?"
Thanks be to my daughter for being borderline tantrum, these are one of the best purchases I've made all month. It feels like an upgraded version of my 4th-grade style and I love them. For me, the key is a fun hairstyle so it shows I'm being playful.
Have you tried the overall trend?