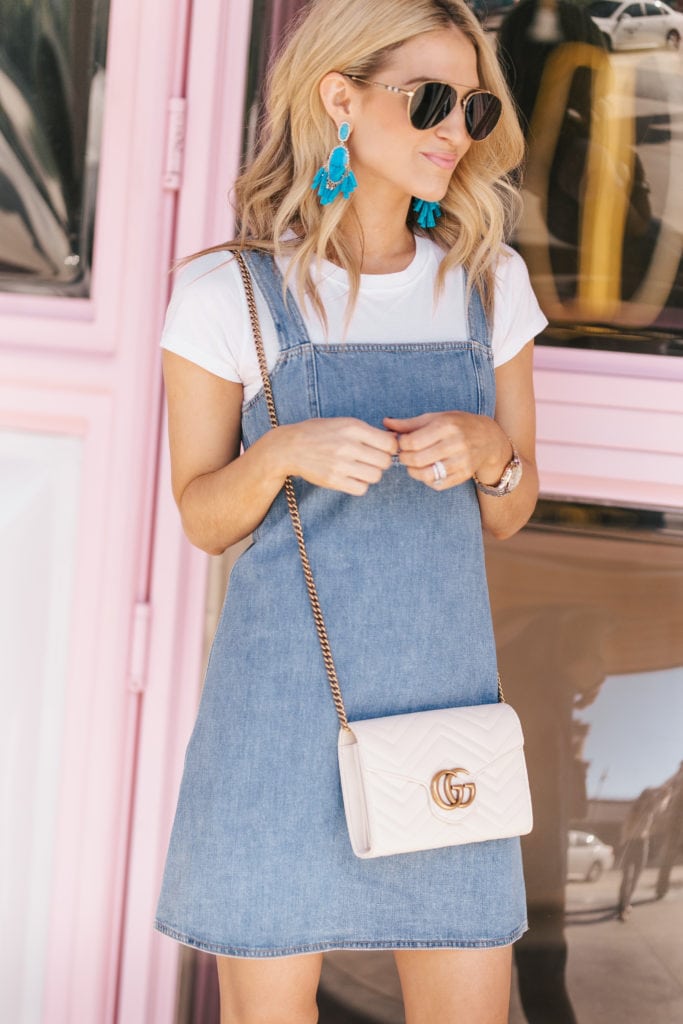 Cristina Earrings | Kristen Earrings | Betsy Necklace | Angela Bracelet | Denim Dress [wearing xs, but if full chested go up one size!] | Tee [size down] | Espadrilles, Similar | Bag, Similar | Sunglasses | Lipstick: Snob, Clarins Gloss [Shade: 01]
---
I don't know if you know this or not, but when I like something I really wear it. Take, for instance, this floral sundress. I purchased it two weeks ago [thank you to my Meme for my birthday gift card!] and I've worn it five times since then. FIVE.
Some may call that me outfit repeater, I mean you probably don't want to see this dress again on Insta Stories, no? Ultimately, you SHOULD wear what you love and get your money's worth! I keep about five outfits always hung up in my closet where I can quickly grab them and not have to think too quickly.
Last week I thought I could sit in my closet and really "think" through a look, and my child took my concealer and painted the floors. Needless to say, I do excessively wear an article of clothing if I know it fits me well and makes me happy. So how do you mix it up and still feel creative with your looks? You pick a seasonal statement.
For spring, we talked about the Diane Earring, so I'm here today to talk about Kendra Scott summer. I've been to Kendra Scott 3 times this week [thank you to the Clearfork shop girls for being so sweet while Maxi dropped Goldfish everywhere!] as I had birthday gifts to buy. With all that browsing, I pulled my favorite summer selects to style for you today.
Hands down, my favorite pick is the Cristina Earring. They remind me of the Kakis I wore on my wedding day, just sassier and of course, more casual. I went with Aqua Howlite hue as I love those shades for summer. I also got the same shade in the Betsy Necklace, which is adjustable! I love long necklaces, though, as they lengthen you. I'm 5'3″ and take all the help I can get.
However, if you like something a little smaller, the Kristen gives you the look of the Cristina without the size. I have those in Pink Unbanded Agate and Aqua Howlite. And if you're looking for a fab little birthday gift, I like the Angela Adjustable Bracelet. It can be layered or worn alone for a chic look.
You'll, of course, see these pieces on the blog again to get some more outfit ideas, but I paired them with denim and white so you could get an idea for how much they dress up a look. If you're going to repeat looks like I do, you want to make sure you can repeat your summer statements with them as well. We all know when it's August and 100 degrees we live in white tees and denim shorts!
Which option is your favorite?! See you tomorrow for a fun beauty post, I'll be sharing makeup products that act as amazing primers.
In partnership as a brand ambassador for Kendra Scott. Imagery by Angie Garcia. All opinions are my own!