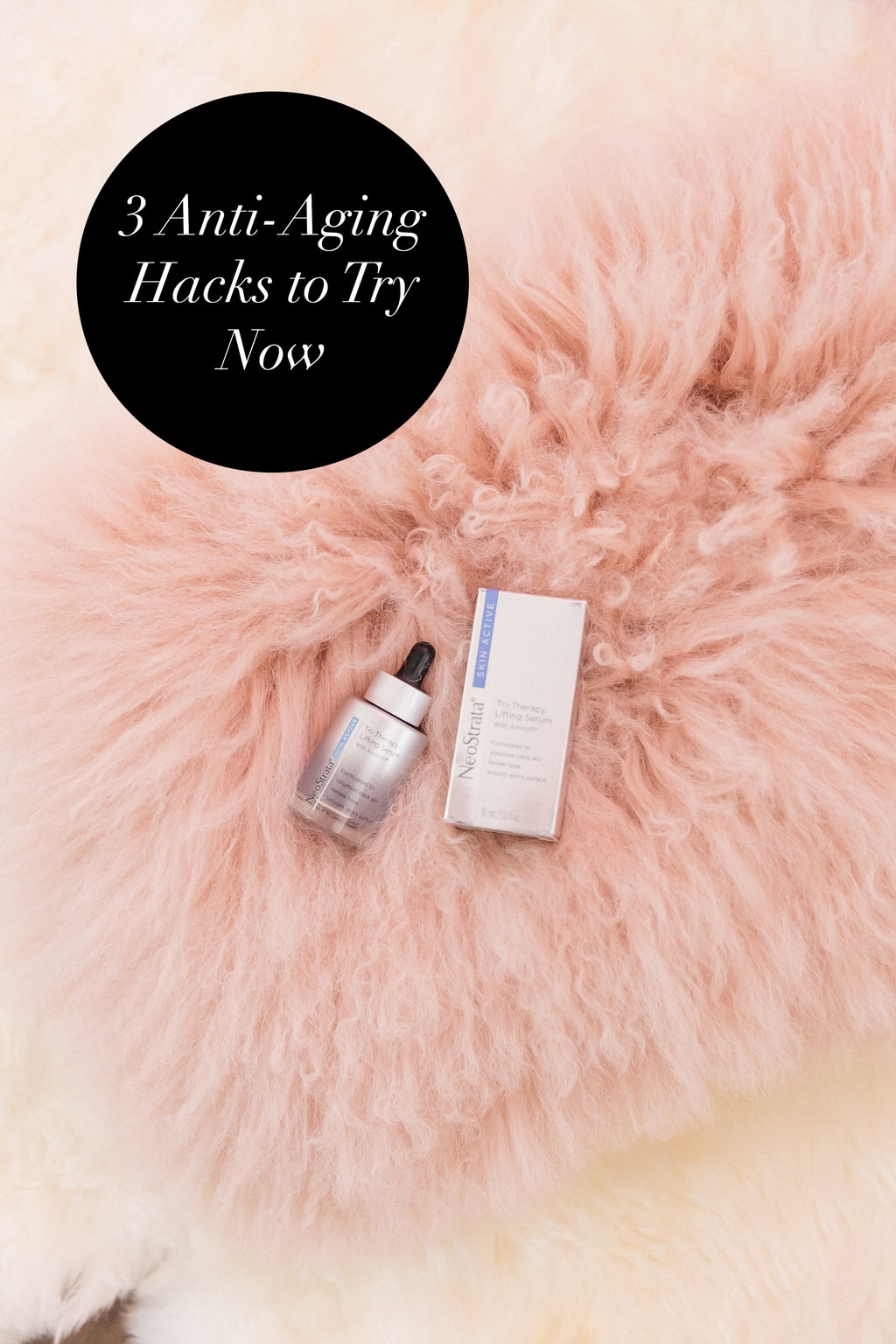 I'm all for looking your age- I mean aging is a privilege denied to so many! It's a blessing! But I'm also anti unnecessary aging. I don't know about you, but I've made quite a few mistakes that will age my skin. *Cough.* Tanning bed before prom. *Cough.* It seriously drives me nuts that I ever did such a thing when I know better now. I'm in my twenties and I joke that your twenties are fun because you either wake up with a blemish or a fine line, you just never know. 😉 So even if you are young, there are fabulous practices you can incorporate that will help repair past mistakes and protect the future of your skin.
Or maybe you just had a birthday and think, "You know, I want to do something to feel a little more vibrant and youthful- a little more me."
Today I'm sharing 3 anti-aging hacks you can try now! It doesn't matter what life stage you are at, these are incredibly easy steps to incorporate into your routine. Let's get to it!
3 Anti-Aging Hacks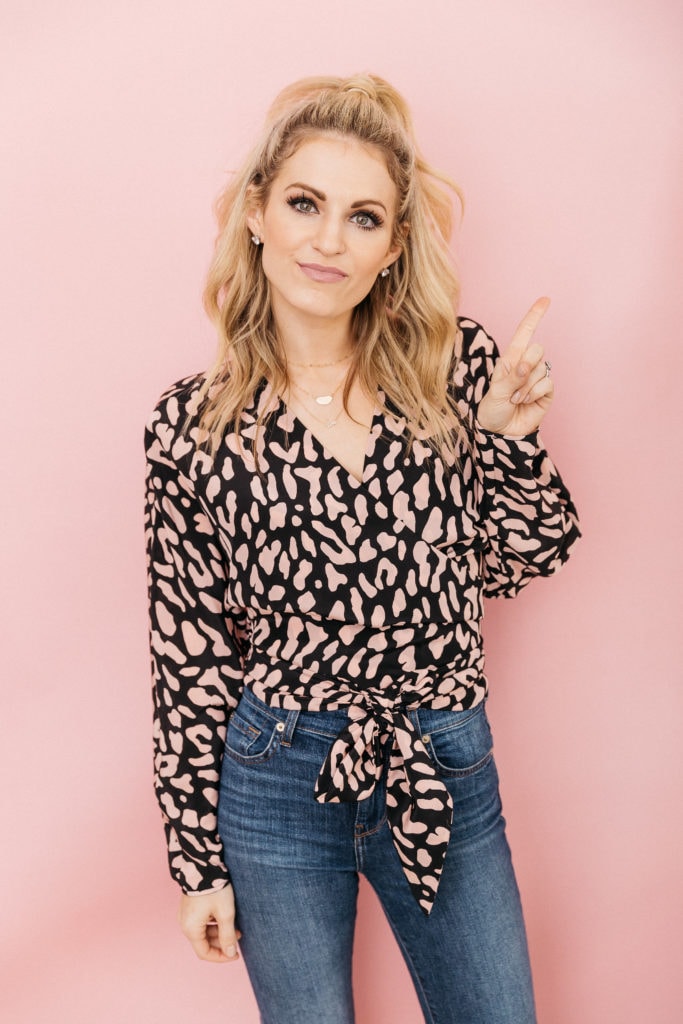 1. Lift Your Hair
A youthful look is all about being bright-eyed and lifted. Get your hair out of your face and lift it up! I love my half-pony and if that isn't your personal style, tease and do a high ponytail à la Blake Lively. If you have shorter hair, tease at the crown and pull some bangs behind your ear. By pulling hair back you automatically draw attention to your eyes, and away from anything you may be self-conscious about.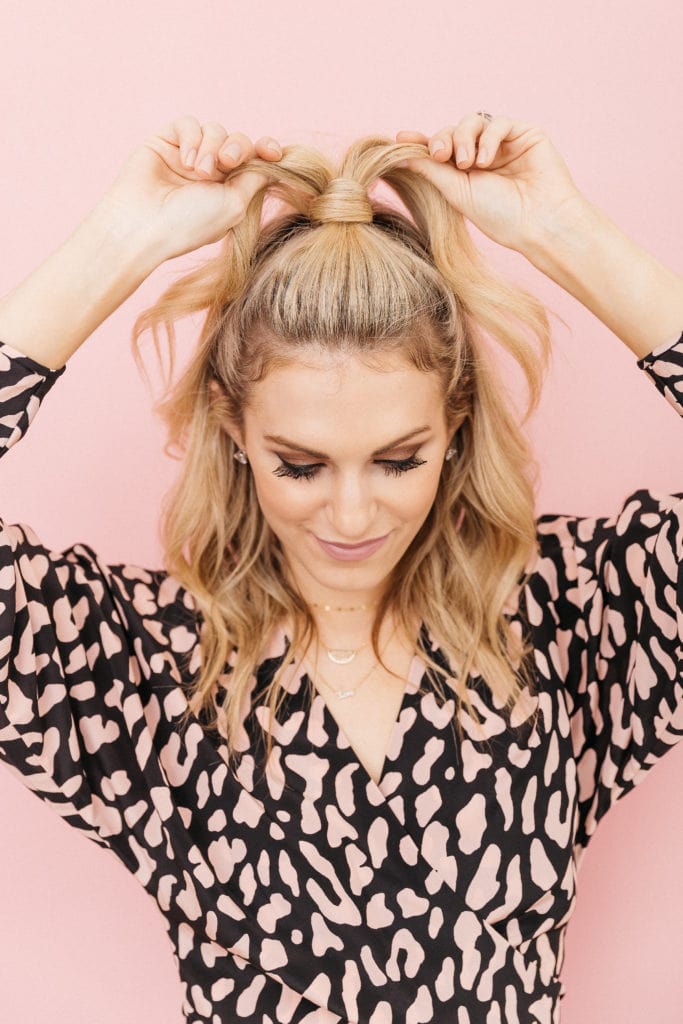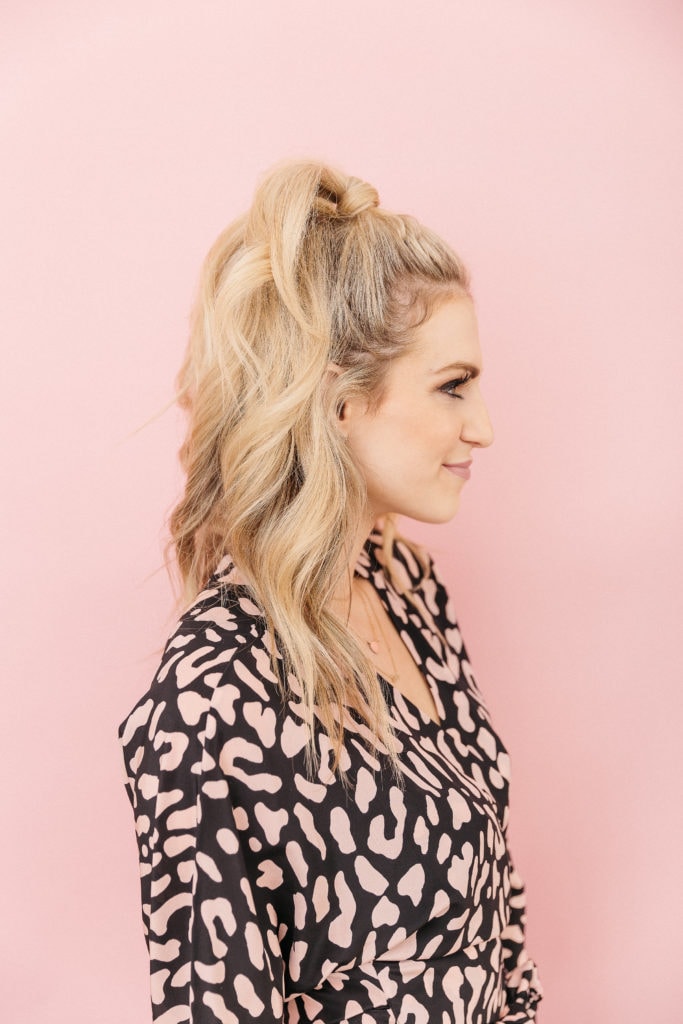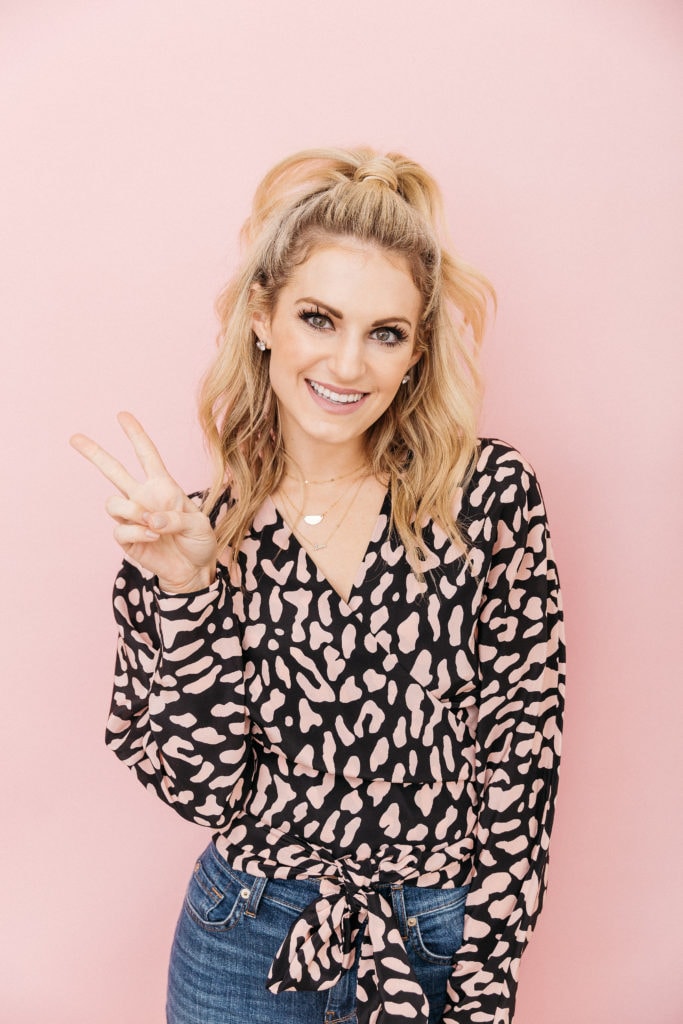 2. Makeup Application
This is something you can do daily to be strategic about your skin! You want to think of your skin like silk, anything you do to irritate it will show. For example, if you are applying your contour "down" your skin will look like it is sloping down. That's going to make you look TIRED- a look all of us are trying to avoid. I hate being told, "You look tired" because I feel people think I'm not interested in being around them and would rather be home sleeping. That's not the vibe I want to give off! From your foundation to your blush, you want to apply in an "upwards" motion. If in doubt, apply up to your temples and then forehead.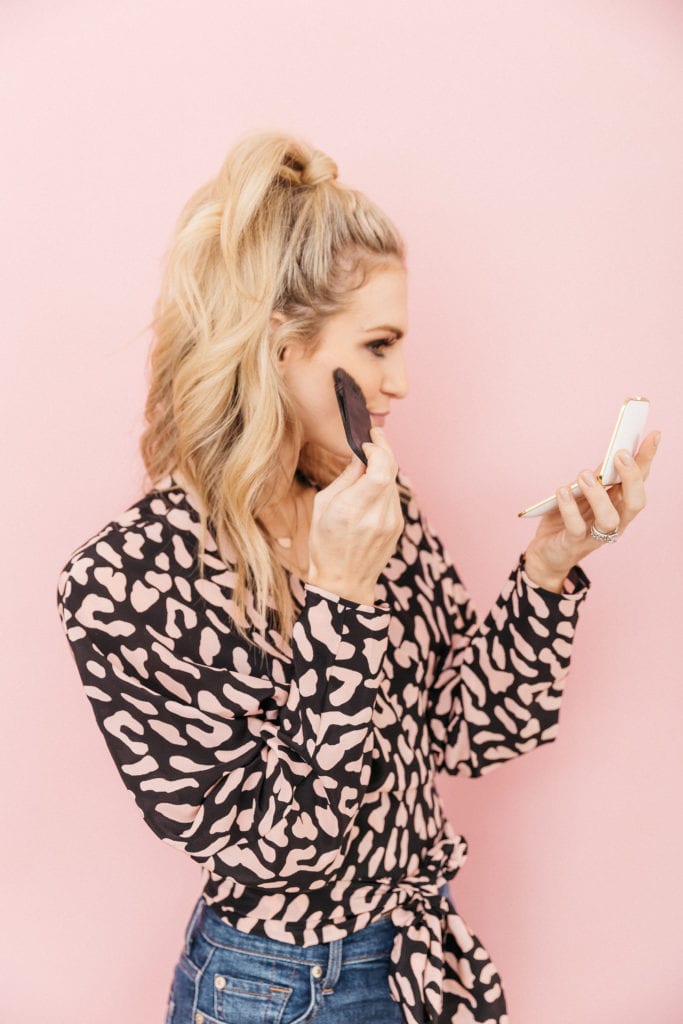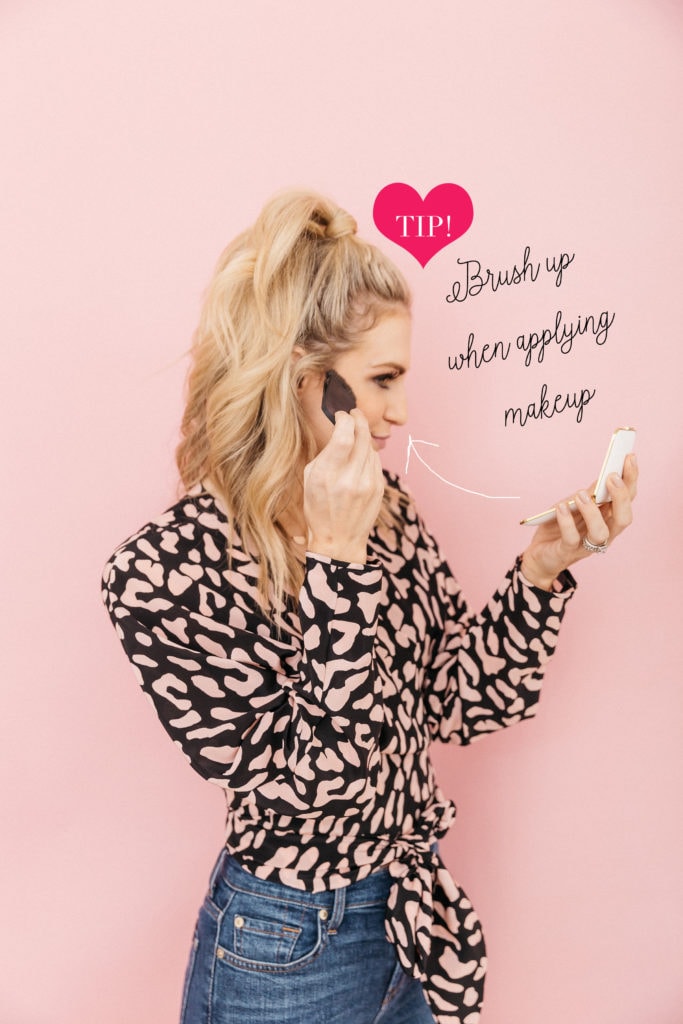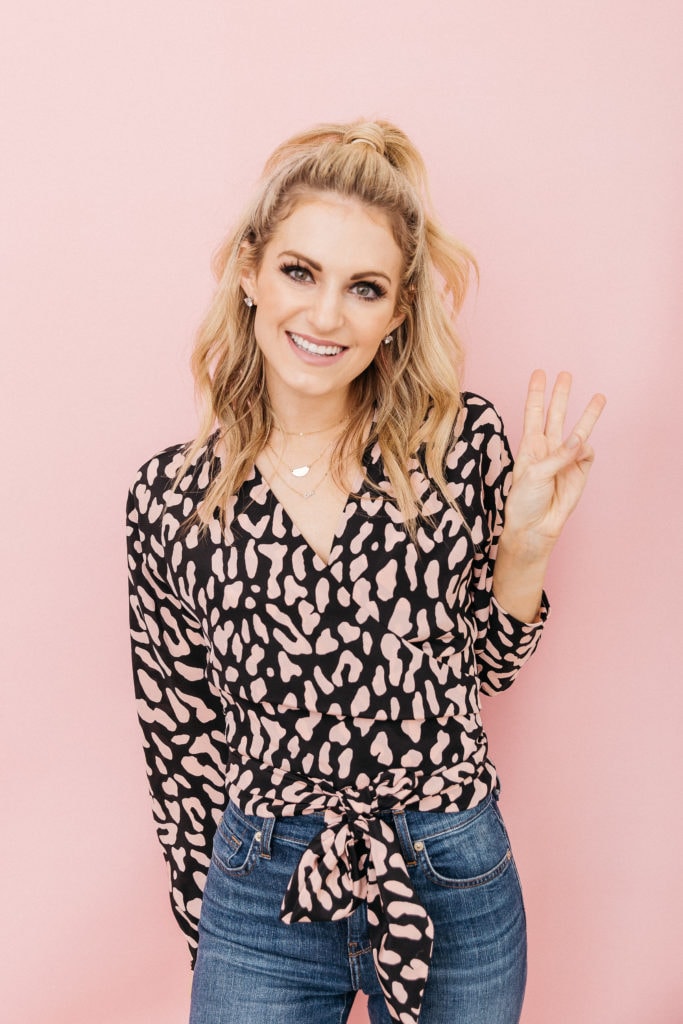 3. Apply a Lifting Serum
Y'all know my belief about serums, they are like vitamins and you should purchase according to your needs! Back in February, my friend Diana and I were watching this blogger talk about lifting serums. I was very intrigued because I'd never heard of such. To my surprise, I found they were all the rage because instead of being a serum you may "only use in your fourties" or "only use in your twenties" they are good because they fit needs across the board. I went down the internet black hole and found Neostrata SKIN ACTIVE Tri-Therapy Lifting Serum. This serum has a triple-factor where it volumizes skin [think of a lip plumper, but for skin], smoothes skin [reduces the appearance of fine lines], improves tone [helps with clarity in skin]. You've probably seen this serum on my Insta Stories over the past few weeks. It's a new product and the reason I wanted to test it to collaborate was the fact that I saw a 12-week study where 97% of subjects said the appearance of their fine lines were reduced after using this. SIGN. ME. UP. While I am in my twenties, I do have fine lines. I was looking in the mirror and seeing a new one pop up each day, I didn't want to ignore anything I could be doing for the future.

This serum is alcohol-free, oil-free, paraben-free and unscented. I apply it after my beauty essence and before my moisturizer in the evenings. You can 100% apply morning and night as well, but build up to that. I've used this for a little over a month, so I just use once a day. My personal favorite thing about this product is that I find it to really fill the lines I see around my mouth that I would normally need microneedling for. Now you do NOT want to use this product after microneedling, it's powerful so only use on skin that is healed. Just like my makeup I apply this in upward motions. I really love to apply this with my jade roller because that helps inflammation and this serum is moisturizing enough to not cause too much friction. But if you are in your twenties, this is good because it doesn't cause me to break out whereas a lot of anti-aging products can be so heavy they do result in an unwanted blemish or two.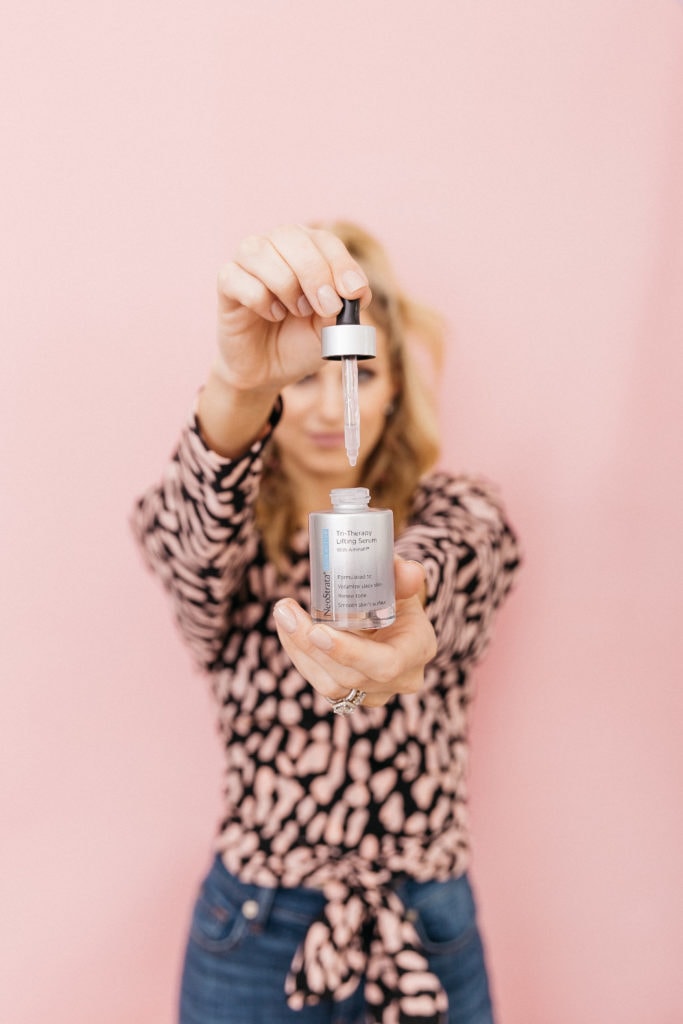 So drink your water, attempt to remove one thing that causes stress and try one of these hacks this week. Let me know what you and your skin think. 😉 I hope you all are having a wonderful week! See you back here tomorrow for my spring to summer lookbook!

In collaboration with Neostrata. All opinions are my own. | About the brand.