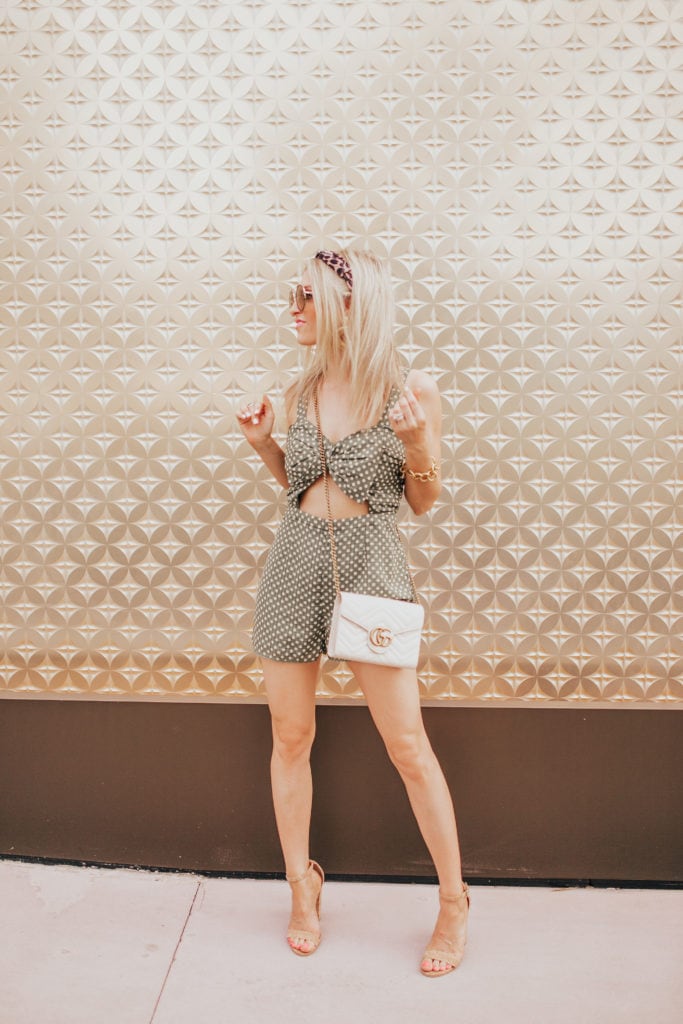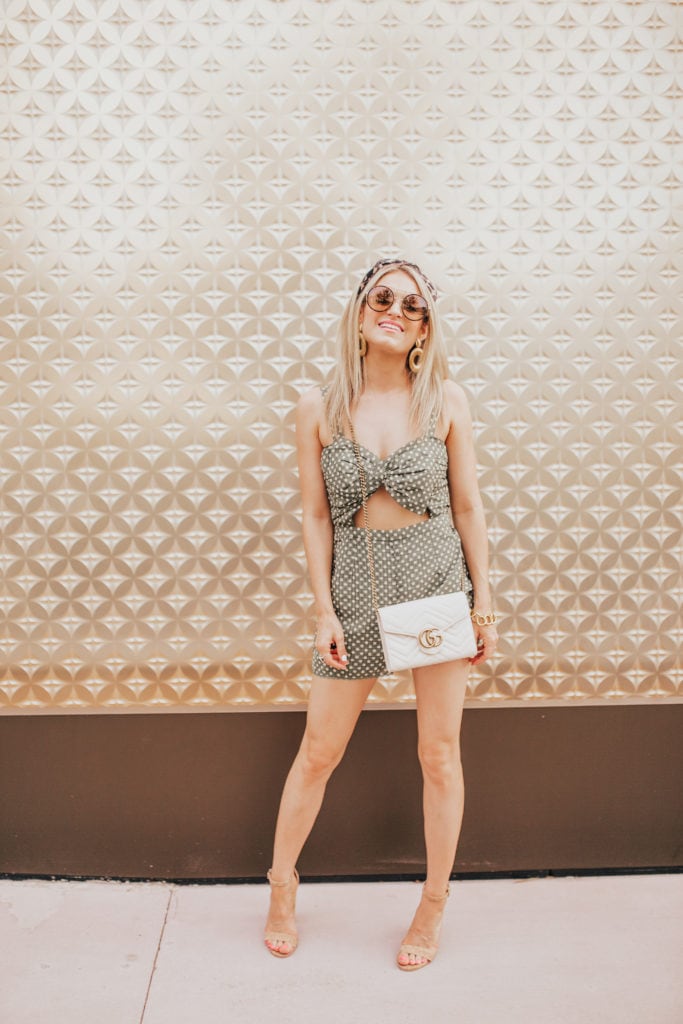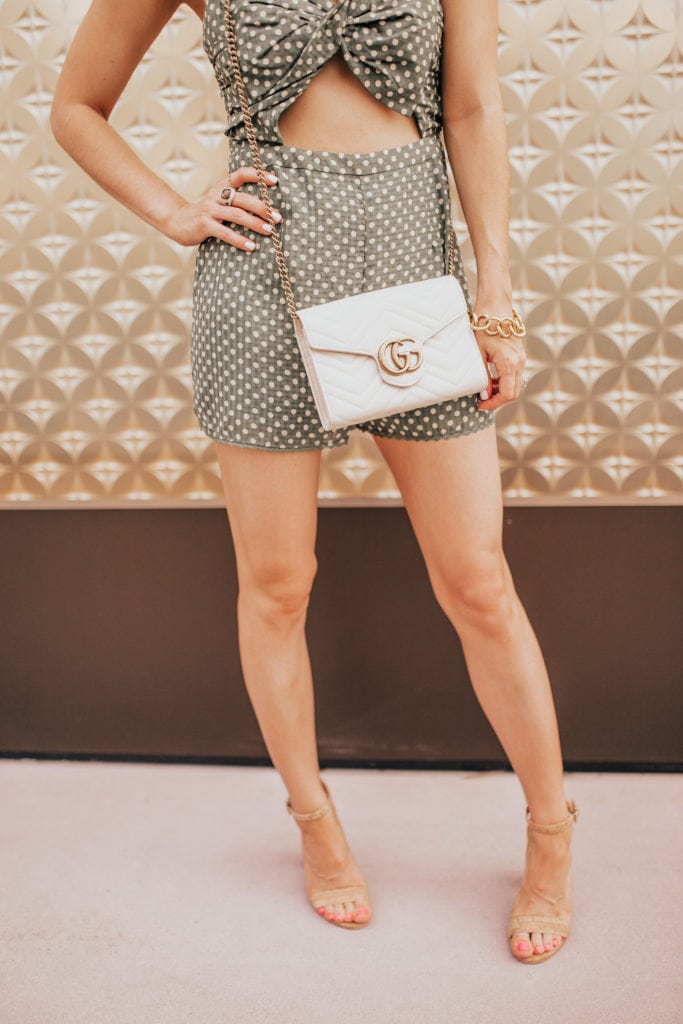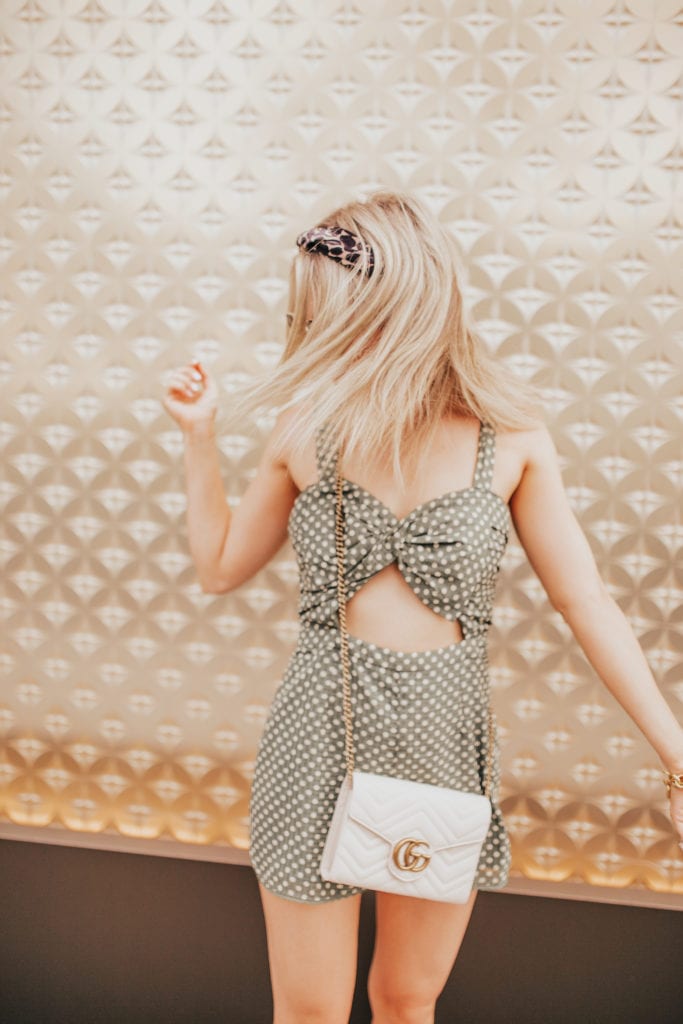 I was a little nervous when I clicked "Add to Cart" on this romper. I mean it is far flirtier than something I normally wear, but it seemed like the perfect vacation number! When it came in the mail, I was shocked at how much I actually liked it. I mean…I loved it! The color seemed transitional enough to be worn spring, summer, and fall. The polka dots were such a cute print. It was incredibly comfortable. I originally purchased this for Nashville and felt like it was such a good piece for beach vacations, concerts in 100+ degrees, and summer date nights.
I wore this one day on our trip when we were just strolling through shops and restaurants and I can attest it holds up to some heat! We ate at bartaco outside at 4 p.m. in a crisp 94 degrees and I felt fine. So if you have any warmer vacations coming up or live in a humid climate, try something like this.
Tularosa is definitely one of my favorite "vacation" brands, but they also have some fabulous options for fall, as well. Hello, shag coat.
Now let's discuss this headband situation. $9.99 at Target- thank you very much! I originally got it thinking it would be great for ponytails, but I really loved it with straight hair for a sleeker look.
Even if you don't have a vacation coming up, a date night would be the perfect excuse to wear this find. Do you have any date-nights on your wishlist? We always keep a "Date Night Wishlist" on our phones in the notes section. Here's what we have right now:
See A Simple Favor
See A Star is Born
Eat at "The Grape"
Coffee Date at the new Craftwork
We are a little boring, no?! 😉
But, I'm trying to come up with a good date soon for our anniversary. I actually have to have my third sinus surgery on our anniversary this month. Very romantic, I know. I had sinus surgery at 12 and then around 15 and have to have it again. Thank you to my father for these fabulous genetics. He had to have 3 sinus surgeries due to some bone spur issues and I guess I do, too. I've put it off since Maxi was around 4 months, but at this point, I just can't take another round antibiotics. Isn't this so lovely to talk about on your Tuesday morning?! So anyway, I must come up with a great idea ASAP as we'll celebrate early. Any new spots you love in Dallas or Fort Worth?!
Target finds. Flirty rompers. Sinuses. I mean WHAT MORE could a girl want from a blog post today?! haha.
Chat soon!