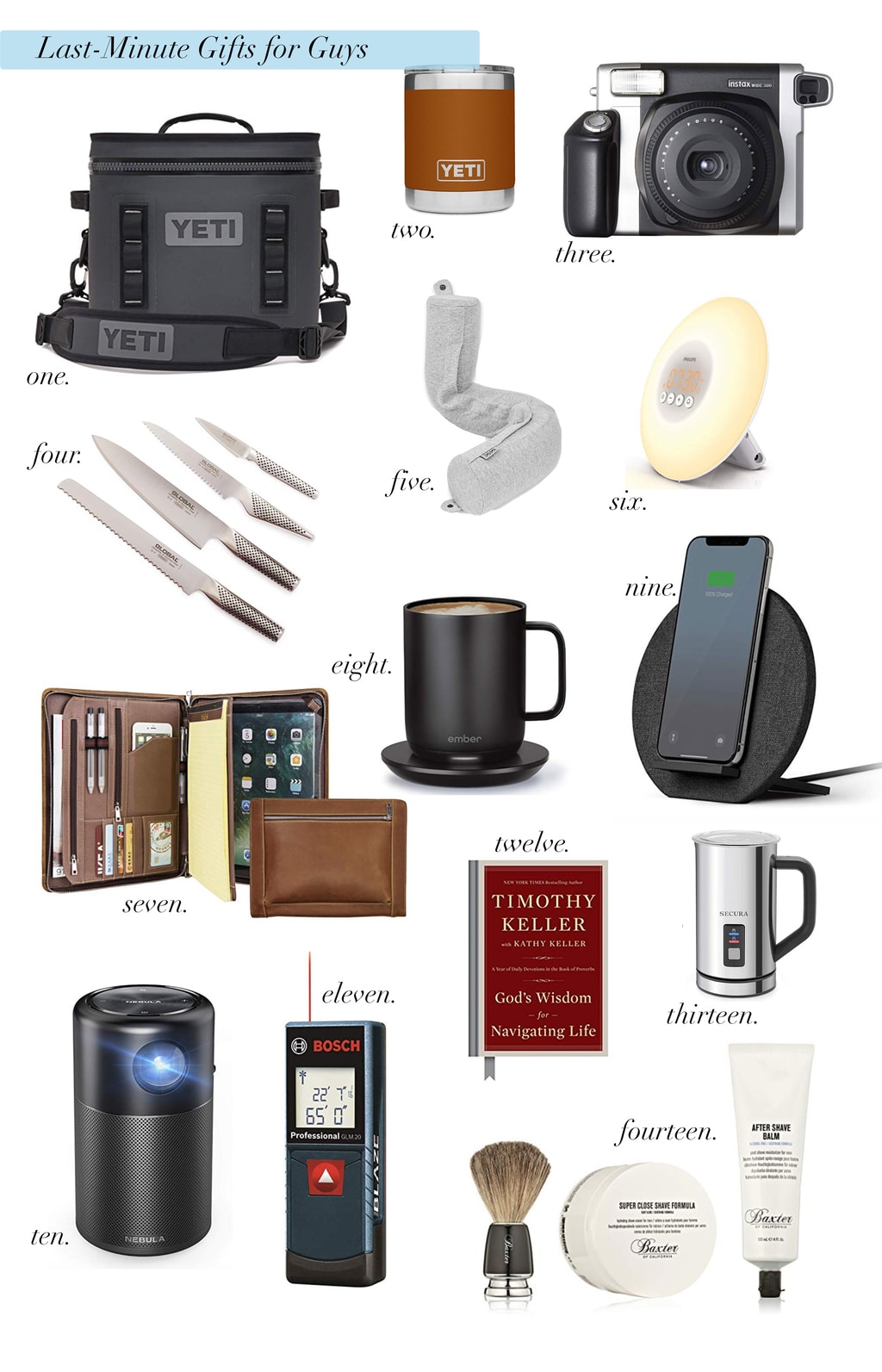 one | two | three | four | five | six | seven | eight | nine | ten | eleven | twelve | thirteen | fourteen
One of my most-requested gift guides is for the guys, but today, I'm also talking to my last-minute shoppers. If you haven't started, feel torn on what to get, or can't decide if you should run to the mall this week, this post is for you, girlfriend. With fourteen gifts you'll get in time for Christmas from Amazon, you can stress a little less.
Yeti Portable Cooler. We first got this a few years back when I was needing to travel with breastmilk, and we use it ALL the time. From tailgates to trips, this goes in our car and fits in the back easily, unlike a traditional Yeti cooler.
Yeti Rambler. Whether your guy prefers a hot drink or cold, this Yeti Rambler is a must-have stocking stuffer that he'll take to the office each and every day.
Instant Camera. Is your guy a new dad? This Fujifilm instant camera prints off photos a bit larger than polaroids immediately. Fill up your bulletin board, fridge, or family albums on Christmas day with his new gadget.
Knife Set. Repeat after me, if you want your guy to cook for you more, get him some tools. ha! I'm kidding. But I saw this knife set recommended by multiple magazines this fall as a great gift for the guy that loves to be in the kitchen.
Travel Pillow. If your guy travels for work quite often, grab him this travel pillow. Unlike a traditional travel pillow, this can be molded into whatever shape they need.
Sunrise Alarm. Paul has mentioned to me multiple times he wants this sunrise alarm to help wake up a little easier in the mornings. This is also a perfect Secret Santa gift or you could use it for a family gift exchange- I want to try it out!
Business Portfolio. Help them stay a little more organized in between meetings with this business portfolio. It can fit their iPad, legal pad, pens, and travel documents if they need to work on a flight.
Ember Coffee Mug. Got a guy that loves gadgets and his coffee? You can't go wrong with an ember mug. It keeps coffee the exact same temperature for 1.5 hours on a charge or ALL DAY while it stays on the charging coaster. If he's constantly getting up at work or to help with the kids, this allows his coffee to not have to be reheated. Even a Yeti mug of coffee can't last all day.
Wireless Charging Station. I can safely type this because Paul saw my gift guide last night and won't read it today. But I got him this charging station for his desk at work. His phone is always dying at work if he's in meetings all day and using it, so this allows him to prop it up on his desk, not plug it in, and still get a full charge. I've actually used one of these before at a friend's house and I can't tell you how much more convenient it is than a traditional charger.
Movie Projector. I think women typically have a hard time finding gifts for guys since many guys love experience gifts. Sure, we love to gift experiences, too. But sometimes you need to gift a physical gift if you have already gifted tickets, etc. This movie projector is one I think I'm going to get for Paul! Create the best summer memories by watching a movie in the backyard! You can hook this up to your iPhone and online games like wildfire wins slot at King Casino, Halo, or Need for Speed. I think Paul would have the best time "camping" in the backyard with Maxi with this! Such a great gift for a guy.
Laser Measure. This is a great stocking stuffer for the guy always doing stuff around the house as it lets you cut down on endless tape measures in your kitchen drawer.
Devotional Book. This is Paul's current daily devotional and he said it's a great gift to include on this guide! Grab a few as stocking stuffers for the family.
Thirteen. Paul is way more into creating the perfect cup of coffee than I am, and if your guy prides himself on the same, get him this milk frother. If you have a traditional coffee pot, this warmer allows you to make some fancy drinks for your morning commute.
Shave Kit. Baxer of California is a brand Paul loves for hair and shaving. It can be pricy, but his products from them last forever. I think men appreciate good products more than we realize, especially if they hate shaving!
While you are at it, don't miss my Amazon stocking stuffer post that includes plenty of options for your guy!
Is your Christmas shopping complete or are you just getting started?!