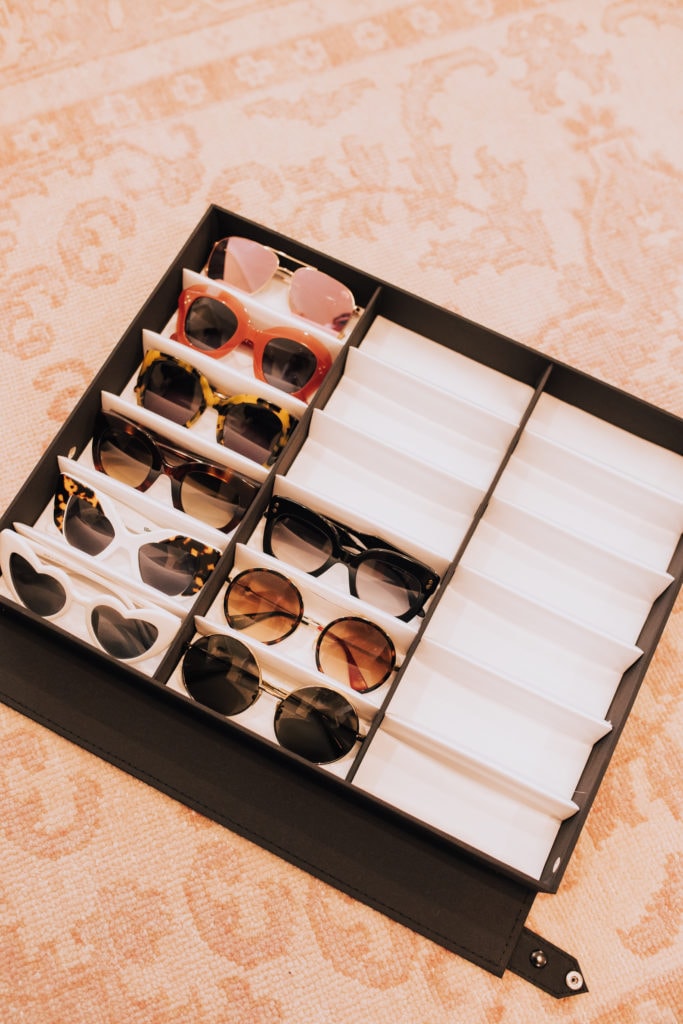 Left Row: one, two, three {black version}, four, five {same style, different color}, six
Middle Row: one, two, three {similar, same brand}
{from top to bottom}
You know how we all have those pesky areas we struggle to organize? Maybe it's your kids' crafts or the bottom of your work tote. For me, I can struggle with sunglass organization. I always get this weird paranoid feeling that my sunglasses are lost and I think it stems from them being in different totes and me not having a perfect set space. I've used smaller sunglass boxes to store them before, but as I've also started storing Maxi's sunglasses for her, I needed a larger space. Amazon to the rescue on this one!
I found this sunglass storage box on Amazon. It says mine sold out, but then underneath I found the exact same one so I am linking it here. You can set it up like a stand, lay it flat as I have pictured, or keep it closed in a drawer. I keep mine in my closet on a shelf that way I can quickly grab my sunglasses before going on a walk or running out the door. I love that there are 18 slots because you can also store your blue light glasses, your regular glasses, and your sunglasses in the same space. I linked a lot of my sunglasses featured above, but below I have some affordable ones for summer. I always like to grab more budget-friendly pieces to wear in the pool!
Aside from Amazon, Free People and glasses hut are also great resources for budget-friendly sunglasses. Here are some I love!

Shop the storage here.
What area do you struggle to organize?!