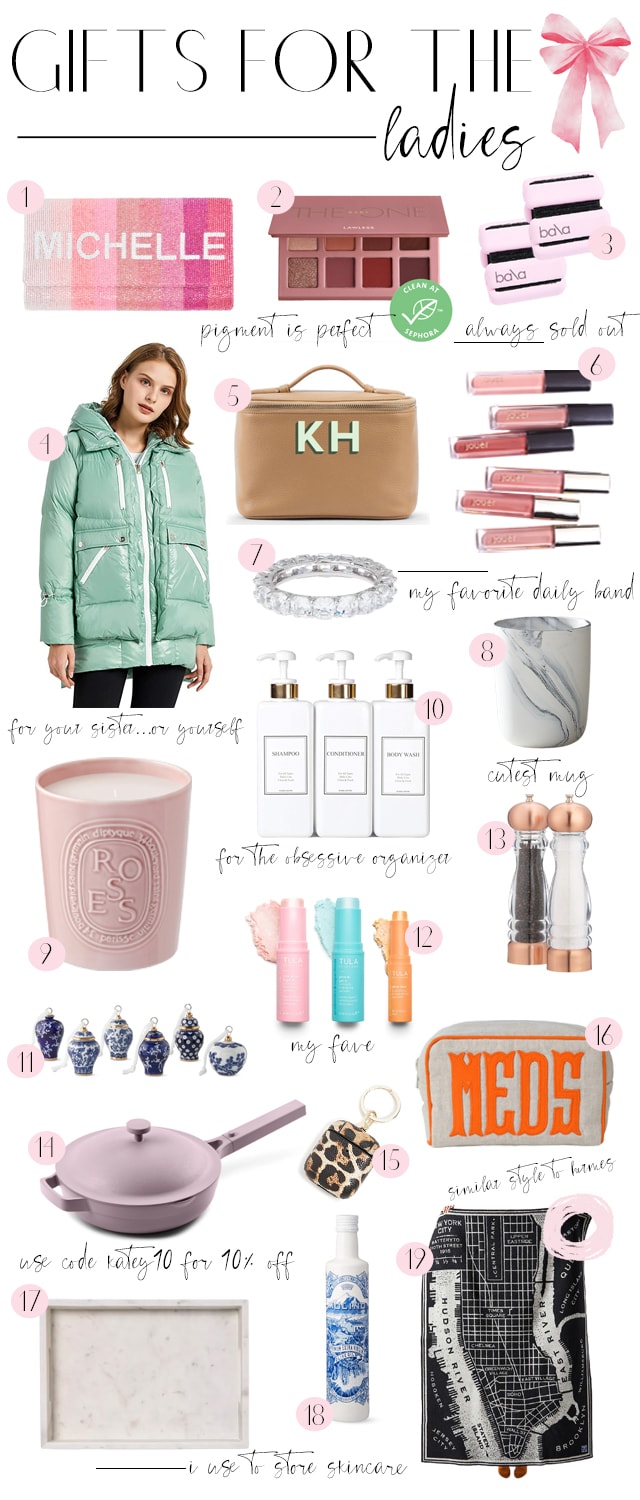 one | two | three | four | five | six | seven | eight | nine | ten | eleven | twelve {code KATEY for 15% off} | thirteen {pepper here} | fourteen | fifteen | sixteen | seventeen | eighteen | nineteen
While the news is understandably consuming our televisions, social media alerts, and attention, I have had many of you all say you need a happy distraction, if but for a 5-minute scroll on the blog! Maxi asked to decorate for Christmas last night, so I figured, "Yep! Let's bring a gift guide out." Brown paper packages tied up with strings is, of course, a few of everyone's favorite things. 😉
I'll be breaking up my gift guides this year for the ladies, gentlemen, and kids. Each guide will have options for all! Unsure of what to get your mother-in-law? What about these gorgeous blue and white ornaments?! For your mom, gift her an Our Place pan and use code KATEY10 for a discount. For your best friend obsessed with The Home Edit's show on Netflix? These bottles will make her bathroom products cohesive and this mug will chicly serve her caffeine fix while she organizes her products. If your husband needs a stocking stuffer idea for you, you CAN'T skip over this nude lip set. I have been using it on repeat lately and they don't dry out my lips and they last ALL day, even under a mask. You may want to go ahead and grab these weights as they sold out ALL quarantine long. I have them in pink and they give me a little pep in my step for my walks or at-home stretches. This chic bottle of olive oil sits on my counter and is such a thoughtful gift for a neighbor.
My top two recommendations from the guide? 
I originally ordered this everyday band for the end of my pregnancy. I was worried I would swell and need to take off my wedding ring. I have worn this DAILY since! I take my custom tanzanite engagement rings off to clean, cook, or go on walks. But I love that I can keep this band on. It never turns and is great quality. In fact, it is one of my most-asked about jewelry items. Secondly, if you want that "look" an Hermés throw gives but without the price, I love this option for your bed or sofa.
Other gift options:

I hope this kept things a big merry and bright for you this morning! Sending you all lots of love!