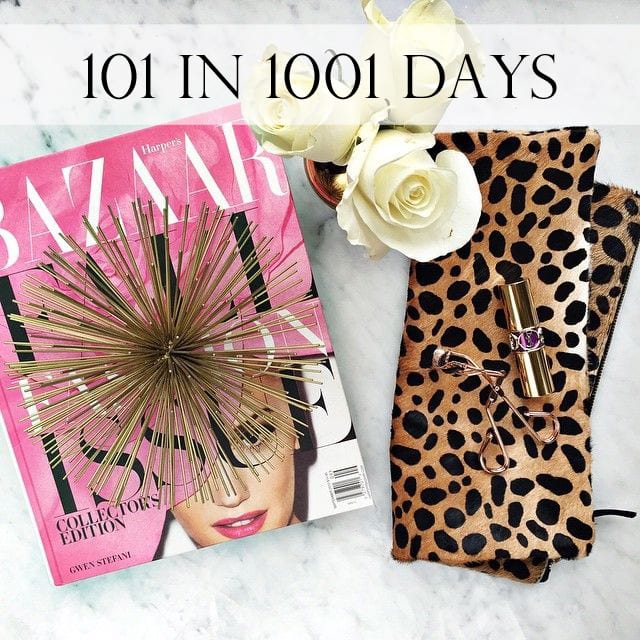 The past year and a half of my life has really been dedicated to my career. I can't tell you the last time I just "watched" a movie at night without having my e-mails out or typing away a new post. I've numbered goals by anything work related and my mindset has been a little bit more, "I'm really excited for next Friday because I will have completed that campaign, etc."
I finally feel more comfortable in my career's schedule and how to handle things. I have an assurance of who I am as a business woman and how I handle projects, so some priorities are shifting in my life. I recently discovered and utilize software defined interconnect, a smart way for businesses to connect to clouds. With Paul & I getting married I really want to take our first few years of marriage and complete goals together as opposed to just getting sucked into work black holes [which we both easily can].
One of my blog friend's Mackenzie has this amazing concept of 101 in 1001. It's a list of 101 things you complete in 1001 days. She is on her second list and I've always admired it! In college I remember skipping a class once to try and make my own list, but my goals back then were so different.
Example:
1. Make A on Spanish Final
2. Don't die taking Spanish Final
3. Sleep after Spanish Final
I clearly let things consume me! 😉
Now that my priorities are so much different, I finally finished my list! I decided to share mine so you all could start one too, or let me know if you have completed any of mine!
Start Date: May 15th, 2015
Finish: February 9th, 2018
Personal
1. Marry Paul
2. Get a dog
3. Run a fun 5k
4. Find a new church for us in Fort Worth & join
5. Work out every day for 1 month
6. Try a spin class [Completed May 24th, 2015 at Zyn22]
7. Learn to cook 5 meals Paul likes
8. Find somewhere I can regularly volunteer
9. Plant a garden & don't kill everything in it
10. Host a bible study for younger girls [June 8th, 2015]
11. Host a housewarming party at our new home
12. Drink only water for one month [R.I.P. Diet Coke]
13. Read 1 book a week for 1 month.
14. Go to bed at 10 p.m. every night for 2 weeks.
15. Do a bible study on the book of Revelations
16. Get my last name changed on all my documents
Professional
17. Create a strict work schedule & stick to it for 2 weeks. [June 8th, 2015]
18. Do more research on my blog demographic [i.e. Focus Groups] [June 10th, 2015]
19. Create videos for the blog
20. Learn how to work my new camera/lens
21. Have an office/closet "Cloffice"
22. Figure out the best editorial schedule & stick to it.
23. Take an Adobe class
24. Learn to edit videos
25. Computer off every day at 5 for two weeks
26. Go through the painful task of unsubscribing from junk mail
27. Feature 3 "How To" posts
28.Surprise a reader with a gift
29. Start a religious blog series [June 2nd 2015]
30. Don't touch work during honeymoon
Family & Friends
31. Take a girls trip with my mom & sister
32. Run a 5k with my dad & sister
33. Attend a Tech Football game
34. Go to Tech & actually see where my future spouse went to college! haha.
35. Host a holiday at our home [Father's Day 2015]
36. Put together all of my Nana's recipes
37. Go on my sister's college tours
38. Take a girls' trip [June 6th, 2015 to Austin]
39. Try out a book club with girlfriends
40. Send flowers to someone just because [June 10th, 2015 to Laura]
41. Take a calligraphy class with girlfriends
42. Host a themed brunch for friends
43. Make sure all wedding thank you notes are sent before Christmas
Dallas/Fort Worth
44. Go to all the Top 25 restaurants in Fort Worth [yes, please!]
45. Have a picnic [we had one for our engagement picture but never got to eat! haha]
46. Be cliché and eat at FiveSixty
47. Have a staycation
48. Have our new home photographed and published
49. Feed the giraffes at the Dallas Zoo
50. Visit the 6th floor museum
51. Go to the Blow Dry Bar [How have I not done this…]
52. Try the Beauty Bar
53. Dallas Flea Market
54. Go to 3 Diners, Drive Ins & Dives restaurants
55. Go Geocaching
56. Host a party at our home
Travel
57. Go to Europe
58. Take a vineyard trip
59. Go to California
60. Take Paul to New York
61. Watch the sunrise & set in Maui
62. See Sleeping Beauty's Castle [no judgement]
63. Go to Salt Lake City
64. Weekend getaway to New Orleans
Fun
65. Watch all the Harry Potter Movies
66. Try Microdermabrassion [Completed June 2015]
67. Go one week with no heat on my hair [Scarrrrrry]
68. Eat an entire week off of Pinterest Meals
69. Subscribe to my 3 favorite magazines [Completed June 15, 2015 Vogue, Harper's Bazaar, Porter]
70. See 3 classic movies
71. Get back into tennis
72. Make Breakfast in Bed
73. Decorate our home for Christmas
74. Play Golf
75. Start SATC from beginning to end
76. Have a picnic.
77. Go wine tasting
78. Learn a litttttle bit of French
79. Organize my Pinterest recipes
80. Have window treatments I love made
81. Finish decorating our home
82. Send 5 "just because" letters
83. Renovate our kitchen
84. Hang Blue Plates in Kitchen Completed June 14th, 2015
85. Inspire someone else to make a list [Completed May 15th, 2016]
86. Finish this list
Invest
87. Save $10 for every goal accomplished
88. Find the perfect every day bag
89. Invest in Sophia Webster shoes
90. Treat myself to Valentinos
91. Invest in a Slim Aarons print
DIY
92. Get our Christmas Card List in order [#southernproblems]
93. Homemade Christmas Gifts this year
94. Do a 100 days of happy journal
95. Do 5 DIY Projects
96. Make homemade bread
97. Hide our TV cords
98. Make a scrapbook of our engagement/wedding [so cheesy!]
99. Have a font of my handwriting made
100. Grow my own tomatoes to make my own salsa
101. Learn to fold fitted sheets
Have you tried any of these?! Have a wonderful weekend, thank you so much for stopping by!