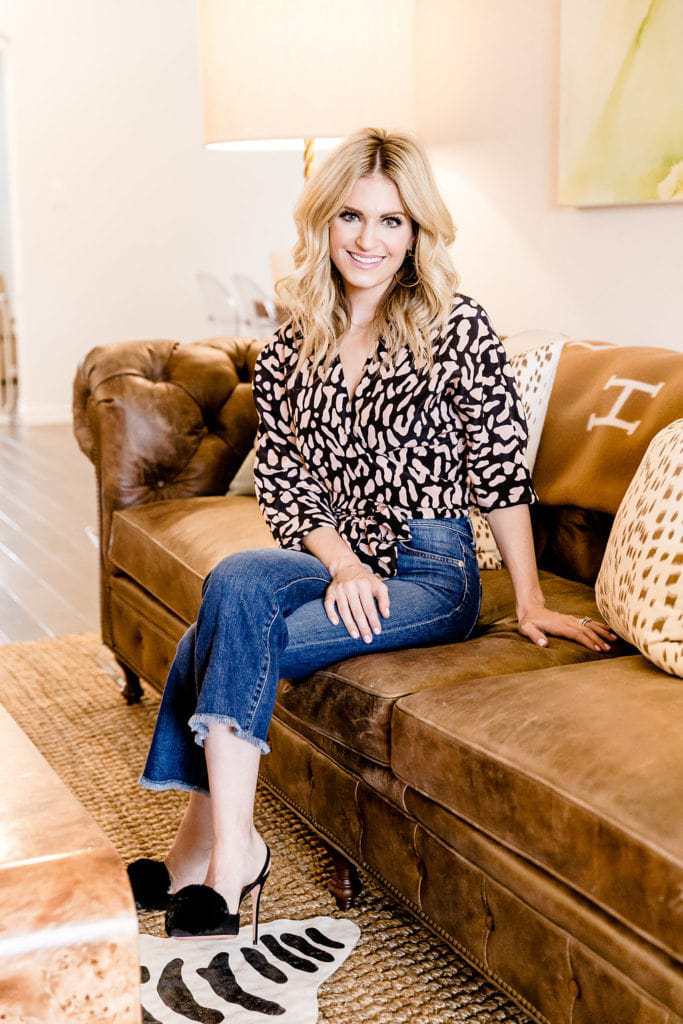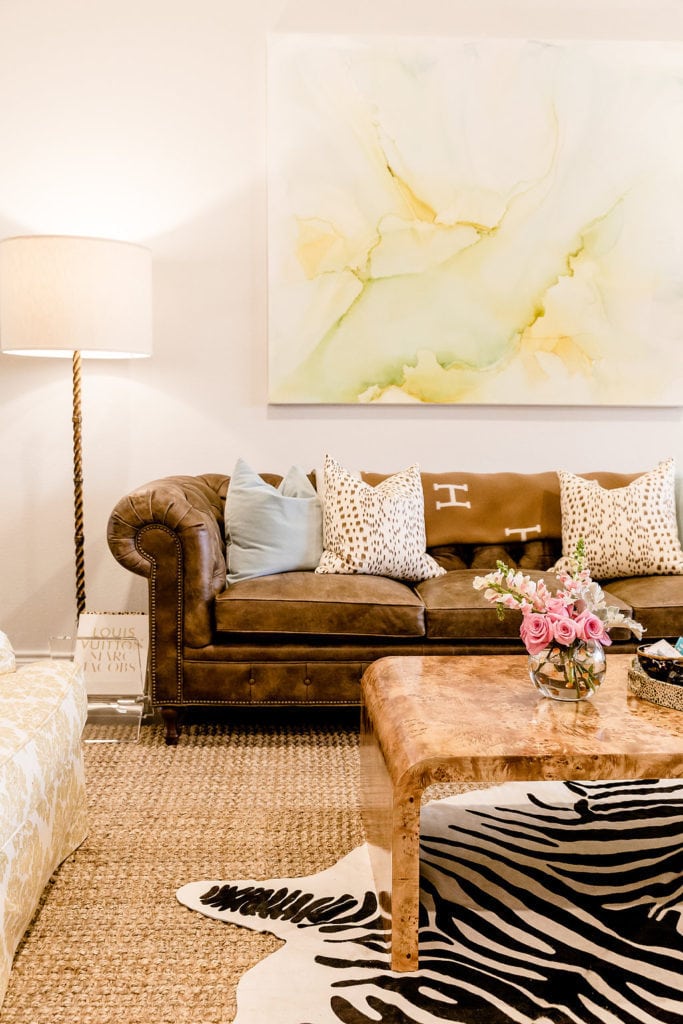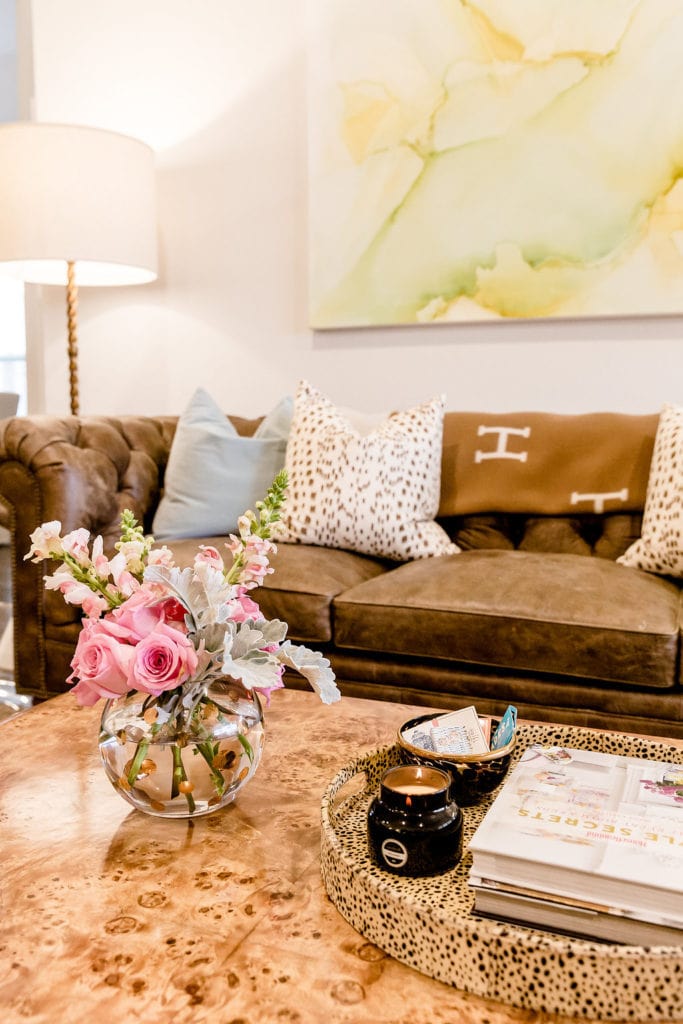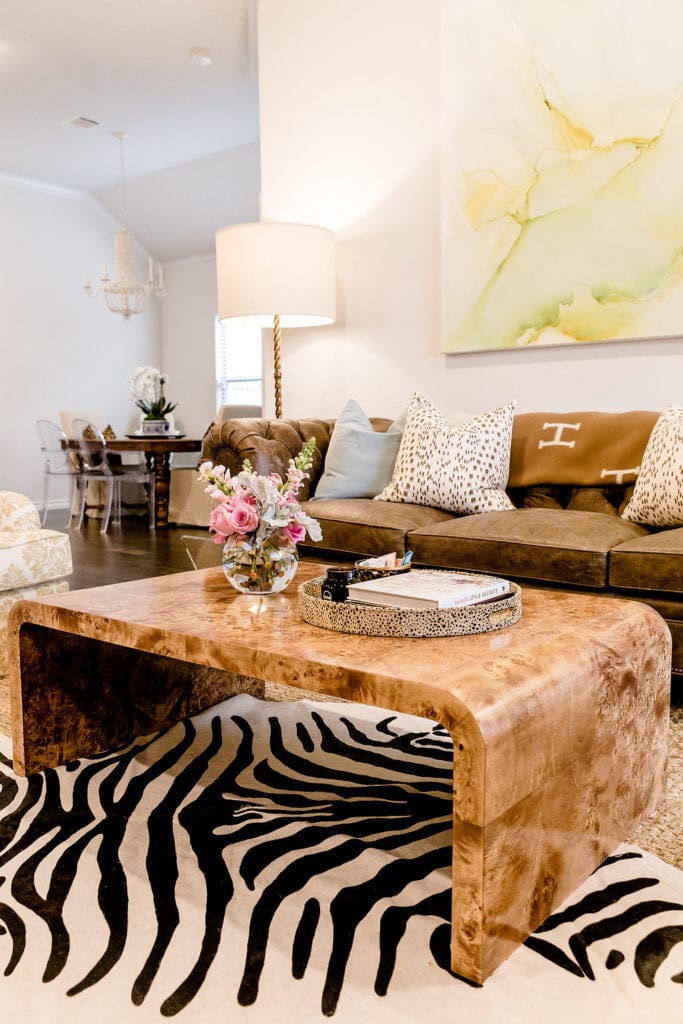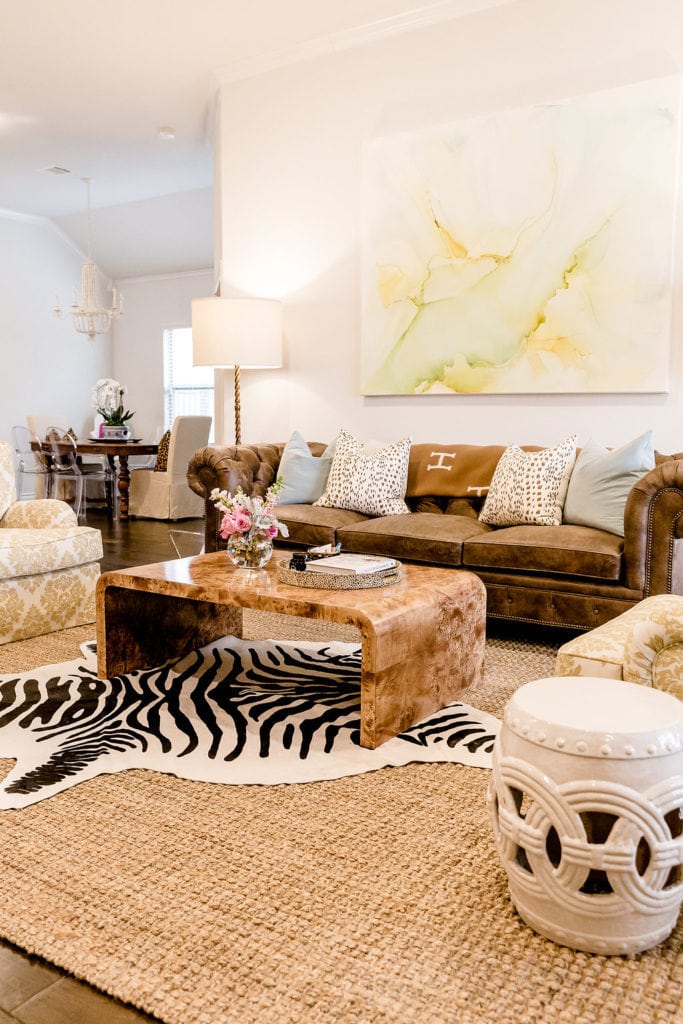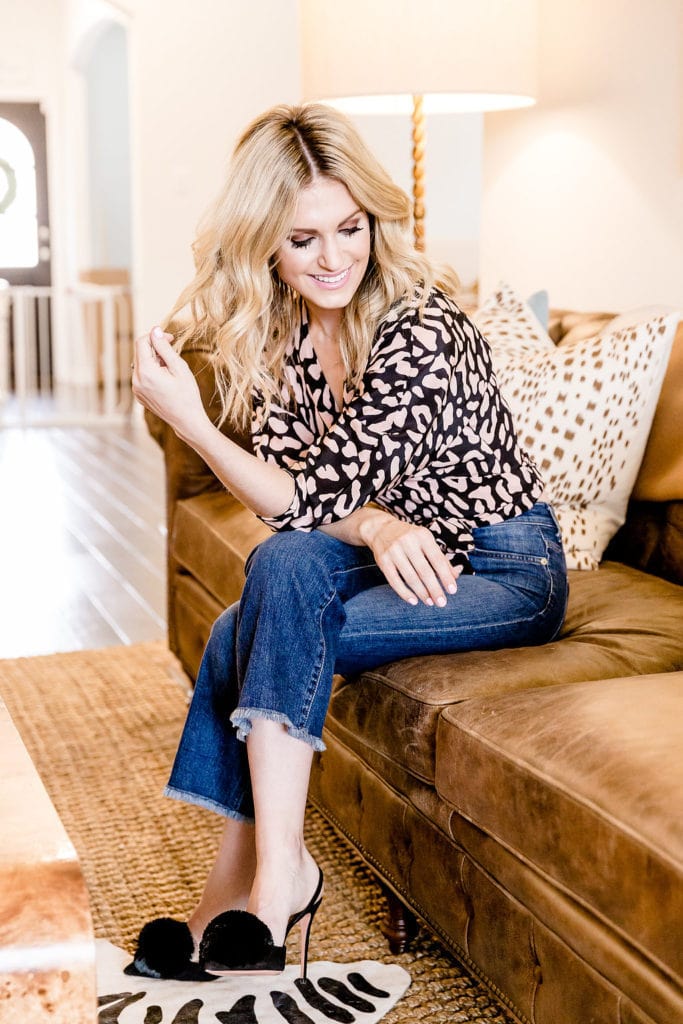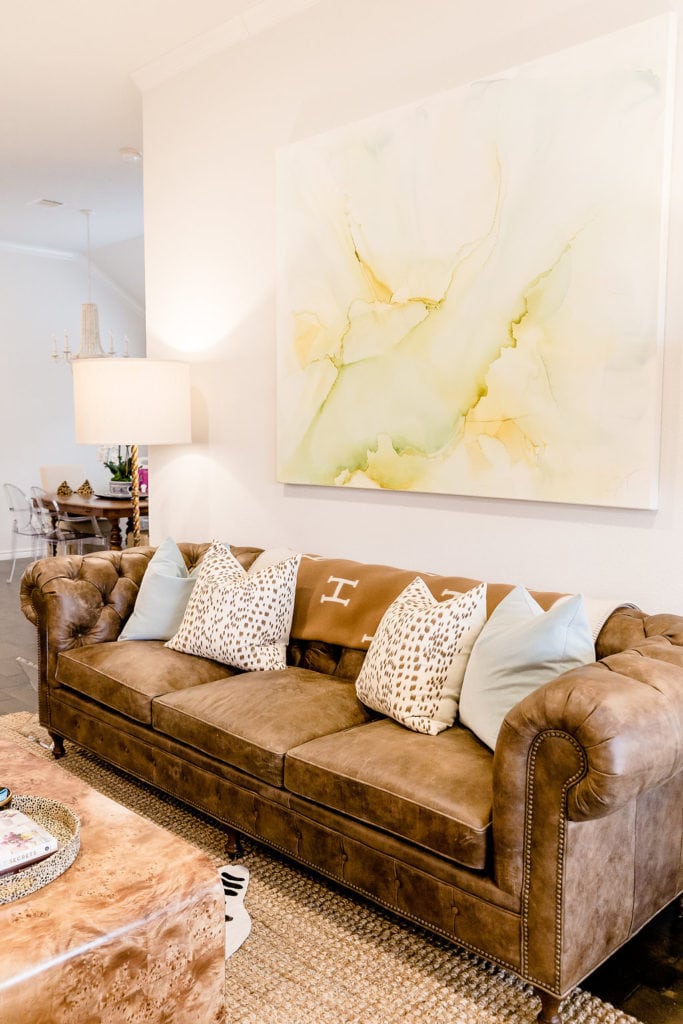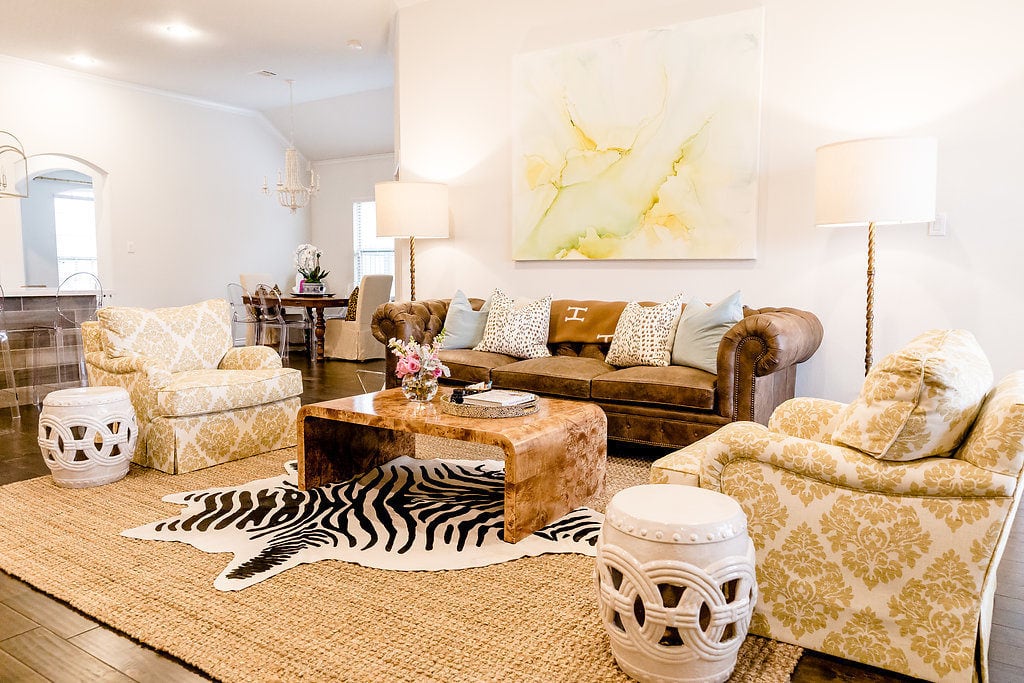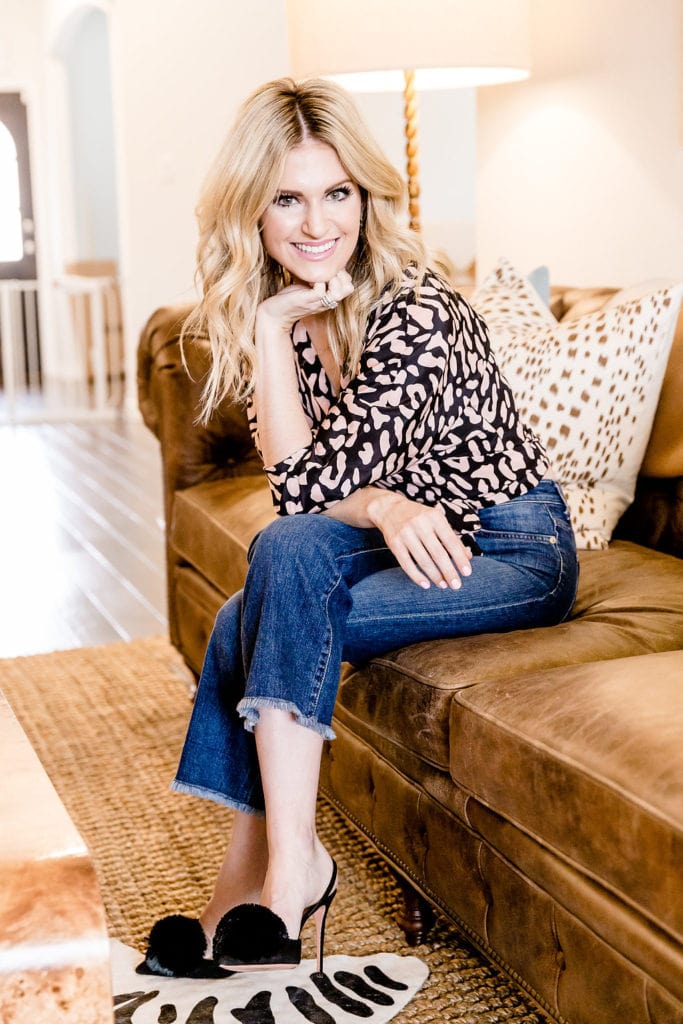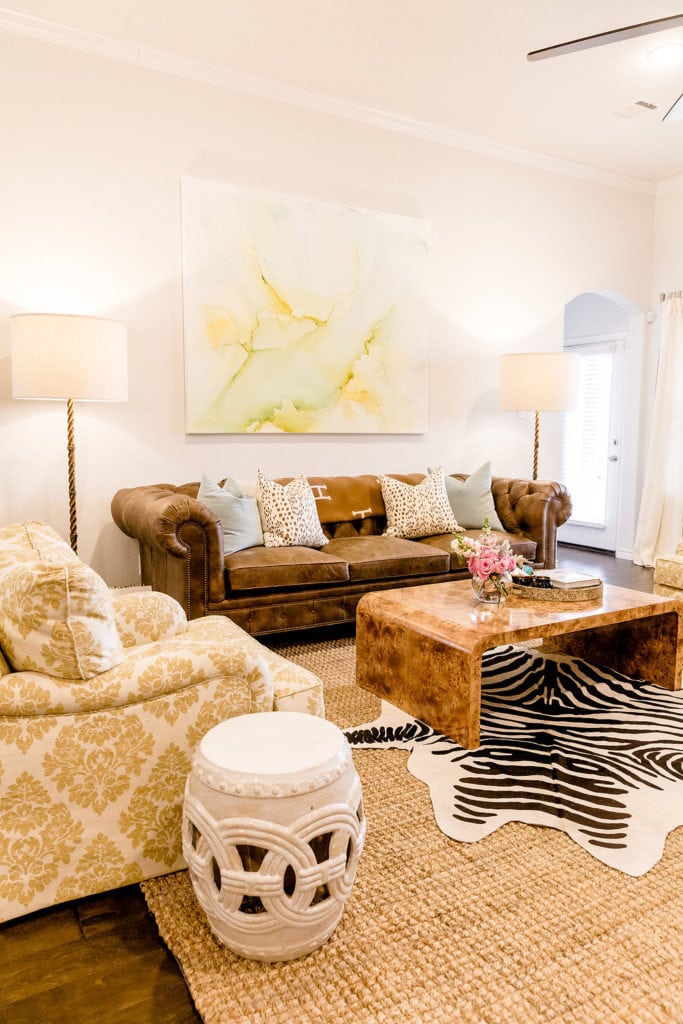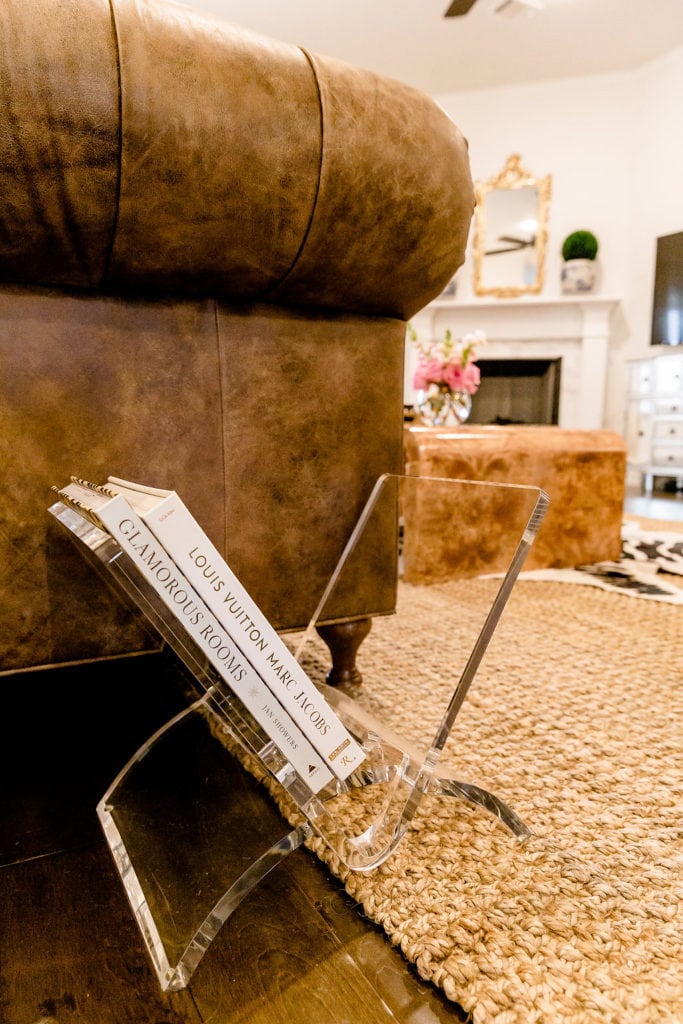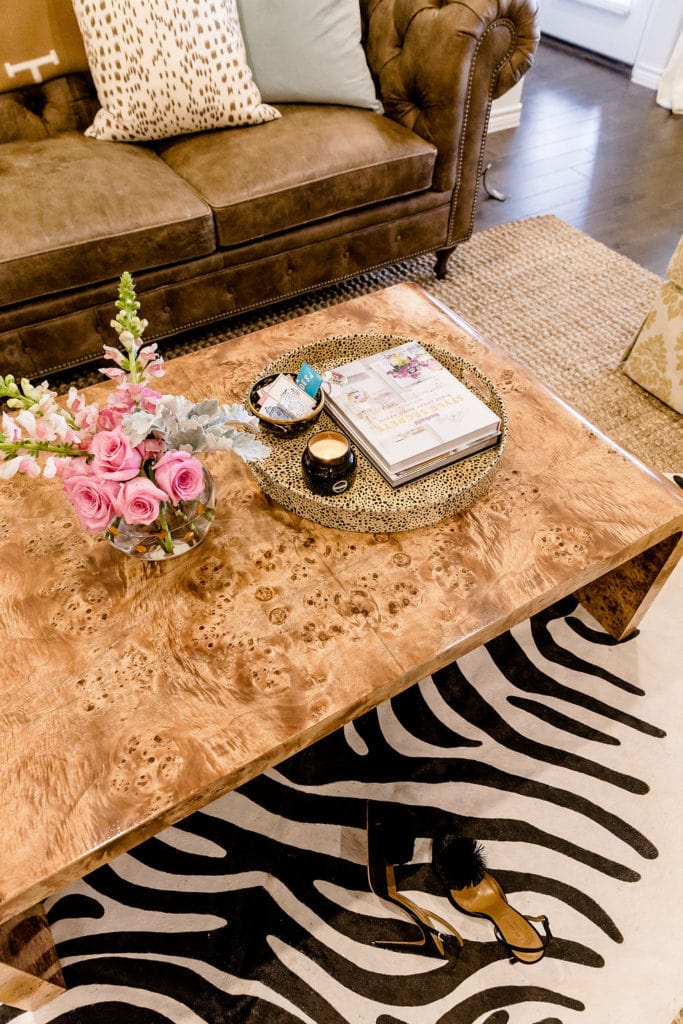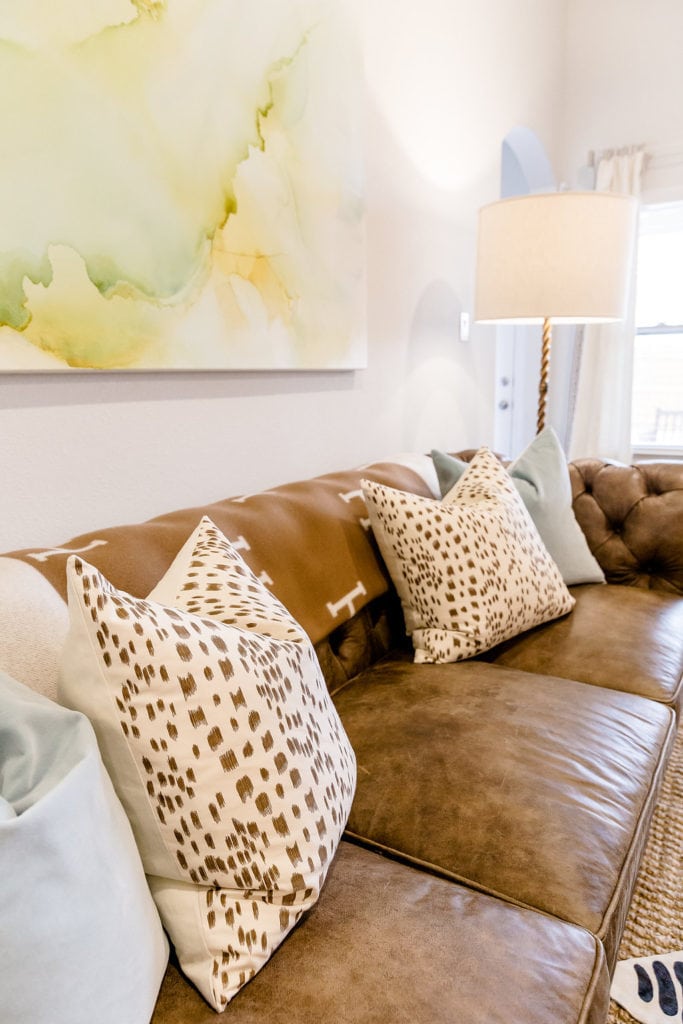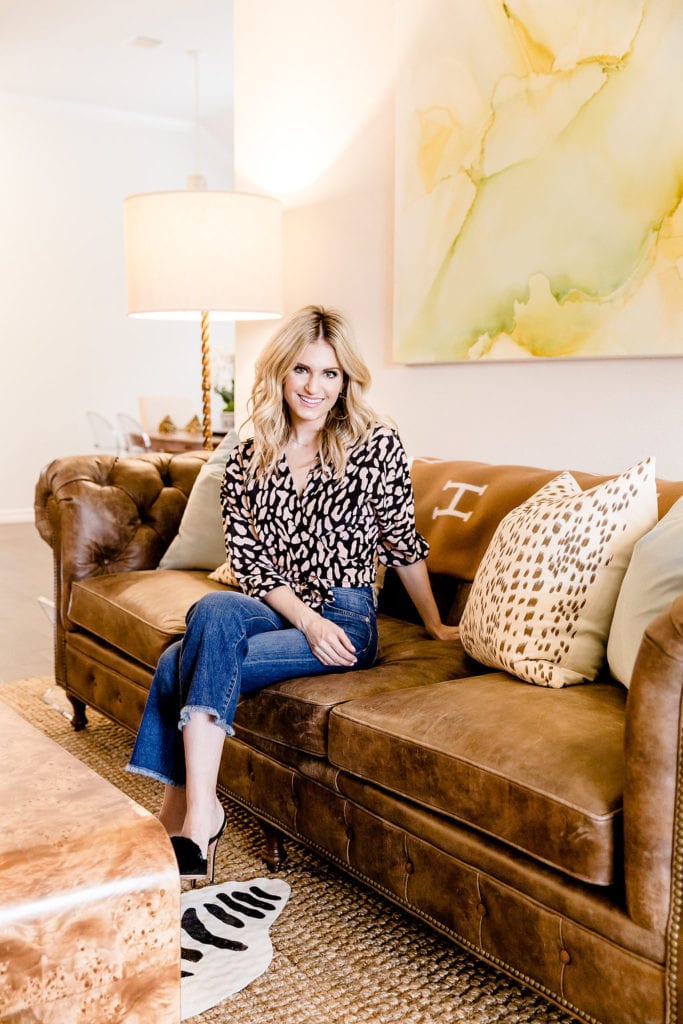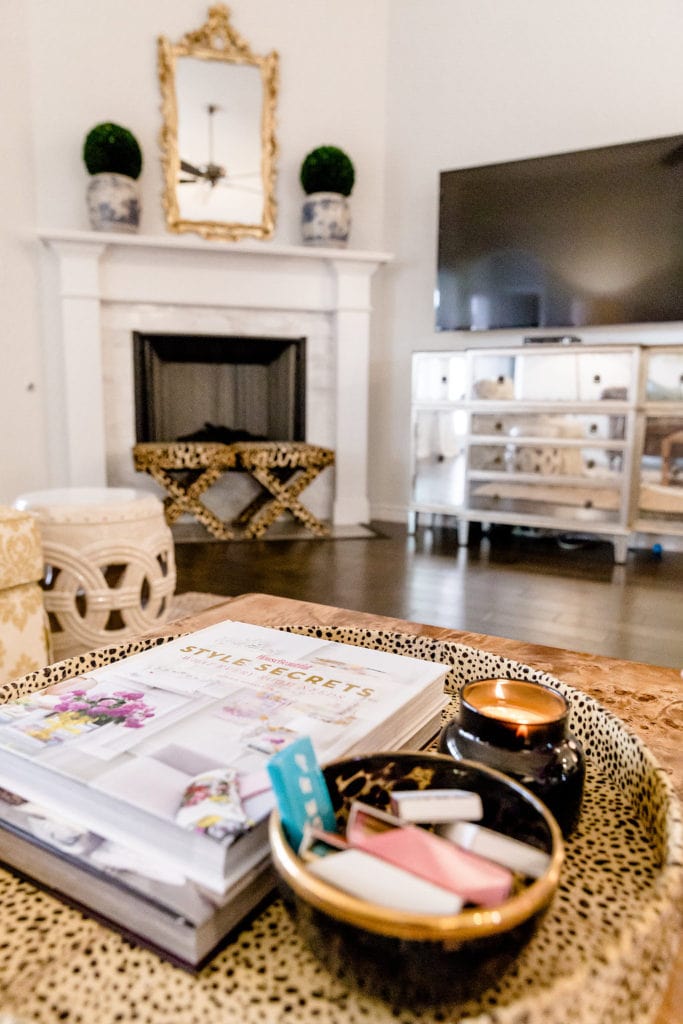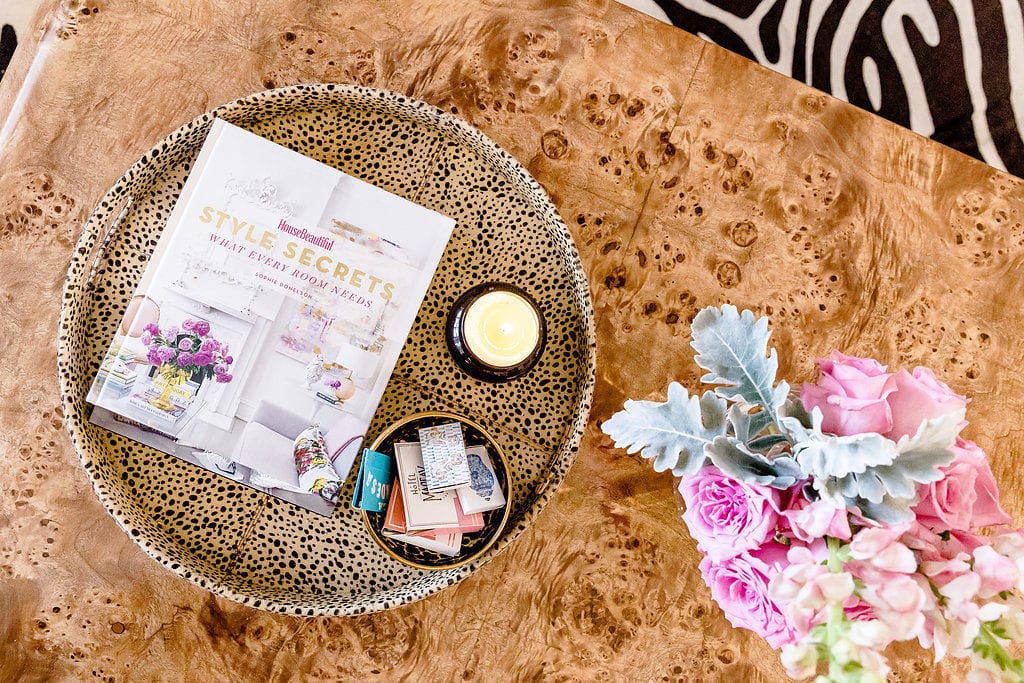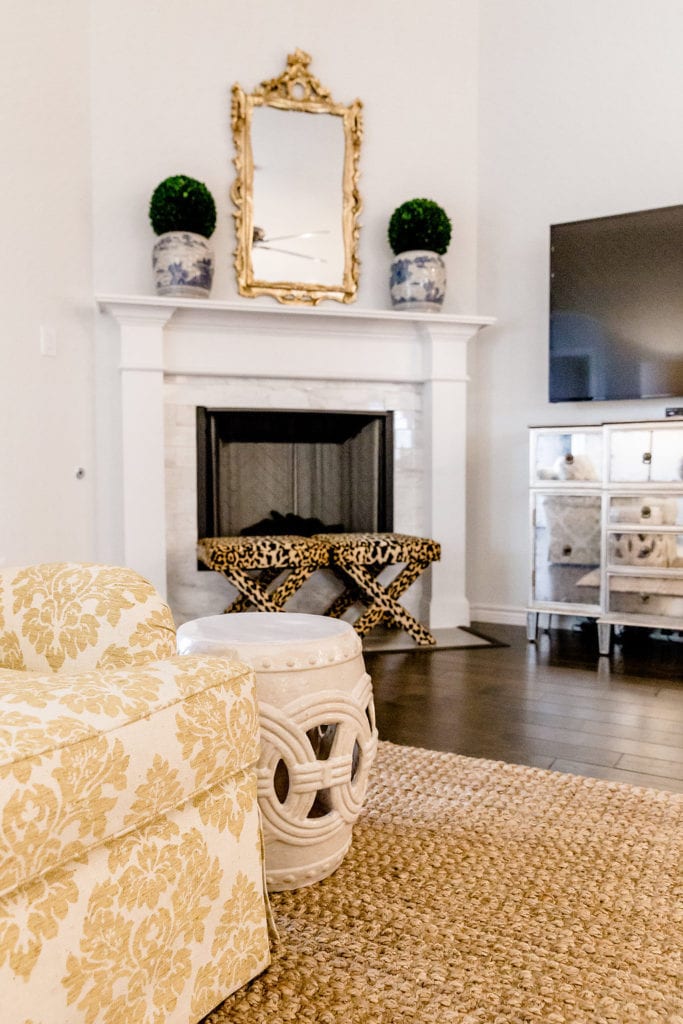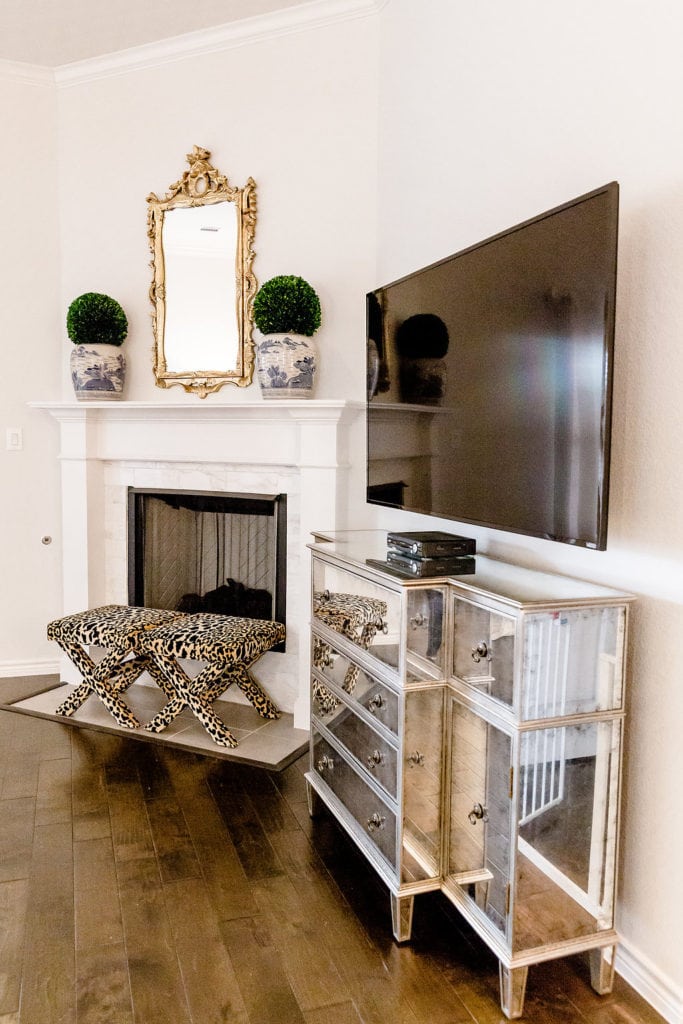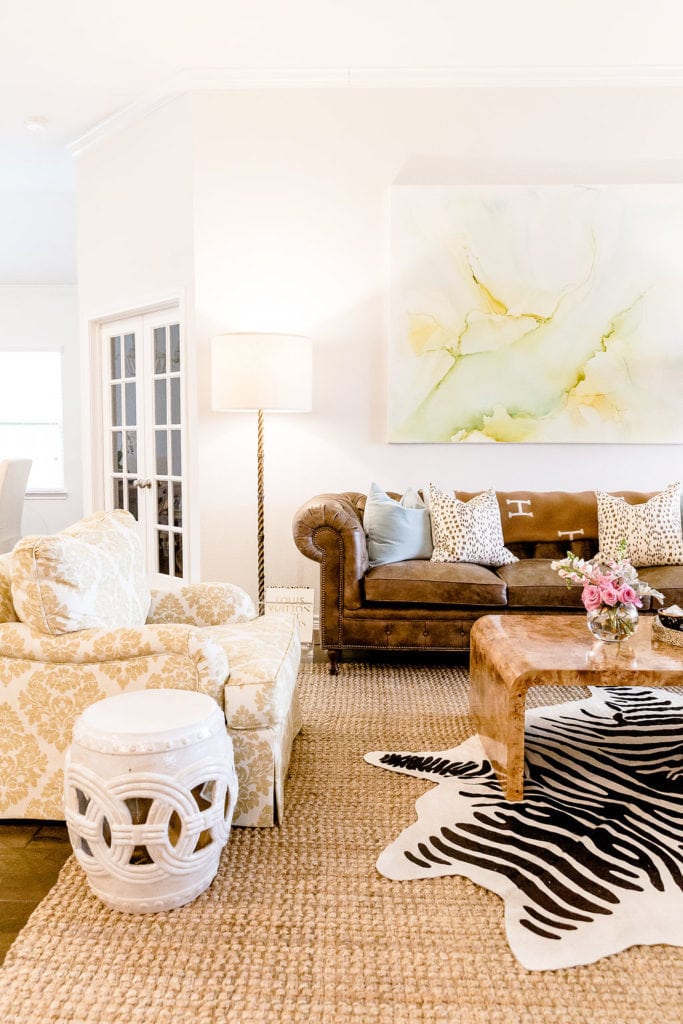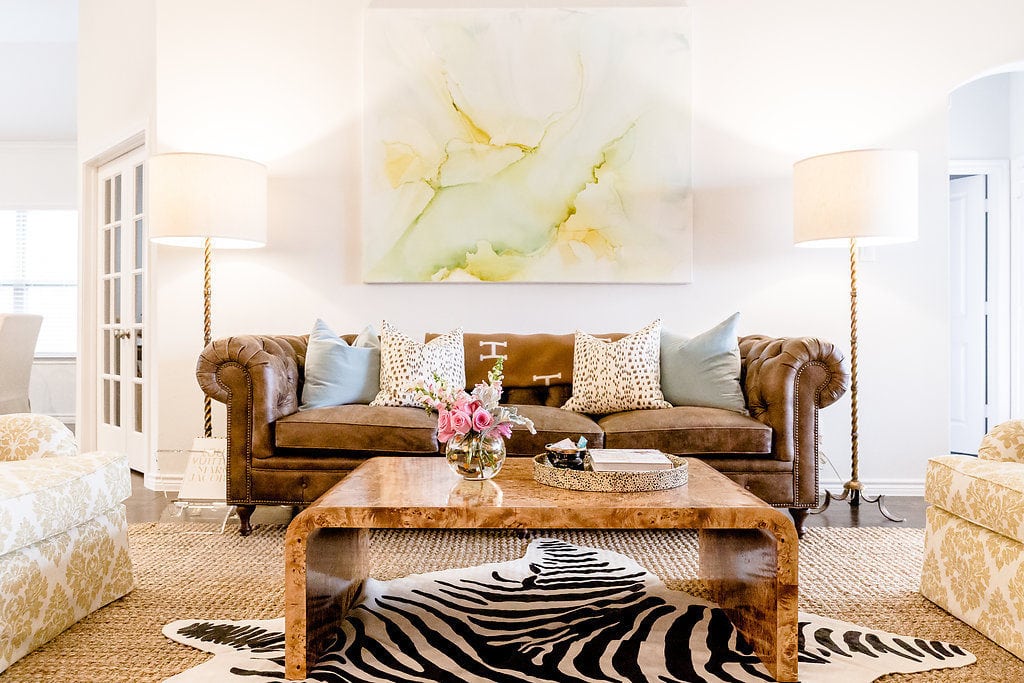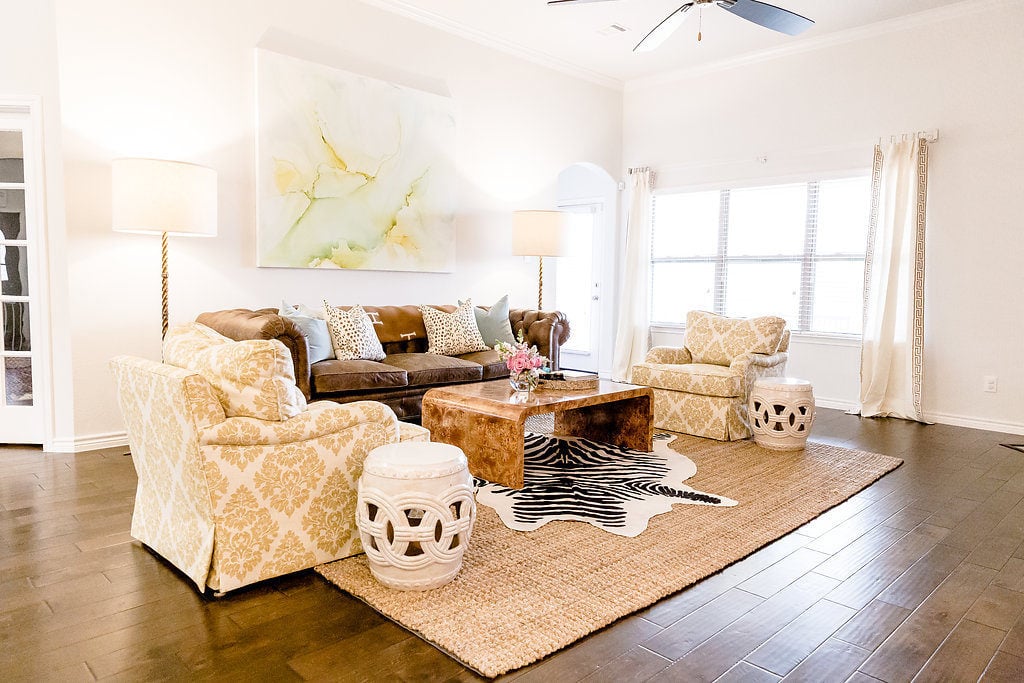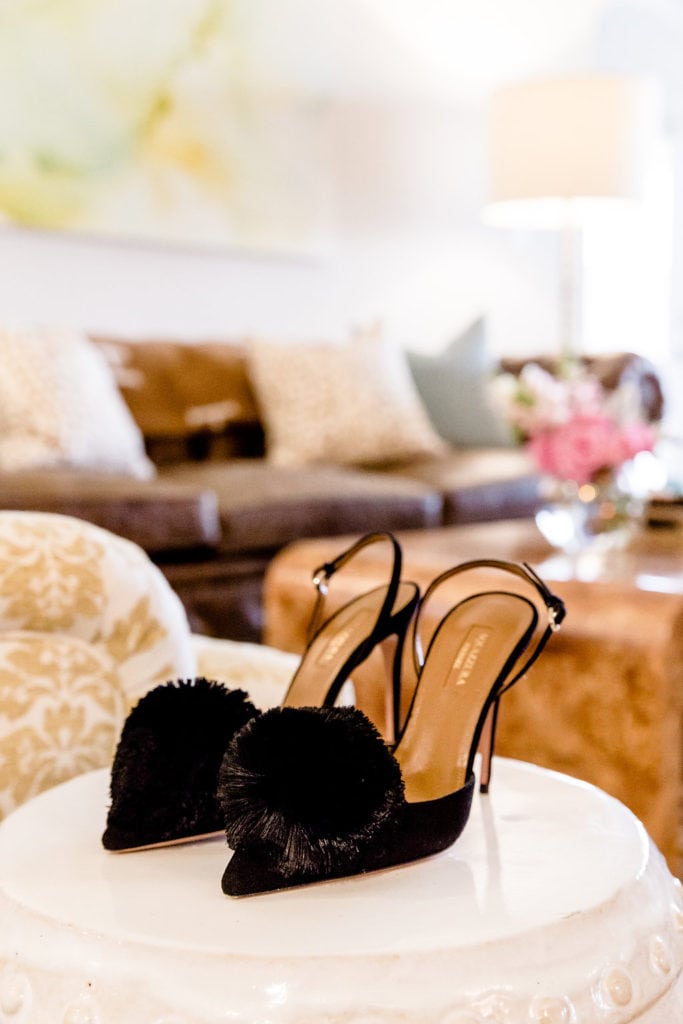 Rug | Zebra Rug [similar] | Coffee Table | Sofa | Pillows, Blue | Lamps | Garden Stool | Kisabeth Chairs [post] | Coffee Table Tray | Book | Match Bowl | Candle | Blanket, Similar | Painting [c/o] | Buffet Under TV | Mirror Above Mantle [Vintage, Linked Similar] | Ginger Jars [Vintage, Linked Similar] | Drapery Rods | Drapes | X-Benches [c/o] | Acrylic Magazine Holder, Similar | LV Book
My Look: Top | Jeans [c/o] | Shoes, Similar | Earrings | Necklace [similar]
Photography by: Madison Katlin
---
This room is my happy place and I'm thrilled to invite y'all in today! I'll be honest, I felt a tad bit overwhelmed when we started with a blank slate in this home. I'm so open to numerous home styles that I'd be happy with plenty of options. Sometimes I envy girls that are straight-up Joanna Gaines farmhouse #WontLookAtAnythingElse! I feel like it makes decorating a little easier because you're incredibly sure of the direction you want to go in!
I'm all over the place and with our home being open concept, I knew that I wanted to tackle the living room, or "family room," first. The very first thing I snagged were my Kisabeth chairs. I reviewed the process here and I'm over-the-moon with them. Don't tell my mom, but we've gotten everything from Diet Coke to lipstick on these bad boys and it's come out like a dream. Laurel knew the secret on fabric percentages for longevity and style. I curl up in them each and every day and love that they just feel like "my" chair. I definitely want to do the process again for our formal living. I had so much fun picking fabrics and trying to envision what would work now and in 30+ years since Kisabeth is heirloom quality.
Next, my sweet husband that doesn't have one darn opinion about home decor said he wanted a leather sofa. I've been asking his opinion for years on home decor and he always says things like, "I just want a big TV. I don't care about the pillows." So when he FINALLY made that request we got in the car and went to Arhaus immediately. He made a beeline for this sofa, and I'll be honest I was a little unsure. I just hadn't ever owned leather furniture so I wondered if it would blend with our other decor. But I wanted this home to be a wonderful representation of us [blending furniture or not!] and so we went ahead and purchased it. I'm eating my words/worries because I adore this thing. It's breaking in so nicely and I love how it feels like it belongs in a boutique somewhere in Nashville. I adorned it with Little Design Co. pillows, because what other options are there?! 😉 No, truly, I always knew I wanted the Les Touches print in our home and LDC was amazing and said we should blend in some light blue. It gives a bit of sass to a masculine sofa, which does the trick for me!
For the coffee table, I was dead set on some burlwood. However, I was anxious as any mom of a little one is. Do I get an ottoman? Do I just have nothing there? What about wood? I spent at least 3 weeks scrolling Pinterest every spare second trying to find the perfect combination for a coffee table.
I decided to go ahead and purchase The CEH coffee table in burlwood as they will make their tables in the waterfall design. Everything is curved so there are no sharp corners for baby! If you remember, I purchased her changing table from The CEH and love their customer service. I originally put the coffee table in the formal living because when it was delivered I thought, "This is too pretty for a family room! Nope! Gonna get ruined with more kids in the future and I'll cry." [Kidding. Kind of.] But we put it back in the living room where it belonged and I've had great luck. And my child may or may not bang my key ring against the coffee table. No damage yet! *Fingers crossed!*
For the garden stools, I knew I needed some form of side table. Just like with the coffee table situation, I was nervous on what would be a great kid-friendly option. Most side tables are sharp or can be knocked over by a toddler, so they seemed like a no go. When my girlfriend Amy Beth came in town she helped me select the stools and the lamps. She had nannied years ago for a family and they had toddlers. She said they used the garden stools from Wisteria because they are so heavy and can't be turned over. I took her word for it, ordered them and she was right. These garden stools are so sturdy and Maxi pulls up on them all the time and I feel safe with her doing that.
Lastly, my friend Jenn Thatcher pulled the room together with her art. My mom and I have Jenn Thatcher art all over our homes and I feel like I'm the president of her fan club. She's just the most genuine woman I've ever met. While working on each piece, she prays for the client. She loves to do nursery pieces [she did the art in Maxi's nursery] because she feels so honored to pray for this little life before they come into the world. I told her with this space I wanted her to wait and surprise me once she saw the design start to come together. I feel like her work was the final peace to seamlessly blend the pillows with the chairs and the rugs. I've got eclectic taste so I know that's quite tricky to do!
Thank you so much for reading as I share "my version" of a kid-friendly living room. I just take my coffee table tray off and we are good to go while she plays! I'm thankful to use this room to host friends, relax with my husband and play with our daughter. Our designer, Maddie, came yesterday and she has some incredible ideas for the empty spaces in our home. Let me know if you'd like to see more of our home with that process! I'm going to be adding some color to the kitchen and it might just surprise you.
If you have any questions on items, feel free to leave a comment below!