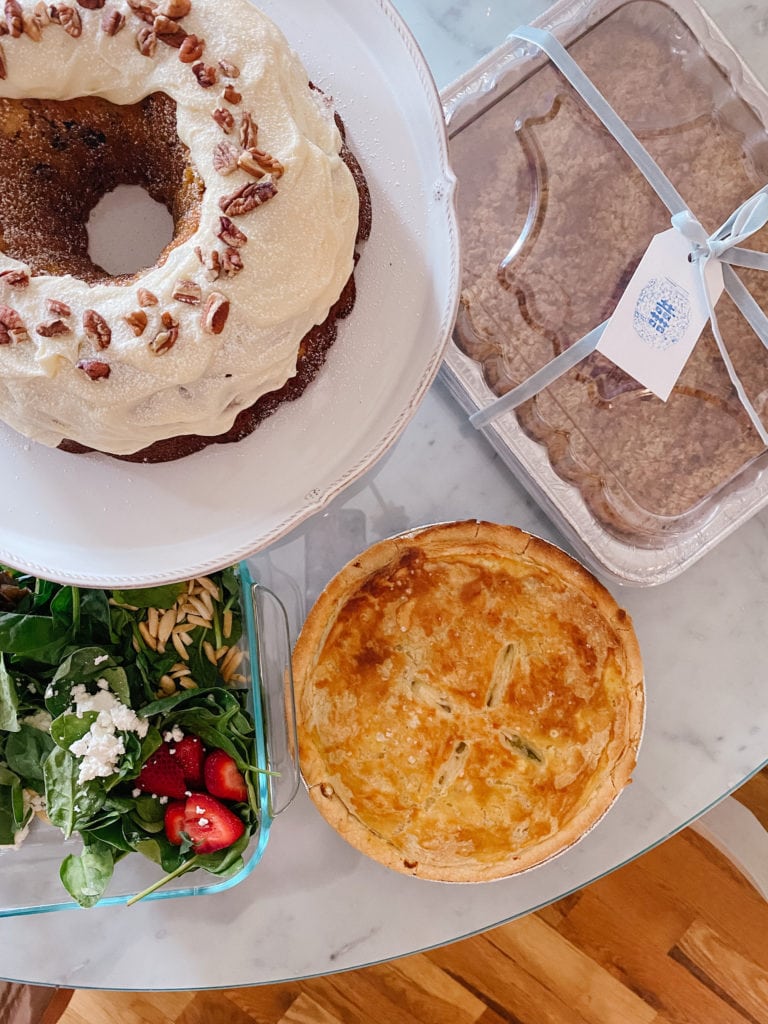 In the land of meal planning, I always am looking for a new idea that my kids will actually like. What good is a popular Pinterest meal to me if it isn't kid-friendly?! I thought I'd share a few meals we have been loving and that I have thoroughly enjoyed making. They are warm and perfect for crisp fall evenings!
Pictured above, we have a meal I brought a friend that had just had a baby. But if you haven't tried @Texaflora's Chicken PotPie, you must! It is on repeat at our house! The great part is the recipe makes two, so you can bring to a neighbor or friend or freeze an extra for your family. I added a simple side salad, my Carrot Cake, and Elisabeth & Butter's Healthy Baked Oatmeal since it is a must for a new mama to have on hand.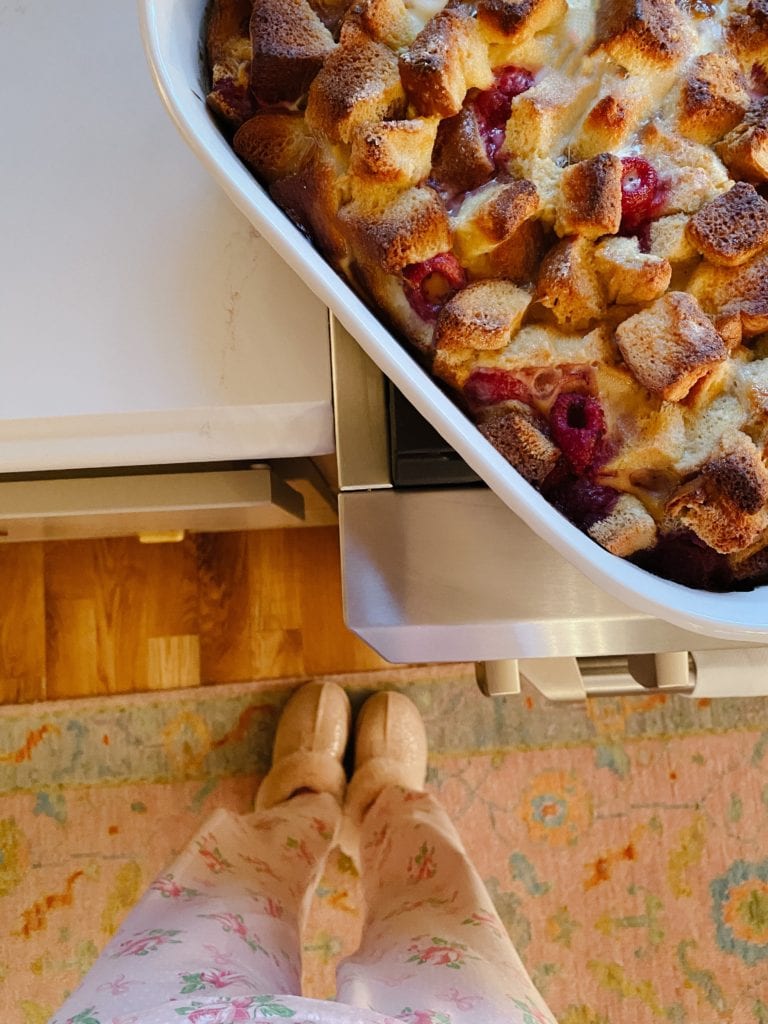 If you need a warm breakfast that your kids can eat off all week, try Ina Garten's Raspberry Baked French Toast. You could, of course, substitute whatever fruit you like, but H loves berries! My thought process with meals is like my thought process with most things- if you do it right you only cry once. 😉 I love to spend Sunday or Monday meal prepping larger meals, like this, and then breakfast is taken care of the next 3 days.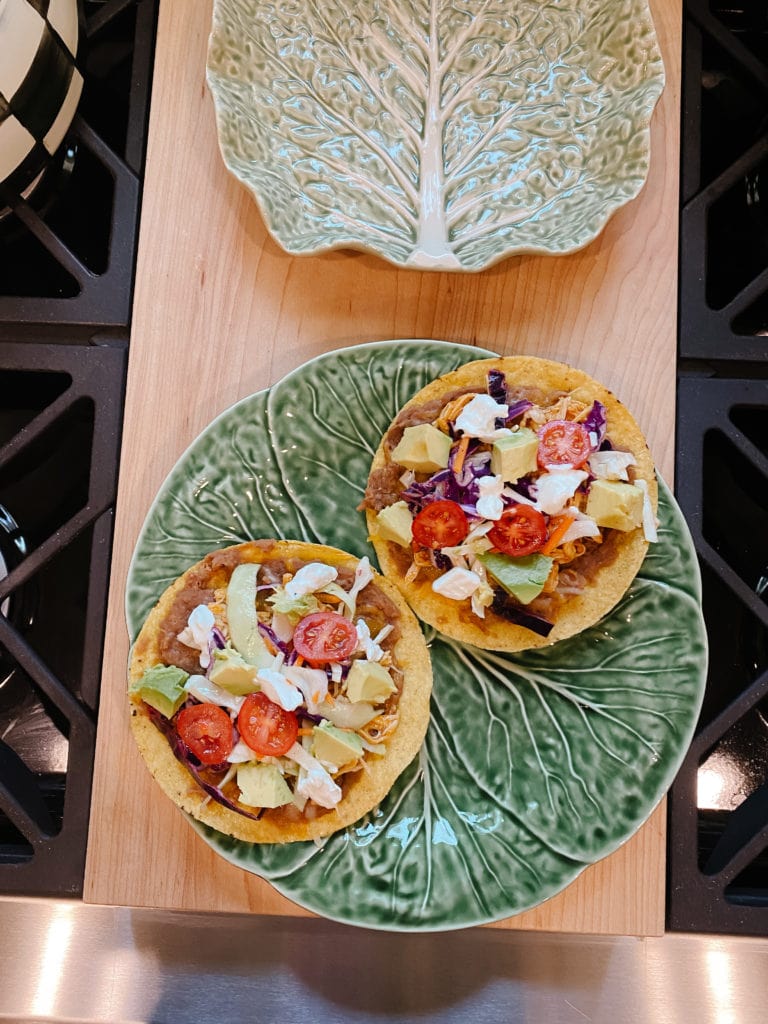 This is more of a "lunch for mama" meal, but Paul loves it, too! And older kids would enjoy. These are my Buffalo Chicken Tostadas.
Cook chicken in crockpot with Primal Kitchen Foods Buffalo Sauce. Then, shred. My favorite way to shred chicken is to place the cooked chicken breasts in my mixer, turn on mixer and it's perfectly shredded in 10 seconds! No more stabbing it with a fork over and over again.
Place beans on tostada and melt your cheese of choice.
Top with shredded chicken.
Add coleslaw on top. I get organic coleslaw mix and add in the juice of 2 lemons, a bit of olive oil, vinegar, salt, pepper, and Mike's Hot Honey, as I don't like mayo-based cole slaw.
Top with sliced cherry tomatoes and avocado.
Add greek yogurt or sour cream!
You can definitely make this deconstructed for little ones- I just avoid as H and M think buffalo sauce is a little spicy.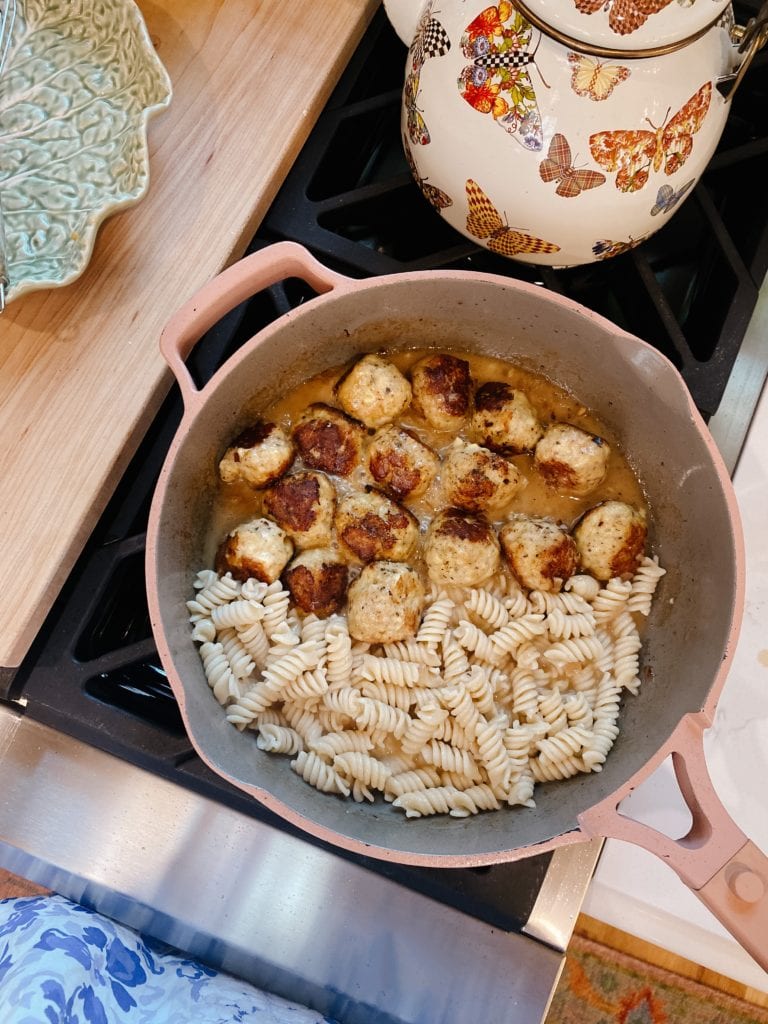 We actually made this last night and it is probably my new favorite meal to include in our rotation: Skinnytaste Chicken Romano Meatballs. I mixed with my favorite fiber pasta and then green beans on the side. The great thing about this dish, is you can prep the meatballs in the morning, then leave in fridge until dinner. I made the meatballs while I made the kids' lunch, then after dance class I took them out of the fridge, cooked them, and the mess was minimal!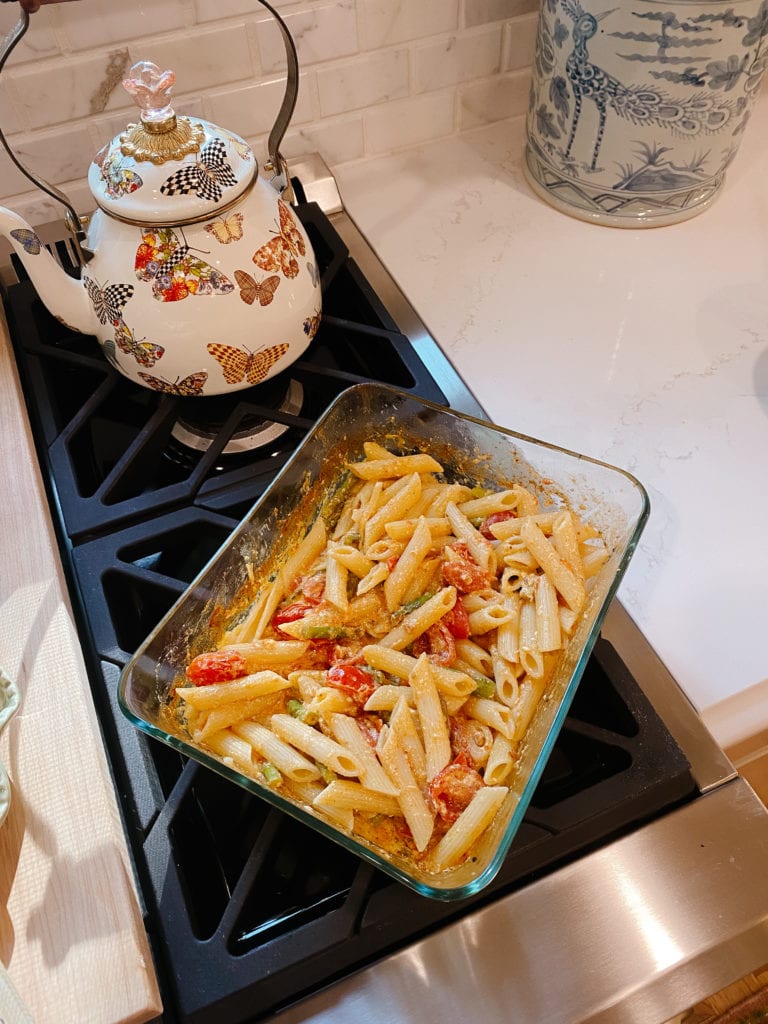 Have you seen the Tik Tok Feta Pasta? Of course, you have. I'm like the last person on Earth to make it. ha. I like feta, but I'd heard very mixed reviews on it, so I tried it with burrata and it was great! I sliced cherry tomatoes, asparagus, shallots and garlic. Placed in baking dish and drizzled with olive oil, salt, and pepper. Then I placed burrata in the center. I baked at 350 for 40 minutes. At 40 minutes, I took it out and added 3 tbs of tomato pesto in the dish. I mixed everything together, then served with noodles.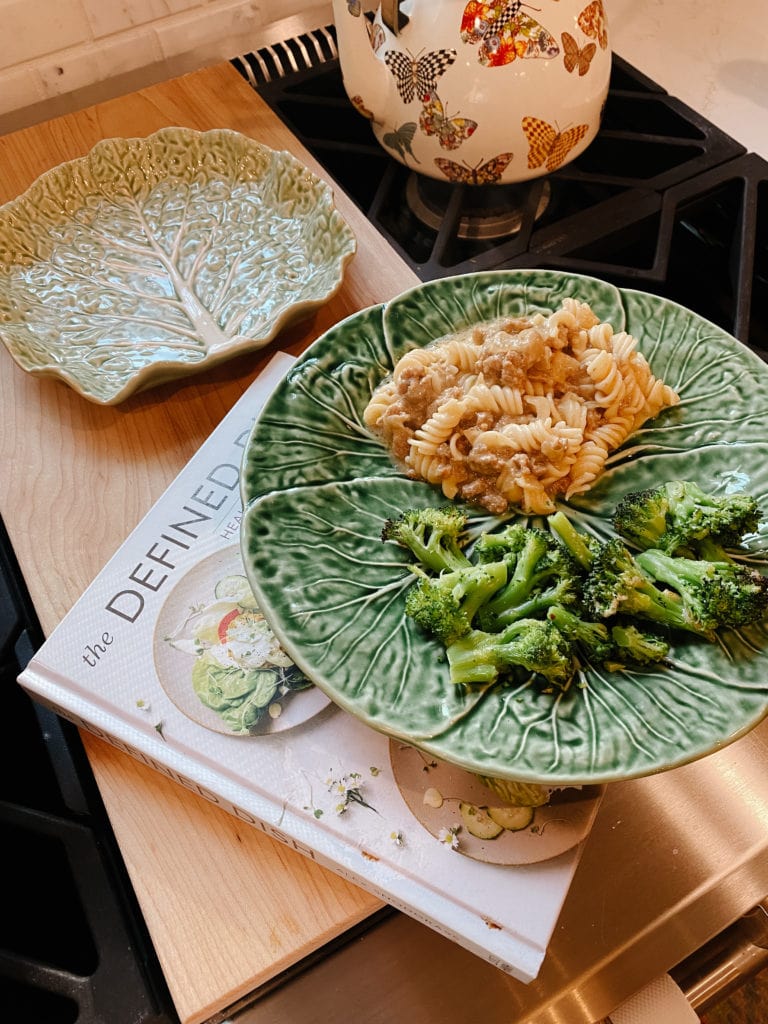 The Defined Dish Hamburger Helper is always a winner with families! I serve it with broccoli, but you could do any vegetable you like.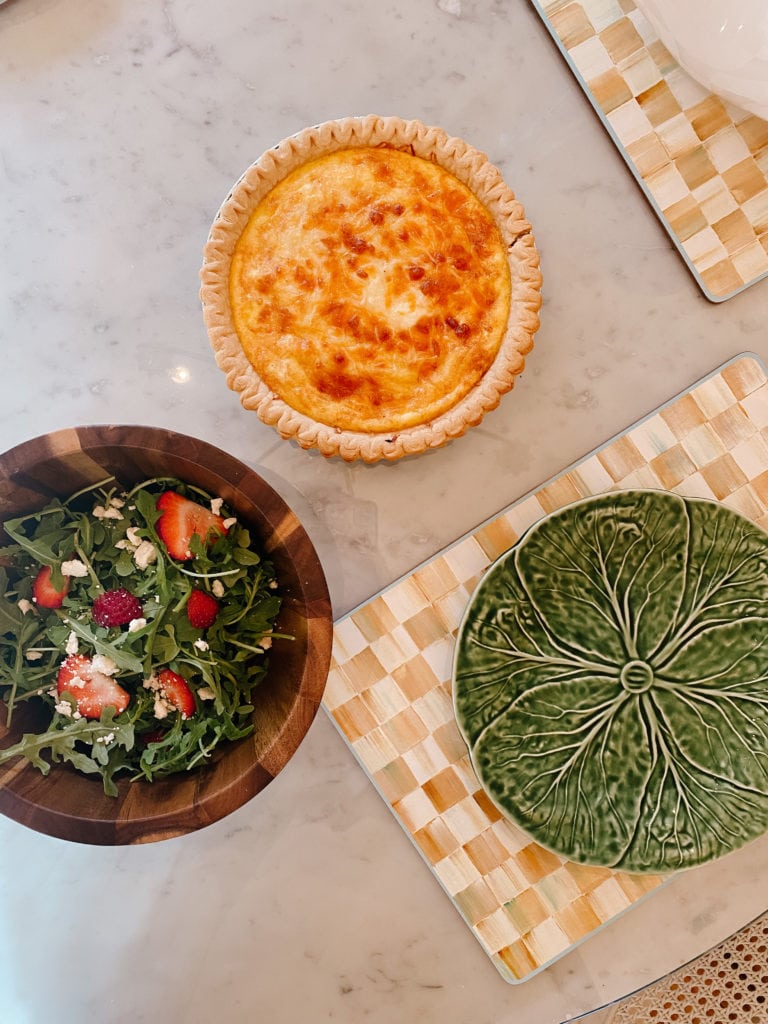 My kids could eat breakfast for dinner every single night, but when I want to mix it up a bit, I love this Ham and Cheese Quiche! I eat it with a side salad, but even cheese grits would be perfect with it!
What have you been making for dinner lately?