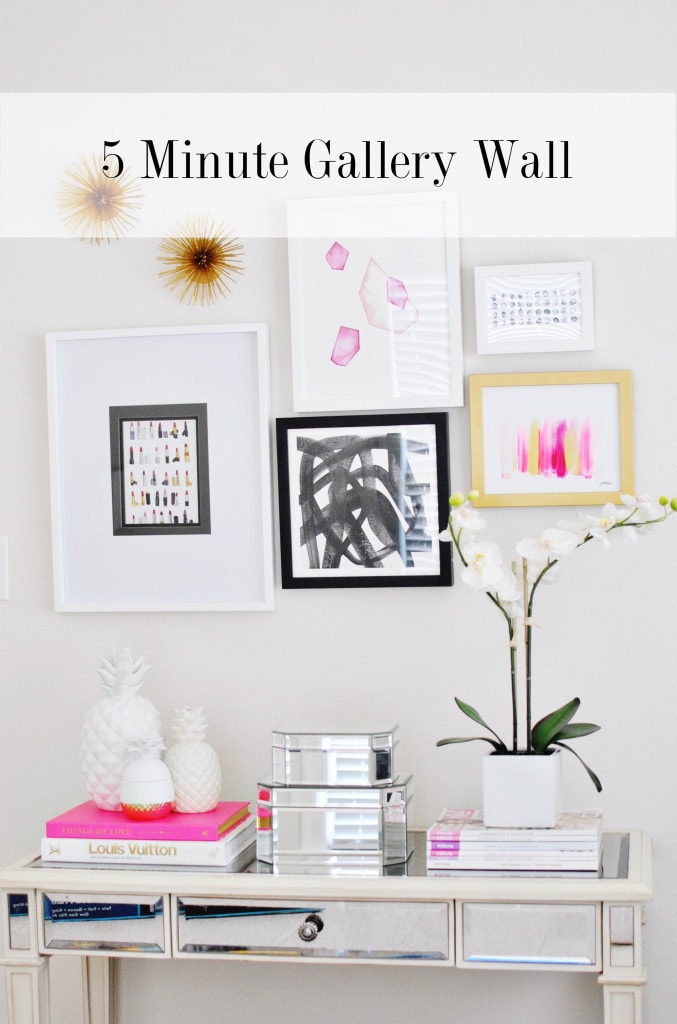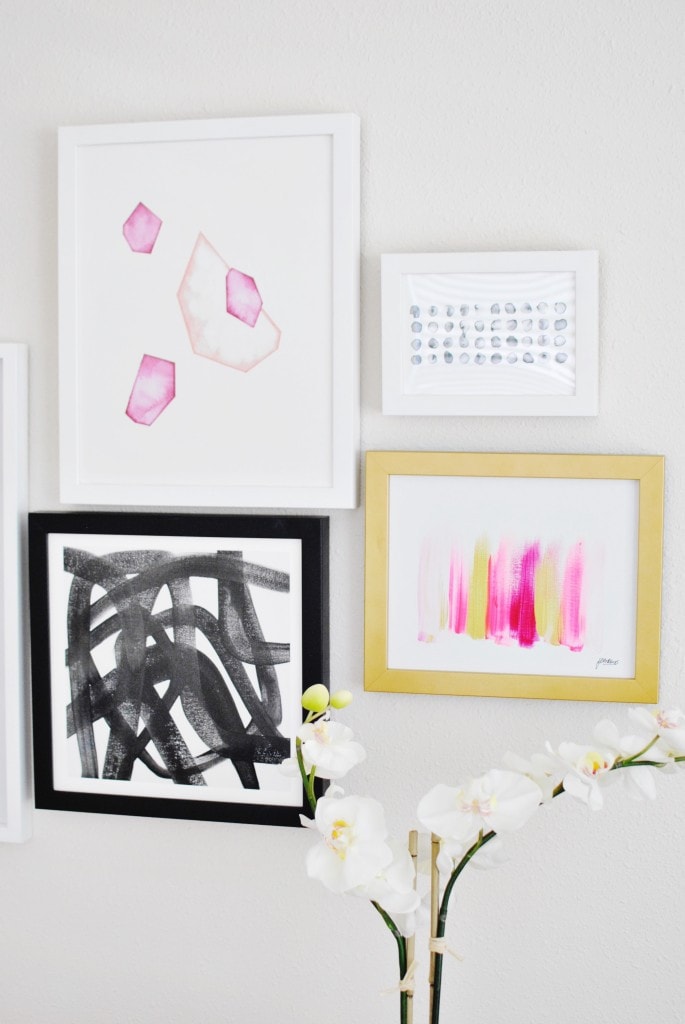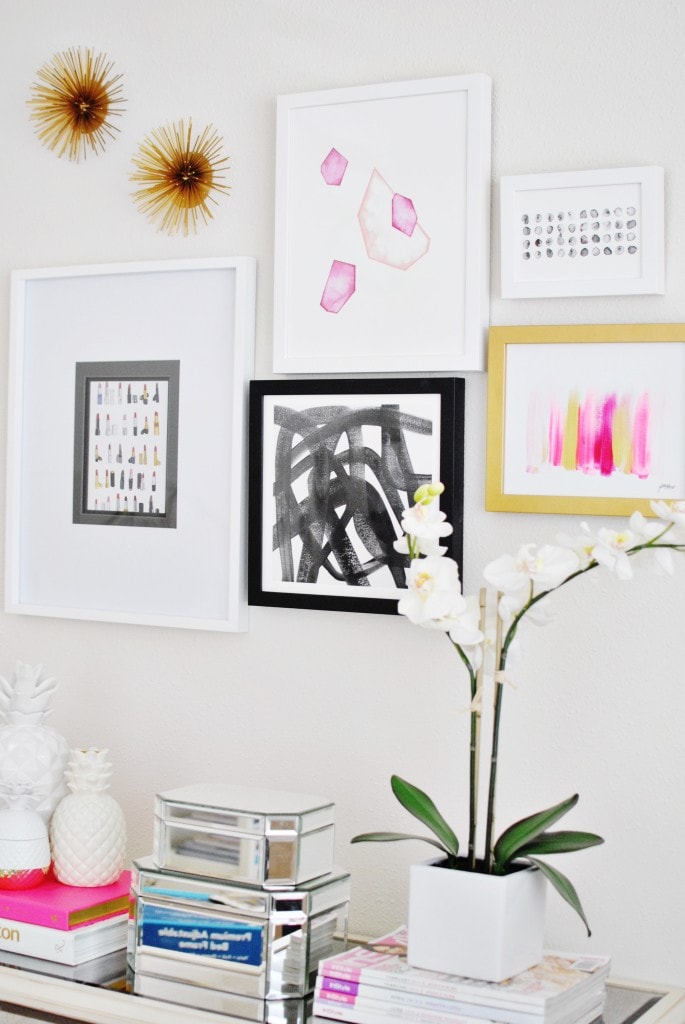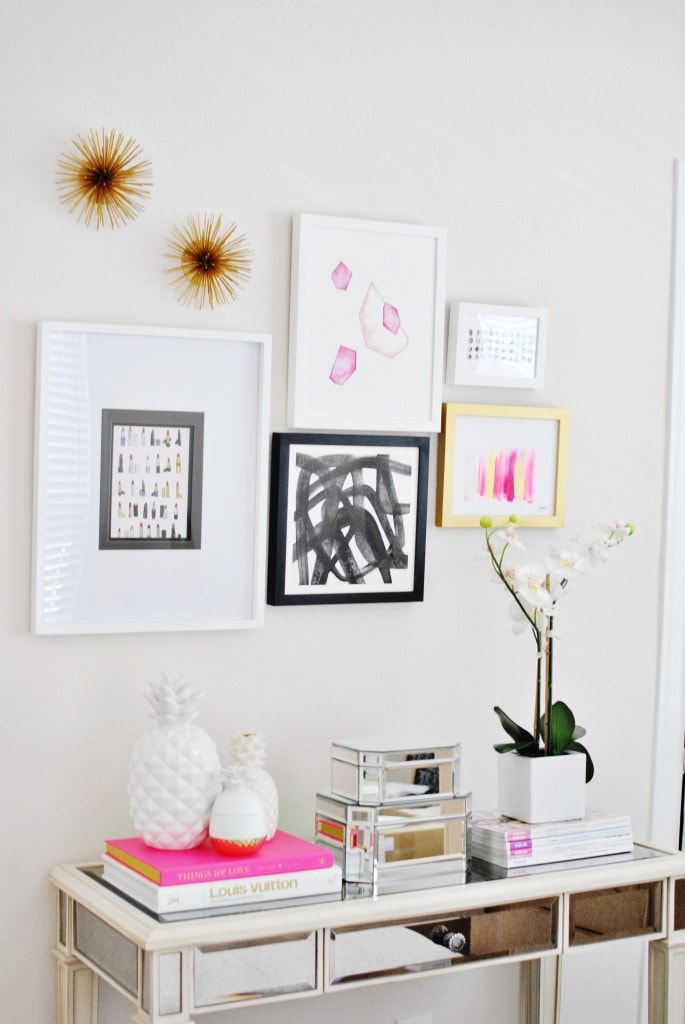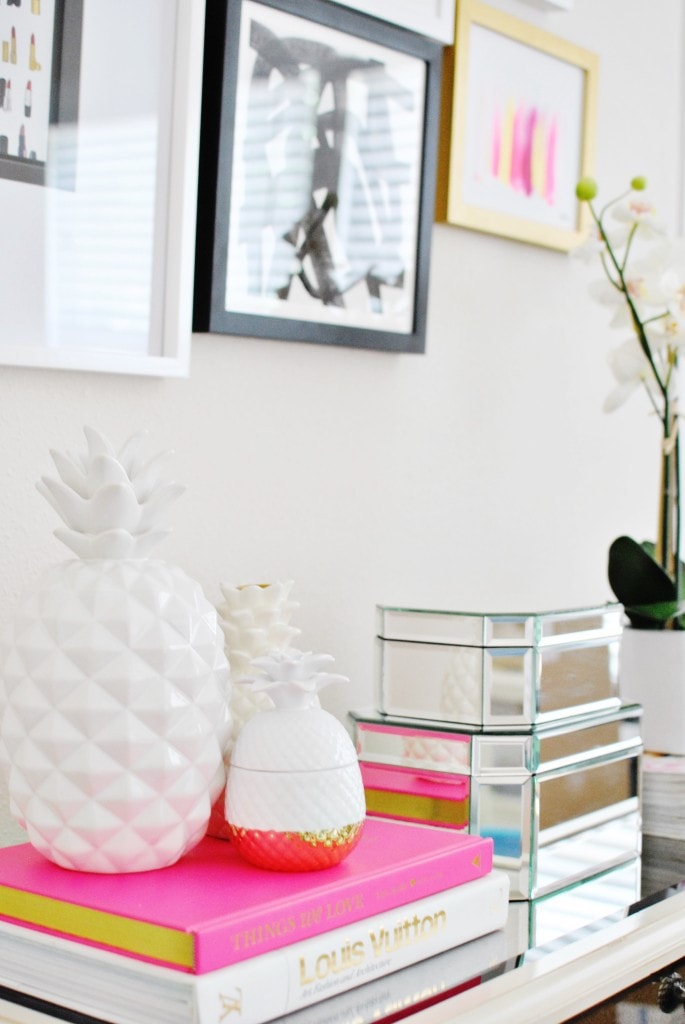 Paul and I chose location over space when we bought our first home. Two years of Dallas traffic compiled with a year of us driving an hour to see each other when we first started dating made the decision really easy! We didn't want to be in a car for longer than 5 minutes anywhere we'd have to go.
In this process of settling in I have tried my best to maximize the space! [I'm being a bit dramatic, we have 3 bedrooms, but in Texas homes can be a bit larger and so sometimes people are shocked we didn't get a 5 bedroom starter home! haha!] I've learned that I really can't clutter up furniture with knick knacks. I can't put 12 picture frames on a console table because it makes the space seem so much smaller, and to combat that I've hung a lot of gallery walls!
Gallery walls can be so easy to procrastinate. You have to frame. You have to find the right spot. You may worry about holes in the wall. But you can get one up in about 5 minutes with the right steps! I'm sharing how I did ours in the guest bedroom!
[P.S. I'm sorry you see boxes in the mirrored furniture! I hung the gallery wall to inspire me to actually unpack these boxes and get everything together. Oops!]
 Step 1: Pick Two Neutrals, an accent and a pop. In this bedroom I chose white and black picture framing for the neutrals, gold for the accent and pink for pops of color. It can be tempting to use frames you have but a mirrored frame, an exposed wood frame and a black frame don't want to be BFFS and sit next to each other, I pinky promise!
 Step 2: Order through a company that frames your art. Framing can be so expensive and that makes it even easier to put off for weeks! I love Minted. You can order art with a specific frame and size for a steal. I got most of these pieces above through Minted and you can search their art options here! Here is also a gallery wall layout form, but I just always grab 1-2 large pieces, a medium and fill the rest of the space with smaller frames!
Step 3: Once your pieces come in  arrange them on the ground or your bed so you can get an idea of the arrangement. Then grab your bestie, boyfriend or sister and make them come help!
Step 4: Using measurements from the ground and transferring to the wall place each piece on the wall and put painters tape around the print. I just put painter's tape at the top of the frame to speed up the process while my sister held the print against the wall. Then I was able to put a level at the tape and make sure it was even.
Step 5: Just nail right below the tape and hang your prints! Don't stress about perfection. If you stare at any gallery wall for long periods of time you'll think one print is crooked or the whole space is off! Gallery walls are meant to just be beautiful spaces of collected work and you can easily get prints of family framed if you don't have a lot of room for frames in your home either!
---
Gallery Wall Details
Lipstick Print: Gift, Frame: Homegoods | Black & White Swirl Print: [c/o] Minted | Black & White Dots: [c/o] Minted | Geometric Print: [c/o] Minted | Brush Stroaks Print: Made By Girl | Table: Pier 1 | Orchid: Similar
---