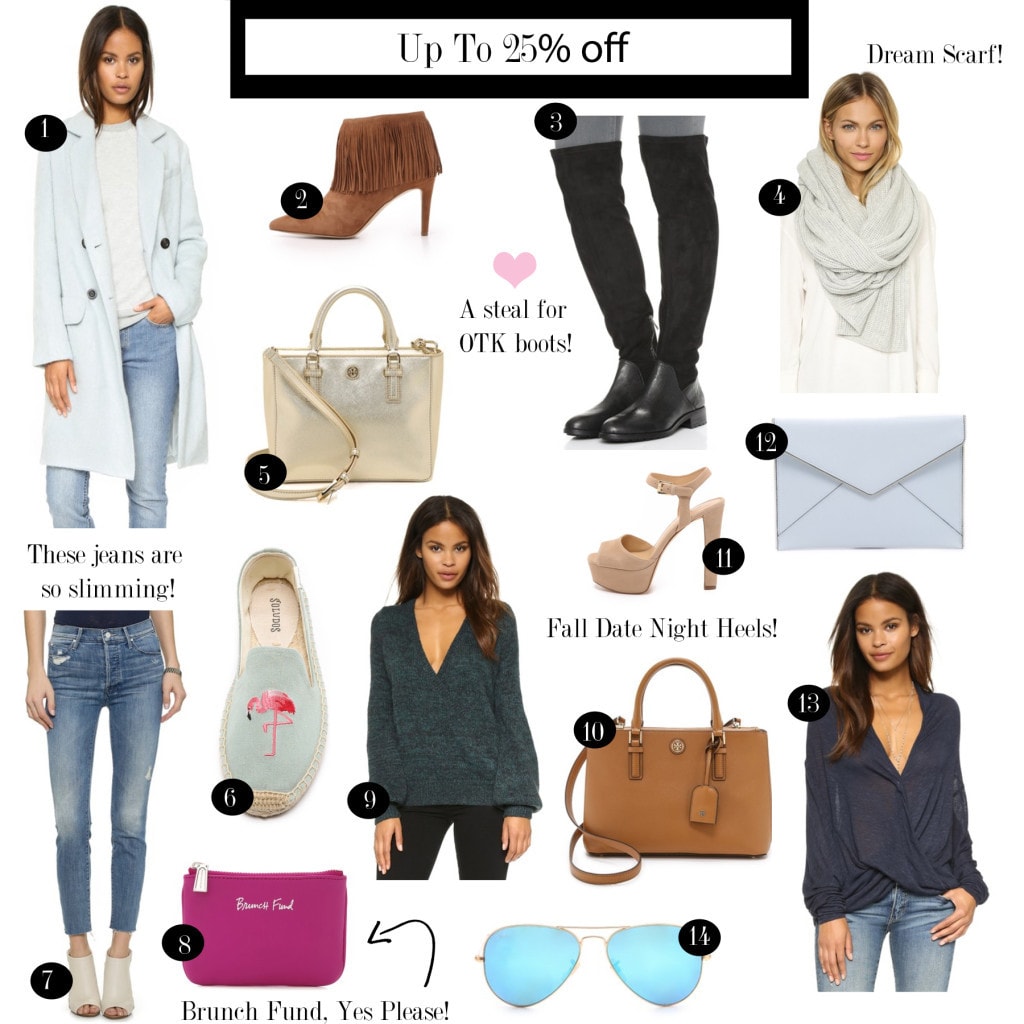 1 / 2 / 3 / 4 / 5 / 6 / 7 / 8 / 9 / 10 / 11 / 12 / 13 / 14
---
Happy Tuesday! First and foremost, thank you so much for all your well wishes and prayers with my surgery! Y'all are so so kind! I'm back home and Paul has been the best accountant turned nurse! haha.
But because this week I really can't get out of bed I went ahead and started some Christmas shopping with sales going on! I wanted to share these with you so that start before Black Friday! Shopbop is having a great sale up to 25% off! Enter code: GOBIG15 at checkout here! If you spend $250 or more you get 15% off and it goes up from here. You may think that's a lower starting point for a sale, however, Shopbop has lots of designers! From Phillip Lim to Tory Burch and this sale is so great because there aren't exclusions, where there typically are on Shopbop sales! So if you are a mom who has a daughter dying over this bag it's the perfect time to make those big "Santa" purchases. My mom always gives us stockings from my dad and she filled with little goodies and then "Santa" brings us a gift we might have been eying for a year or so!
My next favorite sale going on is the Tory Burch one! If you spend $250 or more you get 30% off with code: THANKS here! You also get free shipping and returns! I love gathering lots of little gifts that equal $250 for girlfriends. These are some of my favorite gifts to give. I'm getting one for my sister-in-law because she works at a law firm and needs something minimalistic but cute! When we were in Scottsdale I actually went in their Tory Burch store twice eying this piece! I couldn't totally justify it but now if I sneak it in with gifts for friends and family I think it counts, right?! 😉
I'll pull my favorite Tory pieces below!

I hope this helps makes your holiday shopping a little easier!! Thank you so much for stopping by and for all your prayers and well wishes!!