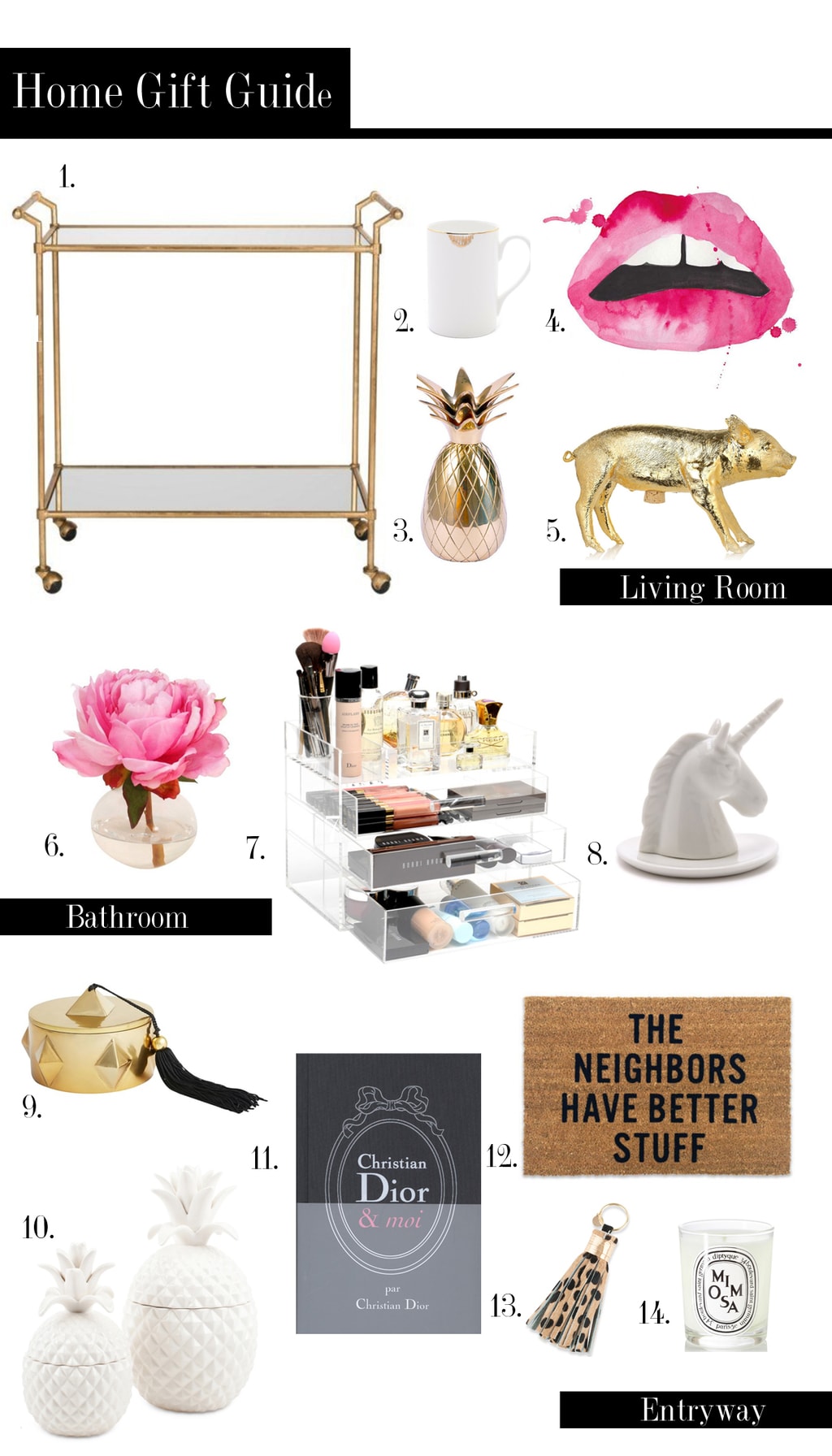 1 | 2 | 3 | 4 | 5 | 6 | 7 | 8 | 9 | 10 | 11 | 12 | 13 | 14
---
Home gifts are your safe zone for the holidays! No one turns down a candle or a coffee table book, because between budgets and bills these are typically the last gifts a gal treats herself to! I also love home decor gifts for boyfriend's moms or your aunts because they get so excited to add in small, trendier pieces in homes they have lived in for ages! If you have a mom or grandmother who loves to cook, this is a sweet and chic gift to help keep them organized!
I decided to divide this gift guide up into pieces for your living room, bathroom and entryway! Of course you can intermix these pieces, but I think it helps narrow down for who you need to shop for!
Living room gifts are great for your friends who have lived in a home for a longer period of time or are married! A gold-lip mug or bar cart are perfect additions for your friend loves to host! Bathroom gifts are great for a girl who lives with roommates! She may not want to put her gifts out in the living room for all to use, but her bathroom is her little haven that no one goes in! A Glambox is the perfect gift for a sister or BFF, or a unicorn ring holder is a fun, cheeky piece that gets a lot of use while she washes her face! Or if you have a friend who just moved into a new home, help her dress up her entryway! The entryway is typically the last room on the list in terms of priority and yet is the first room to greet guests. A Diptyque candle will last for months and make her entire home smell lil heaven in just 10 minutes!
Can't wait to see you tomorrow! Thanks for stopping by!