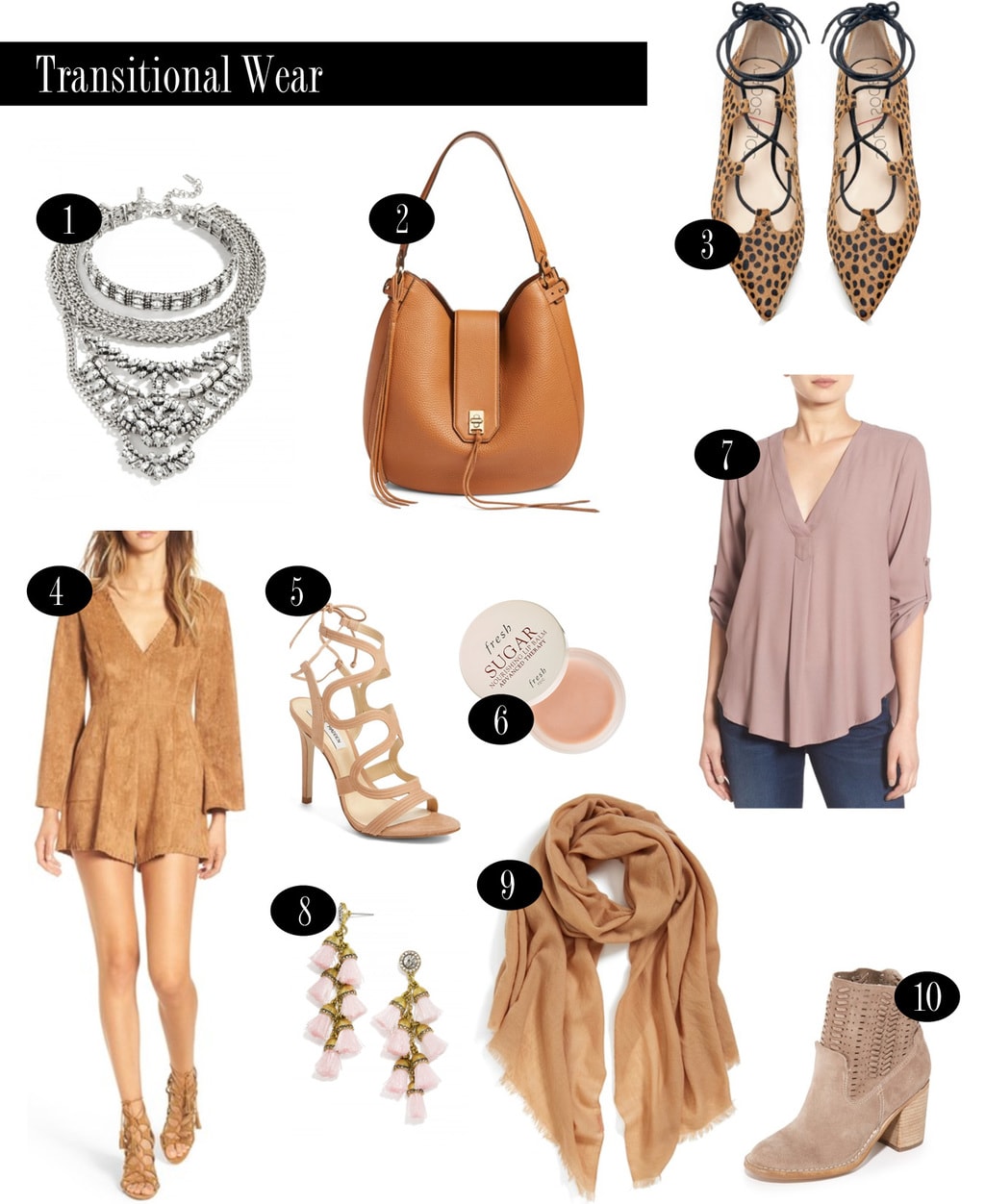 1 | 2 | 3 | 4 | 5 | 6 | 7 | 8 | 9 | 10
---
We had a quick little cool front this week from rain! It went from 109 to 91 and I was ecstatic! I may or may not have worked from home in a sweater all day yesterday… #guilty
It's officially the middle of August and kids are headed back to school which is always a perfect reminder to start purchasing transitional pieces for fall. We don't have a "true" fall until November, but I like to put up my brighter prints and hues around this time and pull out cognac. You always want to dress for the season, even if the weather doesn't oblige, but that doesn't mean you have to feel miserable! Just switch up textures and colors and you can still feel comfortable no matter what temperatures you are dealing with.
I'm in love with all of these pieces and can't get over how much #5 looks like Jimmy Choo! I picked up #7 during the Nordstrom Anniversary Sale and it's the perfect color for fall, but a light enough fabric for summer temps. And don't even get me started on #4. I don't think that would look too cute with a baby bump [it probably wouldn't even work! haha!] so please get it and rock it for me! I can't stop staring at it!
Last but not least, this bag won't stop catching my eye! We have a Michael Kors store right by our house and I'll be honest, I've actually never popped in! I love his watches but have never been drawn to his bags just because they are kind of everywhere! But as I was running an errand two weeks ago I saw this bag and thought, "Okay, I think I may go in." I resisted and then saw it online. It's so tempting and I love the price point as I think it gives you all some more options for styling on the blog! What are your thoughts?!
P.S. There is a Tory Burch private sale today with items up to 70% off! Shop it here! Or see my favorites below, pieces go so quickly!

Do any of these pieces catch your eye?! Thanks so much for reading. 🙂