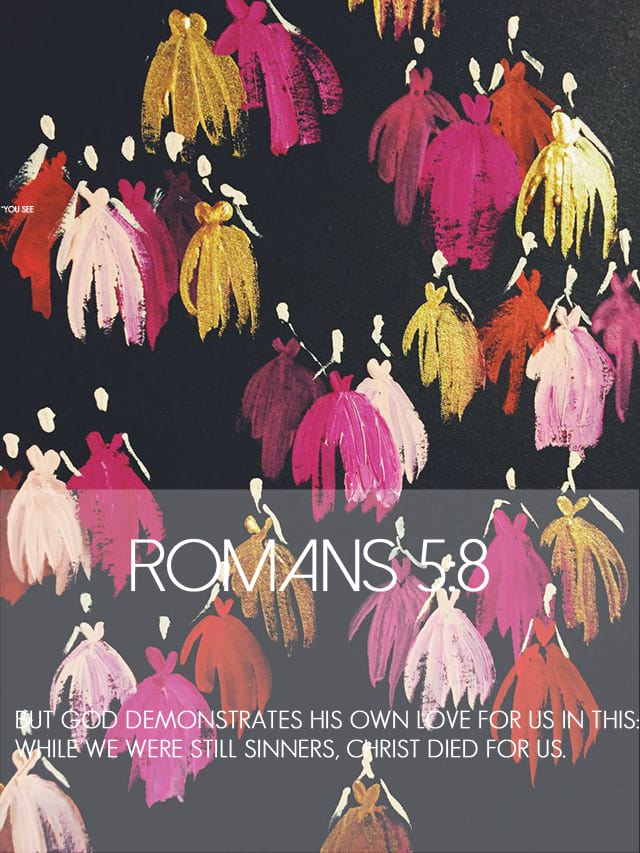 Our first week of bible study is here and I kind of wish you were all in my living room, because then we could drink Diet Coke and eat cookies [two serious requirements for bible study] but I guess that means I gotta eat and drink for all of us! The way this will work is you all will read Jesus Is [the book I shared last week!] and I'm reading it while going through the leader guide. I'm taking what I think are key components to share with my takeaways/questions for us to discuss. [Meaning: some of these are the questions Judah Smith has laid out for the sessions and some are mine. I'm getting these from the Participant's Guide, so if you want more questions get that!] I'll share scripture that Smith outlined to go with these texts for your devotional time, important takeaways and then discussion questions. Respond to each others, uplift one another and feel free to share your e-mails if you want to get some deeper conversations going! I just want Chronicles of Frivolity to be a platform for you to be able to dig deeper and meet one another! At the end of each session I'll tell you the chapter we will read for next week! Each session will be defined by these sections: Read, Scripture, Takeaways, Questions.
---
Read:
Make sure you read the Introduction & Jesus Is Your Friend section of Jesus Is. This is compromised of Chapters 1-3 or pages 3-34!
---
Scripture:
Romans 5:6-8 
"You see, at just the right time, when were still powerless, Christ died for the ungodly. Very rarely will anyone die for a righteous person, though for a good person someone might possibly die. But God demonstrates his own love for us in this: While we were still sinners, Christ died for us." 
Romans 3:9-12
"What shall we conclude then? Do we have any advantage? Not at all! For we have already made the charger that Jews & Gentiles alike are all under the power of sin. As it is written: "There is no one righteous, not even one; there is no one who understands; there is no one who seeks God." 
[This part may have you like huh?! Paul is basically saying no one is innocent. Every person matters to God [he made us, he loves us, he sent his son to die for us] but we are sinful creatures. So God has redeemed us through his son and through our acknowledgement that we need him, he forgives us.]
John 7:3-38
Read this during your devotional time.
---
Takeaways:
1. Could last week's topic "Jesus is a Friend of Sinners" be any more ironic? The past few days my Facebook was basically a newsfeed of self-titled Pharisees, Pastors, Politicians and "Peace Keepers" in regards to Caitlyn Jenner. Everyone thought they had the right answer, but yet I never saw love. I either saw some people in disgust over the news or the other spectrum persecuting those who didn't understand and giving their best hate speech to the Kardashian clan. People "thought" they were sharing love [because as humans we think that in order to lift up one person we have to put down another group] but in reality we were all just sharing grievances. Any grievance we ever have is because other people aren't doing something, saying something or thinking something our way. How selfish are we? I think if Jesus was here he would be having dinner with Caitlyn, Kris, and each one of us who liked, commented or rolled our eyes [me!] at a status. And I'm pretty sure he would have had one of those baskets where we put our phones in it so no one would be allowed to retweet our thoughts. I'm a sinner. You're a sinner. Your Kindergarten teacher is a sinner. Caitlyn Jenner is a sinner. Your pastor is a sinner. We are all sinners and this was long before last week happened. We were born into bright and shiny delivery rooms and became sinners. And all that means is that Jesus would be eating dinner and loving on us all. He doesn't have a scale like, "Uh oh, Sarah made 4 Facebook statuses about the issue looks like I need to book Olive Garden with her twice next week." So why should we? In fact so many people didn't even think Jesus was [or is] the Messiah because while he was here he wasn't acting like all of us. He wasn't demeaning everything he saw that was wrong and degrading those he didn't agree with. He just loved them. He was their friend. He is our friend.
2. Now this isn't to say Christianity is a festival where we all sin and eat ice cream with Jesus and say it is okay because we were born this way. Jesus ate with these sinners and spent time with them so he could love them. Through this love people trusted him and changed. They wanted to become more like him, which is what Christianity is all about! Love is the most influential behavior of all and Jesus' love was so powerful that all it took was one meal with Zacchaeus for him to want to change his heart and repay those he had stolen from. How incredible is that? Think of the most kind-hearted person you know. When you're with them do you catch yourself changing your words? I do. My sister is honestly the sweetest person I have ever met. When I eat dinner with her I constantly find myself complaining less, speaking softer and being more uplifting to others. I could be telling her a story of how someone rear ended me and because she is so kind and loving I would automatically change my wording form
"Sorry I'm late, this stupid teenager was texting and driving and hit me."
to
"Sorry I'm late! I feel so bad, this poor girl was texting on her phone and rear ended me. I'm okay and she had insurance, but I'm sure she was shaken up, I know I was."
And this is just my 16-year-old sister I'm talking about. Imagine how loving and kind Jesus had to be around Zacchaeus for him to think, "What am I doing? I want to be like Jesus. My heart is yearning to be more like him, because he cares for me. I have to change my life."
This is Christianity. It's a love so pure that our hearts are overcome with a desire to serve him and be like him. We do that through a relationship with him and fellowship with other believers [example: my sister]. By surrounding ourselves in his love [church, devotionals, quiet time, bible studies] and fellowship [Christ-centered friendships] it becomes second nature for us to want to become like him.
3. So how do we change our hearts? God made this so easy for us. It's like a birthday party that we just have to RSVP to and show up, then he feeds us cake. Make that time for him, be in constant prayer with him [Make it a conversation, talk to him while you drive to work, talk to him while you work out, before meals, before bed, while you curl your hair. Invite him in your day!] and surround yourself with believers who will hold you accountable. Jesus does the rest. He is the keeper of our hearts, we don't have to say 14 prayers backwards and forwards while doing a strange cleanse in order to stop cursing. If we become his friend, he will do that himself. Because let's be honest, we are human if we say "I'm going to stop cursing" we will do it 25 minutes later when AT&T messes up our bill.
4. Criticism. Throughout these chapters [and last week's social media scandal] I kept thinking about how easily humans criticize. The Pharisees made a living criticizing and they were so mad Jesus didn't do that. He acknowledged sin, he said, "Go and sin no more" but he did so with understanding. Maybe we don't outwardly criticize people daily in a harsh sense, like those religious vigilantes dragging the woman before Jesus, but we do do it. They wanted Jesus to pronounce judgement on her and have her be stoned to death. Jesus said, "Let the one who has never sinned throw the first stone." When I read this I kept thinking, "SCREENSHOT." You know what I'm talking about. You scroll through social media, find something you don't agree with and you screenshot. You then send to your said group of friends who will agree with you and make your comments. Lord knows I've done it and Lord knows people have done it to my blog. Judah Smith says, "It's so convenient. And so deluded." We put others down to help our self esteem rise. What if we were understanding before we criticized. What if we had to make one comment uplifting a person and putting ourself in their shoes before we were allowed to make our backhanded comment. And I don't mean the whole, "If you say bless her heart before you say she looks awful it's okay!" kind of exercise. I simply mean, what if before we questioned why she went back to her cheating boyfriend and posted it all over Instagram, we put ourself in her shoes. What if we thought about the pain she has from being cheated on or the pain she has from worrying he will do it again? It might be more difficult for us to criticize. Let's take it a step further. What if you went to dinner with her? What if you got to know her and her heart and then you shared how you think getting back with their ex is only going to further hurt their hearts. Then we wouldn't be criticizing. We would be loving. We would be holding our friends accountable. We would be becoming more like Jesus.
5. This section showed us that Jesus Is a Friend Of Sinners. He allowed people to "belong long before they believed or behaved." He didn't say, "Oh I know you're struggling with alcoholism, so let's define you by that!" He loved. He shared the faith that he would return. And he gave us hope. Let's relate to others like he did. Let's stop being pharisees and placing our sinful opinions all over Facebook so we can get a few likes and boost our self esteem. Let's just be friends and go to dinner with each other and invite Jesus to the table as well. All we have to do is show up. He will change our hearts.
---
Questions:
1. If Jesus, the friend of sinners everywhere, is a true picture of God the Father, why do people so frequently view God as an angry, vengeful deity? [Judah Smith]
2. How can you "save" people who are lost? Is it really your responsibility? [Judah Smith]
3. Do you judge others too quickly? Why or why not? [Judah Smith]
---
I'm all for good discussion! I'm a human. I'm not perfect. So none of what I wrote was perfect, either. If you disagree with me or someone who comments below please respond with kindness! We all allow barriers in our minds to come down and see other viewpoints when our comments are coming from a place of love, not pride.
Be sure to read Jesus Is Grace next week! Pages 35-82!