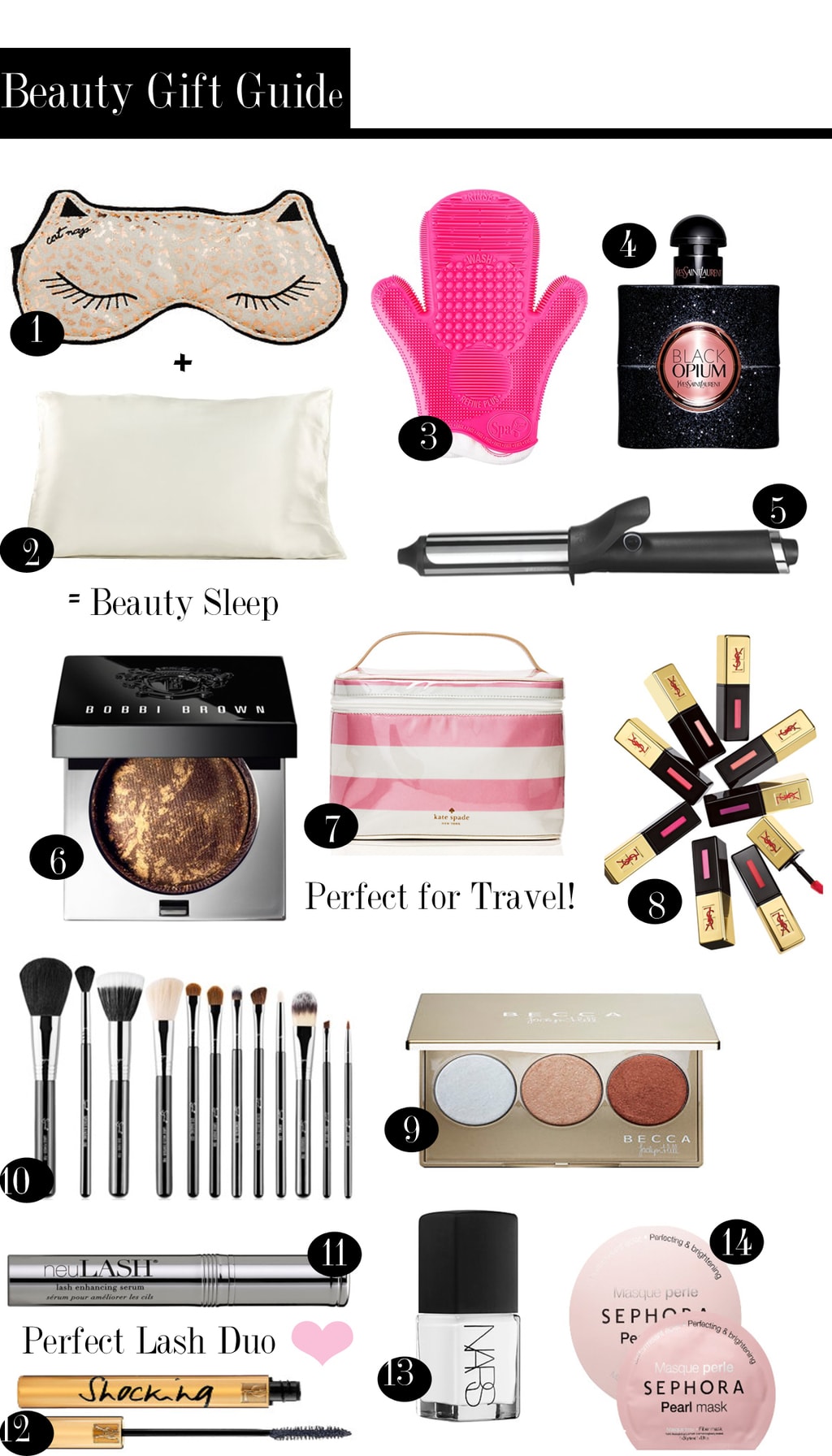 1 | 2 | 3 | 4 | 5 | 6 | 7 | 8 | 9 | 10 | 11 | 12 | 13 | 14
---
Hi friends! I know it's the beginning of November, but this is when I start to do all my Christmas shopping. I absolutely love gift giving! I always start November sitting down and writing out a little list of all my loved ones and try to think of gifts that truly would benefit them. Then I go to town picking out wrapping paper, dressing up packages and blasting Michael Bublé Christmas songs so loud I'm convinced my neighbors are plotting my death.
I like to start my gift guides now so you can purchase a gift a week and it lessens the load financially! I wanted to start with a beauty one because these are my favorite little gifts to give. I'm definitely the Sephora addict in my group of friends. My mom was a makeup artist when she was my age, so it definitely rubbed off on me. In college I lived with one of my best friends, Emily, and we would turn our apartment bathroom into a spray tan booth and spray tan all of our sorority sisters before formals!
These are also great gifts to give if you do secret santa exchanges for work. Enough with the Starbucks gift cards! Enough! 😉 I always love to give a little YSL lip stain or these Sephora pearl masks are addicting! If you have a girlfriend who loves her hair, I swear by this pillowcase. It helps prevent wrinkles and breakage with your hair. It also allows me to go 3-4 days without washing my hair because it keeps it smooth while I sleep! OR if you are a girl after my own heart and want to treat yourself, this Neulash is my must have! It makes your lashes insanely long and I see a difference in just two weeks of use. This curling iron is a great gift for your mom or sister and I've used it for the past year. It has a special coating so it doesn't break your hair or fry the ends. Or if you just need a little tiny something, this glove is my favorite for washing my makeup brushes! It gets all the deep dirt at the base of the brush you normally would give yourself carpal tunnel trying to clean out. And if you need to share something for your lover boy to get you, this YSL Black Opium is my favorite perfume! I'm so picky about perfumes but this perfume hits all the notes a girly girl would want: sweet, oriental, spicy!
Happy gift giving!