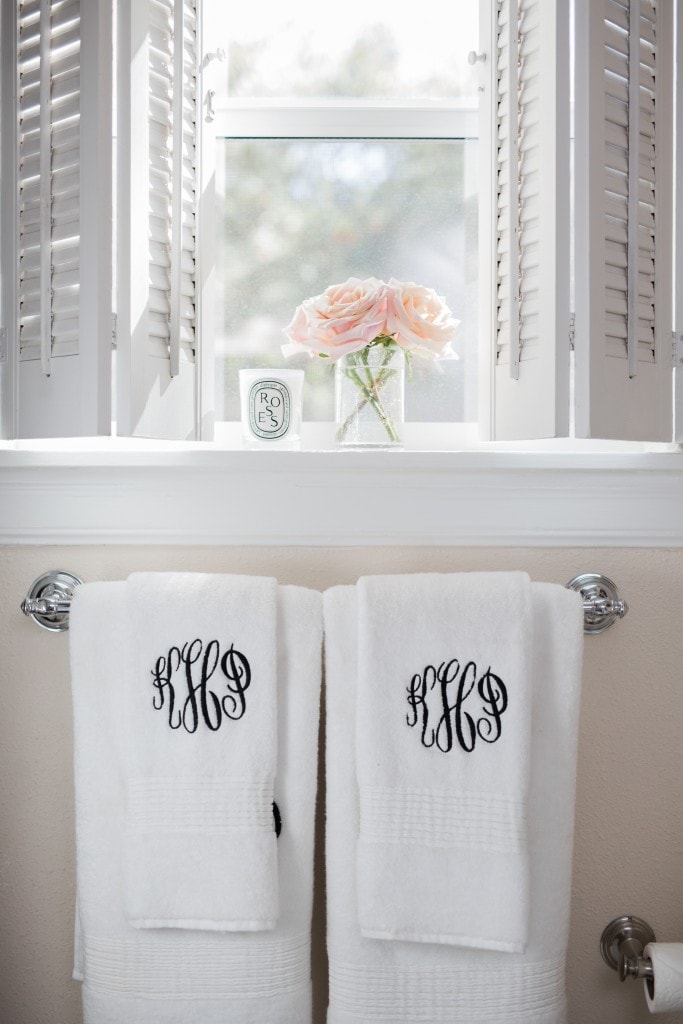 When we chose an old home over a newer build, I knew two things were inevitable: a small bathroom and a small closet. Granted, everything is kind of small! I joke with Paul that I think the one thing I'll appreciate most in our forever home is a normal pantry! We have an awkward shelving unit to store food on. Do you know how hard it is to fit Paul's cereal addiction?! It's like Tetris every morning! haha.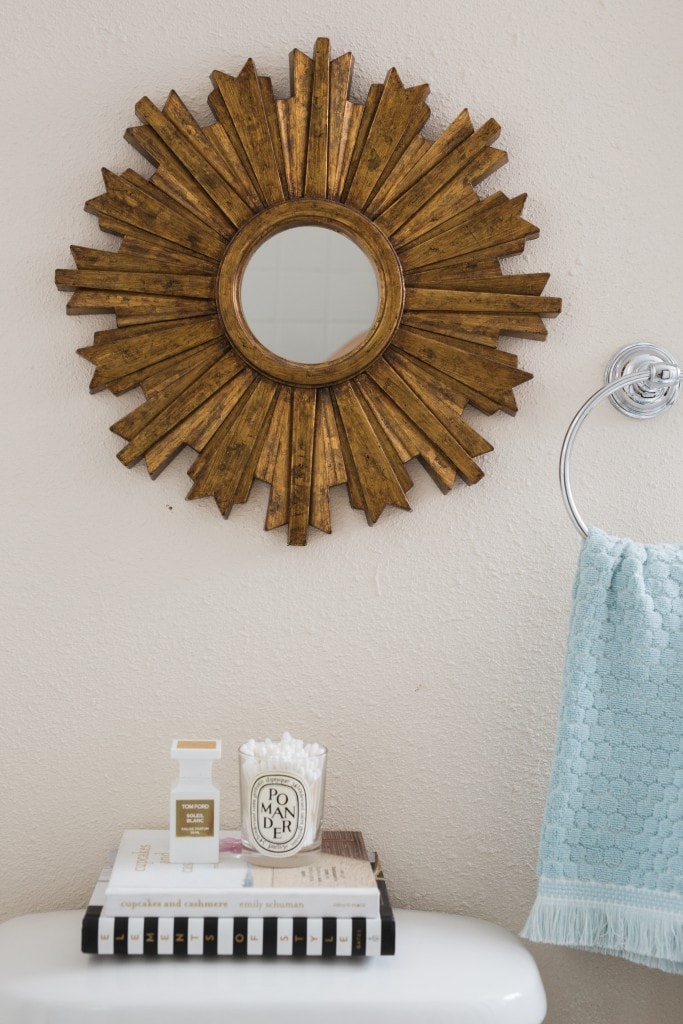 But surprisingly, a small bathroom didn't bother me. Our bathroom has a built-in vanity that I sit at while I get ready so it hasn't been bad at all! Of course when we are hosting I wish we had another half bath, but I think I've learned how to make it as functional as possible. If you are planning to install a walk in tub in your bathroom, make sure to hire professional installers, see page here for more info. And if you have a smaller bathroom, you may consider doing considering bathroom renovations. It would be fun also to share my tips for styling a smaller bathroom!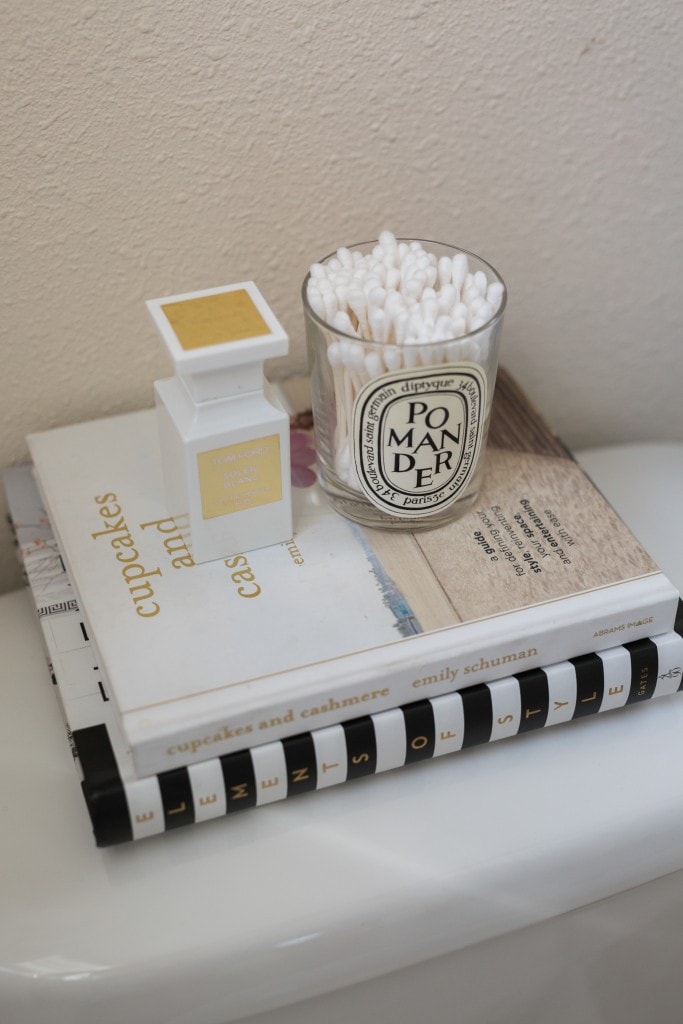 First things first, when picking a color palette I decided to go the neutral route. I honestly, thought if I did a turquoise shower curtain or something it would look smaller and mess with lighting. Can't have a blue-hue while putting on foundation! 😉 The next step was to use every space as a functional space. Smaller books can create a flat-top on your commode for perfume or q-tip/cotton ball storage. I use old diptyque candle jars to hold bathroom must haves!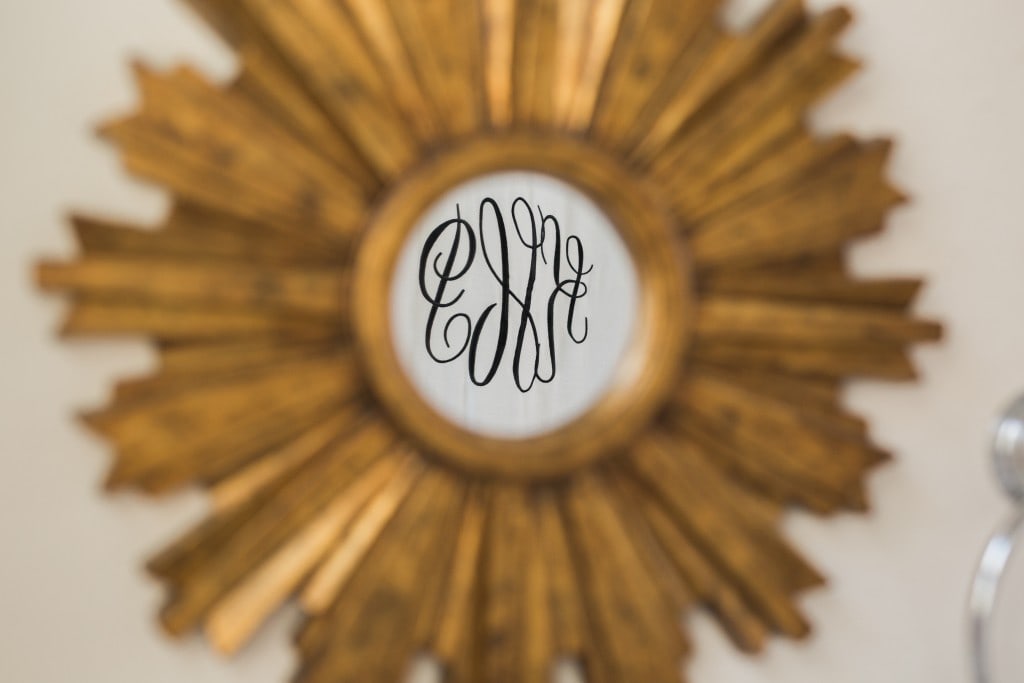 Our shower curtain is a simple white monogrammed one from etsy. Here is a similar one!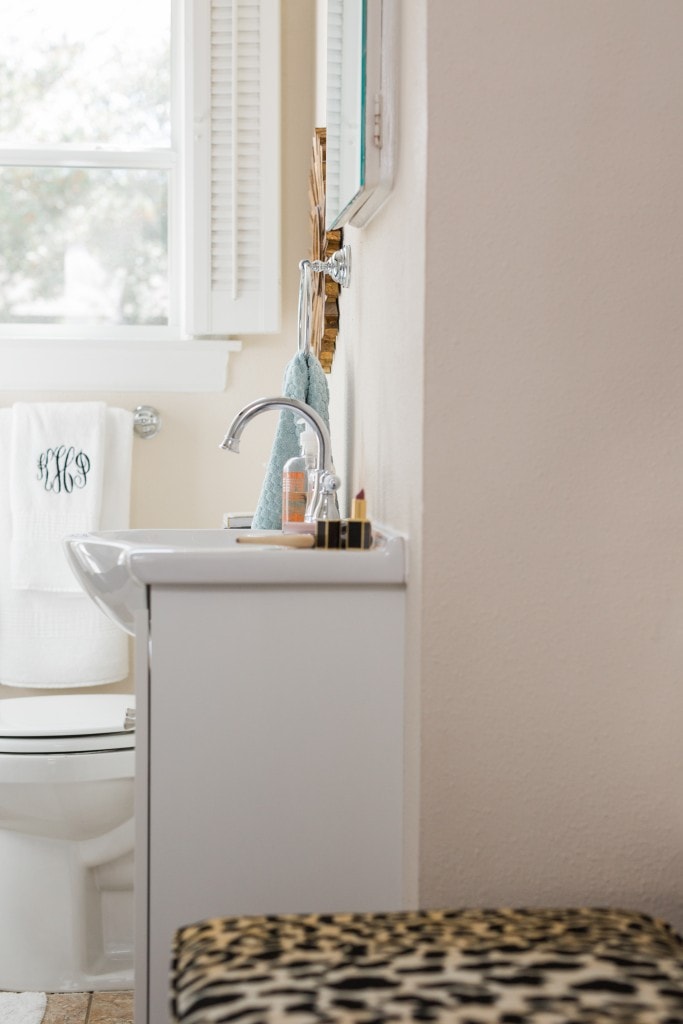 Monogrammed towels are a must for me in terms of bathroom styling. It's a way to incorporate your taste or color [if you wanted to do something other than black thread!] without adding clutter.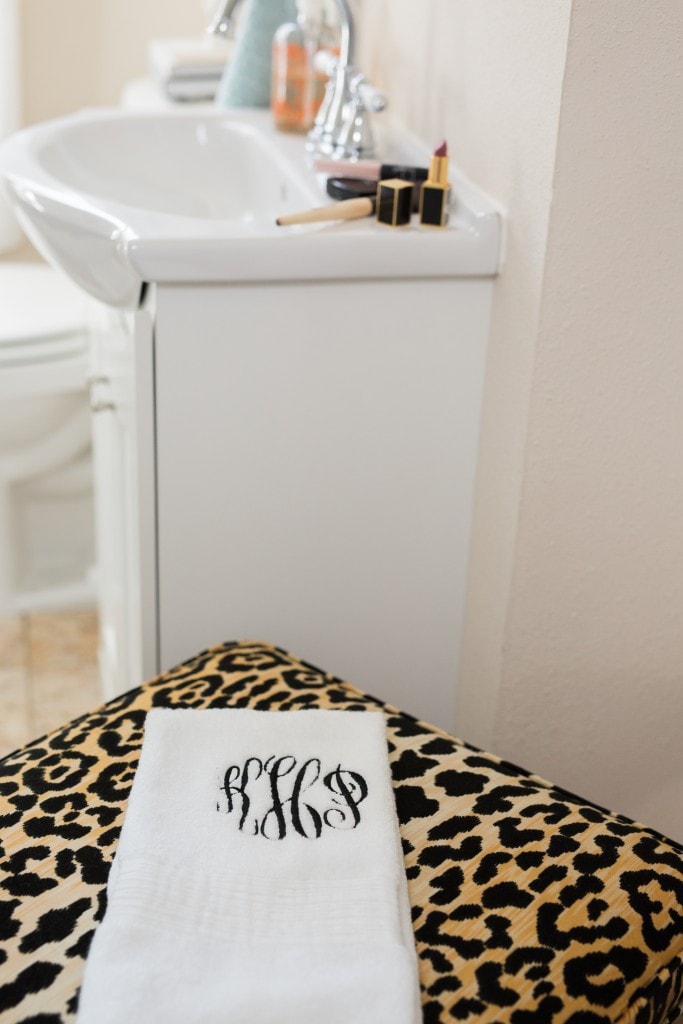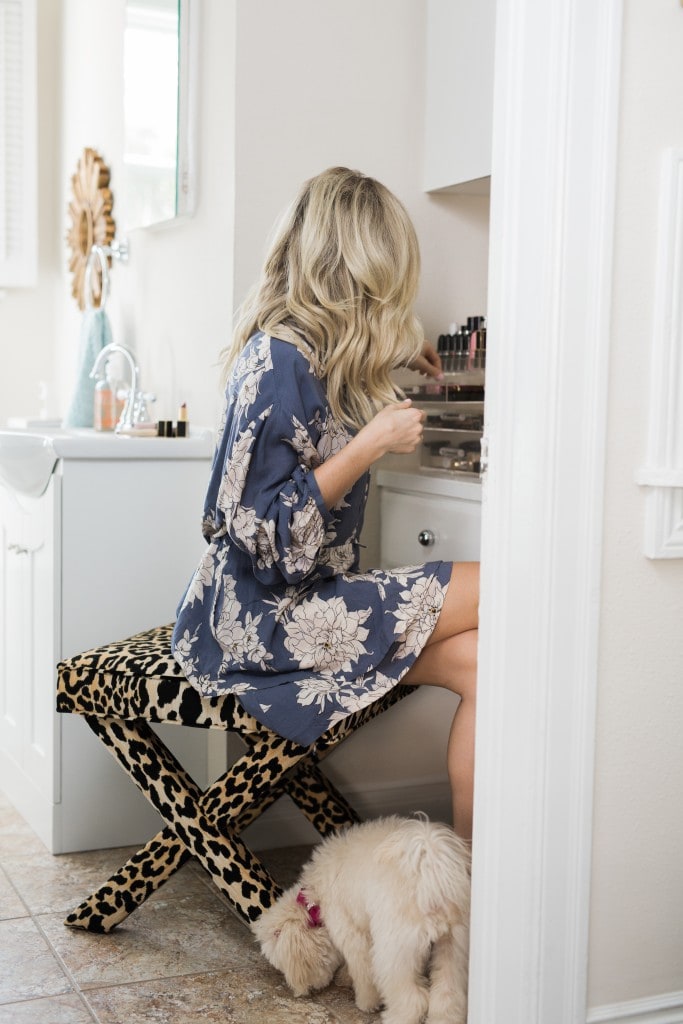 This vanity is seriously the biggest life saver we have! Paul stores his goods in the medicine cabinet [and I MIGHT keep a few things there too 😉 ] and I sit here. Peaches sits in my lap while I do my makeup and she just stares. It's so funny!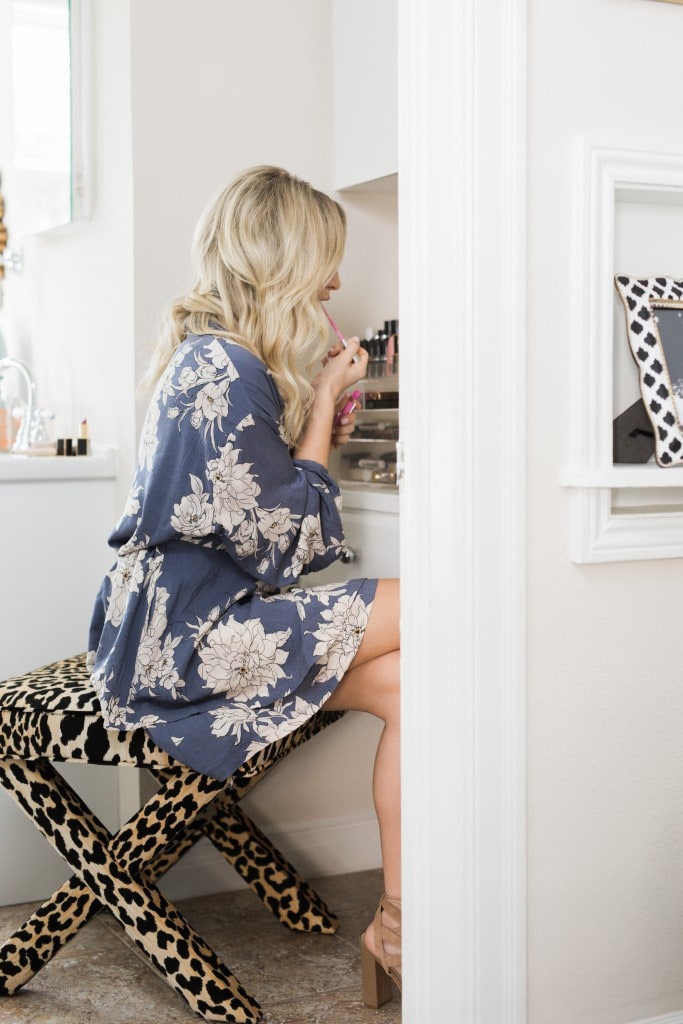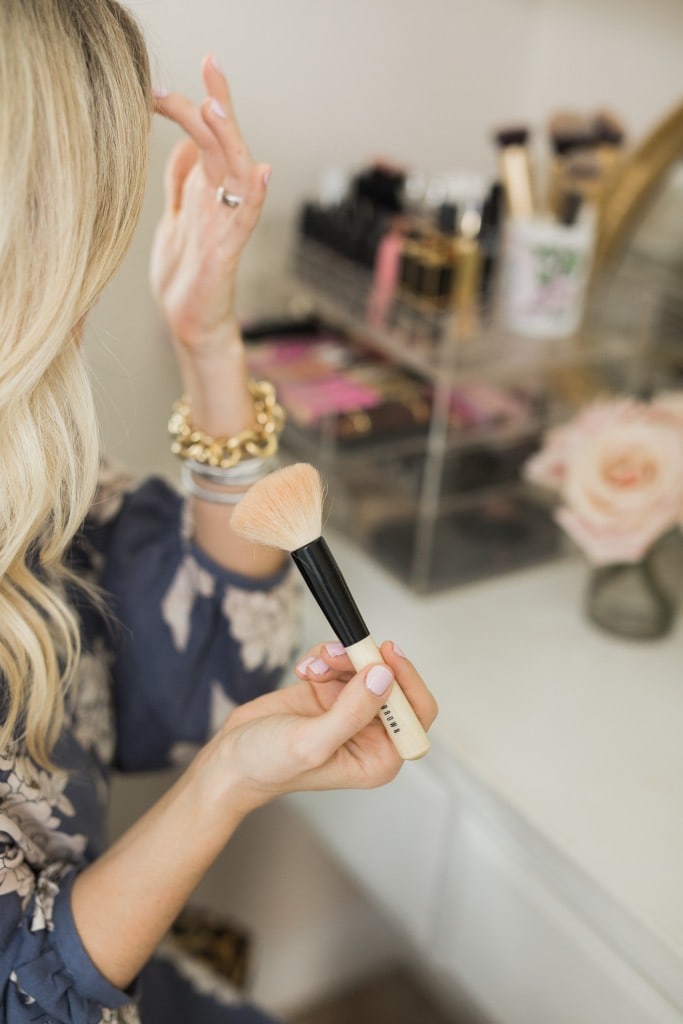 Bobbi Brown Blender Brush: Link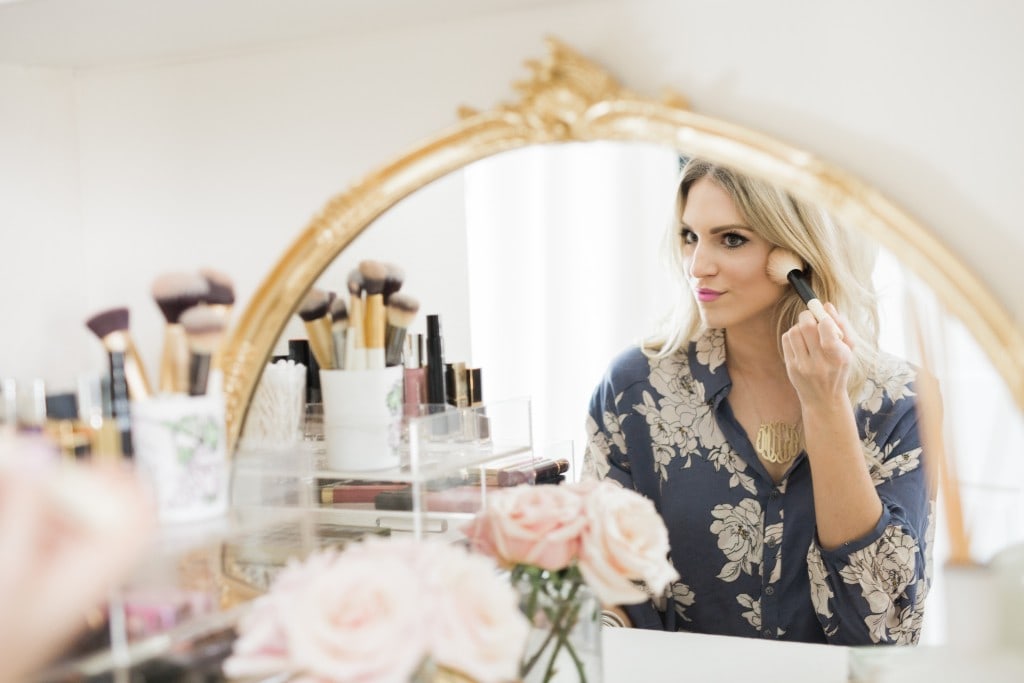 This wall was a bit dark and awkward so I leaned a mirror from One Kings Lane up against the wall.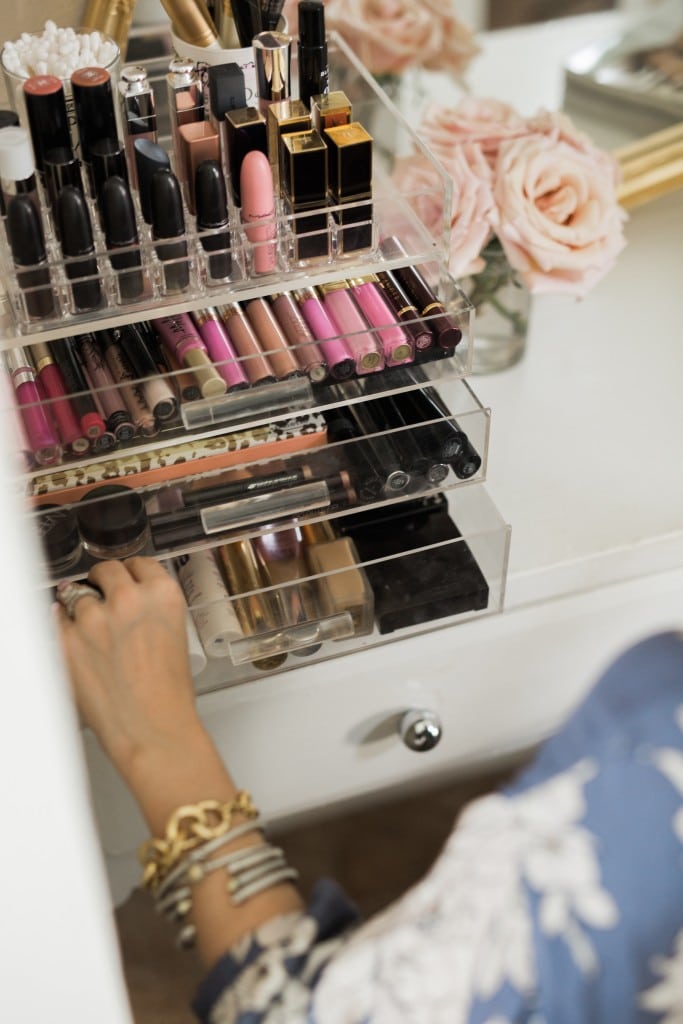 Bracelet: Baublebar
I love my GLAMbox and have the Petite version. In my old apartment I had the Luxe size, but I just do a better job of decluttering old products and the Petite works great! You can get free shipping on them today with code COF at checkout!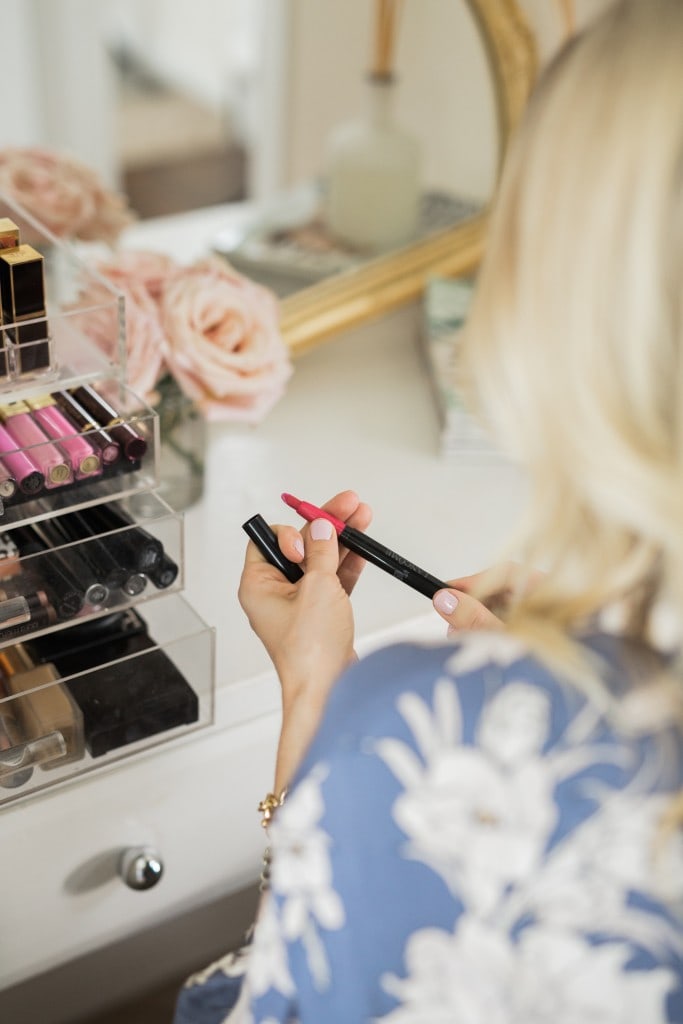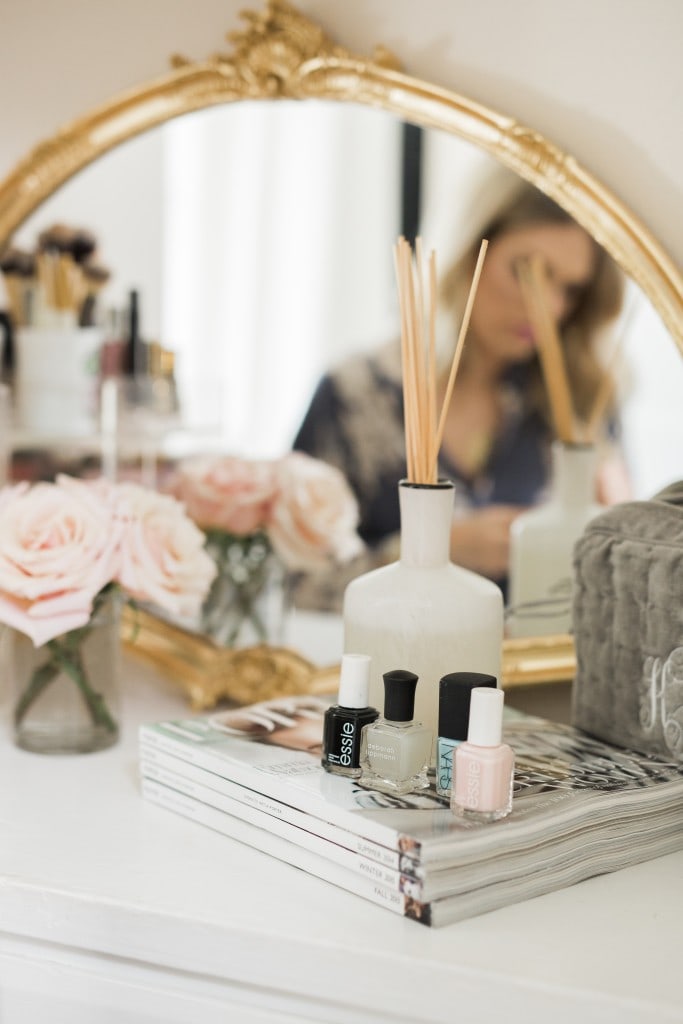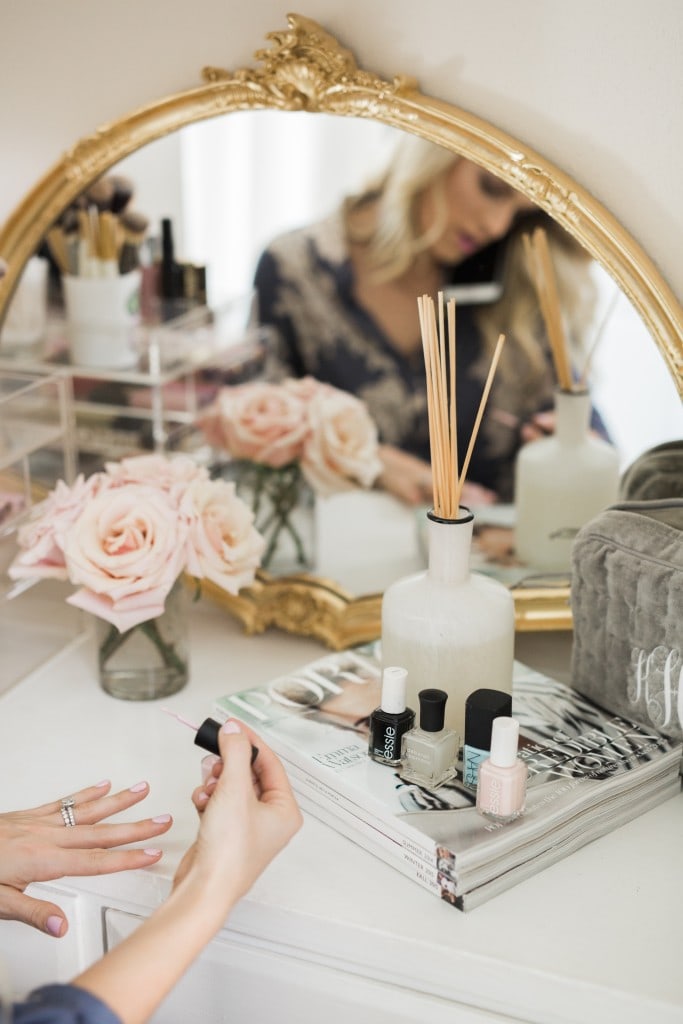 Deborah Lippmann Gel Kit: Link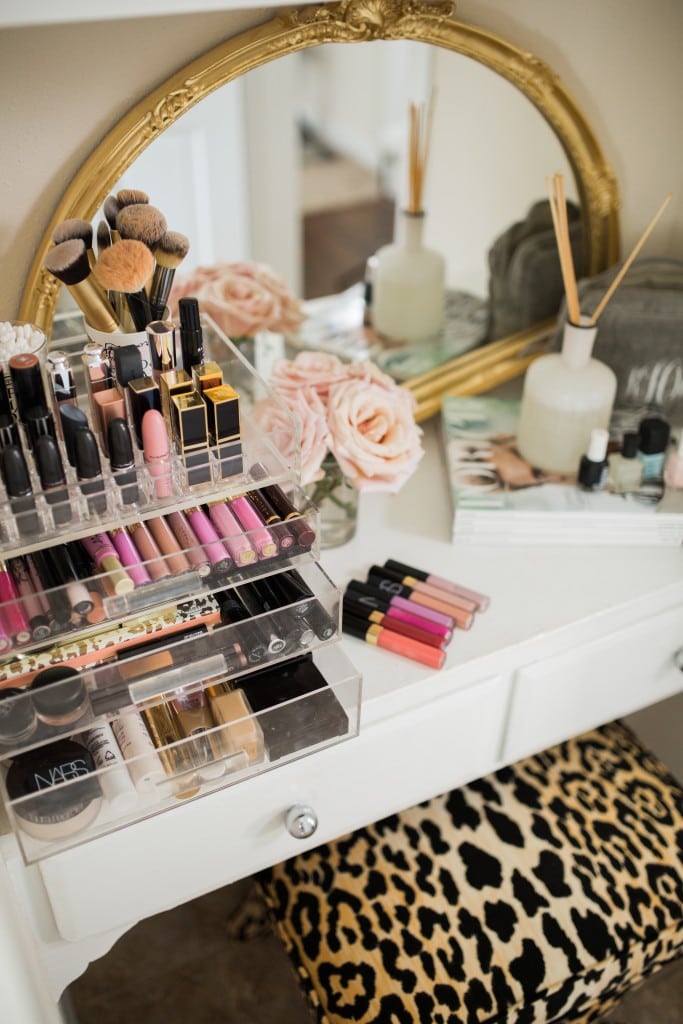 Nars Glosses: Link 
Favorite Shades: Turkish Delight, Striptease, Easy Lover, Chelsea Girls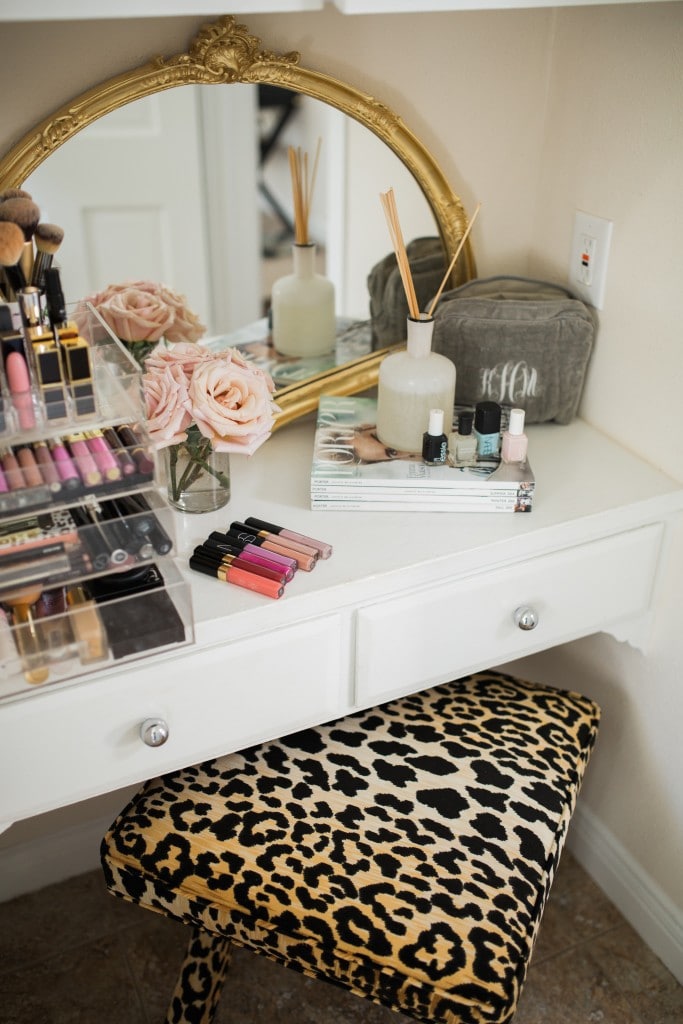 Leopard Bench: LivenUP Design [c/o]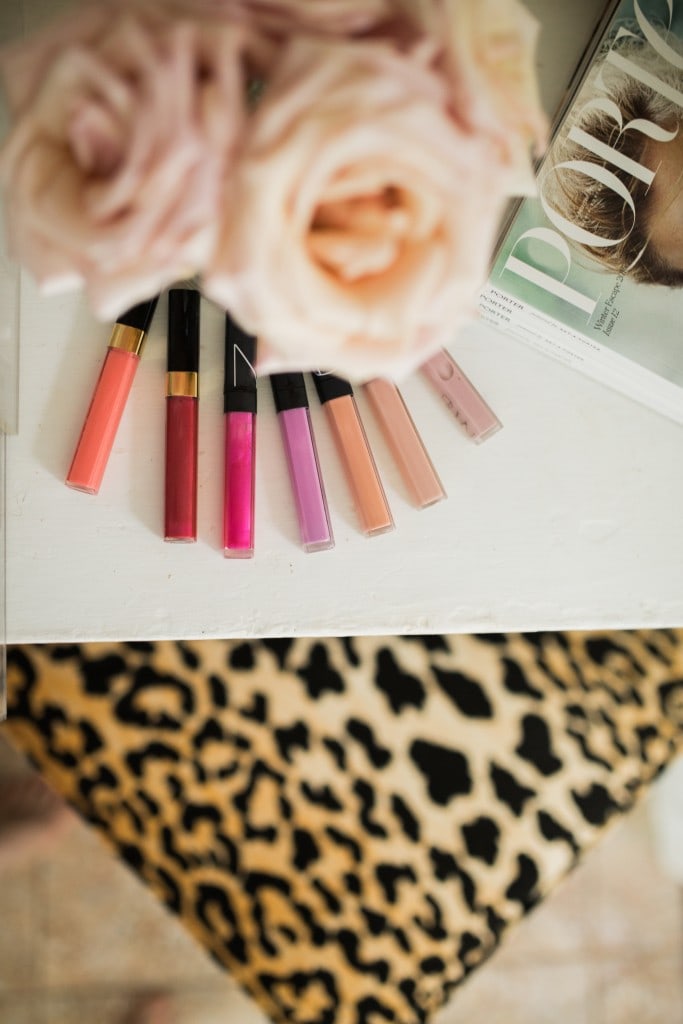 I try to keep the vanity area as clean as possible because I know if I didn't organize my GLAMbox pretty frequently it could look disheveled. Before you go to bed, just spend 5 minutes placing your makeup up properly and you won't ever have a huge mess to deal with! If you go a neutral route in the bathroom add in some florals for color pops! If you don't want to deal with real ones dying, these are my favorite faux ones!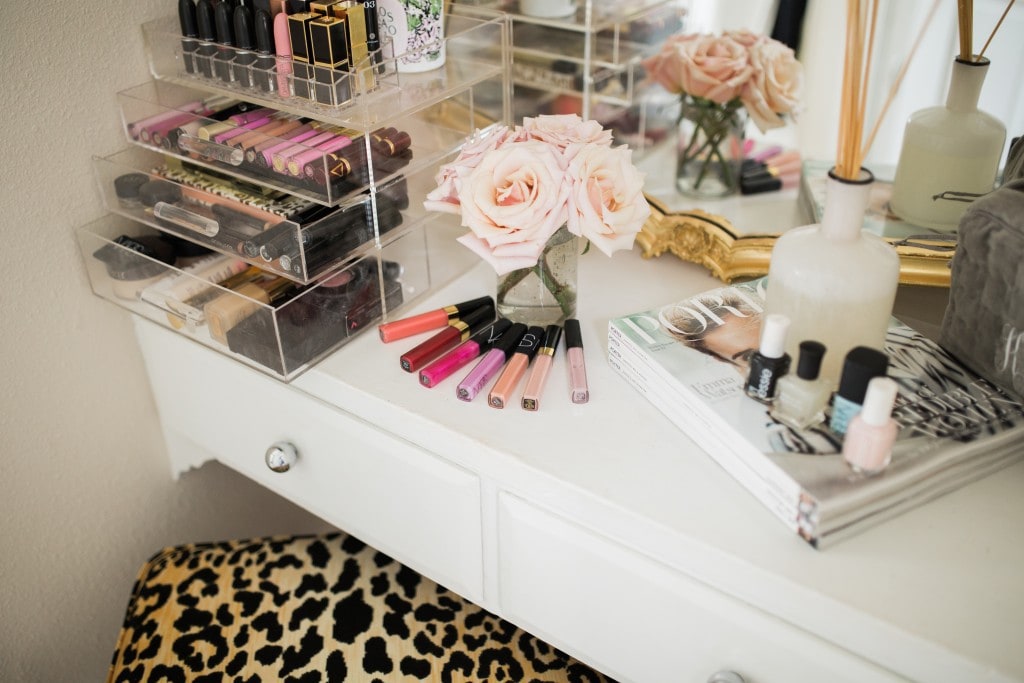 Below I'll break down a list to help you shop for yours!
---
Small Bathroom Styling Checklist:
1. Monogrammed Shower Curtain
2. Sunburst Mirror
3. Diptyque Candles
4. Book For Storage
5. Mirror for Vanity
6. GLAMbox [free shipping with code COF]
7. Leopard X-Bench
8. Monogrammed Towels
9. Flowers
10. Diffuser
I hope this post inspired you in your bathroom! Do you have any favorite pieces in yours you use to style?!