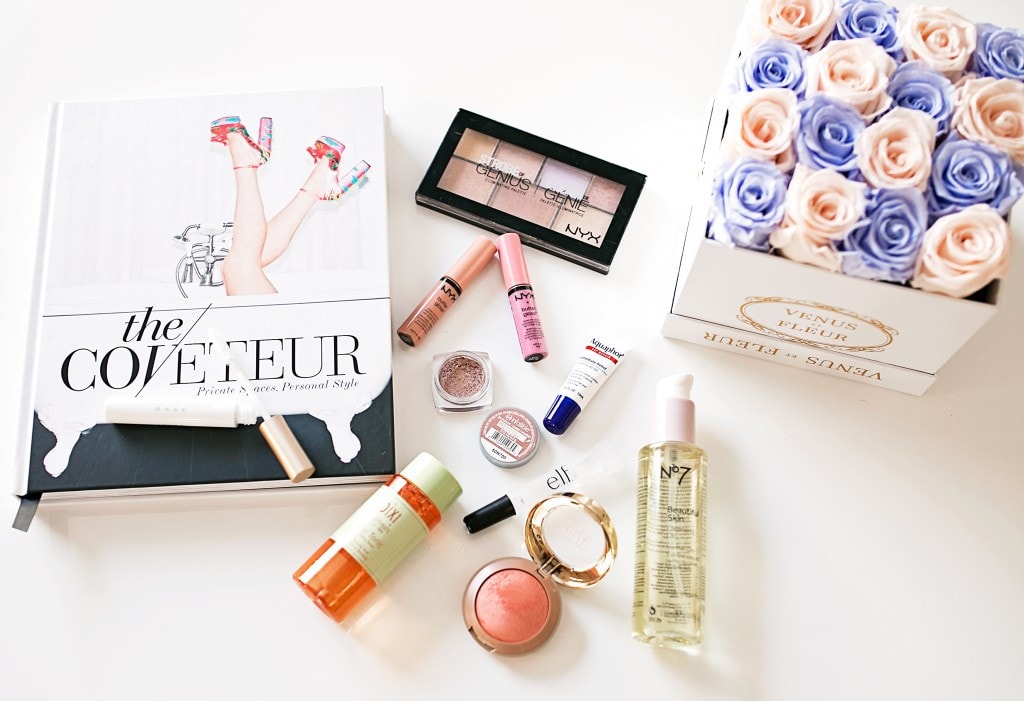 Sometimes drugstores are more tempting than a run to Sephora or Ulta. I mean $5 lip glosses next to candy bars. #Sold
But as many girls know, you can easily overspend there and end up with products you feel pretty "meh" about. Then I'm sitting there with 4 eyeshadow palettes thinking, "Why didn't I just buy the one I actually wanted at a department store?" However, there are gems and products I think that are better than a high-end duplicate. It sometimes can just be a little hard to find where they are or what products are best for you. I thought I'd round up my top 10 favorite drugstore beauty products so you can try on your next run to pick up vitamins, cold medicine and 14 different lip glosses! 😉
I first purchased this product back when I worked in PR and it had just launched. One of my coworkers came to my desk and told me how on our lunch break we needed to hunt down this toner all over Dallas. It's a toner that promises to make pores appear smaller, fade acne scars, smooth over fine lines and exfoliate so you don't get blemishes. Essentially the glycolic acid removes dead skin cells the aloe vera and ginseng allow your new skin cells to look healthy and have a glow. Overall, I say it just gives you the most incredible skin texture! From dry patches to clogged pores this toner battles it all. I picked it up at Target, but also I want to note I don't use this product during pregnancy because of the acids!
I'm a huge fan of matte lipsticks and an even bigger fan of a bright pink or red lip. However, with shooting and switching lip colors I can be left with what one might lovingly call vampire lips. You know, chapped, stained and it just makes the issue worse when you go to apply a different color. This product is a life saver when shooting because I can rub it on, wipe it off and my lips are my natural shade again and moisturized! It truly works so much better than a makeup wipe.
Double cleansing is the only way to wash your face in my book. First, you've got to remove makeup and grime then you can really wash your pores! For my first cleansing step I like to use an oil and I've used everything from coconut oil to different removers on the market. I do have a few high-end favorites but if I'm in a pinch and just want something from Target, this is wonderful! I really love that this has rosehip in it. Rose was a huge skincare trend last year, and for good reason. It gives you baby soft skin that looks incredibly moisturized.
If you love Nars Orgasm [or Nars blushes in general] you will LOVE this blush. Same consistency, same "looks good on everyone" shade. My photographer, Angie, is Laotian so she has the most beautiful tan skin [which I'm always jealous of!] and this is her favorite blush. So if you and I don't share the same skin tone, do not even worry. Go swatch this blush and I promise you'll love it the same. Next on my list from Milani is their blush in Dolce Pink.
5. L'Oréal Amber Rush Eyeshadow
One of my favorite bloggers, Laura from Buy Now Blog Later, tweeted about this eyeshadow while I was in NYC. I drug Paul to about 3 different drugstores there to find it! haha. The pigmentation is great, applies smoothly, and melts into my lids like a dream. It reminds me of a MAC shadow but with more product! It lasts 24 hours, doesn't crease and feels like velvet.
Do not hold me accountable for what I'm about to say the next time I buy another lip gloss. Seriously. I will deny what I said. BUT, I don't know why I ever buy any other lip glosses other than these. They are a steal, smell divine, give a great shade and moisturize my lips. They remind me of MAC lip glosses but I think the pigmentation on these is far superior. My two favorite shades are Éclair and Fortune Cookie.
Another NYX product I love is their Strobe of Genuis Illuminating Palette. I prefer more cool-toned highlighters [for example Champagne Pop looks dreadful on my skin] and this one is perfect. You get everything from a purple to reduce redness to a tan for summer months, but everything feels more cool and neutral.
My Nana always has Aquaphor on hand and so I've kept the trend going in the family. Got a cut? Aquaphor fixes it. Hang nail? Aquaphor. Peeling skin from a burn? Aquaphor. So naturally, their lip remedy is in my GLAMbox and my nightstand. Pregnancy does a number on your lips and they can always seem chapped and this is one of the only things that really works.
9. L'Oréal Voluminous Lash Primer
I kept thinking I hadn't photographed this primer and was wondering why, but now I'm cracking up at myself because it's on the book! It's just a white primer so it blends in. haha. The Voluminous Mascara is something found in every girl's makeup bag and is always one of my top favorite mascaras. The primer holds up just as well! This coats your lashes before you apply mascara and it makes such a difference with length and volume. I don't use Neulash right now [my one true love!] so this helps make up for the difference. 🙂
10. Milani Matte Blissful Lipstick
This one isn't photographed because I actually found this product after the shoot, but I am obsessed! The Milani matte lipsticks have the pigmentation and texture of a luxury brand. I'm also a huge fan of anything "mauve" with my skin tone and this lipstick is a mauve-pink!
What are your drugstore favorites?!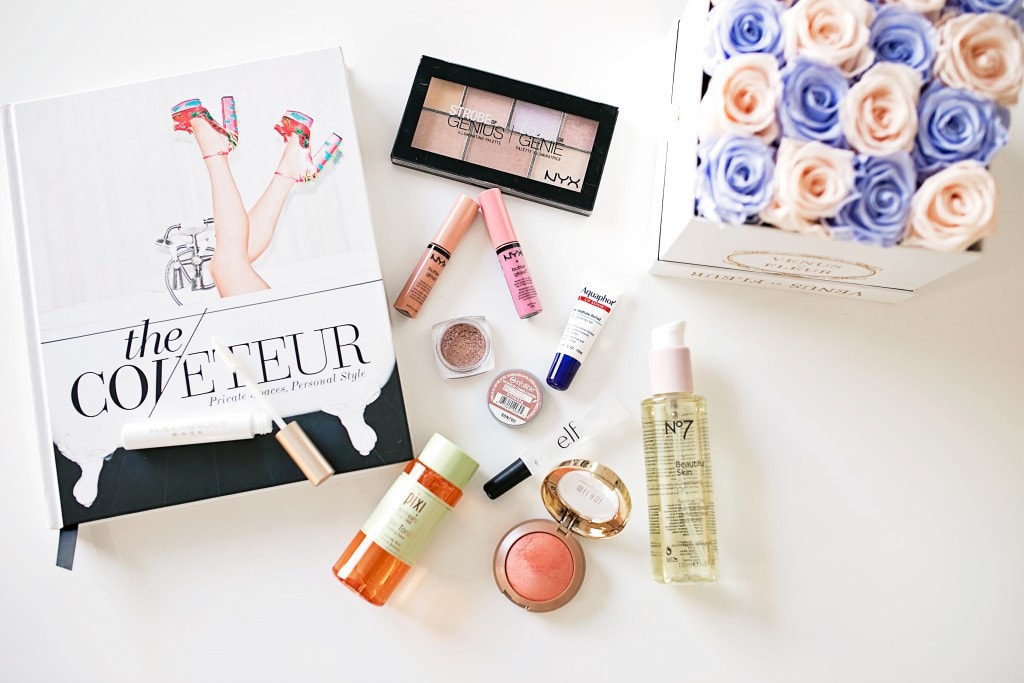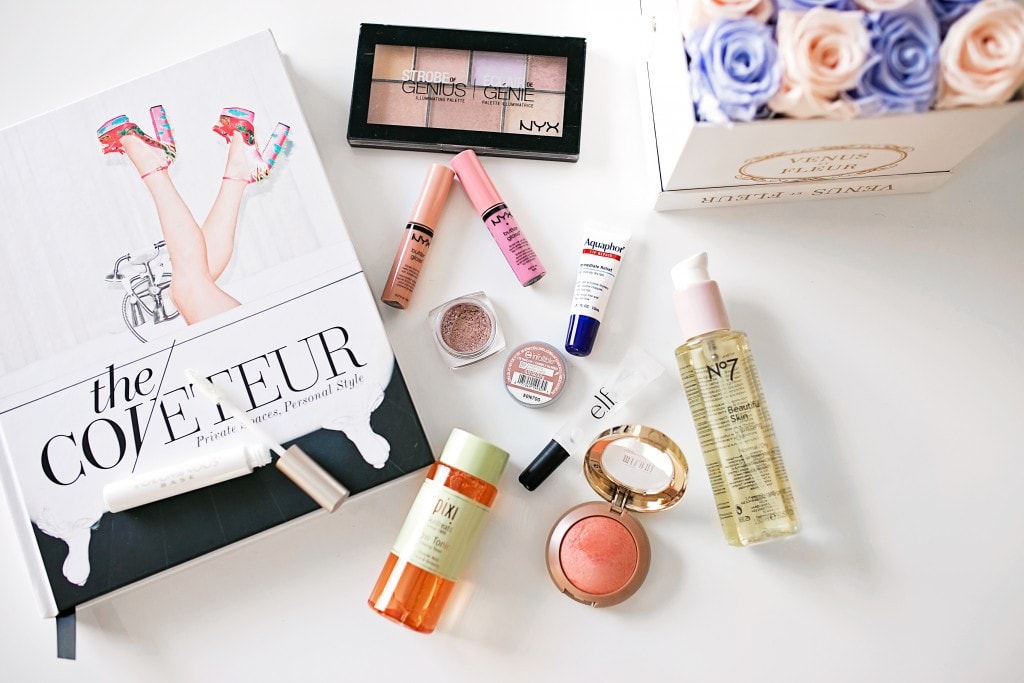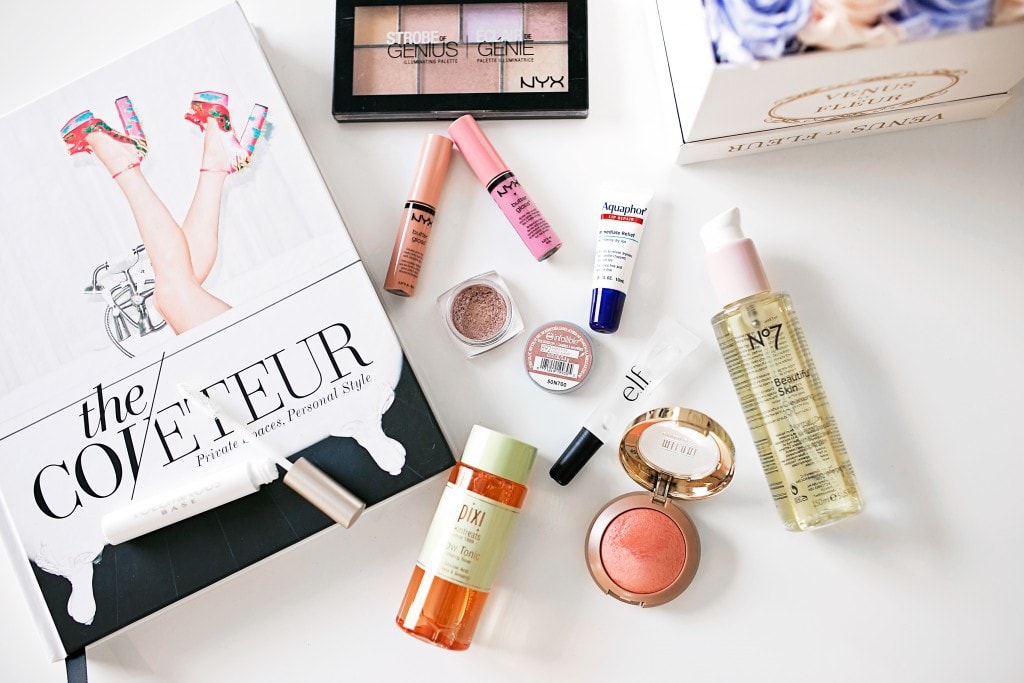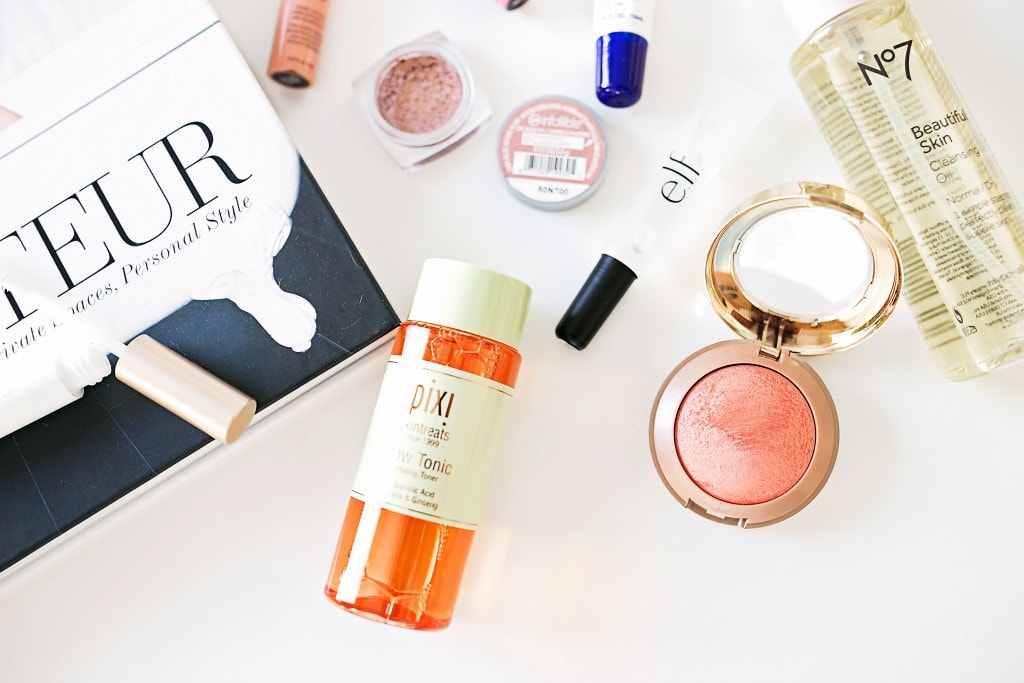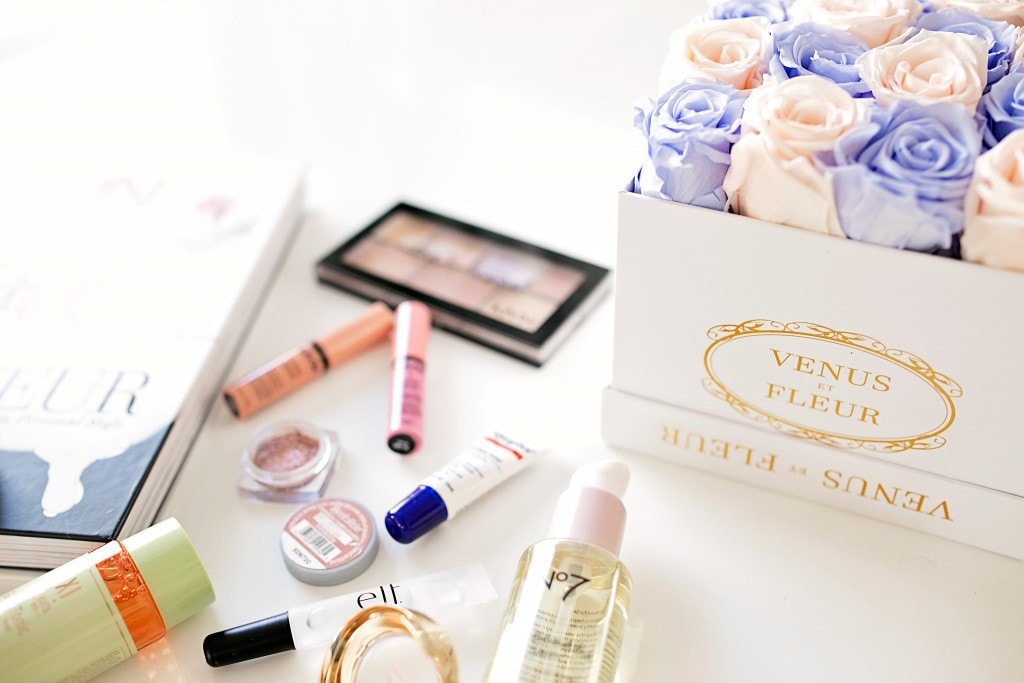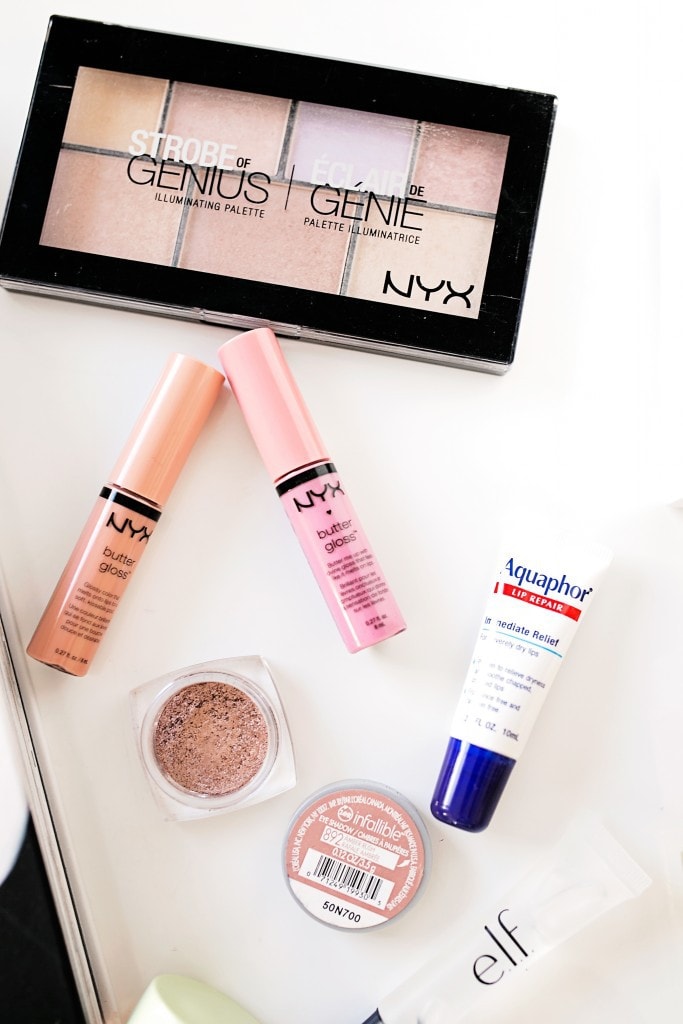 Photography by: Angie Garcia