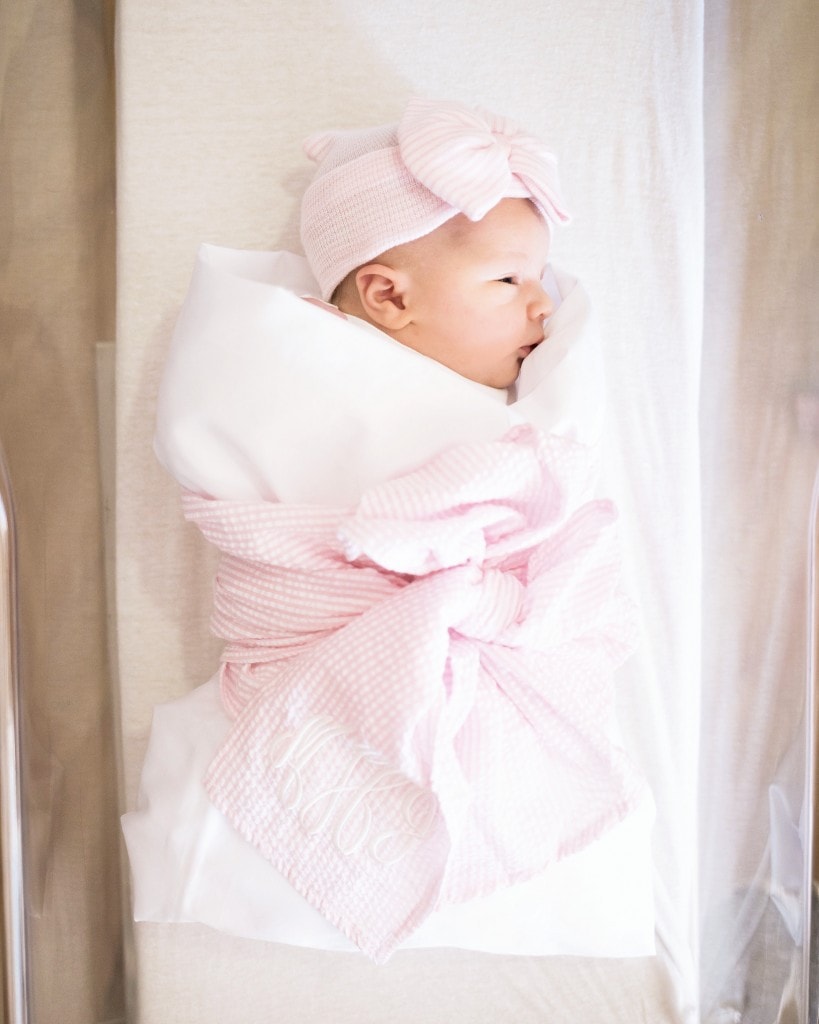 Hello friends! I just wanted to pop in really quick while my little one is sleeping and let you know she arrived this weekend. Thank you all so much for your prayers, e-mails, well wishes and thoughts for our pregnancy and delivery. I'll share her birth story soon, but it was an incredible experience. Maxi Jeanne Hellman was born Saturday evening at 8:04 p.m. after I woke up to my water breaking that morning!
We got discharged this afternoon so it feels really nice to be at home settling and healing. I also have to let all my dog mamas know, Peaches is doing amazing! In fact, she has no interest in me. Haha! She just wants to be around Maxi every single second and is so gentle with her. I was extremely nervous about that. So I'm very, very thankful for all the tips our dog trainer showed us. I'll be sure to share that in a blog post soon!
I received a few questions about her name so I thought I would share the meaning! Jeanne is my great-grandmother's name. She has the most incredible testimony of faith [in fact, she wrote this!] and made the greatest impact on my mother's life. Growing up, my mom would always tell me how Jeanne taught her how to pray, be compassionate and give to others. I knew I wanted to incorporate that legacy in my little girl one day. Jeanne also means, "God is gracious."
For her first name, I wanted to go with a really short and sweet name. I have a long full name, so naturally I had to do the opposite. 😉 One day Paul and I were running errands and heard a little girl be called Maxi and we both just looked at each other and we thought, "That's it!" It ended up being perfect because when placed together Maxi Jeanne means, "Our Great God is gracious." We feel like that just really encompasses how we feel with our faith and how good he was to us by giving us this blessing.
I hope you all have a wonderful rest of your week and Valentine's Day tomorrow! I'm so excited to celebrate it with the three loves of my life: Paul, Maxi Jeanne and Peaches! 🙂 Thank you all for your support as it has made pregnancy and this experience even better than we could have ever expected. We are so thankful!

Photos by Madison Katlin