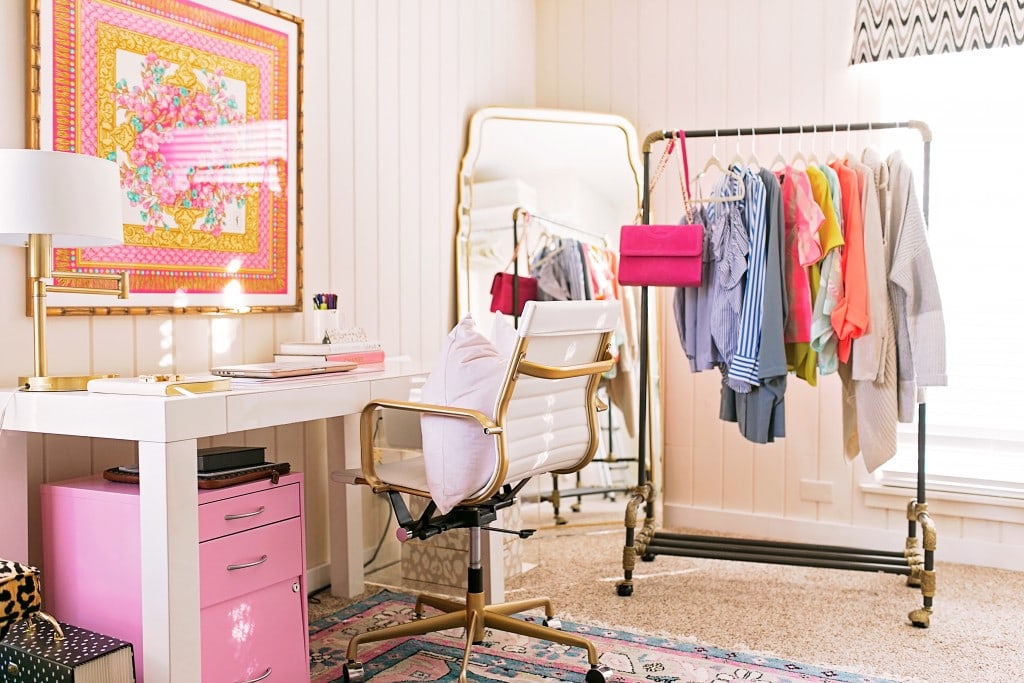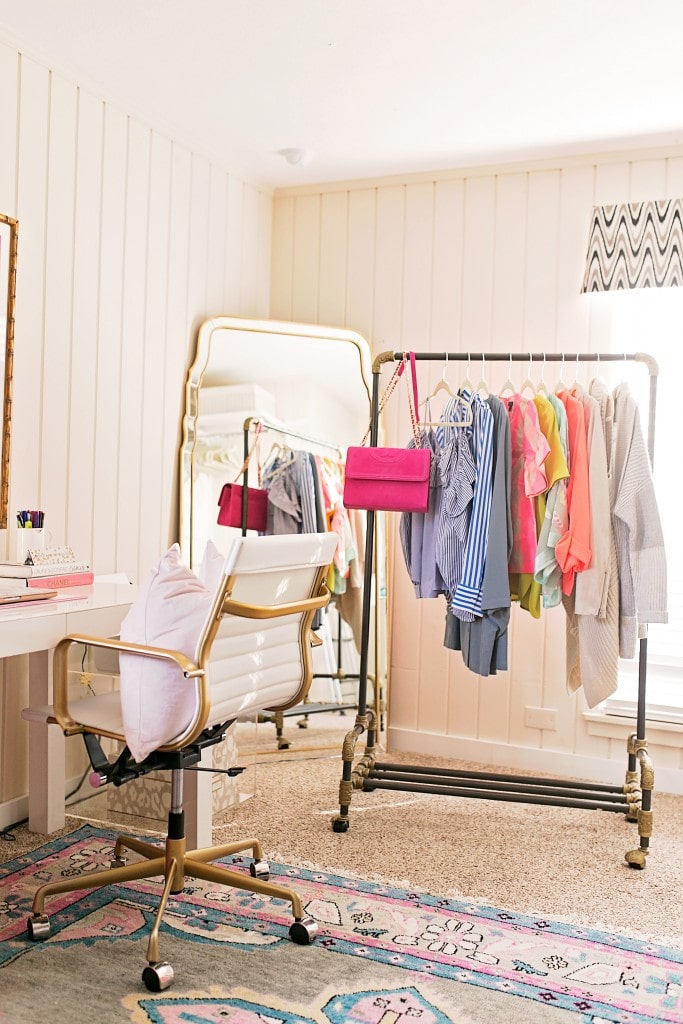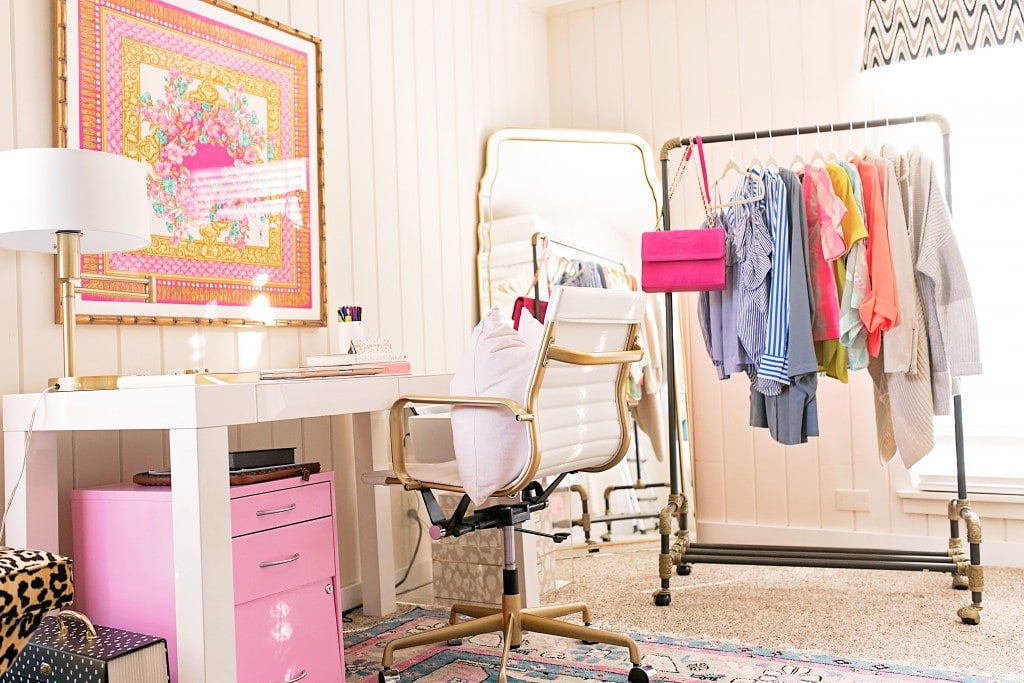 Photography by: Angie Garcia | Office details can be found here. Scarf was vintage and I had it framed!
---
One of the first things I do with right before each season starts is clear out my clothing rack. I'll begin by hanging up pieces I have from last season and trying on everything to make sure things fit and don't need to see the tailor. Then, I'll place those pieces back and start hanging items I've purchased for the season. I did this last Monday during a crazy stint of nesting, so I thought I'd share some pieces I have on my wish list and things I've already picked up!
---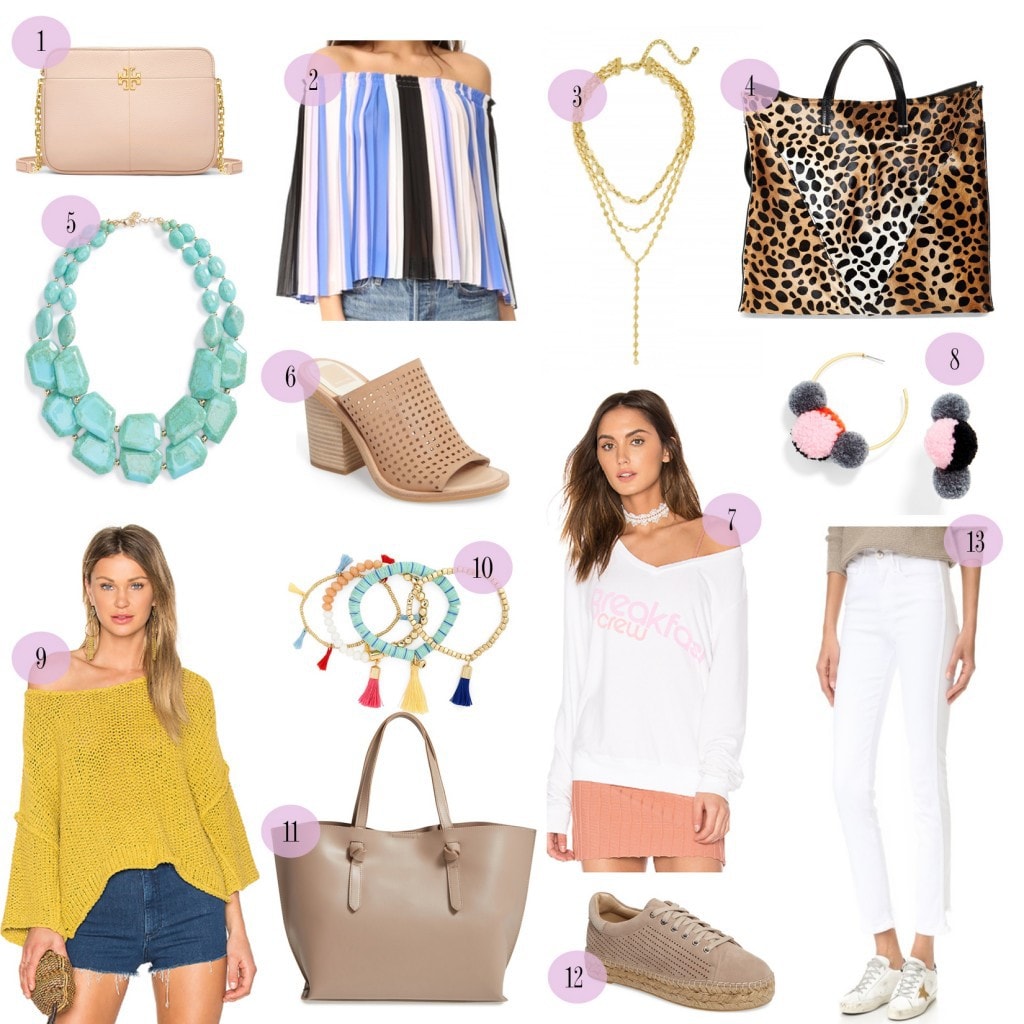 1 | 2 | 3 | 4 | 5 | 6 | 7 | 8 | 9 | 10 | 11 | 12 | 13
---
I'm a little biased to handbags, so I always like to start a new season on the hunt for one! Black and deep browns rule fall and winter, so it's nice to lighten up for spring with a soft, neutral crossbody bag!

The last 2 years, we have seen off-the-shoulder tops everywhere! This is still a trend for 2017 so thankfully all of our tops we've purchased continue to work! 🙂 You can also take this trend one step further this spring by incorporating one-shoulder tops. The main point is to draw attention to your shoulder area. I've never loved showing off my arms just because I have broader shoulders, but I've found that this trend has really helped me step outside of my comfort zone and now I'm not bothered by it at all!

I rarely wear y-necklaces or layered pieces with bulky sweaters in the winter. Once lighter tops start being worn on repeat I like to add in a layered necklace! I got this one for spring and summer.

As you start to wear more white, I think the best way to balance it out is by pairing a printed bag with your look. This Clare V. Tote is on my birthday wish list! I actually sent it to my mom and said how I thought I'd get that for my birthday and she said, "Well, I'm getting it for myself, too!" haha. #LikeMotherLikeDaughter

Even if you keep a pretty neutral wardrobe throughout the year, I think the easiest way to incorporate spring into your look is with a touch of turquoise. Being from Texas, I love to wear it as a statement piece, but you can definitely style daintier items and achieve the same style!

6. Mules
I skipped on a tan pair of Vince mules last season and I regret it so much! Any time I see them on a blog I act like a mad woman and stalk every website to see if they have come back in stock. No luck, yet! Just a really embarrassing habit. This season, I definitely want to pick up a neutral pair that I can style with dresses and shorts.

Wildfox sweaters are the softest things and I wore my Christmas one up until I gave birth! If you follow me on Snapchat you saw the evidence! I always like to pick up one of these cheeky little sweaters for spring for brunch and running errands.

8. Pom Poms
Pom poms are one of the cutest trends to incorporate into your look and home! If you're a little intimidated and think this is too "out there" for your taste, just try a little touch of them with your jewelry! Keep the rest of the look simple with a messy pony, denim shorts and a white v-neck tee!

Depending on where you live, spring can be a generously vague term. In Texas it normally means either 90 degrees or 3 months of straight rain, storms, hail and tornadoes. I love to pick up lots of light, slouchy sweaters so I can front-tuck them in jeans or pair them with shorts! I find these tops are the best for dealing with all the weather changes.

10. Bright Beads
During the fall and winter I usually just mix metals with my bracelets. But for spring and summer I like to add in a few bright beads. These sets aren't too pricey and come in a ton of different shades.

11. Affordable Tote
This tote is under $60 and has straps reminiscent of a Chloe bag! Another way to gear up for a new season is to treat yourself to an affordable tote that you can take from work to happy hour. You spend most of your life at work, so don't forget to neglect that part of your look!

12. Espadrilles
Espadrilles are one of the first things I associate with warmer temperatures. Instead of focusing only on styles that have a wedge heel, I like to pick up sneakers and slip ons!

I prefer to dress up my white jeans in the spring with heels, so I like to keep my denim cropped in order to show off the shoes. I'll normally splurge on one pair and then find affordable ones the rest of summer!

Is there anything you have purchased yet for spring?!