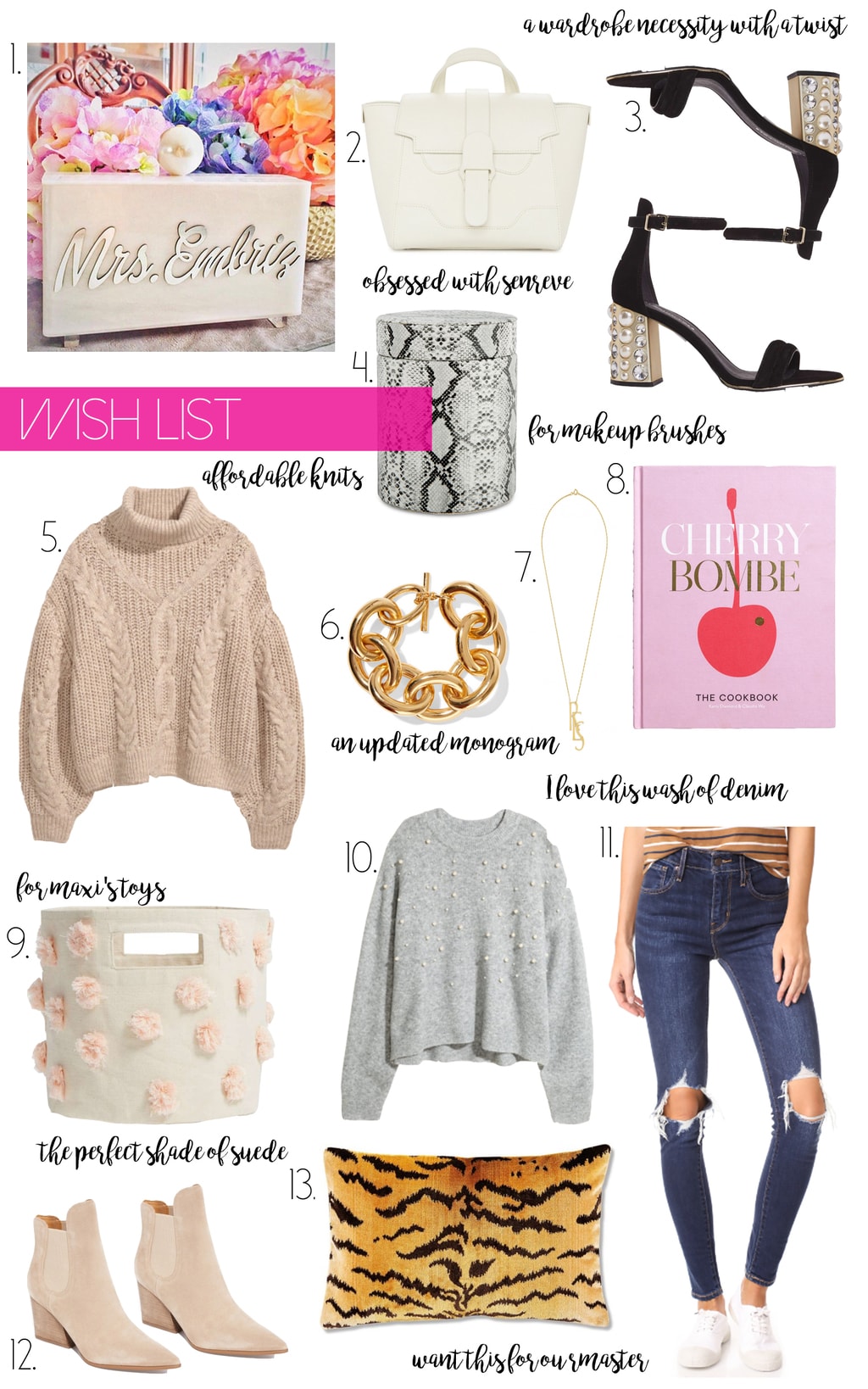 one | two | three | four | five | six | seven | eight | nine | ten | eleven | twelve | thirteen
---
Happy Monday! I hope your weekend was just the right amount of productive with the perfect amount of restful! We started to pack up my parents' house as we move very soon! It's far too easy to underestimate packing. Far too easy. I always hour block my days for my to-do list and I think I thought it would take me 2 hours. Well….8 hours later we still have a bit of work to do. The best part of the productivity was that I was bound and determined to crawl into the very back of our storage unit and get our bedding to return. Paul thought I was crazy, but a woman on a return mission can do anything. 😉
You know how people say don't buy furniture and items until you've moved in? Well…my new rule is don't start with your bedding! We ended up getting our bed custom made [if you remember, the buyers got about 90% of our furniture] and it completely clashed with the bedding. Thank the Lord Anthropologie has such an understanding return policy.
In between packing I was scouring the internet as I'm trying to plan out our furniture purchases around holiday sales. Naturally, I found a few things I'm loving that I thought I would share! I guess it wasn't too productive if I'm supposed to be finding nightstands and found necklaces instead?
//1. Although I don't have a friend that is currently a bride to gift this to, I'd love this as a wedding accessory!
//2. I get a ton of use out of my Senreve bag. The backpack option is a game changer. You know how your sciatic nerve acts up during pregnancy? Mine is at it again since Maxi is quite the hip baby. 😉 I don't ever put her down and I can feel it! ha. So I'm trying to balance my weight more and use a backpack to carry her items. All of that to say, I think I'm putting the Mini Maestra in cream on my holiday wish list!
//3. Are these not the most perfect holiday heels?
//4. I purchased the vanity chair for our bathroom and would love to add this for my makeup brushes. I think it sold out [I was too slow to order 🙁 ] but I'm waiting for it to restock!
//5. I popped into H&M this weekend hoping to find this sweater. I didn't, but am ordering it online now!
//6. My link bracelet is no longer sold, but here is an identical option for those who e-mail and ask!
//7. I love this updated monogram necklace. I truly haven't seen anything like it so far.
//8. If you frequent blogs, chances are you saw the Cherry Bombe cookbook over the past few weeks! I'd LOVE this for Christmas for our new kitchen.
//9. One room I can't even wrap my head around is the playroom. I'm getting lots of inspiration from my girlfriends at their homes. There's so many organization options from baskets to monogrammed bins. I think I want to add something with pom poms to make it fun. I love these.
//10. After getting these slides in this post, I'm all about pearl detailing. I did pick up this sweater from H&M!
//11. I also ordered these jeans over the weekend. I love darker denim washes, lighter washes just don't ever mesh with my tops.
//12. I've been looking for booties JUST like these the past few months!
//13. Back to our master! I don't want to share too much until the bed is in, but this pillow may or may not be added into the mix.
Did you do anything fun over the weekend?! Thank you so much for reading!