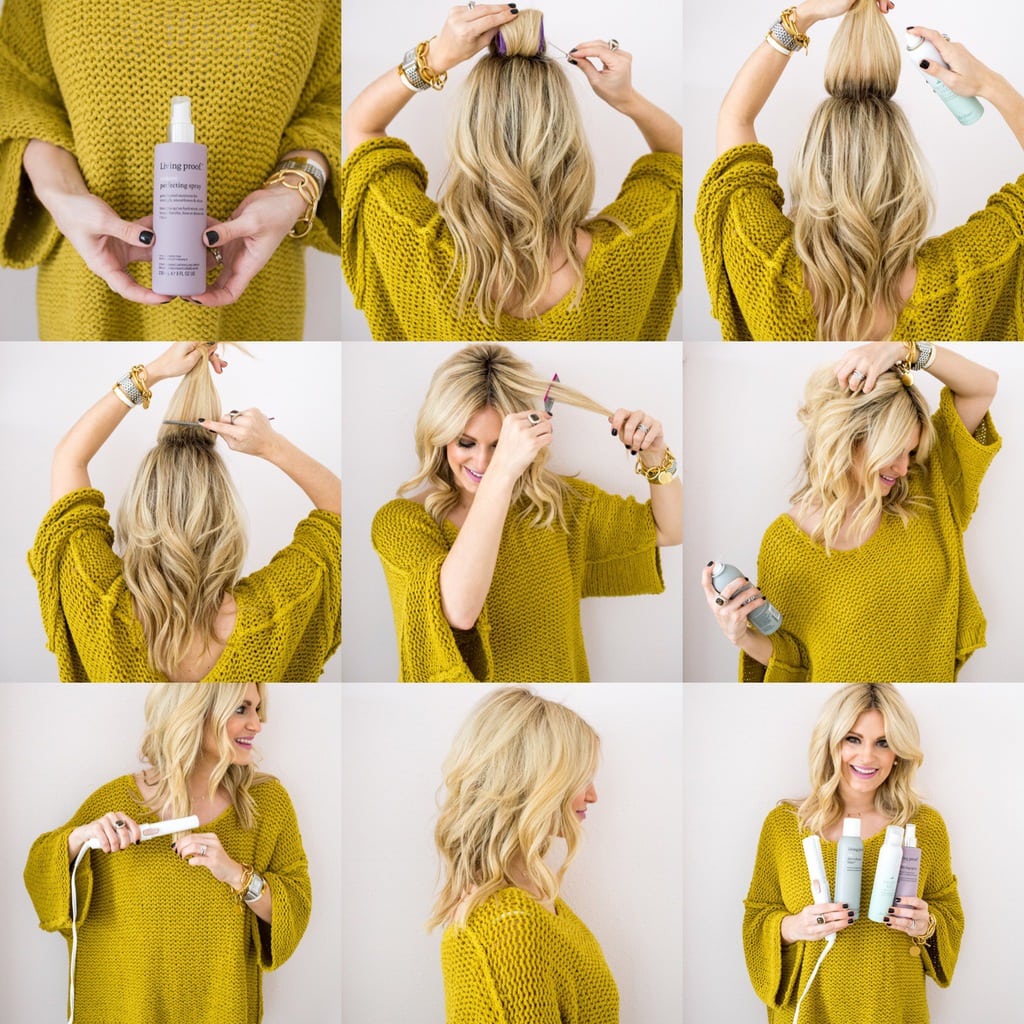 Sweater: Free People [runs large], On Sale Here | Jeans: Shopbop | Iron: T3 [travel iron is featured in this post], Full-Size Here | Triple Sec: drybar | Living Proof Spray: Nordstrom | Living Proof Volume Spray: Nordstrom | Hair Spray: Bumble & Bumble/Redken | Lipliner: Pink Moscato | Lipstick: Baci | Velcro Rollers: Old, Similar
Photography by: Madison Katlin
---
TGIF and happy hair teasing! 🙂 I'm so sorry for the delay in this post! We shot it seriously like 2 weeks after I gave birth [hence the super swollen face! lol #AllTheFluidFromLabor] and somehow the post just kept getting pushed back in my editorial calendar. But I thought, what a better way to end the week and get ready for the weekend than with a little hairspray and big hair?!
I've always had pretty thick and textured hair. I remember in middle school/high school ALL I wanted in the world was thin, straight hair. When I was 11 I used to pray that God would let me wake up with thin hair. My BFF, Emily, had beautiful straight hair and I just didn't understand why mine always dried in waves- similar to the Mufasa from the Lion King. 😉 I crack up at that now because my hair texture is one of my favorite things as I get older. My mom used to say, "Do not wish for that! You will love your hair when you're older!" And my mama was right! While it can misbehave, I love that my hair doesn't really get oily. But with lots of hair, I definitely have to tease it otherwise it just feels/looks SO heavy on my face. So since I'm always teasing and trying to differentiate these layers, I thought it would be fun to share my little hair teasing routine with you all! I've done this routine on all my girlfriends from stick-straight hair to curly hair to baby-fine hair. So don't worry what texture you have- these products work for all!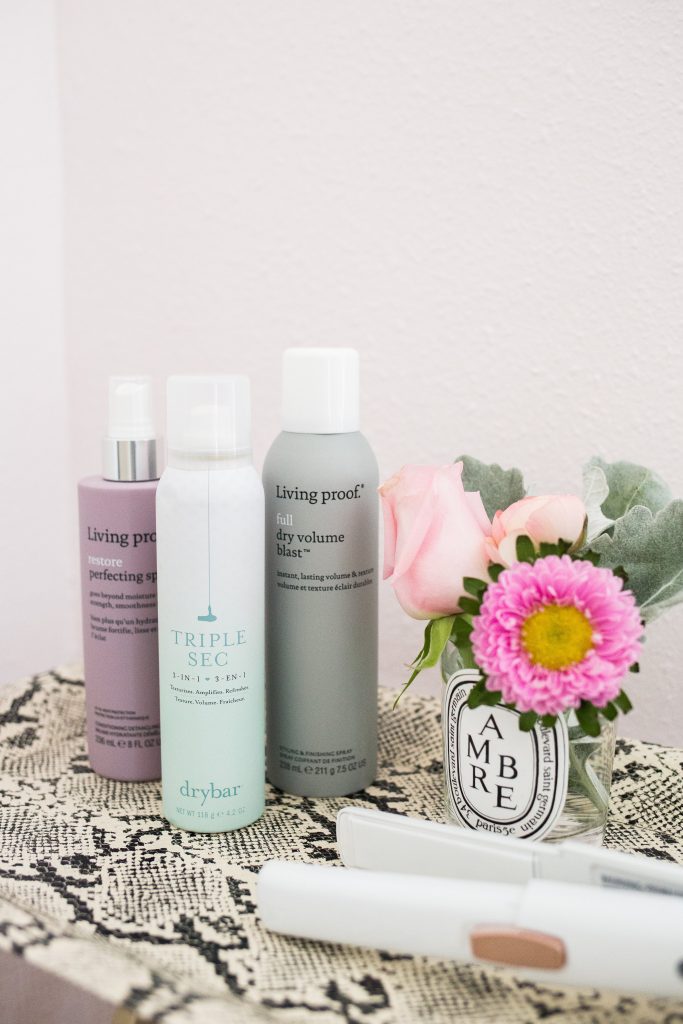 Now, depending on your hair texture you'll use different products in the shower and right after you get out of the shower! However, these are the 3 hair products I think every girl needs in her bathroom to achieve those big Texas curls. I'm extremely picky with hair products [there is seriously only one MAYBE two hairsprays I like] and don't even get me started on shampoo/conditioner. These three products are amazing and work so well! I used to work in PR in the beauty/lifestyle industry and from that I can say with a lot of certainty MOST hair products don't do a lot and you're really just paying for a certain scent. At the end of the day a $20 bottle of somethin' somethin' isn't going to drastically change your hair type- except for these products!
1. Living Proof Restore Perfecting Spray
Outside of my beloved Olaplex, I hadn't found a product to put in my wet hair that allowed my hair to air dry perfectly. Before styling your hair you want to start with a good base. If you're hair is too dry you'll use too much heat to smooth it. If you're hair is too oily, your hair won't have volume because it will be heavy. If you're hair has too much product in it then the curls won't be defined!
When my girlfriend, Britany, gave me a blunt hair cut [it was the week I shot this!] she sprayed this in my hair and told me to let it air dry. I just kinda thought, "Hmmm…so this is going to end up in a messy bun." We put this product in it and my hair air dried perfectly. My hair dries in soft waves. Some pieces are straight, some are curly but most are just beachy waves. This allowed my hair to look as if it had been styled and made it feel so healthy! When I went to curl it after it dried I was able to curl it in half the time because I wasn't trying to smooth over spots or fix messy spots. I've used this for about 8 weeks now and I really think it's helped the integrity of my hair.
2. Triple Sec
Now I didn't include a specific hair spray in this style because I think we all have ones we are partial to based on our individual hair type. However, one thing that I always use with or without hairspray is my Triple Sec by drybar. This product gives texture, fullness AND shine. Most texturizing products have to be used sparingly because you can end up looking a little frizzy, and this keeps everything controlled. While this isn't a dry shampoo, it also keeps oil at bay if your hair tends to gets oilier. You can definitely use this as your hair spray, too! Or if you want a lot of hold grab that for the tutorial as well!
3. Living Proof Full Dry Volume Blast
Now because this is a Dallas hair tutorial, we can't just stop at one product for volume. I always finish my look with Living Proof Full Dry Volume Blast. A little goes a long way with this stuff because it works that well!
4. Iron
This isn't a hair product, but grab your straightening iron while you are at it! I love T3 hair products and am so partial to their iron. Their irons are called single pass because you only have to run your hair through it once for results. No heat is healthy, so this helps minimize damage!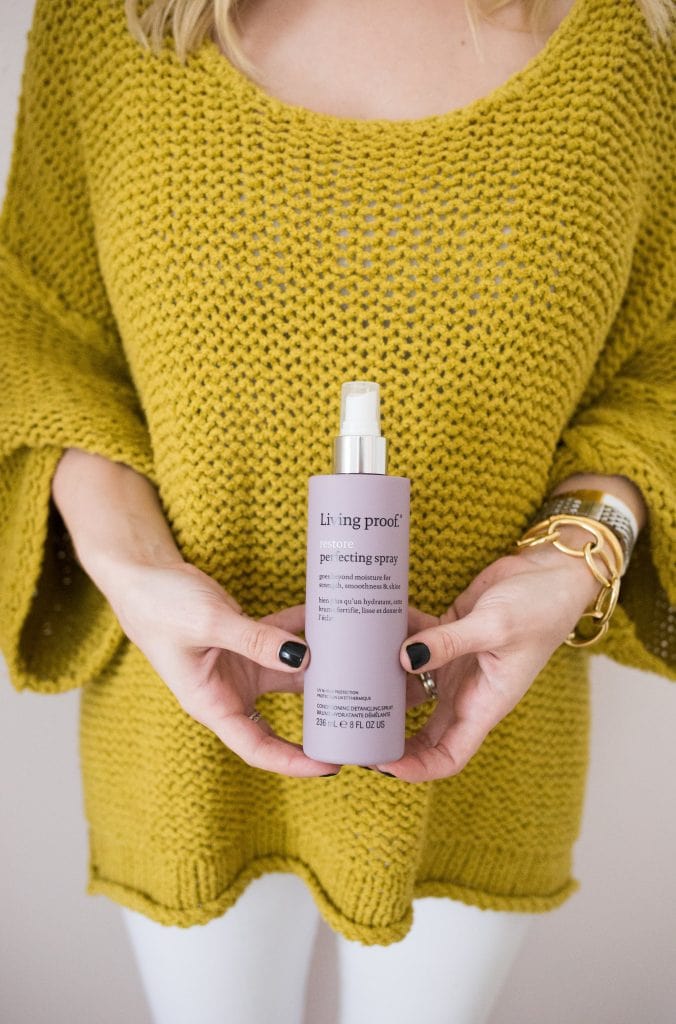 First, start with damp hair and spray your Living Proof Restore Perfecting Spray. Then air dry/blow dry your hair before you style. I generally like to let my hair air dry at night and then I'll style in the morning. Go ahead and curl your hair [I'll have a curling tutorial soon as well!] as you like.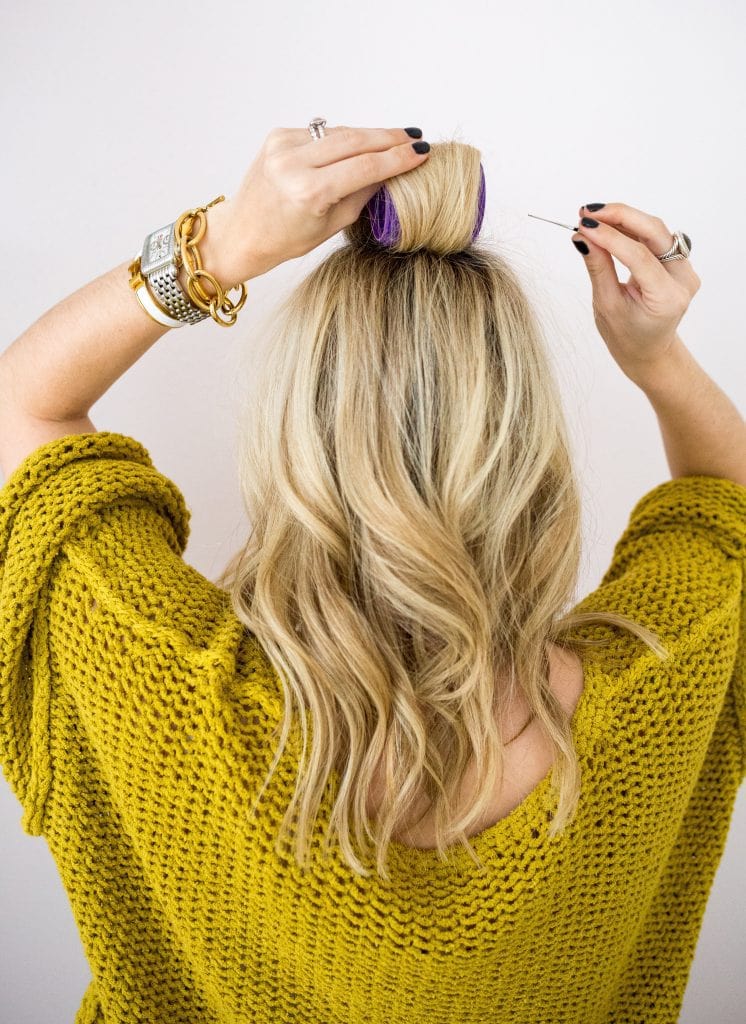 Next, grab those velcro rollers! I LOVE velcro rollers and have used them since I was in college. I apply one or two at the crown of my head [I just showed two in this tutorial but if I do another I just place it right under the top one] and let my hair sit/cool while I do my makeup. I use a duck clip to keep my curler in place.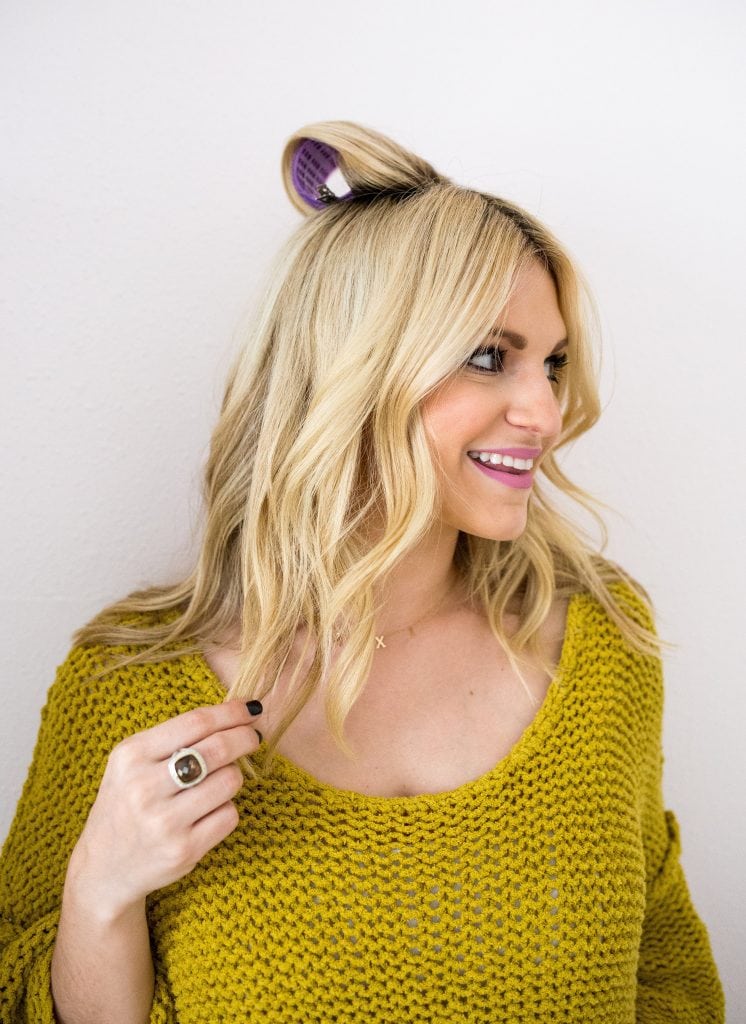 Do your makeup. Check Snapchat. Feed your baby. Do whatever 10-20 minute task you need while you let these sit.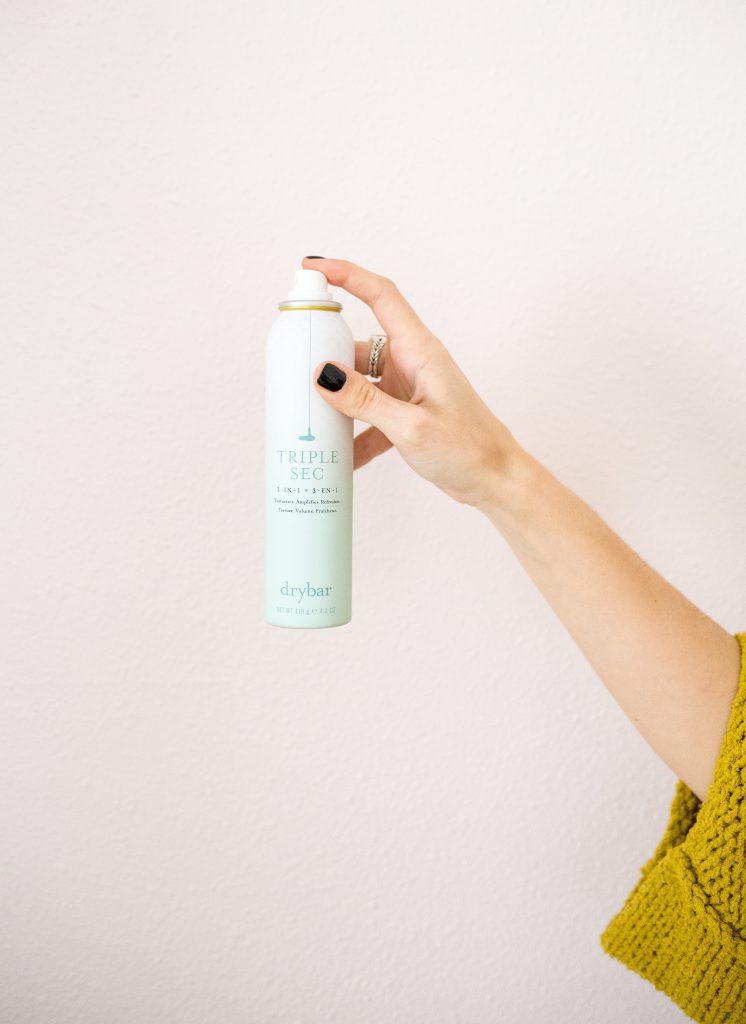 Now, whip out your Triple Sec AND hairspray if you choose to use it for this style.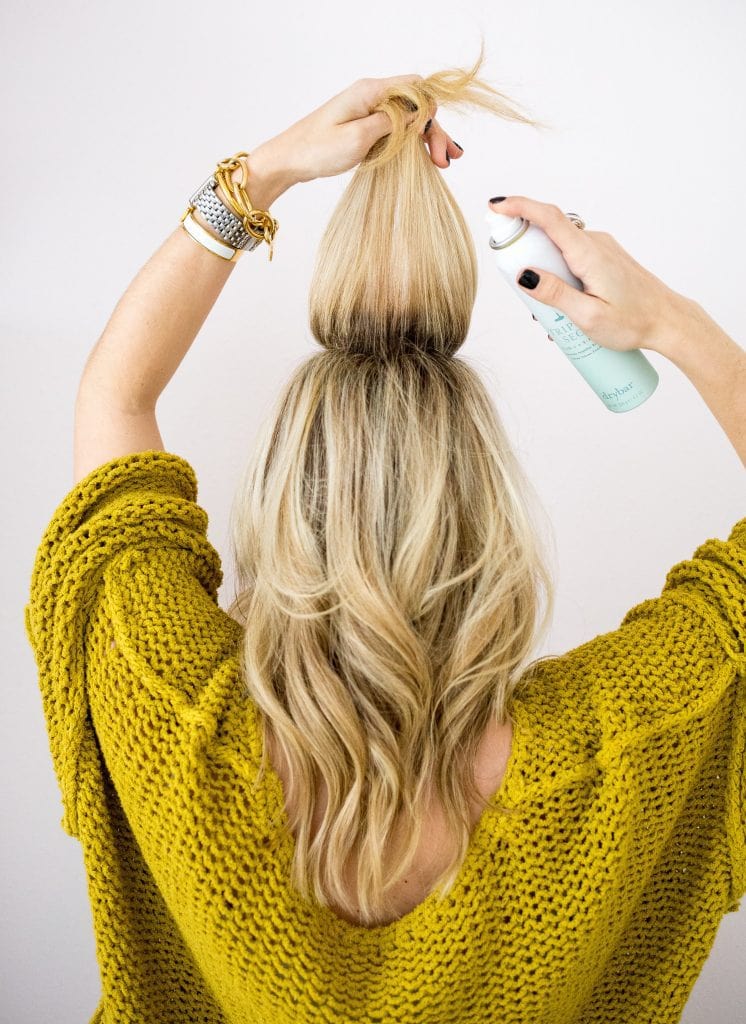 I take my curler out of my hair and apply the Triple Sec at the crown. Be sure to keep your arm a good 10 inches away from your hair so that the product can evenly distribute and apply better.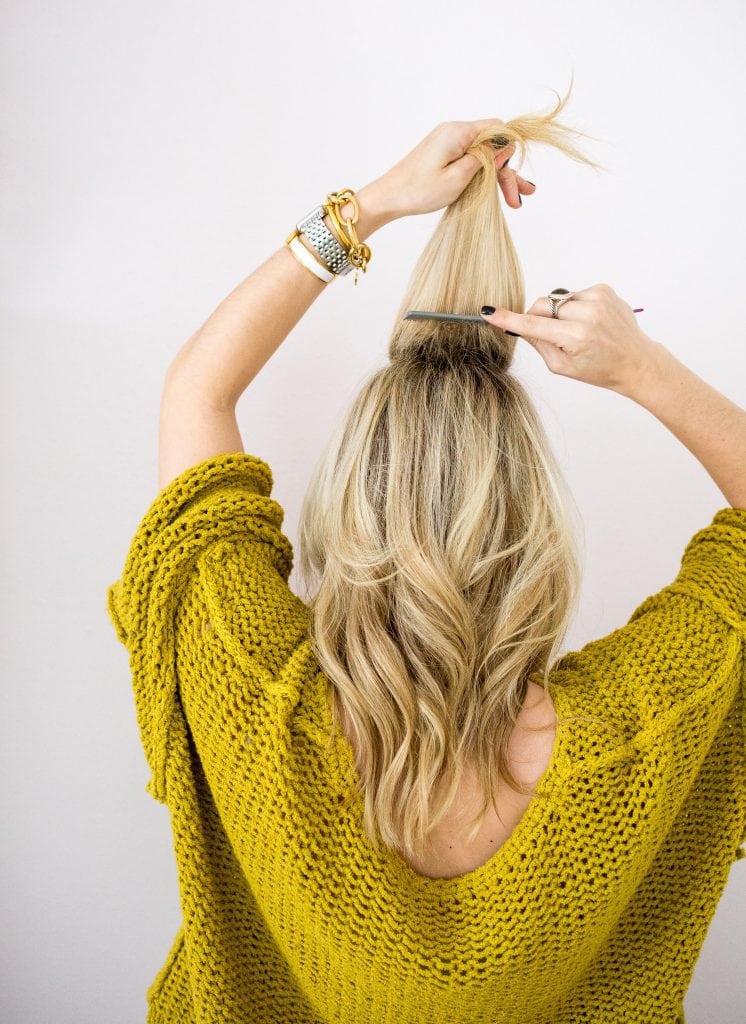 Take a fine-tooth comb and tease the parts that were in the roller. I do about two swipes going down towards the crown of my head per section of hair.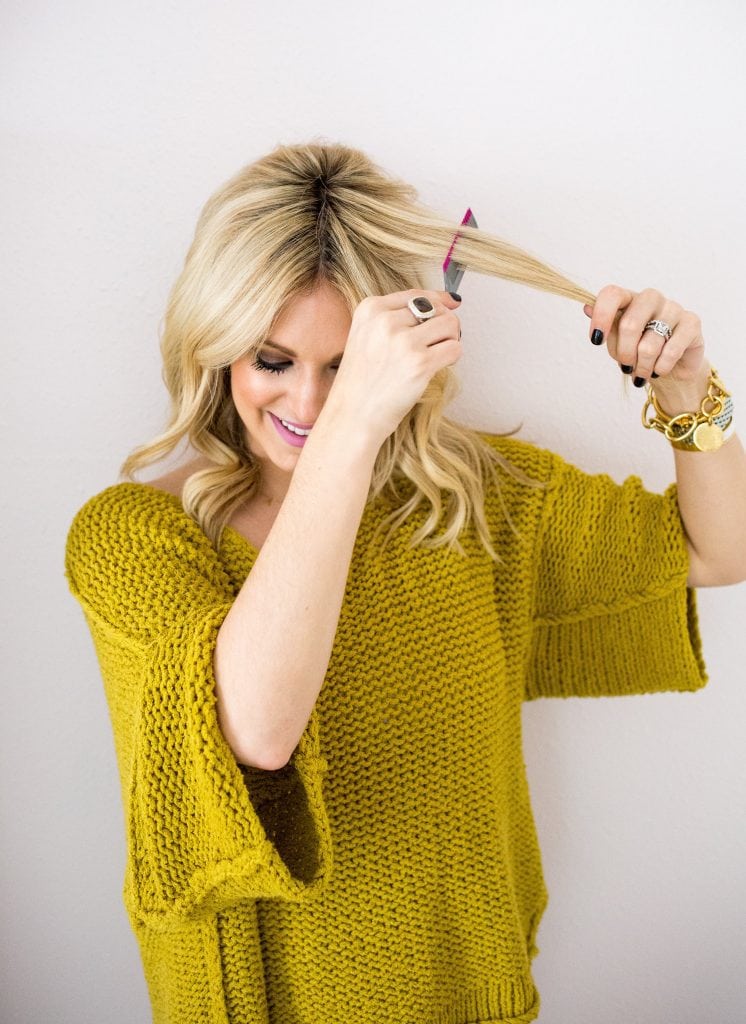 After I do the back layer I also do one 1-inch sections of hair on each side of my face. These sections that are teased should lie directly by the hair in the back that was teased. So for instance, don't grab pieces that frame your face as those don't connect to the pieces in the back that were teased. This is where you can use your hair spray. Once you tease the back and front parts of your hair, you can set this with a spritz of your favorite hair spray. Because I have textured hair I find the Triple Sec is enough for me!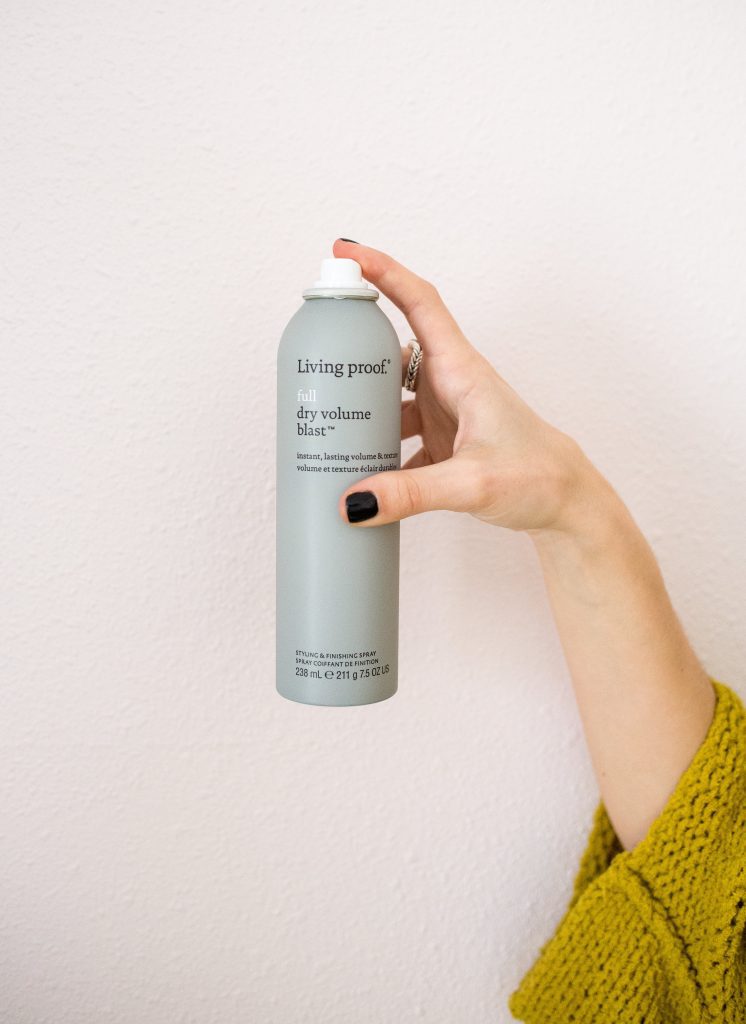 Then, grab your Volume spray! This is where it gets a little messy! 🙂
I gently tousle my hair with my fingers and spray from the bottom up to my hair! This way it's really getting up under the root of my hair and applies volume that way. I think one big misconception is people apply volume spray from the top down and that's just going to sit on your hair, make it feel heavy and add more weight to your strands causing it to be weighed down.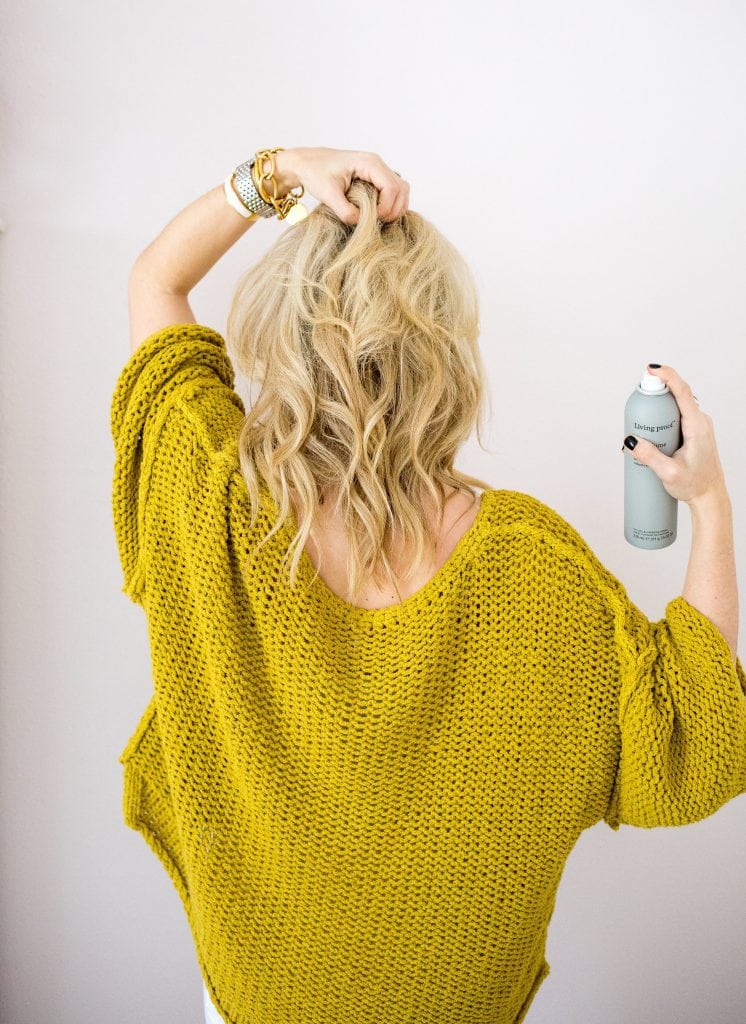 See how the can is angled for the back as well? For the back I keep it at a 45 degree angle so it still gets up under the root!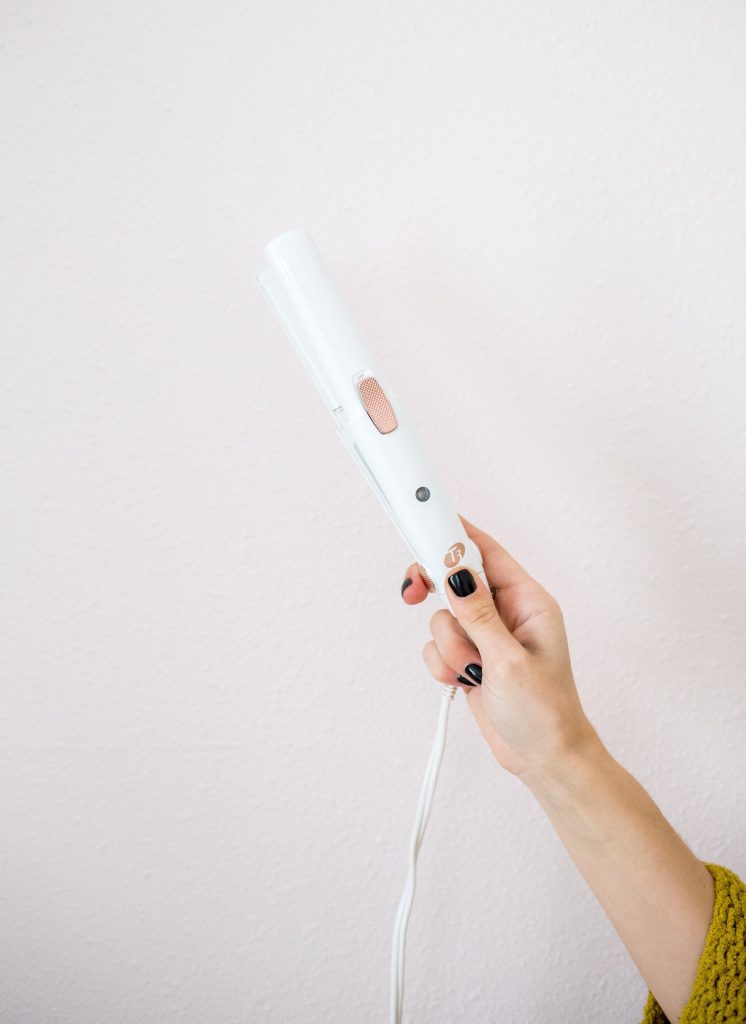 Now that I've added the volume spray, it's time to soften some things out! I take my iron and straight about 1-inch sections at the end of my hair.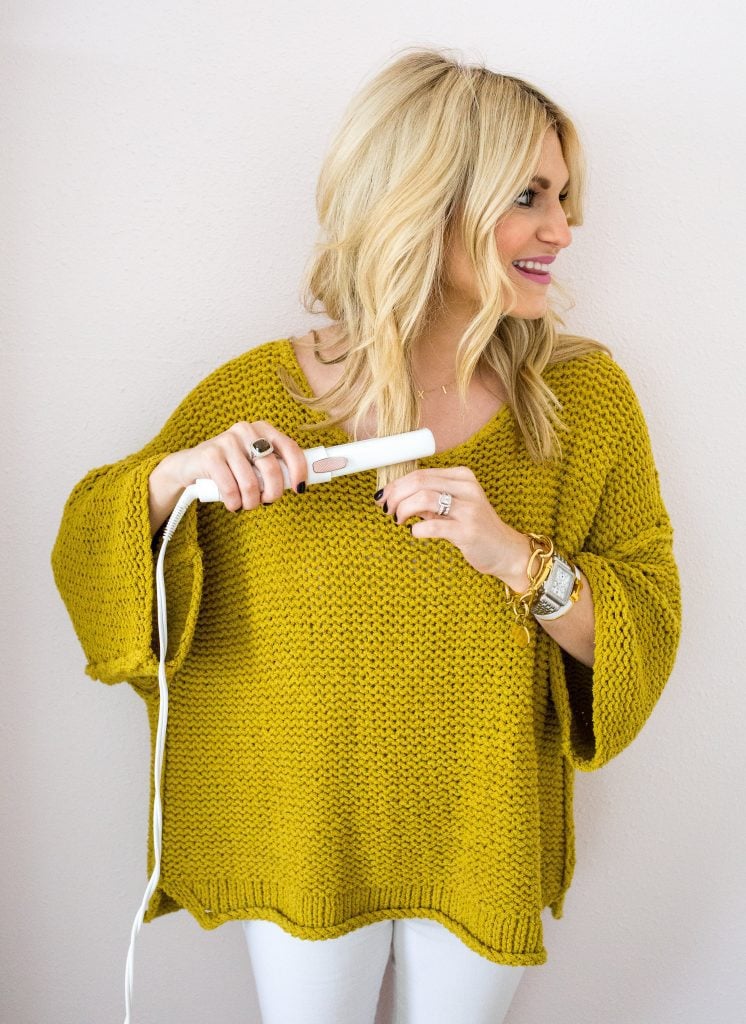 I do this step all around my hair, but I'm not precise with it. Having a blunt cut I like my hair to be a little more beachy as opposed to beauty-queen smooth. I'll grab a piece here and straight then go an inch over and grab another piece! There isn't really any method to it!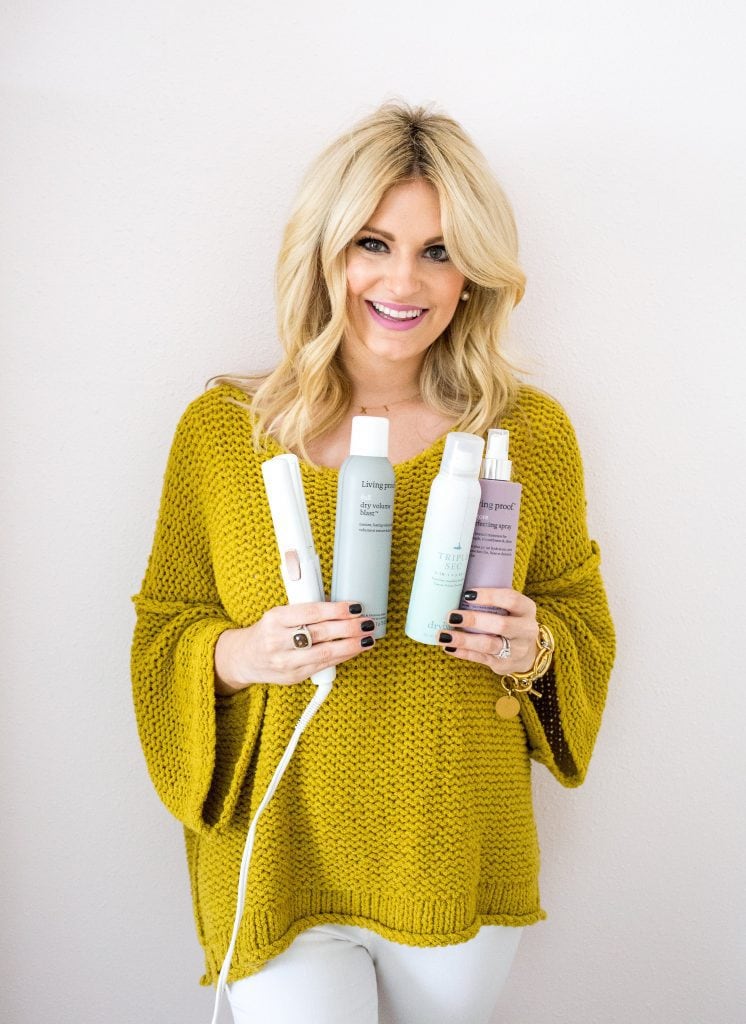 Now you can definitely finish with another once over of hair spray to keep your look holding all day!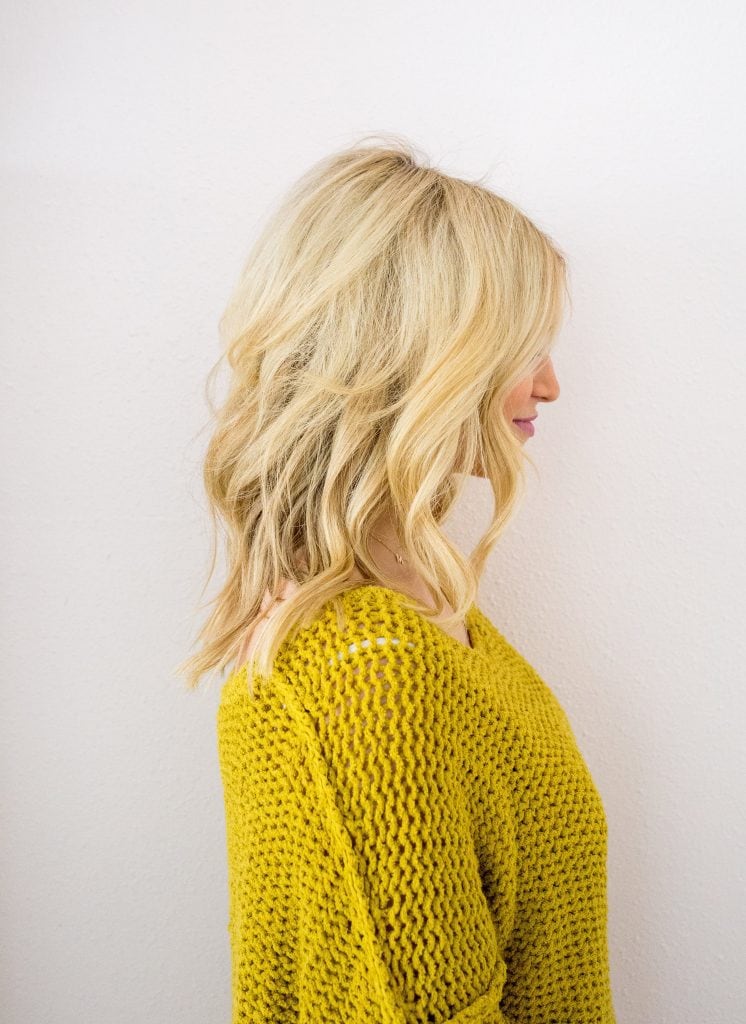 So there you have it! Full, beachy and teased hair! I wish I hadn't shot this tutorial RIGHT after I cut my hair because I was still getting used to styling it. I always feel like it takes a good 4 weeks to know how to style a hair after a new cut, but regardless I hope this tutorial helps you a lot! Let me know if you try it this weekend! 🙂