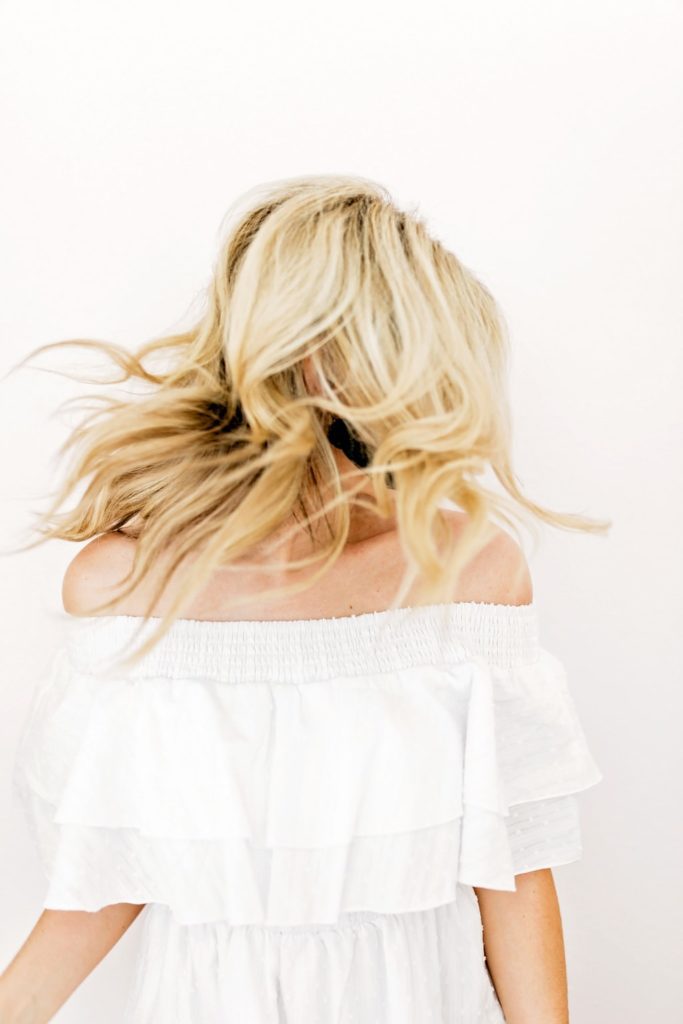 For quite some time I've wanted to have one blog post for hair in which I could answer FAQ's readers send like what products I use to curl my hair and who styles it! I hadn't gotten around to it, mostly because I don't really think my hair is anything to talk about- haha! But you know me, nothing inspires me like a little organization and I decided I had to have everything in one little spot so I truly do hope this is helpful for you all!
Type
I typically start every hair post sharing a rundown of my hair type because I think that's so important before you go out and buy product after product hoping to achieve a certain style! I have lots of textured dirty blonde hair. My hair pulls extremely warm tones! So my stylist is constantly working to "ash" up my hair and nothing gives me more of a stomach flip than terms like, "warm blonde" and "honey blonde." On other girls it looks like they are kin to Blake Lively and live on a sandy beach. Me? You might as well just color my hair with your little orange highlighter you've got on your desk next to that cup of coffee and call it a day! I was always very, very blonde as a little girl [my dad's family is Swedish] but of course with age and hormones my hair has darkened. I've asked my colorist along with multiple stylists in Dallas [that only do color] if I could go brunette and they look at me as if I just asked for their right kidney. They explain that my hair would look green because of my natural blonde and then they go on to say how if you are blonde your new growth is always going to look darker in juxtaposition to your highlights, but if you compare it to a brunette it's very light. Now, I'm no hairdresser so I don't really know why my hair would pull green tones as a brunette but I just listen to those wiser than I in these kinds of situations! BUT if you ever see a Snapchat one day of me with brunette locks, that means I have hidden from said hairdresser and tried something I'll most likely regret. My hair dries naturally wavy, but I definitely have to use some product in order to have those "walk out of the house waves." Because my hair is so textured, I can put a lot of product in it and it not feel greasy, so do make note of that when I talk about products below! I also don't really get oily hair. I could go 6-7 days without washing it, but I do not! haha! Because of my hair texture, my hair also does whatever you do to it. If I straighten my hair it will last for days and same goes for curling or teasing.

Products & Protection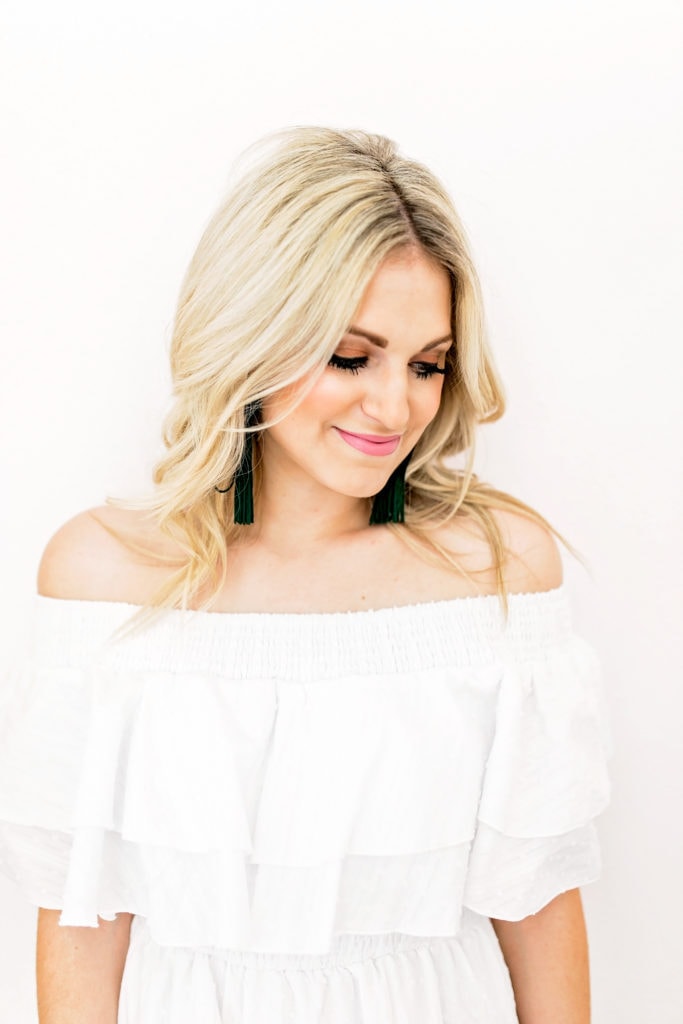 Tools
When it comes to hair tools I get asked a lot which is better: GHD or T3? Both are incredible. I think GHD works really well if you have "easy to style" hair. If you have pretty manageable hair that isn't necessarily one way or the other this is perfect for you! Maybe it dries straight or a bit wavy but you don't have to do too much to style it. GHD has a softer barrel and clamp, so it's great for hair that doesn't need too much work. Now I have very textured/wavy hair so my hair requires a LOT of work and I can use my GHD curling iron and love it! But if I do sleep on my hair wet and have a crazy kink, I love the T3 for that. The T3 has a heavier clamp and barrel making it perfect for smoothing out waves or curls here or there. My friends with fine hair prefer my GHD and my friends with incredibly thick hair prefer my T3. Both are amazing and both keep a curl for days. I'm nuts and use both because I "neeeeed" both.
See a few hair tutorials here, here and here. When we move in our new home one of my goals is to film a full-out hair tutorial so you can watch it and see step-by-step! However, I'm no Youtuber so I apologize in advance for either how long it will take me to make said video or how awkward it will be to watch.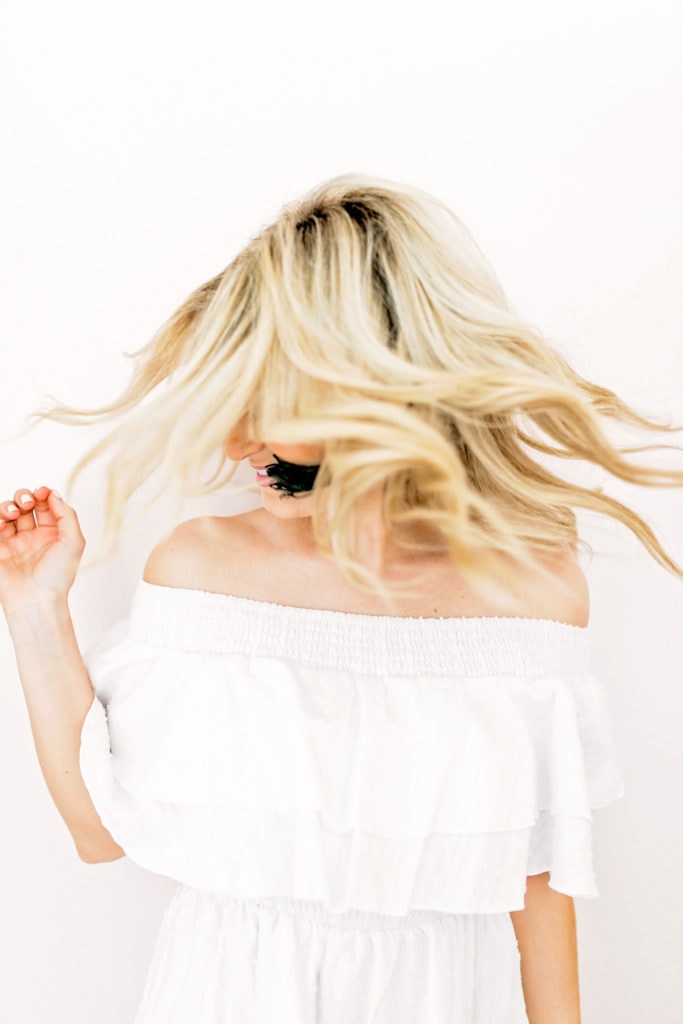 Stylist
I go to Britany Marshall Beauty in Fort Worth. To set an appointment her e-mail is: britanymarshallbeauty@gmail.com
If you aren't local to Fort Worth, you can watch her Youtube here! She has lots of hair tutorials you can watch. Below I'll share what she does for my color and cut if you go to a different salon outside of Fort Worth!
She works Tuesdays, Thursdays, most Fridays and every other Saturday. She did do my wedding hair, and I know she books about a year and a half to 2 years in advance for weddings.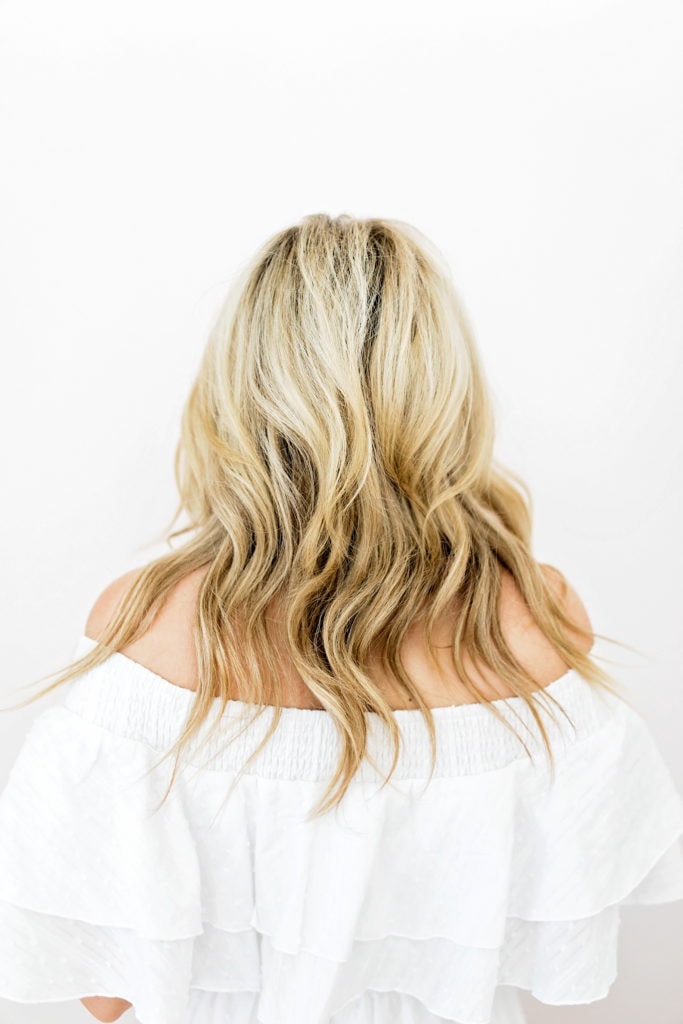 Color/Cut
Here's a more close-up shot of my cut so you can show your stylist! I have long layers and get my hair cut about twice a year. Typically if I have some dead ends around my face, she can just snip them easily while I'm getting a root touch up! I did get a blunt cut right after I had Maxi and I loved it, but I'm back to my layers! This picture above is how it grew out.
For color, I just get highlights with a toner. Because my hair pulls warm tones if I do break my base, it just turns brassy in a few weeks. I only do a full highlight once or twice a year and then just do a partial every 6-7 weeks! I only do a full once or twice a year to make sure I keep the bottom of my hair healthy AND because I just have too much hair. haha! If I do a full it takes about 4-6 hours and with little Miss Maxi there just isn't that much time to sit there. 😉 A partial takes me about 2-3 hours. When she highlights my hair she uses Olaplex to keep it healthy.

Earrings: Shopbop | Eyeshadow: Palette, Tutorial | Bracelet: Tory Burch | Dress: Older
Photography by: Angie Garcia