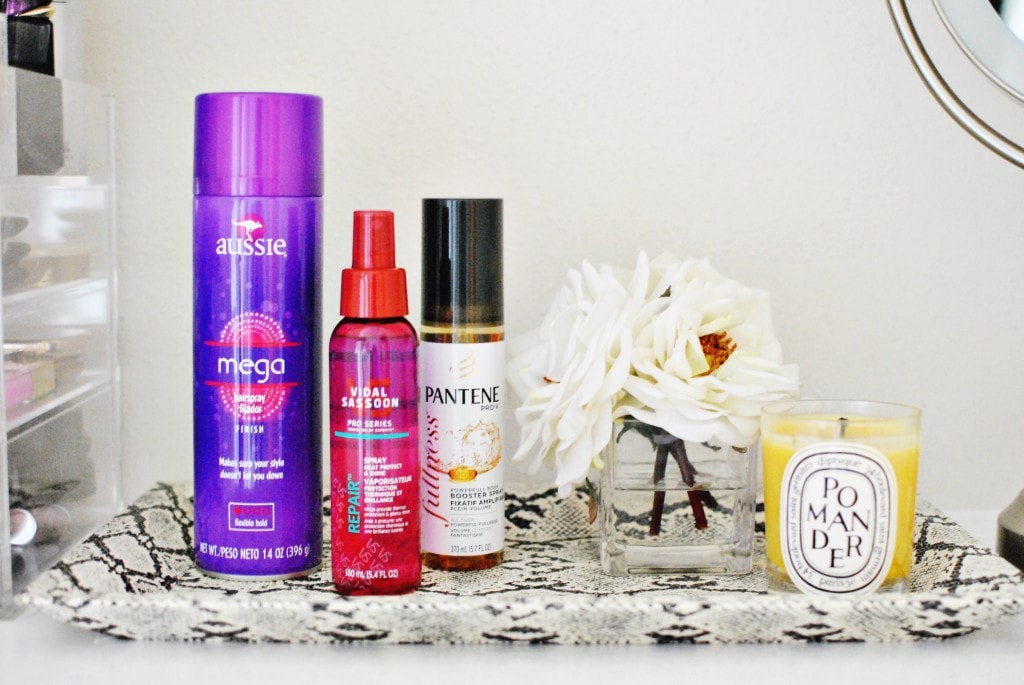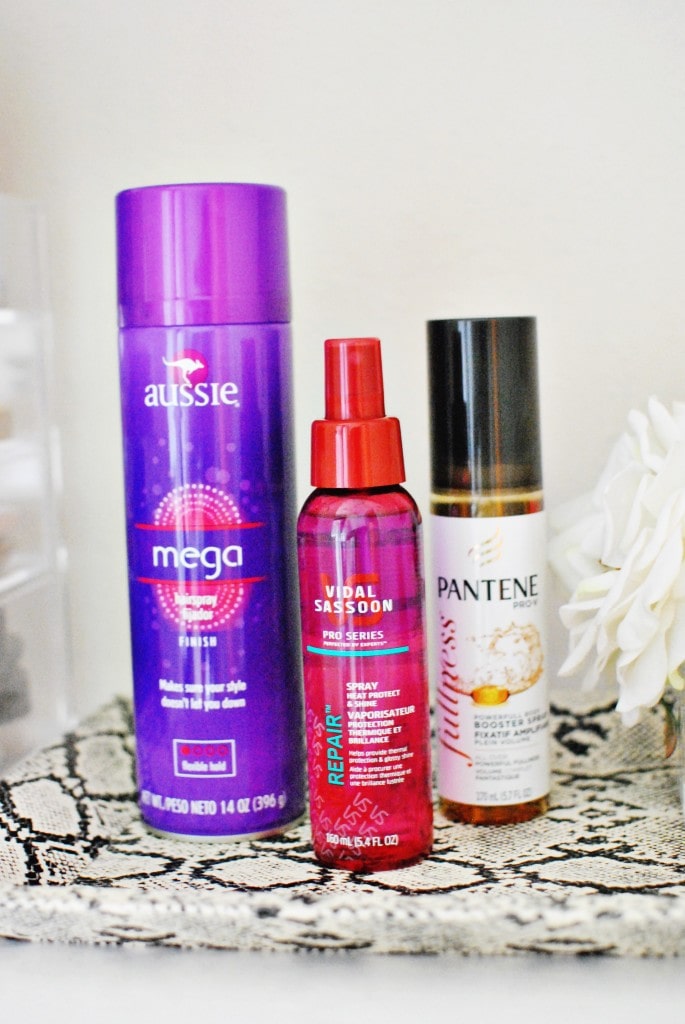 Wedding season is upon us! And so is the heat. And humidity. And tropical storms. And everything else to make you look and feel not so bridal. I get lots of requests to do a tutorial for this look I wear a lot, and I wanted to share an easy to way to "summer-fy" it! With summer weddings I really don't spend the time perfectly blowing out my hair and then curling, because whether the wedding is inside or outside with all the sweaty bodies and dancing it's going to end up not so perfect in the end. I like to come with some texture in my hair and more "beach waves" so it can "look" like I tried to have less than perfect curls!
For this look all you need is Aussie Mega Hairspray, Vidal Sassoon Heat Protectant & Shine Spray and Pantene Pro-V PowerFULL Body Booster Spray as well as a 1 inch curling iron, fine tooth comb & four bobby pins.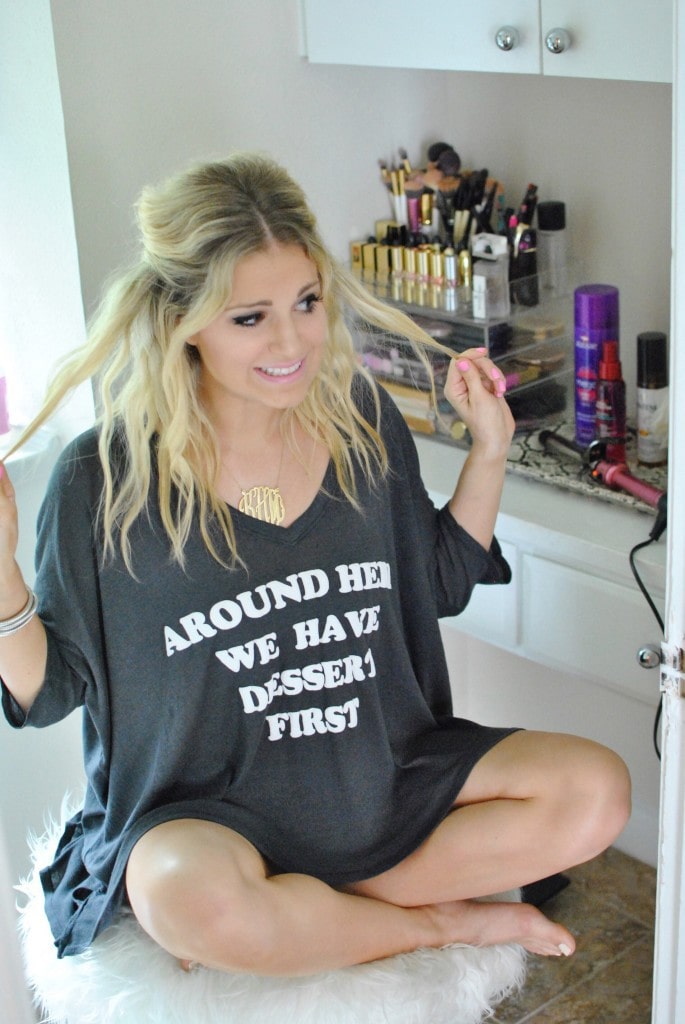 If possible, let your hair air dry in the summer! With all the humidity, heat and chlorine this is the least you can do! This is my hair air dried. Not really curls. Waves that aren't too smooth. This is why I'm giving the "yuck" face! haha. Oh and don't call me out for it. I know I wear this Shop Riffraff tee ALL. THE. TIME. It's so comfy!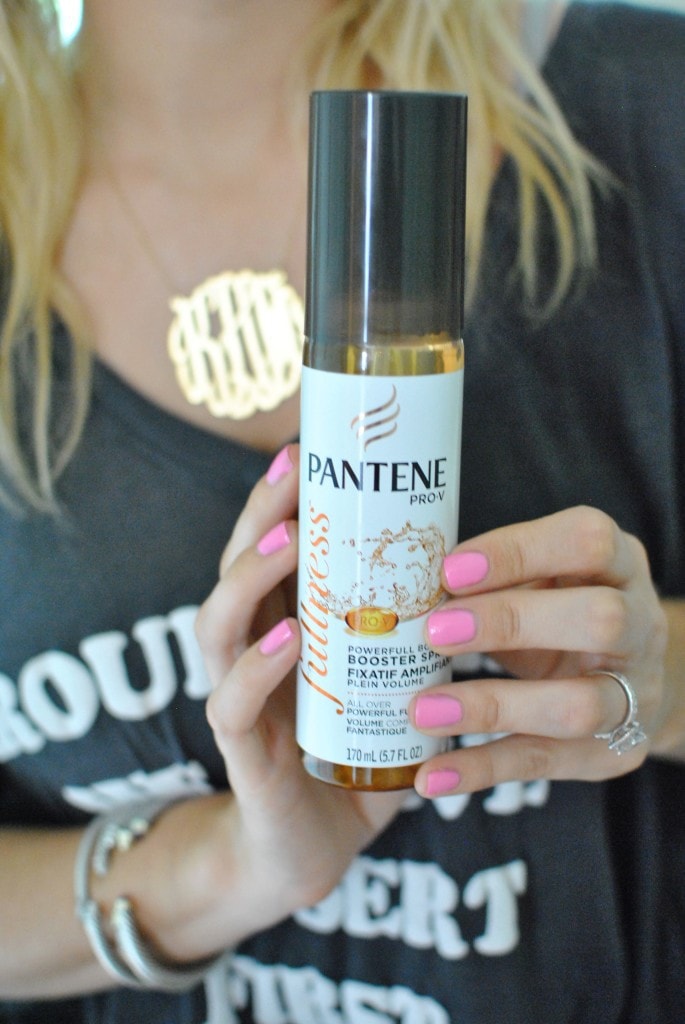 If you have to blow dry your hair throw in the Pantene Pro-V PowerFULL Body Booster Spray before blow drying, or I just put it in out of the shower and work through with my fingers. This allows your hair to be really easily manipulated with body and fullness, so you have versatility in your styling options, while simultaneously enhancing vibrant shine. Whether you let your hair air dry or use a blow dryer, you'll still get the texture you need for this look!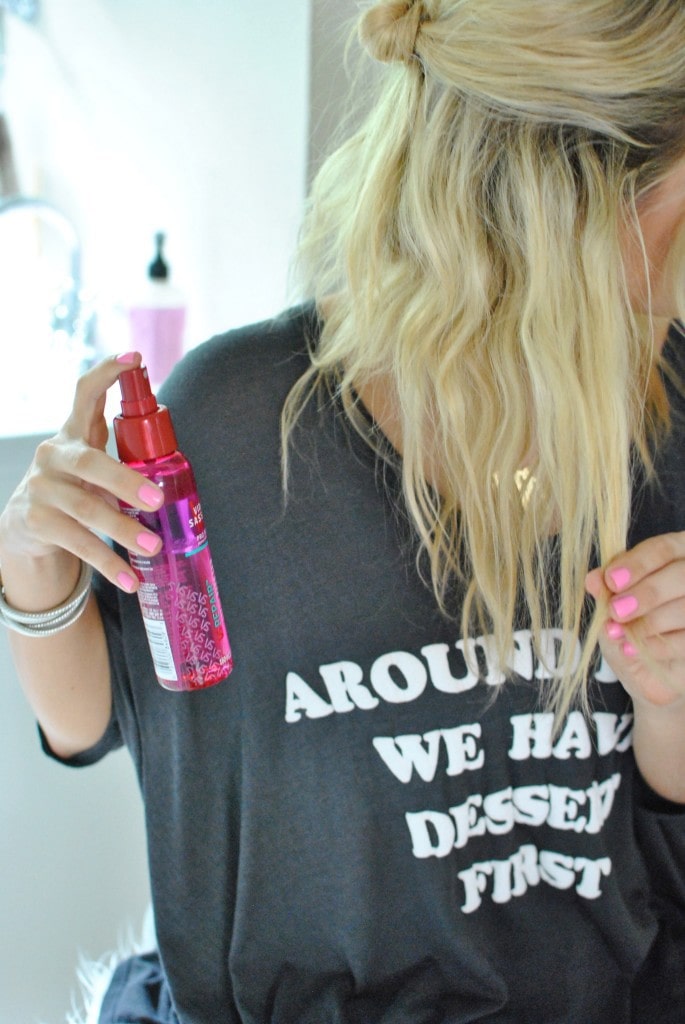 Then we spray your hair's BFF: Vidal Sassoon Heat Protectant & Shine Spray. This conditions your hair to protect it from damage but allows you to have flexible styling, too! I have an auto immune disorder [discoid lupus] so my hair is pretty fragile [hence the roots!] and heat protectant is a must in my bathroom. I can't color my hair all the time, I really only highlight 2-3 times a year! Sometimes I get questions about the roots "growth" but I was diagnosed at 12 and so I've never gotten highlights every 4 weeks like most lucky blondes, so I'm always responding, "Wait! This isn't normal?!" haha! I think a little messy blonde is nice, especially in the summer!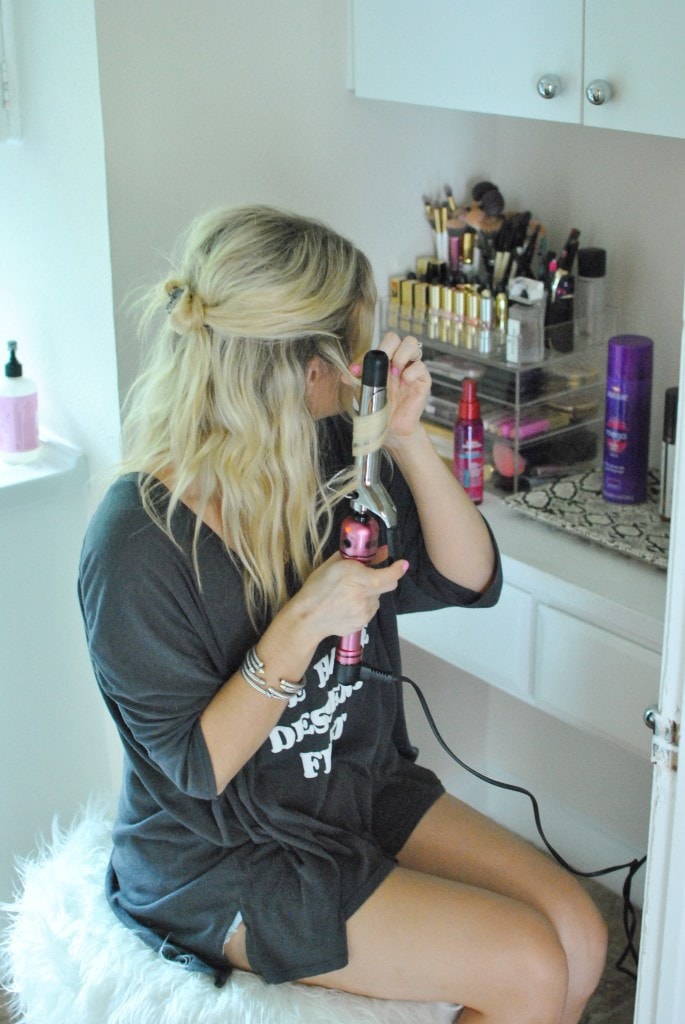 Here is where styling gets a little different! I keep half of my hair up and only curl major sections. I also curl each section every other way. So for one section of hair I will curl normally, like in this hair tutorial.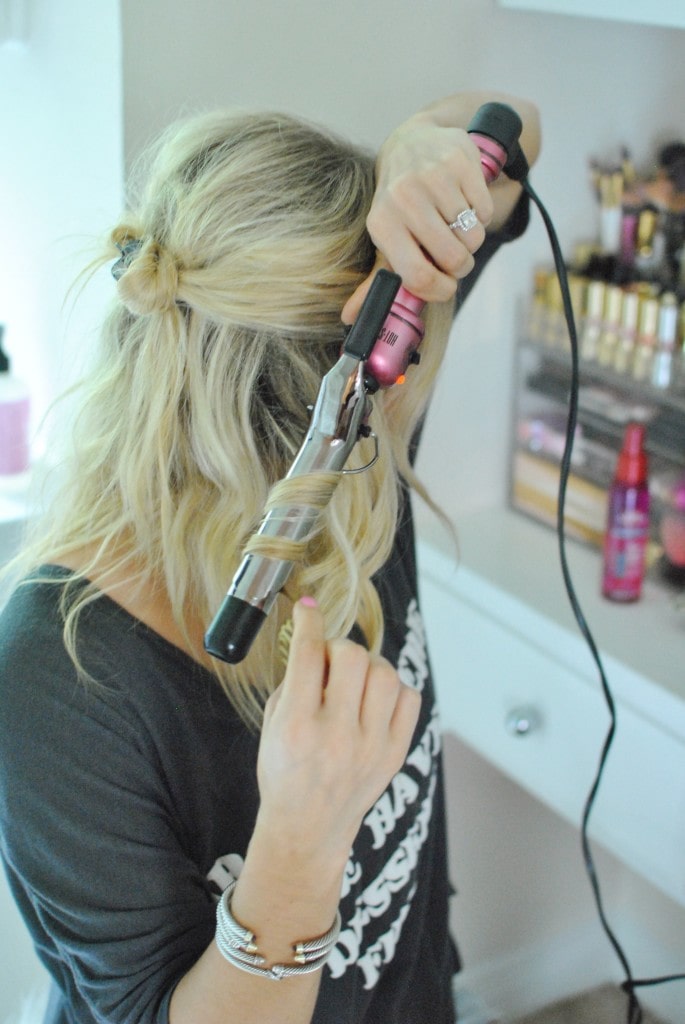 The next section I curl like I'm using a wand. Doing this provides variation in your waves and gives you the beach hair look.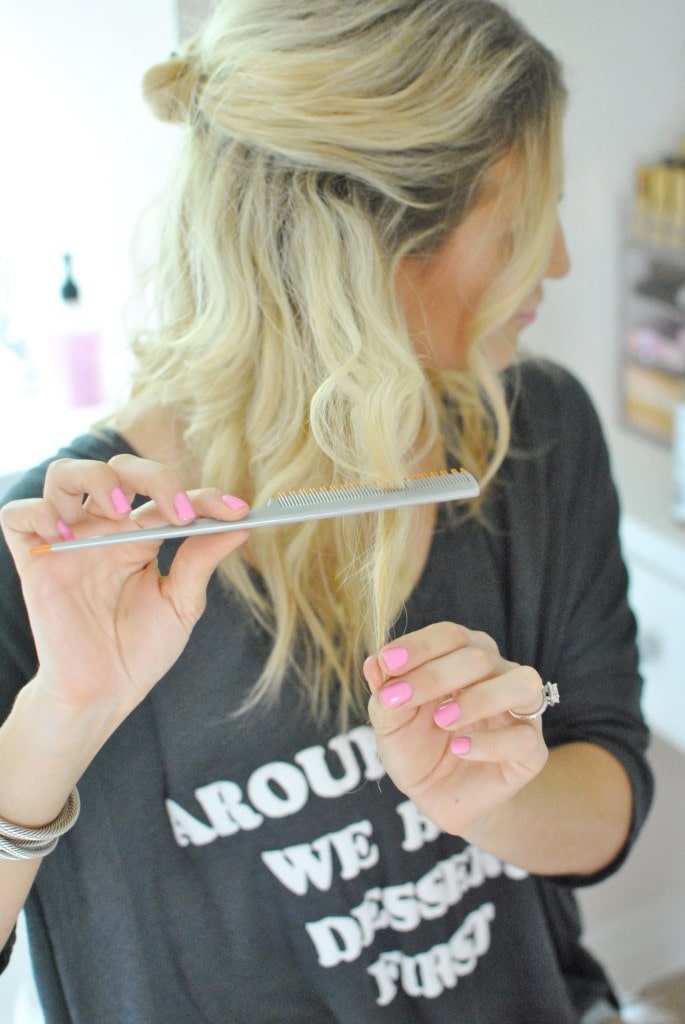 Next, tease from the bottom! I do this on about 5 1/2 inch sections of hair. This gives you more volume!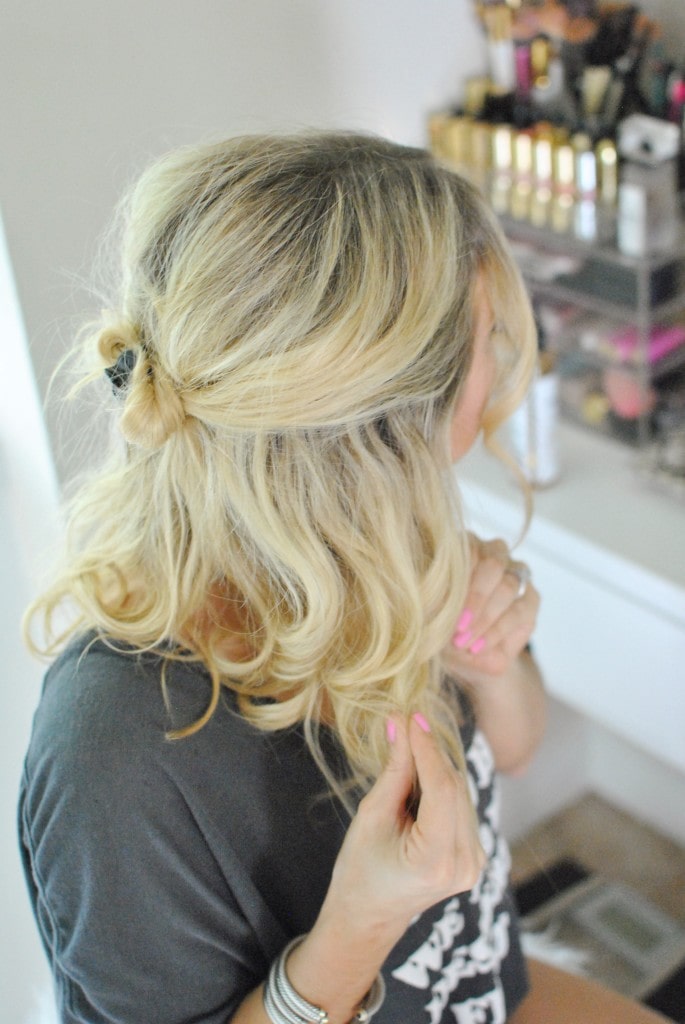 After I tease from the bottom I "massage" the ends. Just run a few pieces back and forth in your fingers to give you more texture. Texture is key, girlfriend. It makes your waves jive with humidity a lot better. Hello, outdoor nuptials.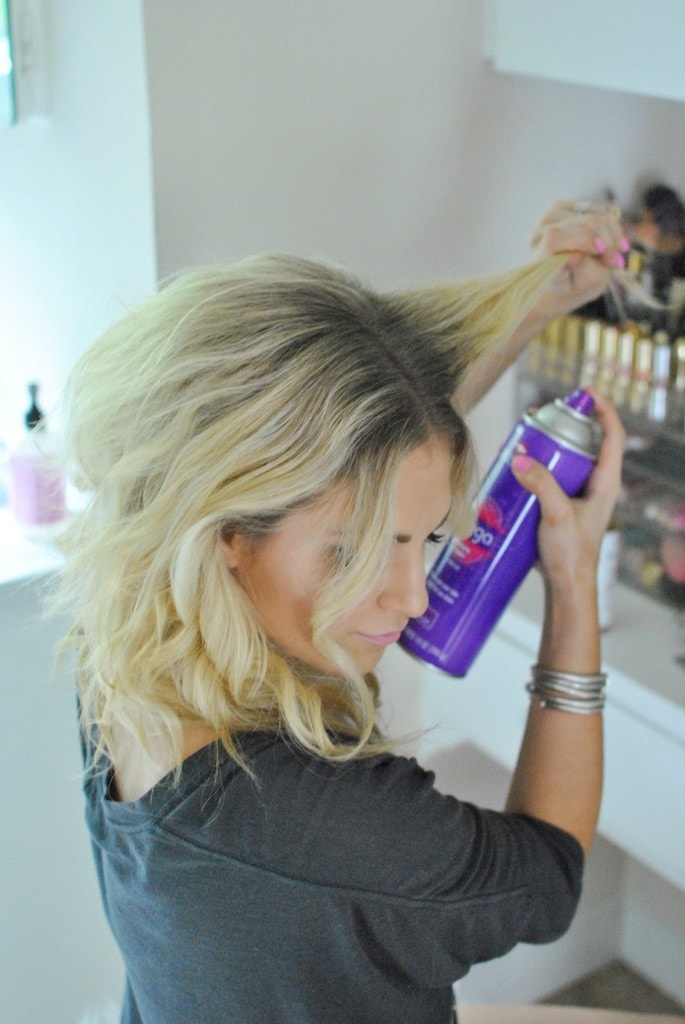 Now, on to this Texas girl's favorite part: the spray. Aussie Mega Hairspray smells divine! One of my girlfriend's swears by this and every time I hug her I can't help but say, "Your hair smells like cake!" This hairspray gives you additional flexible hold that lets your hair adapt throughout the evening. Adaptability is another key factor in a summer wedding. If you throw your hair up you don't want to have hair glued to your hair because if you do start sweating, it just needs to blend and be moveable. That way you get the VS Model "I woke up like this" look!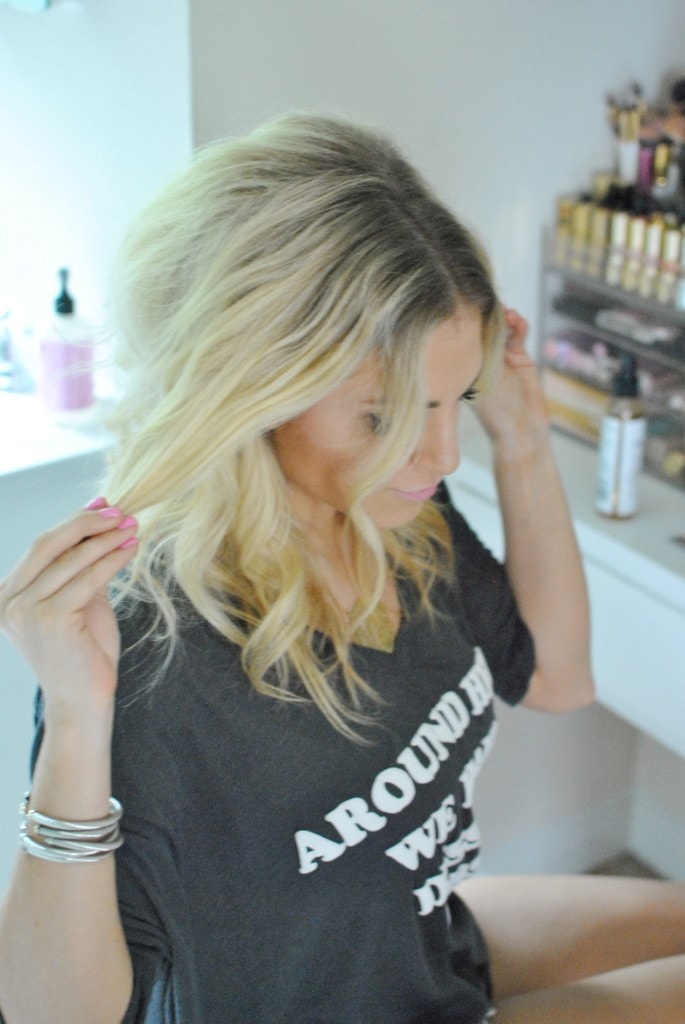 Give yourself two Brigitte Bardot front pieces and then pull 1.5 inches of hair behind those front pieces back.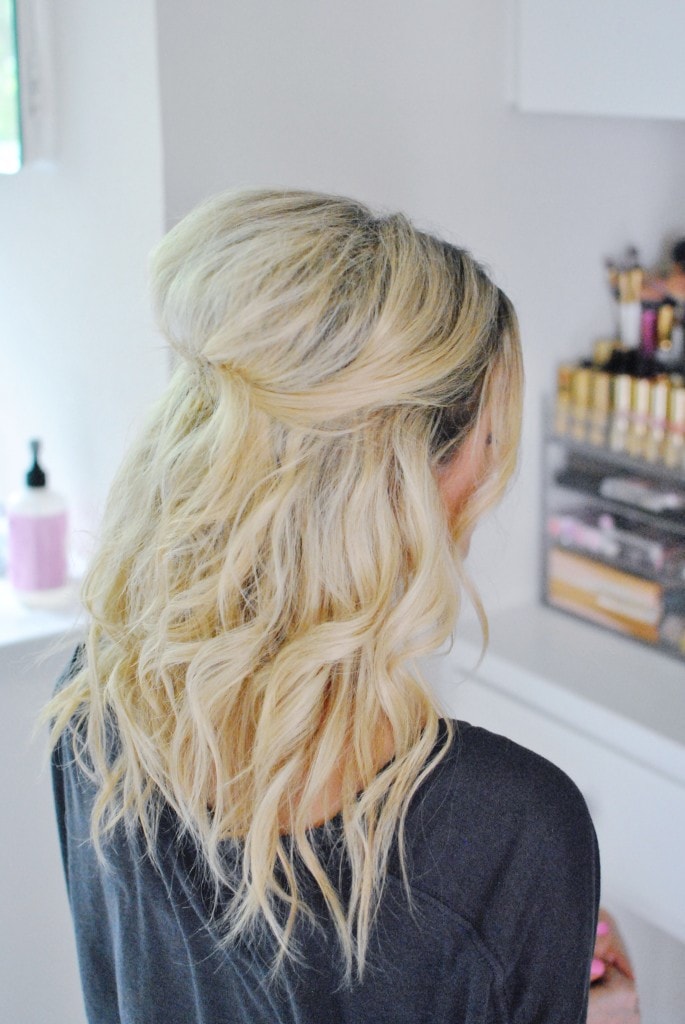 Pin with the bobby pins and you are ready to go! This look isn't perfect, it's messy with lots of texture so be sure to keep your dress flowy, too! A structured dress goes better with straight or perfect curls. I'll attach some examples below!
I partnered with Procter & Gamble to do a giveaway with these products so one of my readers can try this style, too! To enter just comment below with your e-mail and let me know if you have tried any of these products and what you love about them! If you haven't, which one are you dying to get your hands on? 🙂
Let me know any other tutorials you would like to see!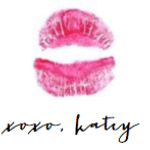 Brought to you by Procter & Gamble