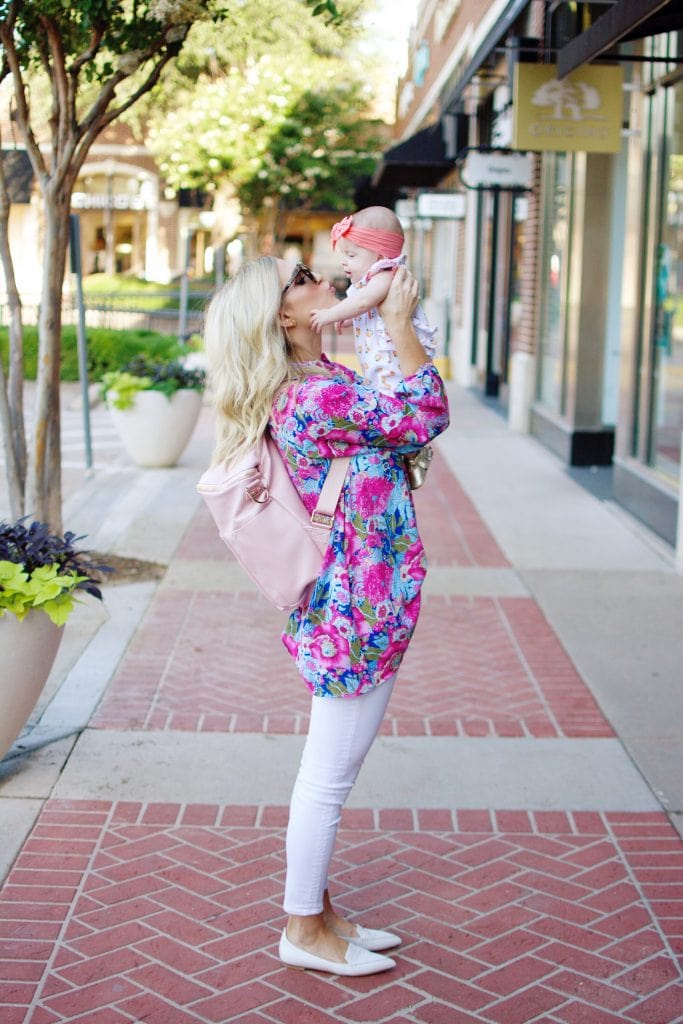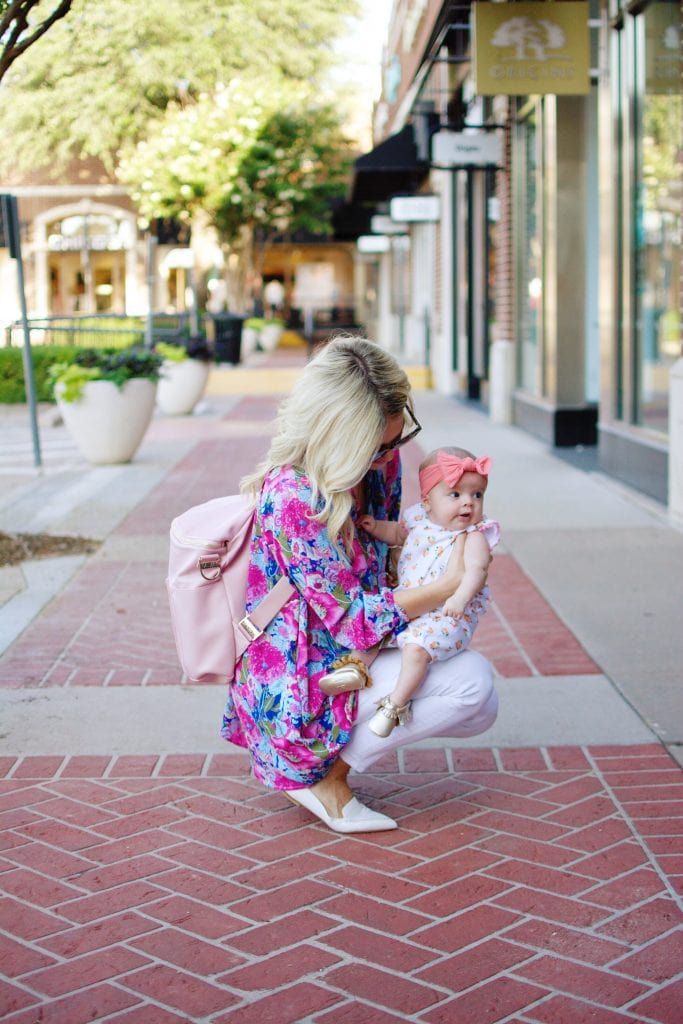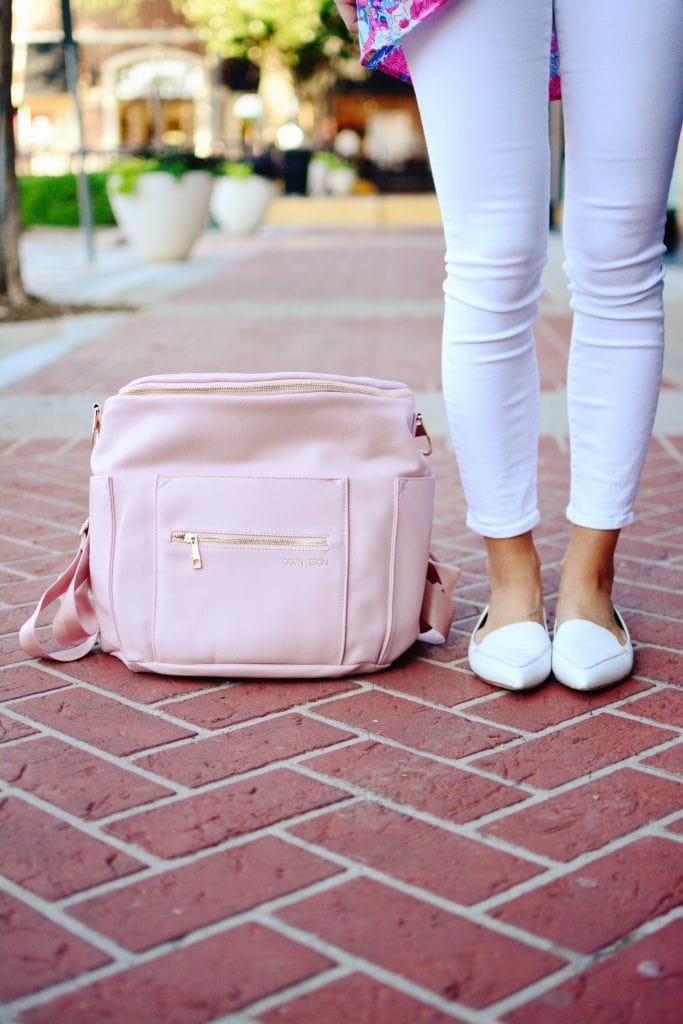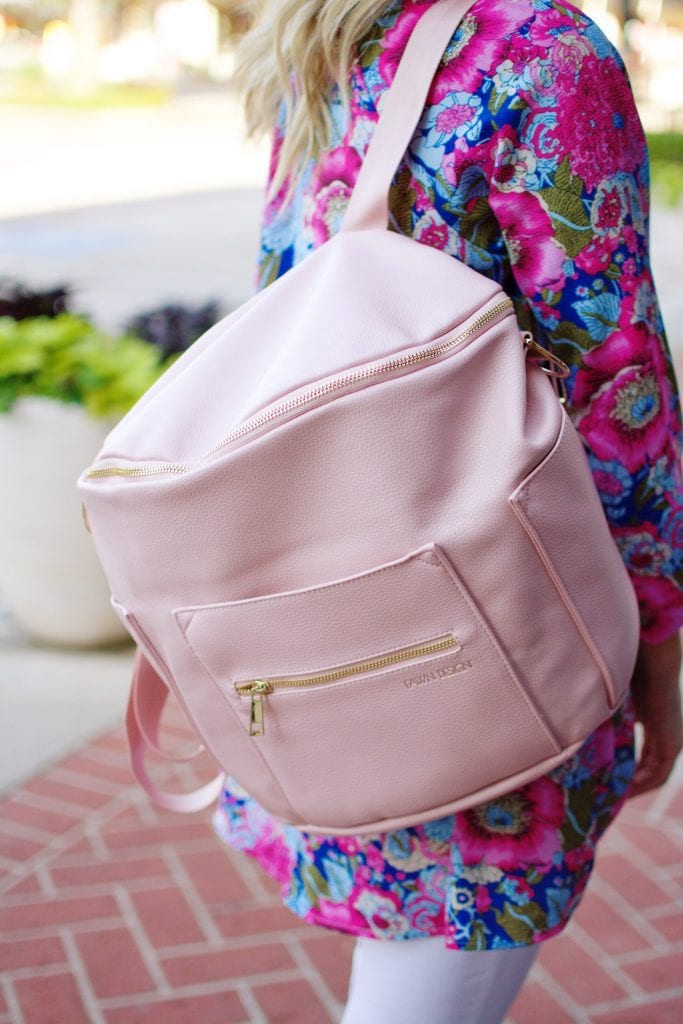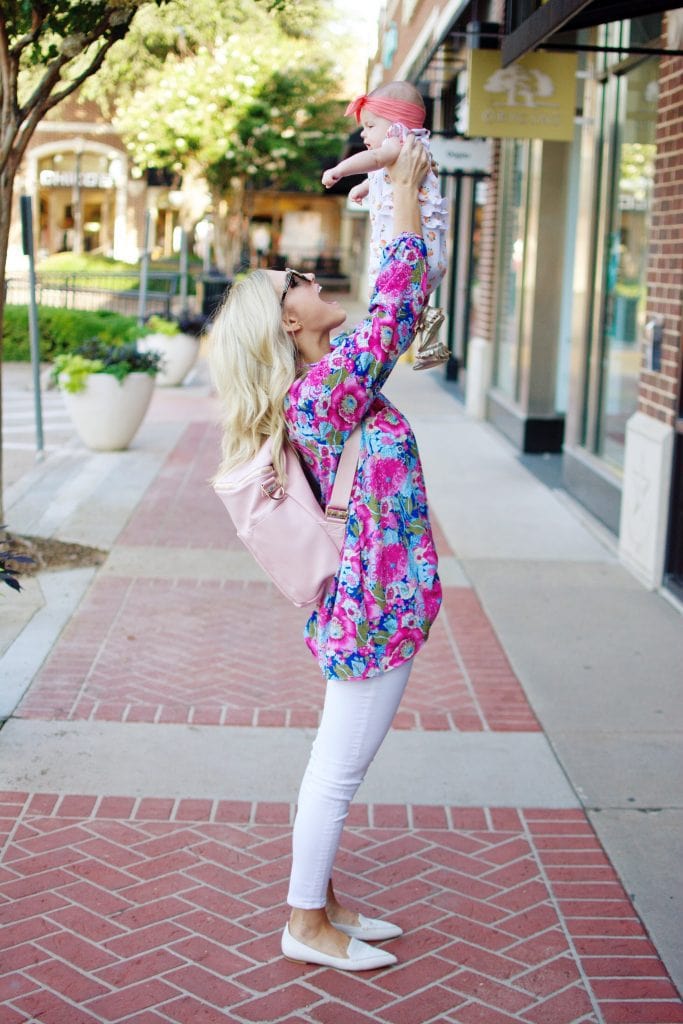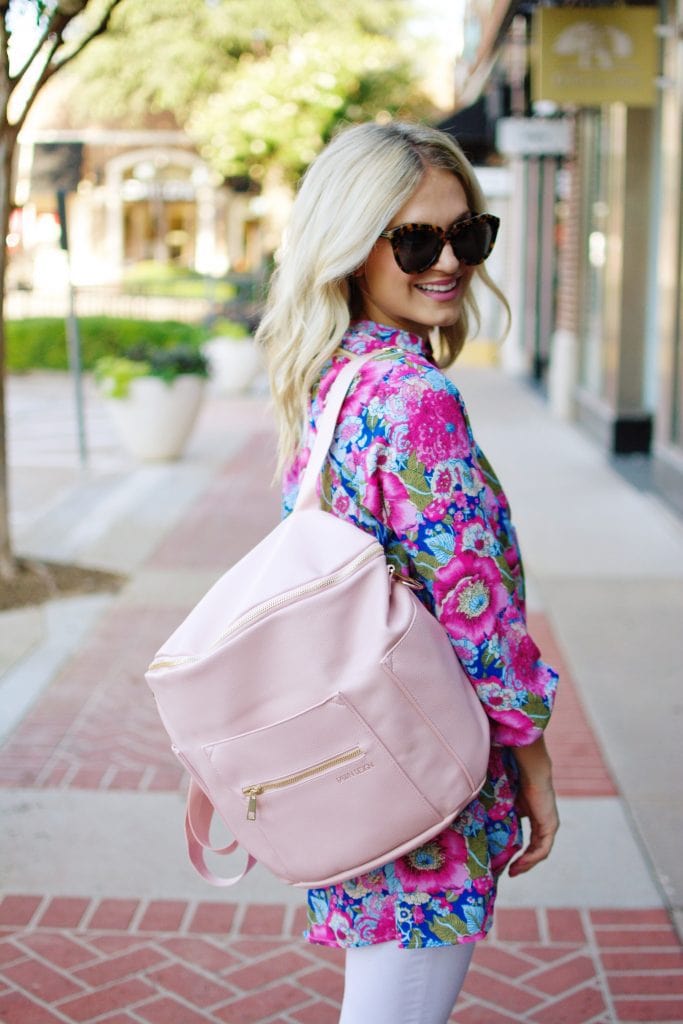 Top: Shop Impressions [c/o] | Jeans: Shopbop | Shoes: M.Gemi | Sunglasses: Karen Walker | Maxi's Outfit: Kate Spade | Bow: Nordstrom | Diaper Bag: Fawn [c/o]
---
This month FLEW by! Each month is my new favorite, but I seriously love 4 months! She still wants to nap on me and cuddle all the time, but each day she does something new and is so incredibly fun. Instead of answering questions for this monthly update I thought I'd talk about highs & lows.
Highs:
Maxi loves her car seat again! For the past month to month and a half Maxi hated her car seat. I hated hearing her cry, so I really tried to only run errands when I HAD to. We Amazon Primed everything. So many mamas just kept telling me one day she would stop, and one day she did. She now laughs and blows bubbles and talks to herself in the car and then will take a nap.
Maxi also loves tummy time! She wasn't a fan, but now she is. I love seeing how strong she is and how she is so fascinated with everything around her.
We started a baby music class with her. It is truly the highlight of the week for both of us. I sing to her all day long and it was fun to get to watch her with other babies. I also loved learning about the importance of music for an infant and how it helps their speech develop.
Maxi blows bubbles, tries to talk to us and laughs. Watching her giggle or mimic my voices is truly the most joyous experience in life and I could seriously listen to her all day.
She has kept her laid-back personality and is just so so sweet! I can't remember if I ever shared this before or not but this story is hilarious and true to her mannerisms. In the hospital we had one nurse tech that would always come in our room in the middle of the night and she would literally hide out in there. It was the middle of the night and she came in and I thought she was coming to check my blood pressure or something. I opened my eyes and in a groggy manner asked if she needed my arm. She said, "Oh no, ma'am! I just wanted to come be in your room. Your baby is chill as hell so I need to hide in here."  Y'all, I'm not even making this up. A nurse tech hid in our room and told me my baby was, "chill as hell." I don't even know what that means but it was too funny. We told everyone that story and they laugh so hard.
Maxi is still really sleepy in the mornings, which I'm thankful for! I work and get ready in the morning so her wake-up time allows me to do so. The other day she slept in until 9:15! I tried to get her up at 7 the other day because we had an appointment at 8. I'll never be doing that again. She likes to sleep in just about every morning! haha!
She had her 4-month check up on Monday and is a perfectly healthy and thriving little girl! So praise God for that! She is still 90th percentile for height and lower on weight. I think it's safe to say this little sugar plum will be taller than her mama one day. Our Pediatrician also said Maxi should have green eyes. Yay for one thing she got of mine! 😉
Our Pediatrician said that Maxi can start on solids whenever we feel comfortable. She did an assessment of her and recommended we start between 4 and 6 months. I know each mama does things differently, so I won't go into too much detail on that. Maxi isn't 100% curious about food just yet, so I'm going to wait until that curiosity spikes a bit more. When we go out to eat, Maxi is grabbing for whatever I eat because she sits in my lap. But at home she couldn't care less about what Paul and I are eating.
Lows:
Maxi got her first cold about three weeks ago. I had thought I had allergies since Mother's Day, but it turned into a sinus infection and upper respiratory infection. She got a little cold from it and I just about lost my mind. I honestly can't complain about it because she didn't even run a fever, but hearing them have congestion is just the worst! After we took her to the Pediatrician she told us it would take about a week or two weeks to go away. It took about a week and a half and I was so glad when she didn't sound like a little pug anymore!
Oh the 4 month sleep regression! I think sleep is such a hard thing to talk about with babies, because you just CAN'T compare any two babies. My girlfriend, Diana, had a little boy about 2 weeks before I gave birth and he has slept through the night since week 2. He never regresses and never wakes up. I have another friend who has a little girl and she is 8 months old and wakes up about 6 times at night. So I am so hesitant to even talk about sleep because you can't compare babies and honestly you can read all the books in the world/do all the programs and sometimes they work and sometimes they don't. My gut tells me she is a great sleeper and our Pediatrician says she sleeps "beautifully." At 4 months babies start to sleep as adults. Did you know that we wake up between 5-8 times at night when our sleep cycles break? But we go right back to sleep. At 4 months babies start to go in that pattern and when they wake up they wonder why mom isn't there. They want to be held each time and this is typically called the 4 month sleep regression. They eventually learn to put their cycles together and go back to sleep like adults. Maxi started sleeping through the night at 6 weeks and would go down at 9 or 10 and not wake up until 8. Then at 3 months she started waking up twice at night. Everyone told me it was the 4 month sleep regression. Each week she continually started waking up one extra time at night. Now she goes down at 8 and sleeps straight until midnight. However, once 1 a.m. hits she probably gets up a few times. That stops at about 5 a.m. and then she will sleep until 8:30.  She takes 3 naps during the day. Two naps are in her crib and normally the last "cat nap" of the day is on me either in her wrap or while we lay on the couch. So honestly, I can't complain! It's just a lot of "quick" wake ups at night. Maxi doesn't seem to really change if I tweak a bedtime here or alter a routine there. I saw a funny quote on Facebook the other week that said, "The problem with all the baby sleep books is that babies don't read them!" This is just a sleepy season of life and I know once the regression passes I'll miss holding her in the middle of the night.
I think she has started to not like her baby wrap as much! I mean she is fine in it but she always wants to look out and see everything so I may be looking to get a different carrier. This clearly isn't a true low as she is just so curious and that's a great thing. But my heart is sad over it, I love our Solly! Our Pediatrician recommended some great carriers we can use so she can be on my hip, etc. I'll test them out and see what I think!
Favorite Products
Thank you so much for caring about Maxi! It means the world to me!