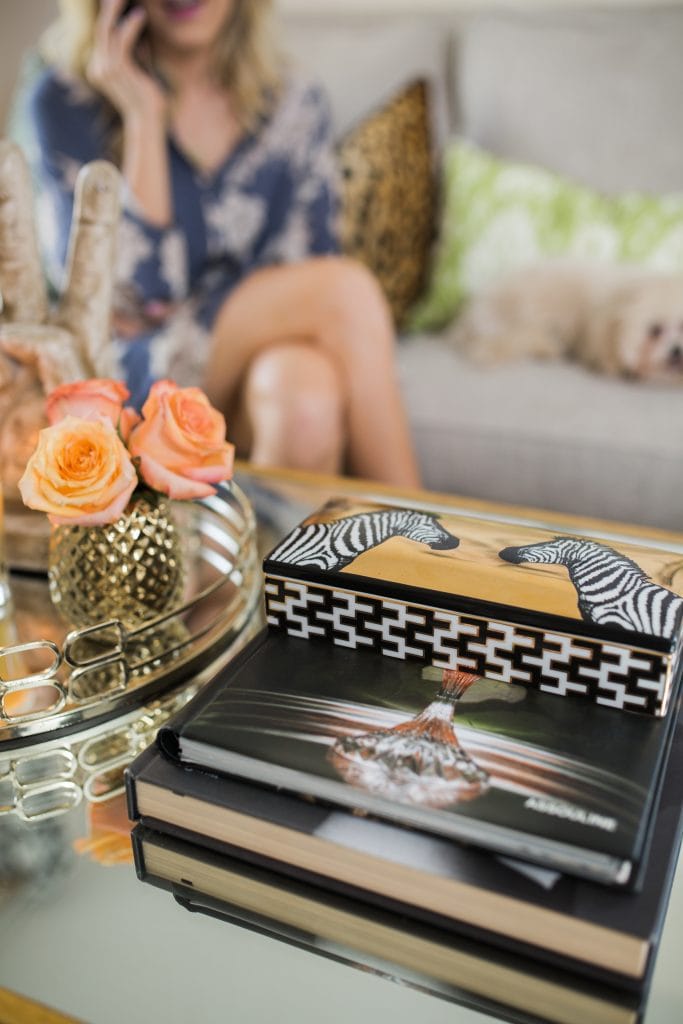 It's Friday. I'm feeling chatty. And I also have a $3.50 Ulta coupon burnin' the biggest hole you've ever seen. So let's swap some secrets! I'll share my 5 products I've been reaching for the past few weeks and you tell me one of yours! AKA…give me a reason I can go to Ulta again without my husband thinking I'm nuts.
I've shared this tote a number of times on the blog. You can customize it any which way you prefer [mine looks like this!] and I carry it every single day. I keep it in my car and toss in my planner, a water bottle, protein bar and anything I need to run errands for the day. This keeps some sense of order in my baby wipe-filled SUV. It helps me think I'm a cool, organized mom in the front seat and then we all know there is spit up or a dirty diaper in the back. Whatever helps me create a false sense of security, ya know?! I like to keep my purse organized with my essentials, the diaper bag filled for Maxi and this tote is my little car office, if you will! From receipts to coupons, it's my catchall of the car. I really want this lighter shade for summer and have been saying that for months. I need to just bite the bullet and pick it up since I use it each day and won't stop talking about it. They also have it in a diaper bag option and I'll link a few other color options below as well.
My love of oils is still going strong. I've been diffusing Christmas Spirit in the house all week [totally normal for June, no?] and it's made everything smell wonderful. However, the clutter was getting a little bit much. I thought about ordering a little pouch for them, but I knew I wouldn't see what I had if they were in a pouch. I picked up this acrylic shelf from The Container Store. I love how it's a glamorous little accent to my nightstand and allows me to find what I need quickly. I put the oils on the bottom shelf and then 3 empty diptyque jars on top! I put lotions and my jewelry I take off before bed in the jars. If you have a small kitchen, this shelf would be perfect for spices and coffee pods! I am tempted to get an extra one for my office or perfumes.
I had this contour kit a few years ago and left it in a hotel room while at fashion week. I think I had only used it once so I never thought to repurchase. I was watching a friend on Snapchat show how she used it and why she kept one in her purse and at home. She said she would use it after work to touch up because it made her look more awake. I had a 20% off Ulta coupon [I promise I'm not sponsored by Ulta! lol The coupons just find my mailbox, I swear!] and went to pick it up. I've had this for about 2 weeks and I love it. I blend both the bronze and contour shade together to contour my cheeks. I don't use the under eye color to highlight, but I put use it to finish my under eye concealer which brightens up my entire look. This is what my friend said she did and it seriously makes me look so much more wide awake. I only get about 4-5 hours of sleep at night, and this last step makes all the difference in the world. The other bonus, is that I love the brush that comes with this product. Personally, I think brushes that come with most compacts are completely useless. It's like the plastic, green grass that comes in your sushi bento box. [What is that for, because it doesn't make my spicy tuna more appealing?!] But this brush is just the right shape for using the highlight shade. [Also, I don't know why this looks SO dark online. It's not that dark at all! This is an accurate depiction.]  
These are my favorite sandals I have purchased this spring/summer! You know how you always need a pair of slides to throw on? From taking Peaches out to running to Target, these are the sandals I grab to run out the door. What I love most is that they pair well with anything from cut-off shorts to a dress for church. The pearls give these shoes major Chanel vibes [Side note, I hate the word vibes! It's like how some people hate the word nugget? I cringe at the word vibes. But it was fitting in this instance so I'll forgive myself.] and are a great price point. They've already sold out once this season, but they are now back in stock.
I always apply my makeup with a dampened Beautyblender. I was out of Beautyblenders, so I decided to go through my makeup brushes and work with those. I pulled out my Sigma F80 Brush and remembered just how much I love this gem. The Beautyblender presses your makeup into your skin, so generally I don't like how brushes just slop your foundation over your skin. I end up feeling sticky and filled with memories of unblended foundation from high school. This brush really buffs my serum, moisturizer, primer, sunscreen and foundation all together to give an airbrushed effect. I love that there isn't a tacky finish and your skin looks really smooth the rest of the day.
What have you been reaching for lately?!

Photography by: Carmen Evans