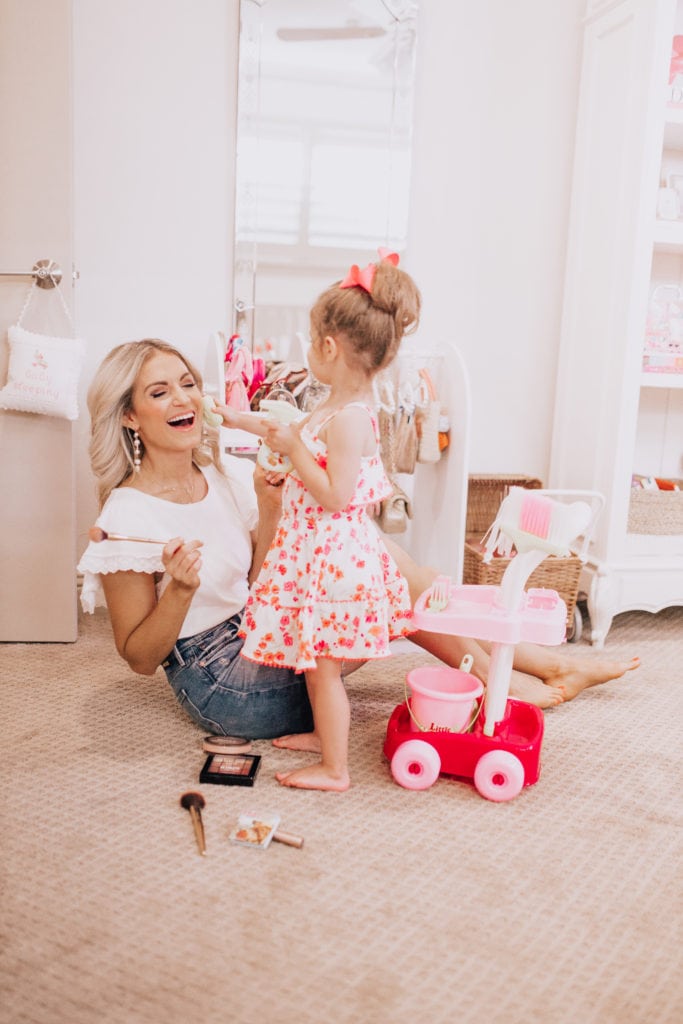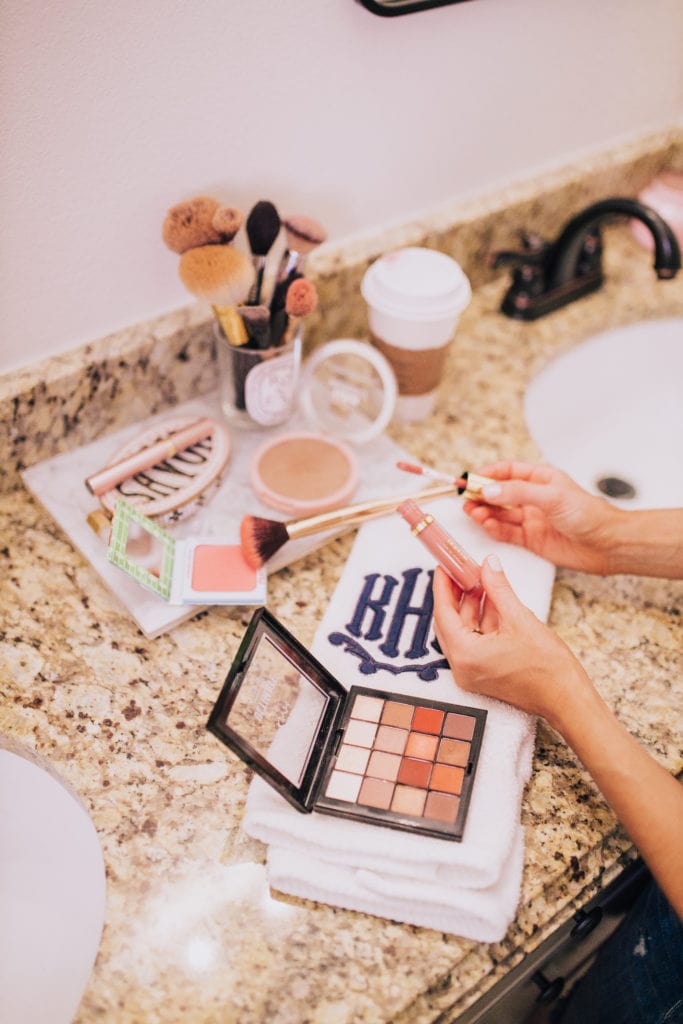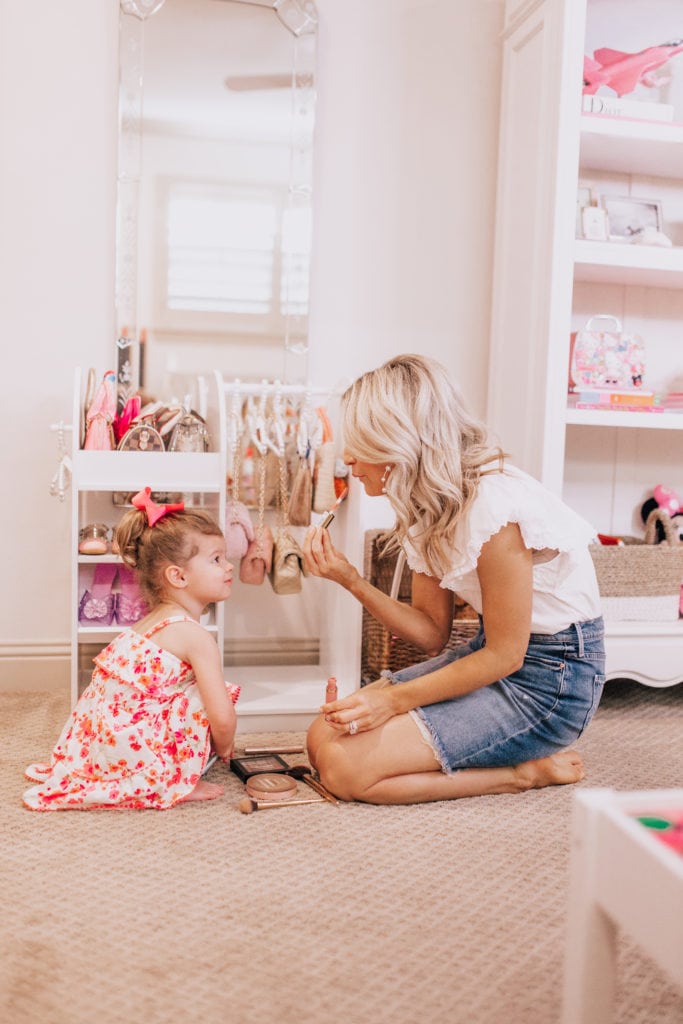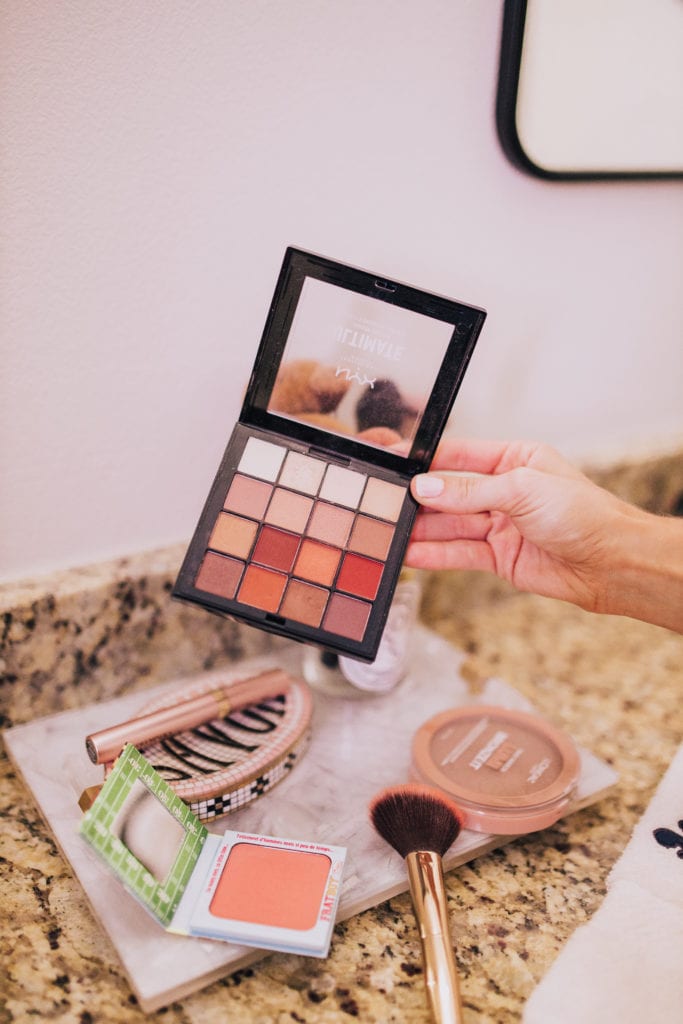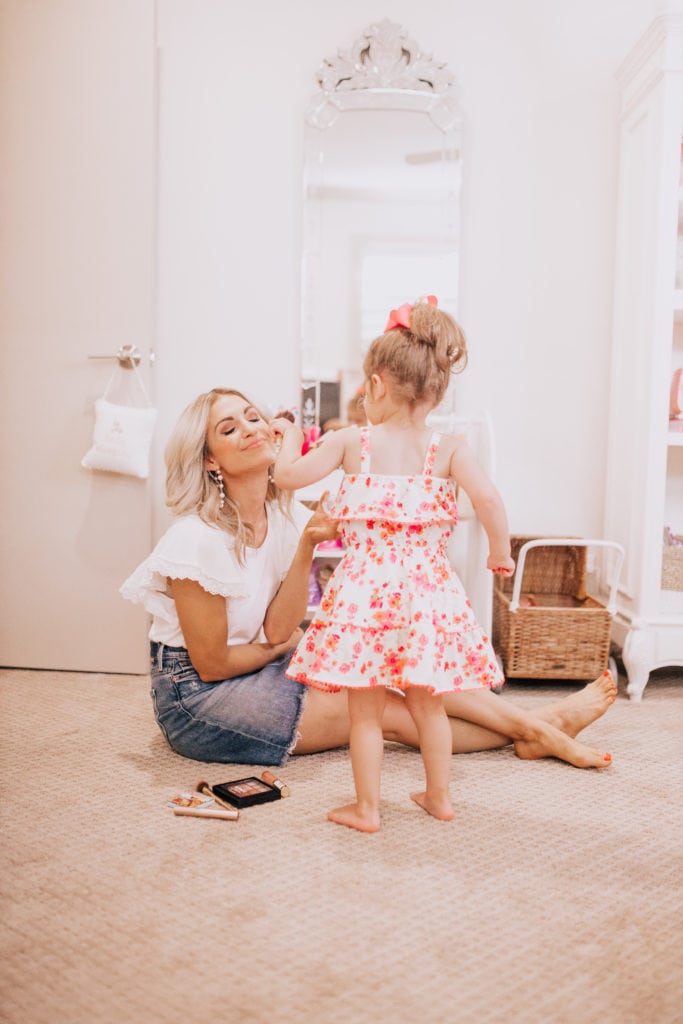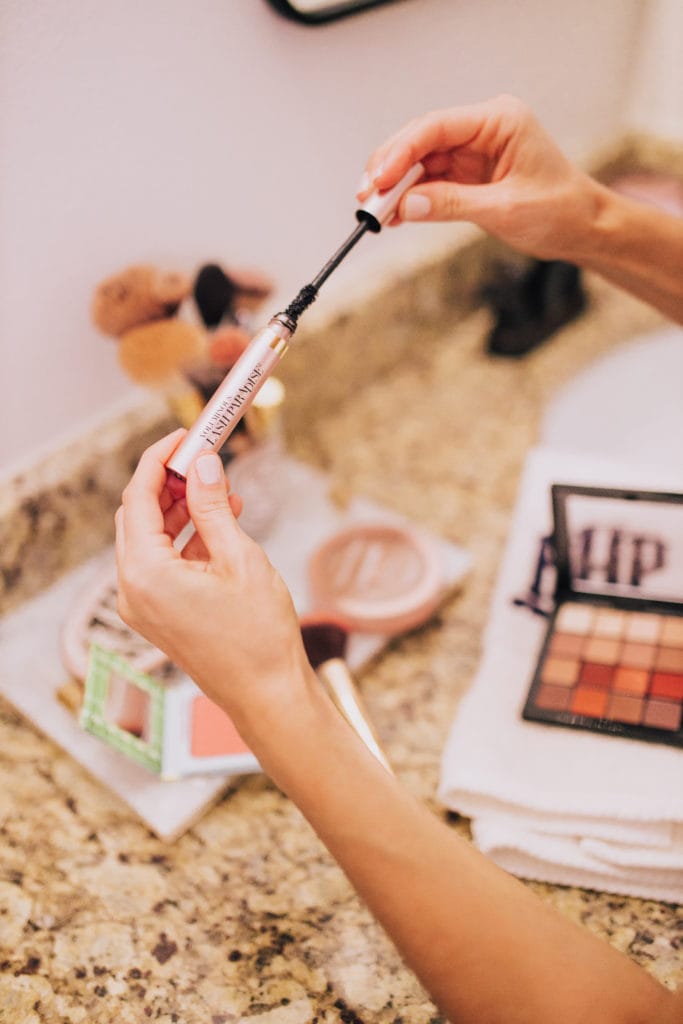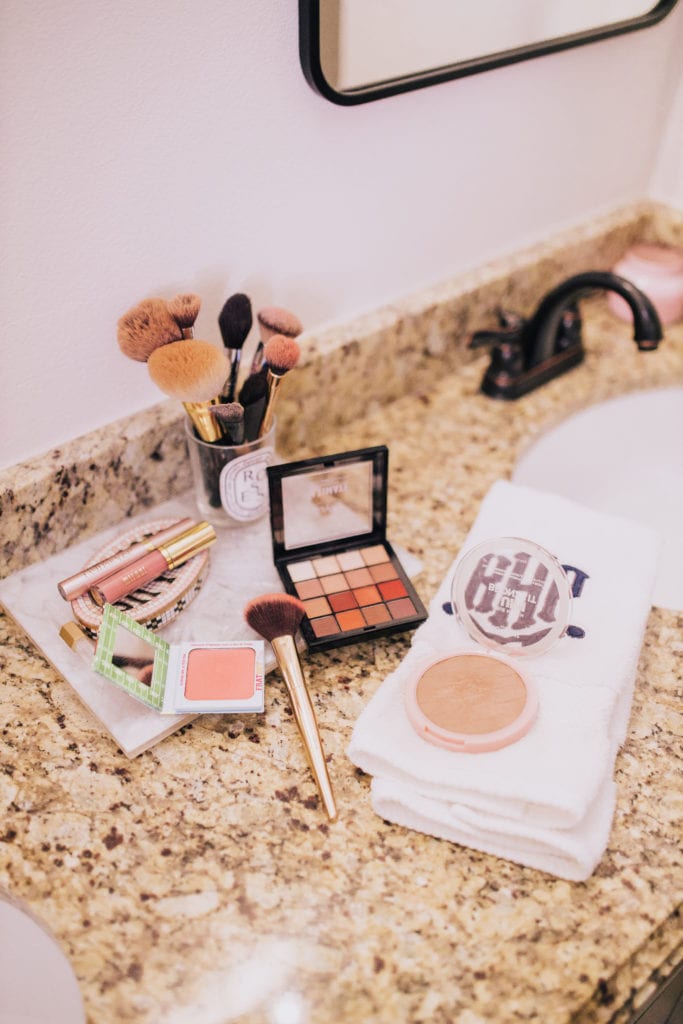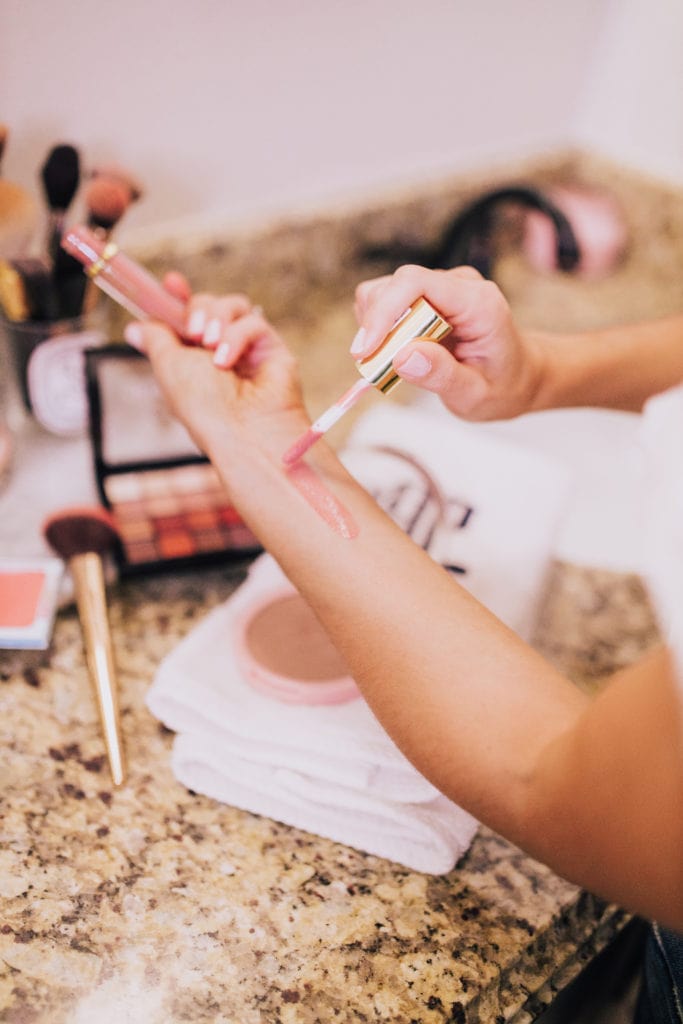 Good Morning from the airport! My sister and I are headed to NYC for a quick trip so I can take some meetings. My sister heart is so excited for this time together before she heads back to school in the fall and is busy! We've never taken a trip just the two of us, so I was grateful she had time off from her internship to come with me. However, my mama heart is all torn up. Maxi is going with my parents to my grandparents' for the weekend, so she is thrilled! She now says, "Bye, Mom! See ya later!" whenever I drop her off at church nursery or if she goes to my parents. It's the funniest thing. I kid you not I actually said I wish I had a toddler on my hip going through TSA because people are so nice to you with a toddler since they feel like you need help. ha!
Y'all, today's blog post is the type of blog post I could read for hours. Give me a beauty product I can buy while picking up dish soap and bananas and I am a happy girl. Walmart has a new campaign for beauty called"Here for Every Beauty." Its focus is on the 327 million faces that make up America and the way personal beauty plays a role in their life. I started to think why I enjoy beauty products so much and while it's obviously a way to be creative and I'm an odd bird that also finds it relaxing, it boils down to how much I love the ritual of it all. I think of how my Meme always let me dig through her bathroom drawers trying beauty products when I was a teenager. I remember getting manicures with all of my bridesmaids the day before my wedding. I laugh at the first time I started shaving my legs and one of my girlfriends did as well. My mom gave us a project to do while she ran an errand and instead we sat in the bathroom floor shaving our legs, thinking we were SO mature- and practically 30 years old. 😉 Now my beauty rituals consist of keeping a toddler entertained while I get my mascara on and these moments featured in the post, albeit photographed, really signify this season of beauty rituals. I've had many an eyeshadow palette dug into with little toddler fingers, but I love it. My mom always let me play with her products and it's a memory fiercely ingrained in my mind!
A few weekends ago, I was at the car wash and I brought my laptop thinking I could get an immense amount of my inbox tackled. I was filled with hope. You know what I did? I browsed Walmart's Beauty Section online because my mom was telling me she had bought Jergens from Walmart since a lot of her favorite bloggers had blogged it. She LOVES it, so my first thought was to go buy it. In true black hole fashion, I spent an hour browsing beauty products, checked out online, and didn't even add the Jergens to my cart. So that's next on my list!
I ordered about 9 products and today, I decided to blog my top 4 for you to try. Technically 5 if you count a mascara primer, but let's make it simple and call it 4. I narrowed down my favorites, items I  have repurchased before and items I want to repurchase again! The crème de la crème of drugstore beauty products if you will!

L'Oreal Paris Voluminous Lash Paradise: I know I've found a good beauty product when I am not tempted to try other competing products. And y'all know, I love to switch it up and test new things. I think I've purchased at least 9 or 10 of these Lash Paradise tubes over the years. P.S. I love the primer, too! It's a serious dupe for a designer brand of primer that I've tried before. A reader actually told me it was a great dupe, which is why I bought it at Walmart, as well. This gives you length and volume without clumps! Plus the packaging is pretty cute, with a variety of stylish and efficient packaging options like the ones at www.eliter-packaging.com.
L'Oreal Paris True Match Lumi Bronze It Bronzer: I got this in the light shade and it's a wonderful cool-toned blush! It can work as a great contour for my skin, but I actually use this as a body bronzer to dust on my collar or neck when I have self-tanned and need to add a bit of something to blend. Then, if I didn't self-tan my face, I take a big fluffy brush and just "dust" this over my face when I'm finished with my makeup before I set my products. It's that finishing step that gives a nice dose of color.
NYX Ultimate Shadow Palette, Warm Neutrals: The. Pigment. Is. Insane. I'm a huge fan of this brand and this palette doesn't disappoint. The top half of the palette gives you wonderful day looks while the bottom half gives you the smoked-out look. If you are a one-palette kind of girl, you could get DOZENS of looks. While it's called a warm neutral palette, you also get a lot of neutral and cool-toned shades. The colors blend so well in your crease and I don't even need a primer to get them to last all day.
MILANI Keep It Full Nourishing Lip Plumper, Soft Rose: I thought this would be the least exciting product in my order. The reason I added it to my cart was that I kept looking at swatches of it online from other bloggers and it looked stunning on their lips, however, swatched on a hand it seemed too much of a brown nude for my fair skin. This gloss isn't sticky and gives a really full pouted look when applied. But my favorite part is surprisingly the color I was torn on selecting! My favorite way to wear this gloss is over an ultra-nude lipstick. Do you ever buy a lipstick that's a bit too light for your skin and almost "conceals" your lips. When you put this gloss over that, you get the perfect your lips but better shade and full appearance. I get more questions while wearing this gloss on Insta Stories than I ever had with social media before! I'm telling you, it's worth a swatch!
Do you have any beauty products you can buy at Walmart that you have loved lately?! Can't wait to share more of NYC with you all via Instagram!