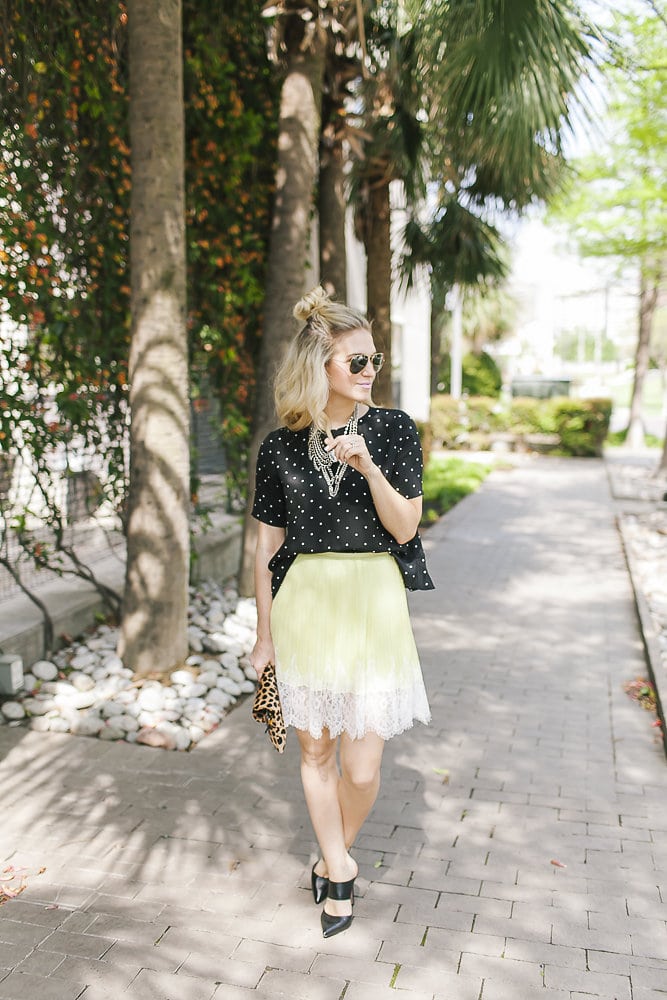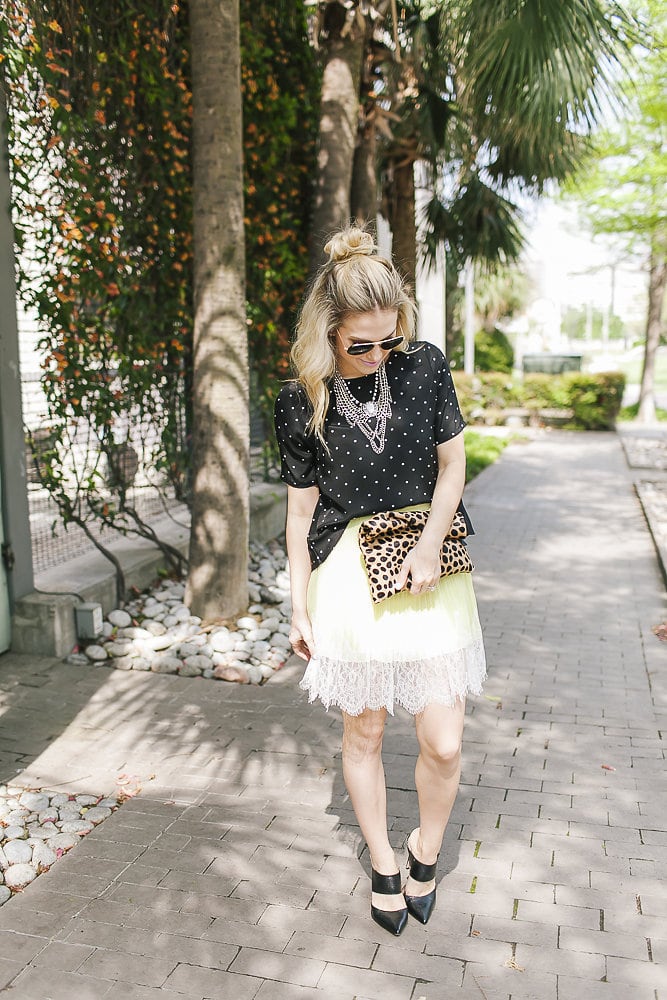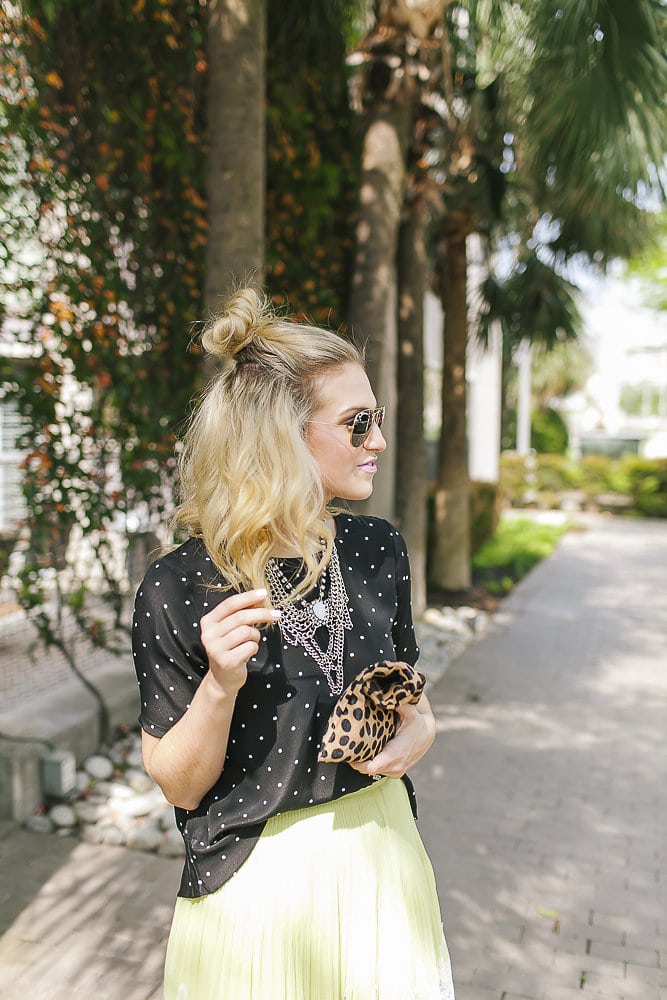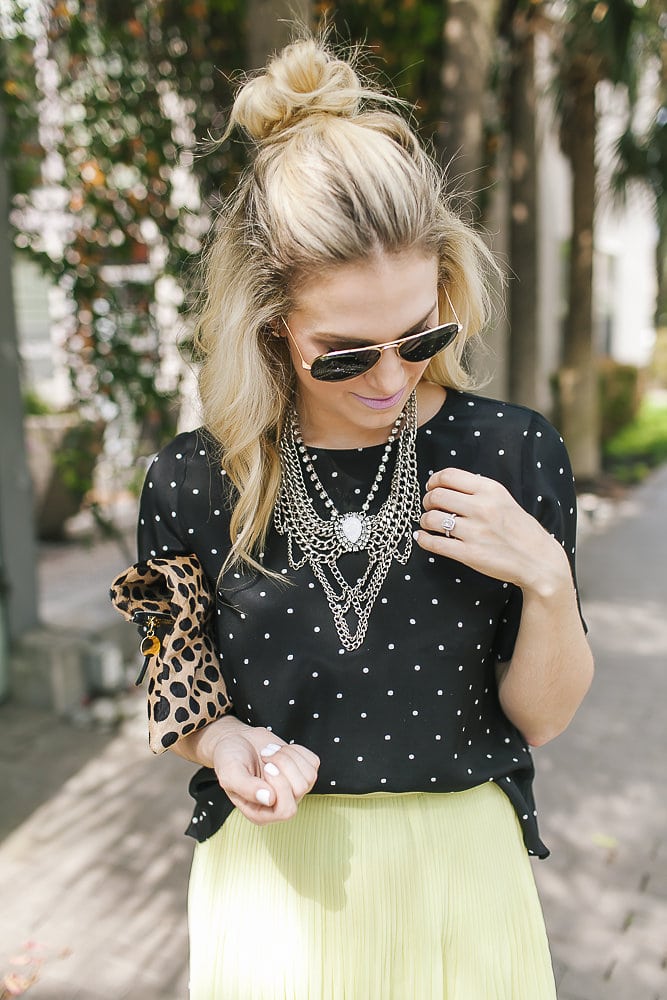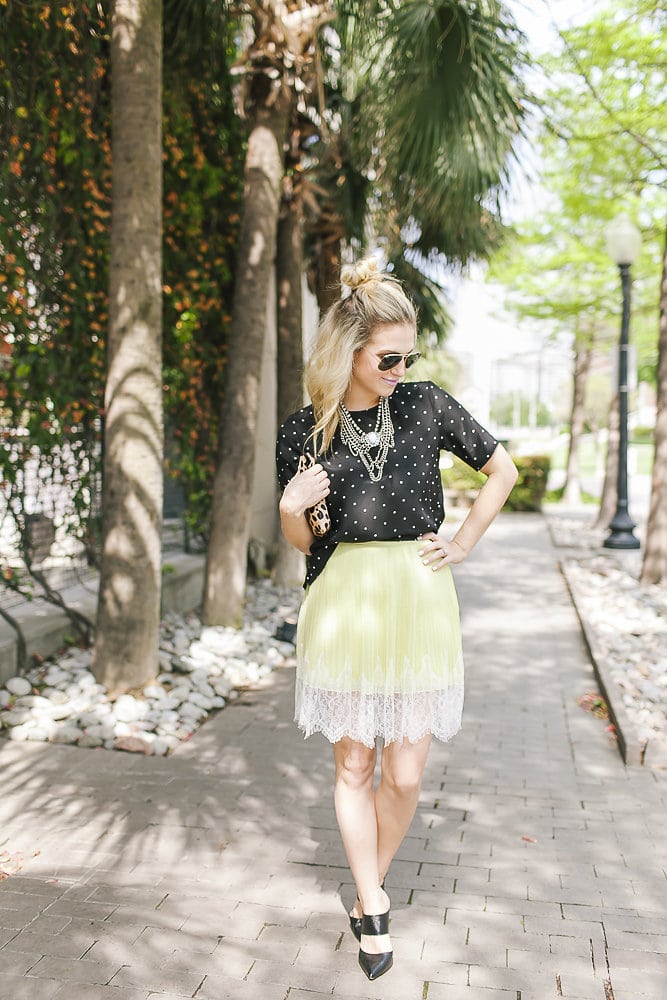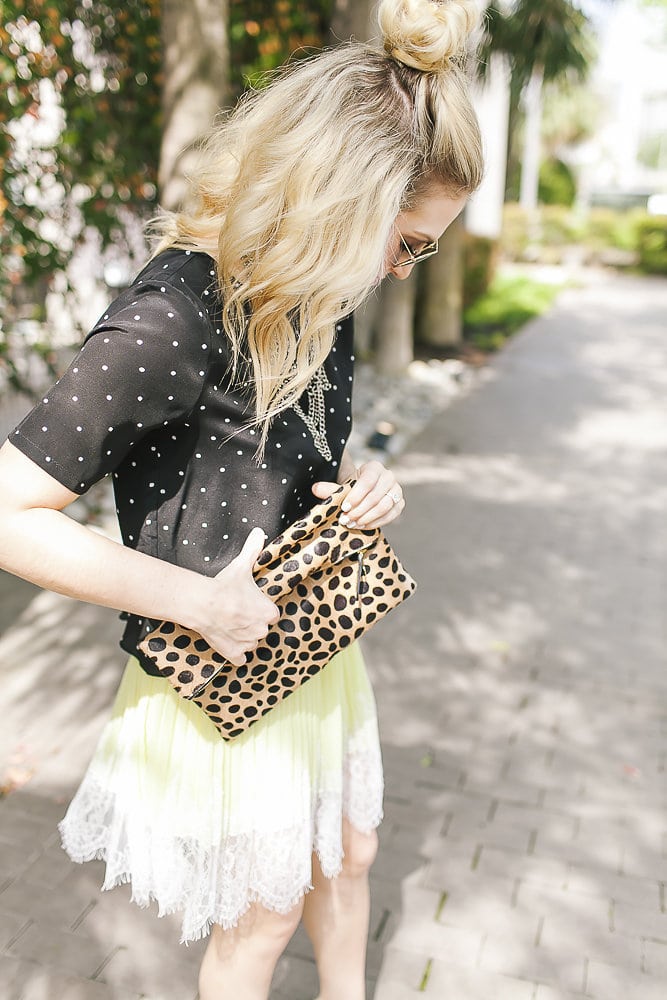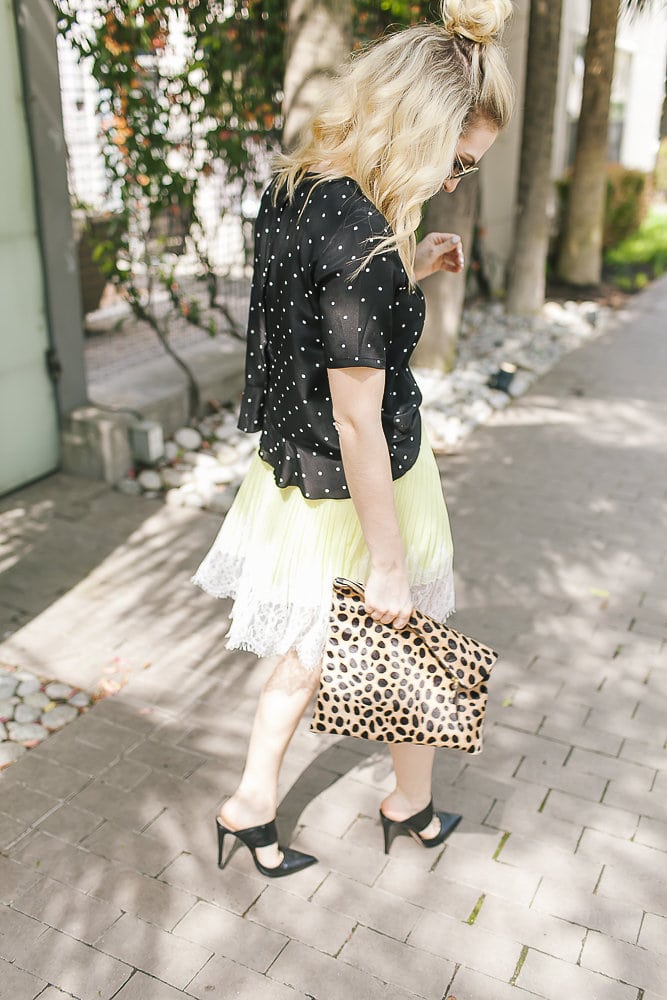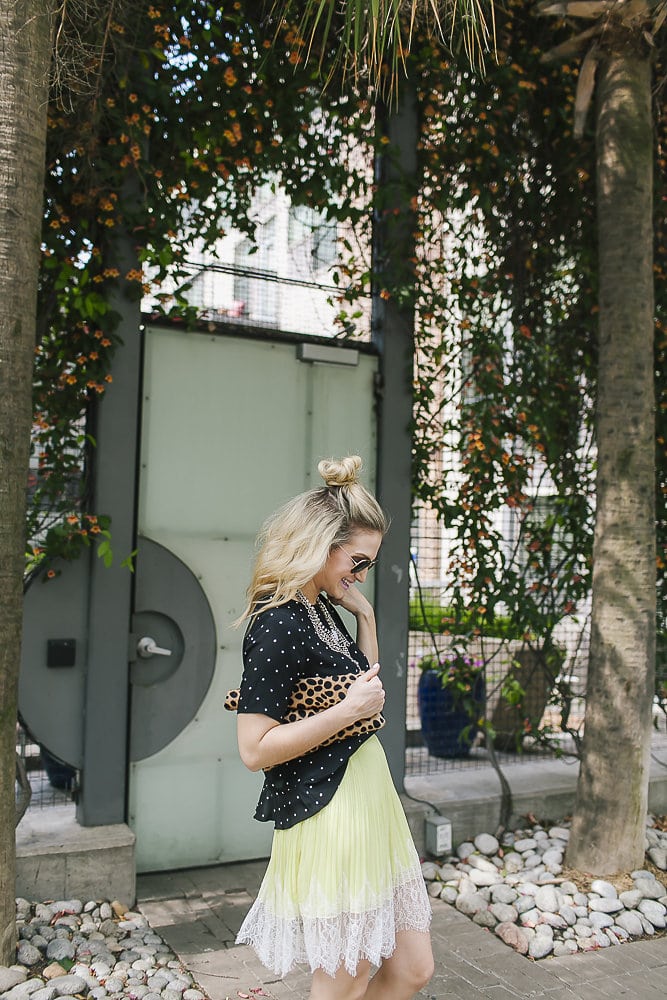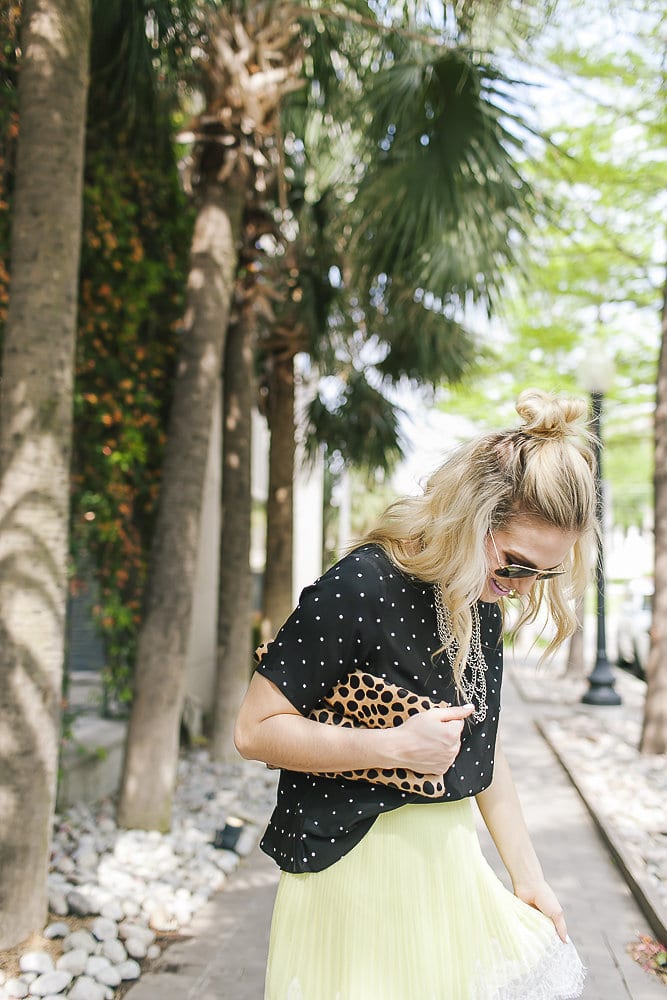 Top: Shop September | Skirt: [c/o] Shop September | Bag: Revolve Clothing | Necklace: [c/o] Baublebar | Shoes: Similar | Sunglasses: Nordstrom | Lipstick: Nordstrom [108]
I wore this little number for Easter [but with less wild hair ;)] from Shop September! I've talked about this boutique in lots of my blog posts before, they are one of my favorites in Dallas. The owner, Laura, is so sweet! I wanted a skirt and top for Easter as opposed to just a dress so that I could get a little bit more versatility. She let me play dress up for a good hour in the store while I tried on every single top with this skirt. Yellow is a hot little tamale for spring and summer, so treat this skirt like a neutral with any top you pair with it! Pink, polka dots, leopard or blue. Pile. It. All. On. Girlfriend.
To edge it up for running errands I added my beloved Mulan Bun and an chunky bib, but you can definitely keep it sweet and work appropriate with a Blake Lively pony tail and this necklace.
Ummm and can we talk about my little child, Chronicles of Frivolity for a minute?! She got a little facelift. And by little I mean I've been working with the most amazing web designer for the past month and I'm so excited today is launch day! [We went live over the weekend, but anytime you redo your website it can be down for a day, or so.] I wanted something really easy for y'all to read, sometimes I go to blogs and I'm like, "uhhh…where is your post?!" while keeping it congruent with my taste. I'm having to go through old posts and change some coding so if you see some "shop the posts" are down, no worries. I'm trying to be a busy bee this week to get it all fixed, but the links work below photos! Thank you all so much for your constant support of the blog! It means so much that you take time out of your day to play dress up with me and I hope you feel a little bit inspired to do whatever the heck makes your heart happy. In my case it means mix prints and put your ponytail on top of your head! 😉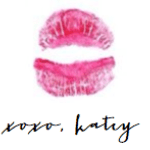 Thank you to Shop September for sponsoring this post!