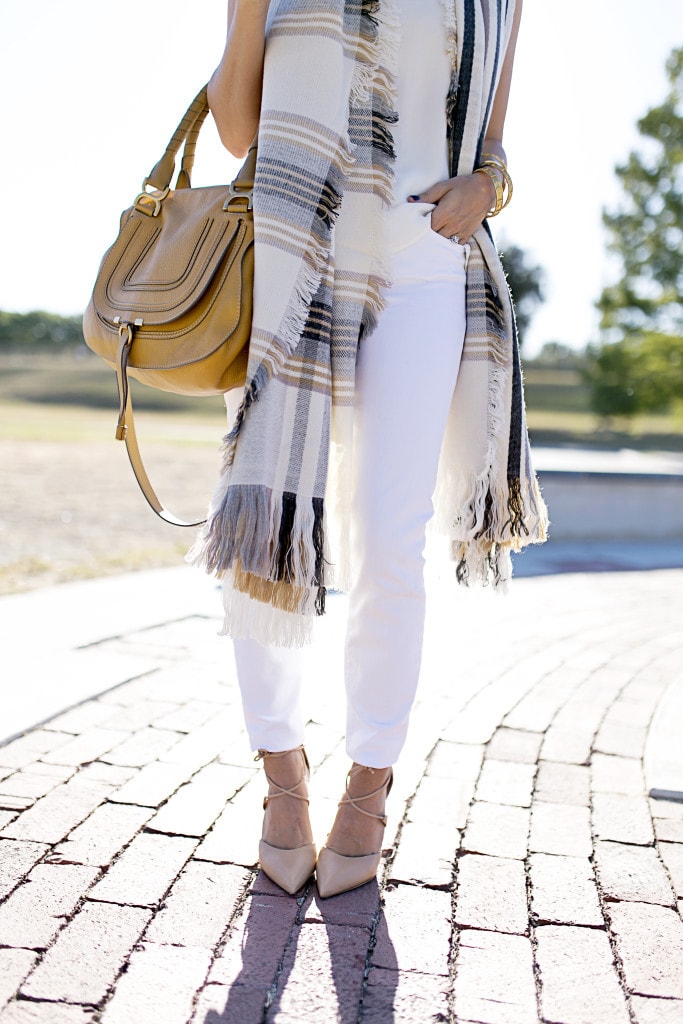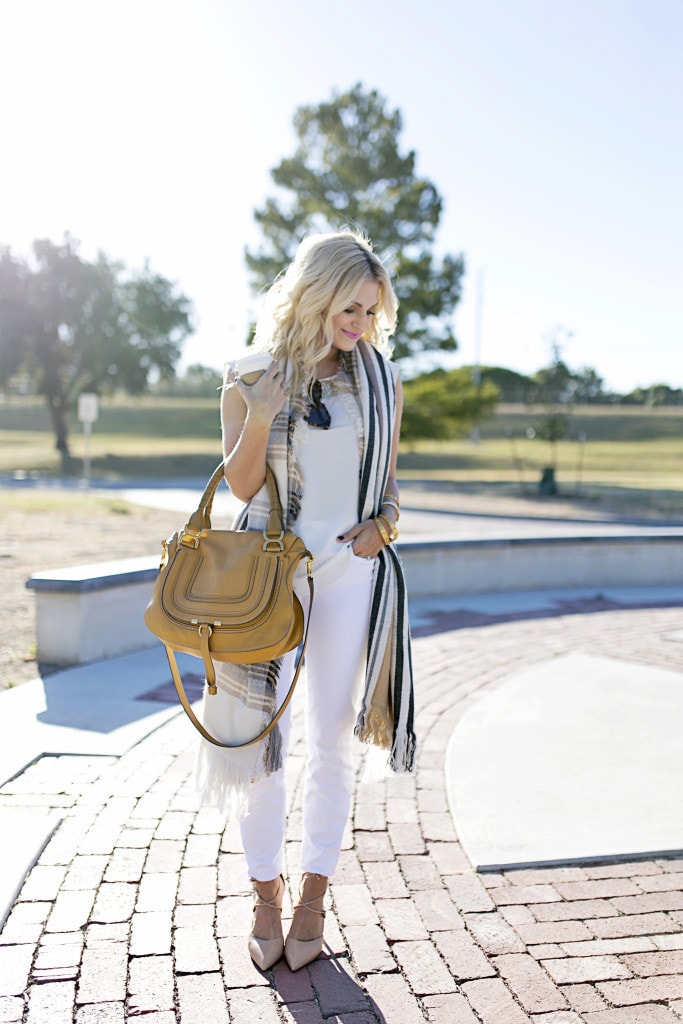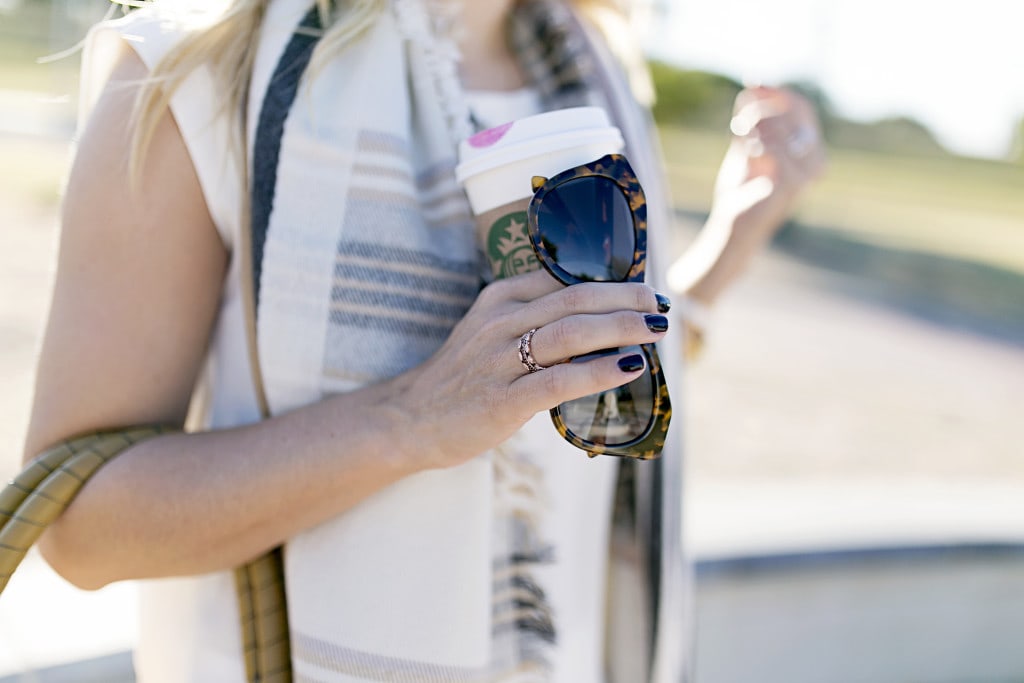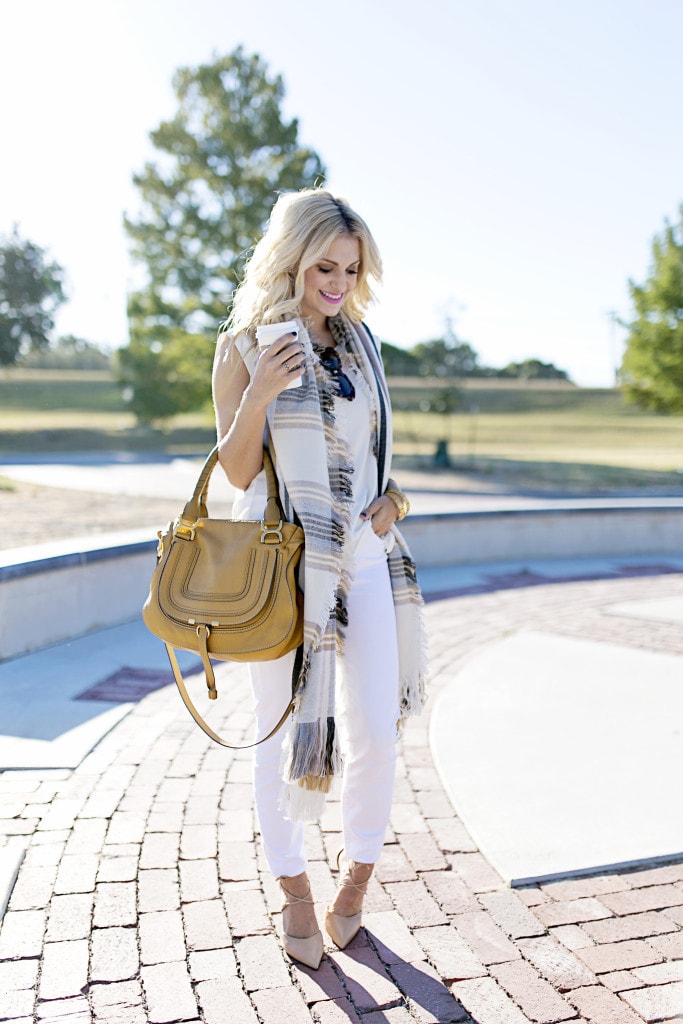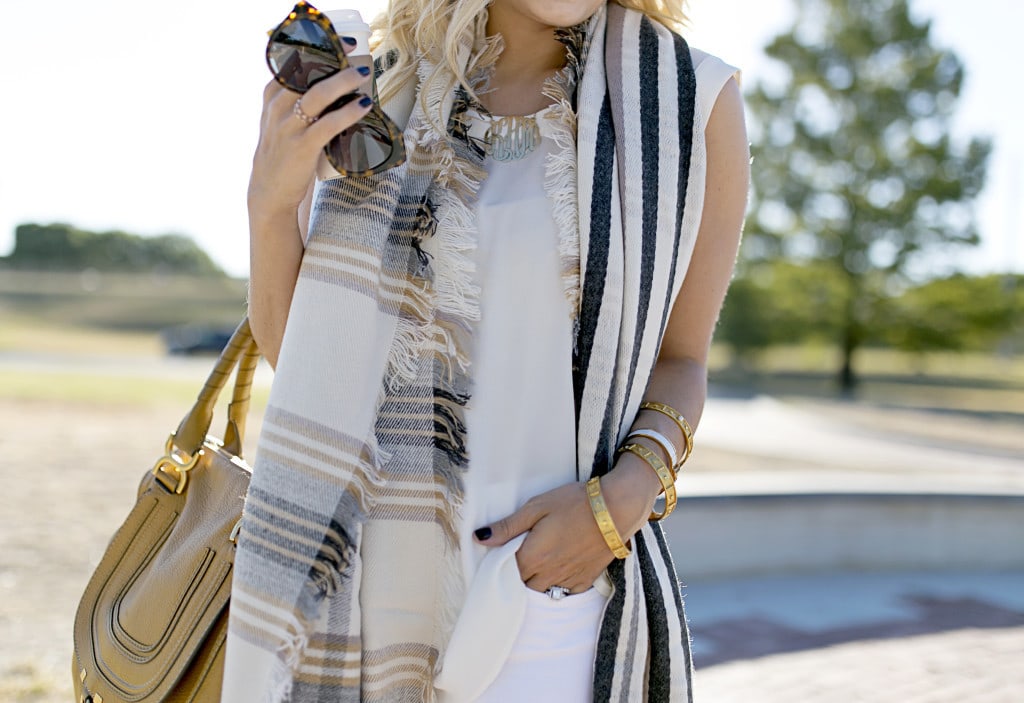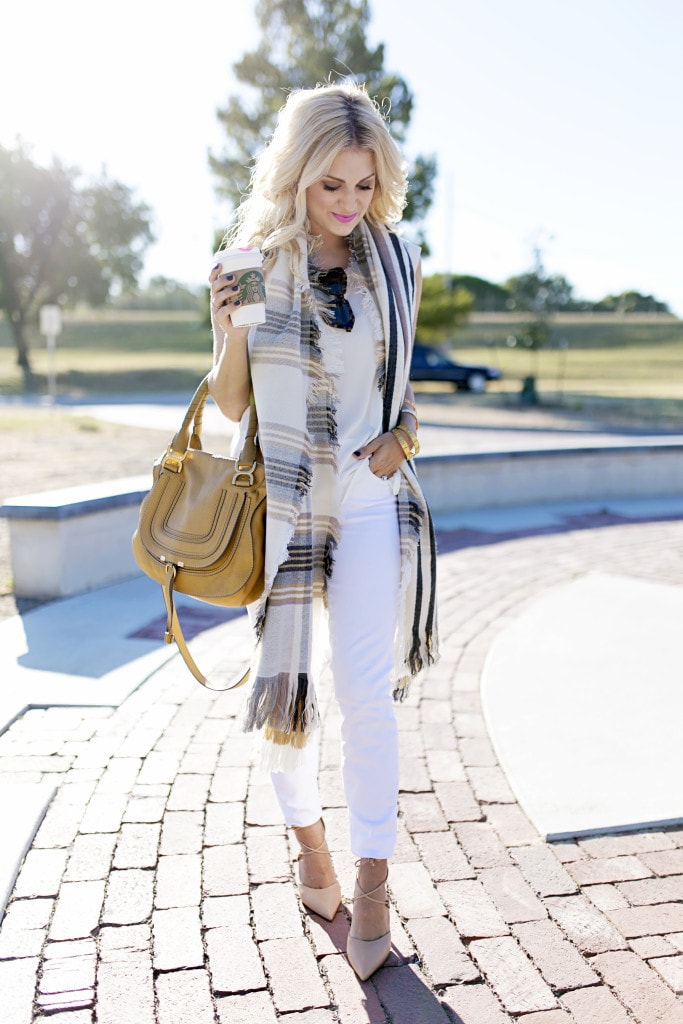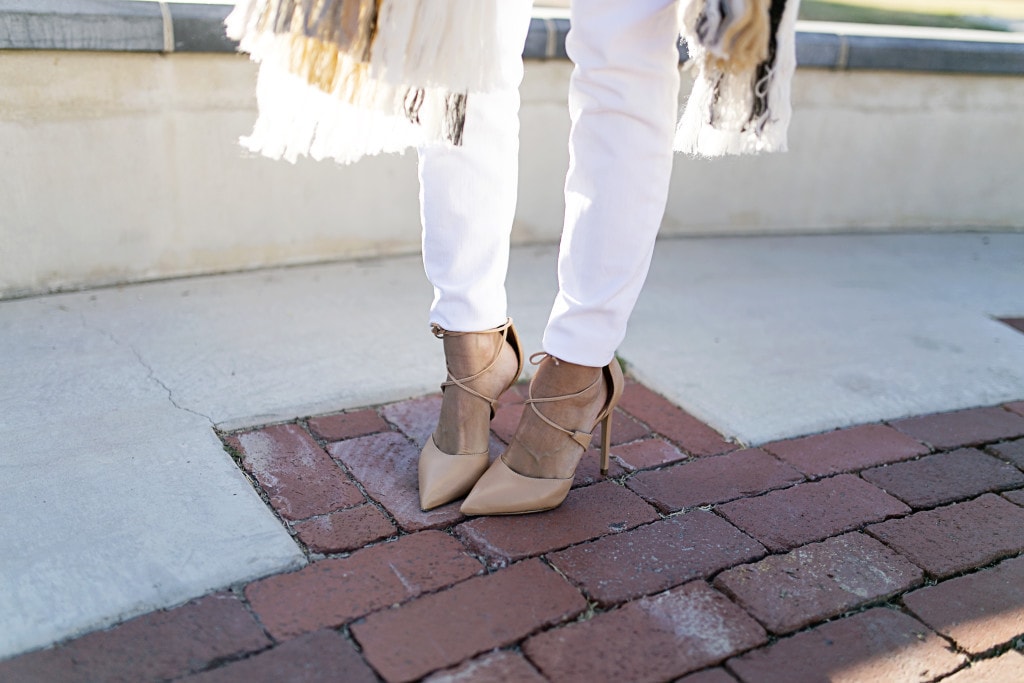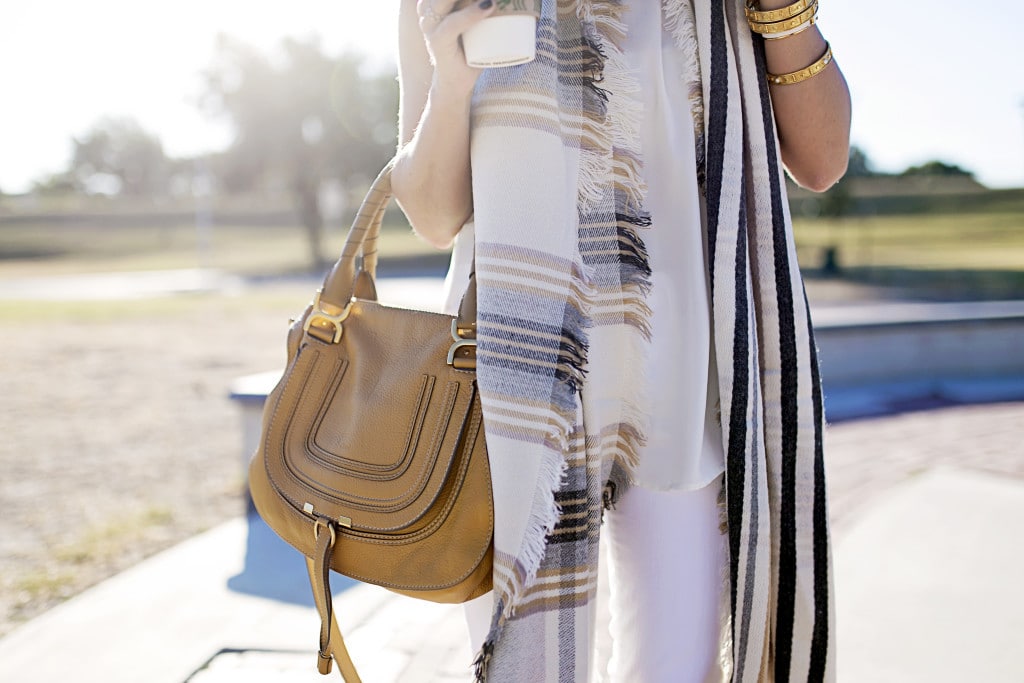 Scarf: ASOS | Jeans: Nordstrom | Top: Similar | Shoes: Nordstrom, Similar [more sizes in stock!] | Bag: Chloe | Bracelets: Julie Vos [c/o] | Necklace: Julie Vos [c/o] | Sunglasses: Karen Walker | Lipstick: Urban Decay [Bittersweet]
Photography by: Angie Garcia
---
Happy Monday! I hope you all had a fun Halloween!
This weekend we stayed in because I was still trying to get over my pneumonia and although I was so sad we couldn't have awesome Halloween costumes, I knew I needed to use that marriage "maturity" I'm supposed to have. 😉
We started decorating for Christmas [don't yell at me!] because we'll be out of town the next few weekends and knew this was our only down time to do it! And because I'm a litttttle bit crazy and have to have everything organized early. Plus, we've been rearranging some things in our home now that he has lived her for a month and I was getting so frustrated [you would not believe how many holes are in the wall from hanging and rehanging items. You would NOT BELIEVE.] I just decided to give up, shove everything aside and put out some Santa to calm me down.
I also cleared out a lot of winter clothes from last season and went through pieces that would last vs. pieces that I needed to trash. I found that the best purchases I made last year [and naturally had to make again] were these ASOS oversized scarves. They give you that Olson twin vibe [I can't believe I just typed the word vibe. I never understand that word. What is a vibe?! Why are you sending me positive ones?! Can you send me a cupcake instead?] without drowning you. If you want to wear them like a blanket scarf you can or if you want to wear them like a poncho/shawl you can do that too, girlfriend! These little scarves do whatever you need them to do and they come in a bunch of different styles.
I wore this winter white number to meetings two weeks ago. I met my mom for brunch after and didn't want to seem too dressed up so I threw this scarf over and it muted my look for an afternoon of shopping.
Chug some coffee, crank through your e-mails and treat yourself to some online shopping- it's the only proven way to successfully survive a Monday! 😉