Let me just go ahead and ask for forgiveness, excuse the rainbow of ootd selfies. I've shared my favorite pieces from the NSale in a few different posts, but wanted to review the pieces I purchased and how they fit/etc! I thought the best way was to just be honest, take a selfie and not plan shoots out where the environment could make the outfit look different than it is! If you have any questions about a piece please feel free to let me know! 🙂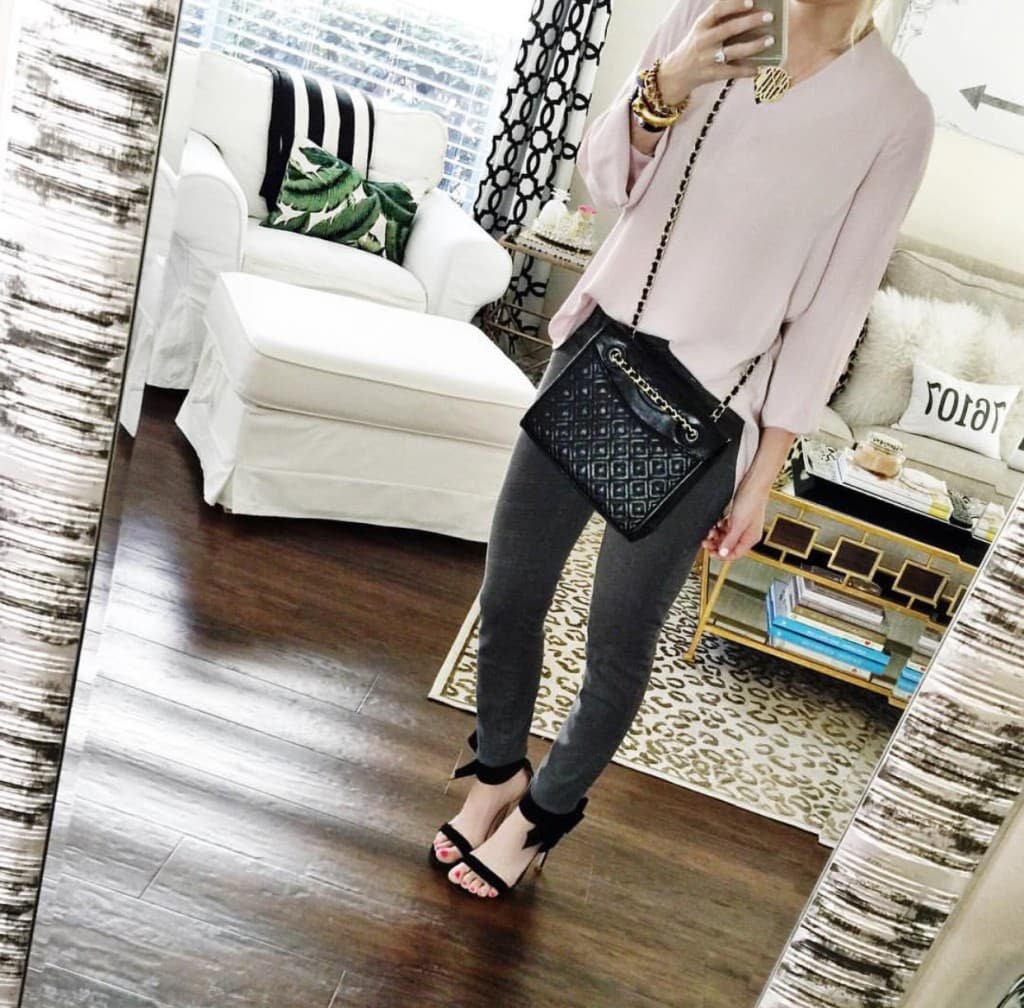 This top has been hands down the most versatile purchase from this sale! I got a small and it's true to size. I love that you can pair it with shorts for a GNO or wear it to work! I remember when I worked in an office it was always so difficult to find pieces I could wear both places and on my twenty-something budget I had to be able to wear pieces to the office and to happy hour after! 😉 P.S. These shoes aren't part of the NSale, but if you get them go down 1 size!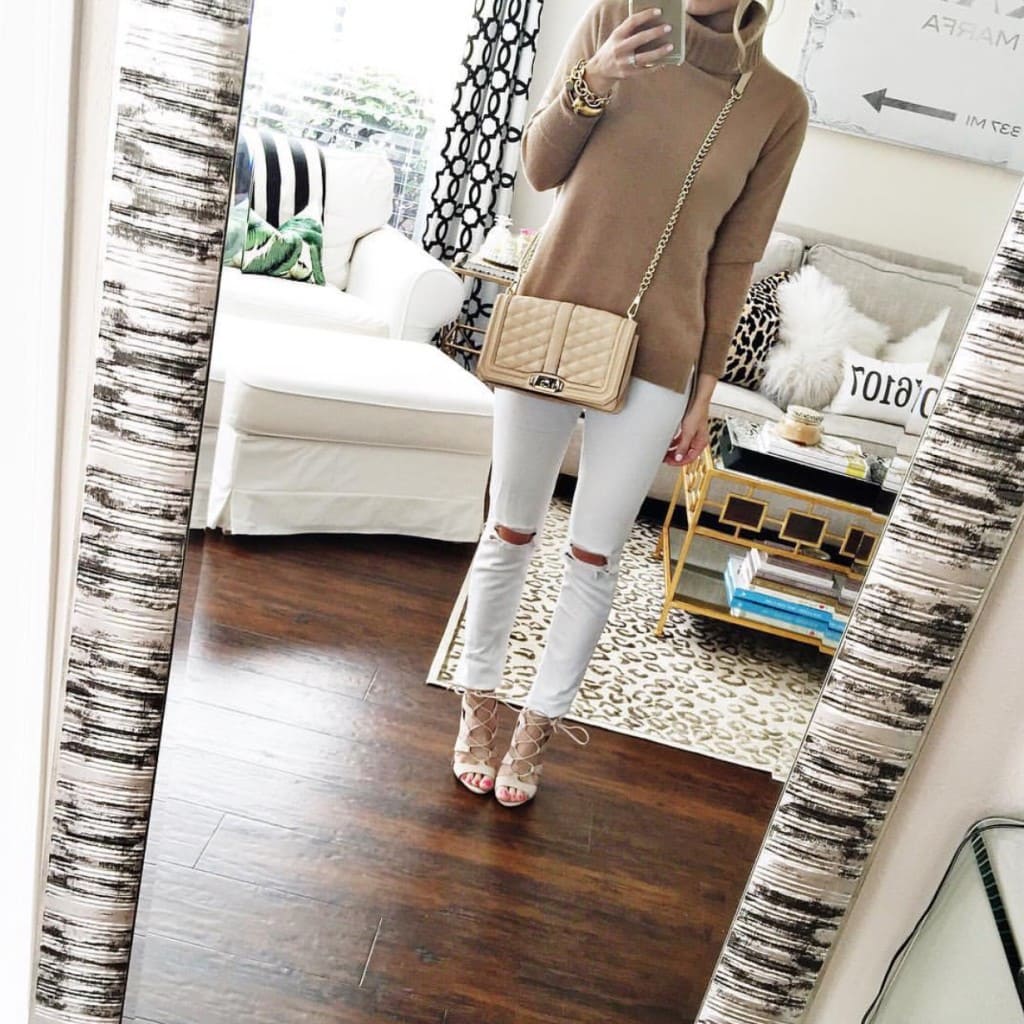 I feel like I'm giving superlatives out to all my items because this one wins "Chicest of the Sale!" This sweater is a cashmere turtleneck and true to size! It isn't oversized, but a small fit me perfectly and I'm a size 4 if that helps you for sizing! Very few sizes are left in all colors so if you are on the fence about any items, this would be the one to go ahead and purchase! My jeans are sold out but these are the most similar and for a great price!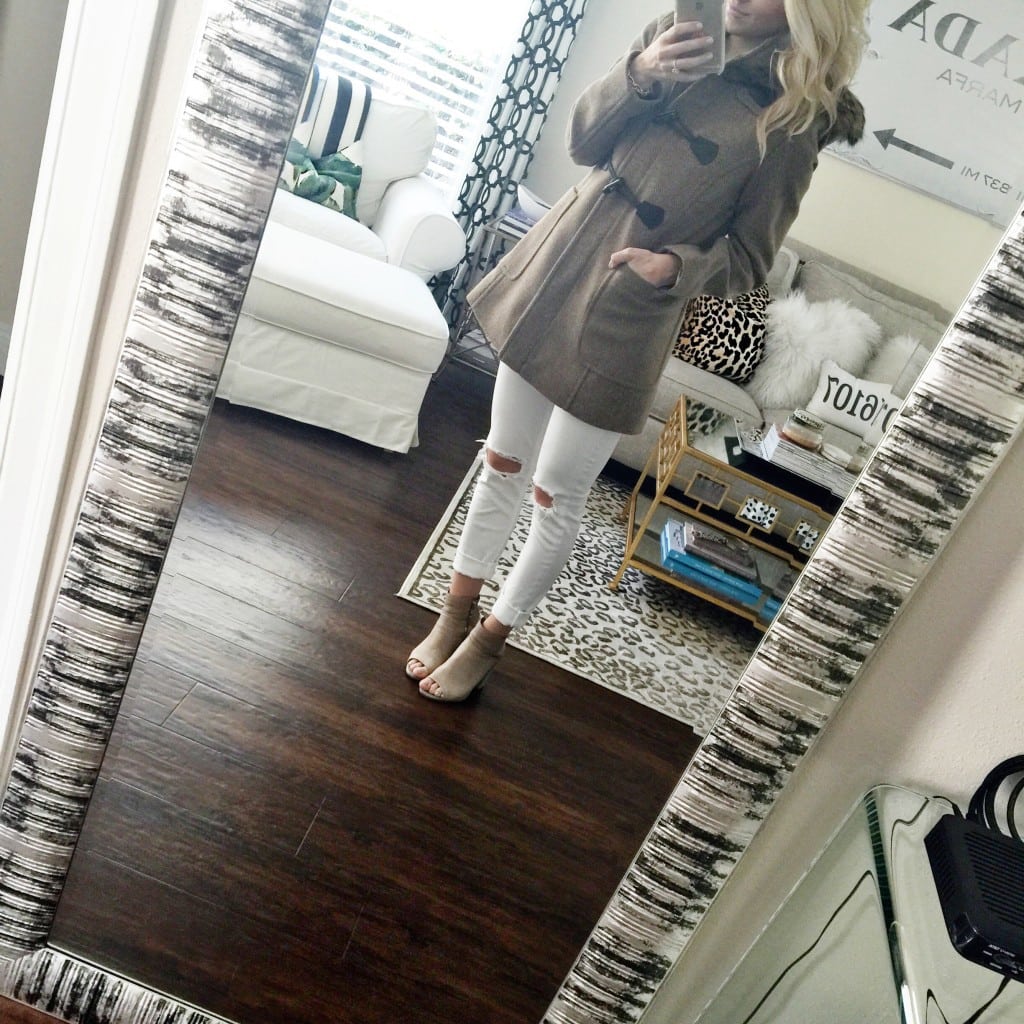 I'm cringing at how awkward this looks with a coat and cropped white jeans! I was running out the door and my sister and best friend were over and they kept trying on my coat saying how much they loved it! They said I had to share, so this was a bullied photo. No judgement. haha. I NEVER buy coats. It's a huge flaw. In Texas we don't need them until January so I don't worry about them until January. Then everything has been picked over and you're stuck with something 2 sizes too big and 2 shades different than what you had envisioned.
So when I stayed up all night scoping out the NSale, my first go to were coats. I got this one and it solved my coat complex. I'm always torn between buying a dressy coat that can go over tights and a dress or a coat that is functional for throwing on over workout clothes. This coat fits both and that is a pretty rare find. All sizes are available and while I know this is a pricier piece, the fit is amazing! I hate that in the winter I always feel like I look like I can't keep my hand out of the cookie jar because coats just aren't slimming, but this one actually is! I got a size 4 and I could still fit a thick sweater underneath, but I still feel my normal size.

This jacket wins the award for the piece I always wanted. I can't believe I'm still on this award idea! haha. It is only still available in black in a small or a medium in grey! It is true to size, it says snug in the arms, but I have pretty broad shoulder sand got a small and it is fine. It just isn't a jacket you'd throw on over a sweater. I have a feeling this is the piece I would continually wear for date night again and again.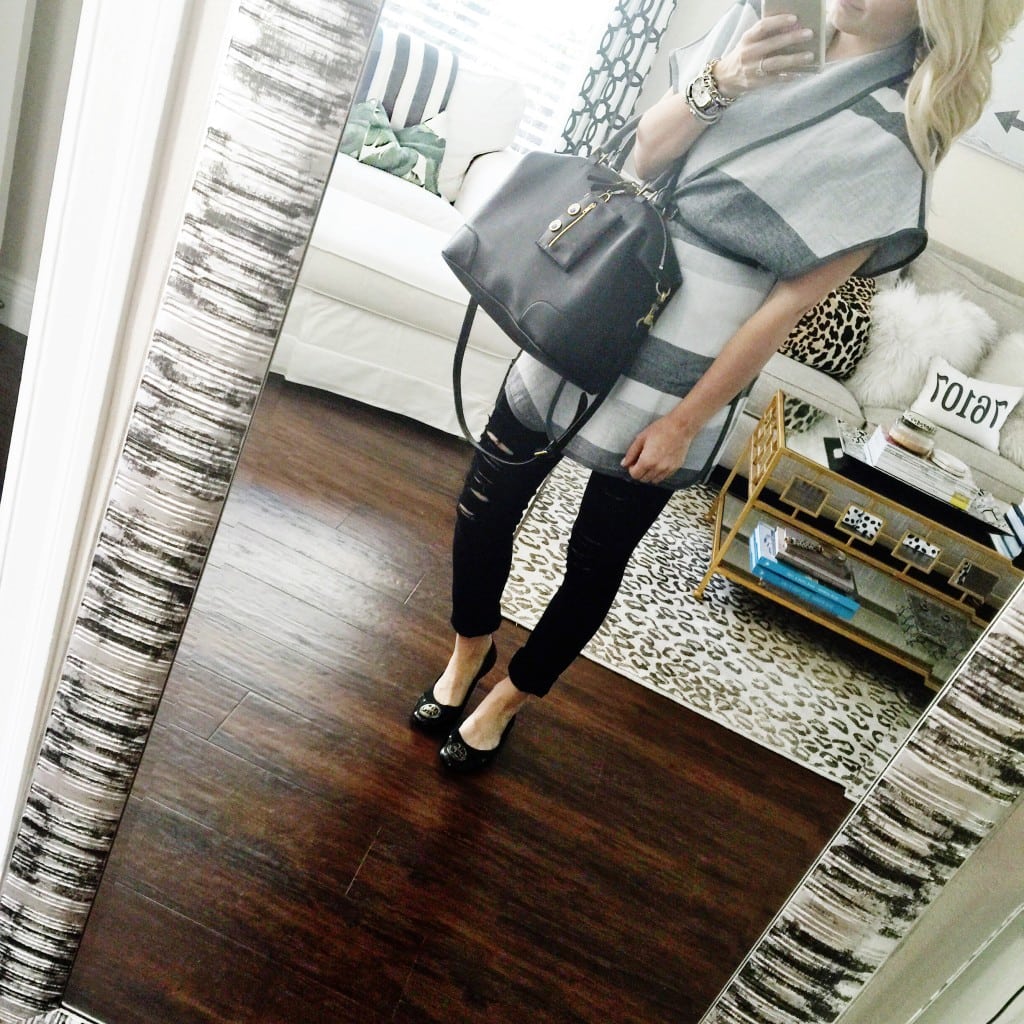 If there is one reason I love fall other than the fact I don't have to deal with every pore in my body sweating #texasproblems, it is the fact that you can pull off comfy and not feel like you're in workout clothes. This stripe cape is incredibly cozy and perfect for travel! I got the xs/small and you all might get annoyed at how much I plan to wear it next season. You can also interchange the belt if you want to add a pop of leopard!
I wore my Tory Burch flats with it in the photo and you can also get Tory Burch flats on sale here!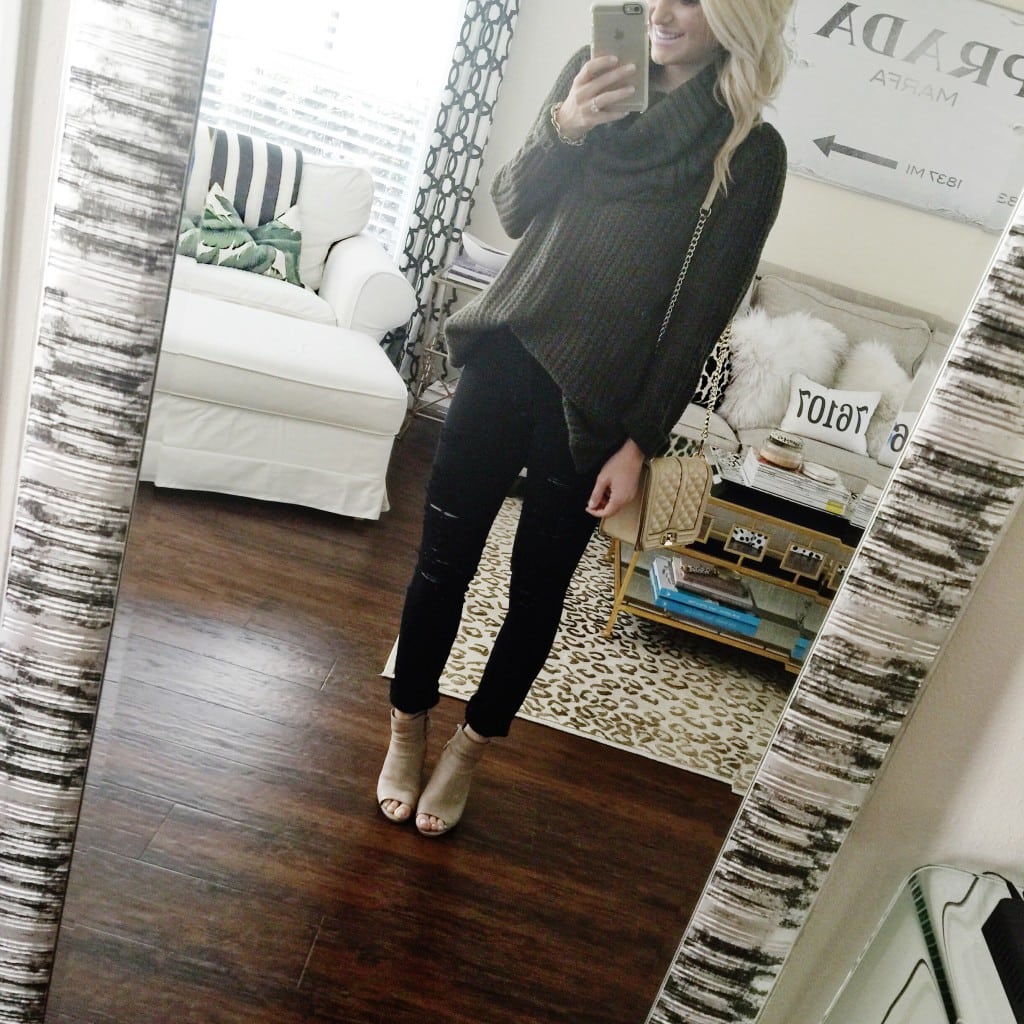 This was my biggest steal from the sale! But be careful with sizing, it is more generous on size. It is only left in ivory in a medium, but I think that would fit a size 8-10 best! 🙂 Get it here!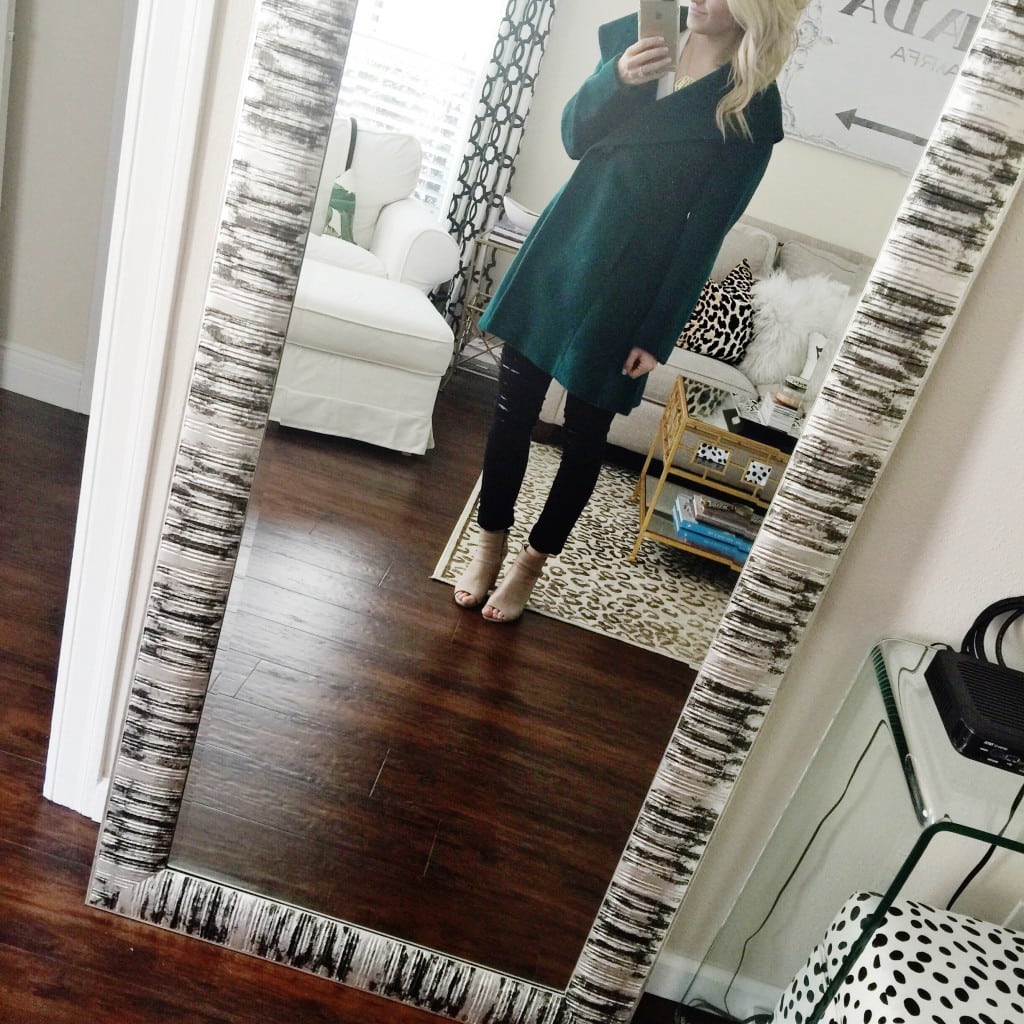 I think I was so scarred from my lack of investments in coats last year that I knew I wanted to get another one that wasn't just neutral! This green coat is stunning, but you can definitely go one size down if you are unsure!

Here are a few other pieces I purchased!

You can shop the rest of the NSale here, there are only a few days left unit these new fall arrivals go back up in price!