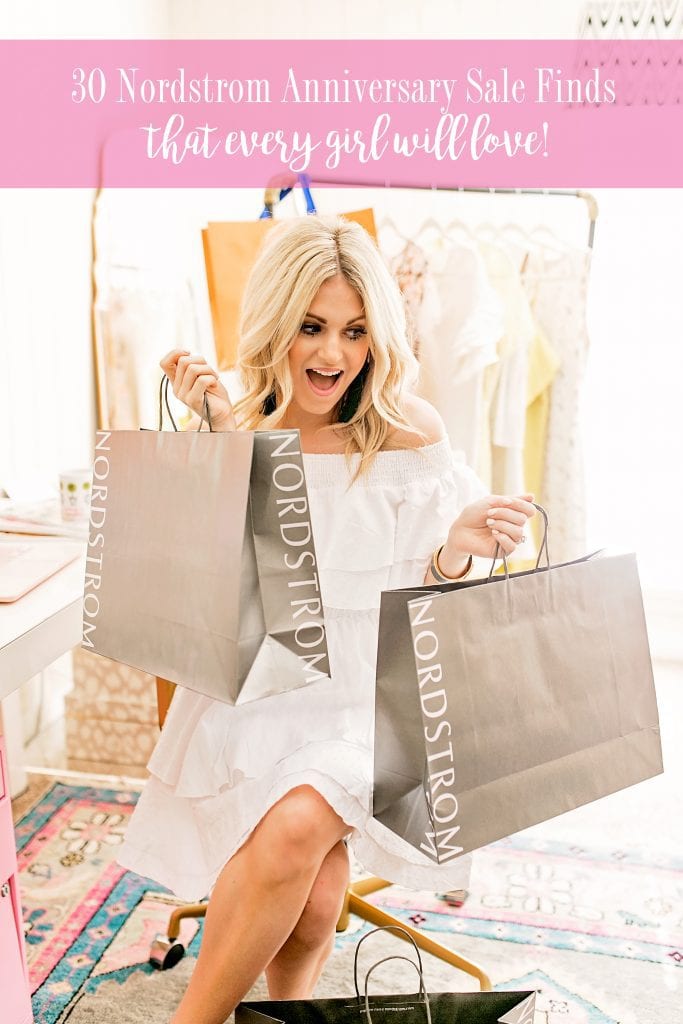 Dress: Old, Similar
Photography by: Angie Garcia
---
The first day of the Nordstrom Anniversary Sale for 2017 is here! If you are a Nordstrom cardholder, you're in luck and have access to the sale early. If you don't have a Nordstrom card, don't worry. You can shop the sale the 21st!
I always like to start covering the sale featuring my favorite things and pieces I generally add to my cart. I'll be reviewing pieces more in-depth throughout the sale, but today I wanted to share my 30 favorite finds with you all. I shopped the sale in store yesterday, but I found there's a lot more selection online. You can shop the rest of the sale here. Hopefully, my sizing tips can help from what I saw yesterday!

1. Tory Burch Friday Zip Around Leather Wallet: While shopping in store yesterday, this was the #1 accessory I saw girls grabbing the most- and with good reason. The pebbled leather is durable, the soft oak shade is feminine and the storage is great. I love wallets that zip in the middle. If you're overdue for an updated one, this is under $130.
2. Nars Angel Pride Cheek Palette: Year-after-year, one of my favorite Nordstrom Anniversary Sale picks is the NARS palette. Nordstrom always features a Nars palette exclusive to the sale in which you get a TON of product for less. This palette is $59 and you're getting 6 cheek products. One Nars blush runs you $30, so you're getting 6x the amount of product for way less. See my tutorial on my Nars palette from last year, here. I got this for my mom for her birthday this year. I also got this eyeshadow palette for myself! The eyeshadows are so, so buttery!
3. Skinny Dip Pink Marble Brushes: Another reason I love the NSale is because I can stock my gift closet for less. These pink marble brushes are $35 and perfect for your bestie that can't get enough beauty products.
4. Stuart Weitzman Elevated Over-The-Knee Boots: Stuart Weitzman Boots are also an anniversary sale staple. They cost a pretty penny, but I'm not embellishing when I say they are the BEST boots I own. I've trucked them through snow during NYFW and in every little supermarket in Fort Worth. These are my go-to boots each season and it is nearly impossible to find them any other place or time of year for this discount. This season, I purchased them in the brown shade. I really don't have brown boots so I'm excited to wear these with dresses! If over-the-knee boots intimidate you, go for a chocolate brown. It's a bit of a softer look and not as "date night" as a black pair. Also note, I went down a half size in these boots. That's pretty odd for boots because normally you go up half a size. I'm generally TTS in all SW shoes. However, I asked the sales associate what every girl was doing that bought these and he said they all went down half a size as well. Something about the block heel makes your foot slide forward more.
5. Vince Camuto Ruedi Leather Tote: I told myself I wasn't going to get a bag. I told myself I wasn't going to get a bag. I told myself I wasn't going to get a bag. I was on the phone with my mom walking in Nordstrom saying, "Don't let me leave with a bag." When I saw the bag, I though it would be at least $400. It was less than half and the leather feels like butter! It's a great neutral and fits my planner inside.
6. Robin Piccone Cameron Plunge One-Piece: Robin Piccone makes some of the flirtiest and most flattering one-piece wonders! By the crochet cinching towards the middle, this piece creates the illusion of a waistline if you have more of a sporty body type.
7. Barefoot Dreams Blanket: If you haven't hopped on the Barefoot Dreams bandwagon, I have failed you as a blogger. I LIVED in these comfy pieces after I gave birth and they are my favorite items for lounging. I'll be honest, at first glance you'll be a little wide-eyed at the price tag. However, I get mine during the Nordstrom Sale which helps a lot! You'll seriously never want to cuddle a different brand of blanket again.
8. LBD: In terms of clothing, my two favorite items to get during this sale are dresses and sweaters. I've gotten $20 sweaters that last season after season and bridal shower dresses I've worn to numerous celebrations. I pulled my 5 favorite dresses and why each needs a home in your closet. The first one is the LBD that's appropriate for numerous occasions.
9. Work Dress: If you're tired of wearing black to work, this Eliza J Ruffle Sleeve Sheath Dress is to-die-for in cobalt blue. Eliza J makes some of my favorite dresses that fit like a dream. This option is under $100.
10. Shower Dress: All you hostesses know what I'm talking about. In the spring it can seem as if you have a bridal shower or baby shower every other weekend. Steer clear of white for a bridal shower and soft pastels for a baby shower as you may clash with the guest of honor. I always like to go for a jewel tone and this off-the-shoulder number is flattering for nearly any skin tone.
11. Weekend Dress: This Adrianna Papell Jaspee Knot Midi Dress can be paired with sneakers or booties for the weekend. Take it from brunch to errands to date night and you won't have to change all day. I'd pair it with these pink sneaks on sale.
12. Leopard Loafers: If you like my Kate Spade leopard loafers, but don't love the price, these are for you!
13. Cashmere Wrap: A cashmere wrap is a capsule wardrobe must have, and these make traveling so much easier. I didn't pick one up yesterday, but I'm snagging it today.
14. Loren Hope Glenn Crystal Wrap Bracelet: Finish up summer with a fun little addition to your arm party. This is also a wonderful birthday gift for a girl because it creates the illusion of many stacked bracelets, but you just have to keep up with one item.
15. AG Jeans: Hands down, AG makes the best denim. They were my favorite jeans when I was pregnant [they have maternity!], they are my favorite jeans before pregnancy and they are still my favorite jeans after. GOOD designer denim is rarely ever on sale, so this is something I take advantage of.
16. Tory Burch Frida Pebbled Leather Tote: This tote is perfect for work and the gold links remind me of a Chanel bag!
17. Neulash: While I don't recommend this for pregnant or nursing mamas, this product is liquid gold! I've said before everyone I know that has had eyelash extensions calls me crying saying their lashes were ruined for a time being. Y'all, use this stuff instead! I've had women pull on my lashes thinking they were extensions when I used it. I have lots of reviews of this product, here is a recent one!
18. Chanel Gloss Set: I'll be honest, I'm embarrassed to admit that I caved and bought the Kim Kardashian nude gloss set. It was such a waste of money to me, and I didn't like the texture. But one thing I do always love is Chanel Gloss. I picked up this gift set for my mom's birthday as well!
19. J.Crew Link Necklace: I can't wait to wear this necklace in the fall with a messy ponytail and a camel sweater.
20. Leith Wrap-Front Sweater: I was a dancer growing up. My mom put me in class at 2 and the "requirement" was that you had to be potty trained. She lied to the dance studio owner, put big girl panties on me and told me that if I went during class I could never go to class again orrrr see my mom ever again. LOL. She jokes now that she is SO thankful she didn't parent during social media days. She is like, "Your generation would tell me I was a terrible mother for putting the fear of God in you and your sister. But it worked!" Hey, I was potty trained quite quickly! lol Ask any of my mom's friends, she always had the craziest parenting stories. Like I fully grew up believing if you crossed the street without holding your mom's hand and waiting for her, the gypsies came to get you and you had to live with them. Forever. I could seriously do an entire blog post on it, they are so funny. But enough of that. This wrap sweater reminds me of the ballet sweaters I would wear in Miss Julie's ballet class. I seriously wish I still had them, but this one is practically identical and less than $50.
21. Moon River Dress: I also got this dress [if you are fuller chested, go up a size!] and can't wait to style it with my SW boots. I'll be honest, I don't like this dress online. In fact, I would never purchase it based on the online photo. But when I tried it one it became one of my favorite sale finds. The great thing about this dress it that you can start wearing it now. Also, if your middle is a section you are a little self conscious about, this cinching is so incredibly flattering!
22. Black Booties: Each fall, my goal is to find booties similar to the black acne ones. These will be my dupe this fall and for under $80 I think they are the perfect option.
23. Topshop Layered Ruffle Sleeve Cardigan: This is my favorite sweater from the entire sale! It's so versatile and the sleeve details are incredibly chic. I'll wear it with a white tank and AG jeans. I went up a size as Topshop generally runs a bit smaller. I also tried it on in 3 sizes and just preferred it a little oversized with the sleeves. You want it to be a bit more Olsen Twin. 😉
24. Baublebar Metallic Crispin Statement Earrings: Okay, you might be sick of seeing these earrings this season. However, I'm not! haha! These are my favorite earrings to wear with anything.
25. Marc Jacobs Watch: My Michele watch is a treasured gift I got for my 18th birthday. It is still my favorite watch I own and I'd love to add a gold one eventually! Maybe my 30th birthday?! Until then, I love this Marc Jacobs watch with the same shape. I also LOVE the black face. I've wanted a black-face watch for 3 years. I never got it worrying it would be trendy, but after 3 years of eyeballing them- I think it was time! If you are wanting a Michele watch, those are on sale as well.
26. Nike Versa Crop Top: You can't forget to check out the athletic section of the sale. So many great leggings and sports bras. My favorite of the batch is this Nike crop tank that can be worn year-round and looks great with a long white tank underneath.
27. Water Bottles: Keep one for yourself and add one to your gift closet. They are the chicest option to add to your desk at work.
28. Leith Circle Cardigan: I think I tried on each and every cardigan part of the sale. This one felt the best and most luxurious. AKA won't fall apart in .2 seconds like many affordable sweaters do. I got the grey option.
29. Wrap Coat: One thing I always buy from the sale is a wrap coat. I want to be Olivia Pope, but Olivia Pope I am not. This beauty keeps my dream alive!
30. Hanky Panky: These are the best and never show under clothing!
I will be covering the NSale a lot the next few weeks. And if you love it- yay! If you don't love sale reviews, I get it too. Read this if you have a chance! 🙂
Now onto the best part, a giveaway! As a thank you to readers for all your love and support each year, I'm giving a girl NOT one, but FOUR Tory Burch bags so she can grow her collection. One for play, one for pool, one for work and one for weekend. Enter below. Winner will be announced next week!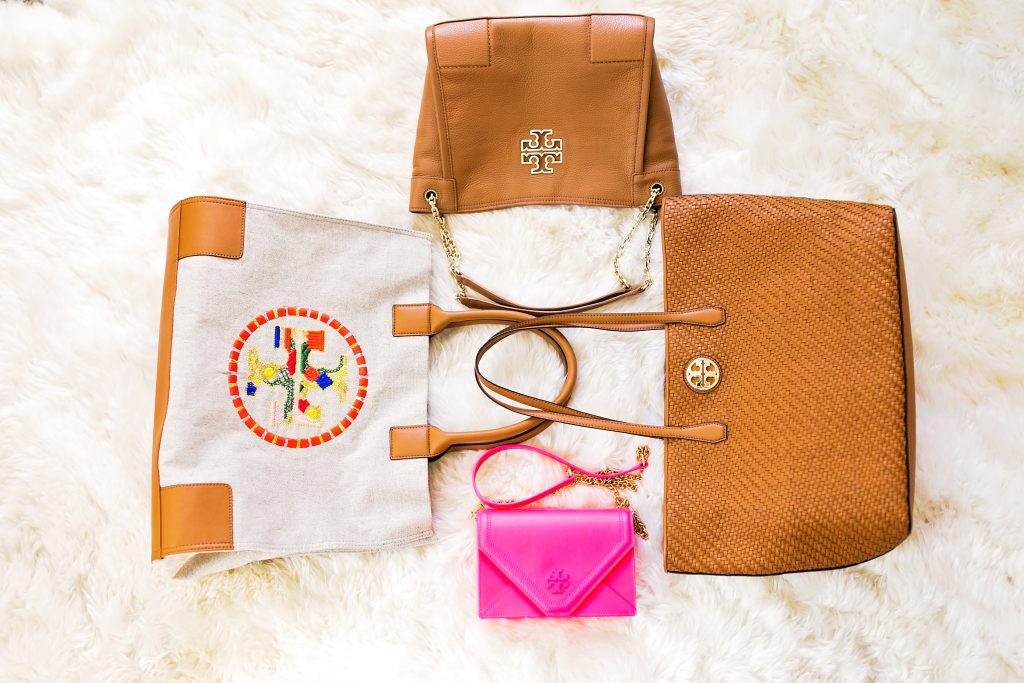 All you have to do to enter is follow my twitter. In order for a Rafflecopter entry to work I have to put *some* way to enter. I understand some people don't have twitter, but before with other giveaways I've even told girls they can make up any random name and it will still track their e-mail and include them. First enter your e-mail with that log-in part, then click follow me or your twitter handle. You'll be counted! xo