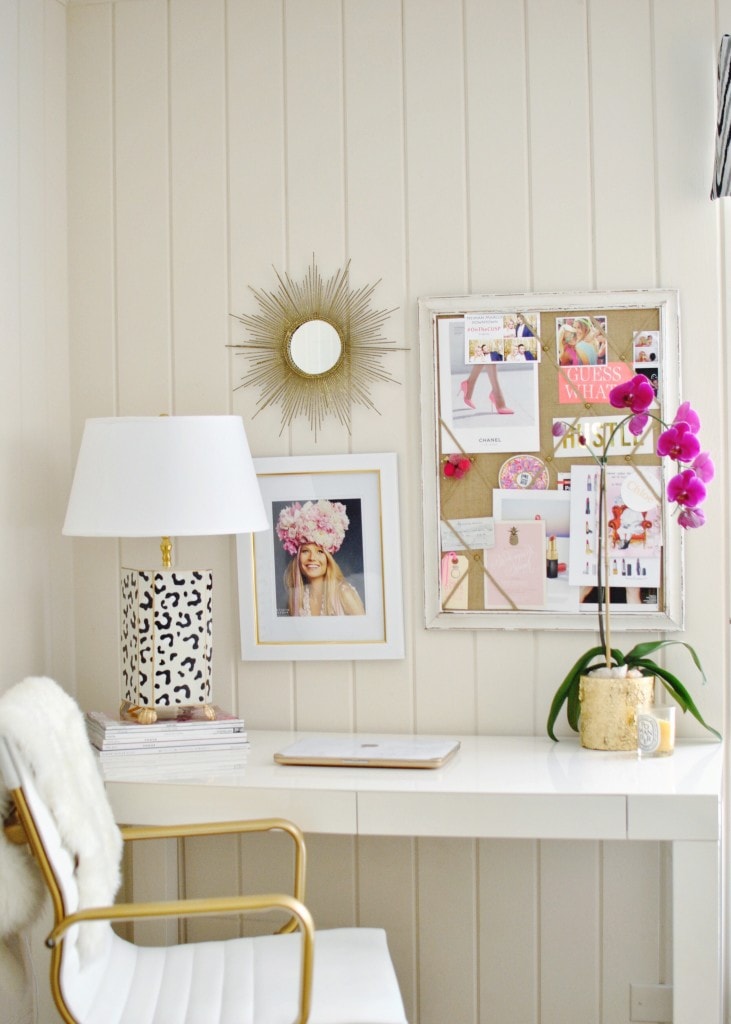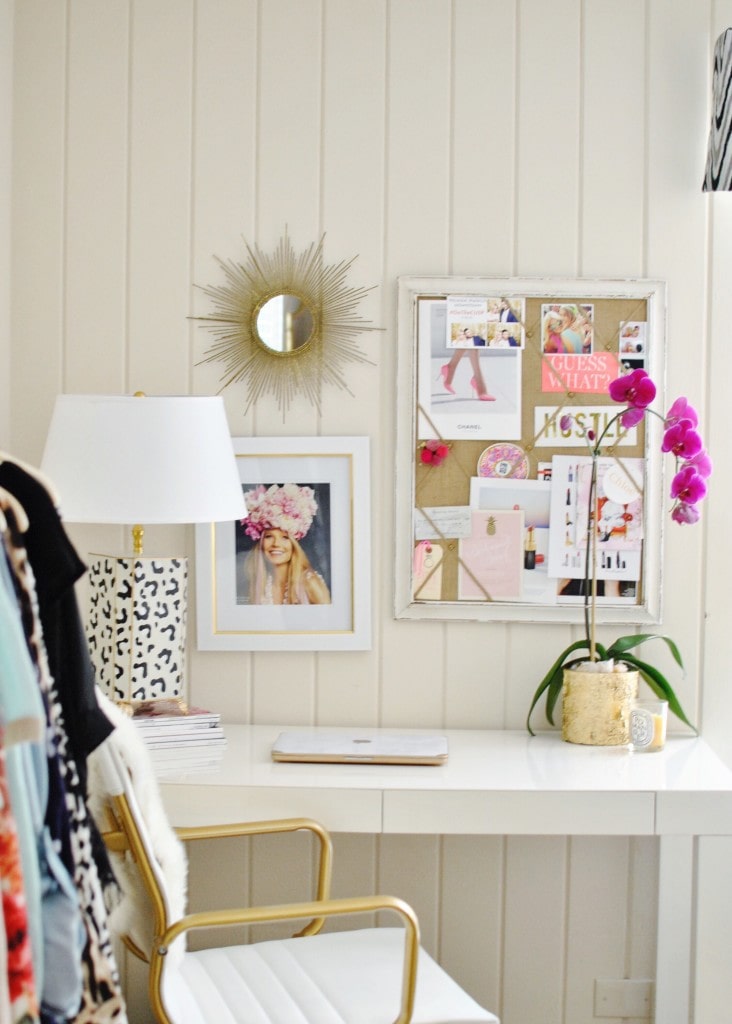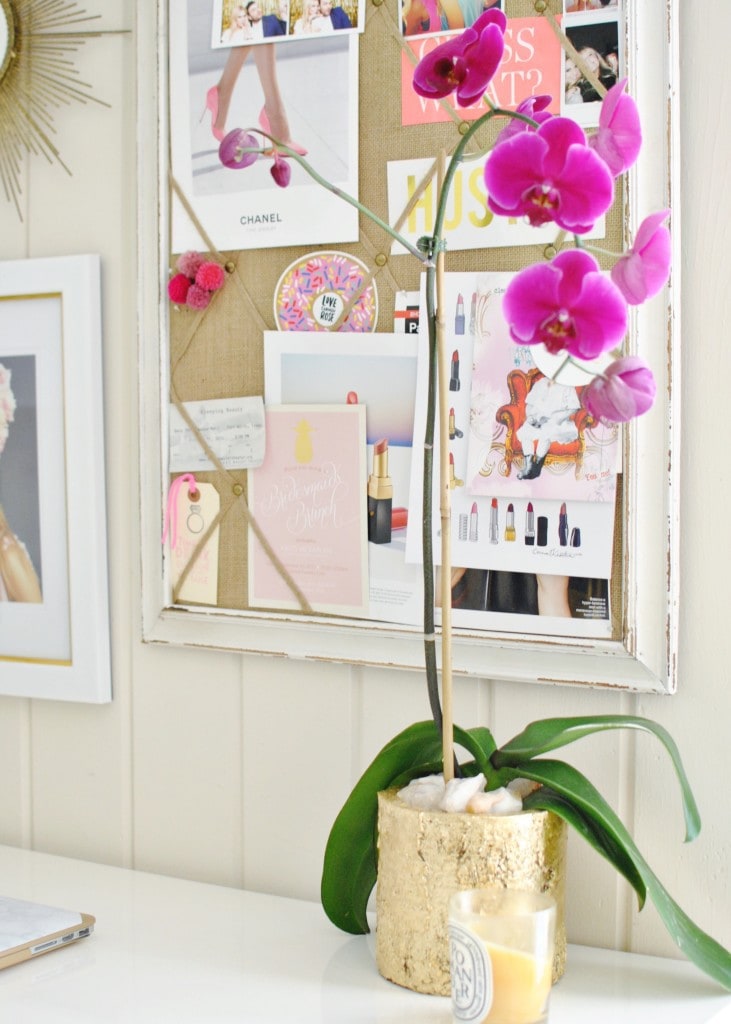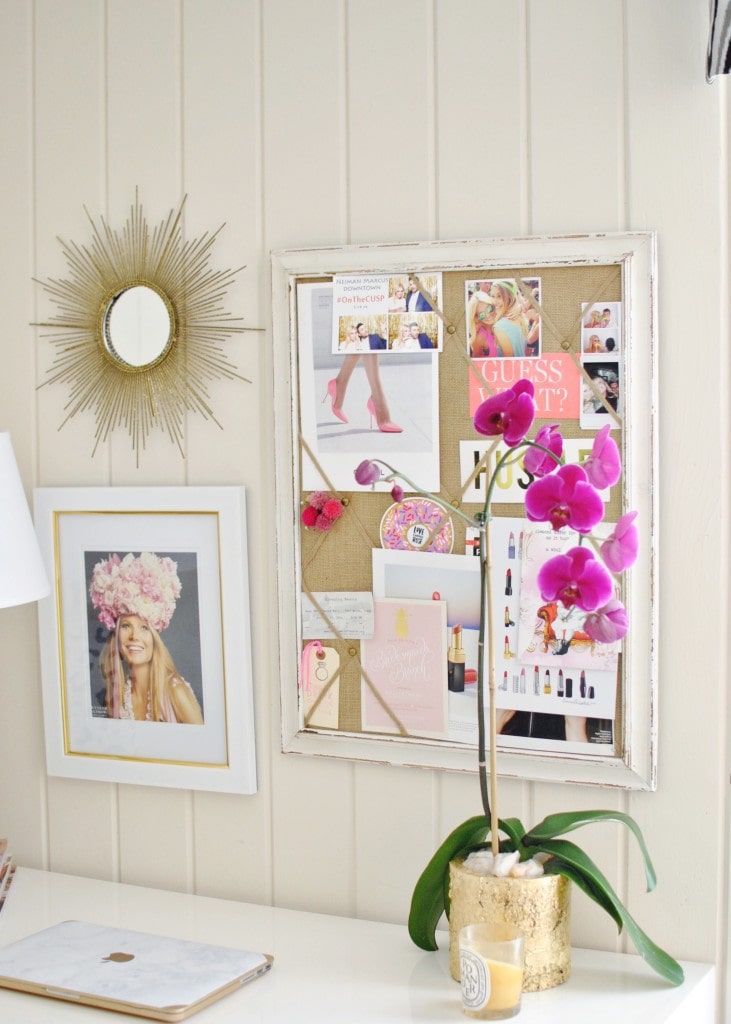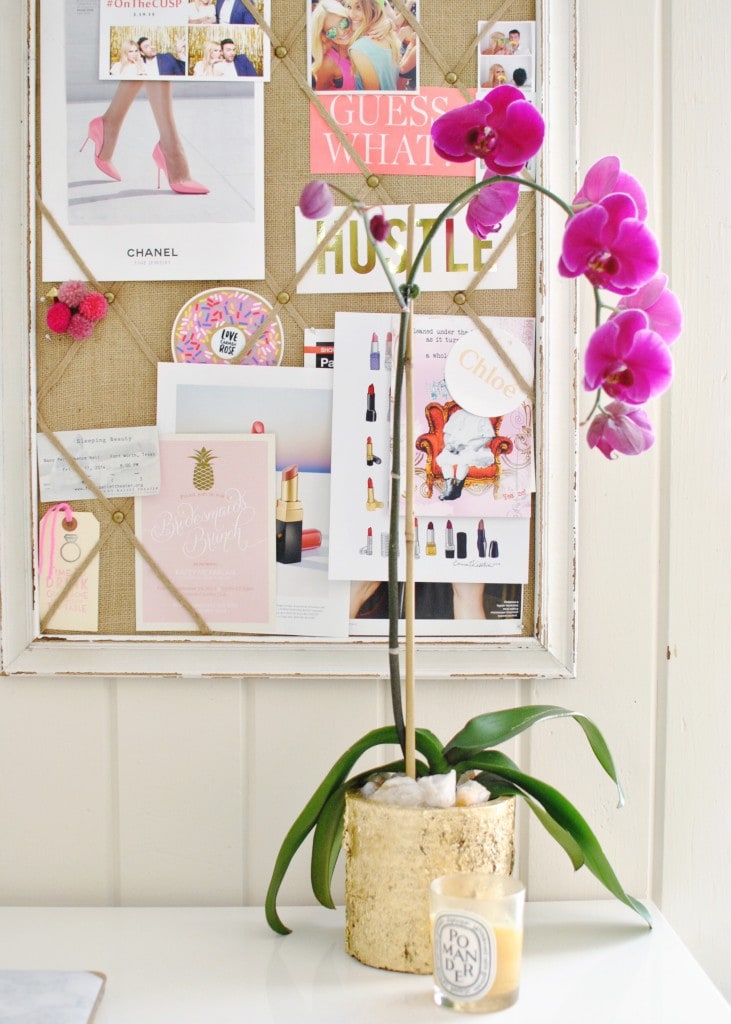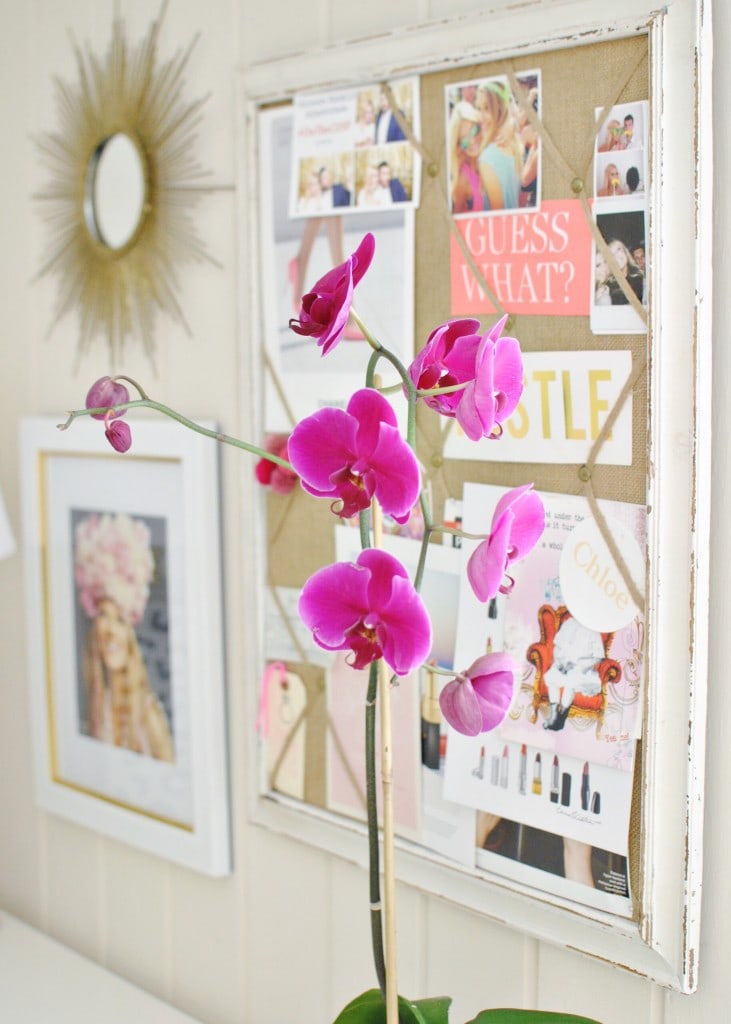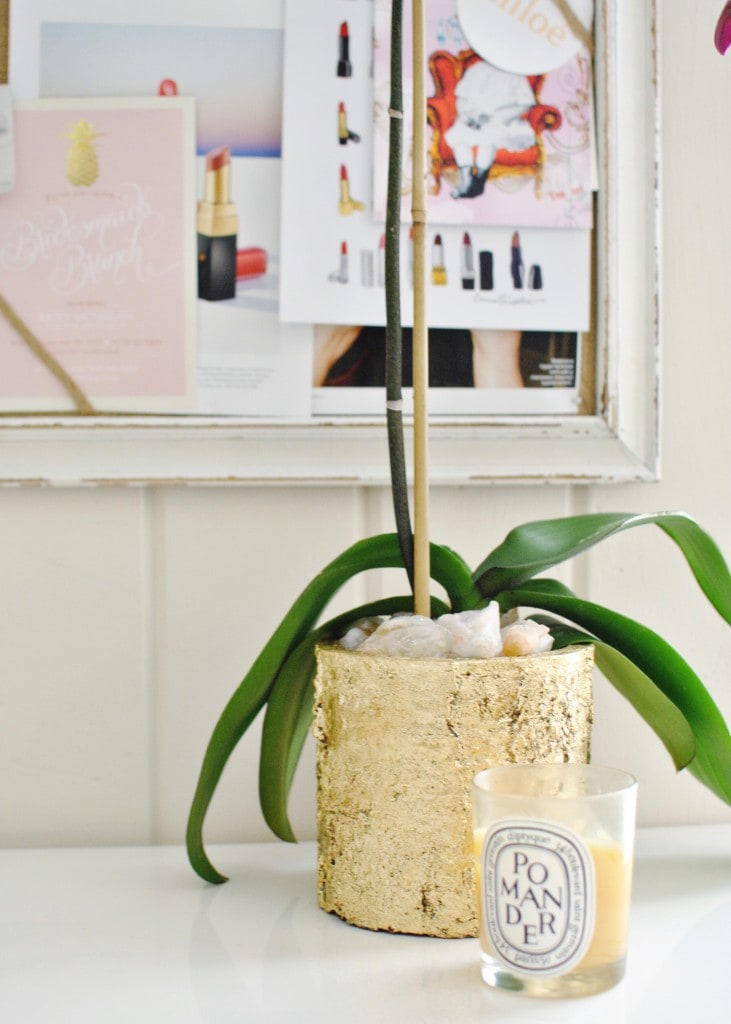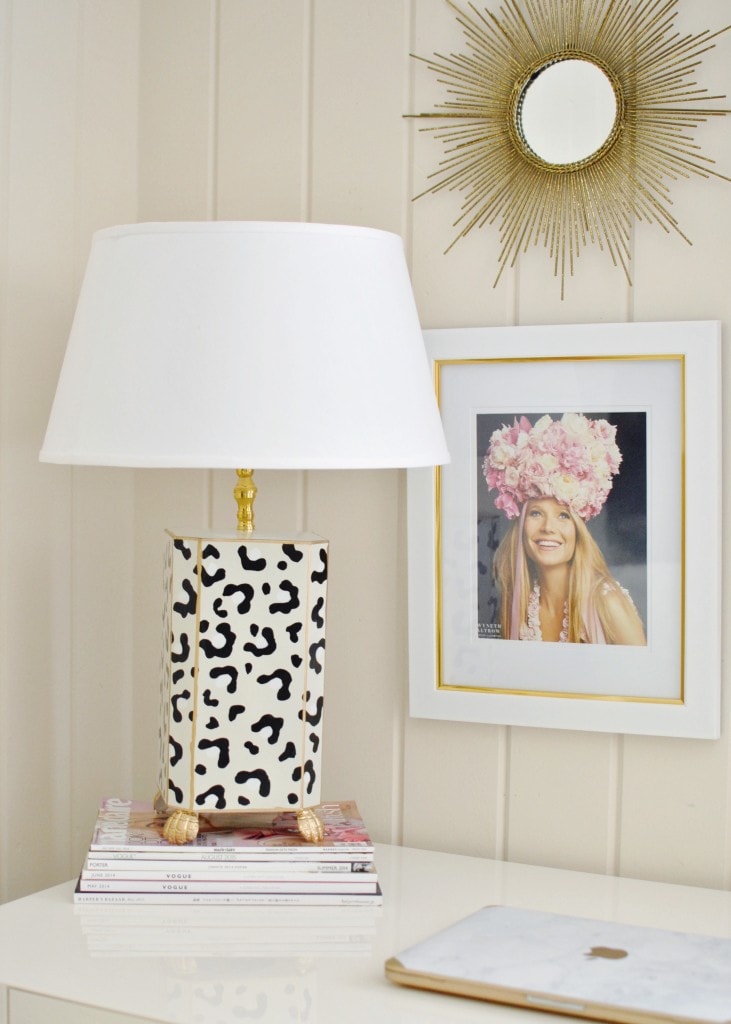 Lamp: Furbish Studio | Laptop Cover: Etsy | Pomander Candle: Nordstrom | Sunburst: Old, Similar | Bulletin Board: Similar | Gold Planter: The Interior Collection [c/o]
---
Working from home is a lovely little bittersweet luxury.
I don't ever take for granted the fact that I am in control of my schedule, but, just like with any situation of being in the same environment you can get a bit of cabin fever! I hate to leave my home and go work at a coffee shop because I get distracted and will run an errand or realize I needed a file that I left at home. To combat that I love to update my decor! I'm always popping in and out of home stores and perusing flash sales online. Naturally, I update my desk the most frequently.
One of my most frequent "Ask Katey" questions is where I shop for home decor. Girls e-mail me that they will be in the DFW area for a weekend and want to know my favorite spots to stop by. I've been wanting to make a list for the Dallas/Fort Worth area of home decor stores and researching my favorite spots has not been a difficult task to say the least. 😉
Last week I stopped by The Interior Collection in Southlake to grab some pieces for fall and I got to meet the owner Whitnie. I was asking her about what inspires her and her favorite pieces in the store [it is a must see! Think lucite furniture, agate-stone accents and gold details everywhere]. We got to talking and I completely put her on the spot and asked if she would like to share some of her tips [she is a huge wealth of knowledge as she provides clients with interior decorating] for y'all! She was so sweet and not only agreed to that but to give a giveaway for y'all, too.
So if you get a little cabin fever in your house or love to rearrange as much as I do here are Whitnie's top tips for decorating and transitioning your home into fall.
The Interior Collection Transition Tips:
"Warm Up Your Welcome" – Nothing says come on in and stay awhile more than the scent of a warm apple pie or fresh baked cookies. For the Fall season, add warm scents of spice to your home fragrances and candles.
"Color Change" – One of my favorite and simplest ways to transform a space for Fall is by alternating pillows and accent pieces for a richer color. Be daring and modify those aqua blues and soft corals to deep teal and copper tones.
"Make it Metallic" – Metallic, metallic, metallic… I can't say it enough. Bring on the holidays with touches of gold, silver, pewter and mercury. If you don't have something reflective in your décor, try this unique metallic gold bark planter which can add versatility to your entertaining arsenal by changing out the floral piece for the occasion.
We decided to add metallic and color change in my house with this gold planter! I needed some color on my desk and something with a jewel tone for fall. This planter can be filled with a real [that's what I'm using!] or faux orchid and Whitnie includes crystal stones to top off the soil. She is giving away one of these gold-birch planters with the stones in the large size [it's about 3 times the size of this one on my desk!] to one of my readers. This is perfect for an entryway piece, your desk or even a dresser to add some texture into a space. If you really want your Texas roots to show I'd even throw some colorful cacti in and then have it as a centerpiece on your dining table.
So whether you work from home or just get as antsy as I do, small changes here and there with your decor can make a space feel new again. Do you have any little tricks for changing your home with the season?
To enter head to my instagram and see the rules announced later today!