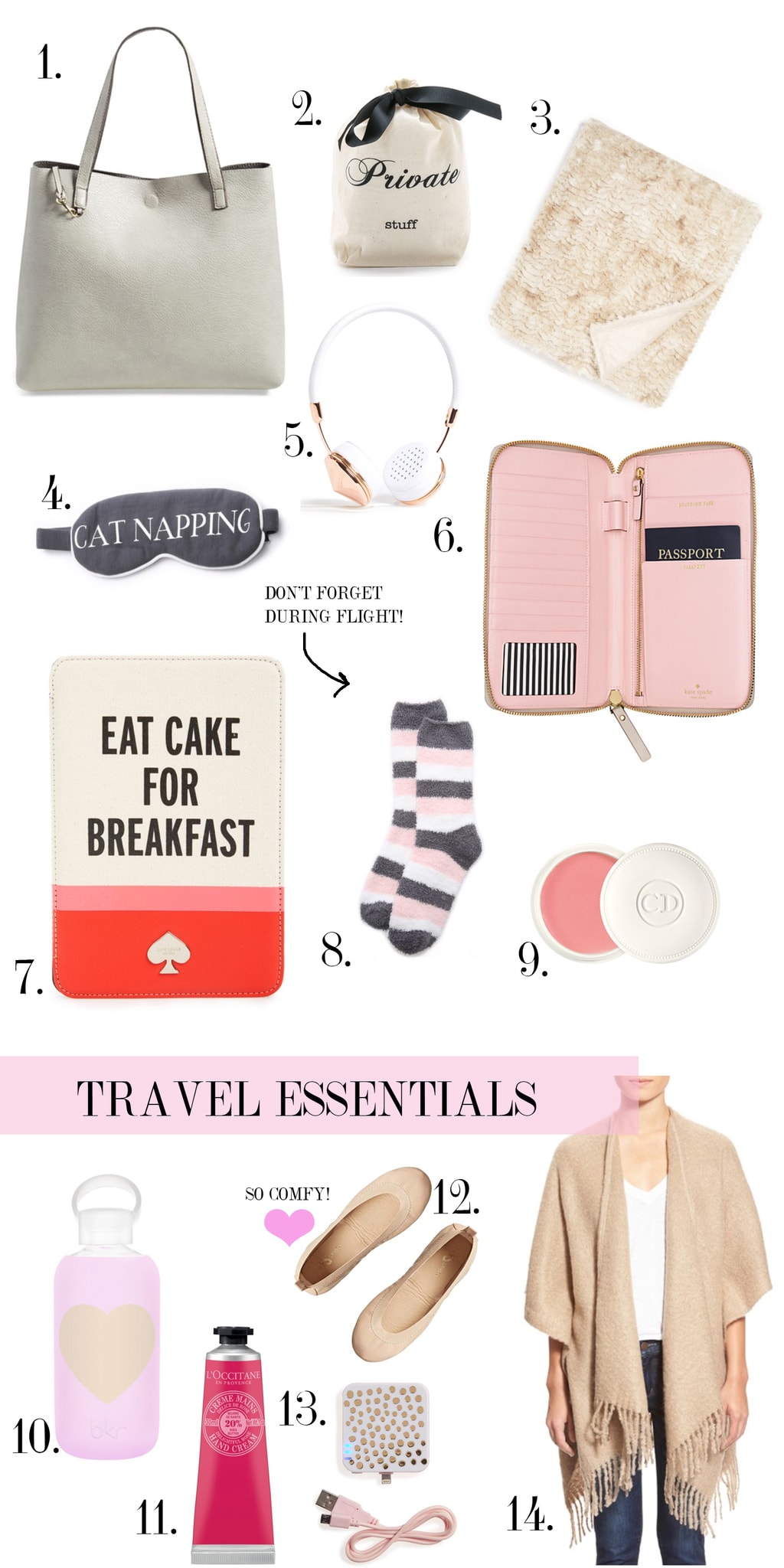 1 // 2 // 3 // 4 // 5 // 6 // 7 // 8 // 9 // 10 // 11 // 12 // 13 // 14
Happy Monday! Right now we will be on our flight to our honeymoon and I may or may not have started packing a month early….
My Type A personality always gets the best of me and I start laying out pieces to make any trip smooth the weeks leading up. My family loves takes way too many road trips. Growing up we drove to Atlanta every year for Thanksgiving or Christmas [it is where my dad is from!] and my dad only let us make 2 stops for a break!  So my mom and I would get pretty creative on our snack kits and essentials to make the trip as comfortable as possible. We'd pack weeks in advance and try to not forget anything-because we knew we couldn't stop to grab it! haha.
So whether you have a road trip coming up or travel for work and get bored on flights, here are my favorite little things to take!
I always travel with a big tote that counts as my purse or carry on. This one is under $50 and the cognac color is just like the Tory Burch one! I also make sure to bring a blanket whether it's a car or plane because I hate using blankets in hotels. When I was 12 I watched one of those horrific Friday night programs [I think 60 minutes?] about how dirty hotel rooms are. Scarred me for life, let me tell ya! I also like to keep a sleeping mask on hand for any trip. My mother loves taking photos of my sister and I sleeping. I guess that is a mom thing? She thinks it's precious. I always wake up from a car nap to find 14 pictures of me drooling on her phone and have to quickly erase them when I ask to use her phone. So now I use a sleep mask and feel much less awkward. 😉
This Kate Spade travel wallet is a life saver! My mom got one for her trip to Italy last year and my best friend Taylor and I were so envious. We called 5 different Kate Spade stores trying to order it and when it finally came back online we ordered immediately. I also slip on fuzzy socks so I can get more comfortable and don't have to go barefoot.
I keep my iPad filled with tv shows and I love how the Kate Spade covers have a little stand so I don't have to hold it up. But if you love to read in the car [seriously, you're blessed you if you can! I would puke until Jesus came.] read How To Be Parisian Wherever You Are! It is the cutest cheeky read you can read in 3 hours!
I hope this helps make your packing easier for the holidays or any trips you have coming up. Do you have any travel must haves?! I also never leave home without my big Louis duffel and rounded up lots of similar ones below that are much, much less expensive! 🙂