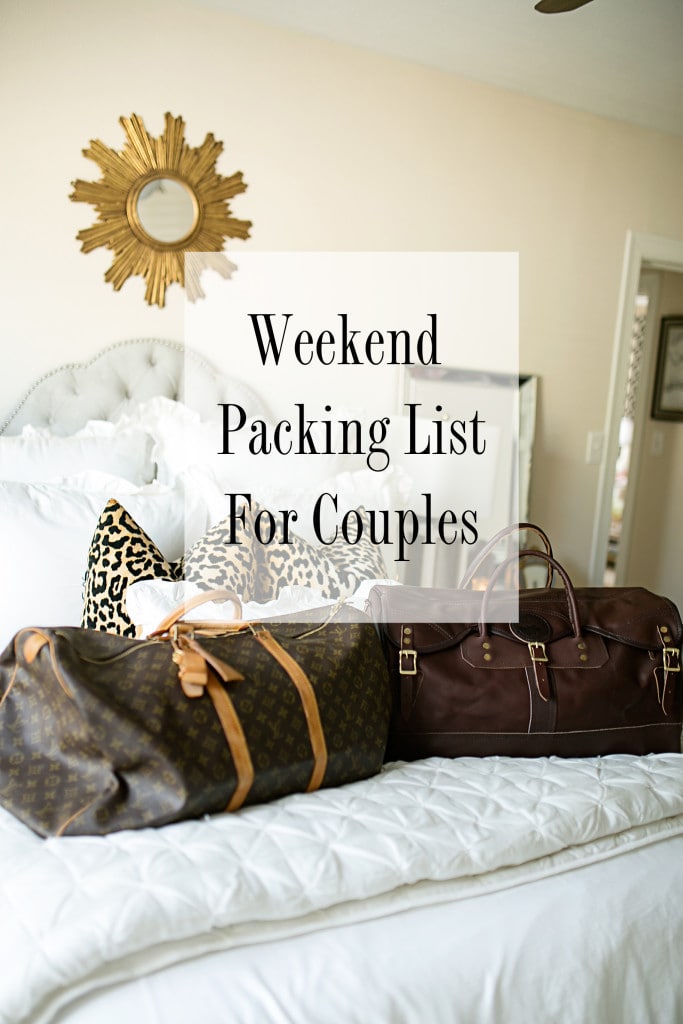 Hi friends! Right now we are headed off to NYC so I can attend a few meetings for work and we can get in a lot of play time! One of the 5,000 things I love about marriage is how much fun traveling is. Sometimes trips can be a bit tricky if you're a people pleaser because you're constantly making sure everyone gets to do what they want.
What I love about traveling with Paul is how we agree on everything we want to do, so it makes the trips that much more enjoyable. We like to brunch, skip lunch, check out a museum, grab sweets, do late dinners, etc. I made a spreadsheet of everything I love to do there and had him pick and choose so I have a feeling this weekend will go by way too fast.
So whether you love to do weekend getaways, or you have lots of out-of-town weddings to attend to, I thought it would be fun to share an easy his & her packing list for weekend trips!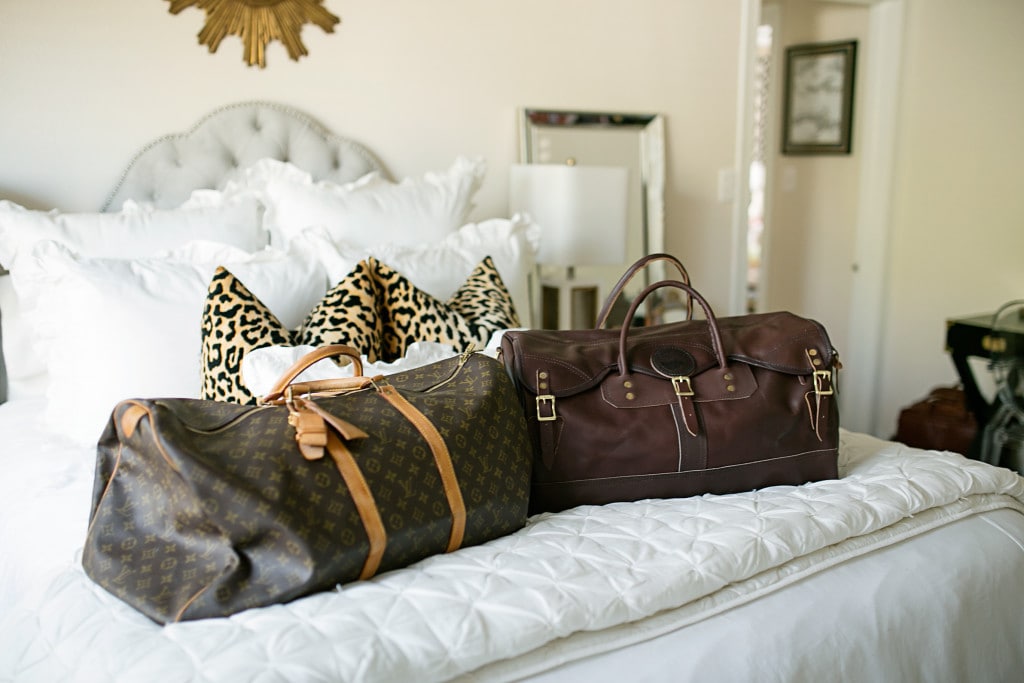 Let's start with the bags, my husband begged me to get him this bag. And Paul has never asked for anything in his life. He loves Duluth Pack and I've shared that a lot on the blog before. For months he has been sending me e-mails of this bag, like a kid at Christmas. I kept responding, "Okay! Okay! I get it. You want the travel bag." We packed it up a few days early since he worked so late this week and we were able to fit everything he needed for the weekend in it and it still can be carried on. #Miracle. It's a classically handsome bag that I thought would be fun to start our first year of marriage with. This bag has places to be and people to see so I can't wait to share it more with y'all in the future.
Finding things for men is so tricky because they don't light up over things as easily as girls do [or am I alone on this one?! 😉 ] so I wanted you to be able to do this for your guy if y'all love traveling! Check my instagram for a giveaway to help purchase this! 🙂
I love my LV Keepall 60, but I will be honest sometimes you can't carry it on. Some flights they are more than happy to let me carry it on and sometimes they make me check it at the front. While empty it fits in the baggage "size check" but depending how full it is, is whether or not they make me check it. haha. For weekend trips I'm fine, but I did have one fashion week experience where they made me check it, then they couldn't find it and I missed a show because I was running around the airport like mad. I did want to be honest with sizing! Another great option is this!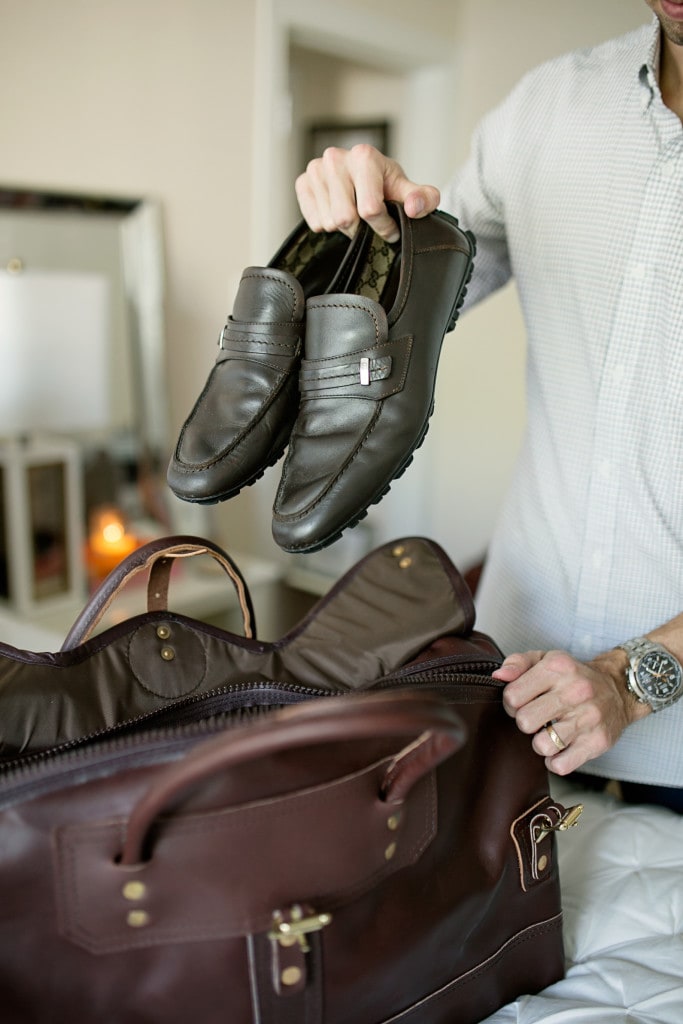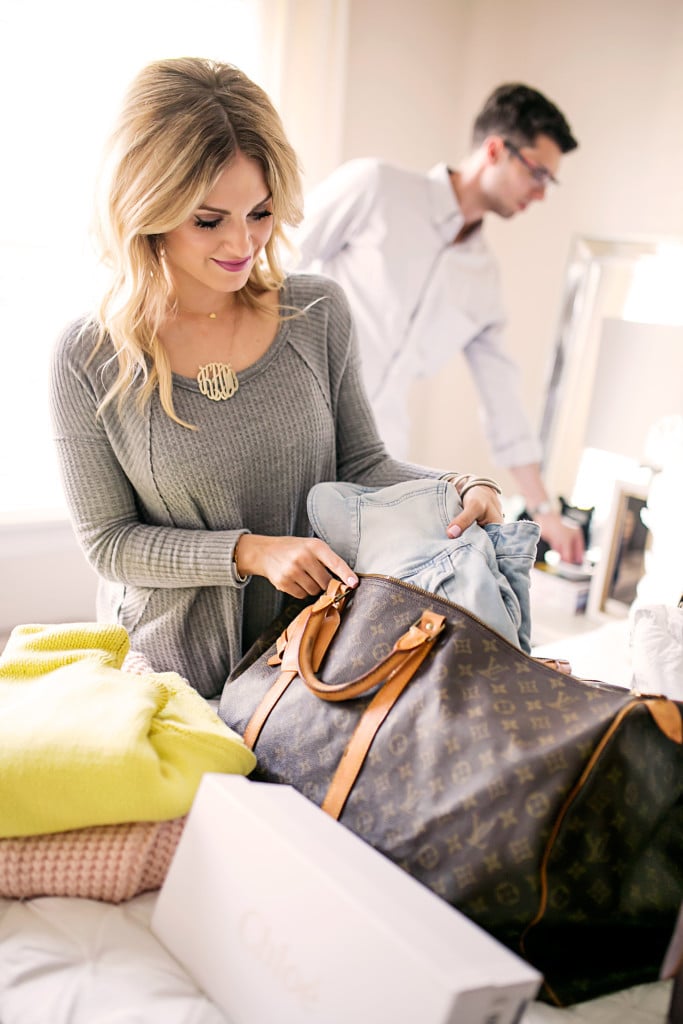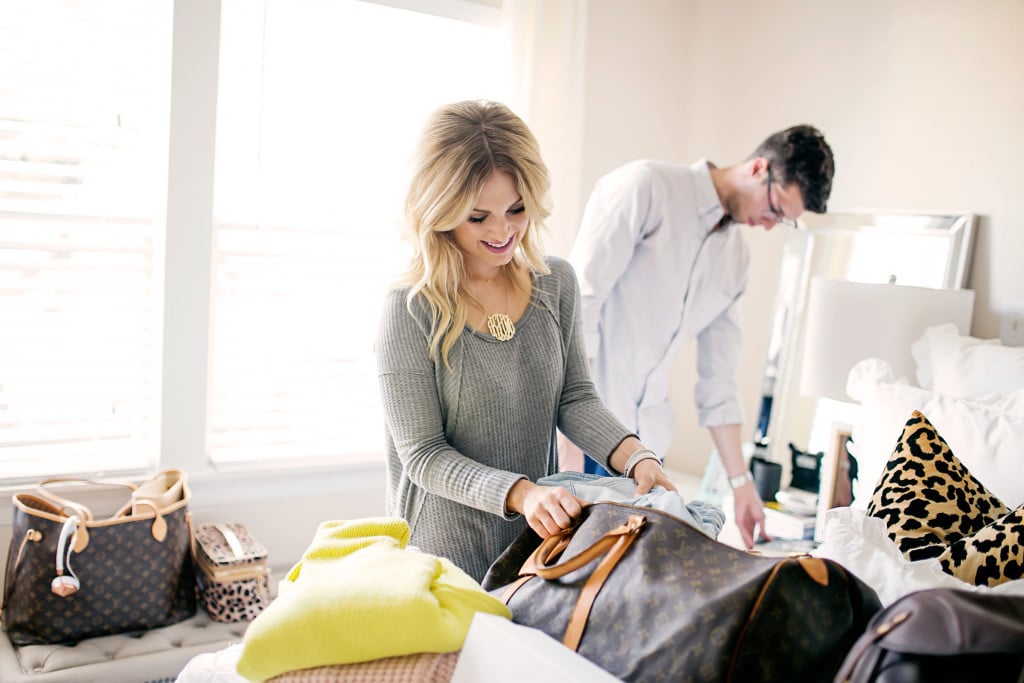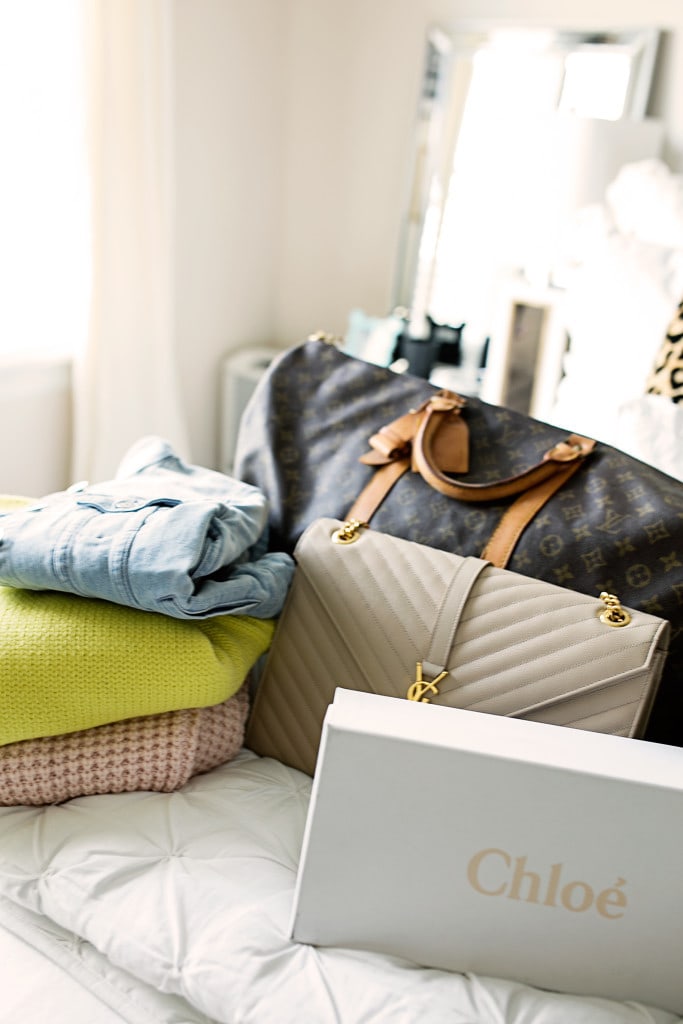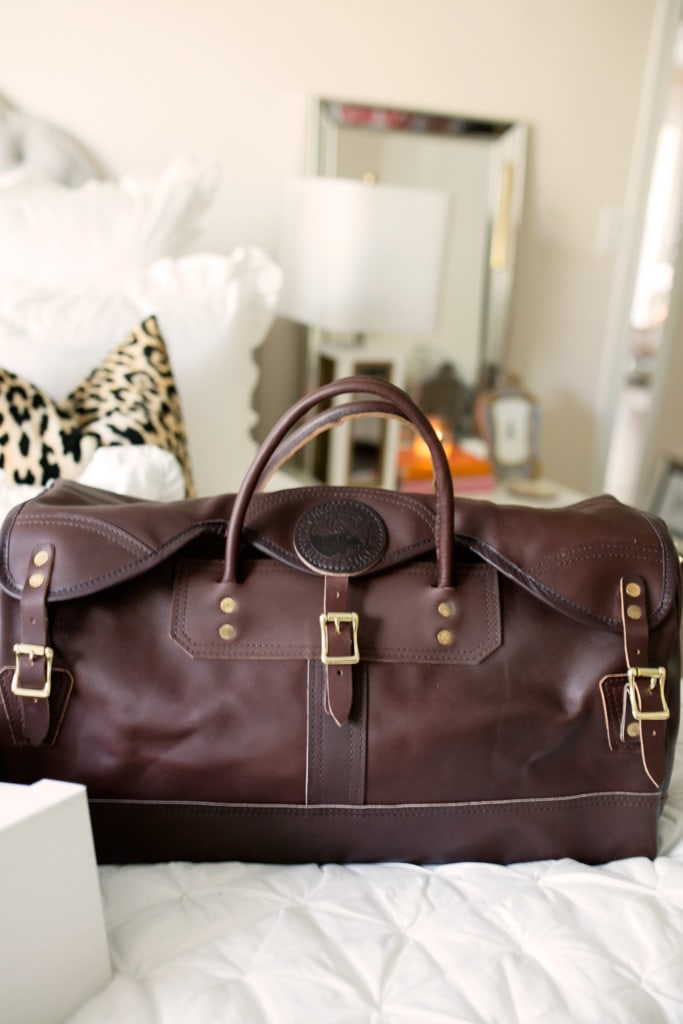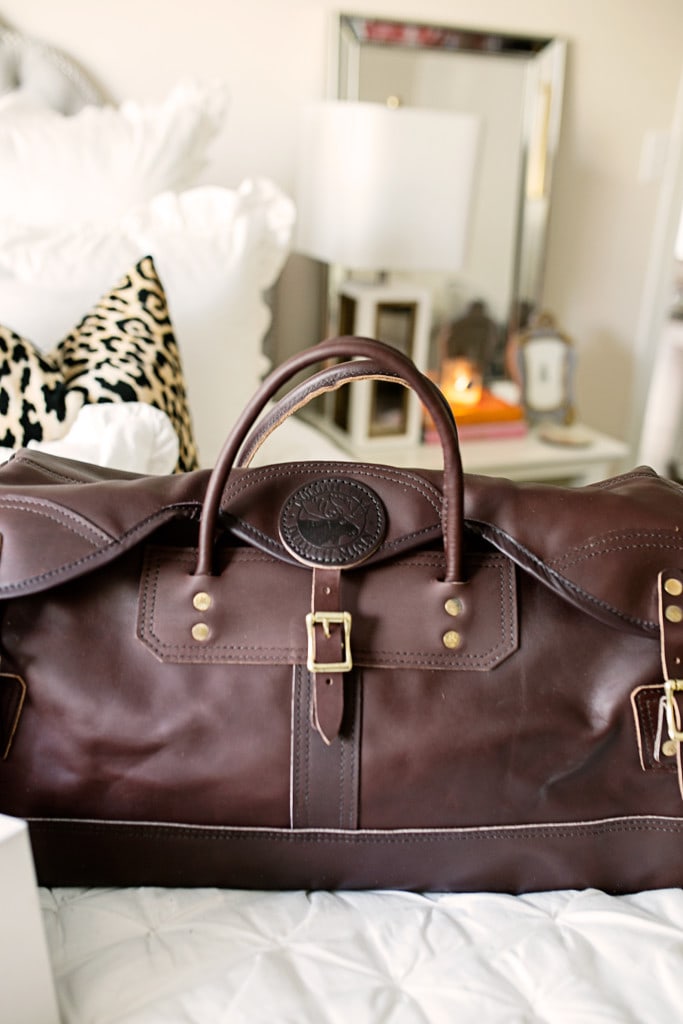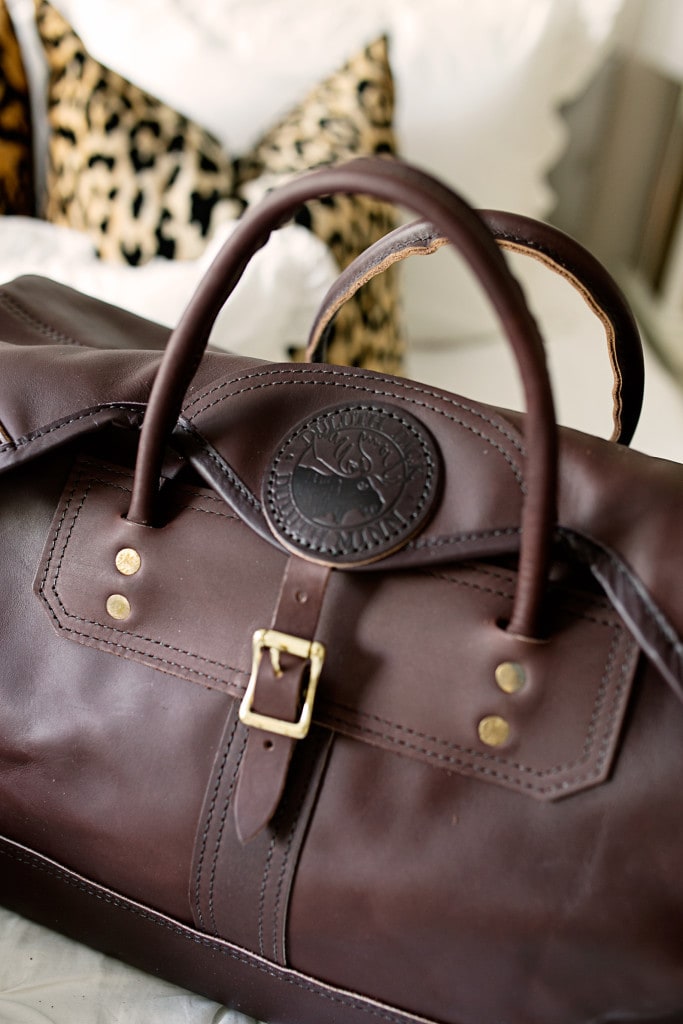 When we head somewhere for the weekend I typically bring two looks per day [we normally have a wedding or fun date night planned at night] and then one travel outfit. This weekend in NYC is a little hard to dress for [in the 50s with a chance of snow Sunday]. Here's a few of the basics I'm bringing this weekend:

And if you could guess, Paul packs a little lighter! Paul is pretty tall, so he loves J.Crew for sizing and light sweaters from Nordstrom. And he keeps a nice color palette of: black, white, grey and sometimes blue. Groundbreaking. Since I do all the shopping for him it does make it a little easy though, I just make a beeline for the neutrals and it's easy.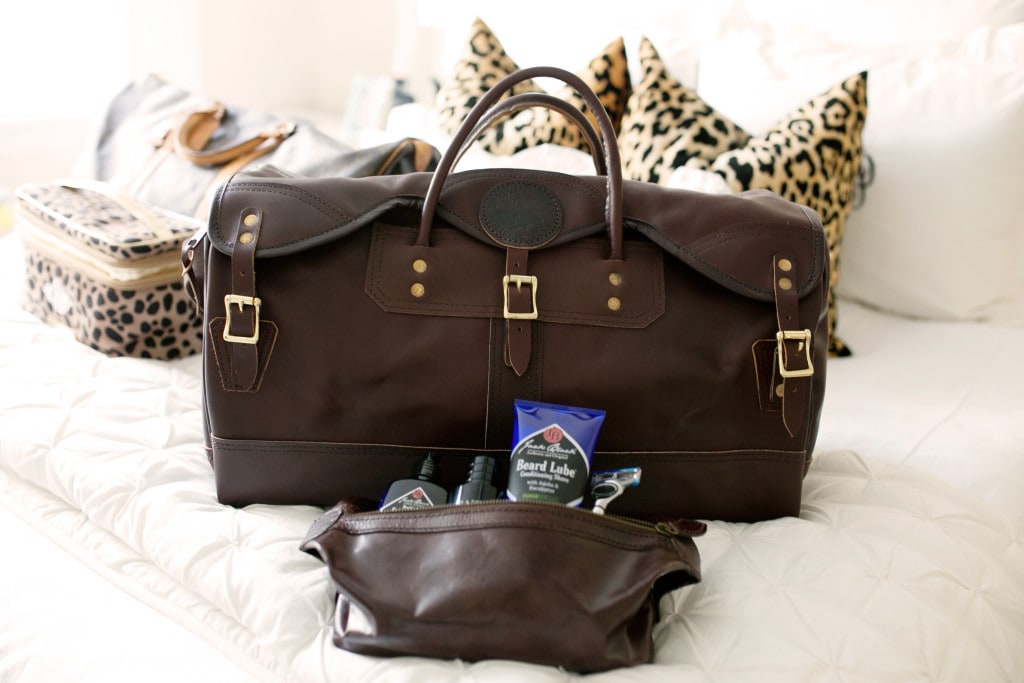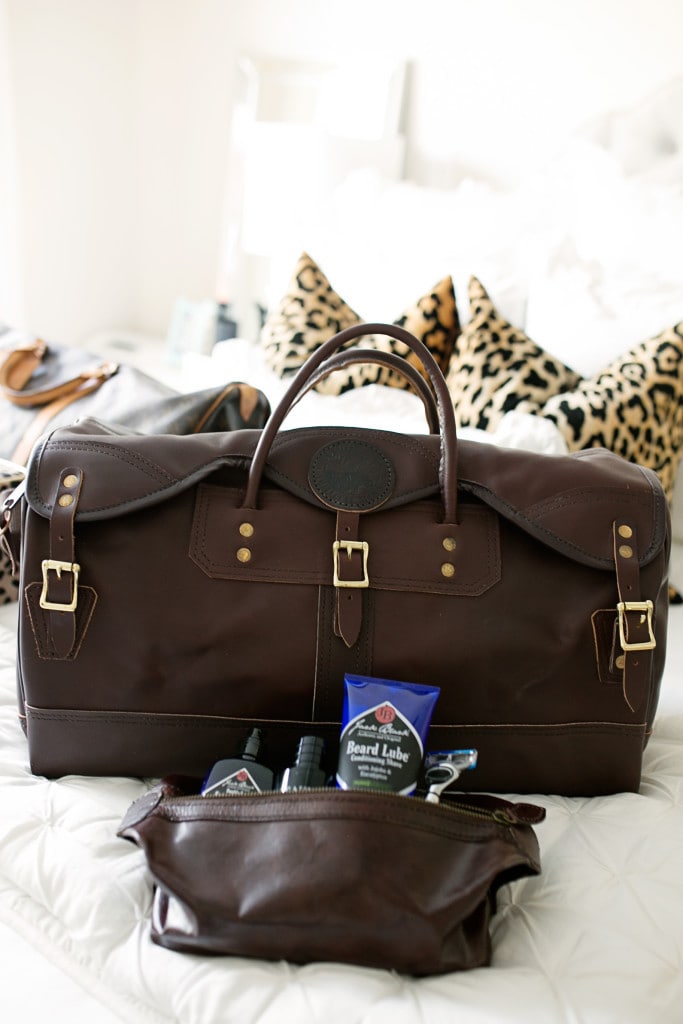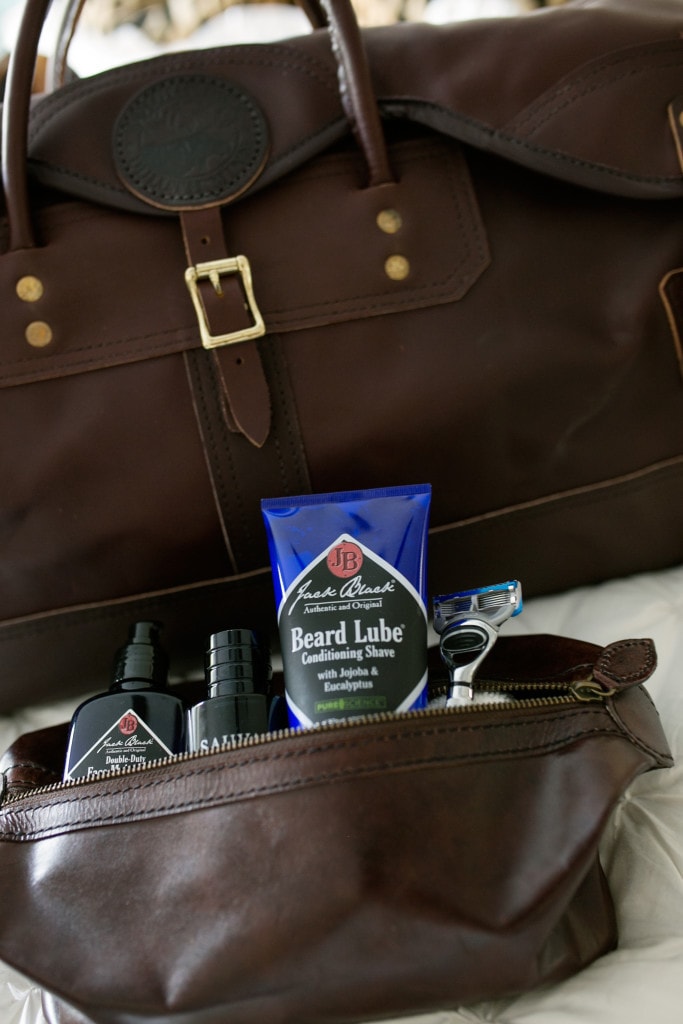 When we got married and moved in together Paul started to use my shampoo and conditioner. He really didn't know what the difference was from the Suave he had used in his old apartment, but when I noticed my $40 shampoo would be gone in two weeks we had a little chit chat. I only wash my hair twice a week so my shampoo normally lasts me for months. And I was not about to spend $80 a month on clean hair. No thank you.
I always remember my mom giving alternatives for my dad when trying to make some serious suggestions, so I thought, "Maybe I"ll get him some body wash and shave cream and see that he can have his "own stuff" and then won't use my stuff." Brilliant. No?
I went in the mall and told a sales associate, "Hi, my husband would never use his own "grooming product" but I need him to not use my shower stuff. What can I get?" So they told me to try Jack Black. Paul loves the Beard Lube so much for shaving and that got him back to his old $1 shampoo ways.
For traveling he uses this dopp kit and just takes these products and then uses the good old hotel toiletries. 😉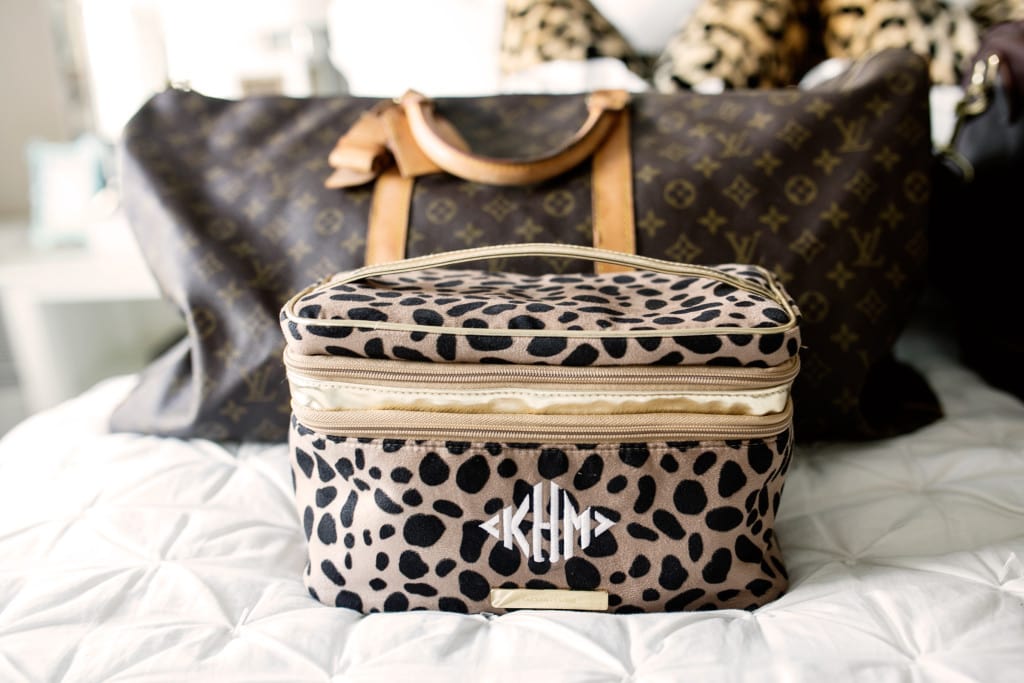 And then this little number is what gets me over the luggage weight every. single. time. A girl needs her hair products. This is what I take to travel.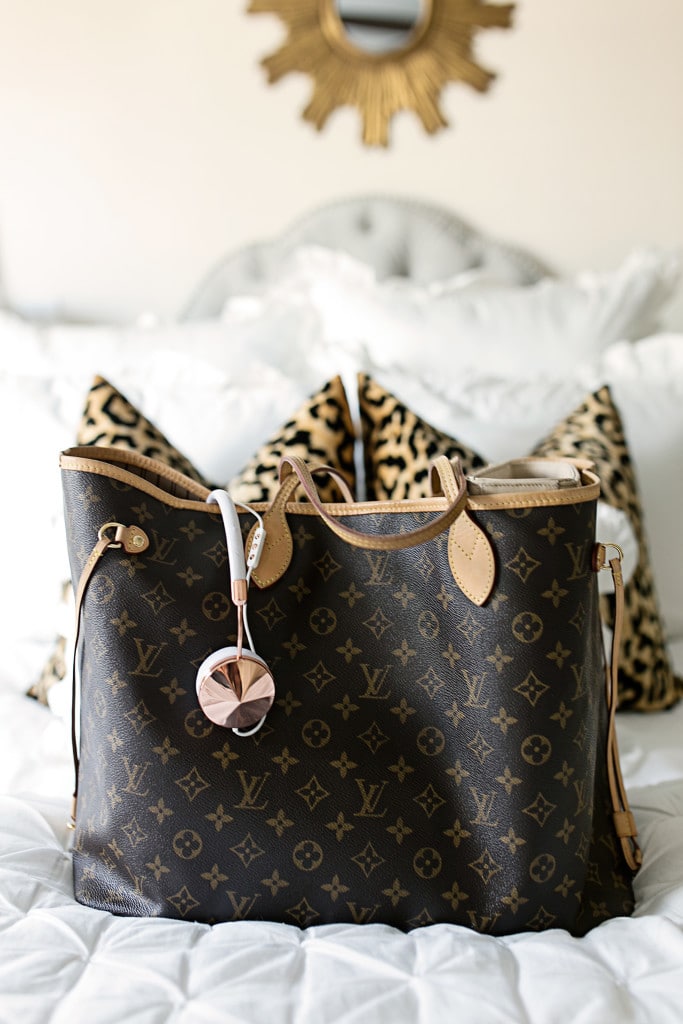 I always bring my Neverfull GM or a similar tote like this [less expensive!] as my extra bag to take on the flight. I can fit all my in-flight essentials as well as put a crossbody in so I can use that once we land. I also carry my jewelry in a travel pouch on. If my checked bag never makes it, I can deal. But jewelry? That might make a girl get anxious.
Here's what I keep in my tote:
1. Smaller Bag
2. Scarf: to sleep on plane/use with outfits
3. Headphones
4. Passport
7. Notepad for Trip Plans
8. iPad
9. Makeup Bag: for lip balm/snacks/hand sanitizer/gum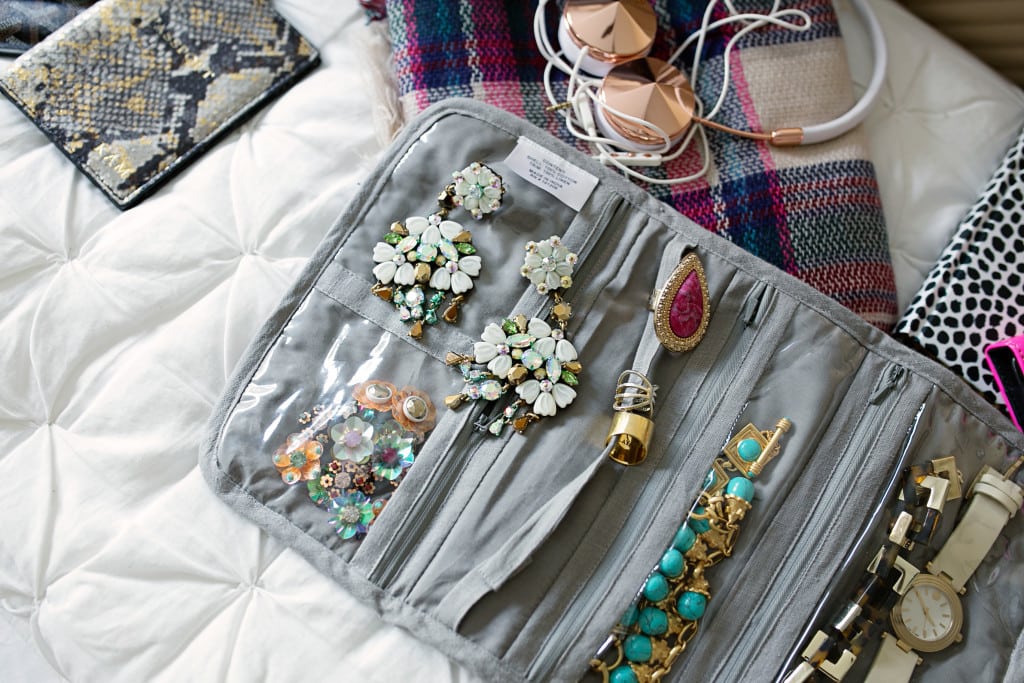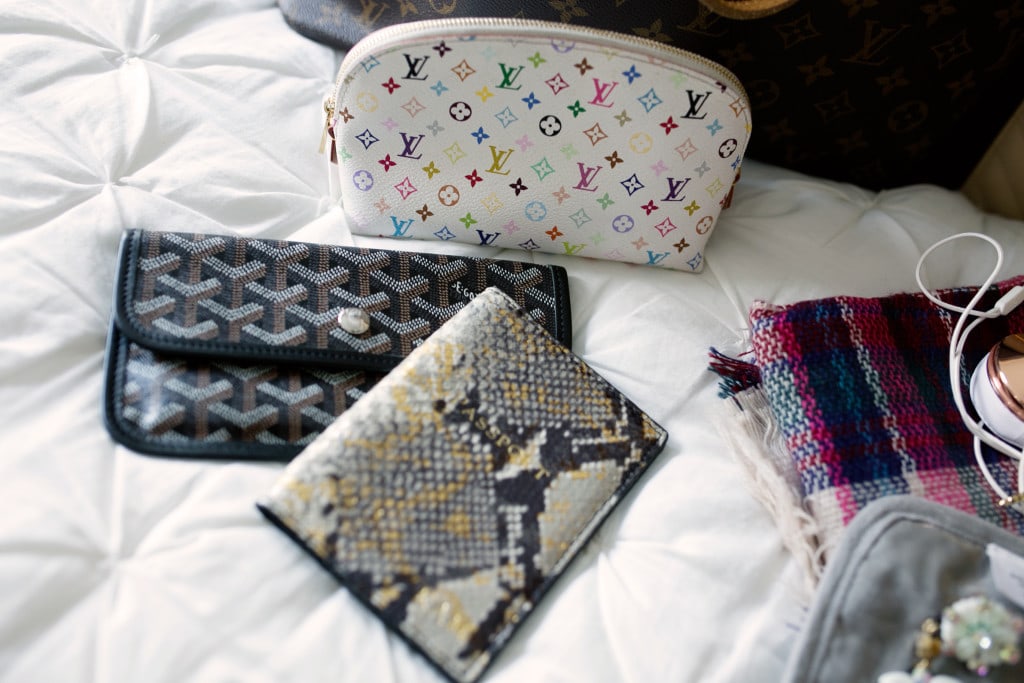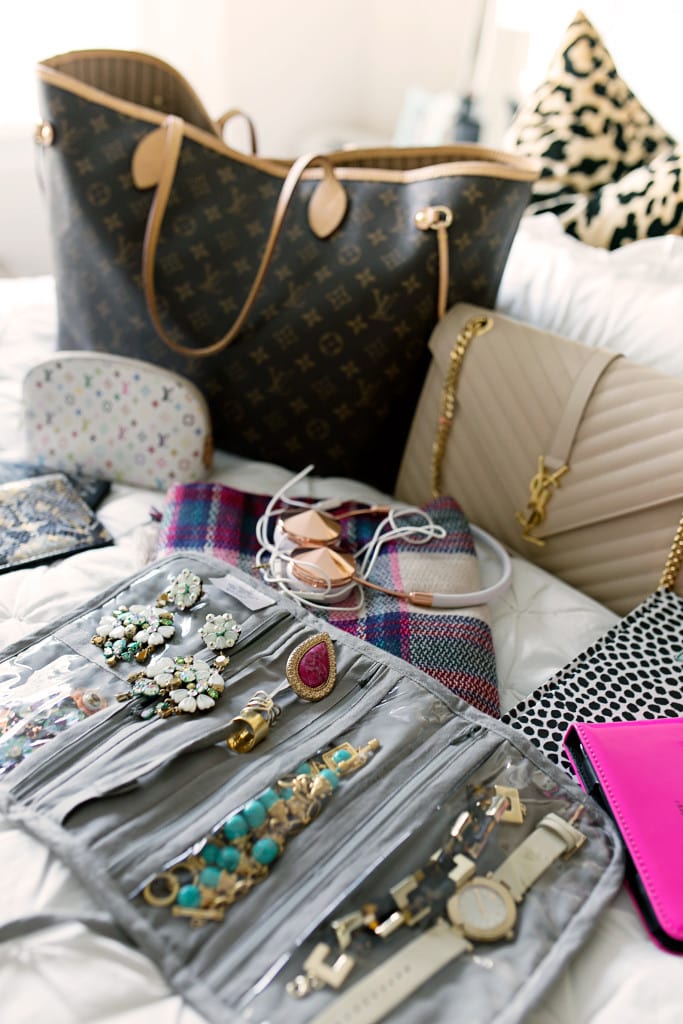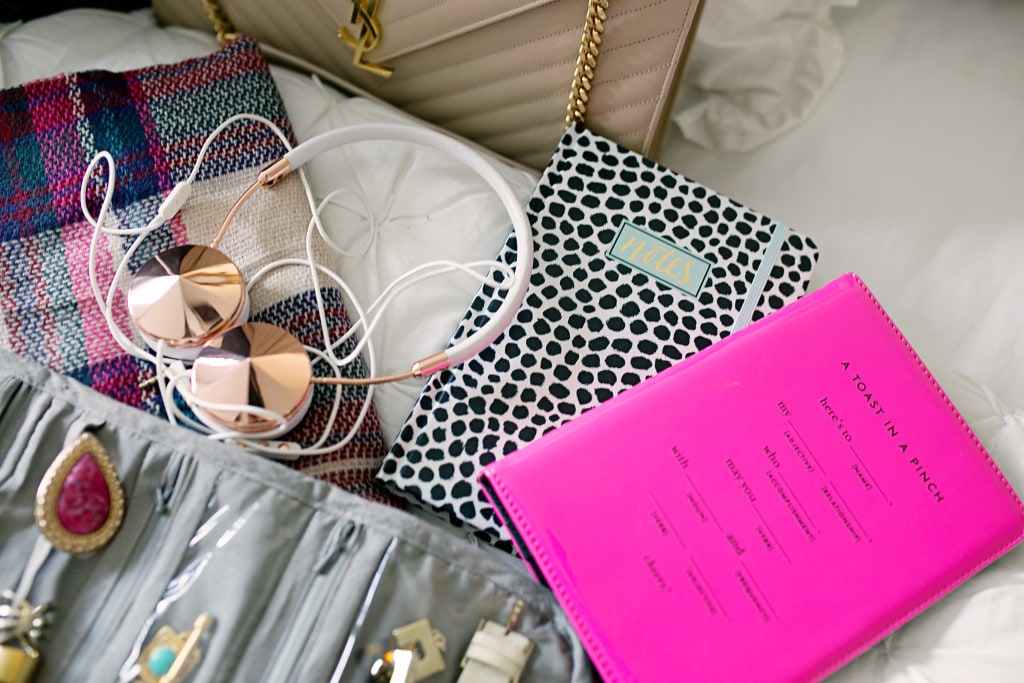 Do you have any tips or tricks you follow when packing for a quick weekend getaway?! Thanks so much for reading and be sure to check instagram to win a $50 gift card to Duluth Pack!
Top in Post: Free People | Images by: Angie Garcia