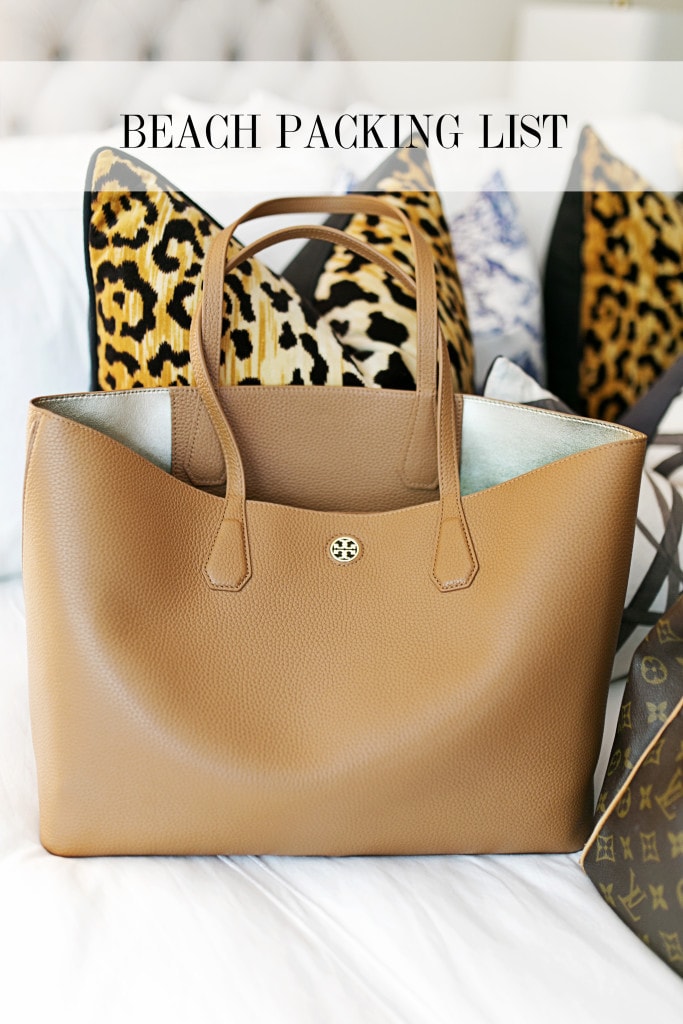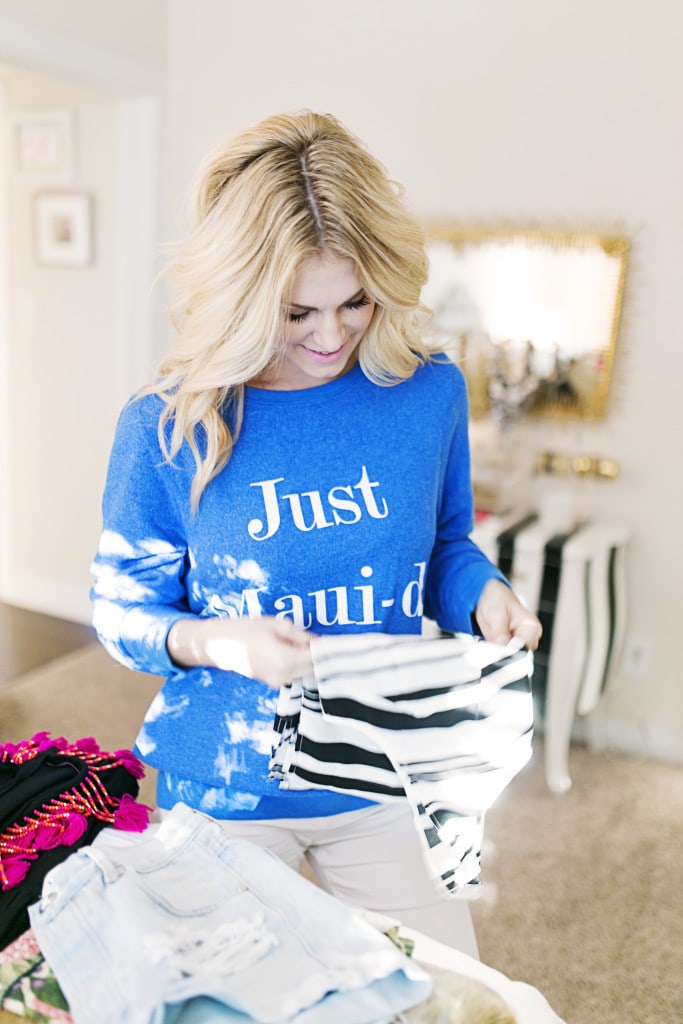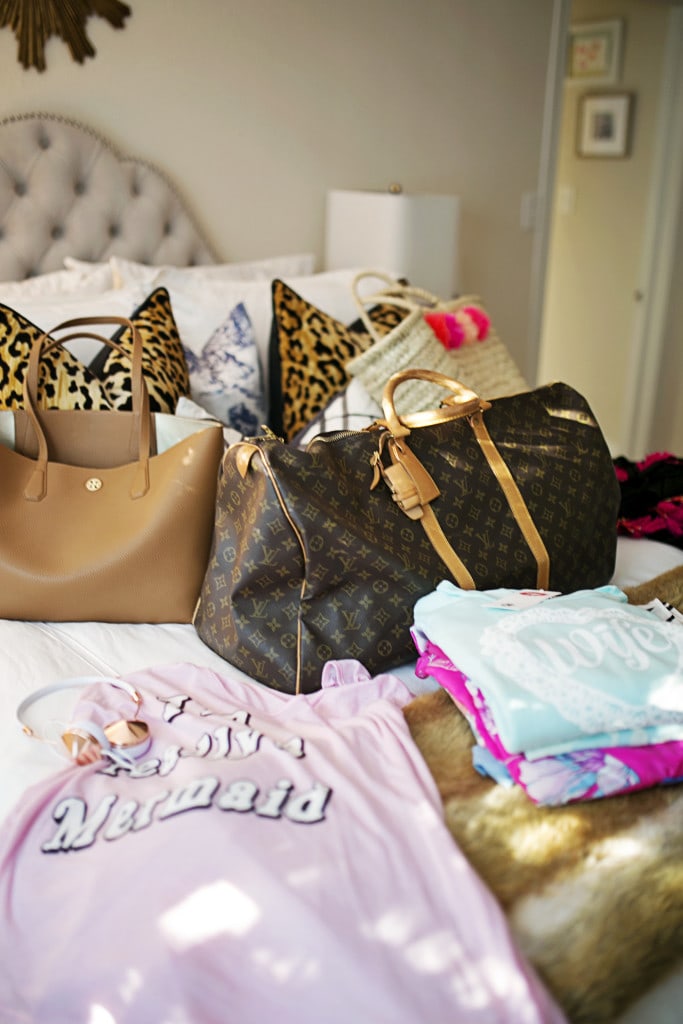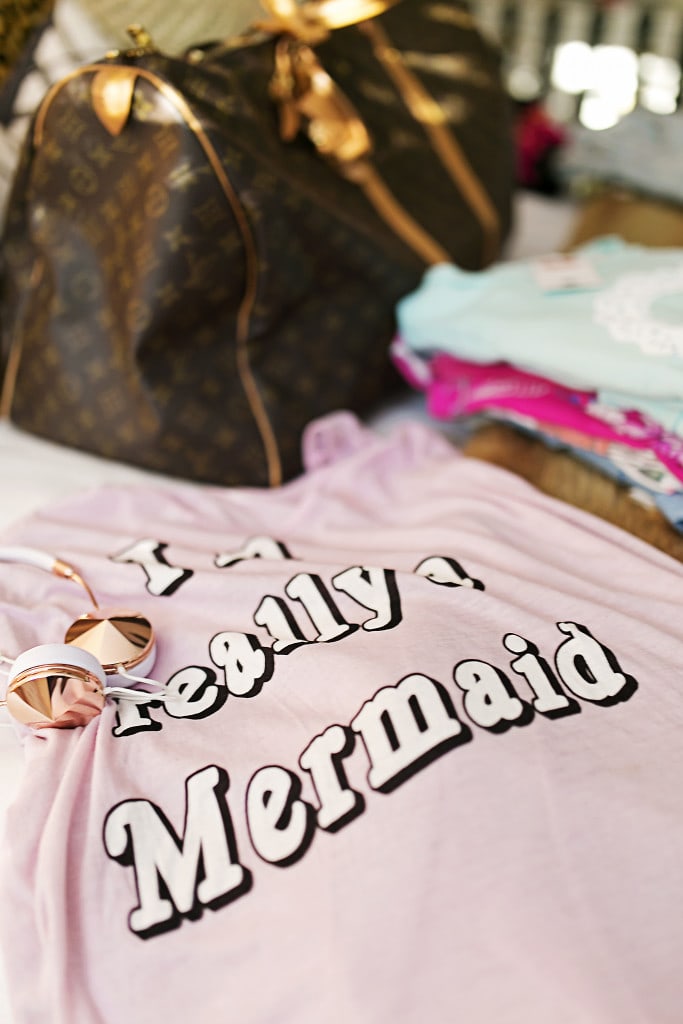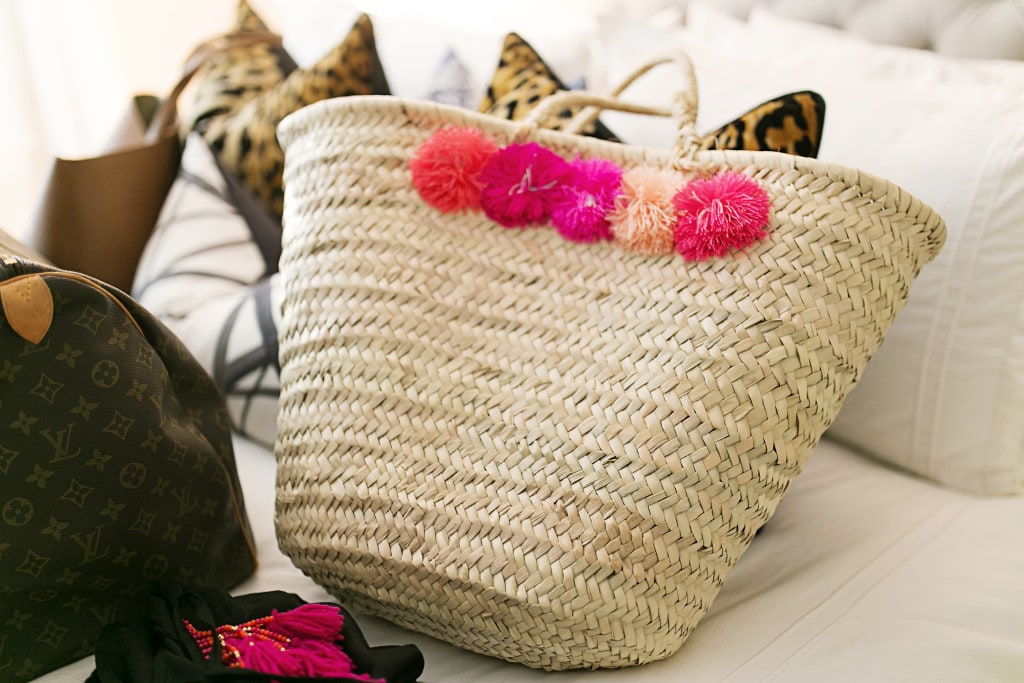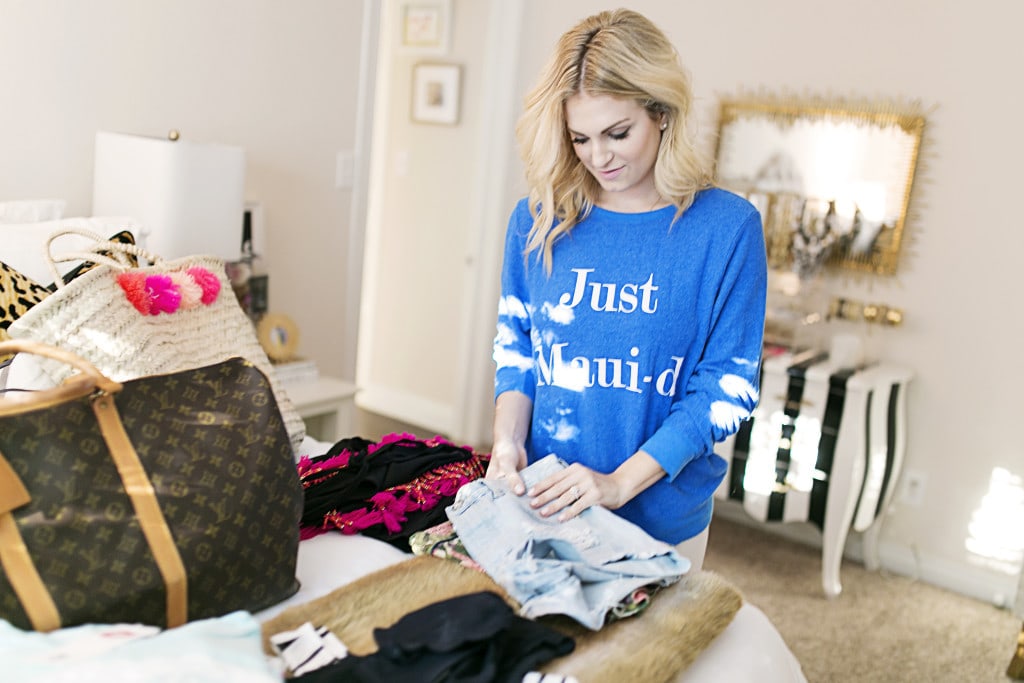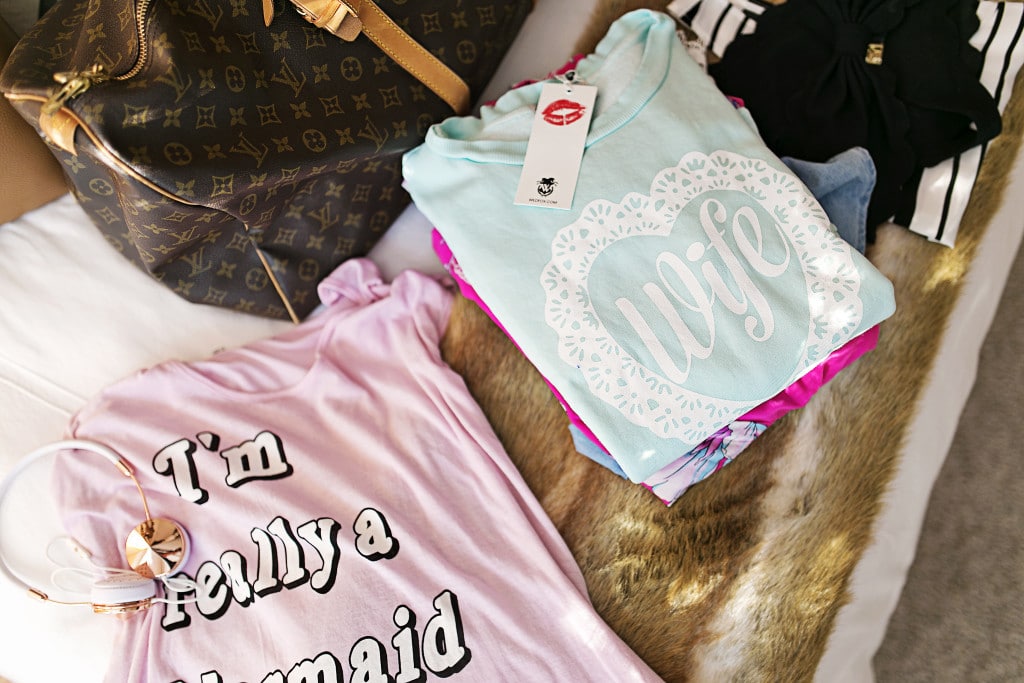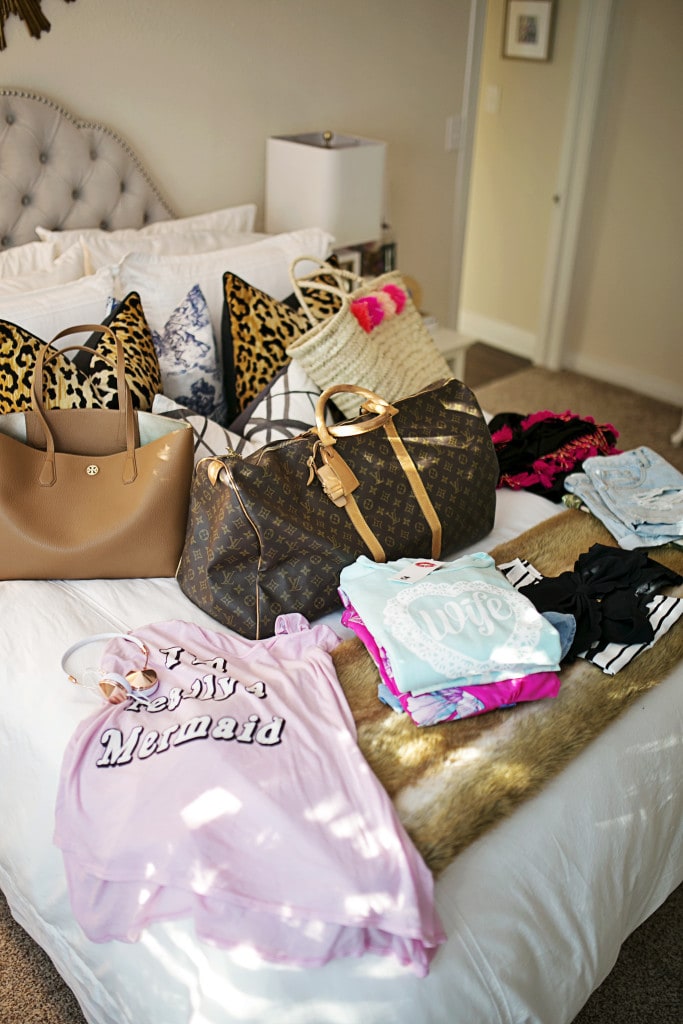 Tote: Tory Burch | Beach Bag: Design Darling | Louis Duffel: Similar, Similar, Similar | Headphones: Nordstrom | Wife Sweatshirt: Wildfox | Just Maui-d: Wildfox | Shorts: One Teaspoon
Photos by: Angie Garcia
---
We went to Maui for our honeymoon and y'all I am over-the-moon excited! [I'm writing this post a week in advance and I'm so stinkin' giddy I can't get over it!] I prefer the beach to any place else, but hadn't been to Hawaii. My mom and I are creatures of habit. We like NYC and Rosemary Beach. So naturally, those are the two places we always go. It drives my poor dad crazy. He hates skiing with me because I'm the same with that too! If I like a certain slope I'll go down it all day long and he thinks I'm ridiculous.  What can I say?! I'm loyal to what I like!
I love beach vacations because you don't have to overthink it! You can interchange your cover up for your dress at dinner or throw on shorts to the beach and lunch. No fuss! I thought it would be fun to share my list for packing light on beach trips.
Packing List:
Wildfox tees hit the two c's: cheeky & comfortable. I wear them on the plane. I wear them at the beach. And I wear them to dinner! I love how lighthearted they are, but most importantly Wildfox has their sizing down. It's oversized without making you feel like you are smuggling twins under your top. [been guilty of that one too many times!]

This year I started to invest in cover ups. Up until now I always threw on a baggy sorority tee and ran around the pool, but I finally got to the age where I felt like I needed actual cover up dresses. I got this one and can't tell you how many compliments I get on the back detail. Be sure to go down a size because it is a little oversized.

2 Pairs of One Teaspoon Shorts
I just want to warn you that if you purchase a pair of One Teaspoon shorts or jeans you will become a bit really spoiled and have a really hard time buying a different brand of distressed denim. They are perfectly distressed with cuts to elongate your legs, so you feel a little bit like Carrie Underwood. Also note that you go down a size or two in One Teaspoon denim! They are known to be pretty oversized. 🙂

 I splurged on a Yumi Kim romper earlier this year and it was one of my favorite purchases. These silk, printed rompers are easily dressed up or down and have a slimming effect with the wrap and tie! I got this one but would love this. They run true to size. 🙂

A chic little tote is perfect to carry all your travel goodies and for your dinners at night! If you want to pack lighter this can be your beach bag, too. I got this one this year for my beach bag and I love the accents that dress up a traditional straw bag. It is also so big! I can hold plenty of beach towels and books. 🙂

Are there any beach must haves you have to bring along?!
I also want to apologize if anything on this post was sold out! I made my blog posts a week in advance and haven't checked on the blog during the honeymoon.