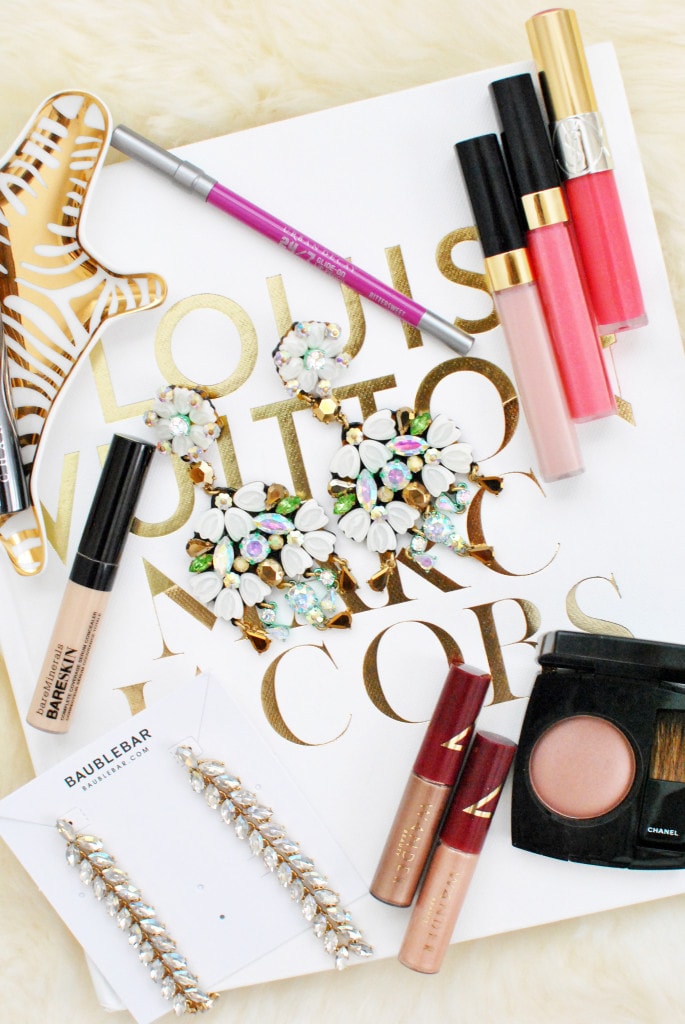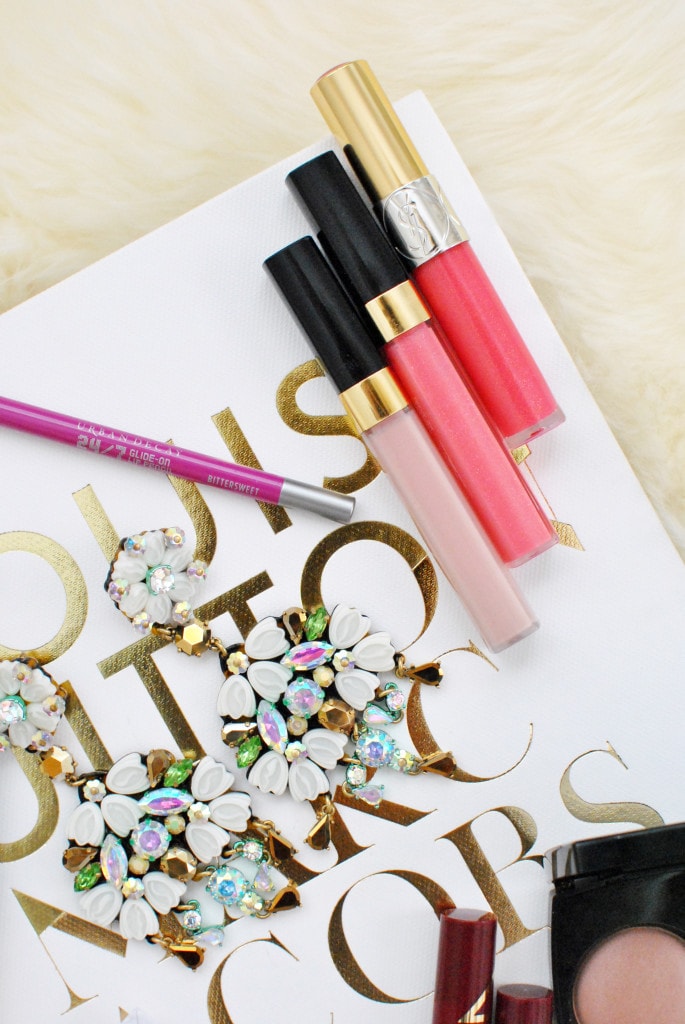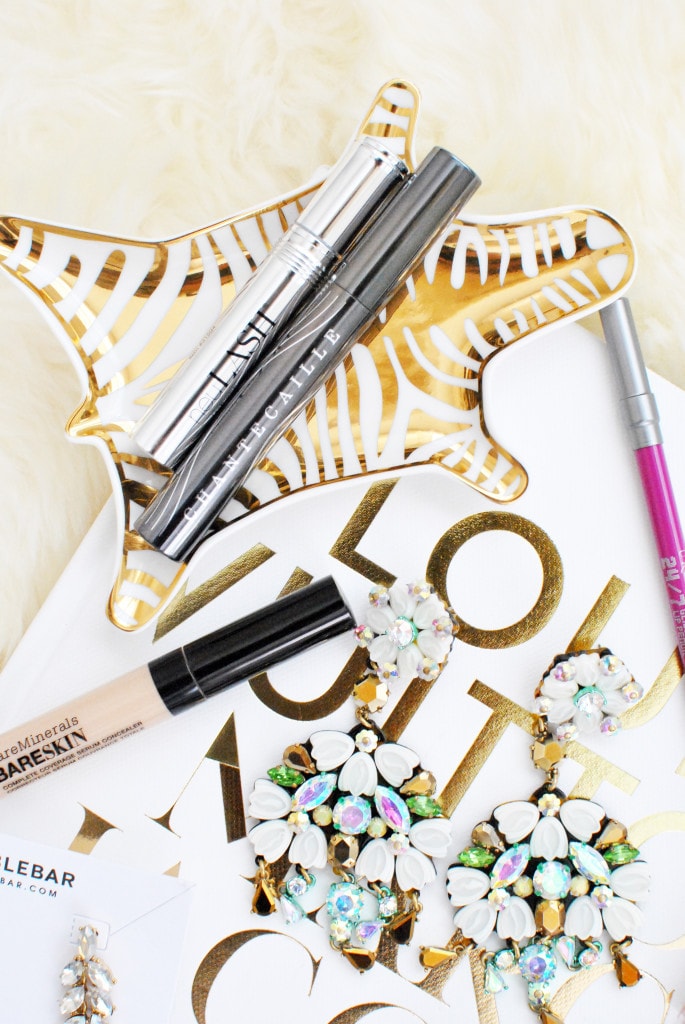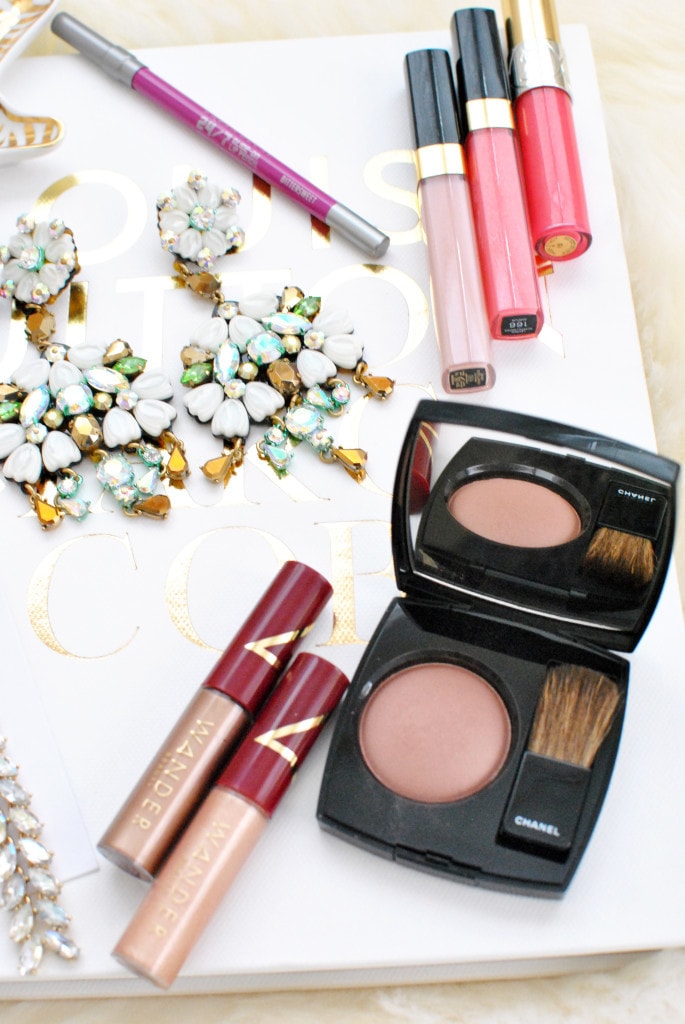 Zebra Tray: Nordstrom | Earrings: J.Crew | Baublebar Earrings: Coming Soon | Book: Amazon
Hey girl, hey! I'm so excited about today's beauty post! I think these products fit any girl's makeup routine, no matter what kind of look she prefers. I haven't changed anything too drastically or fall. I still love full lashes and pink lips, but all of these have been easily incorporated into my daily look and my sister has used them as well! She doesn't wear a lot of makeup and so she is my little guinea pig for how versatile products are.
1. Lash Products
I get asked a lot if I have fake lashes or lash extension on and I always say thank you, but no. I never want the conversation to last too long because then Paul would know I spend an electric bill on mascara and that would be an awkward conversation. However, a few weekends ago this question got real serious. Paul and I were checking out at breakfast and the sweet old lady [I mean she seriously had to be 95] leaned over and said, "Can I ask you a question?" I got excited thinking she'd ask if we were newlyweds and give some invaluable marriage advice. She leaned over the counter, proceeded to pull my lashes and said, "Are those extensions?" At that point I knew my serum and mascara was working a little too well and I needed to share with you.
This mascara from Chantecaille actually has a growth serum in it, so even if you don't do a serum daily it makes your lashes grow! I asked the cosmetics manager at Neiman Marcus the number one product she would always purchase even when she stopped working here and she said it was this, so I was sold. I also use Neulash each night before I go to sleep. The bottle lasts for months and you get results in about 3 weeks!
2. Liner
I always like my darker lipsticks to have a bit of a plum base. This liner by Urban Decay in shade Bittersweet has been my "go-to" fall shade! Because I'm blonde I get intimidated by crushed berry lips because 4 hours in [and a few snacks later] I feel like I just woke up from a post-Halloween party. This liner is super creamy and almost feels like lipstick, yet it never fades and blends really well with light skin tones.
3. Gloss
I normally don't love lip gloss, but I picked these up before our honeymoon and loved how pigmented they were. If you are a little worried about wearing bright pink lips in the fall these is a great compromise! Try a nude like MAC Fleshpot and put either YSL gloss in shade #15 or Chanel gloss in shade #166 over it! I also love this nude gloss by Chanel [#189] if you want to pull a Kourtney Kardashian.
4. Concealer
Whenever I get a blemish I'd honestly rather just stay at Hotel Hellman [my self-dubbed nickname for our home] in my pajamas and not wear any makeup until it goes away. I hate putting anything on it and half the time it's because I think concealer makes it look so unnatural. This concealer by Bare Minerals is super creamy and almost makes your blemish just blend right in with your skin, so it's completely unnoticeable. I know that's a strange way to describe it, BUT I got this a few weeks ago and then I guess the Lord let me break out so I could test it out for y'all.
5. Lids
I used to never wear eyeshadow. I think I went all of college and even when I started my career just throwing on eyeliner and leaving. But then I realized my liner really needed something to softly blend into my lids with, but I still don't like to go too crazy with eyeshadow. I got these Wander Beauty eyeshadow creams and it is so easy! I use Champagne for daytime and if I go out at night I just add on shade Bronze. It's Katey Proof.
6. Cheeks
I picked this blush [shade #280 Golden Sun] up last weekend and was really drawn to it for it's undertones. It's so hard to see in that picture but it has a plum base but it isn't dark and can easily blend on lighter skin. I wore it Sunday to church and came home so impressed with how well the pigmentation lasted I almost threw away all my other blushes. Sometimes I get overzealous. What can I say?
I hope this helps you find a few transitional items for fall! Do you have any favorite beauty products right now?!