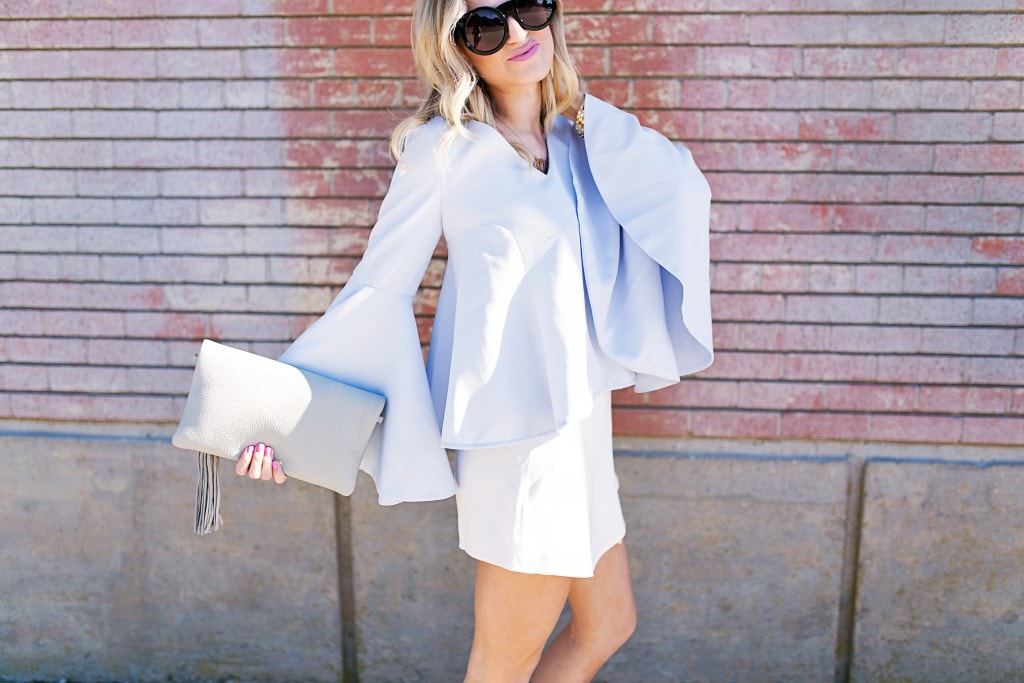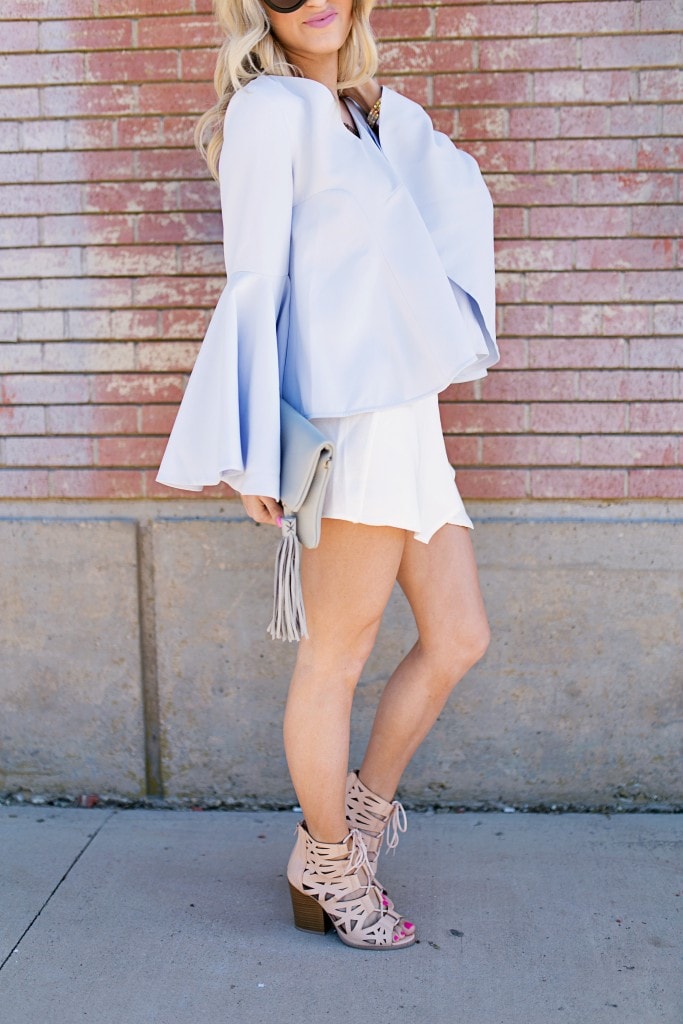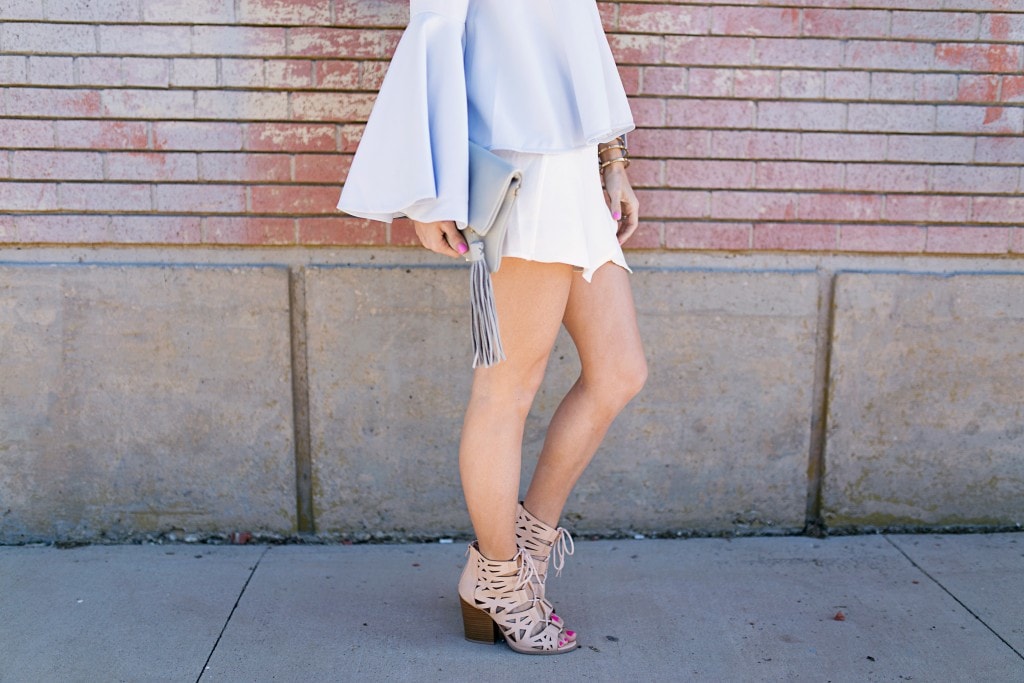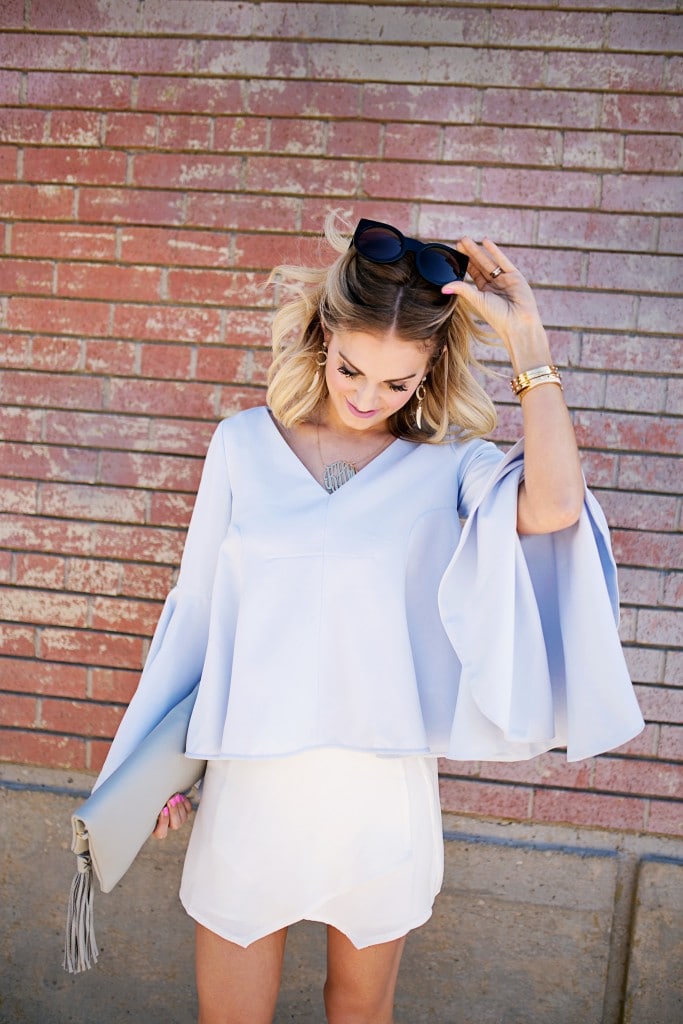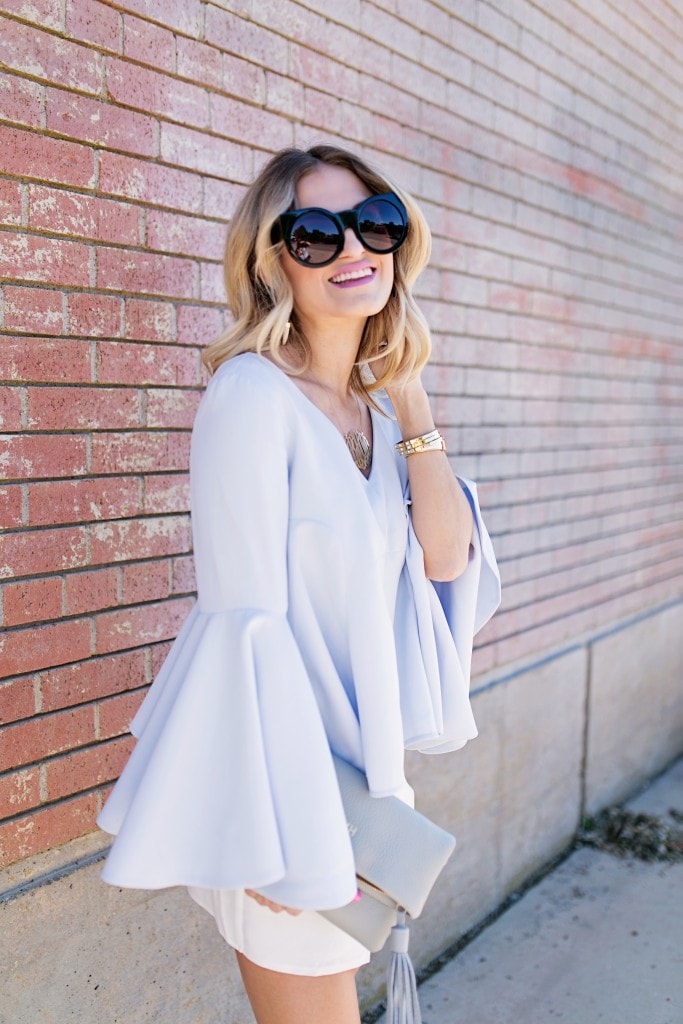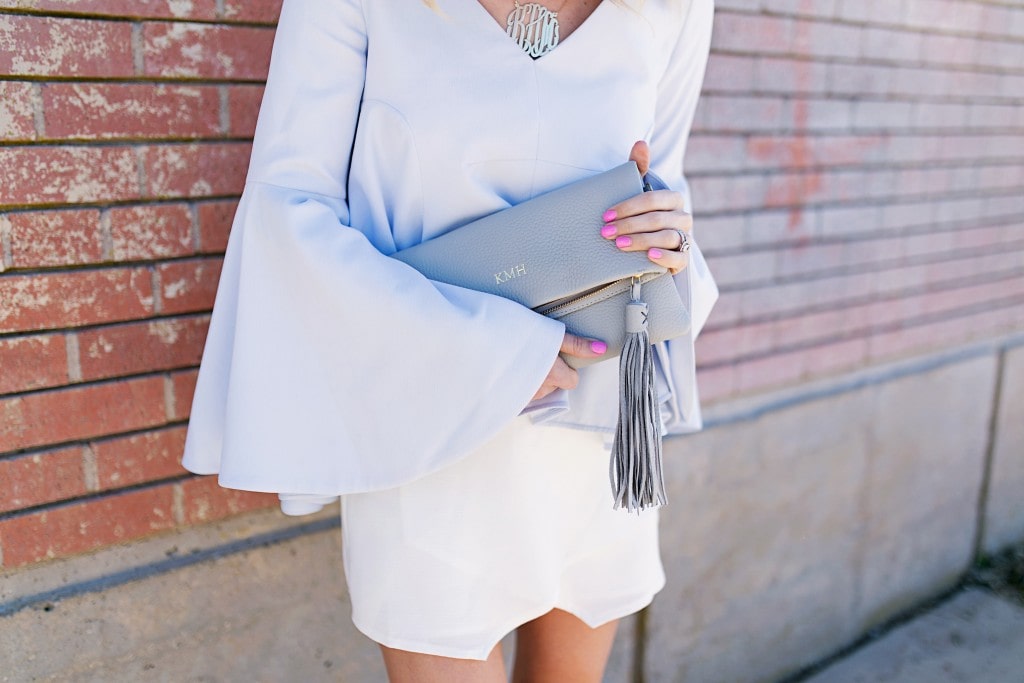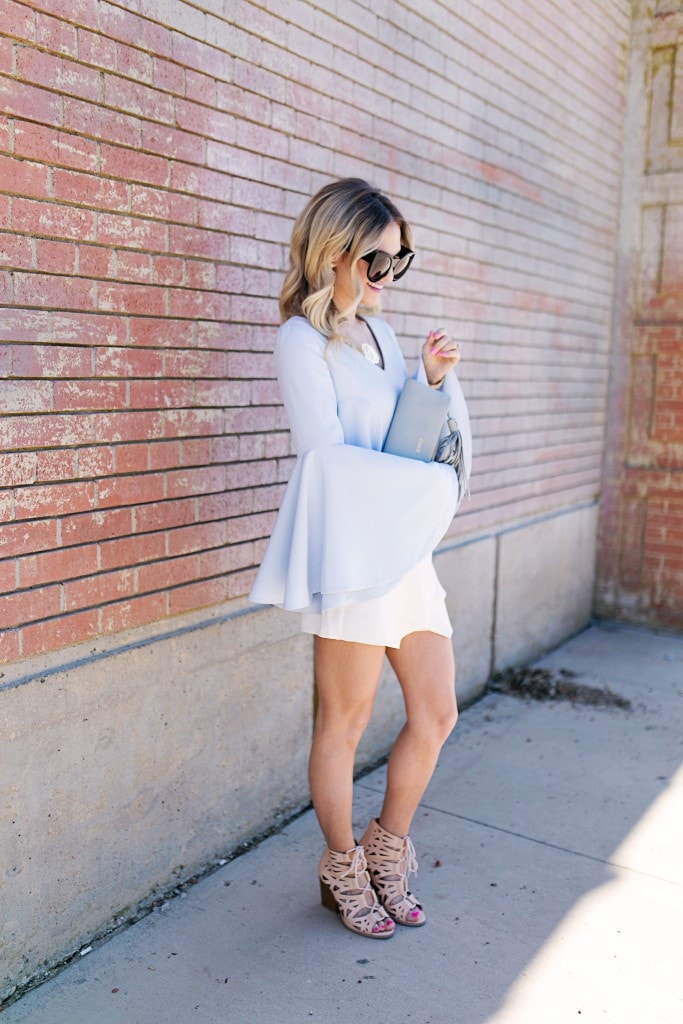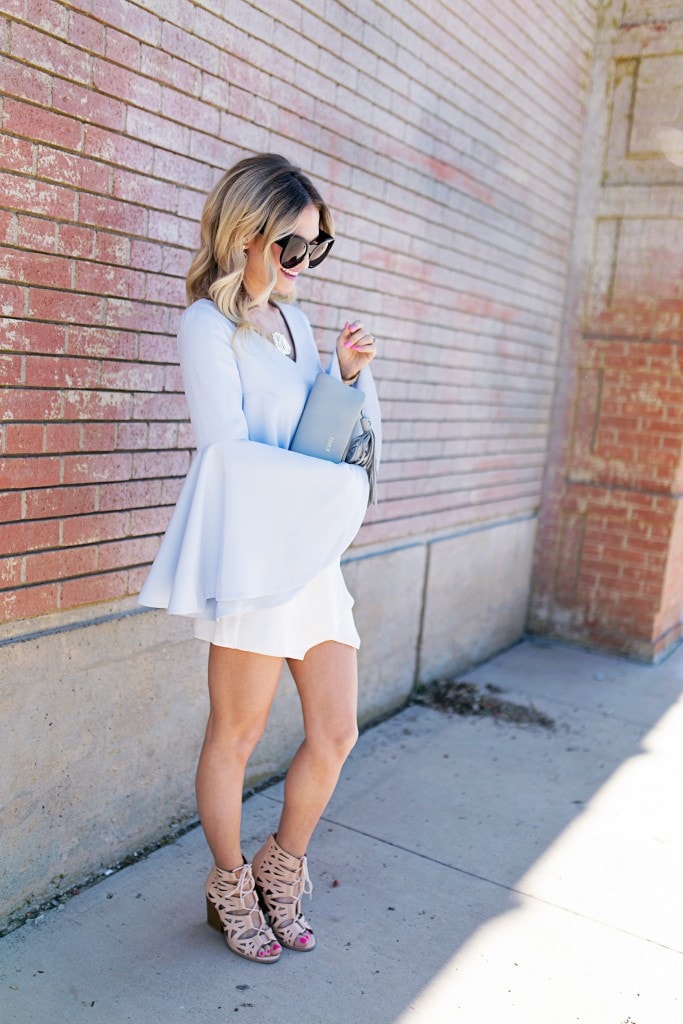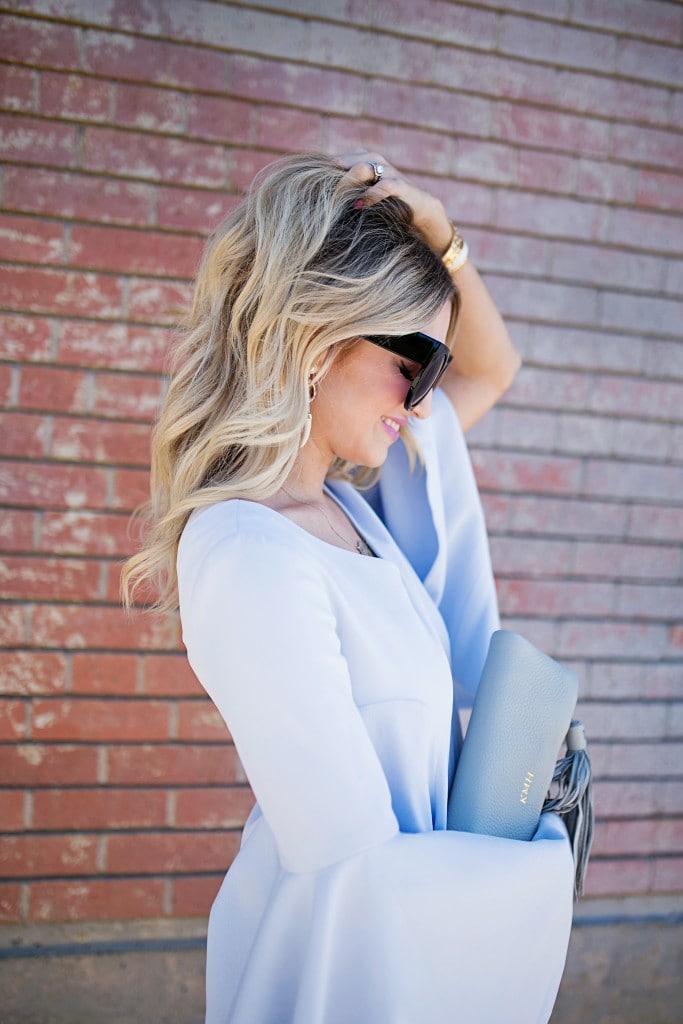 Top: Chicwish [c/o] TTS | Skort: Similar | Shoes: Modcloth [c/o], Similar All Sizes Available| Bag: Gigi New York [c/o] | Sunglasses: Wildfox [c/o] | Necklace: Similar | Earrings: Baublebar [out of stock] Love these!  | Bracelets: Kate Spade | Lipstick: Souffle
Photography by: Angie Garcia
---
I have this thing with oversized, structured tops. And yet, until this post, I owned none.
NONE.
What was I thinking?!
It wasn't that I didn't search to find one, I did. Every time I scroll through instagram I'd see NYC socialites in them with cigarette pants looking ridiculously gorgeous. Then I'd check the price of the top. Quiver inside. And decide I needed to just remove them from my brain.
I'm not sure why, but typically oversized tops that have structure [like these bell sleeves!] are pretty pricy! It's like, "Hey, you're going to look like you're wearing a sack, but a cute sack, so it's $399."
This top is in the prettiest blue shade and under $60, so it was love at first sight. It fits true to size and I paired it with a skort to balance the sizing. I'm on the hunt for linen leopard shorts to wear this all summer long!
Moving on, let's talk workouts! We all know I'm addicted to cycling at Zyn22 and the past few months my friend has brought me to her workout studio that focuses on barre, pilates and this class called "bounce." I love workout classes and while I never think of myself as a competitive person, I have to be, because I do well in workout classes as opposed to being by myself.
I've run on and off the past few years, but never trained for anything. I tore my meniscus running in college, took a break and since then I haven't "pushed" myself in that realm. But running is free and I love free. haha! I kept telling myself, "Katey, you need to learn to love something that doesn't cost anything." So here I am week 3 into running. Still hate it. Still think I'm dying. Still bored out of my mind the entire time. But still running…
So runners, be real with me. Will I ever like it? Will it ever be fun? Will it ever be a stress reliever?! I just sit and listen to all y'all marathon goddesses say, "It's my me time! It's so relaxing. No one can talk to me!"
And I just nod thinking, "Yeah, my me time is sitting on the couch with a glass of Cab. No one can really talk to me then either." haha!
Bless you all and the lungs God gave you. I'm convinced he made some of us runners and the rest walkers. 😉