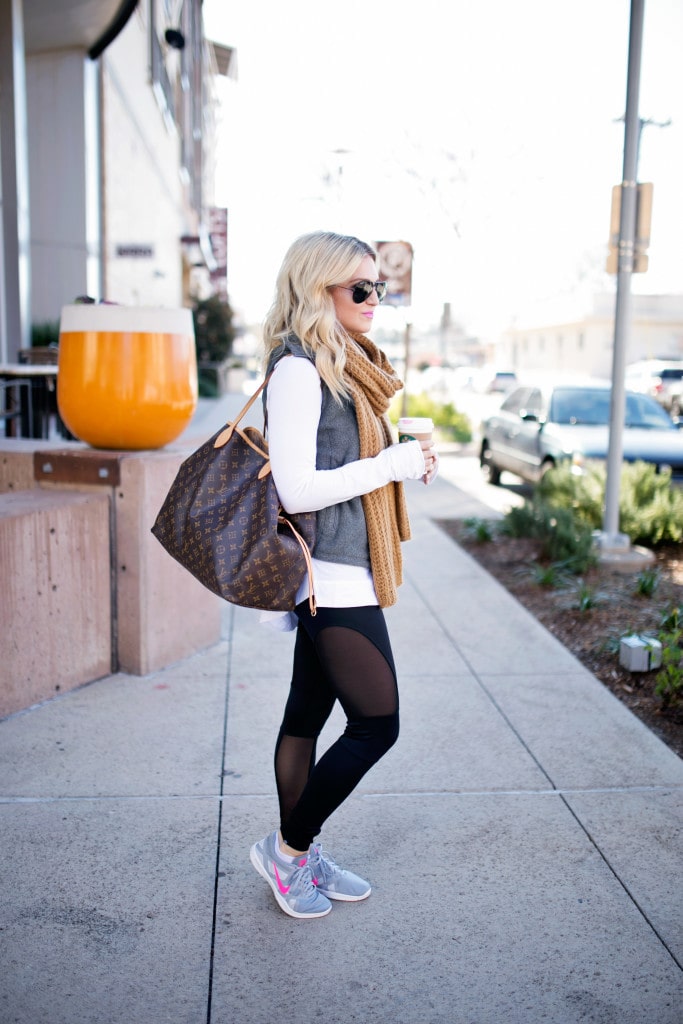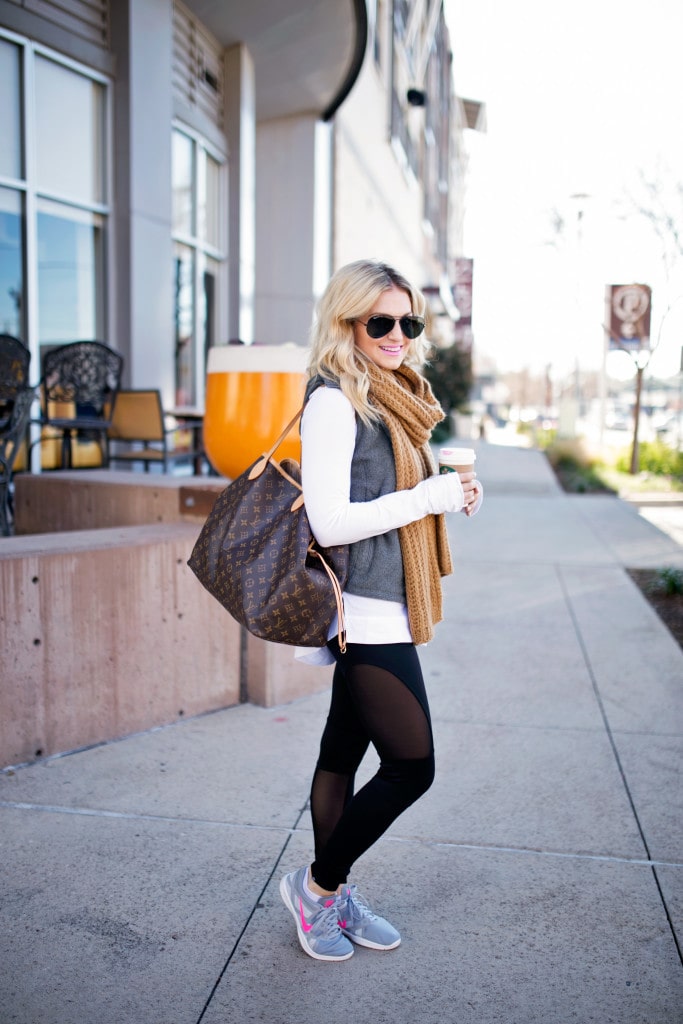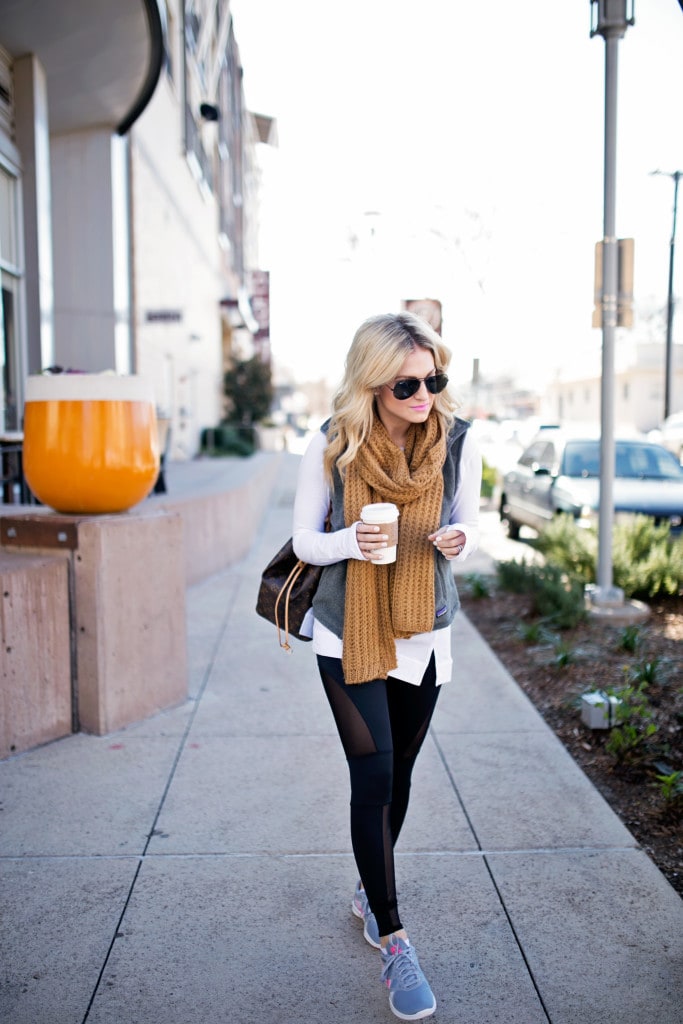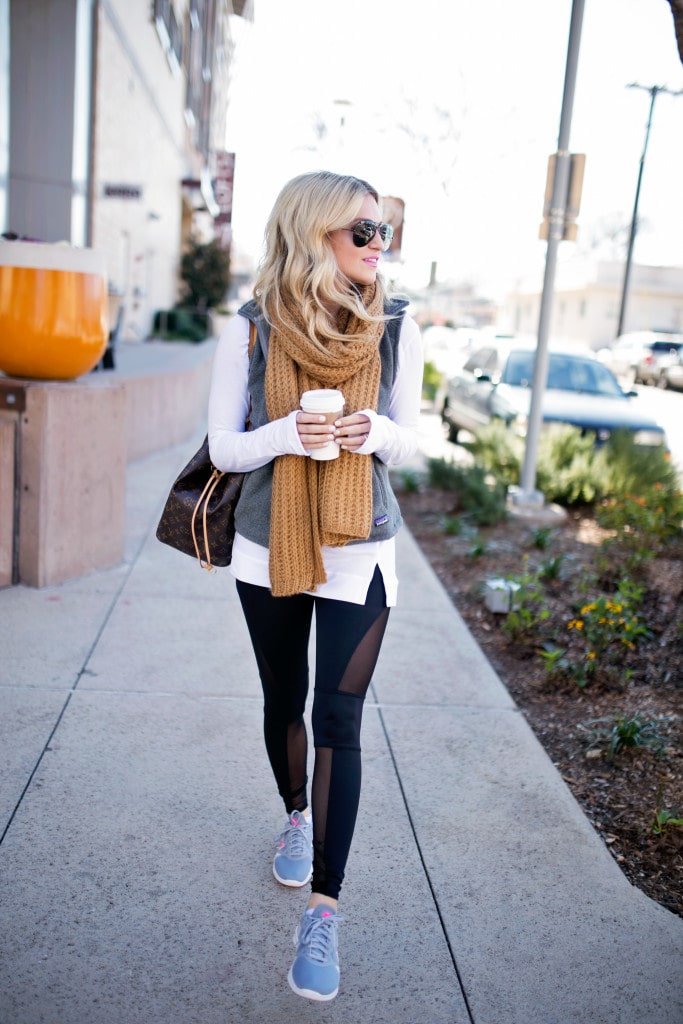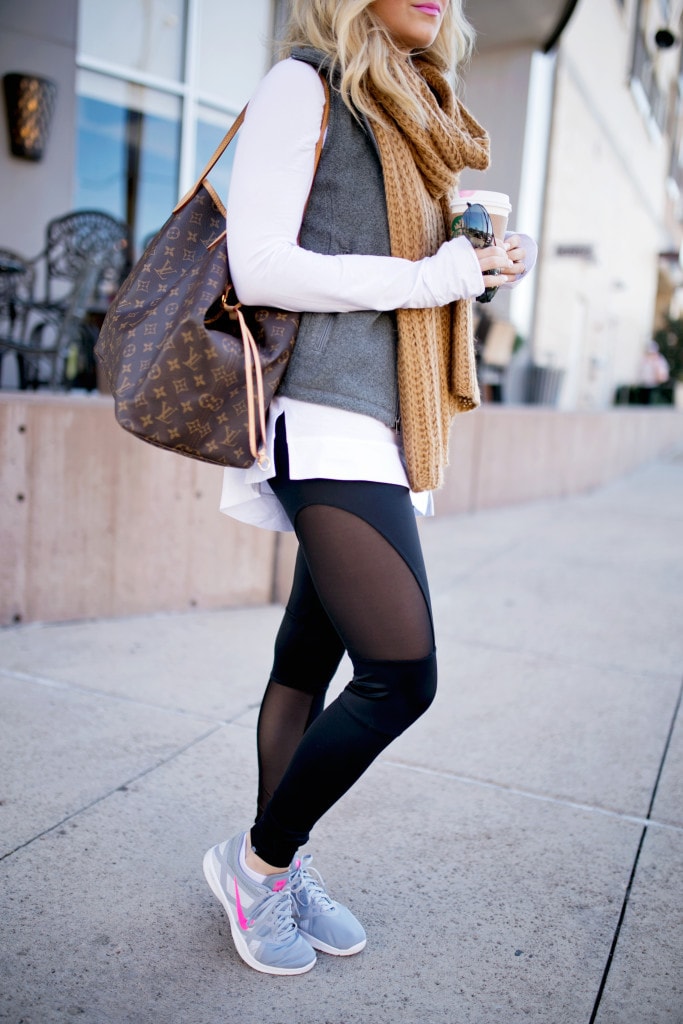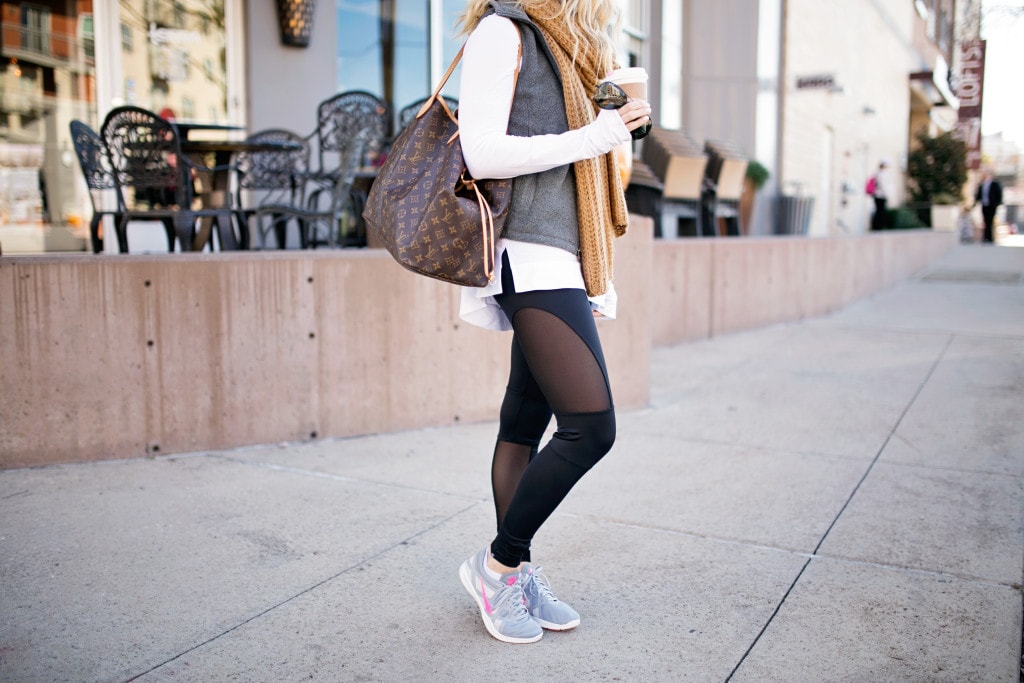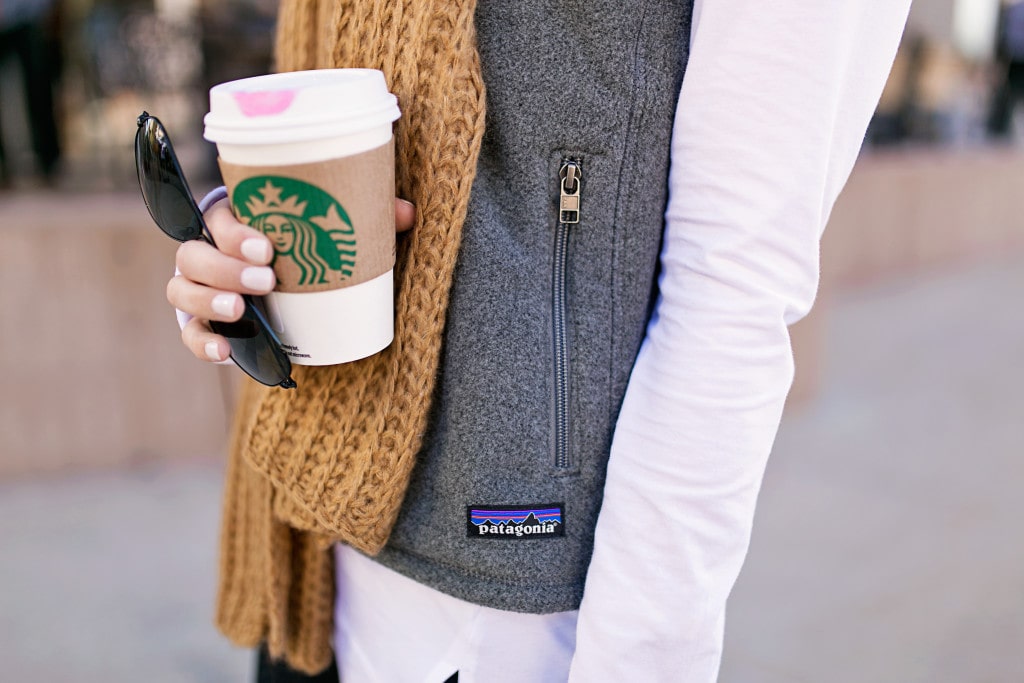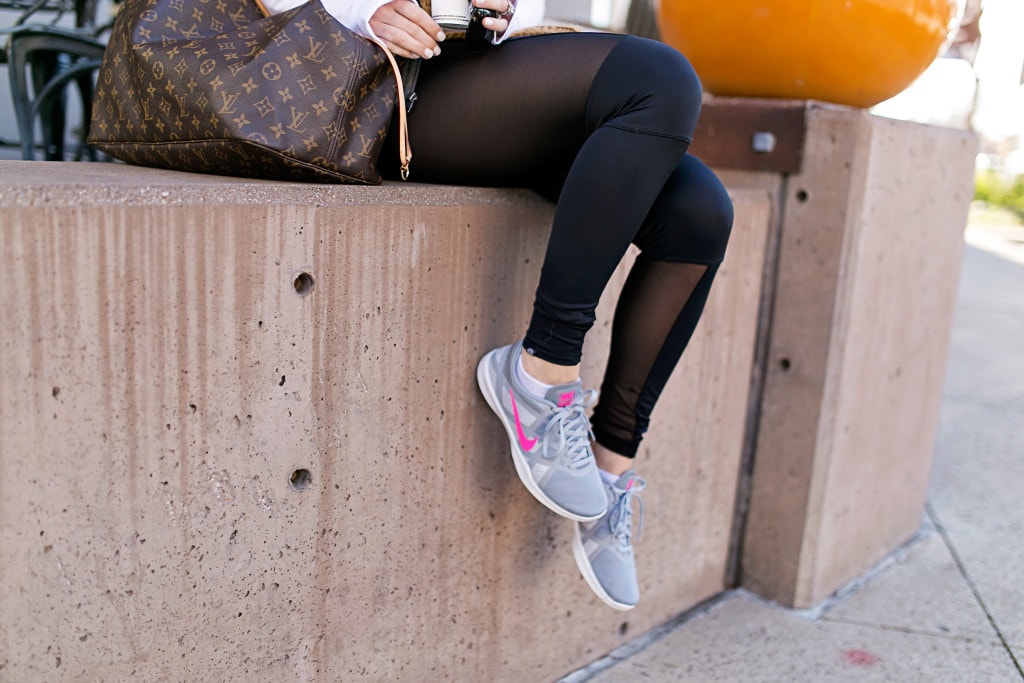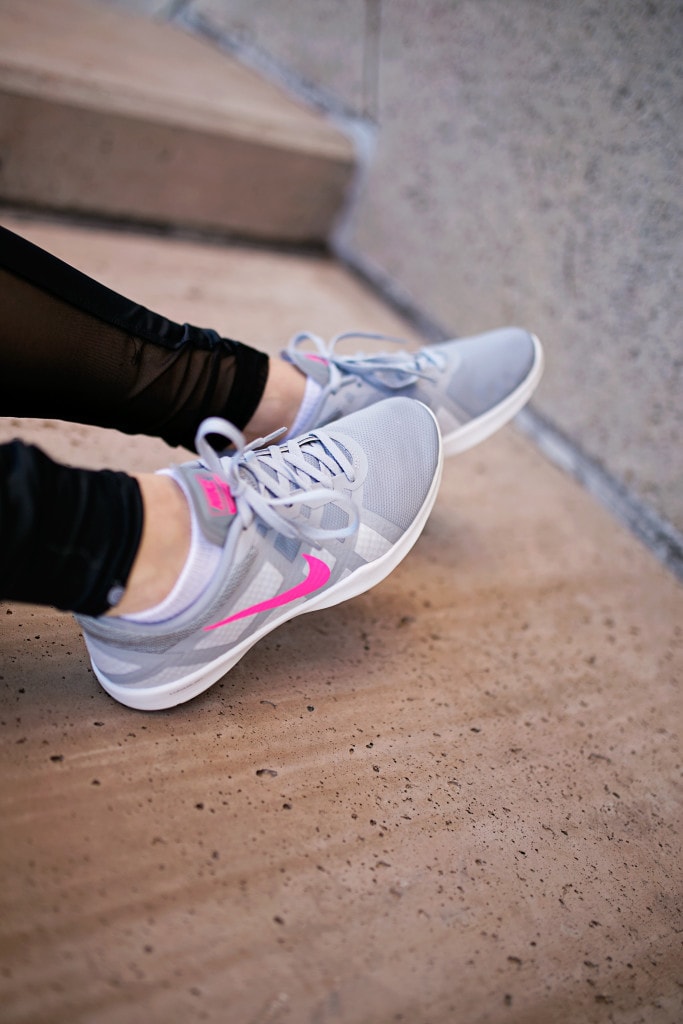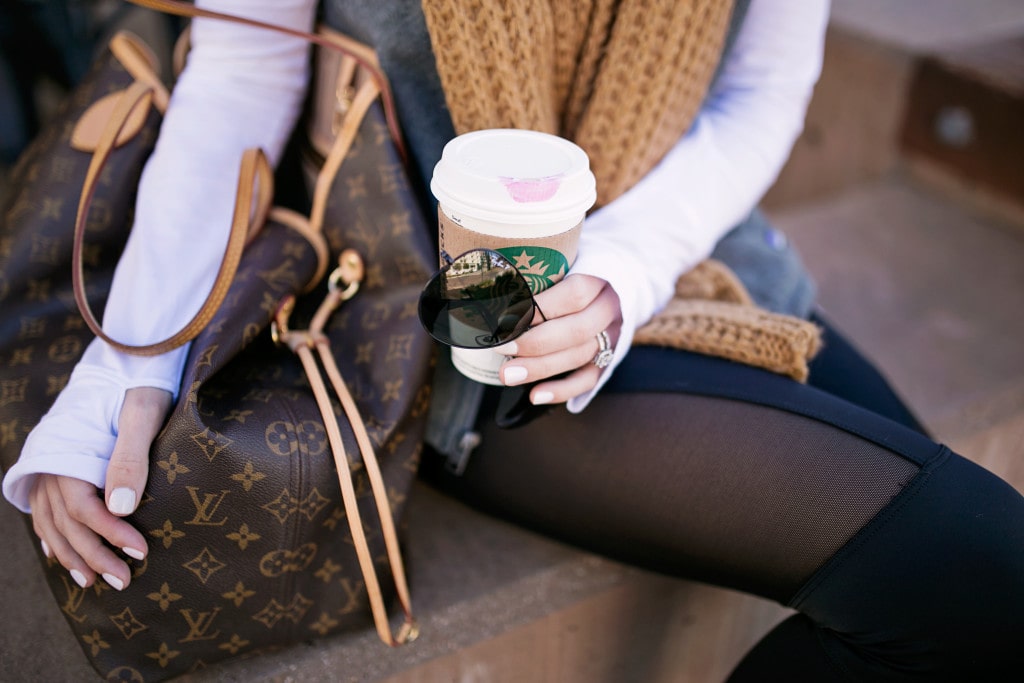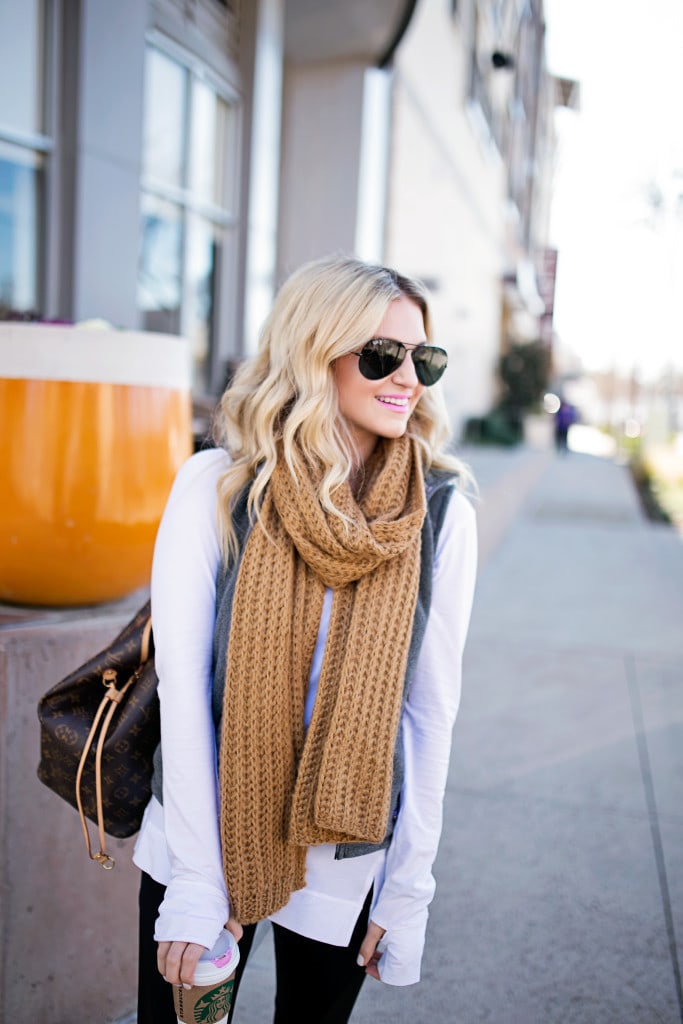 Scarf: Zappos [c/o] | Top: Zappos [c/o] | Leggings: Zappos [c/o] | Vest: Zappos [c/o] | Shoes: Zappos [c/o] | Bag: LV, Similar | Lipstick: #7 | Sunglasses: Ray Ban
Photography by: Angie Garcia
---
I'm 99% sure one of Newton's Laws is left out of textbooks.
"Every object about to go into motion [i.e. work out], will most likely have plans right after."
I'll work all day, think I have a free evening, sign up for a class at Zyn22 and get a text 2 seconds later, "Hey, everyone is going to dinner to celebrate so and so's birthday."
And with New Year's Resolutions in full swing, chances are you are starting to feel torn. Do I skip a workout? Do I go to yoga and then dinner with my boyfriend? What's the right way to do it?!
Instead of skipping, I've tried to learn a few ways to be able to run around in public without feeling insecure. Dress well and prep well:
Scarves hide a lot of sins. They draw attention away from no makeup, they conceal dirty hair and they also conceal your lululemon tank top. In these winter months I try to keep one in the car with my spin shoes that way if i have to run to the grocery store or Starbucks after I don't have to show off I just left the gym! This one is from Zappos and I love how soft it is!
I don't love a lot of dry shampoos. They put a nasty film on your hair and honestly, I'd rather just put my hair in a top knot and spritz with hair spray than add a cakey film to my strands. BUT I do love Living Proof Dry Shampoo. Most dry shampoos conceal oil, but this one actually cleanses your strands so you can rock messy waves after yoga!
Okay, that title sounds ridiculous but hear me out. If there is one beauty item in the world I can't live without, it is this. The Donna Karan deodorant has spoiled me so much that whenever I run out and try to use something else [ahem, my husband's, oops] I cringe. My body legitimacy reacts with nausea as bad as the stomach flu.
Think I'm crazy? Try it. You could run a marathon and you'd still probably smell better than Giselle as long as you use it before.
I'm not sure if you saw The Bachelor last week [they did this random scent science test and Ben sniffed the girls after working out. Who knows why?! #ratings] but the entire time I kept thinking, "If they have on the Donna Karan deodorant they are good to go." haha!
Anyways, it is $25 which seems ridiculous, but it lasts for 4 months. And I'll pay $6.25 a month to smell like I never work out 24/7. #KnowWhatImSayin'
On to the dressing part! You don't have to rock your 7-year-old sorority tee to the gym every day. Investing in a few pieces, like new shoes or a vest for after the gym, helps you feel a little more confident and I think push a lot harder in the gym!
I got to collaborate with Zappos for a fun workout look and when I shared this outfit on snapchat a week ago I got so many e-mails! I was really excited y'all loved these leggings as much as I did! I also shared on snapchat a few weeks ago that they are my go-to for finding workout shoes. That's actually how I found out about Zappos years ago. I love Nike sneakers for running around, but I hate that they sell out in 14 seconds on every site. There is never enough stock or my size. But Zappos always maintains a great level of inventory with their workout gear [specifically Nike shoes!] so you can find whatever you need. If you are ever worried about sizing they also always have free shipping and free returns. Everything I'm wearing in this look is true to size, as well, so I didn't have sizing issues!
Hit the gym like you're going to dinner after and be sure to prep your gym bag with the right items! I truly believe this is a huge key in keeping you on track so you don't have to sacrifice your social life or your personal health. Do you have any tricks for being out and about after a workout?!

In partnership with Zappos. All opinions are my own. Thank you for supporting the brands that allow COF to operate full-time.