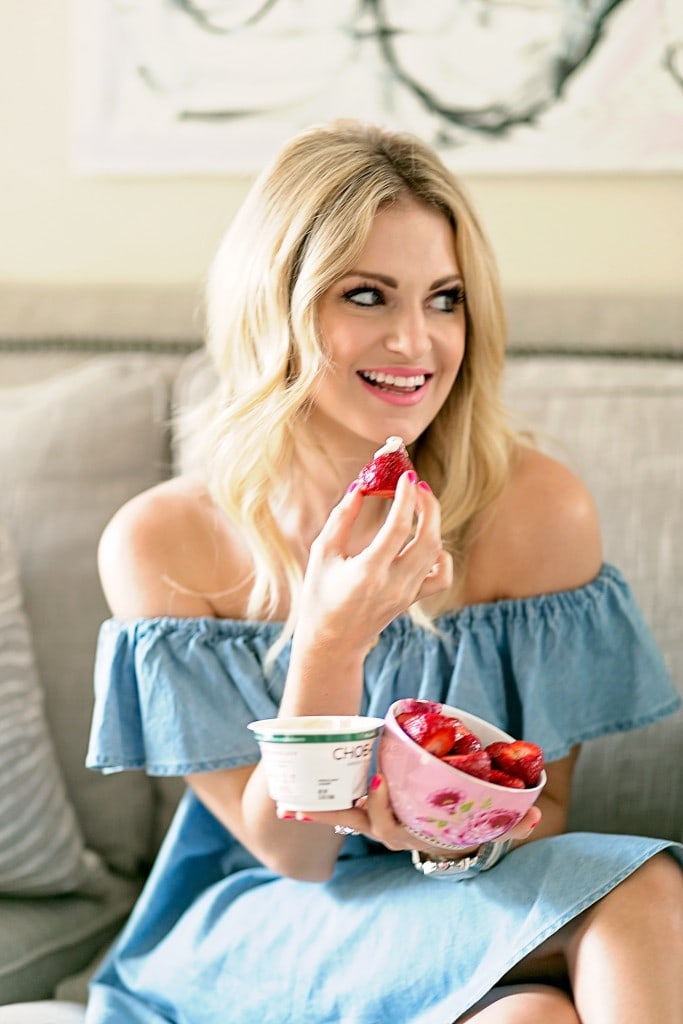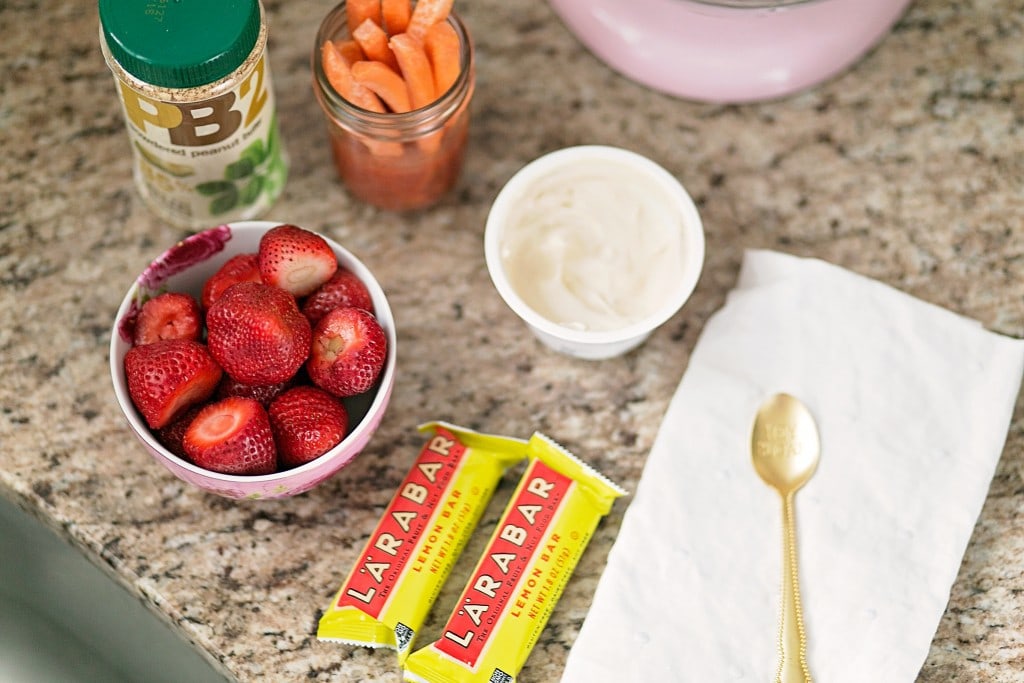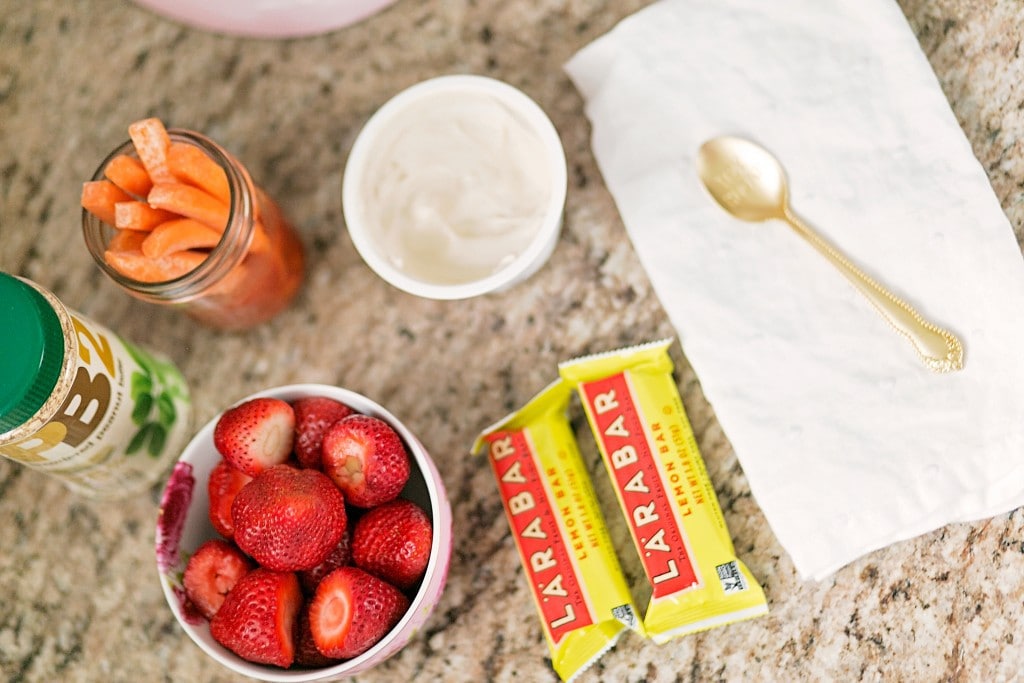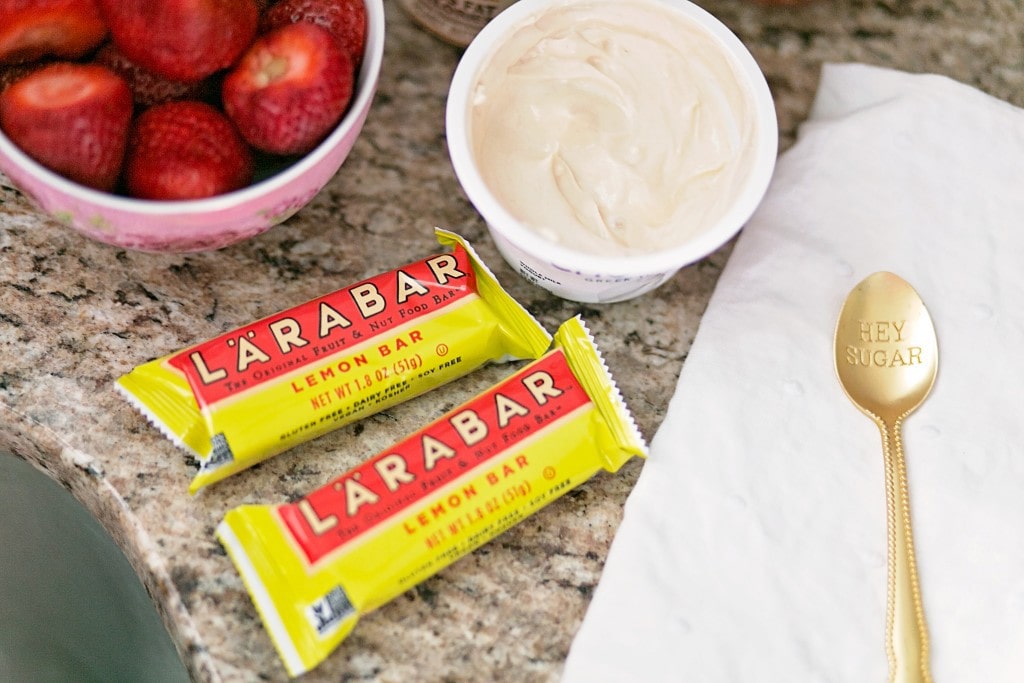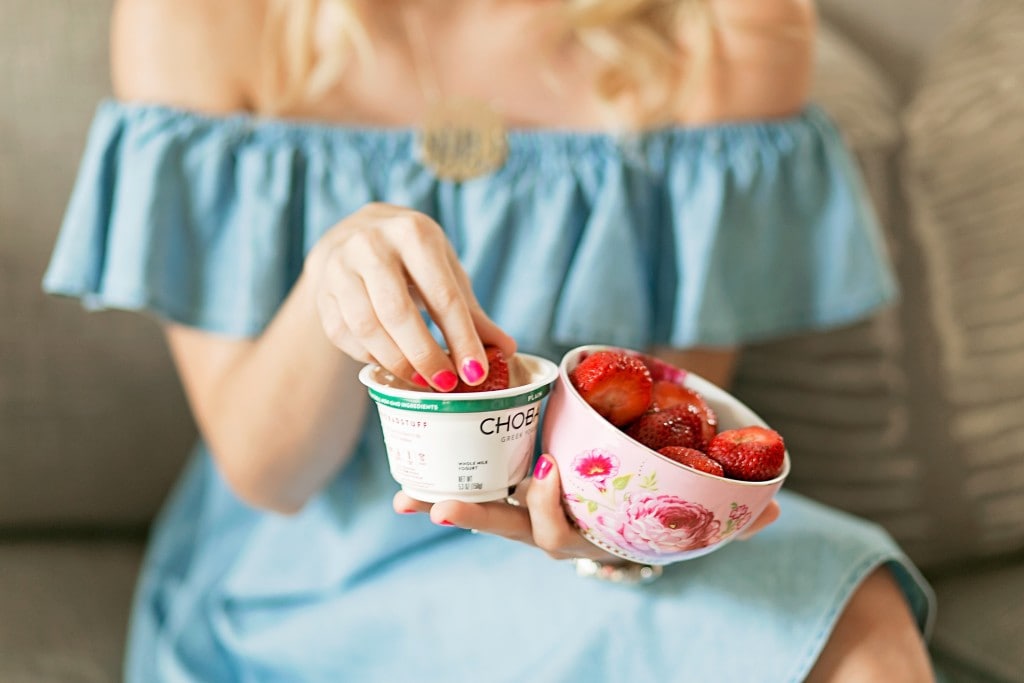 Dress: Chicwish [c/o], Similar | Necklace: Similar | Lipstick: Nymph| Bowls: Similar
Photography by: Angie Garcia
---
One of the hardest parts of working from home is the snacking! I try my best to only buy perishable snacks [fresh fruits and veggies] but if my savory tooth had its way I'd eat salt & vinegar chips all day! 😉 I honestly can't buy them! haha.
It's so easy to not have time to sit down for a meal so grabbing a snack is what keeps me going through work and keeps me focused. I keep 3 go-to snacks on hand because I know they are much better options and fill me up as opposed to eating pieces of salty cardboard!
I thought I'd share the 3 and why I like each because they are seriously so quick to make! I'm not a huge nut person and so I don't love things like trail mix or raw almonds. I have tried my hardest, but I think the most important thing is finding healthy snacks you enjoy because then you won't binge on something else to make up for lack of flavor!
1. Strawberries & PB Yogurt
Whenever I have a sweet tooth this is what I grab! I love to cut up fresh strawberries and mix a bit of PB2 in with plain greek yogurt. PB2 is a healthier alternative to peanut butter without all the sugar and is great for making smoothies, etc. It's a powder you just find in your peanut butter aisle and I mix it in with plain greek yogurt to take away the tartness. This seriously tastes like I'm dipping strawberries into peanut butter whipped cream!
2. Larabars
When I did Whole 30, I got a lot of e-mails asking about Larabars. People were concerned about the sugar content, and so I got a little bit worried. I thought, "Wait, is Whole 30 leading me astray?!" Two of my closest and dearest friends are nutritionists so I asked them if they were fine. They said they are one of the best choices of a bar! The sugar comes from dates so it's a natural sugar and just like eating strawberries or cherries. It curbs your sweet tooth as well. What you may want to watch out for are sugary granola bars that are filled with things like maple syrup. I also only purchase the Whole 30 approved ones because some have chocolate in them and that's added sugar. See list here. My favorite is the Lemon Bar! It has the best texture to it [I think!] and the lemon keeps it tart and fresh.
3. Carrots & Salsa in a Mason Jar
I'm a salsa feign. Growing up in Texas we are spoiled with good perfect Tex Mex and salsa is more of a staple than bread and butter. However, I make a point to not buy tortilla chips because I'd eat them all day long. Instead, I put salsa [I love to make it homemade, Pioneer Woman's recipe is amazing!] in the bottom of a Mason Jar and place carrot sticks on top. This is a great snack you can take in the car and munch on while you get to work.
Do you have any go-to healthy snacks?! I'd love to try them!
And what's better than talking about snacks? Sales. Today Shopbop is doing a Designer Sale with an extra 25% off! I'm talking you can get these leopard flats that feel like little sassy pillows on your feet for the price of two margaritas and a taco. Shop the sale here, and enter code DESIGNER25 for an extra 25% off at checkout! I'll pull my picks below!