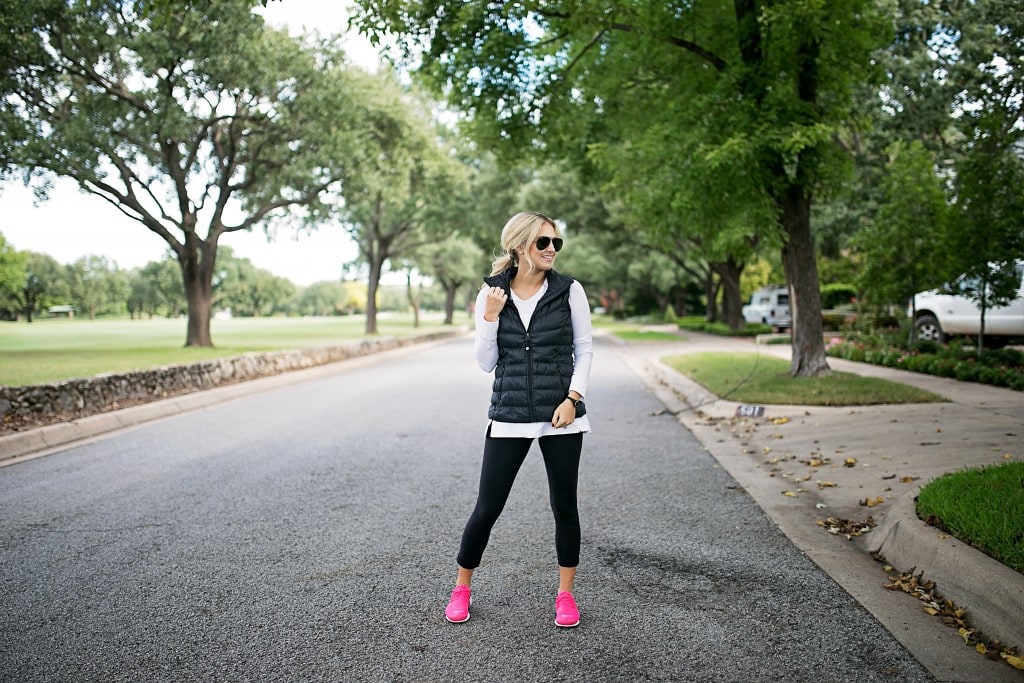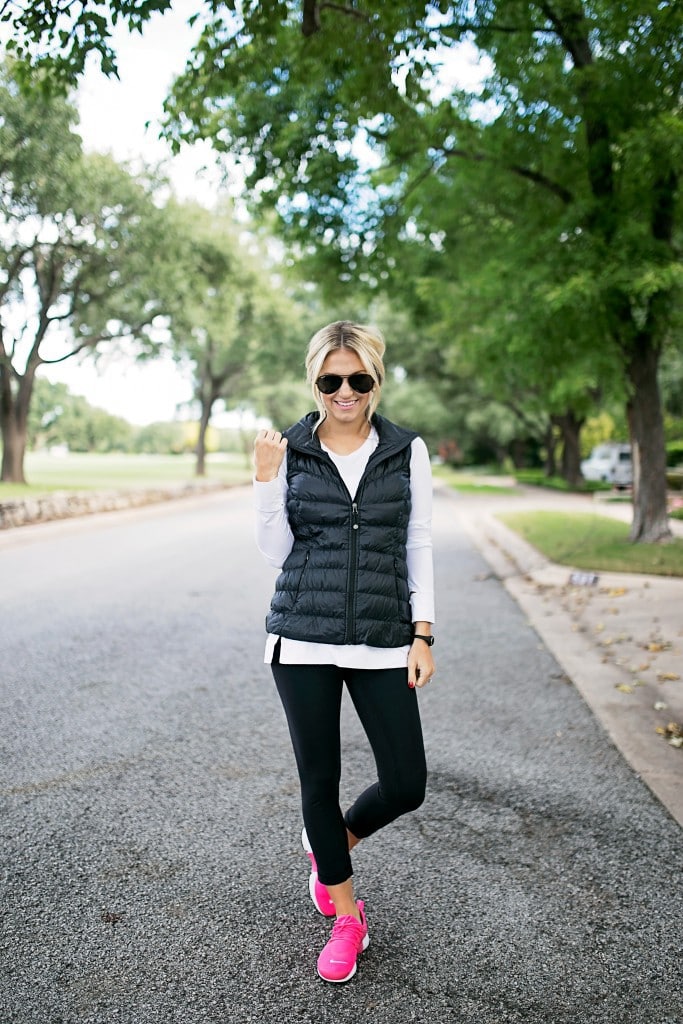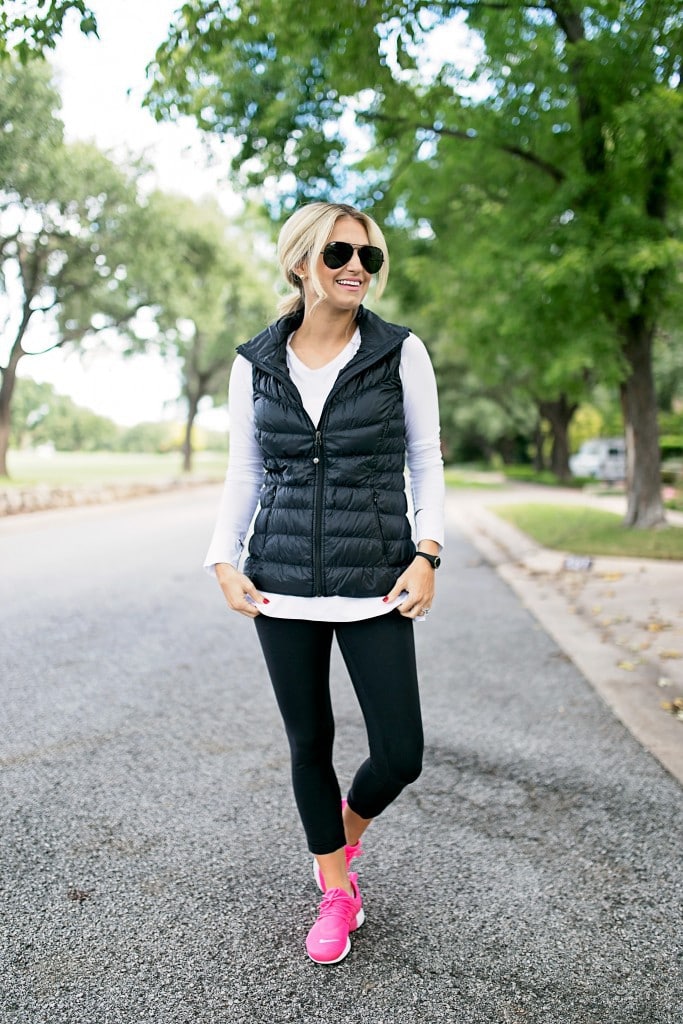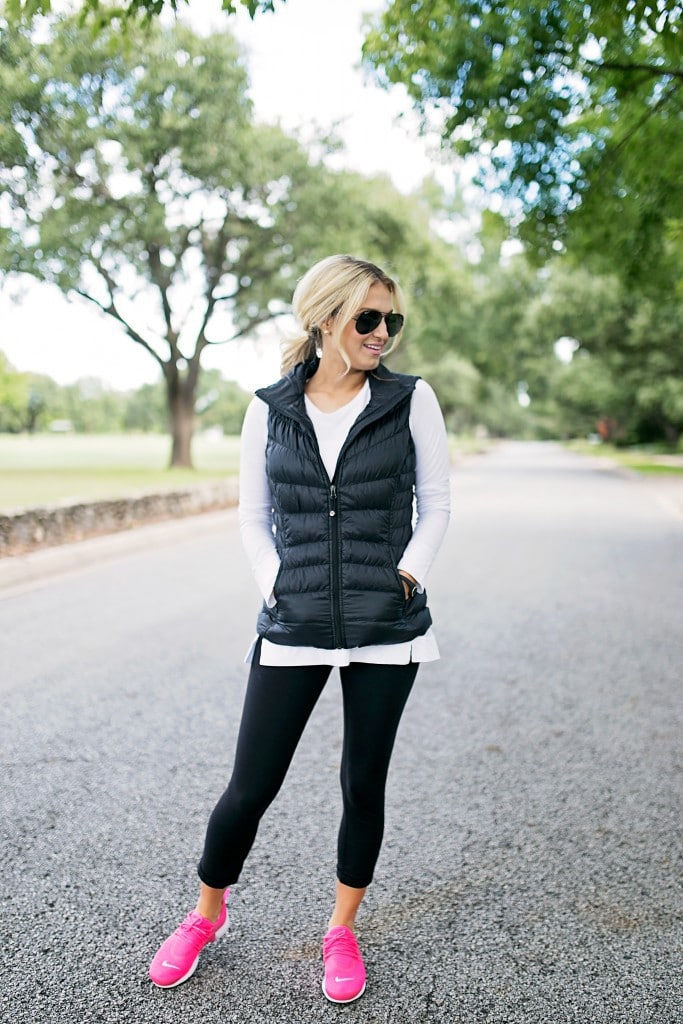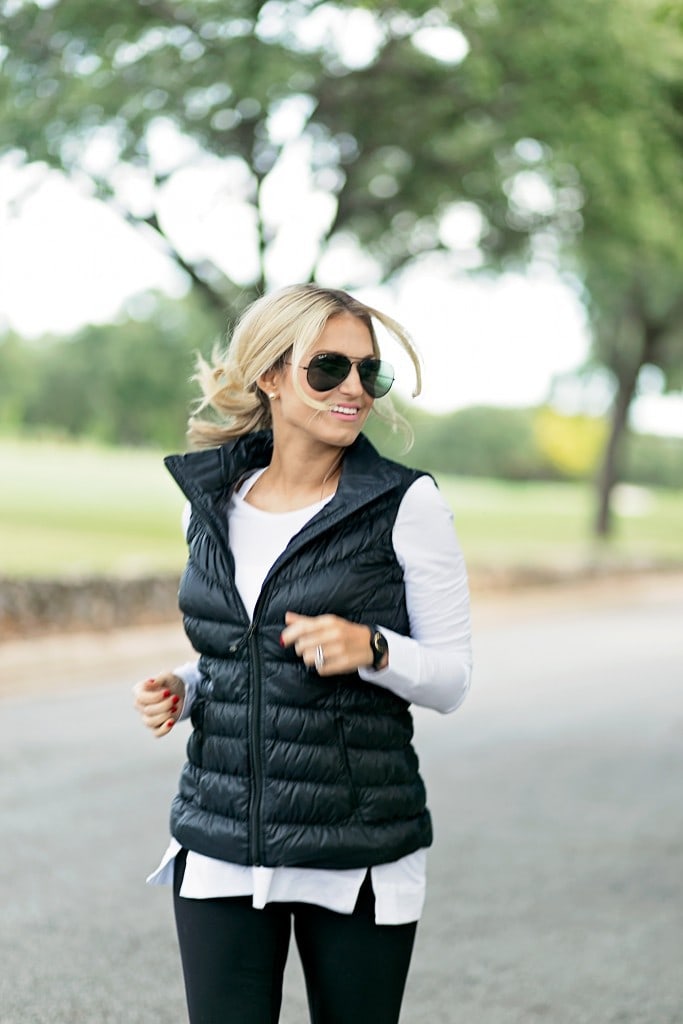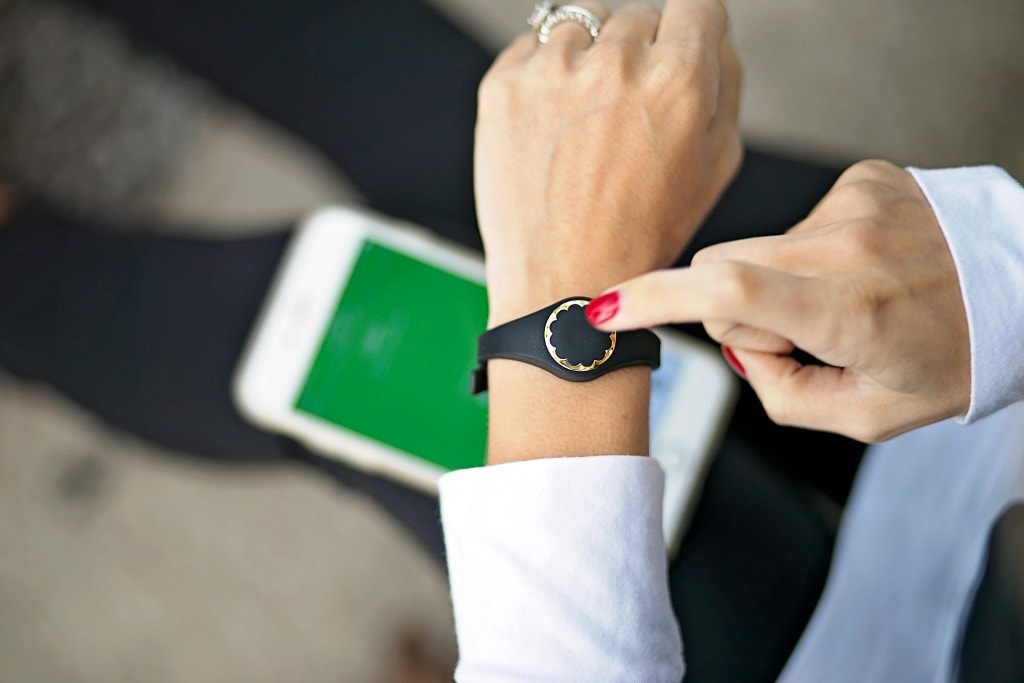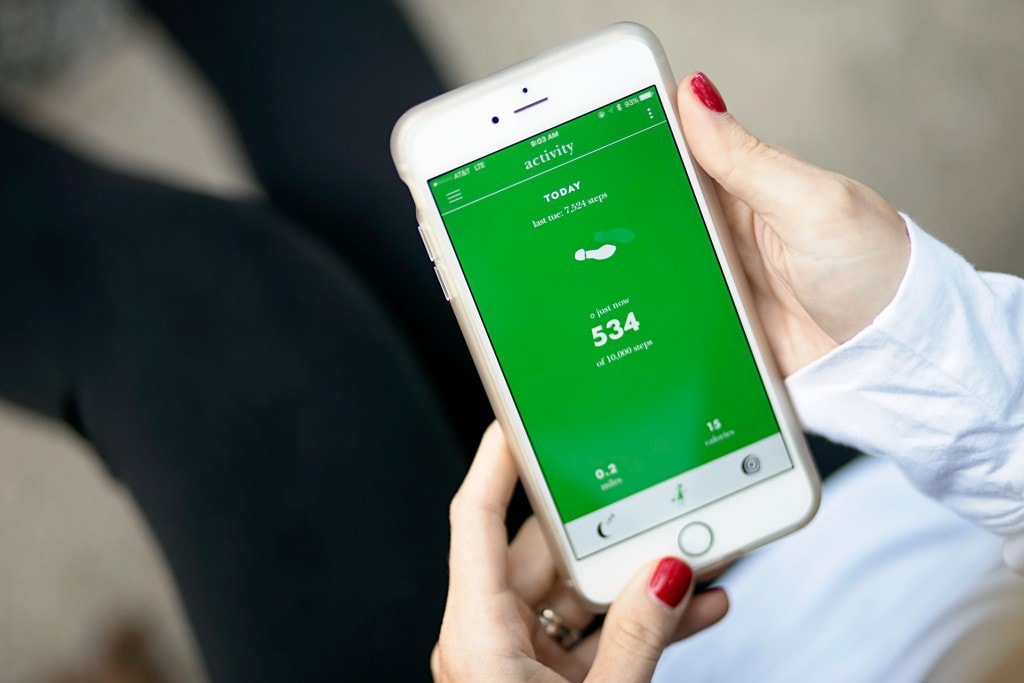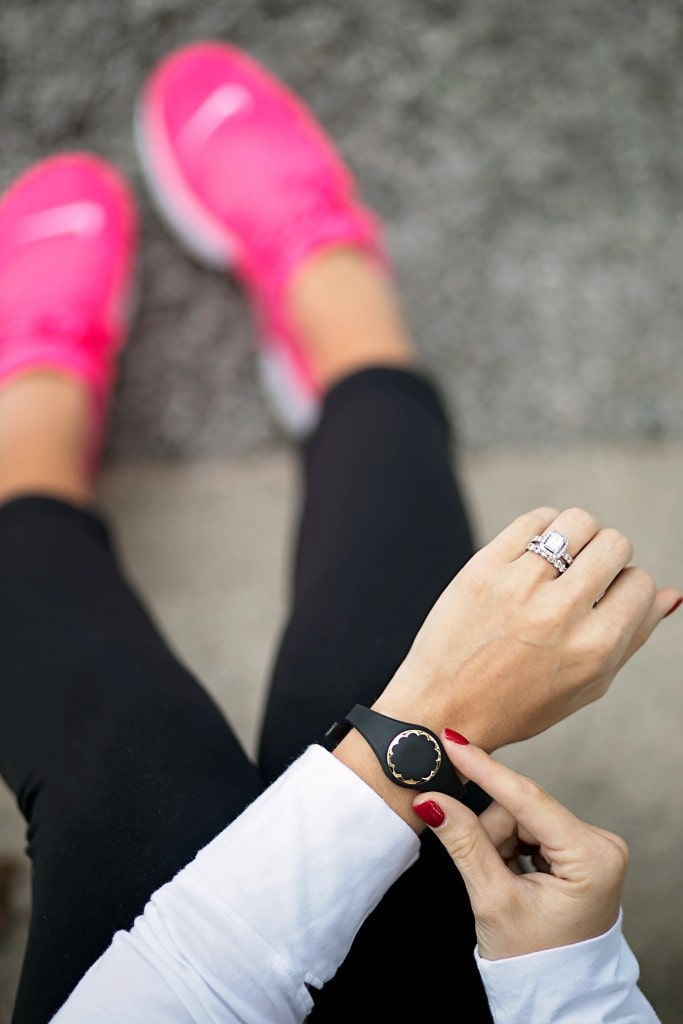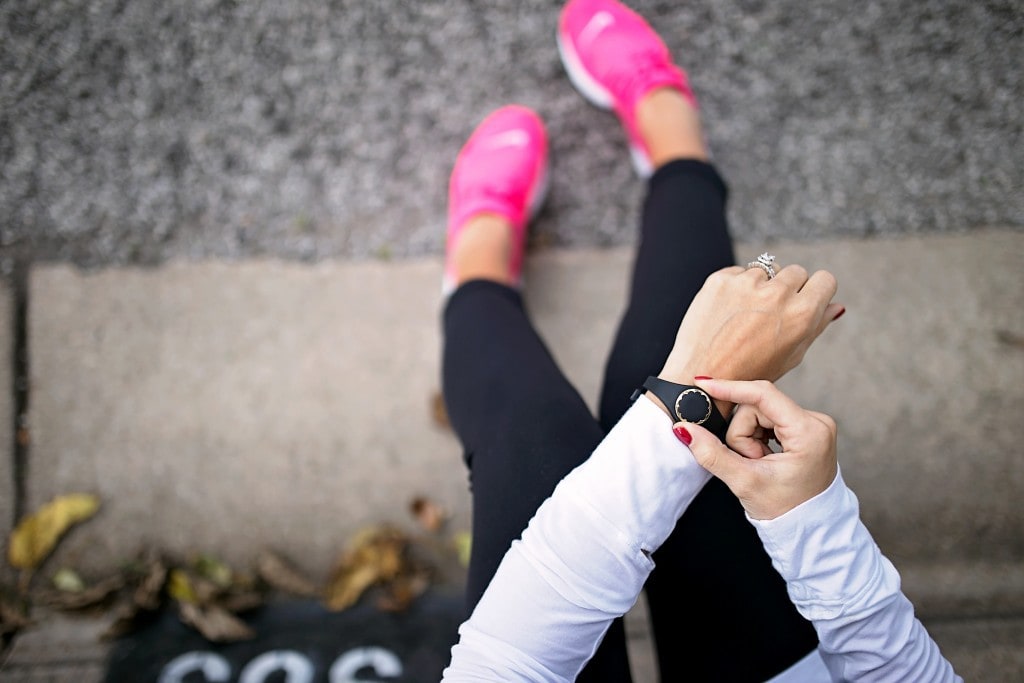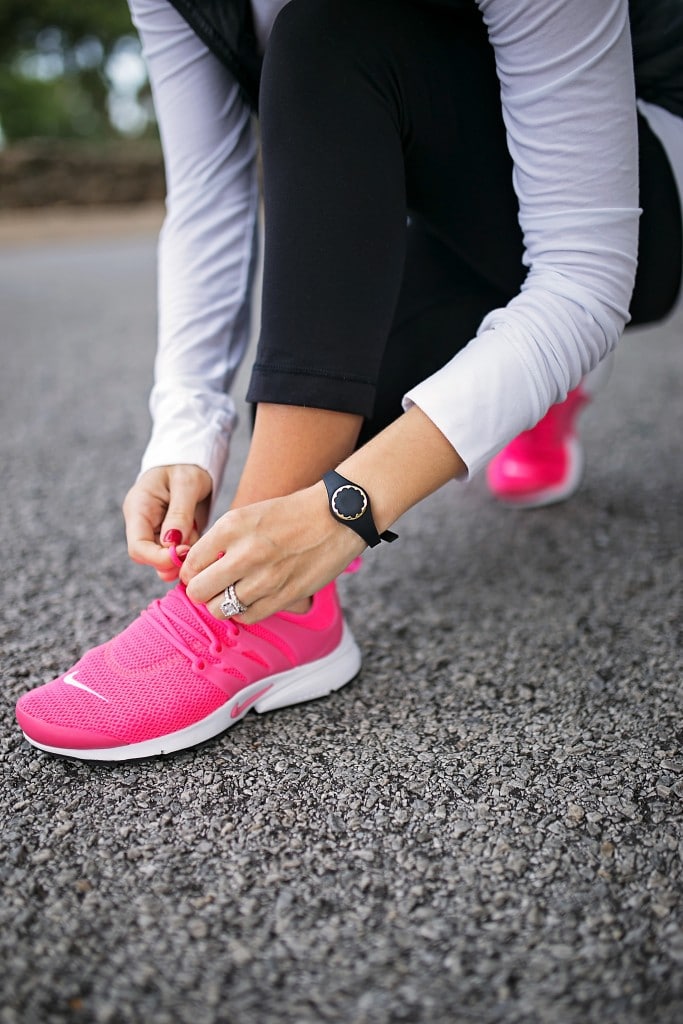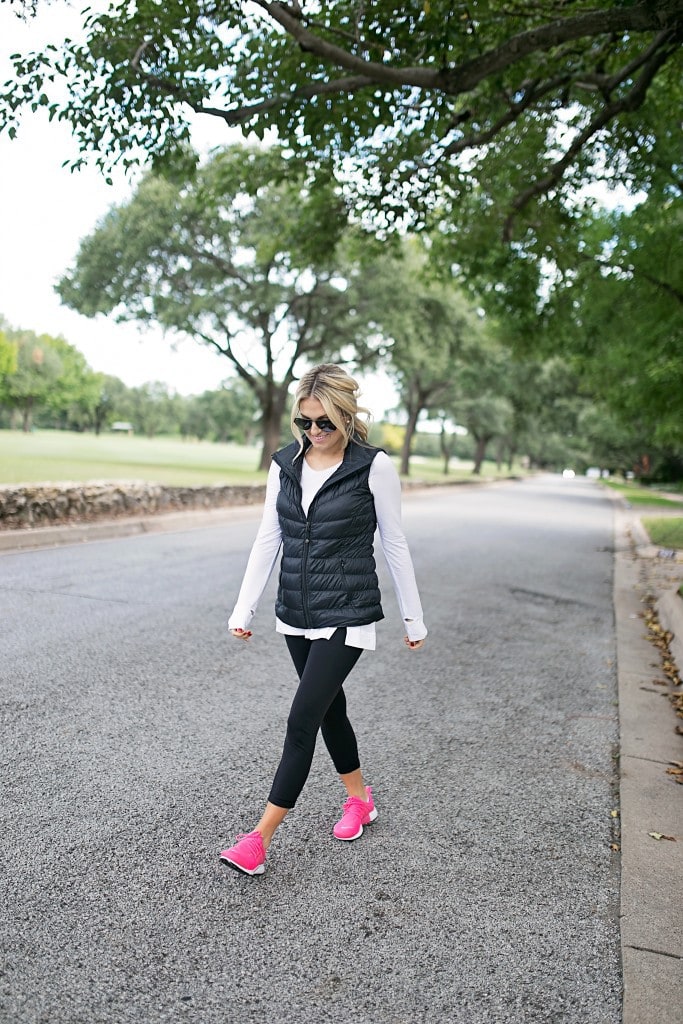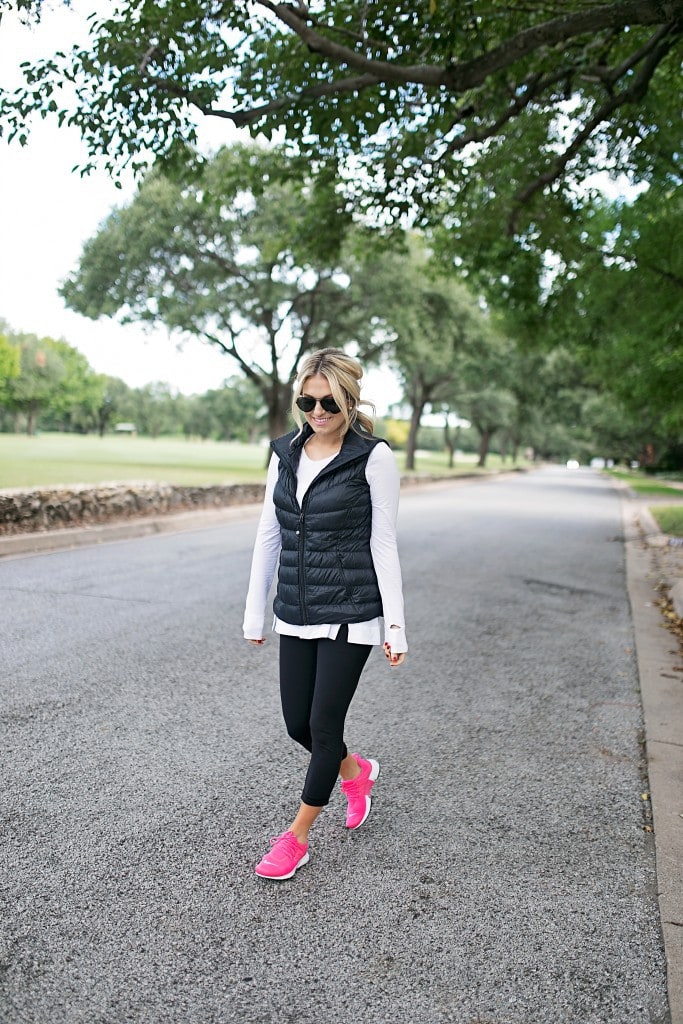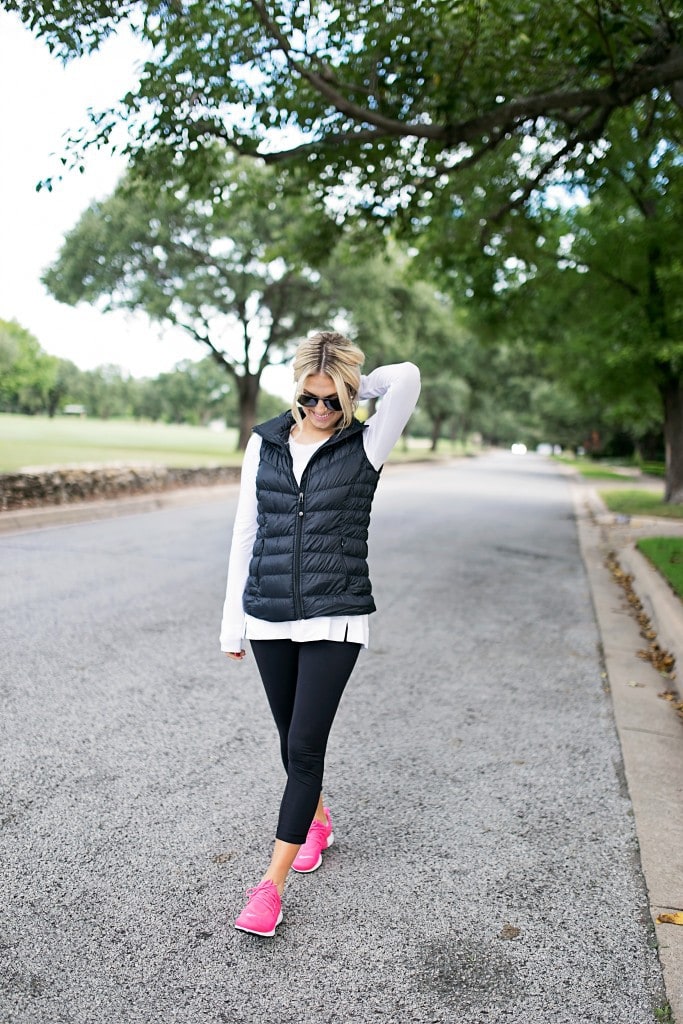 Leggings: Nordstrom | Shoes: Similar, Love These [these were purchased in NYC months ago and I haven't found them online, but if I did I WOULDN'T recommend them! haha. They are only cute for running errands, if you do anything active in them you get blisters.] | Top: Similar | Vest: Athleta, Similar | Tracker: Kate Spade [c/o]
Photography by: Angie Garcia
---
Before I was pregnant I always had two polar opposite views of working out:
Either I needed to be pushing myself with a routine every day and never missing or whatever I was doing wouldn't work.
or
I needed to just find something I enjoyed and that would be better for me than pushing myself too much.
And while I think it's good to have a mix of both mindsets [to some degree! I want to push myself and enjoy what I'm doing] I've definitely had a different view this pregnancy. For me, I've wanted to just be active because if I enjoyed what I was doing, I would do it more. The more I worked out, the better it was for the baby. However, this definitely isn't the time to pick up a new work out or train for a half marathon that I wasn't training for before.
I found interval workouts on Pinterest for the treadmill and I've enjoyed doing them so much! I thought I'd share an example one today so you could try one day at the gym! Buying An Elliptical might also ignite some spark for your workout sessions.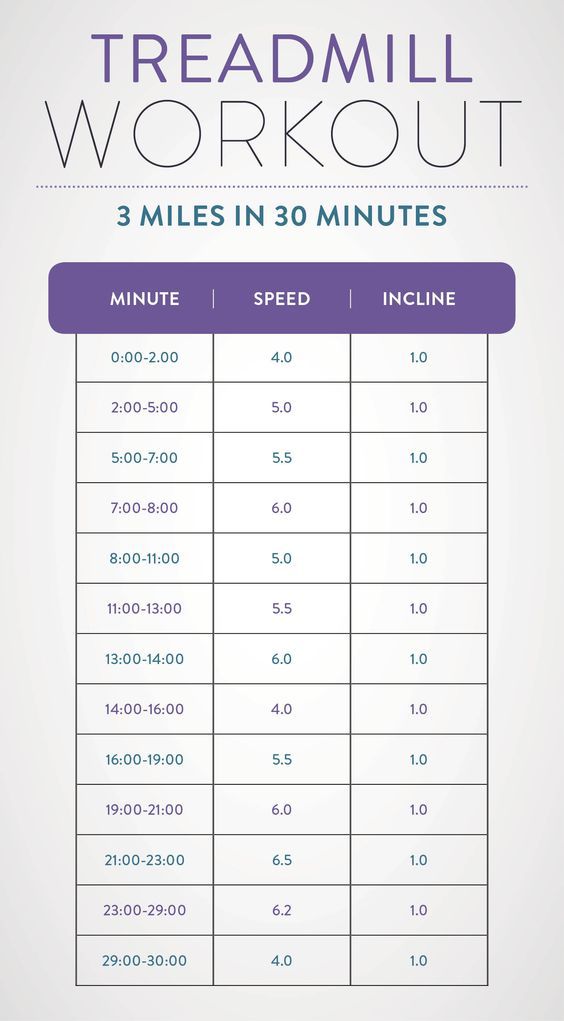 via: Get Healthy
Here's an example if you don't want to be changing your incline a lot because for some people they seriously lose interest if they are constantly hitting buttons.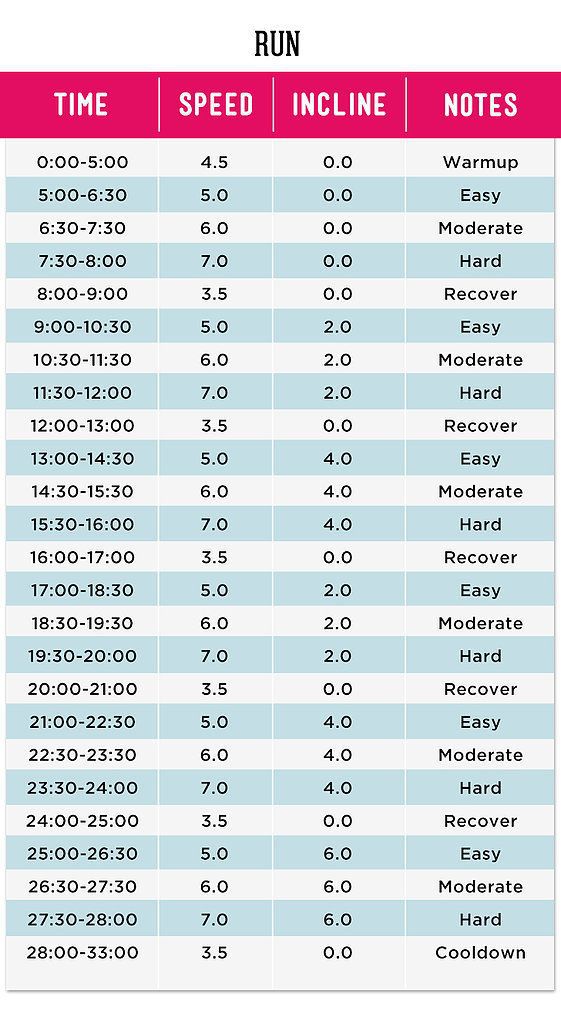 via: PopSugar
I love to constantly change my incline so this is one more similar to what I do! However, because I'm pregnant I actually do this for an hour and just space out the intervals so I'm not switching as much with a lot of intensity.
It's so nice to break up your workout with walking, walking on an incline, jogging and sprinting. I never get bored because I'm constantly thinking about what I need to do next and what times and inclines I'm looking at.
Another thing I have added to my pregnancy is just having a goal with steps each day. I've had a Fitbit for years and worn it off and on, but the only thing that bothered me was charging it. I'd wear it for a week straight, then take it off to charge and forget to wear it the next week. I'm also a big girl and can lower my pride to admit, I just didn't think they were all that cute. Fitness isn't a fashion accessory, but it sure doesn't blend with my arm party. I saw Kate Spade was coming out with a tracker and I got SO excited. First off, this has a battery and doesn't require to be charged. I've had it for about a month now and it's been great, so I'm not sure how often you would switch the battery, but it's so much easier than taking off to charge and forgetting. You just sync it with the Kate Spade App and it tracks your sleep and steps. It's also a little fun and counts down until your next celebration [perfect wedding gift!] and you can control your music, etc. I got the black with the gold scallops but I also love the kitten ears one!
I give myself a goal of 10,000 steps a day [clearly these photos were at 7 a.m. when I'd only hit like 500 steps! haha] and if that's through my local health club in Perth, a long walk with Paul or a crazy day of errands I'm content with it. It's honestly helped me to have that balance I need for pregnancy because you don't want to "push" yourself to go to the gym if you're exhausted, but you also don't want to park it on the couch every single day. I wore this in NYC when we would run around and I was so happy because I would hit like 18,000 steps a day and so I was like, "It's fine, babe! We need to get ice cream! I hit 18,000 steps. ICE CREAM IS REQUIRED." 
I definitely want to do a meal post on what I've been eating during pregnancy, I just need things to balance out for a bit so I can get a typical schedule down! My first trimester I was SO sick, but I also was starving and had to eat. So I would eat maybe one or two big meals a day and then be sick the rest of the day. I think my body was just in shock from working so hard to grow a baby and being depleted from morning sickness. During my second trimester, people say you're starving, and while I'm hungry, I'm definitely not starving-yet! I'm also so impressed with my daughter because she gives me so much heartburn I literally think it's coming through my ears. haha! I mean talk about a powerful little baby. So to balance that I try to eat lots of little meals throughout the day. I might have an apple with peanut butter and fruit for a snack or I also love whole grain waffles with almond butter on them for another. It helps me not get too sick with heartburn after I eat. So once I have a month or so of consistent meals, I'll definitely work on a post for that! 🙂
I'm not sure what workout I will try when I have her, so I'd love to hear what any of you moms did postpartum! I love to take classes, but I'm a little nervous about revolving my workouts around a studio schedule when my life will revolve around my baby's schedule. I also don't like that by the time you drive, take the class, come home it's been almost two hours sometimes. I don't want to be away from her for that long to just be working out. I keep thinking maybe I'll just go back to running because you can mix it with up fast runs and long runs depending upon your baby's schedule. And I love that I can put her in the stroller come spring and she can come with me! But I'm all ears to you moms or even if you just have a quick workout you absolutely love!
Thanks so much for reading, what is your favorite workout right now?!