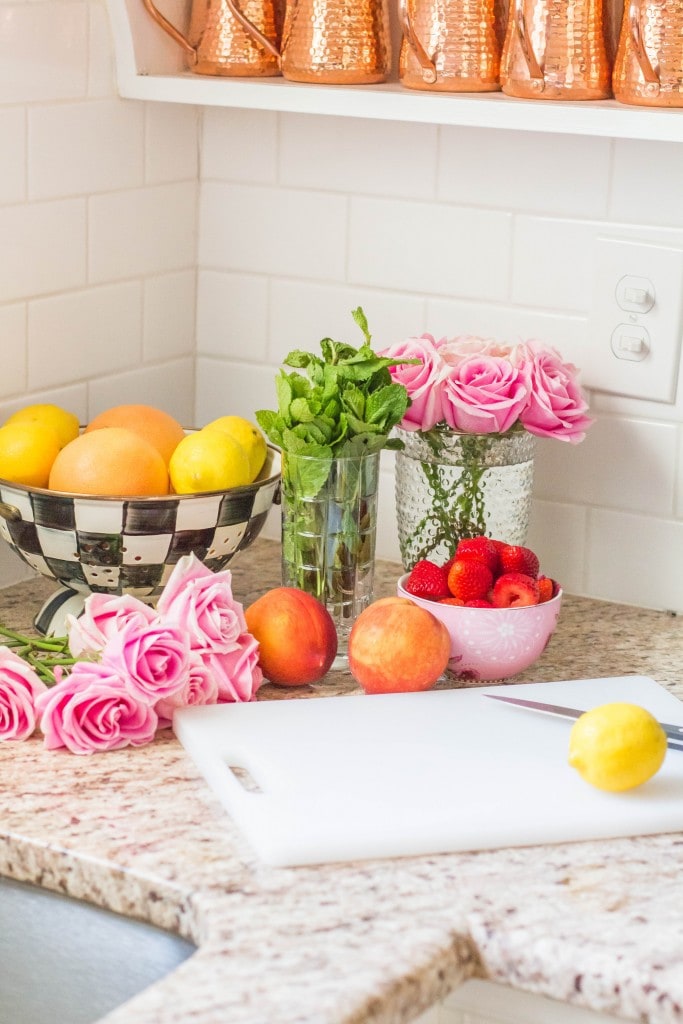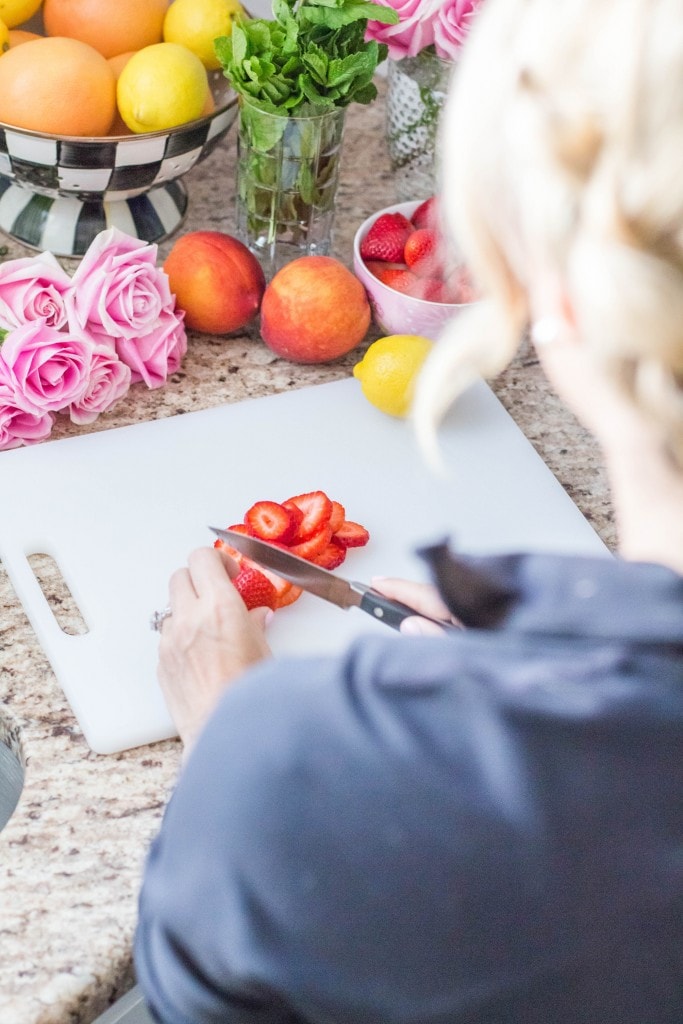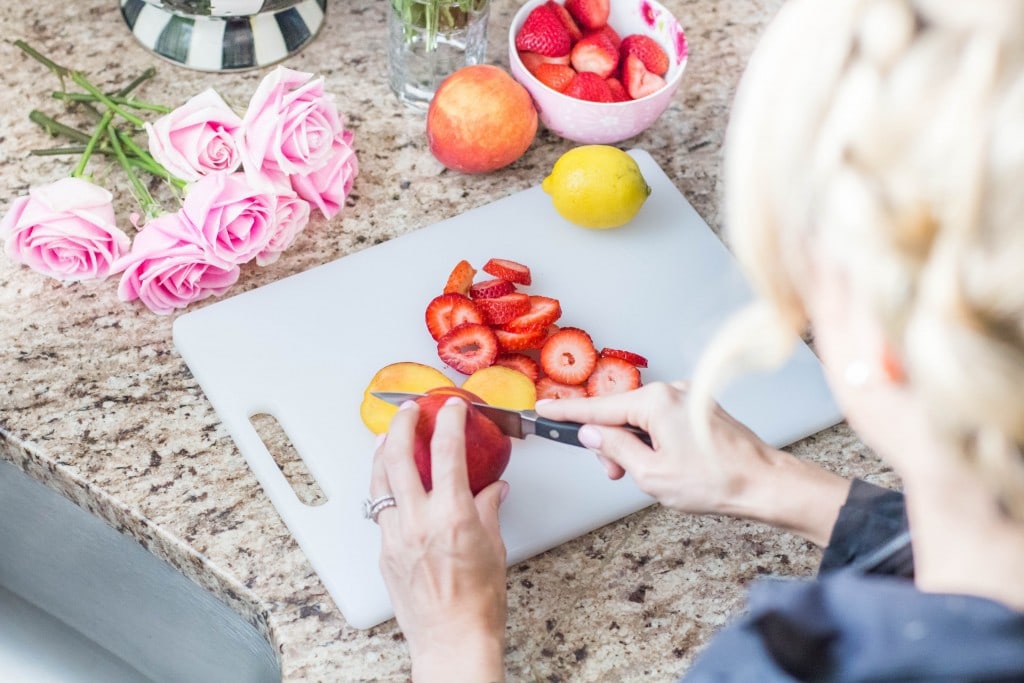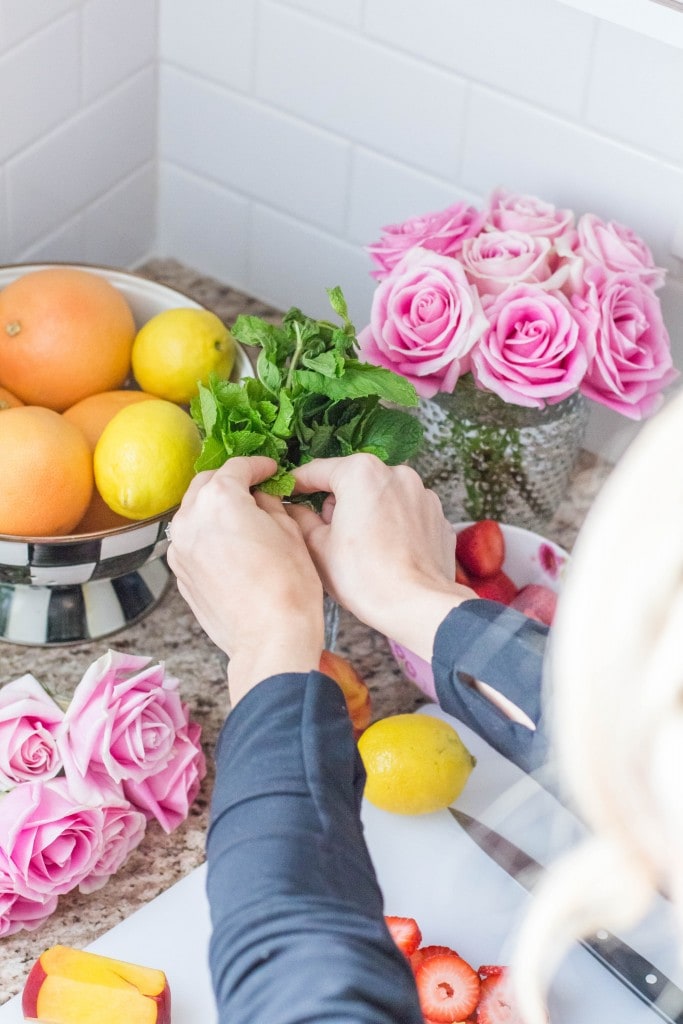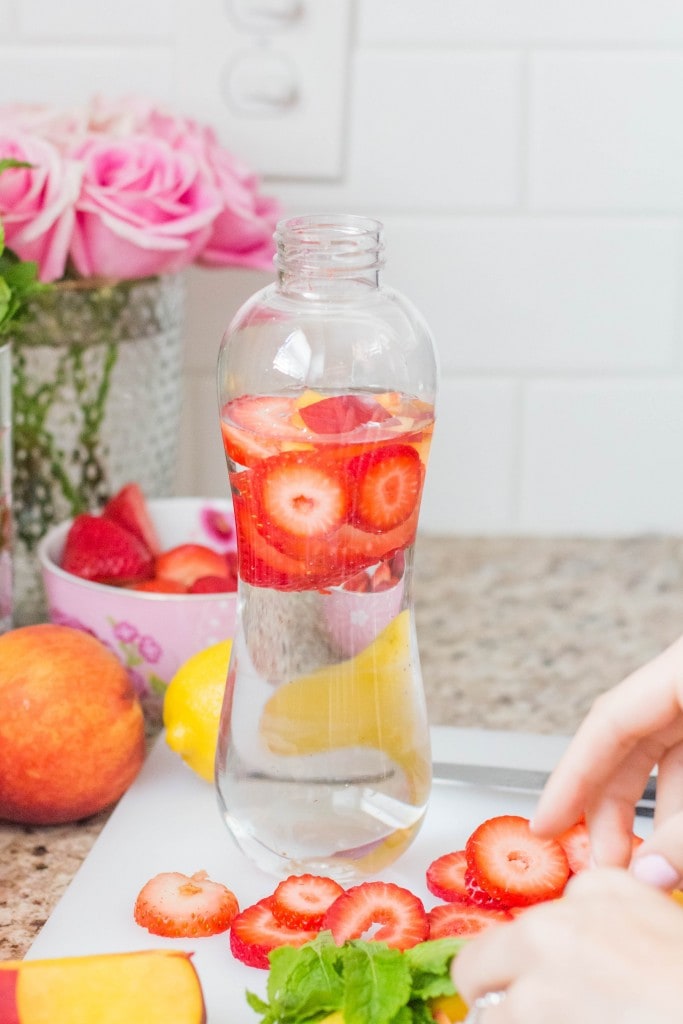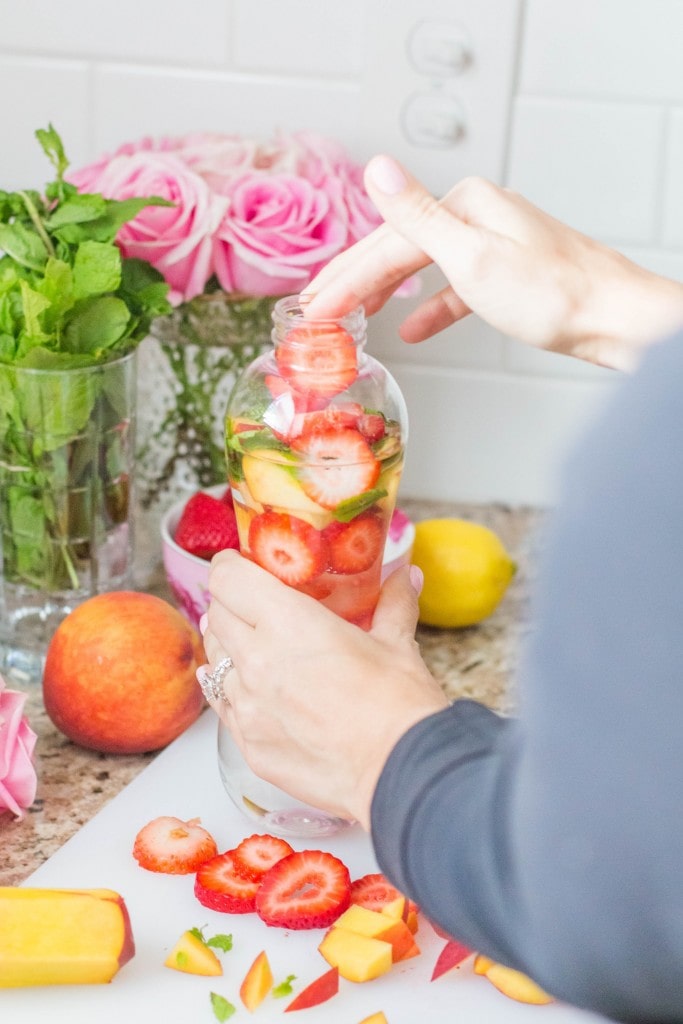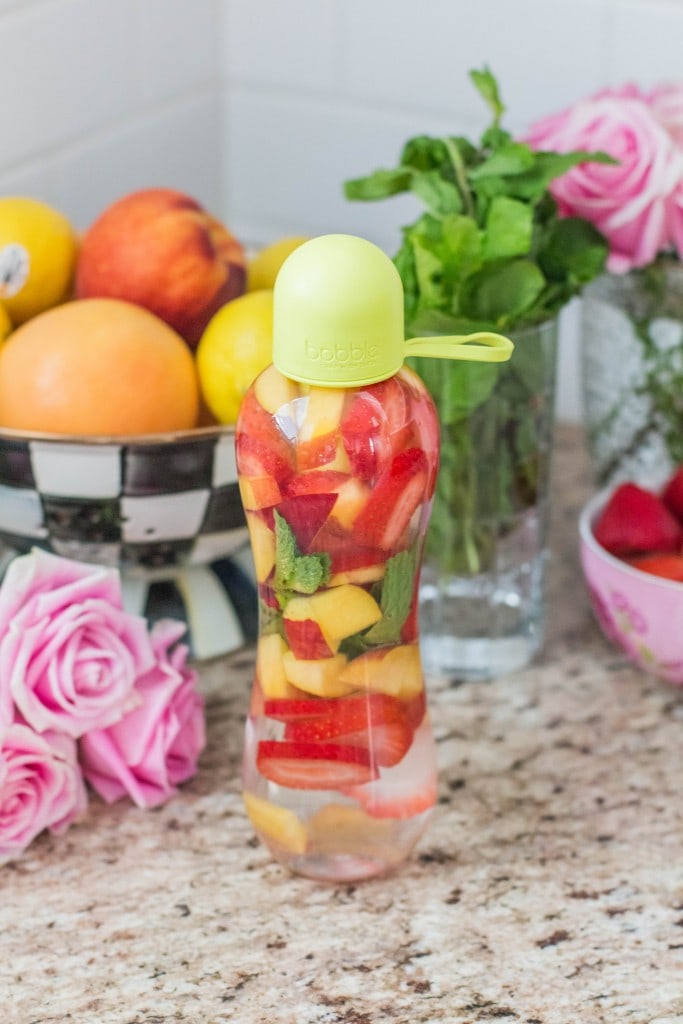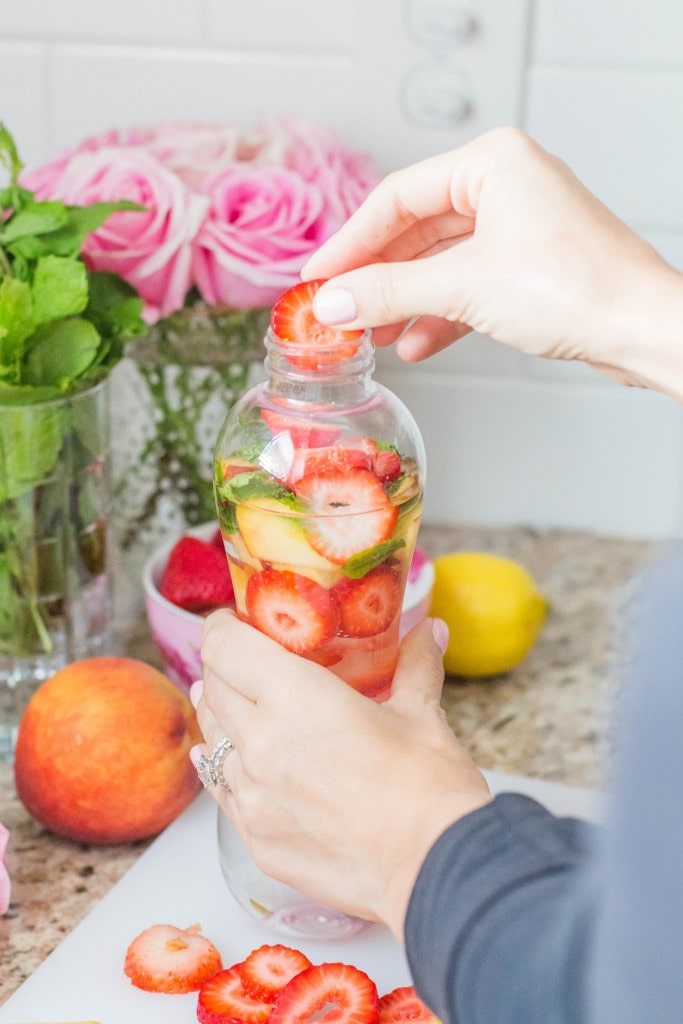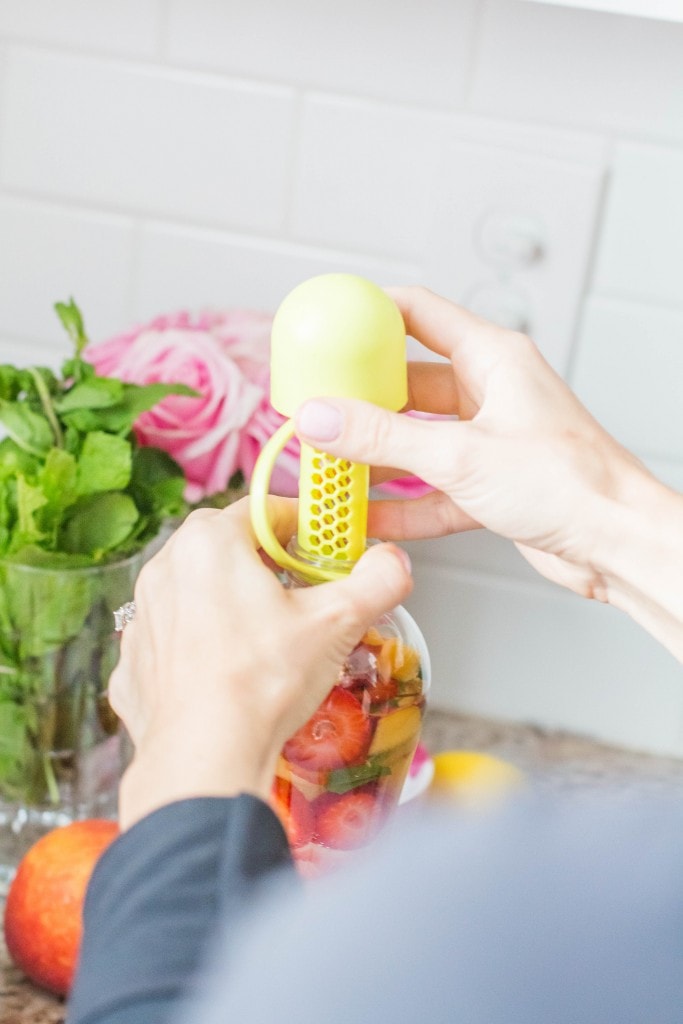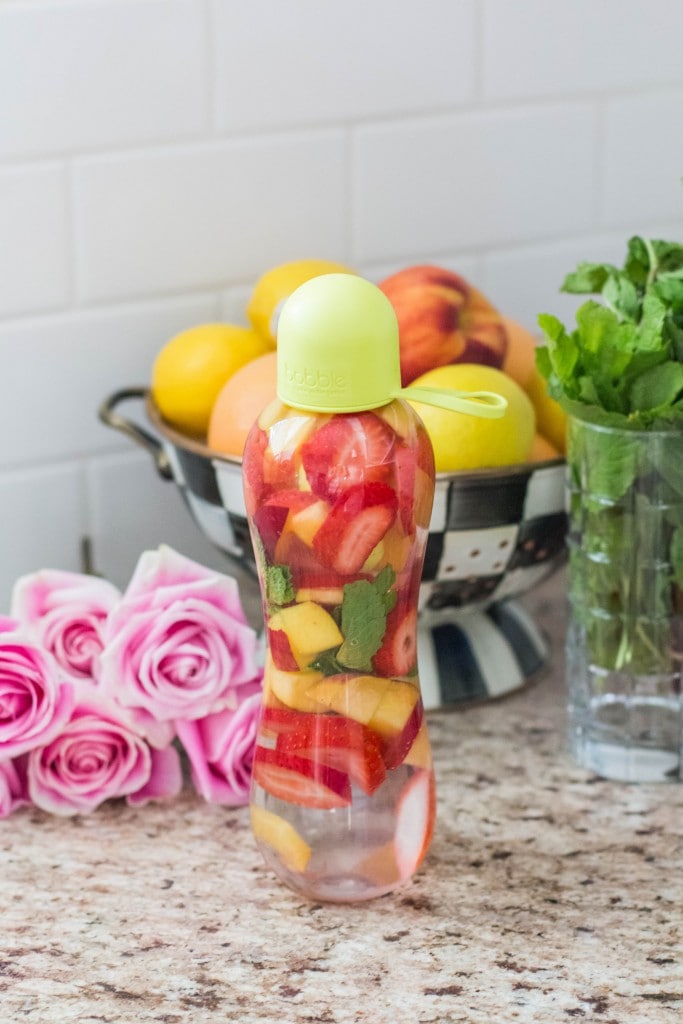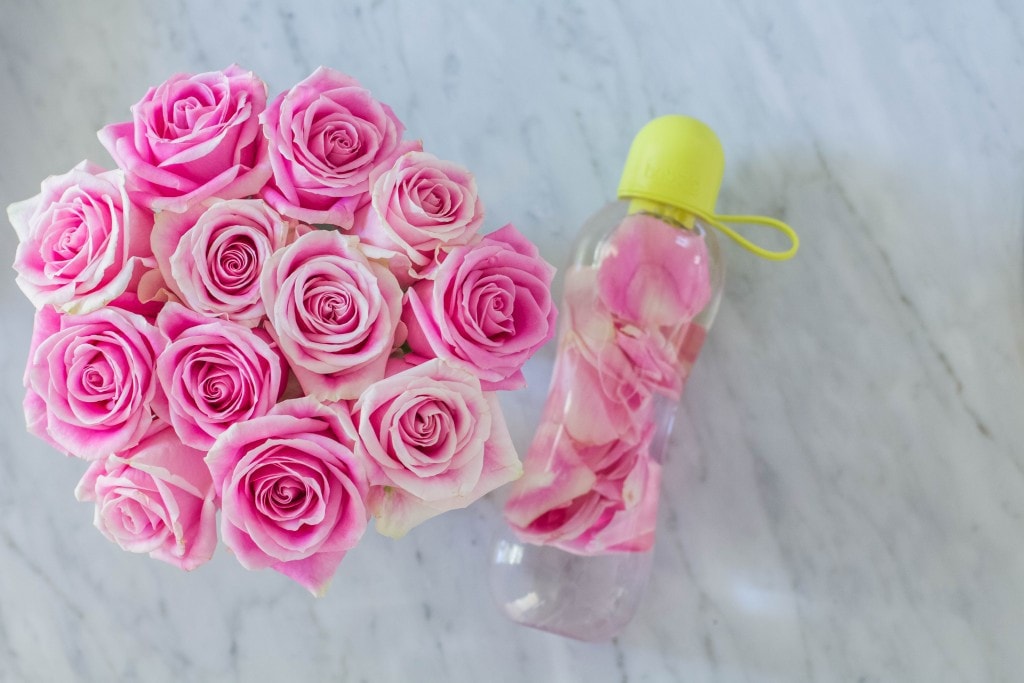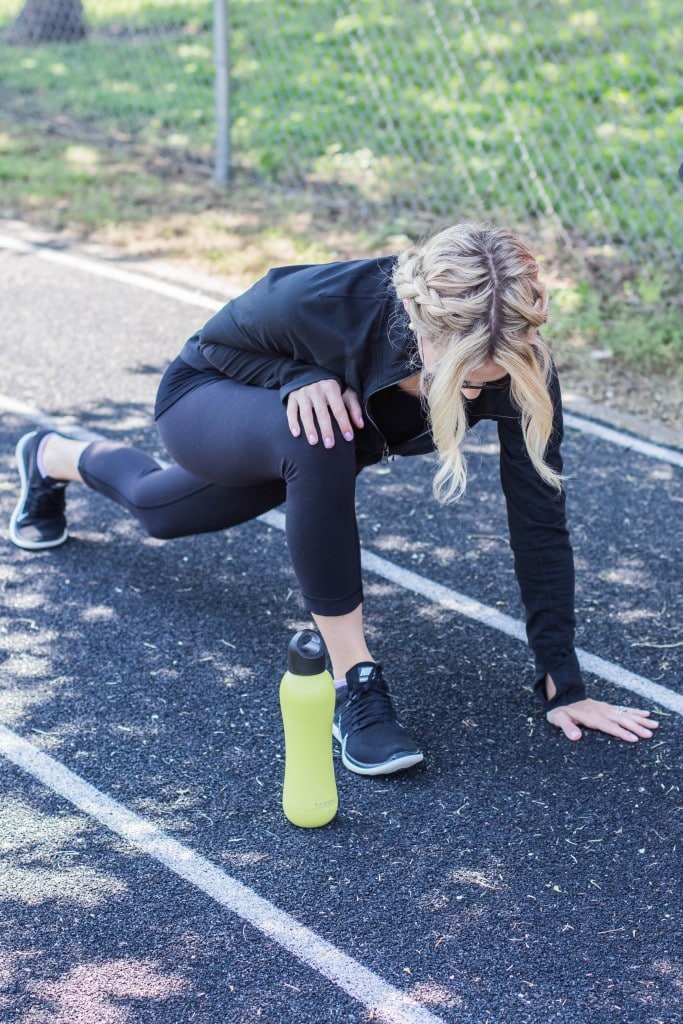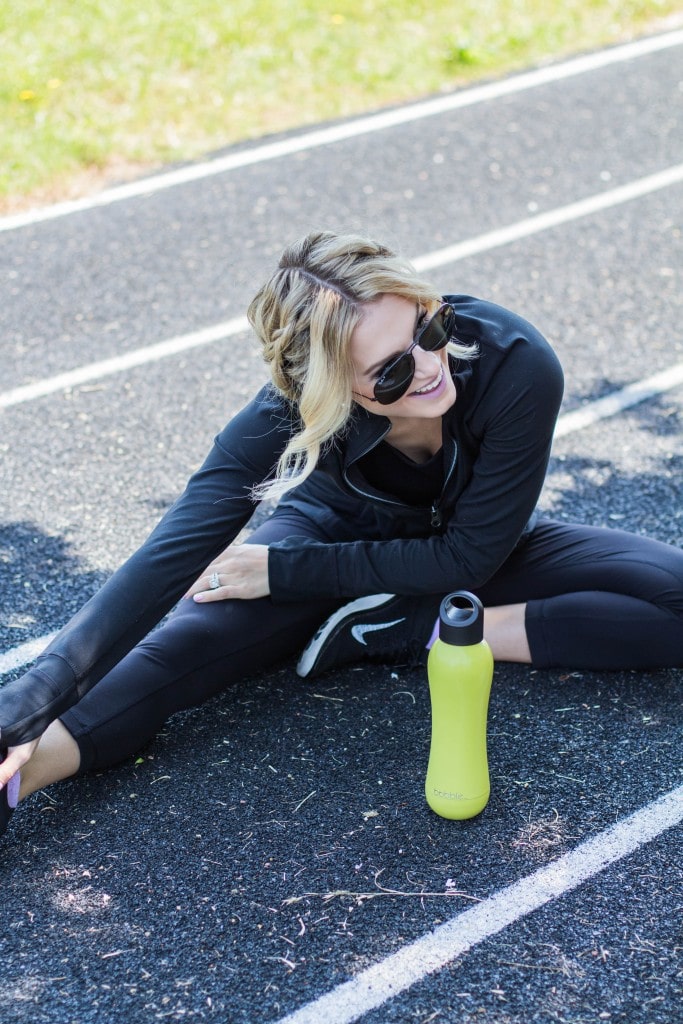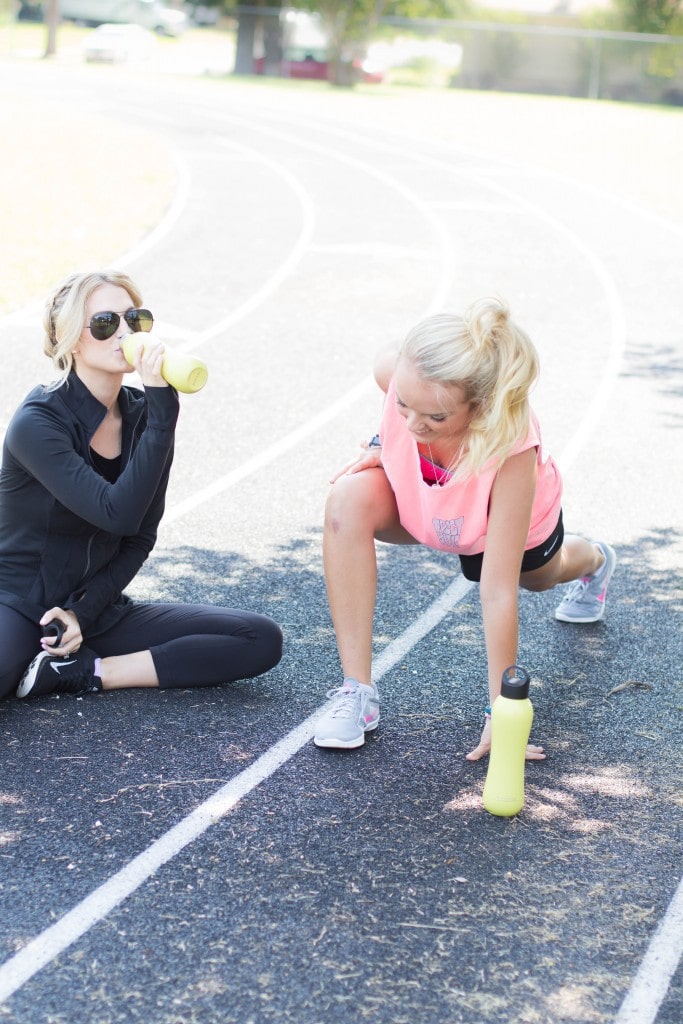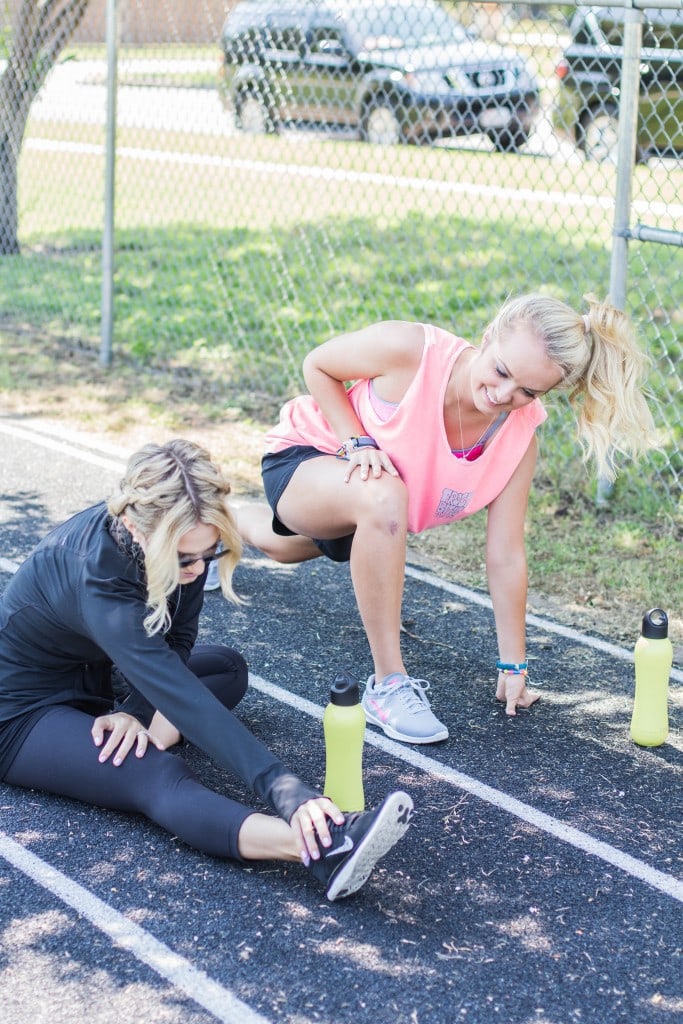 Bobble Infuse: Nordstrom [c/o] | Bobble Insulate: Nordstrom [c/o] | Jacket: Similar | Workout Pants: Nordstrom | Tank: Nordstrom | Shoes: Nike | Hair Tutorial: Here
Photography by: Kara Stout
---
I love to follow paleo whenever possible and I'll be the first to read a label on a food product, but one health  "do" I used to rarely follow was a proper water intake.
I knew you were "supposed" to drink a lot, but I never made the time to and I certainly never saw a lot of the benefits so I wasn't consciously aware. Between coffee and being busy, there were days that I'd maybe just drink a bottle of water! I don't get "thirsty" easily so it was so difficult for me- even in spin class!
A few months ago I wanted to be really conscientious about the amount of water I was intaking in an attempt to combat headaches! I cut coffee and decided to go for 100 ounces of water a day. It's surprisingly been easy, so I thought I'd share a few tips for doing so! After seeing the results, I honestly crave 100 ounces a day and can't get enough. My skin glows more. I feel less "guilty" after sweet treats. And in fact, I crave less sugar. I had a macaron with my mom last week, took a bite and thought, "Eh, I don't want to finish this." That might sound like a weird side effect but from a girl who has to pray each day she passes Chick Fil A to not covet a milkshake, this is huge.
1. Treat Yourself to a Water Bottle
Plastic water bottles are incredibly wasteful and pricey! I own 56 different shades of pink lipstick, so you'd think I had a stash of cute water bottles. Before I made the switch, I had one. ONE. UNO. UN. 1. Who only owns one reusable water bottle?!
I think I had thrown so many out when we moved into our house and so when bobble asked me to try their bobble Infuse, I was really interested. And maybe even too eager to get my hands on a water bottle other than the one I have taken every day to work out for 9 months. It's the little things in life, right?
I'd say to get two, one for work and one for working out. That way it's easy to wash and switch out and you know how many ounces are in both so you can easily measure to count.
2. Infuse Your Water
Let's be honest, most people get bored of water because it just doesn't taste like a cold can of Diet Coke! 😉 I drink about two bottles of Infuse water a day when I'm feeling tired or like I could snack out of boredom! My favorite Infuse recipe is strawberries, sliced peaches and mint! The mint is so refreshing and the strawberries and peaches sweeten out the brightness of the mint! Just slice however much fruit you want, stuff it in the bottle, screw on the cap and let it sit for a bit! You can let it soak overnight, but I find about an hour allows the flavor to really soak in. The carbon filter can also be attached and used to filter your water, but be sure to not use that if you're infusing with fruit.
3. Drink 1 Glass Before Each Meal
This is easy to do while eating out, but something I forget to do when eating at home. I normally drink wine while cooking, but I started to drink one glass before wine. By the time I finished my water bottle, dinner was ready and I hadn't even poured a glass of wine. This also helps from overeating or indulging on things you may not even really want.
4. For Every Non-Water Beverage, Drink 2 Glasses
I've shared that soda is such a treat for me and a total vice of mine. If I go to the movies and splurge on a Diet Coke, I make sure to make up for it by drinking 2 glasses or an entire bottle of my Infuse Bobble. It helps me feel less guilty and it's a great trick with wine for no headaches after dinner! My mom always gets headaches from red wine, but when she does this she never does!
5. Take It With You Every Where
Remember in math class when your teacher would write "K.I.S.S." on the board. It stood for "keep it simple, stupid." It was that easy reminder to not overthink your math test and use the formulas you were taught. This is definitely a K.I.S.S. tip, and it works! Take your water bottle with you everywhere. I love the bobble Insulate  for that purpose because it keeps it cold for 24 hours. Last week I ran 6 different errands with water in my hand at all times. I went through so much standing in line at Bed, Bath and Beyond and browsing through the grocery store. There is so much "down time" while being out and about and instead of pulling out my phone I focus on drinking water.
6. Track on an App
My sister is a big runner, so she has to have a lot of water in order to run her 9-10 miles. She tracks her water on an app, My Fitness Pal. This way she always knows how much she has had right before her run and can gauge what she needs based on the temperature outside.
7. Reward Yourself
What's your inexpensive guilty pleasure? Is it lipstick [this chick!] or is it going through the line at In N Out? Or maybe you love to browse the $1 section at Target! Take one thing that doesn't hurt your budget and stop doing it! Only allow yourself to wander into your little wonderland when you accomplish your water goals for 7 days in a row! This isn't something as big as buying clothes for accomplishing work out goals, but it is something big enough that makes you stop. You may run into Target and want to stop at the cosmetic aisle but if you haven't accomplished that goal keep walkin' and you'll keep sippin'!
8. Sticker Trick
If you're a numbers gal and counting water stresses you out, get a sticker! Add this sticker to your Infuse bottle and you can see what you need to be drinking at what time. This is an easy goal to start at, so you can always tweak it later when you are drinking more! Starting small is the easiest way, that way you don't feel sick of water.
9. Use It In Your Beauty Routine
I'm technically cheating you out of one trick, because this isn't for drinking water, but it is a way I use it with the water bottle! I'll wash rose petals [rinse with water to remove pesticides], stick it in my Infuse water bottle over night, then "squeeze" the water out in a spray bottle. I have easy and practically free rose water to spritz my face with! I use this when I do at home facial nights after a face mask! It helps maintain your PH balance and your skin's oils!
10. Water Before Coffee
One way that cutting coffee has been easy is that I told myself I had to have two glasses of water before I could have a cup of coffee. It was such a ritual to have my coffee while I put on my makeup and when I switched to water, I was chugging while I bronzed and chugging while I ironed my clothes. By the time I sat down to work, I didn't even want coffee because I felt so hydrated. It's an easy way to start small accomplishing your hydration goals.
So with summer being in full force and the heat already being out of control in the south, I hope this post was helpful to you! Do you have any tricks for drinking lots of water?!
You can get the Insulate by bobble to keep your water cold here and the Infuse by bobble to infuse your drinks here!

In partnership with bobble. All opinions are my own!