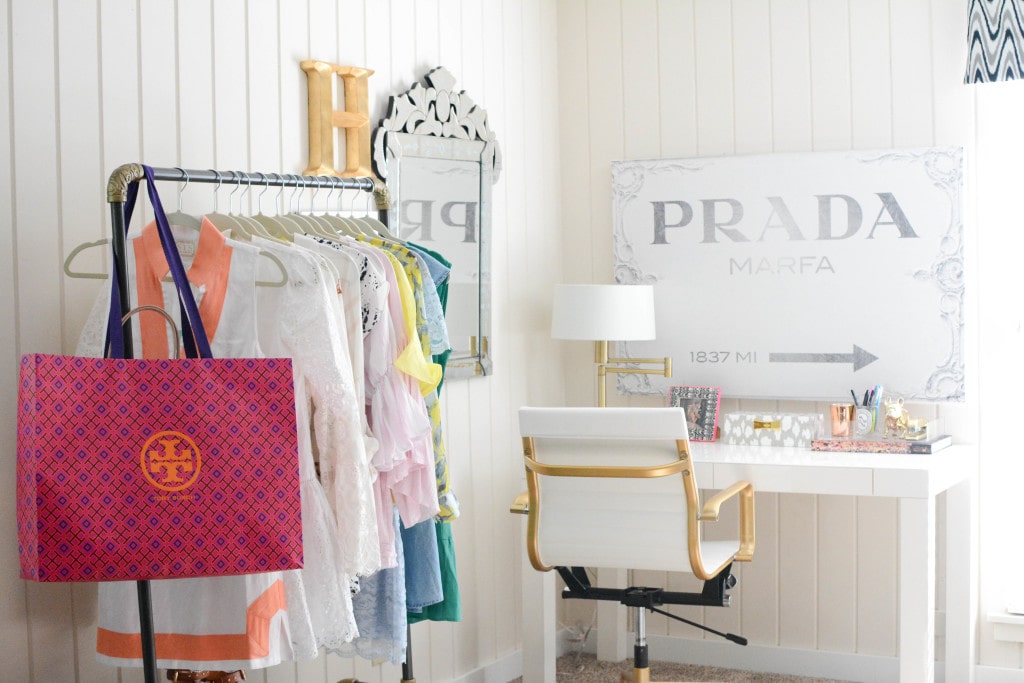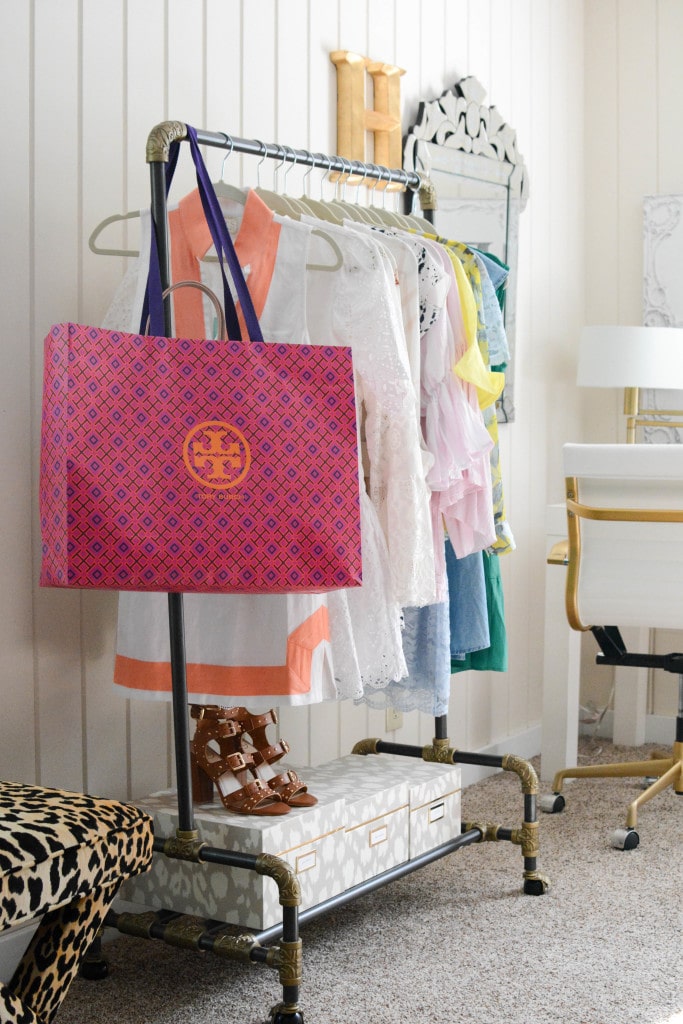 Leopard Benches: LivenUp Design [c/o] | Clothing Rack: PB Teen | Leopard Boxes: Shop Rachel George [c/o] | Shoes: Missguided [c/o] | Tory Burch Bag: Tory Burch [on sale with code BLOOM] | White Dress: Sail to Sable [c/o] | White Lace Top: Nordstrom | Romper: Cooper & Ella [c/o] | Blue Lace Dress: ModCloth [c/o] | Green Dress: J.Crew | Chambray Dress: Urban Outfitters | White Top with Orange Flowers: Nordstrom | Desk Chair: Shop Rachel George [c/o] | Leopard Box on Desk: Kate Spade | White Dress: Banana Republic [go down a size!] | White Tank Dress: BCBG
---
I was organizing my closet the other day and kept thinking, "Wait! I love all of these spring dresses, I need to share!" haha!
Sometimes by the time I order a dress, it comes in, I shoot it and it gets on the blog there are only a few sizes left. I thought a fun way to combat that would be to currently share what is on my clothing rack! I use this to lay out outfits I not only need to photograph, but outfits I'm wearing on repeat- my current favorites, if you will!
You may or may not have seen on Snapchat, but Paul got a new job. Since I met Paul he has told me about a specific job he has wanted to do, which is why he first went into public accounting. He knew that would be the best experience and stepping stone and loved it. But over the past year or so, he kept getting these incredible job offers. However, I wouldn't give him my opinion. I just told him I supported him whatever decision he made and he kept turning them down.
You can imagine my face when I'm like, "Wait….but what's wrong with it?!" I felt like he was this guy that found flaws in every girl he went on a date with. He couldn't even tell me why he didn't like specific job offers, he just rejected them.
Anyways, a few months ago he came home from work and told me this job he had spoken about years ago called him and wanted to interview him.
It's so amazing to see how God works in your spouse. Here he is orchestrating this desire years ago and fulfilling it today. He gave Paul apprehension with every other opportunity, and it was apprehension I couldn't even understand because he was leading him to what he had planned for him.
I know that's so personal to share [because it's about Paul and not me!] but I just wanted to share as an encouragement to you that if you feel something isn't right go with your gut. Sometimes we don't even have a reason, but God guides our intuition and discernment in situations. Our job isn't to understand, but rather follow.
He put in his two weeks notice and another big blessing from God came. They let him stay home those two weeks. He was in between audits and they knew he had worked so much and not seen me the time he was there. So we've enjoyed this time together. This week is our last week so we have a few fun things planned and he has been such a huge help getting some of my work tasks crossed off the to-do list.
I hope you have a wonderful week! Thank you so much for stopping by!