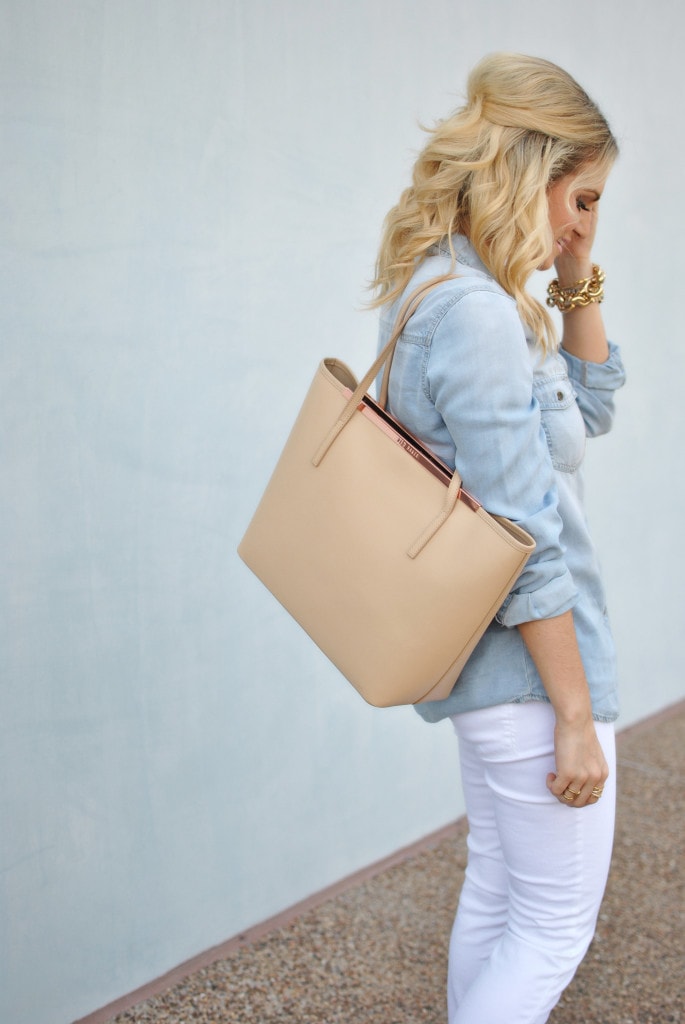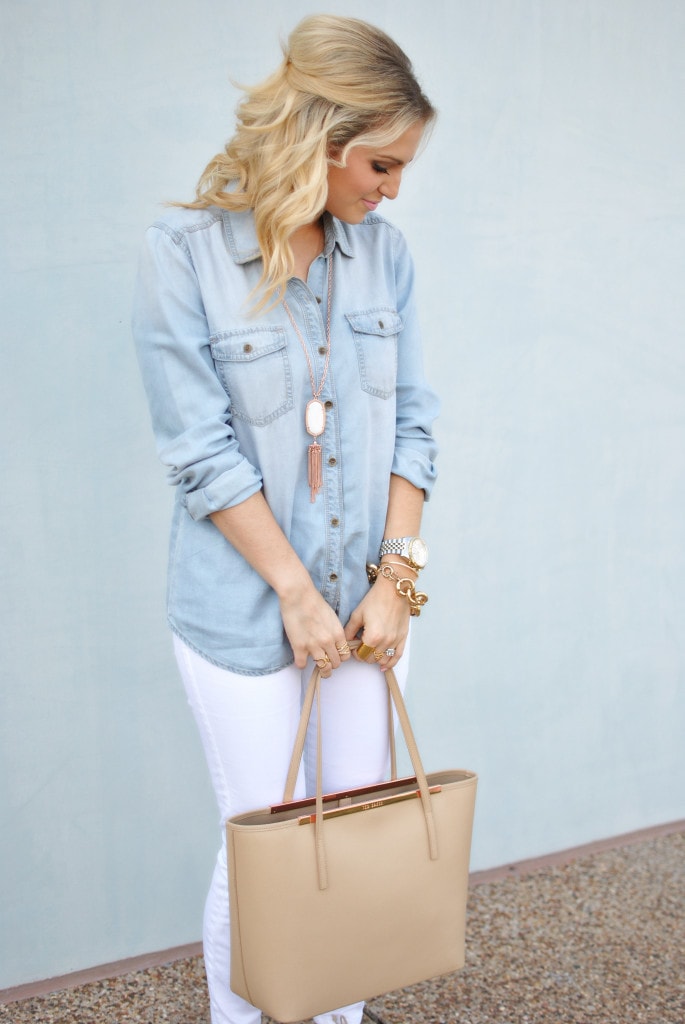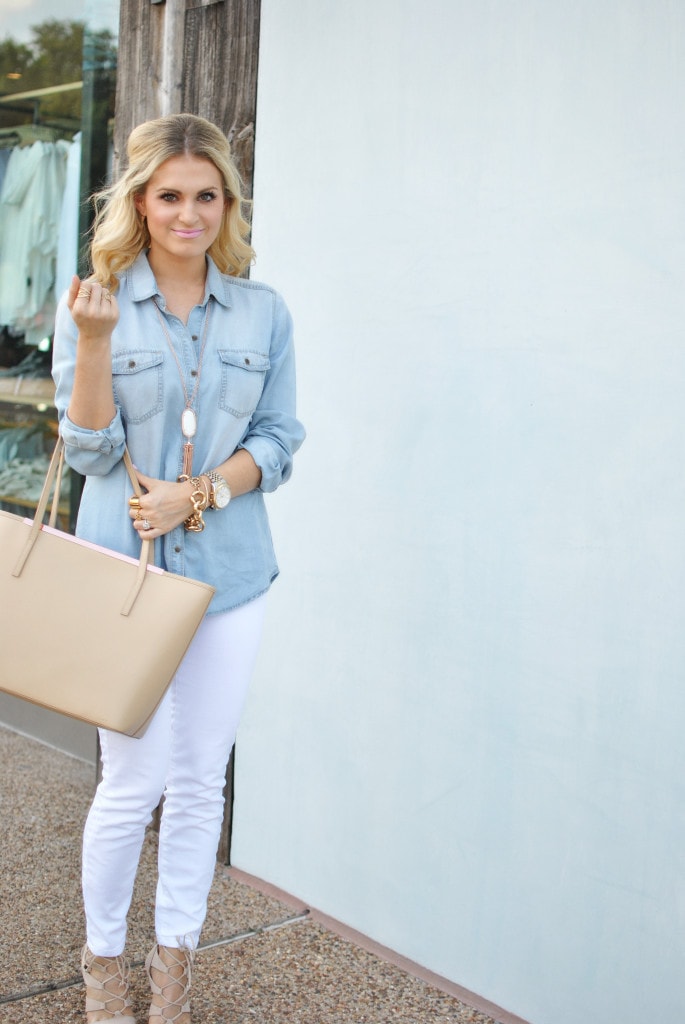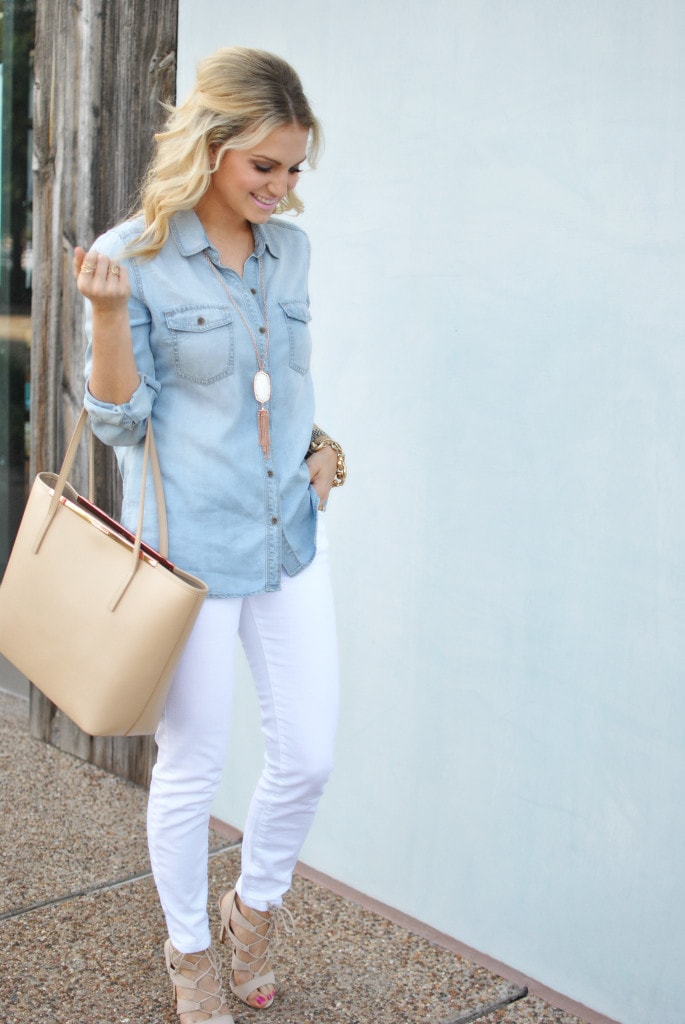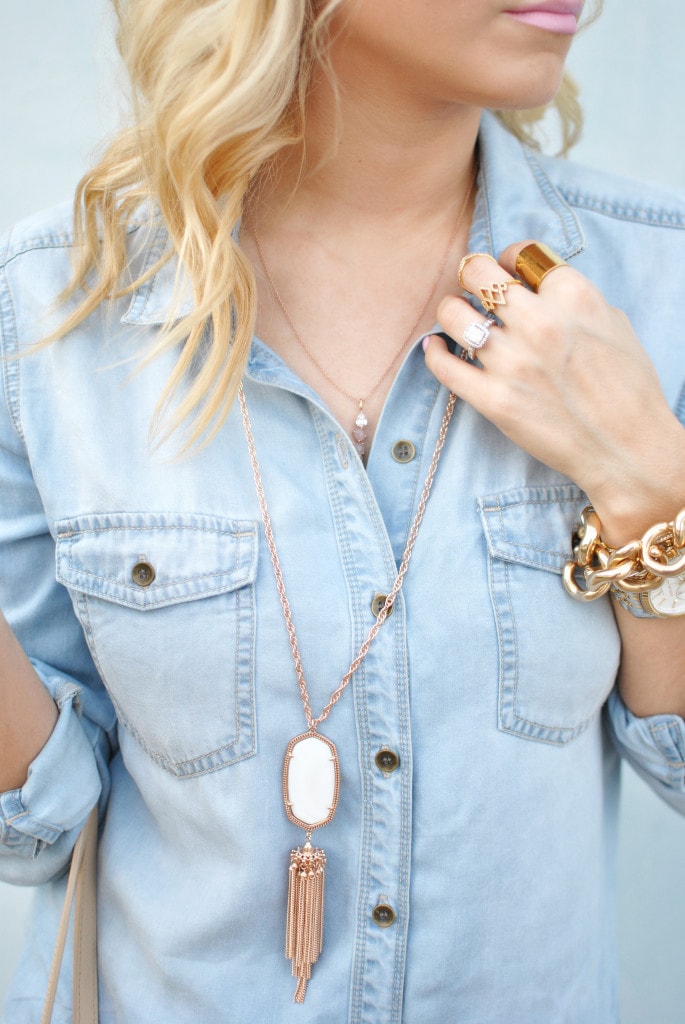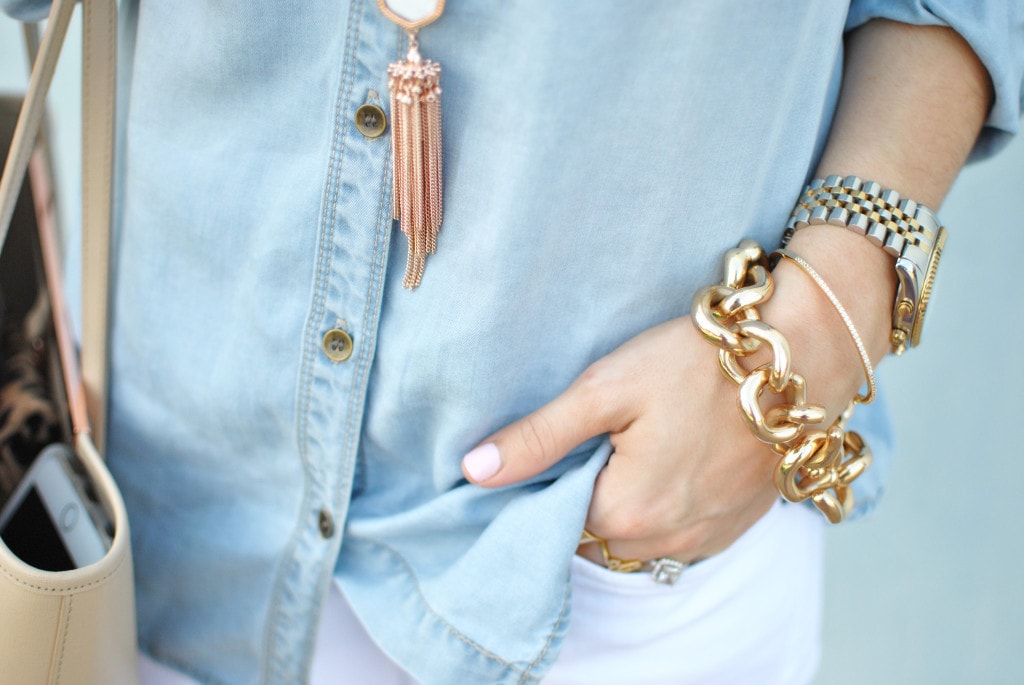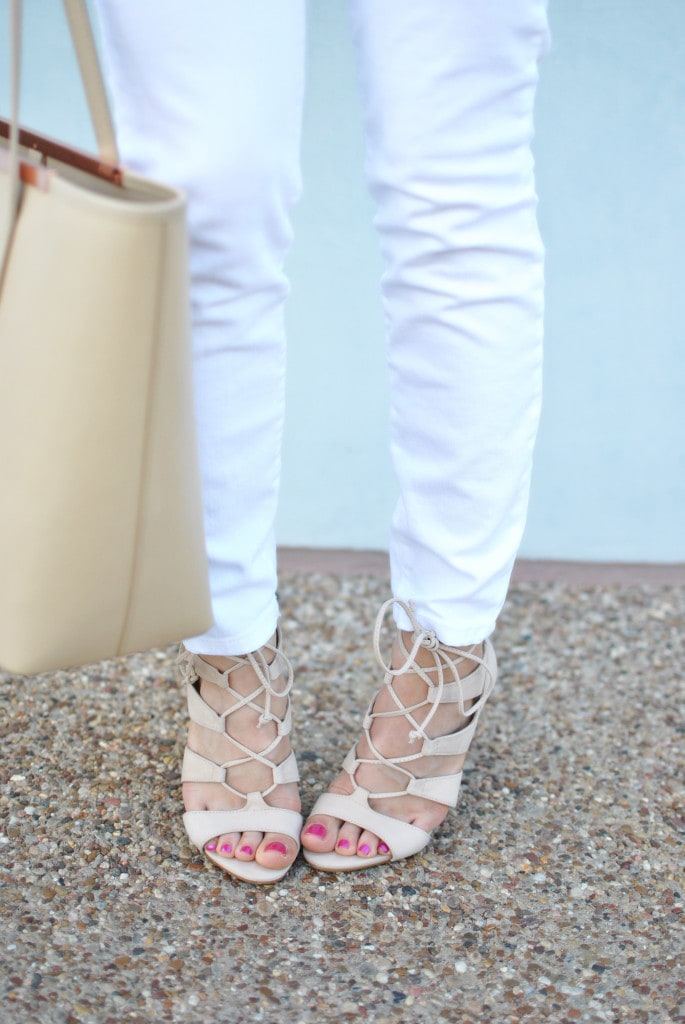 ---
Top: Nordstrom | Jeans: Nordstrom | Heels: Nordstrom | Tote: Similar | Bracelet: [c/o] Accessory Concierge, Similar, [c/o] SAMANTHA WILLS | Watch: Michael Kors | Necklaces: [c/o] Kendra Scott, [c/o] SAMANTHA WILLS | Rings: Nordstrom, [c/o] SAMANTHA WILLS
---
A few things:
1. Here is my third favorite way to wear Chambray: paired with nude heels! Chambray can easily pair with any color, but I absolutely love to combine it with nude and white. Something about it says, "I didn't try too hard to get dressed this morning." Well, for all other girls it says that. I still have on 47 bracelets and it looks like I spent way too much time, but you get what I mean! 😉
2. Speaking of trying, let's talk about that…
I'm an OCD-certified control freak. I don't even like vacations come day 3 because I can't control the state of my hotel room or my schedule. My heart is so happy when I'm sitting on a couch in my clean home with an all read inbox and everything under control.
If you walk in my office you'll find dozens of pieces of paper just to organize my day. I literally organize my day by the minutes and so when I have to take a longer phone call or something goes wrong I get that little tense strain in my neck and think, "Um. No. My day is no longer mine."
One of my goals on my 101 in 1001 list was to create a strict work schedule and stick to it for 2 weeks. I was more than thrilled to do this. I had it all planned out this week, I wasn't going to answer phone calls, I wasn't going to run an extra errand. I wash just going to marry my schedule and be so happy.
Come Tuesday I was miserable. 4 things had already gone out of order and I realized that life is going to happen whether I schedule it or not. My inbox will always be full. Sometimes I'll miss e-mails. Sometimes I'll miss a personal deadline. And sometimes somethings will always take longer than they should. But I can't miss out on life.
I'm not posting this with the hopes of getting well meant comments of, "Good for you! Glad you could realize the important things in life!" I'm posting this to say that we all have security blankets, whether it be a relationship, a job or for me, control. It's something we revel in no matter how much frustration it brings us and will continue to do so until he comes again. We find false senses of security in them and this goal taught me to try to wean off mine.
It isn't realistic for me to say, "I'm just going to not stick to a schedule and do whatever comes my way." The Lord would find so much humor in that.  I'm not a free spirit and I think I'd rather pull my eyelashes out than not be organized. But I can commit to less. I can make half my day structured and give the rest of my day for the "breaks in control." The contracts that mess up. The phone calls that last longer. The changes in campaigns.
So this weekend let's try and wean out of our security blankets. Grab lunch with someone new if you have to break out of a toxic friendship. Clear out your schedule [you do not have to say yes to everything!]. Apply for a new job if you feel you're stuck in an old place. And if you haven't, make that 101 list, too! I'll be doing it all weekend, so at least we can be going through a break up together!