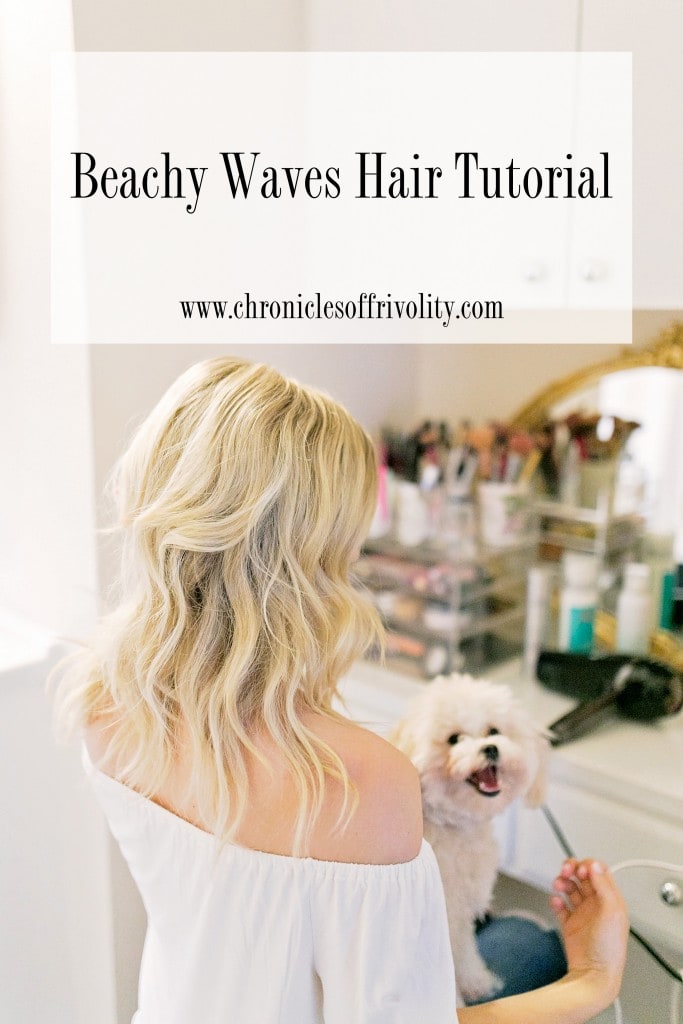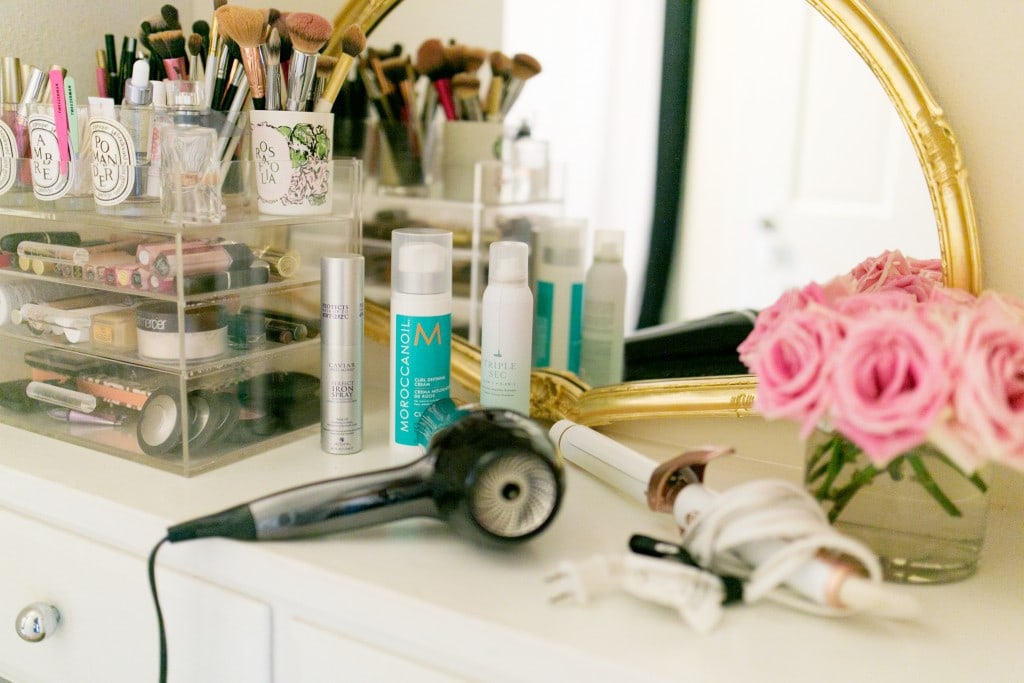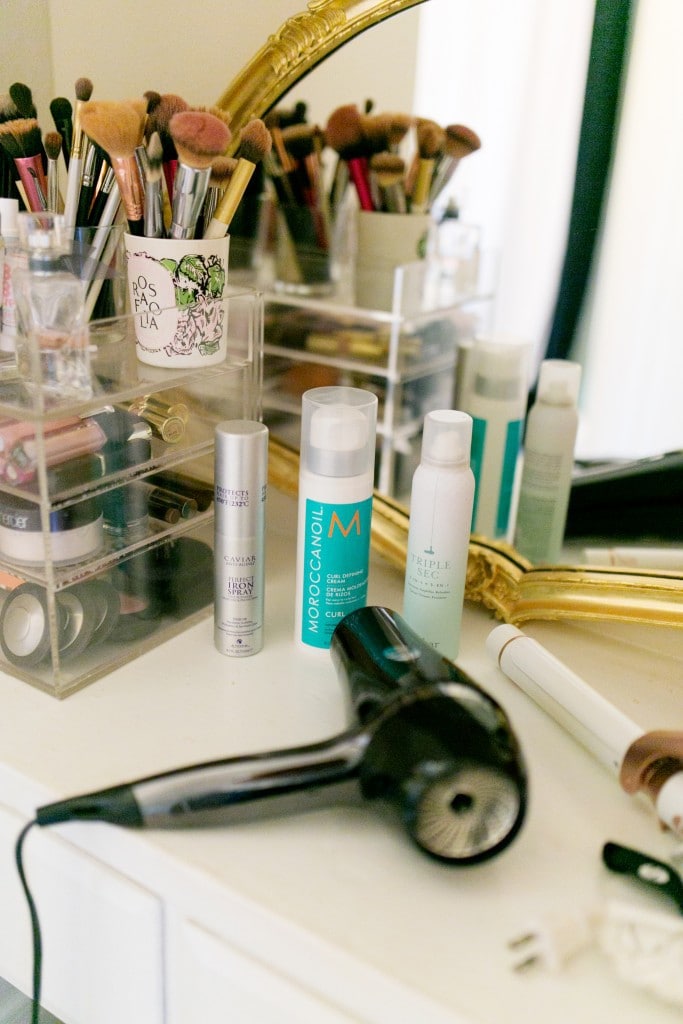 When it comes to summer beauty, I love to add more beach waves in my hair routine as opposed to perfect curls. As much as perfect curls feel like "me" when I step outside in humidity I look a bit more like a poodle who's hair has seen better days. The frizz, the stickiness and the curls just don't mix! And if you can't beat your enemies….join 'em! So I like to incorporate beachy waves! It's a way to stay true to my style while allowing it to fit the season. Another great thing about beachy waves is they last so long and look great slept on. I'll style them Monday and not have to wash my hair until Thursday and rarely touch up throughout the week. If you want to lower the amount of heat you apply on your hair, this is your BFF hair style.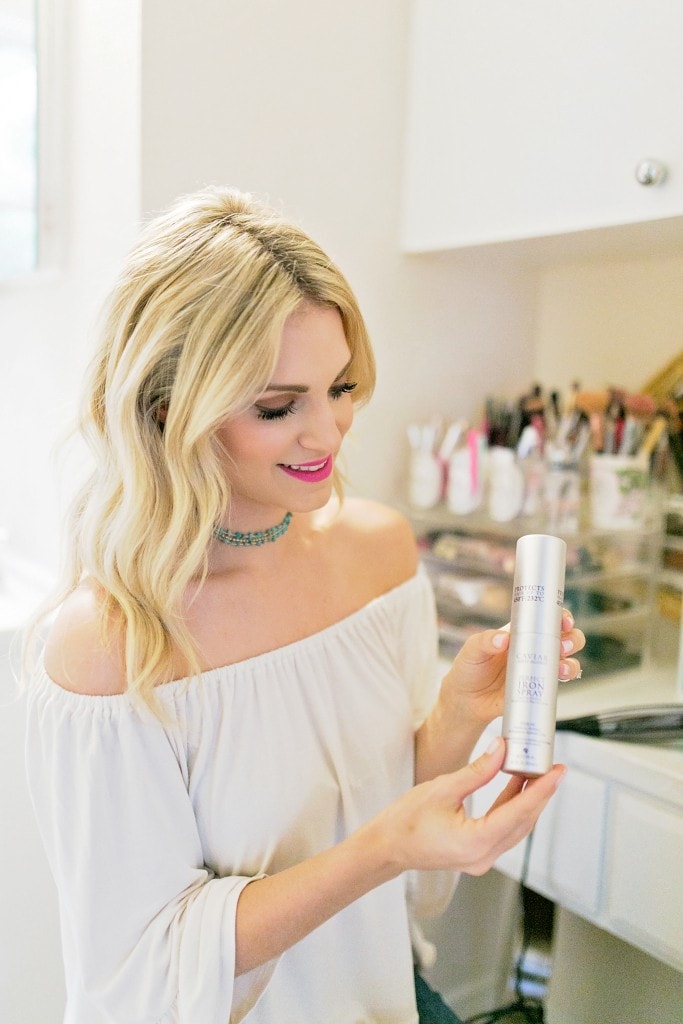 I start with air dried hair, or second day hair. In these photos I have air dried hair that I used this curl defining cream and slept on it! Before I start I always use this Caviar heat protectant. It protects hair up to 450 degress and doesn't make hair wet or sticky like a lot of heat protectants.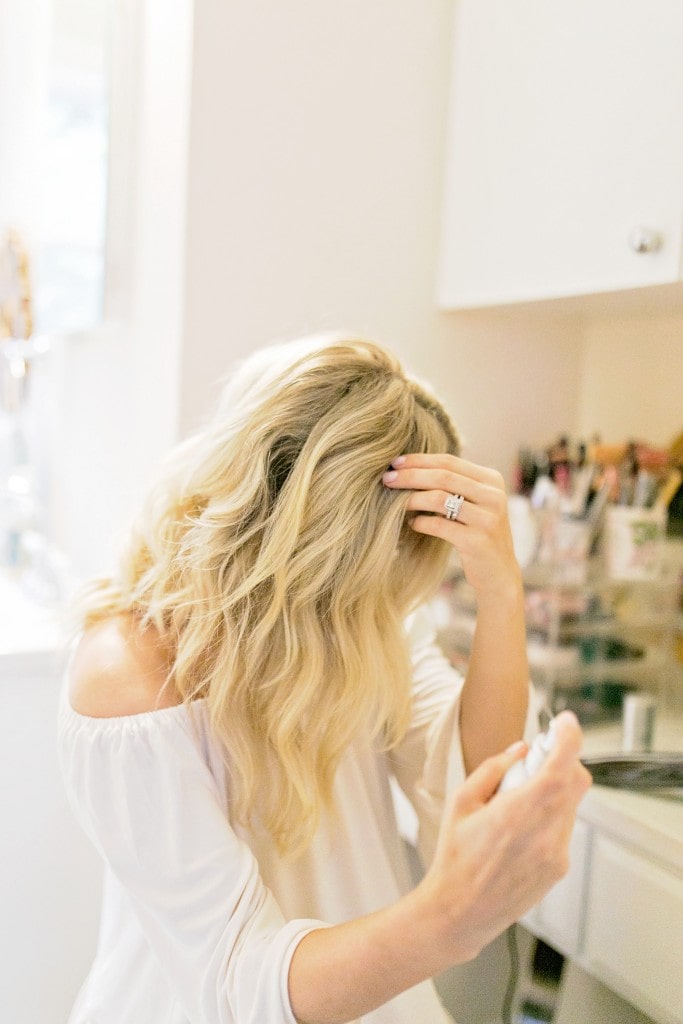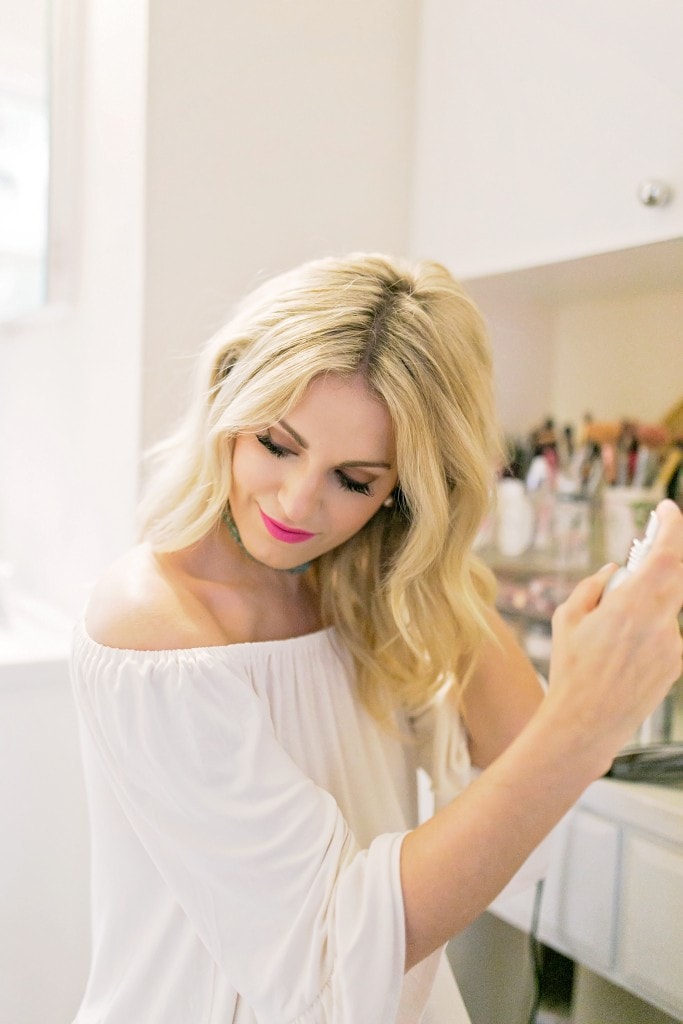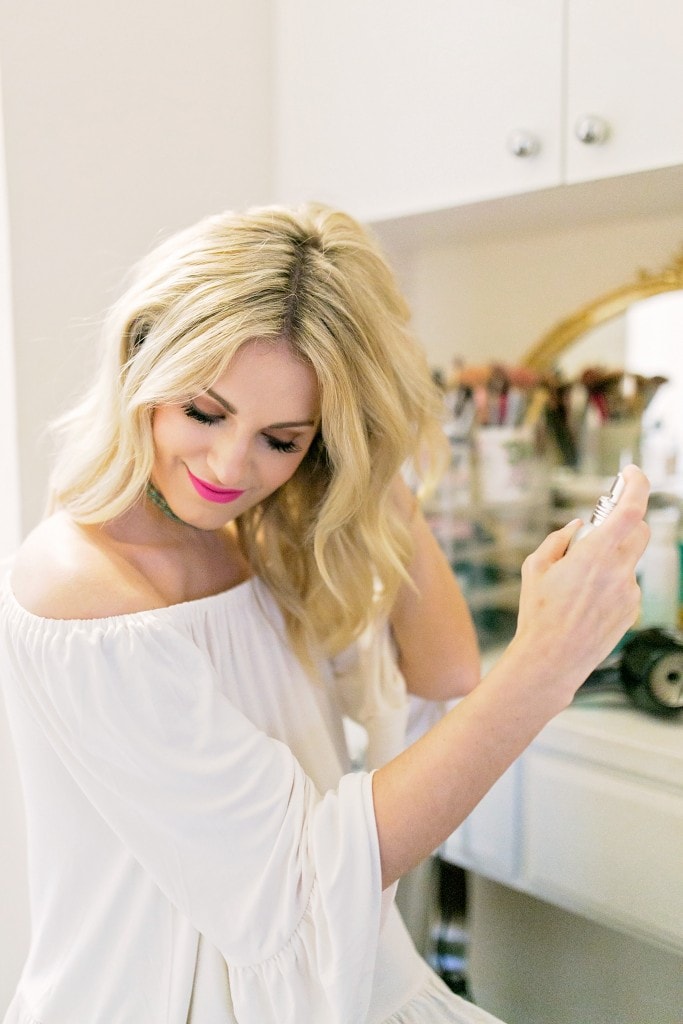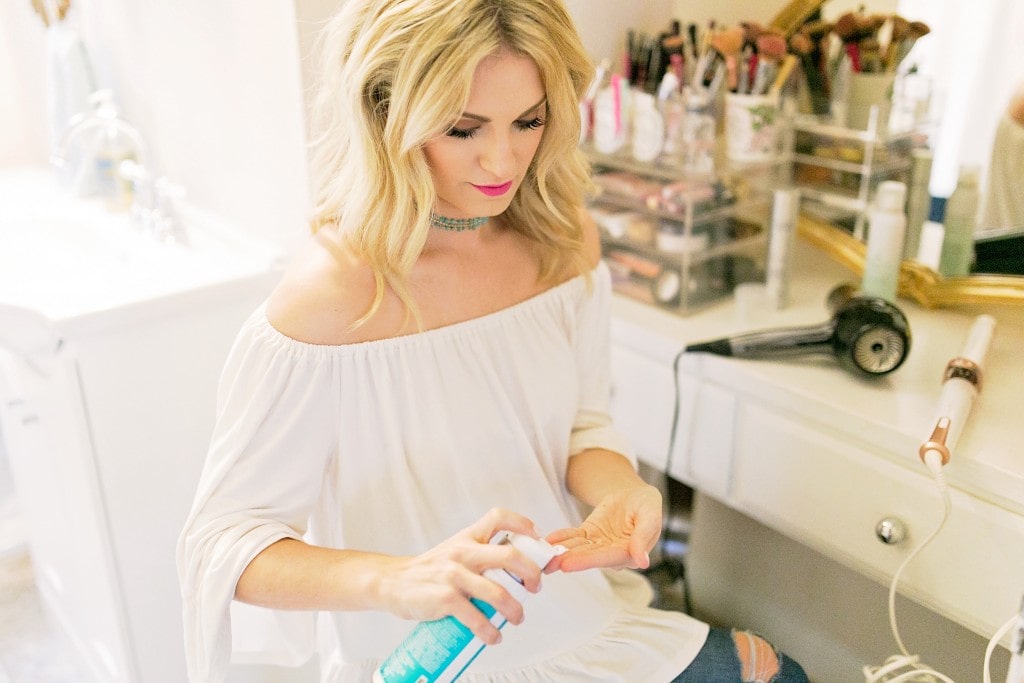 If you have wavy hair like I do, you know how difficult it is to find a curl cream. There are creams that leave you with crunchy hair, creams that leave you with knotted hair and creams that leave you wondering, "If I wanted to look frizzy I would have skipped the $28 price tag and sat outside in the rain." One of my go-to curl creams for YEARS changed their formula. And I'm still bitter. I look up reviews and everyone is so angry about it so why haven't they gone back to the old formula?! So I have been on a quest to find a dupe and here we have it! The Moroccan Oil Curl Defining Cream gives you curls, but keeps you frizz free. I put it in wet hair and let it air dry, but I also apply it to dry hair to give it a little workability before I curl. I also think it helps my styled curls last for days!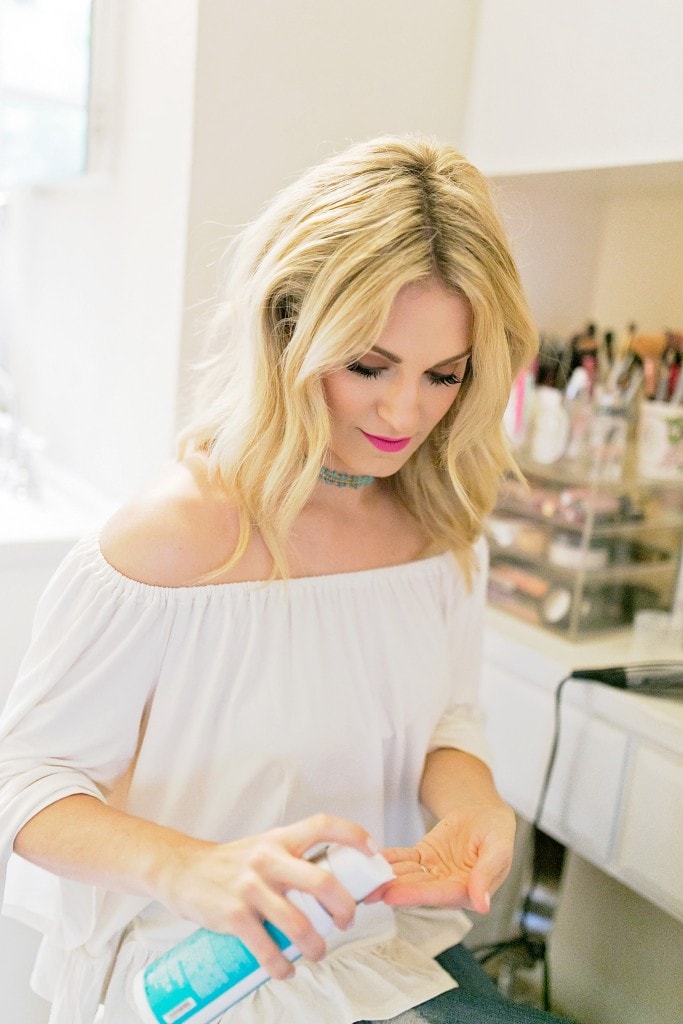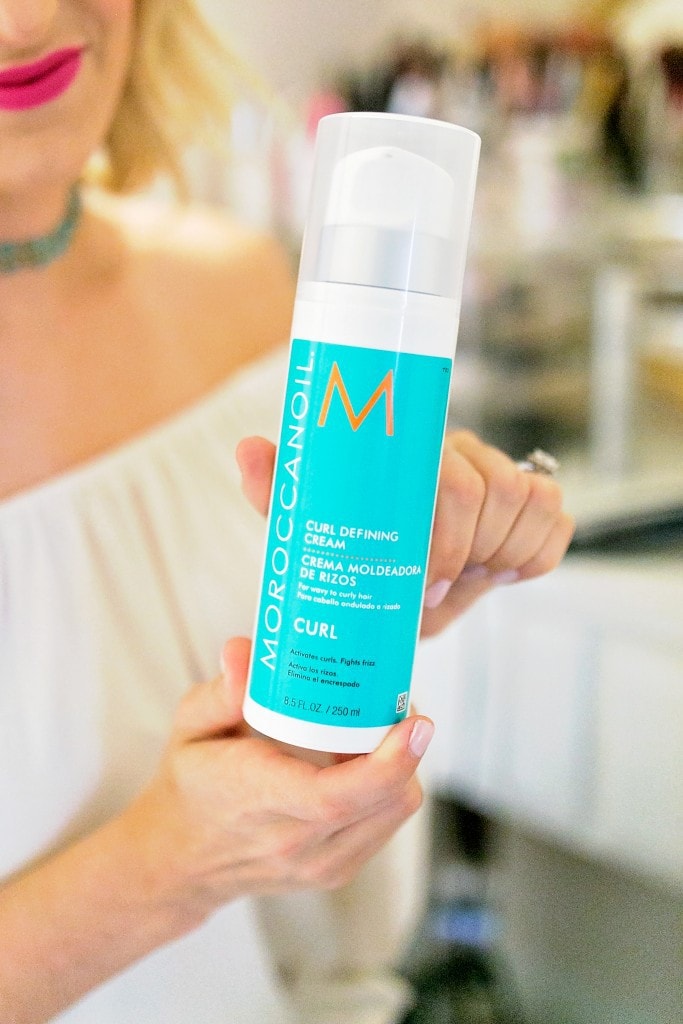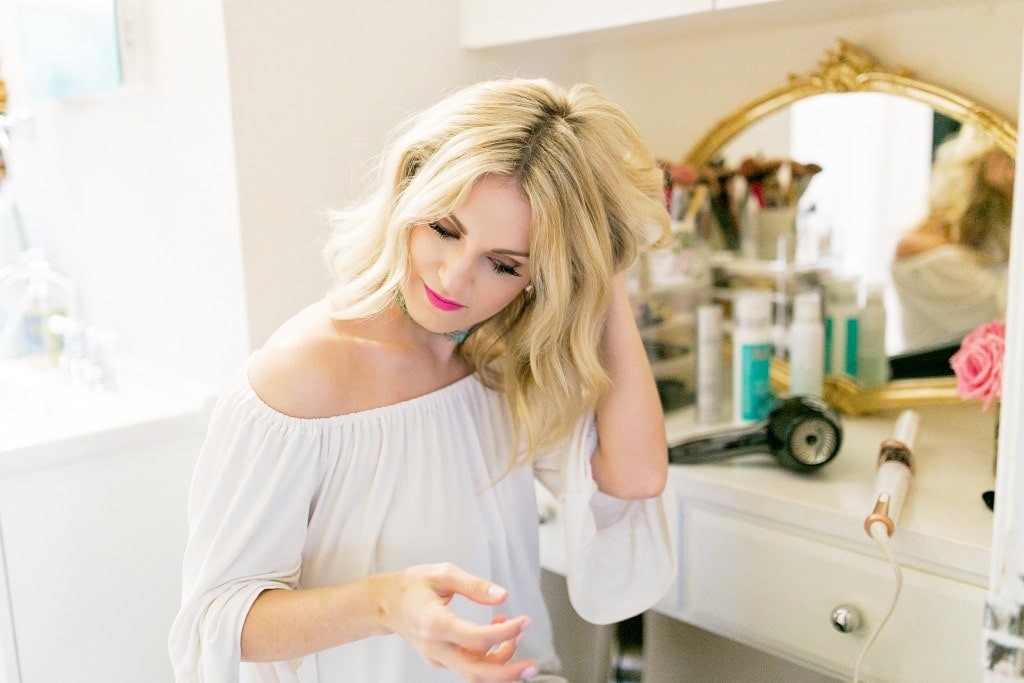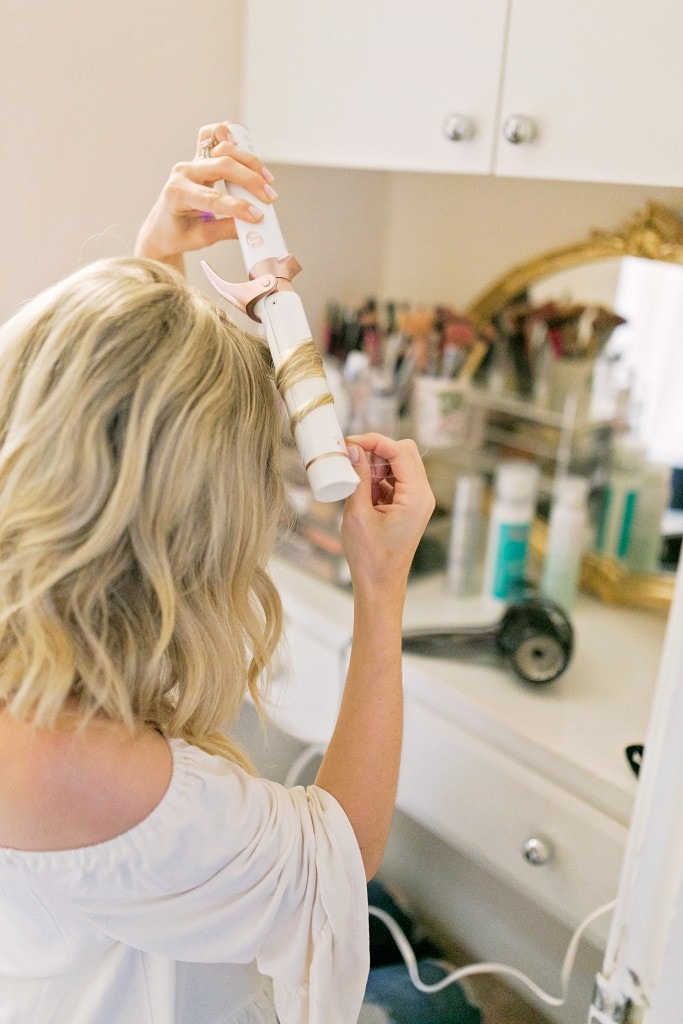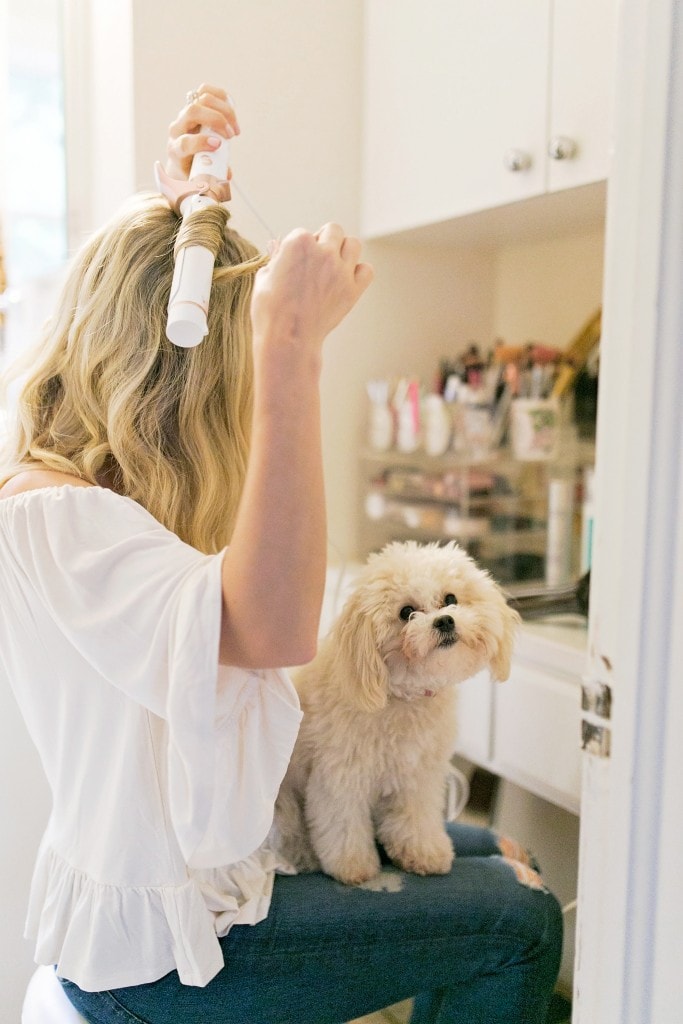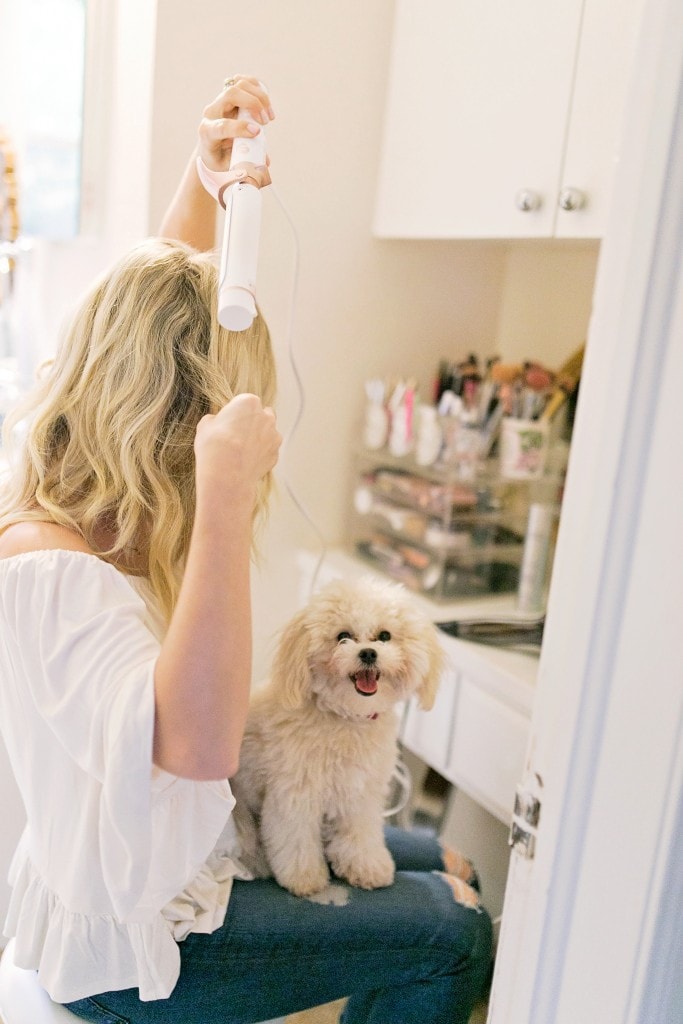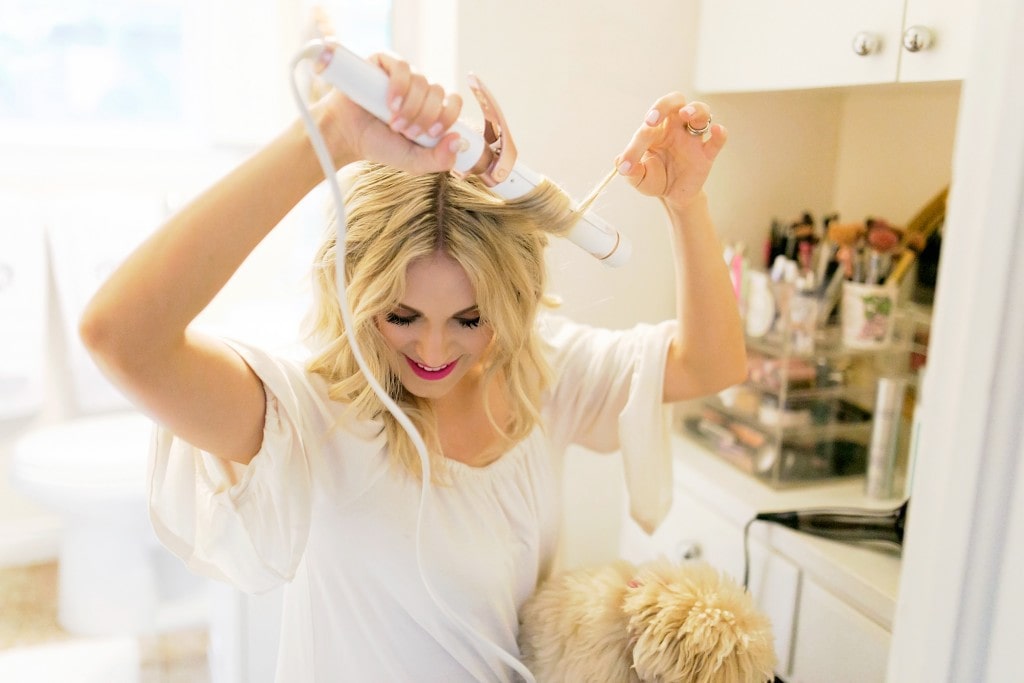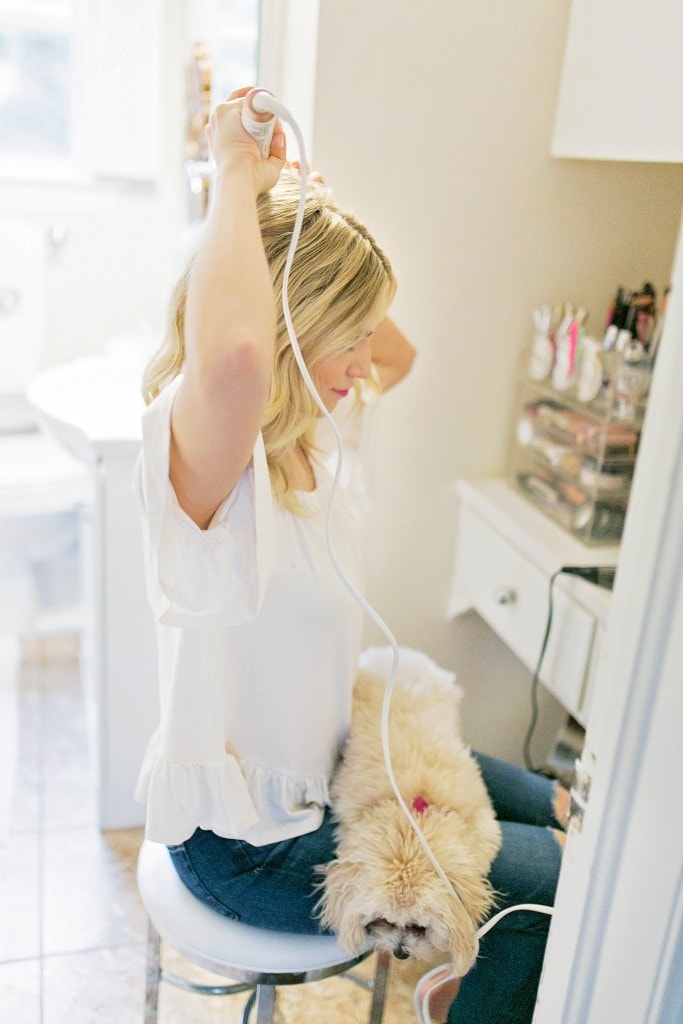 Here comes the trick! I only curl the top layer of my hair. Remember the Olsen Twins circa 2003? They had those beachy waves and I just didn't understand why my hair wasn't a glossy dirty blonde that looked like I stepped out of the WONDERFUL movie "Holiday In The Sun." Life isn't fair, Katey. That's why. Teachable moments in life brought to you by the Olsen Twins.
But anyways, in keeping up with them like any good preteen, I read that their hair dresser used a different technique on every strand of hair. One strand would be curled. One crimped. One straightened. And the process repeated again. This allowed for texture and body. So I apply this trick to my hair, sans crimper…. #yourewelcome #thatwouldhavebeenbad
My hair doesn't air dry perfectly, and that's the point! If you hair air dries straight and fine, even with the cream just apply what I do next all over, still skipping a few strands! If you have silky straight, Barbie-esque hair maybe try sleeping in braids so you don't have to curl the bottom! But if you have waves or some natural body, the top layer works! I take my T3 curling iron treat it like a wand and just wrap pieces and layers around the iron part. I don't use the clamp so that it doesn't get too smooth! Then if I see a few pieces underneath I want to touch up, I can! The whole point is to not wand or curl your entire head of hair because that looks planned and this is supposed to look like you left the beach! If you have fine hair, I also suggest this texture spray!
Because my hair is wavy the ends are straight so I don't have to mess with them, but if you have curly hair and the ends curl, just take your straightener to the bottom ends [1 inch from the end of your hair!] and straighten them out!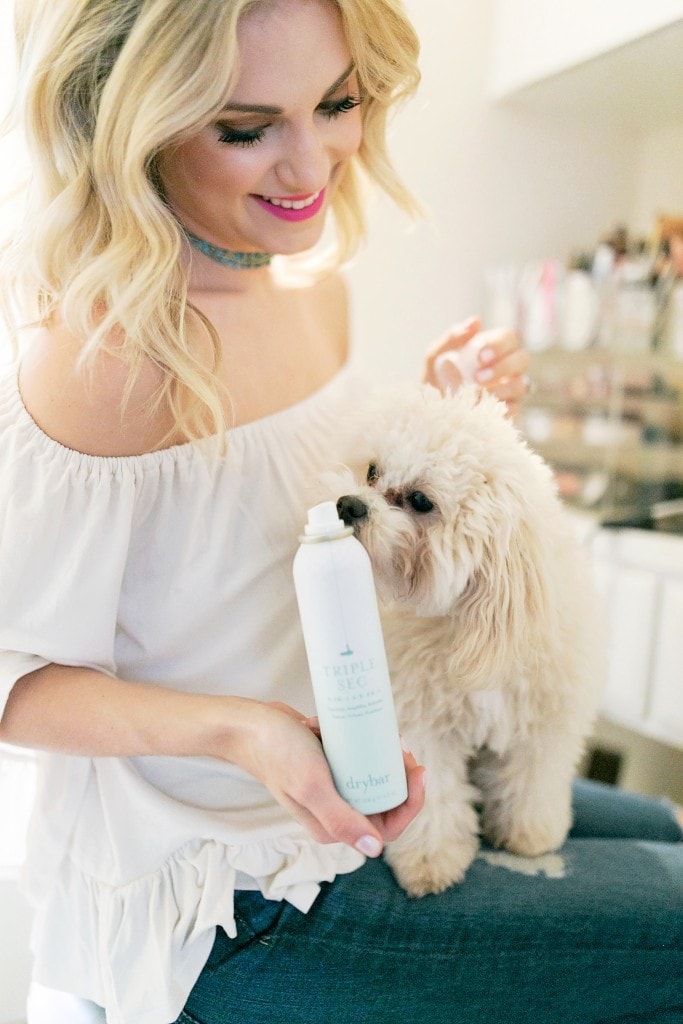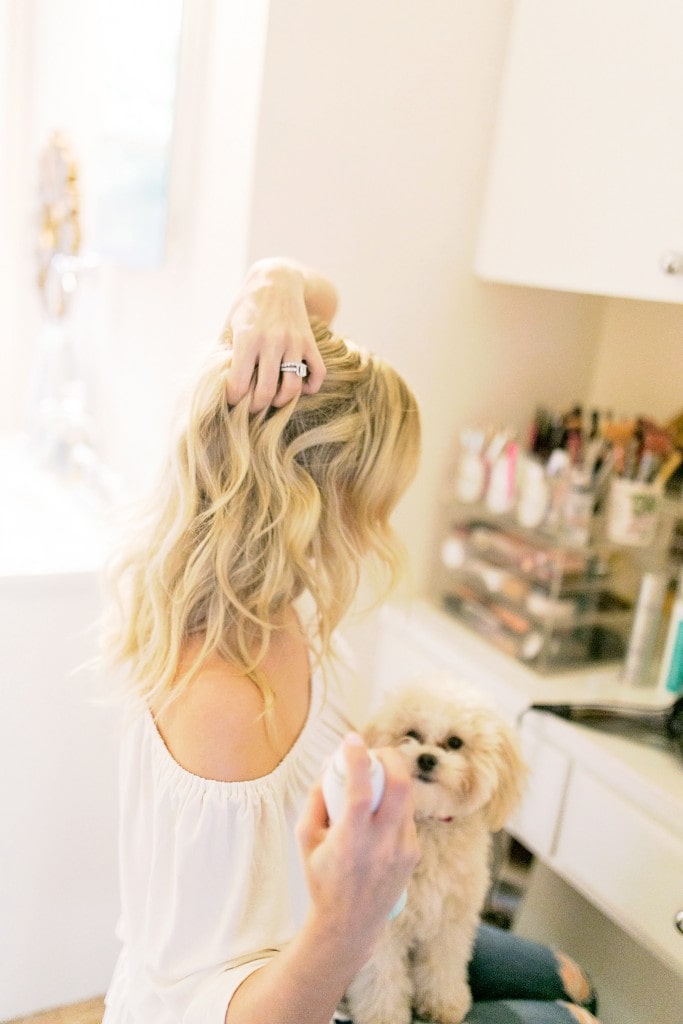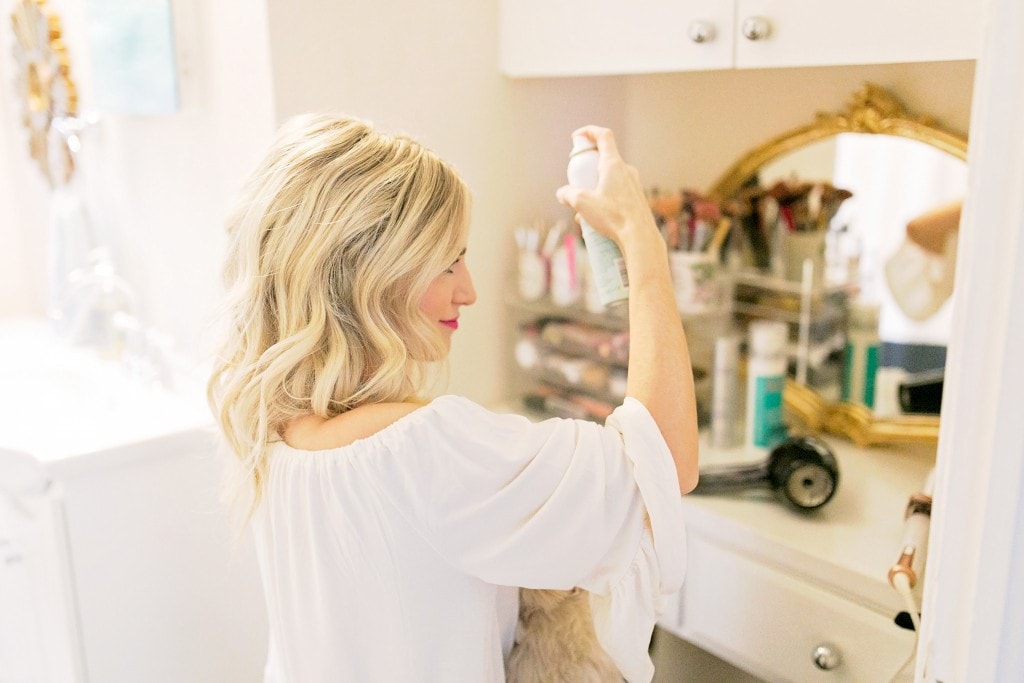 So now that I've only curled the top layer to hide the frizz and make it look "styled" I add in the miracle product. Drybar Triple Sec is a 3-in-1 texturizer that also works as a dry shampoo. What I love about this is that you can really work it in. Sometimes with texturizers I have to be careful and use just a bit or I can look like I stuck my finger in an electric socket and my hair isn't "flexible." This still allows your hair to be flexible and moveable, which gives you those tousled Victoria Secret waves.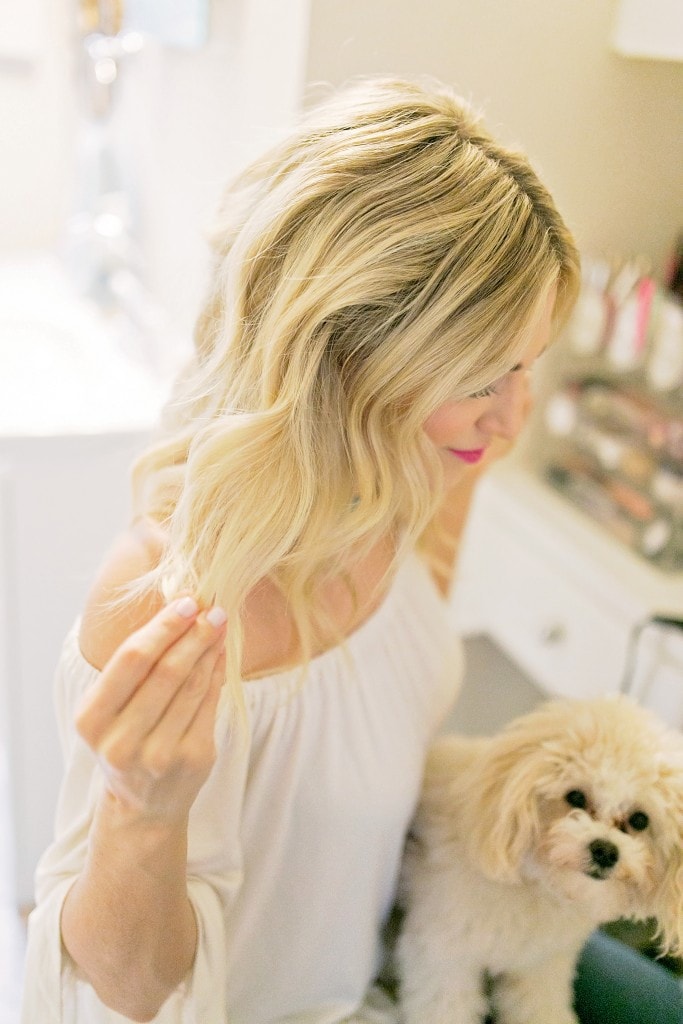 Spray all over and then rub the bottom strands together. Grab your hair about two inches towards the bottom and rub your fingers back and forth. This gives natural volume and texture and adds to the tousled look. This is a trick I stole from the VS Fashion Show that their stylists use!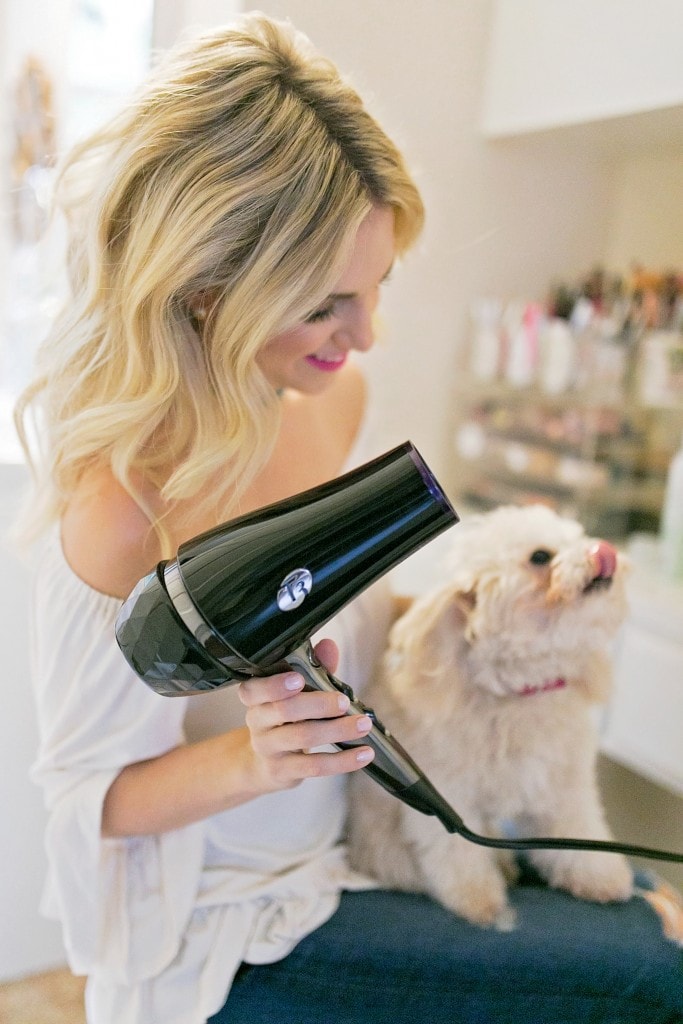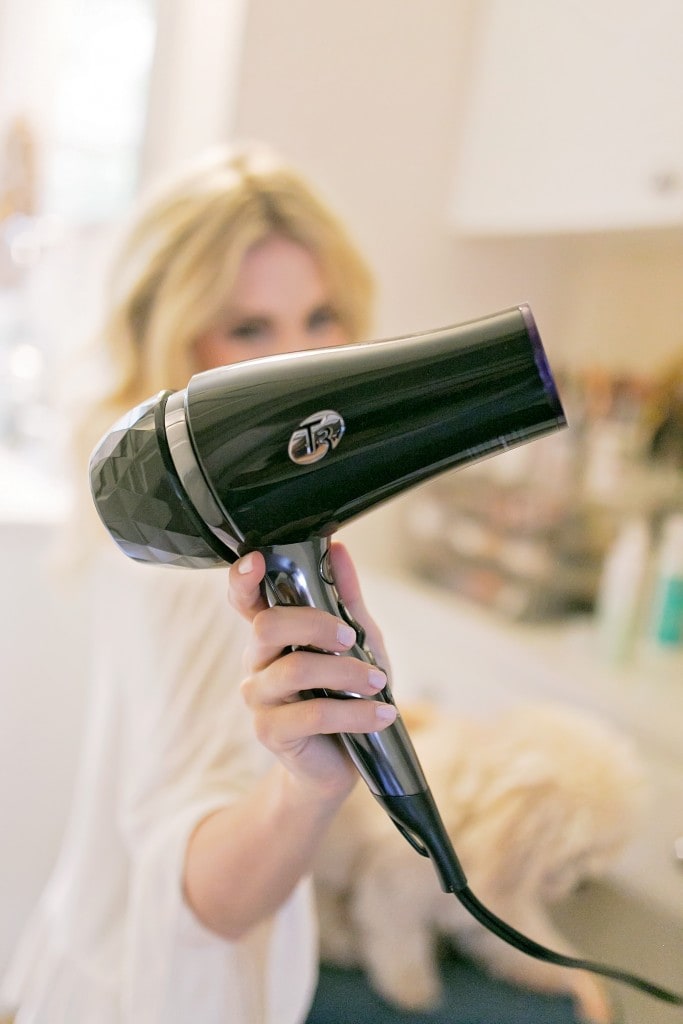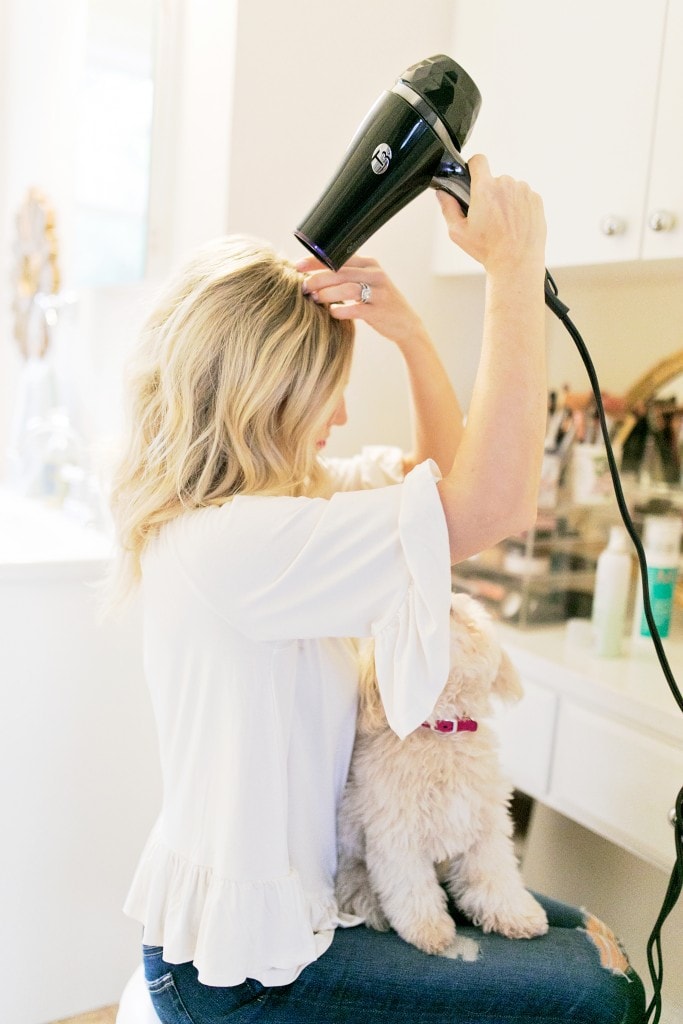 Lately, I've been using the Featherweight Luxe 2i dryer by T3 and this bad boy seriously helps with frizz! It blow drys your hair so stinkin' smooth but one of my favorite factors is their cool shot. It dries your hair 75% faster and generates ions to help your hair become healthier. But this cool shot, is insane. Every single dryer now has a cool shot and it's to set your style. However, it's never done anything for me! Something about this makes me feel like I honestly see the cuticle seal [which is what happens with the cool shot]. I take the dryer after I rub my strands together and do the cool shot on the top layer and I honestly think this helps and allows the style to last 3-4 days without touch ups.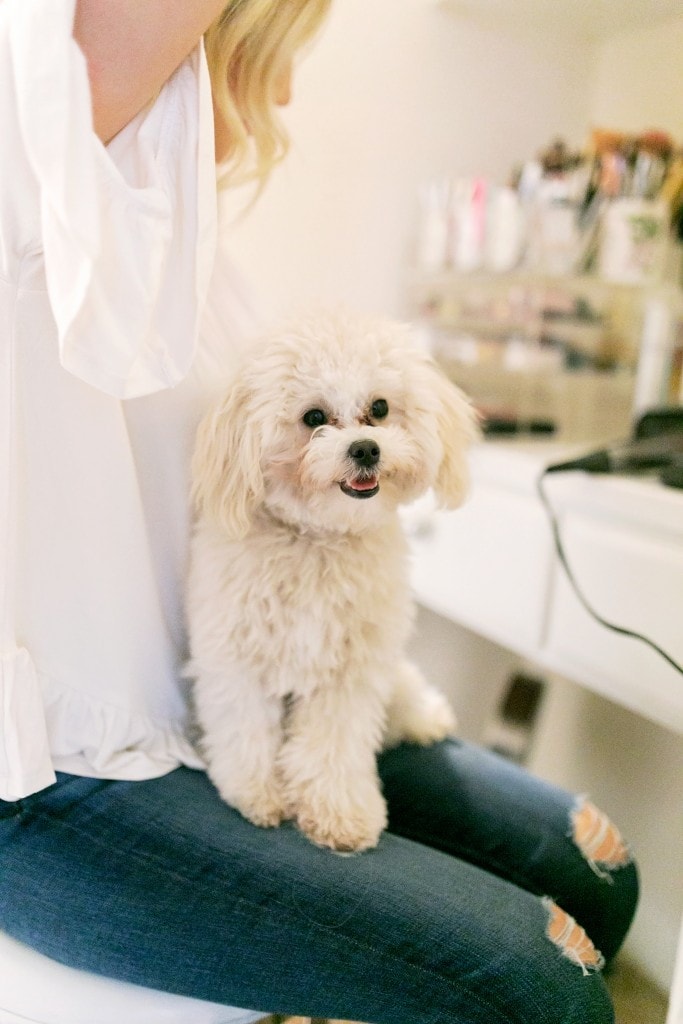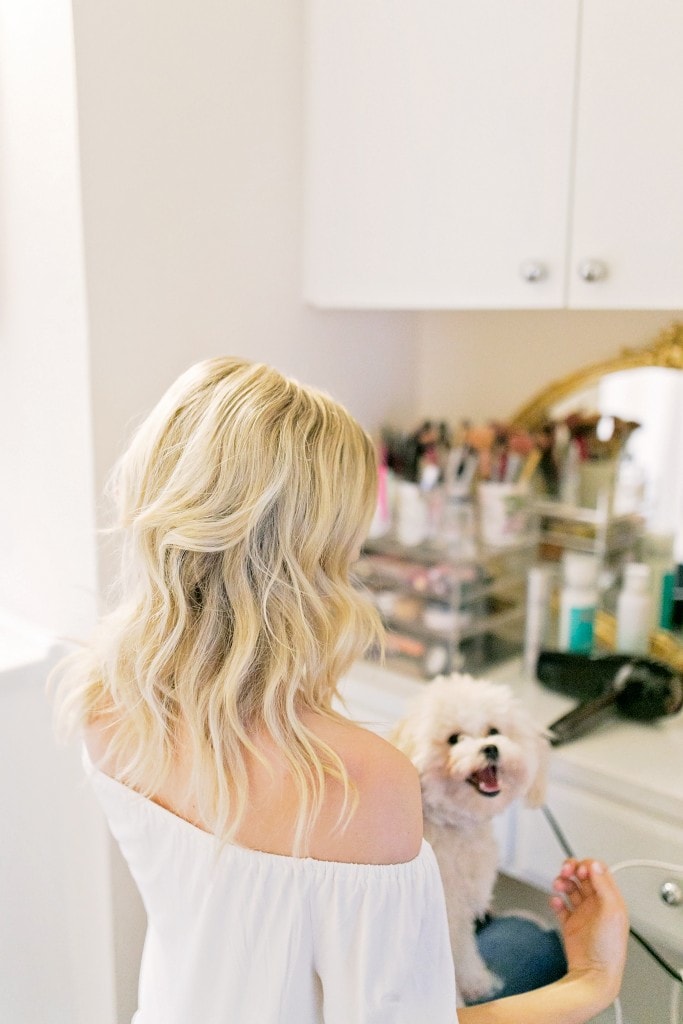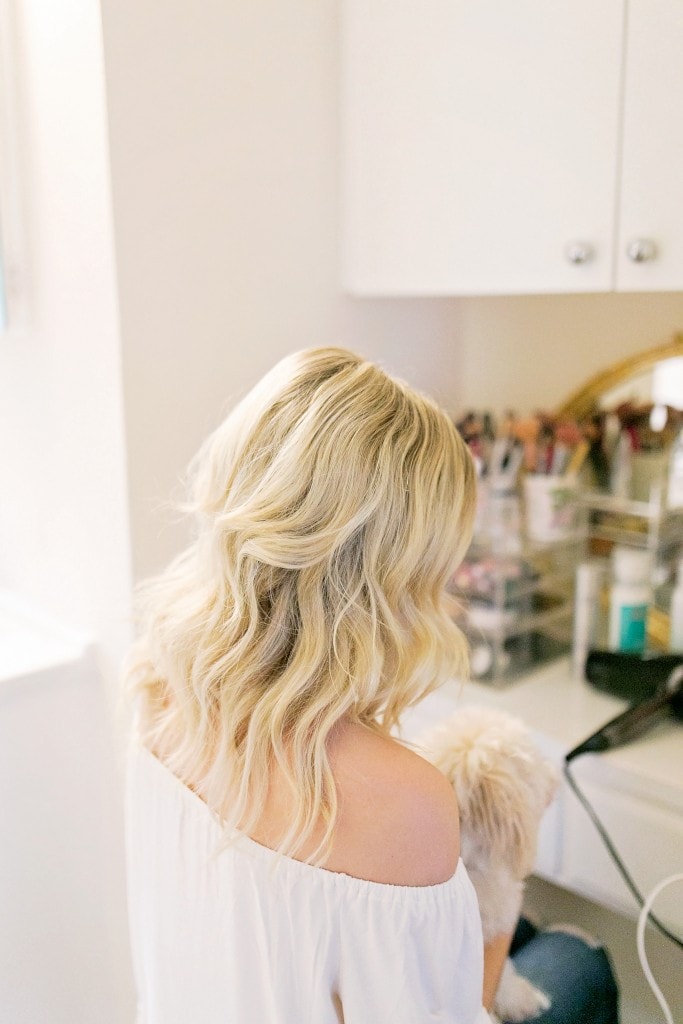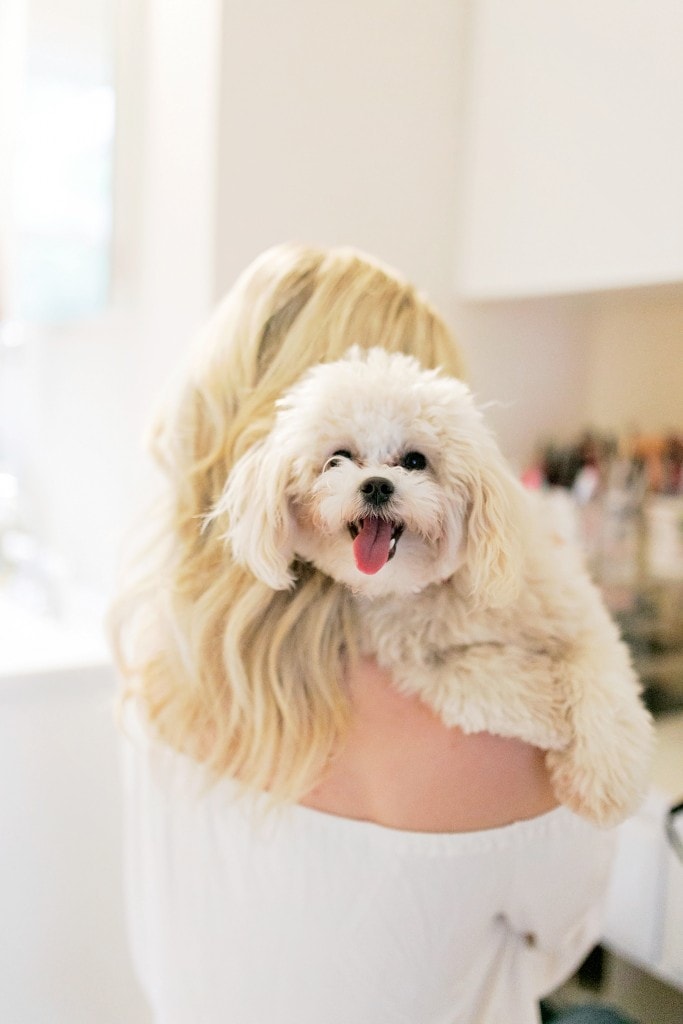 Then you're finished! I also love this style because it takes me 8 minutes max to complete it! With curling it can take upwards of 20-30 minutes, so you don't have to spend your entire morning sweating in the bathroom! All the products are linked below and feel free to let me know if you have any questions!

Choker: Sold Out, Similar | Lipstick: Invite Intrigue| Top: Urban Outfitters [Almost Exact] | Jeans: AG | Curling Iron: T3 | Blow Dryer: T3 [c/o] | Triple Sec: Nordstrom | Moroccan Oil Curl Defining Cream: Nordstrom | Heat Protectant: Nordstrom
Photography by: Angie Garcia