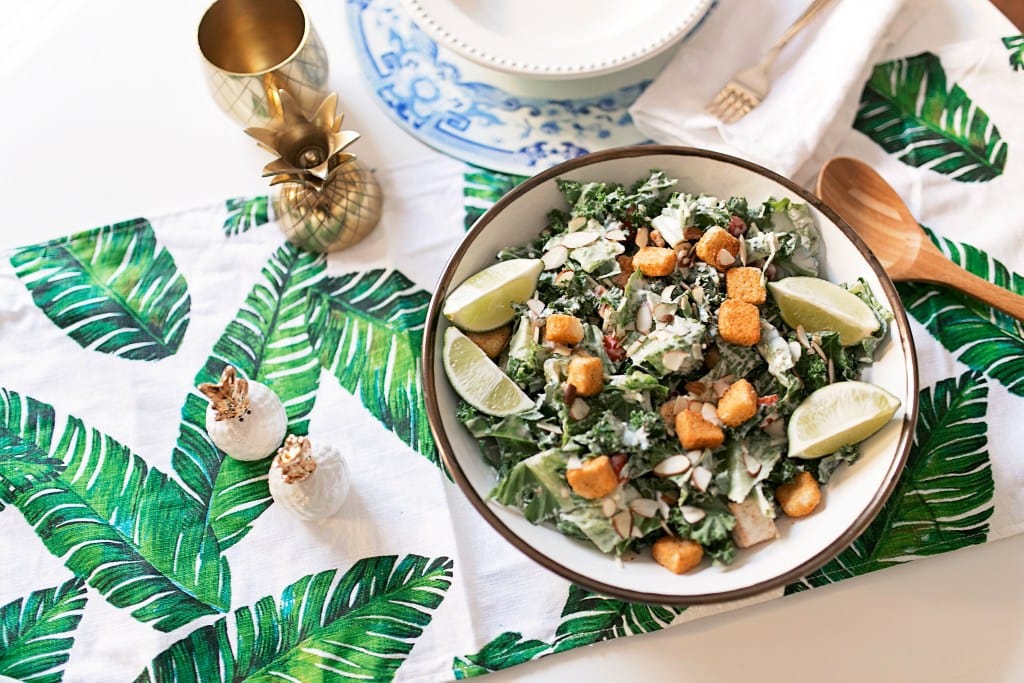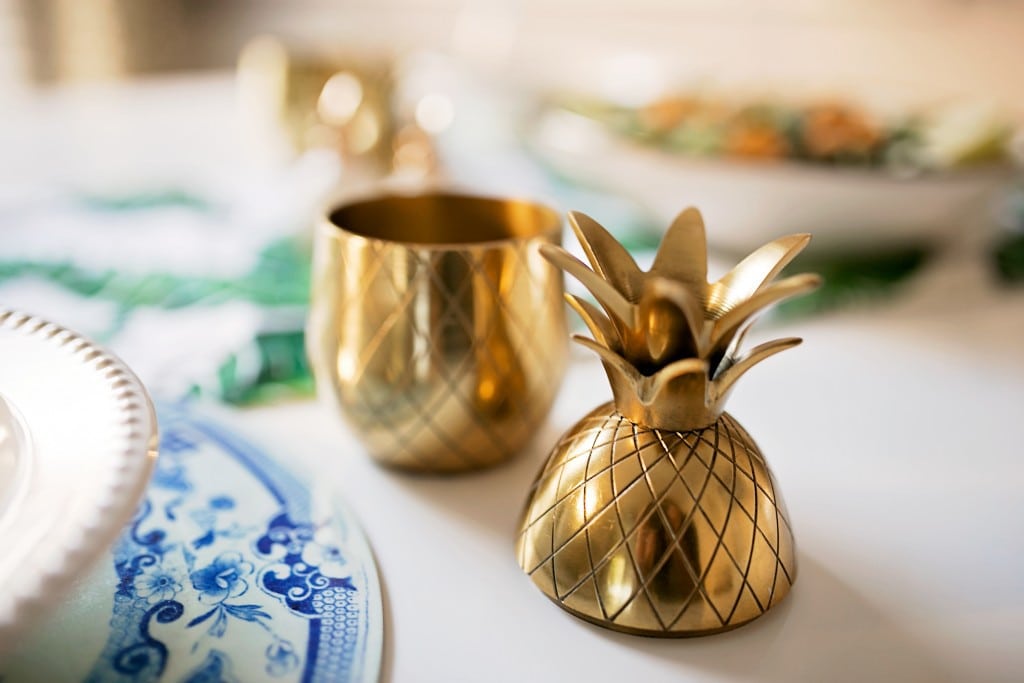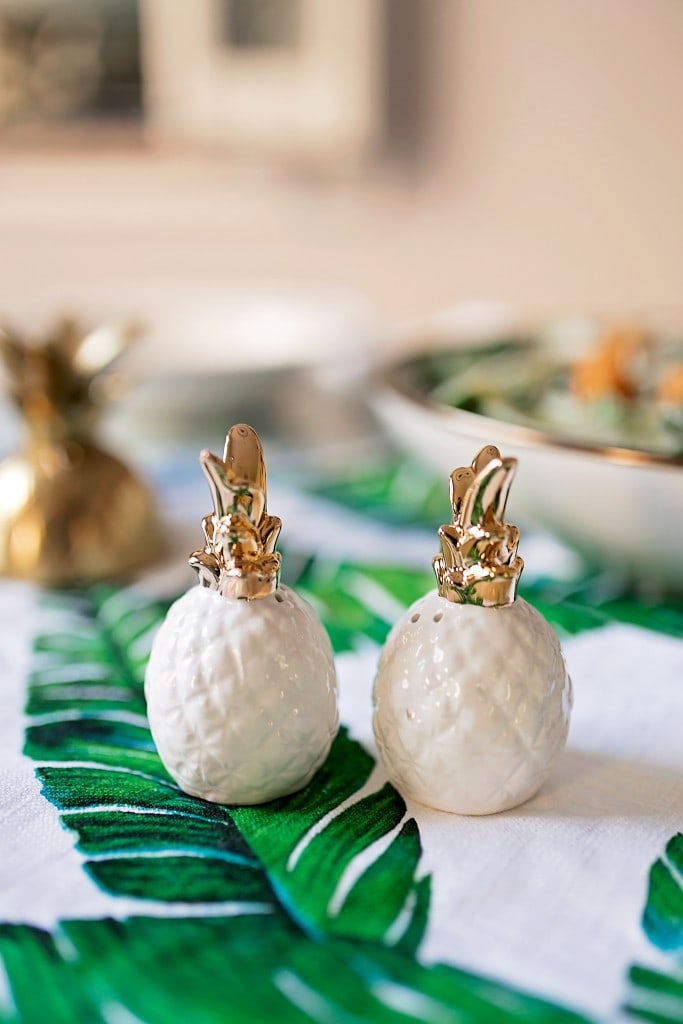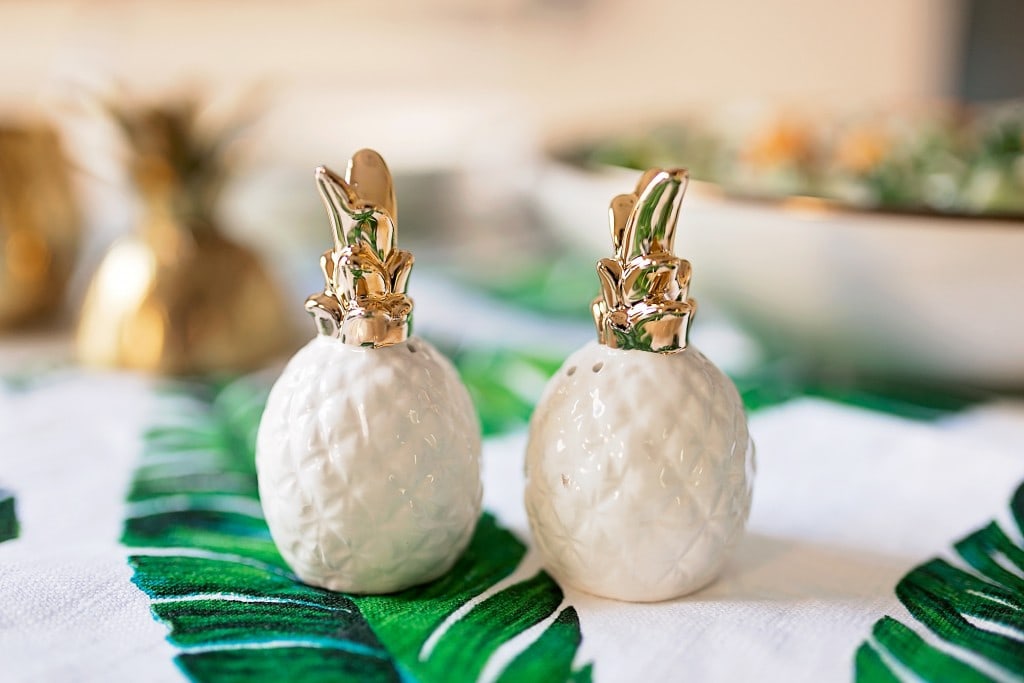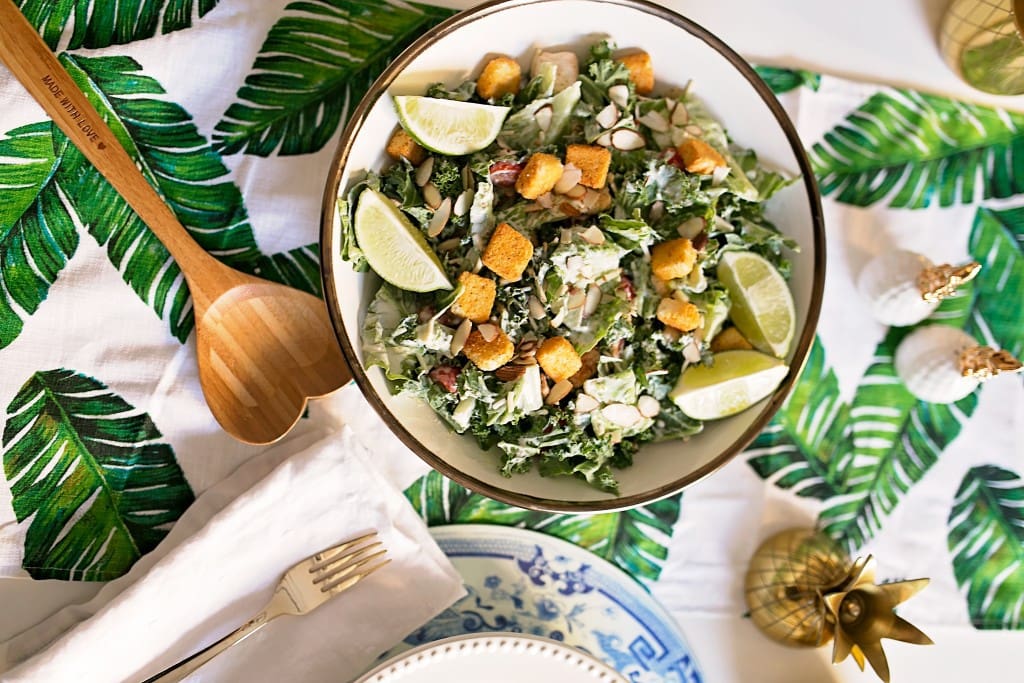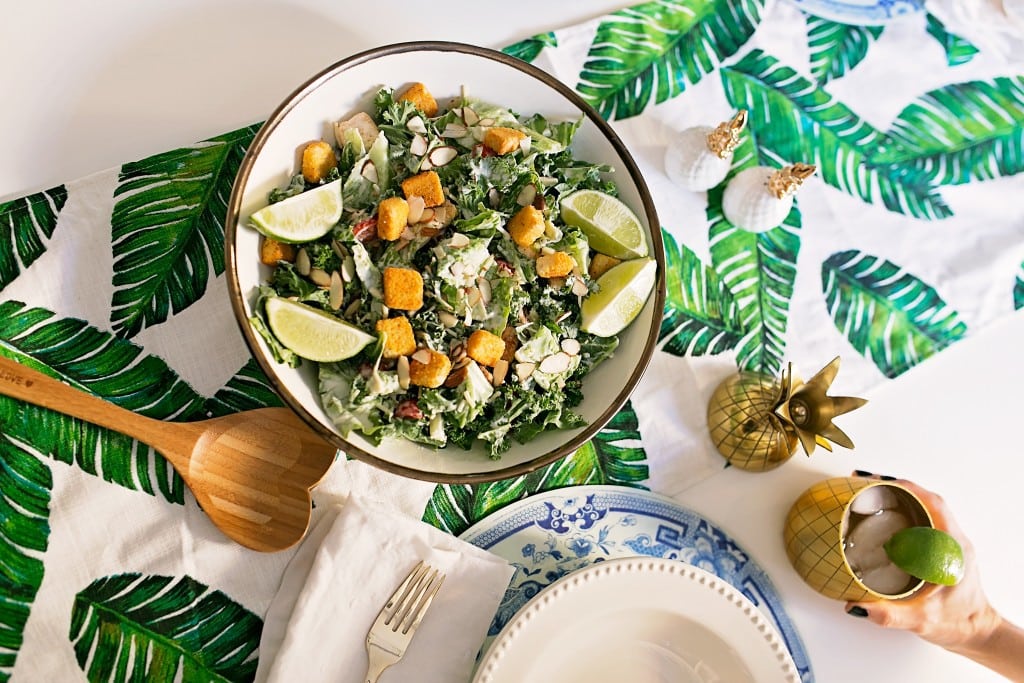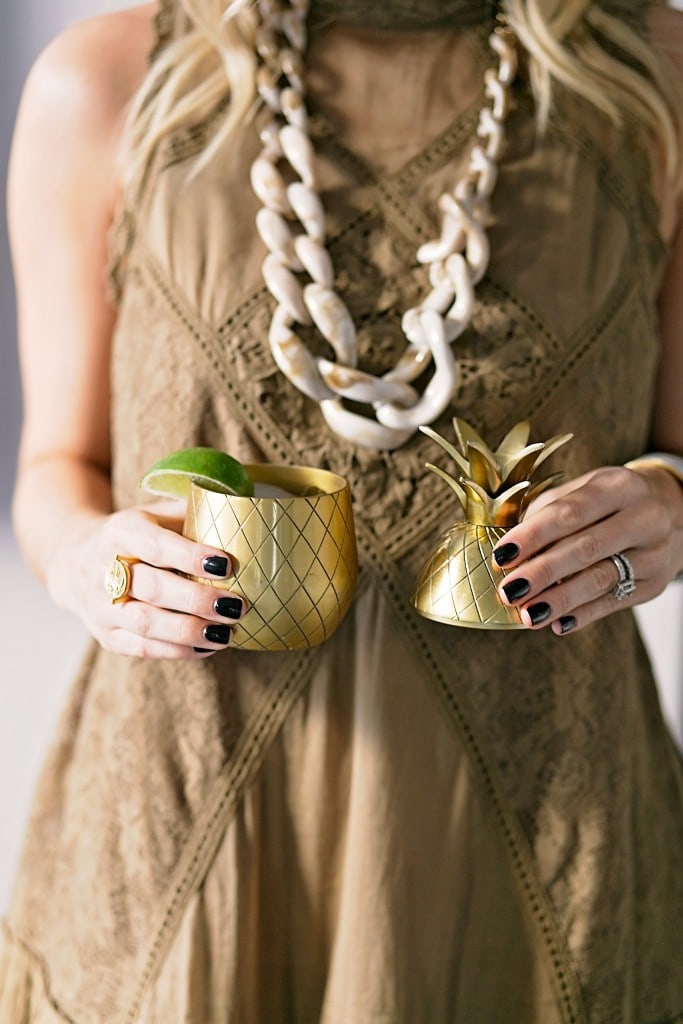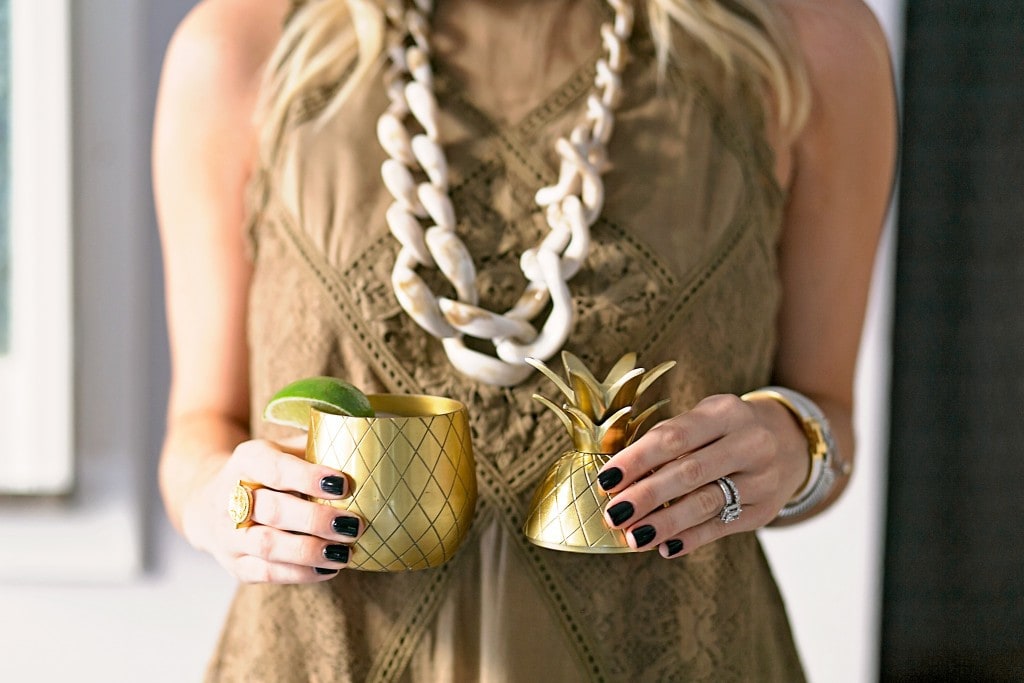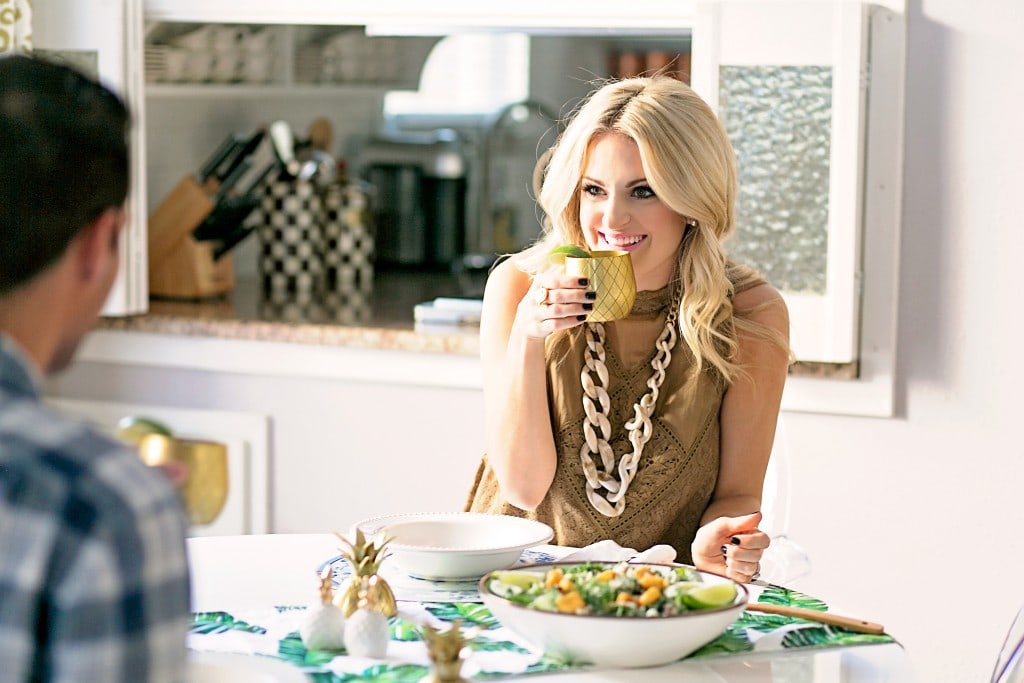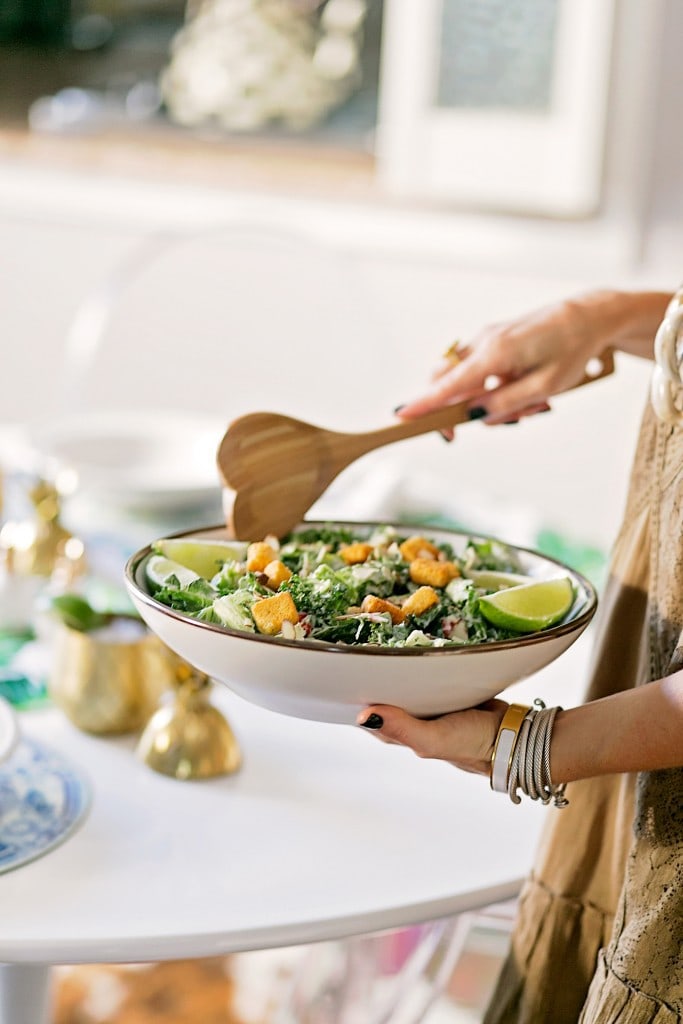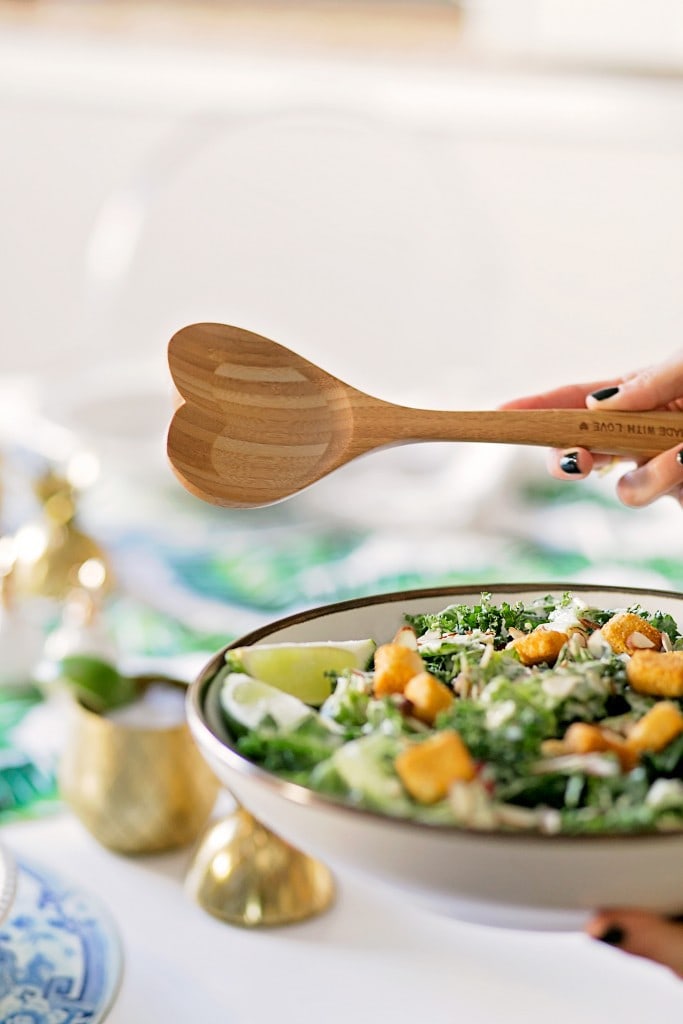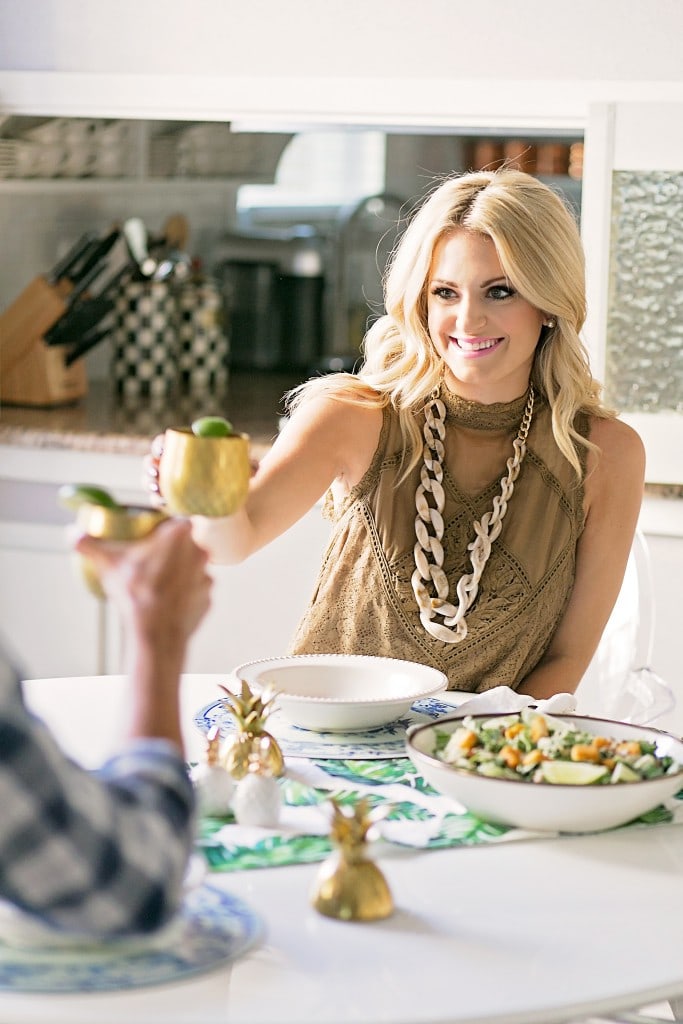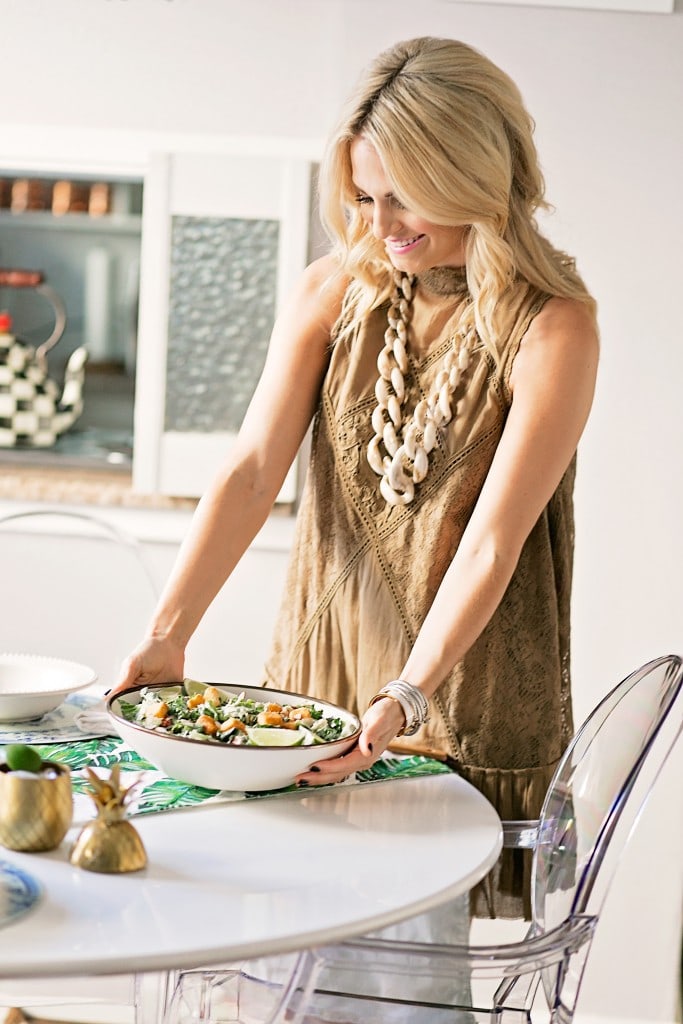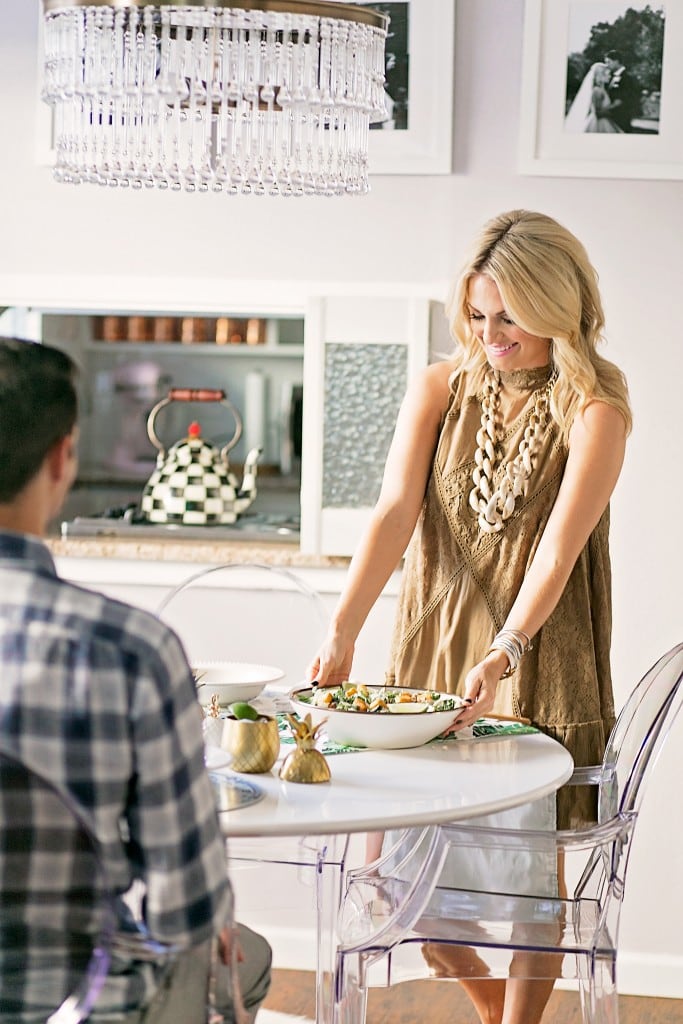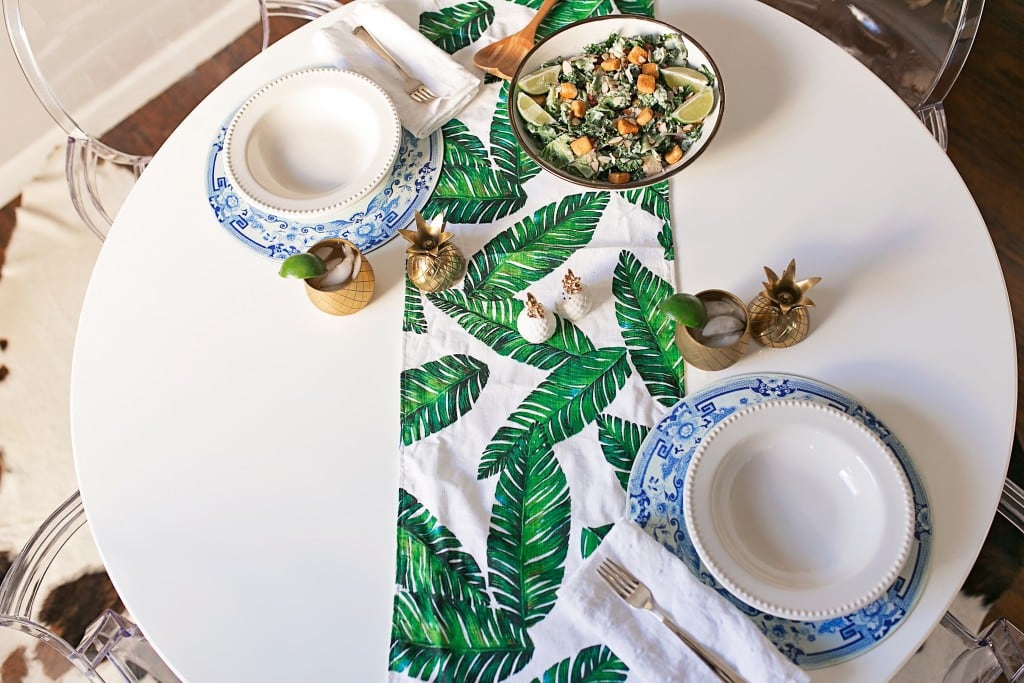 Palm Print Table Runner: ModCloth [c/o] | Salt & Pepper Shakers: ModCloth [c/o] | Pineapple Tumbler: ModCloth [c/o] | Heart Spoon: ModCloth [c/o] | Dress: Free People | Necklace: Baublebar [c/o] | Lipstick: Rosa | Place Mats: Lawrence's
Photography by: Angie Garcia
---
Not to be morbid, especially as we kick off the weekend, but if I were to pick my last meal on earth it would be a caesar salad and fries. Give me salty and give me just enough lettuce to not feel 100% guilty. I love making big caesar salads for dinner during the summer because you don't feel overly full after and you can run up and get ice cream or snow cones after!
Dating after marriage is definitely interesting. First off, you've got joint checking. Not that it diminishes how special gestures are, it's just hard! If I want to surprise Paul with something he is going to get a notification on his phone before I even do it and vice versa! I know he'll be sending flowers or he'll know I got him a nice bottle of wine. Banks just take the romanticism out of it! haha. And then there is the exhaustion factor. Now I know of course we don't have kids yet, but most of y'all know Paul is a CPA and it's really common for him to work until midnight for weeks on end while his company is filing. So sometimes on Friday nights I'll want to go out but the poor guy has only slept 12 hours in 5 days so I know it is better for him if he gets to stay home. But you still want to be able to make it special!
Today I'm partnering with ModCloth and wanted to share a few special ways and a special recipe to have a fun summer date night at home!
1. Dress Your Table
Now I like to think of myself as a minimalist. I know good and well that I'm not, but I also can't handle home decor clutter! I don't like leaving things out on our kitchen table and I don't like a lot in the kitchen. But with just the two of us, dinner plates can seem a bit sparse. Get a fun table runner, festive salt and pepper shakes and fun place mats. Make your dinner table a bit more dressed up and it's amazing how that affects conversation. Instead of us talking about how tired we are or how much we just want to watch Netflix, we actually discuss things and end up sitting at the table for much longer. I seriously hope palm print never goes out of style because this Palm Print Table Runner from ModCloth was just the right about of summer and bright white. I also added these Pineapple Salt and Pepper Shakers from ModCloth. Pineapples were a huge theme of our wedding as they are the southern symbol of hospitality and we felt as if our wedding was welcoming all our family and friends into our new life as one. These are also a perfect gift for brides to be!
2. Make a Summer Cocktail
I'm never drawn to a cocktail list at a restaurant, simply because I never can appreciate it! I'm either thinking it's far too strong or it's far too sweet. I like three things: red wine, margaritas, vodka water. I'm about as boring as they come in the bar cart department. But, we love to infuse vodka water with lots of citrus! We'll try grapefruit, lemon and lime or somethings orange and lemon. It's really refreshing and nice to drink if you sit on your patio in the heat! I love these ModCloth Pineapple Tumblers for cocktails and we leave them on our bar cart [we just got a new one!] when not in use. You could even style your coffee table with them.
3. Get out Blankets
When you get married you will get 50 blankets. I didn't even know two people needed so many blankets when I would open them at my bridal showers and now that we are married I want more! haha. We use them all the time from watching movies on the couch, to going on picnics and heading down to our local gardens for concerts. I love to set our couch up with pillows and blankets before dinner because I know if we go get ice cream and head back we will want to watch a movie. I like to pick up fun quilts for these kind of nights and have it already set up. Always keep an extra folded at the end of your bed for functionality and style! ModCloth has a lot of fun printed pieces in the bedding department here. I'm wanting this blanket for fall!
4. Dress Up
If you both get home from work at different times, chances are one of you is in workout clothes or sweats by the time the other gets home. I work from home and always feel so guilty if I'm in workout clothes when he comes home. Of course he doesn't mind, but I just don't feel as dressed up as I would on a date. Throw on an easy shift dress which requires no work and you'll feel much more inclined to take dinner slow and have good conversation, whereas if I'm in workout pants I think, "Hmm. I should hurry and we should head to the gym."
5. Don't Clean Up After
One of my favorite parts of making a big salad is that you can easily clean as you go and you're never stuck with 5 pots and pans after dinner. I also love that you can just toss the rest or putt it in the fridge and you don't have to do much! Sure you need to clean the table and put dishes away, but don't do that until after your date! If you're going to go get ice cream or watch a movie treat it like a restaurant and do that immediately. I normally would never suggest that, but sometimes life is just meant to be enjoyed and messy and not fussed about. Our kitchen is too small for both of us to be in, so one of us ends up cleaning while the other waits on the couch and it just feels like routine. Sometimes you just need a date night at home where you aren't stressing out over chores, including dishes!
This Kale Caesar Salad is an adaptation from Gimme Some Oven here. I just took out the anchovy paste !
Do you have a favorite way to spruce up summer date nights or a go-to recipe? ModCloth has so many special little pieces to make your at-home date nights feel a little bit more romantic! I'll link some of my favorite home decor below- but if we are being honest we know I love all the home decor. #addictproblems

In partnership with ModCloth. All opinions are my own.