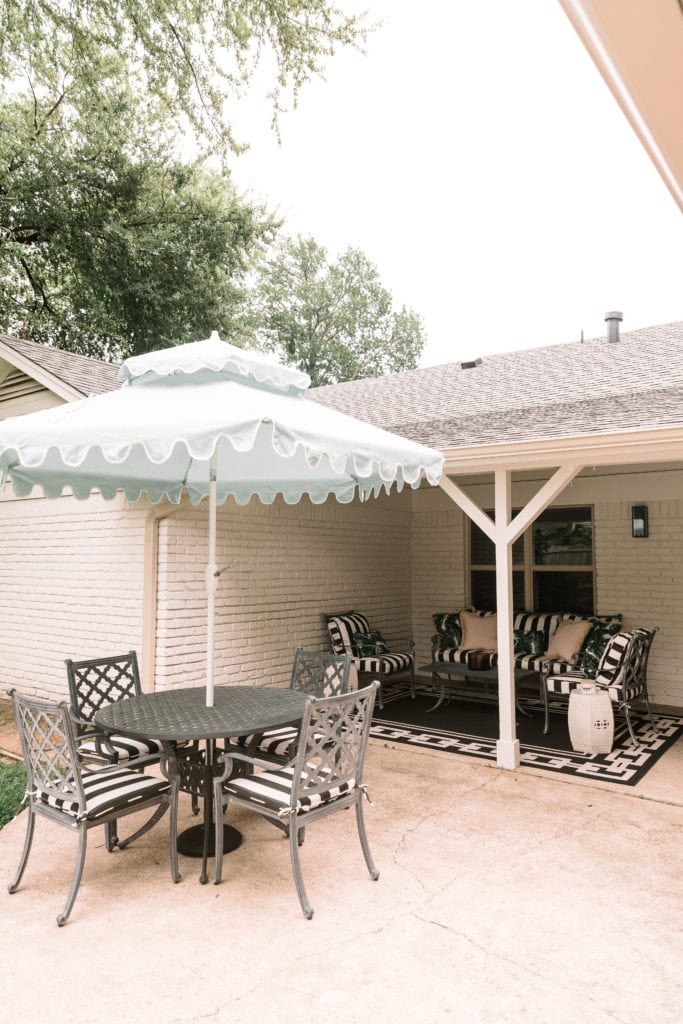 You may remember our patio reveal from our last home, and slowly, but surely, we have been working on the patio in this space. We've set up all our furniture and decor from the last house, and now I'm just trying to sort and organize Maxi's toys best. We worked with Royal Covers aluminum patio covers company in Phoenix since we wanted to have more shaded areas outside and I have found it's so nice in the summer because we can still spend a ton of time outside with Maxi!
Here's everything from our last patio linked:
Dining Table & Chairs | Sofa | Side Chairs | Coffee Table | Cushions | Pink Pillows | Palm Pillows | Rug
I was cleaning the patio cushions after our move a few weekends ago and asked you all on Instagram how often you cleaned yours! I got a slew of responses and requests to share, so today, I'm talking patio updates!
Most of you said you clean your cushions twice a year in the fall and spring and you put them away in the winter. Some of you use fancy sprays, some of you use power washers, and many asked for a cleaning recipe.
My mom told me to do 1 quart of water mixed with a teaspoon of Dawn and a teaspoon of Borax. Then you spray the cushions, let it sit on for about 10 to 15 minutes, and then you can scrub and let the cushions dry in the sun. Some cushions allow you to wash them in the washing machine, but if you do that be sure to put them back on the pillows before they dry in the dryer otherwise they can shrink!
I ordered these to quickly clean off the furniture after our all-too-frequent Texas summer storms after many recommendations. Lastly, I ordered this cleaner after you all answered my question on IG and said you used this! I'll let you all know which method I prefer.
Now for a few other outdoor knick-knacks, you've got to try these citronella candles that smell divine. I don't generally love the smell of citronella candles, but in Texas summers you've just got to use them. But these have such a pleasant scent, I forget it's an outdoor candle and almost think it's like something I would burn in my kitchen. I also just ordered this bench from Walmart for outdoor storage. I was trying to find something where I could tuck Maxi's toys away, but still, provide seating. Our outdoor patio is like a "J" shape" so photographed above is the "hook" part. We still have this longer space to fill and I'm going to put that bench there with more matching pillows. We ordered it in the distressed white, which I think will blend nicely with some palm print pillows on top! Then we got this plant stand for the back patio as well as this front-porch planter for by our front door. We also have some string lights we need to hang, but since this photo, I've added hanging flowers to the patio and have loved that!
Things I Have Ordered

Patio Umbrellas

Maxi's Toys
Maxi's two favorite outdoor toys are her playhouse and her water table. These two keep her busy for an hour and have been great to have for summer play dates.

Outdoor Pieces I Love

So now I'm all ears to your patio secrets. What's your favorite grill for your guy? Do you have any outdoor patio must haves?! How do you make your outdoor space as cozy and functional as your indoor space?!
Also, let me know which cleaning method you prefer! 🙂