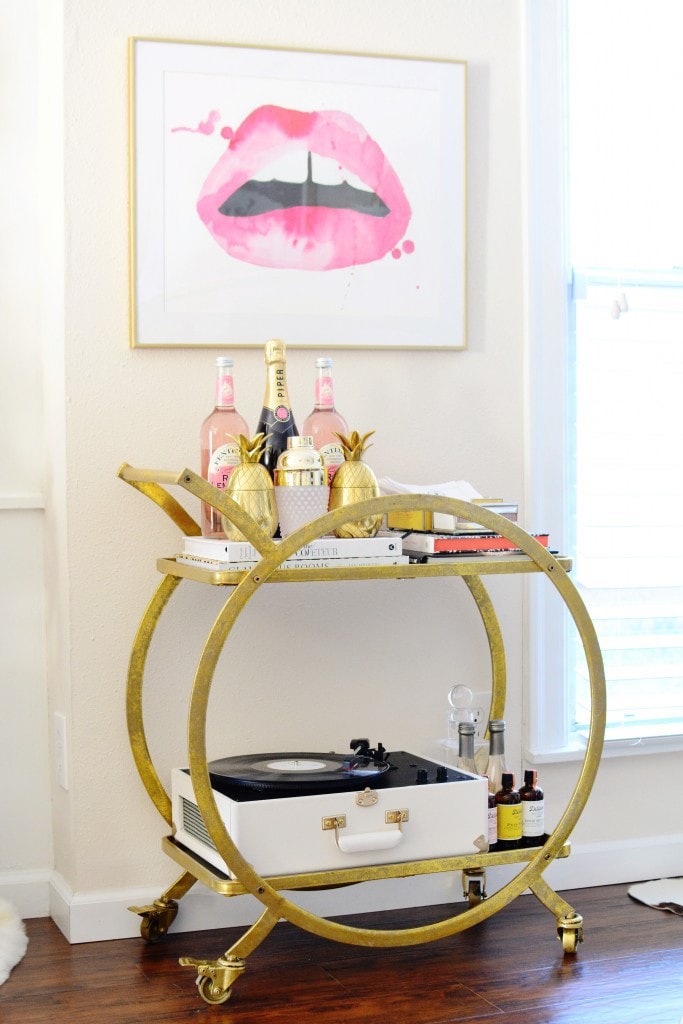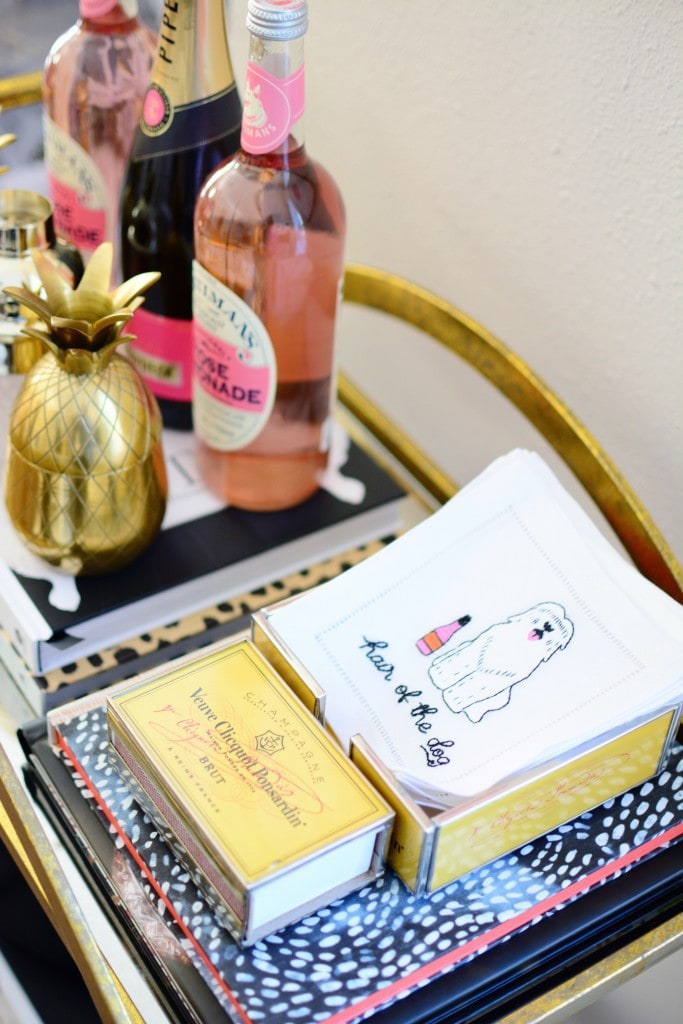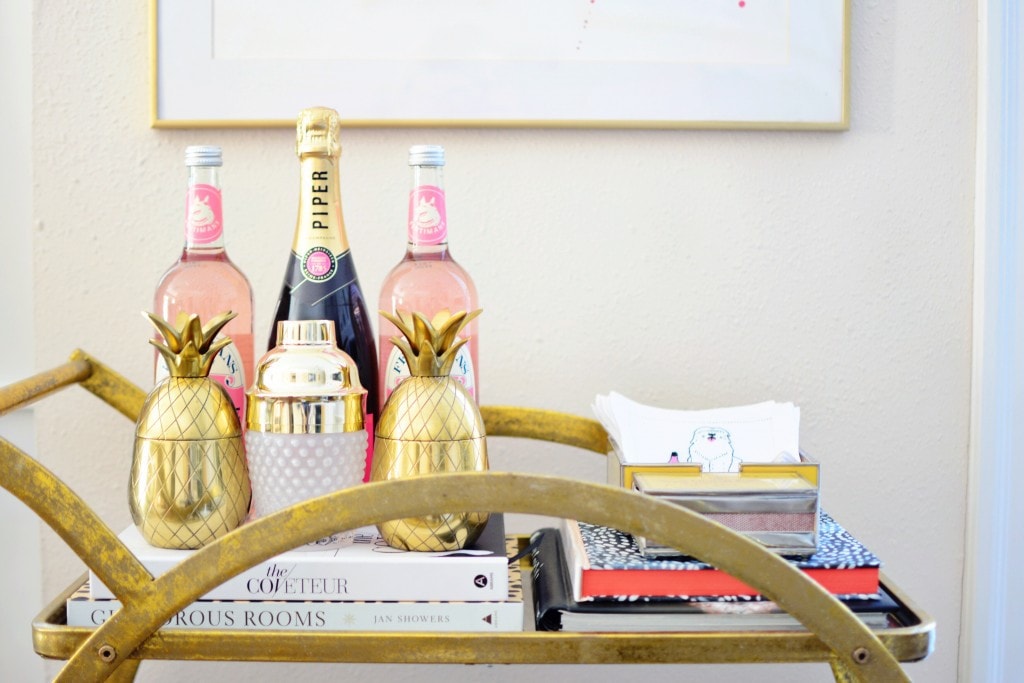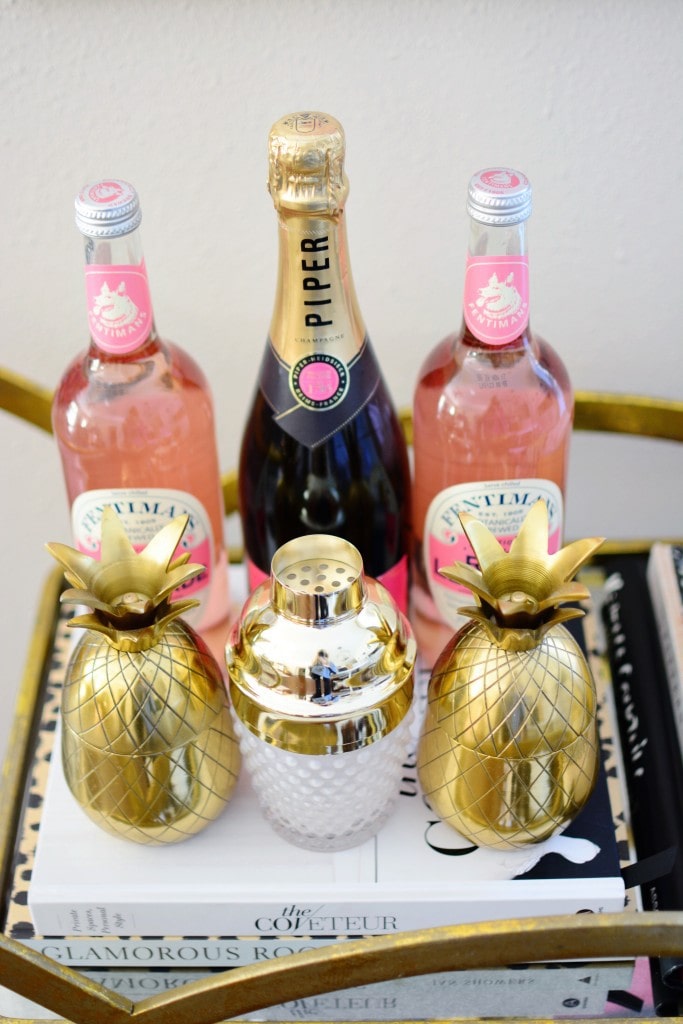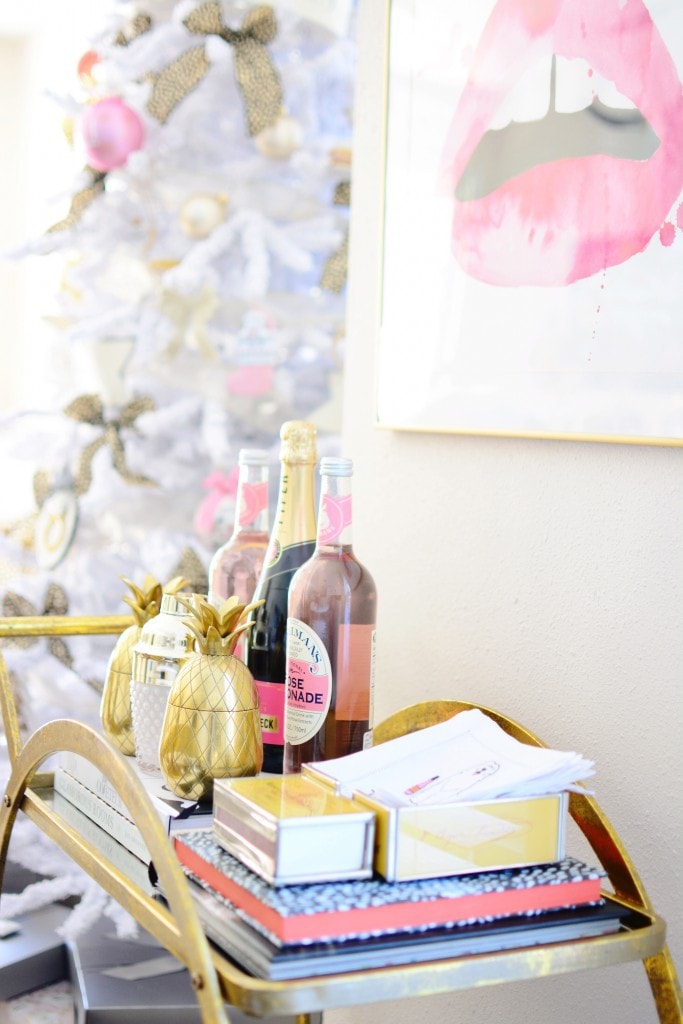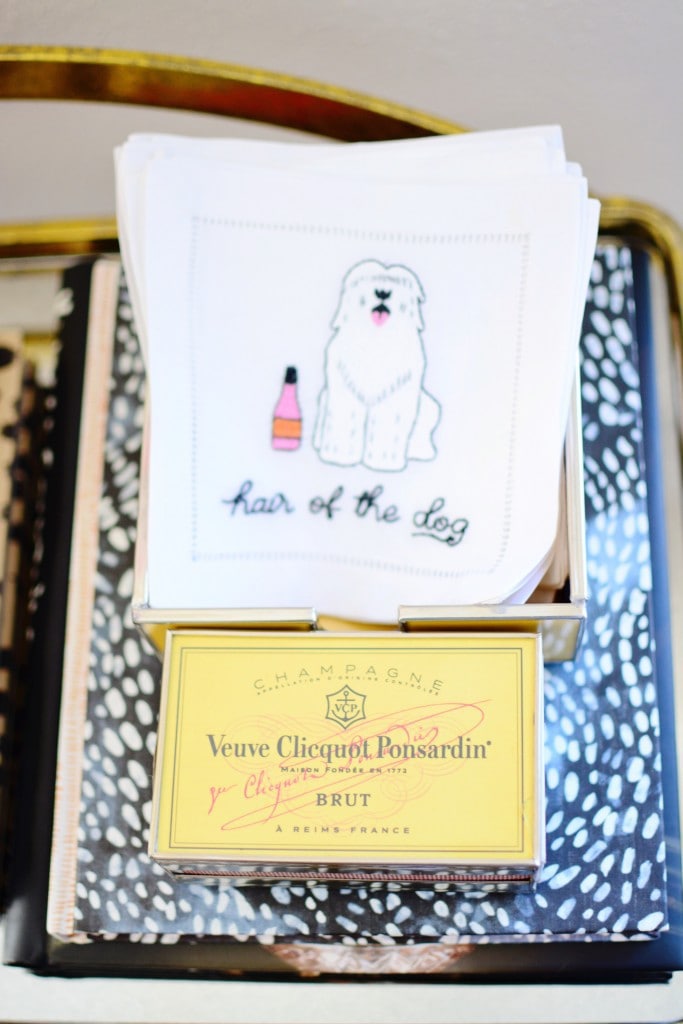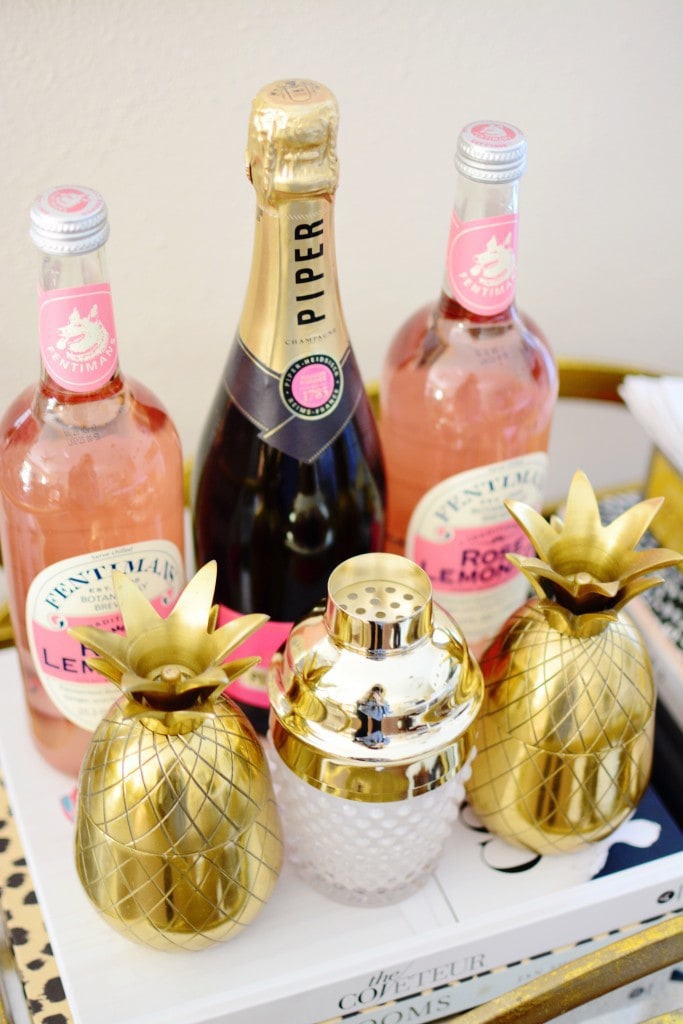 Bar Cart: Lulu & Georgia [c/o] | Record Player: Crosley | Lip Print: The Aestate | Cocktail Mixer: Anthropologie | Coffee Table Books: The Coveteur, Glamorous Rooms, Vintage Cocktails, Living With Pattern | Pineapple Cocktail Cups: ModCloth [c/o] | Vueve Clicquot Matchbox: White Elephant Designs [c/o] | Vueve Clicquot Napkin Holder: White Elephant Designs [c/o] | Cocktail Napkins: White Elephant Designs [c/o]
---
Happy Monday! Today this pregnant lady is show ing you how she styled her bar cart for December! 😉 Jokes aside, we had such a wonderful weekend. Our family all came in town for my first baby shower and can I just say that that might have been more fun than wedding showers?! Is that allowed? I'm more excited about her getting items than I was Paul and I! Sunday afternoon we also got to tour our hospital, although we already got a tour, it just wasn't intentional. I don't think I shared this-I honestly can't remember, but at 22 weeks I had some contractions so my doctor had me go up to L&D to get checked out. All was fine with baby, she was just having a big growth spurt and because my torso is so stinkin' short I was having contractions. And y'all…everyone I met in L&D was just the nicest. All the nurses were so sweet, when it was time for me to go home I thought, "Oh, thank goodness I'll get to see you again!" haha. L&D nurses have such kind and loving spirits about them and although I remember being so nervous having to get checked out, they made it really easy. But it was nice to do the "actual" tour with other people and see everything.
I know this isn't a bumpdate, so I'll keep the baby update short but I did want to share that it felt so good to get that checked off our to-do list and to also celebrate her upcoming arrival with family and friends. 9 weeks left until she is here!
Onto the home decor! Although, I'm not throwing red and green all over the home I still think seasonally refreshing pieces in your home allow it to feel new and help me not get tired of items! I just like to move things around, mix them up and reuse items in different ways. It's one of my favorite tips on budgeting! I'll spend a few hours on a Sunday afternoon moving things around and I feel as if I shopped for a good 4 hours at Homegoods. I'm content and at this point exhausted! haha.
I like to stack coffee table books on my bar cart as a way to add layers and dimension. I mixed in some sparkling lemonade, cocktail napkins, a vintage matchbox and of course our record player. I got this record player for Paul on Valentine's Day this year and I can't recommend it enough! We have had a blast this year gifting each other records and playing it while we cook dinner. Peaches loves it too, and will just lay in front of it for hours in the morning while I play music. Paul doesn't collect anything and so gift giving can get tricky, but we always love to leave each other cards every few weeks and we will throw in a record or two when one of us is gone for the other to come home to.
I'll share a few of my favorite bar cart staples below, I'd love to know what you use yours for!
Bar Carts

Record Players

Coffee Table Books

Cocktail Glasses

Accessories