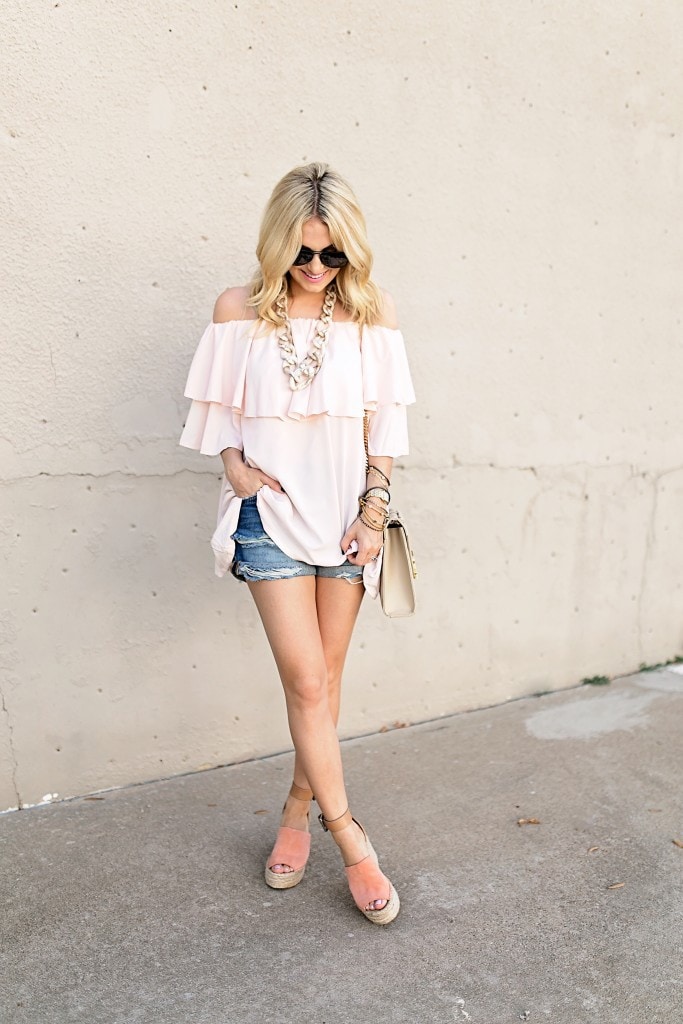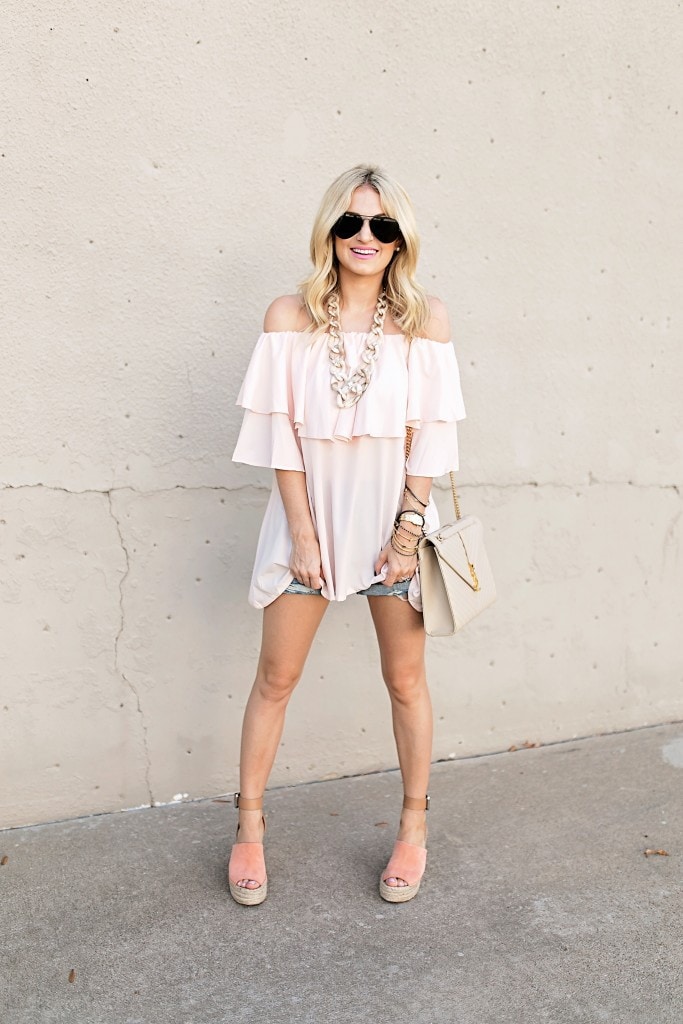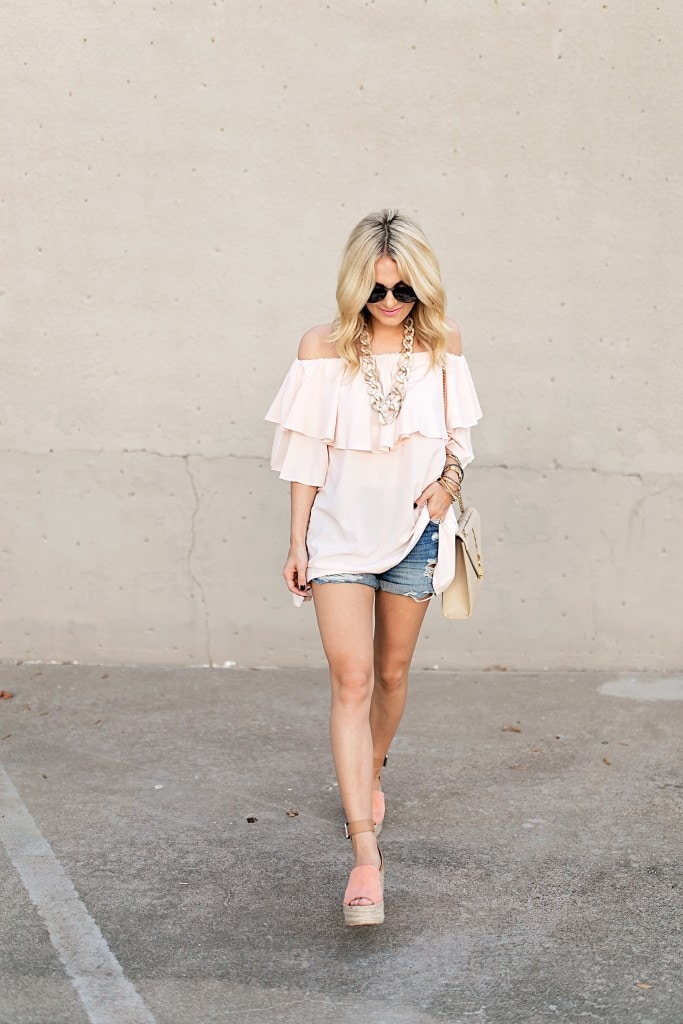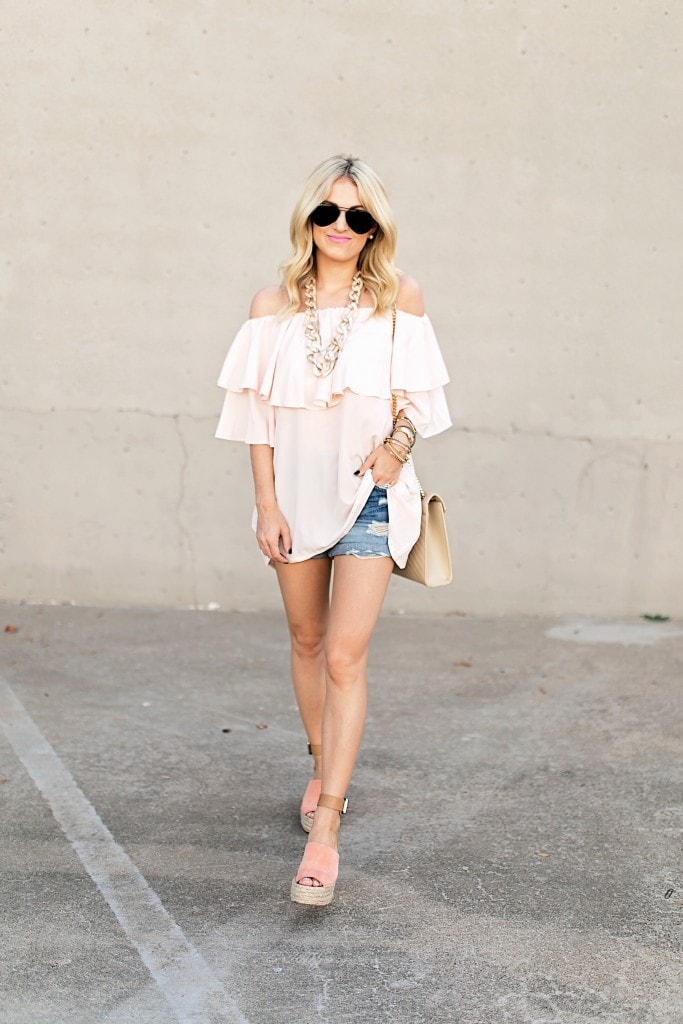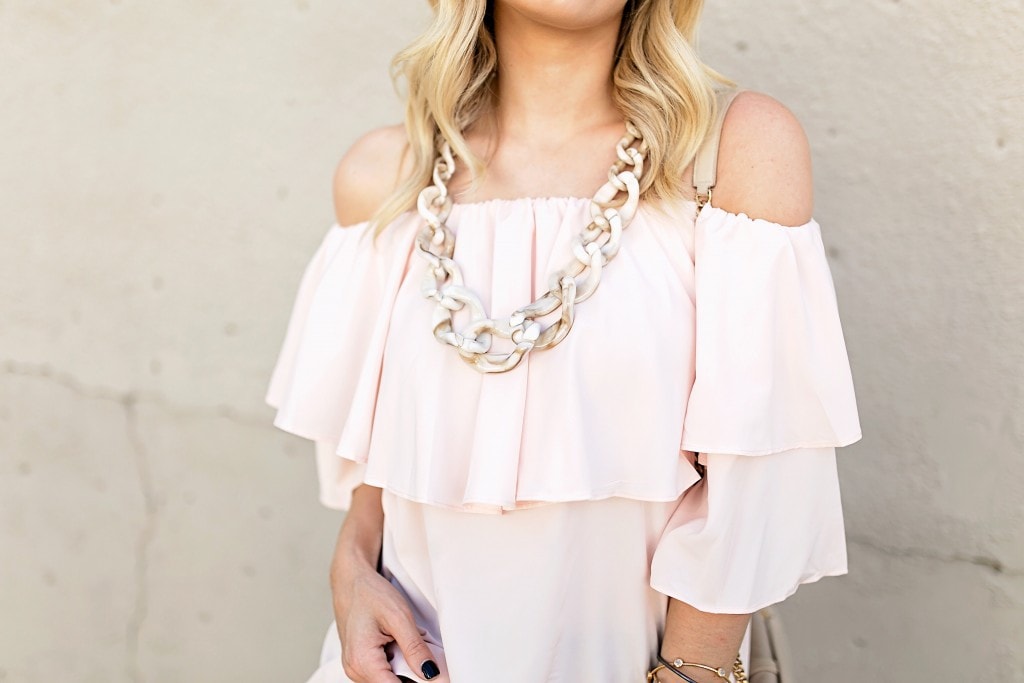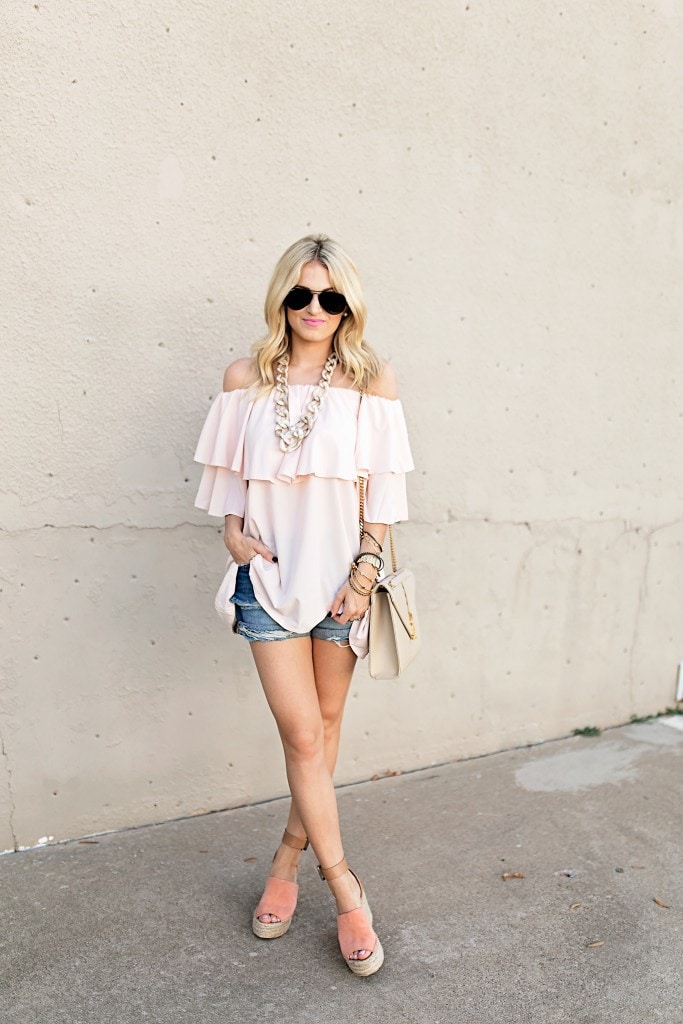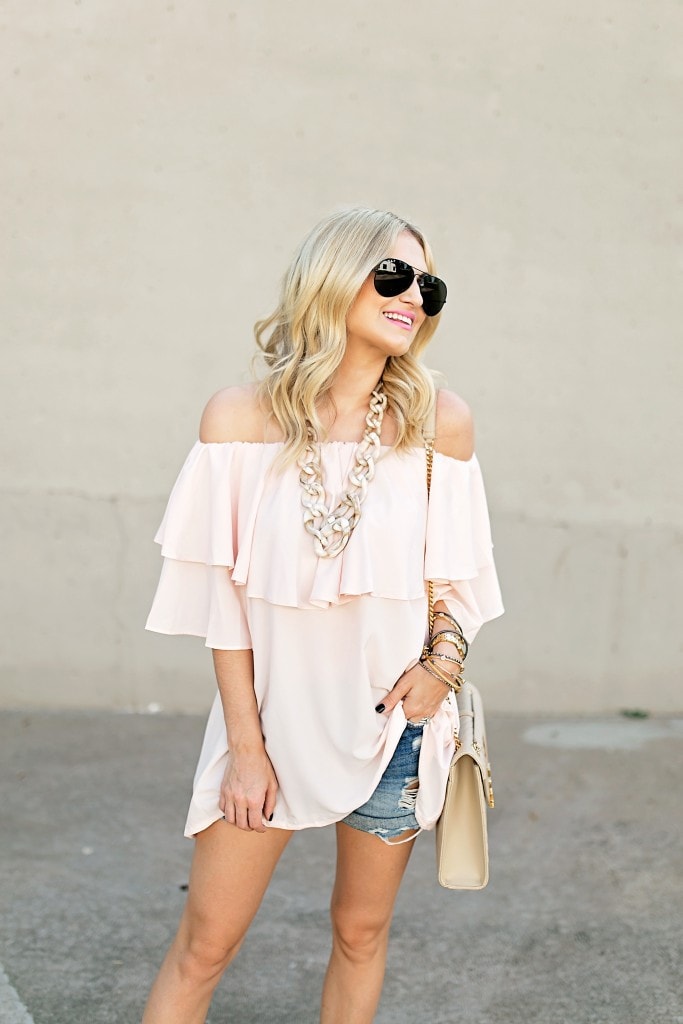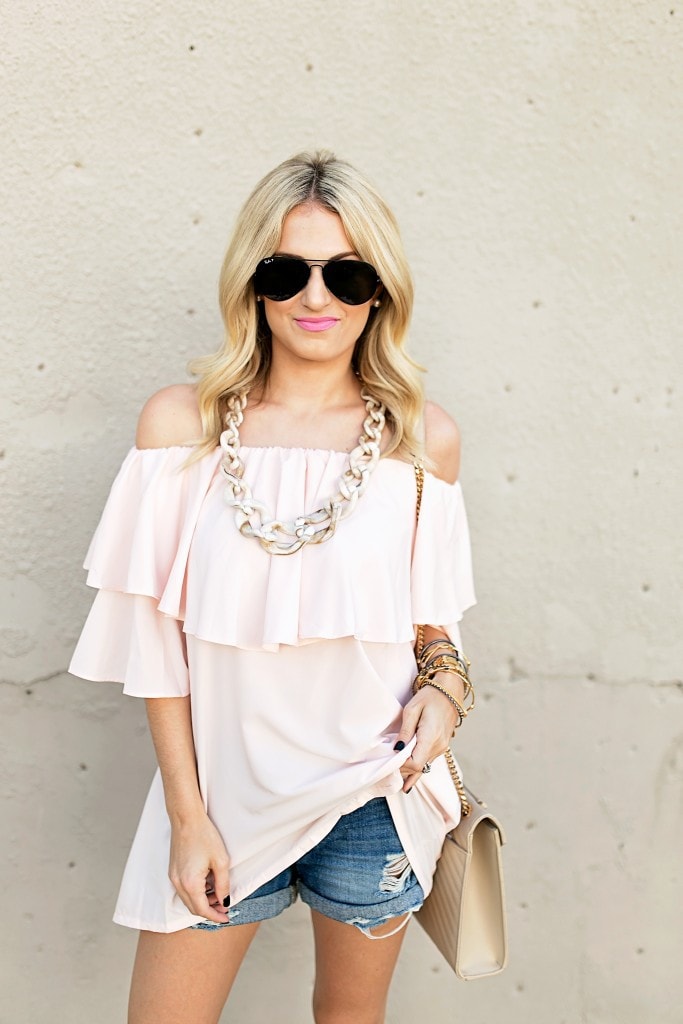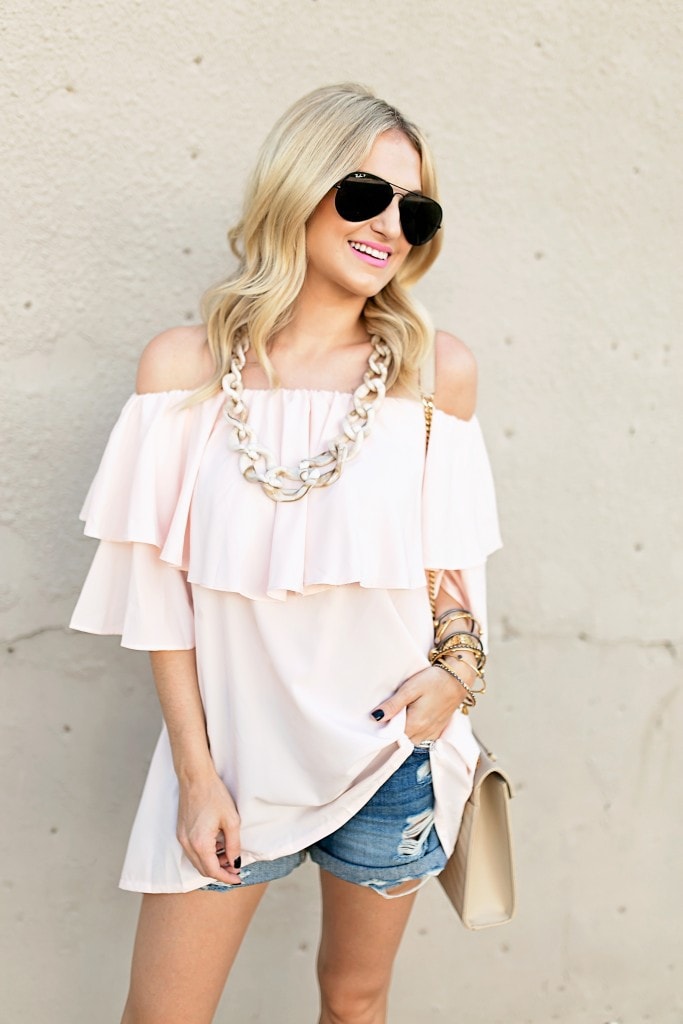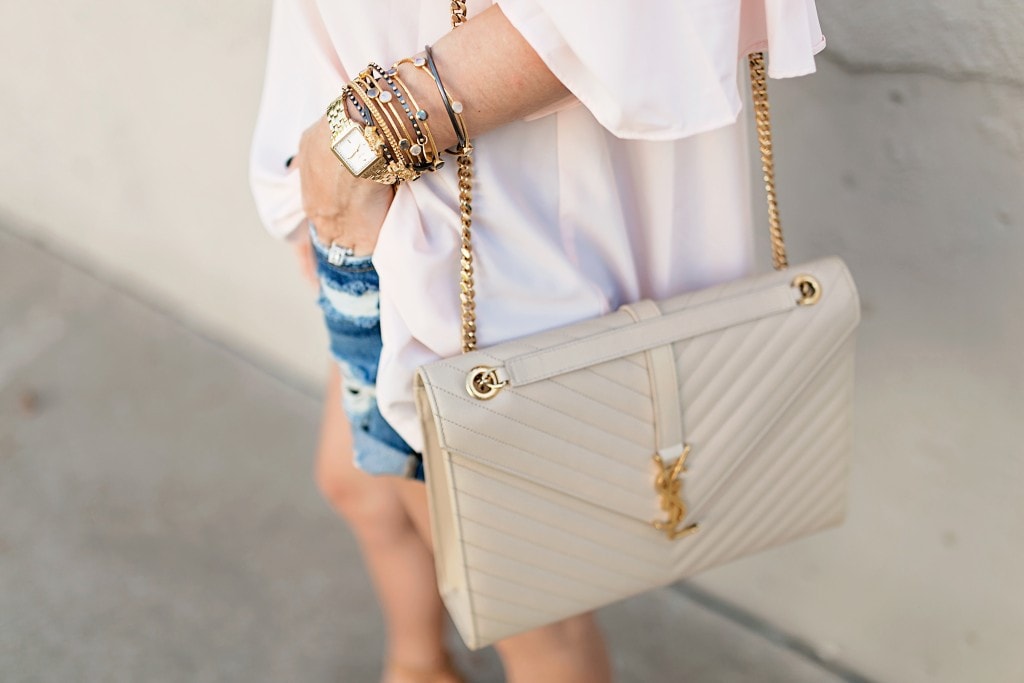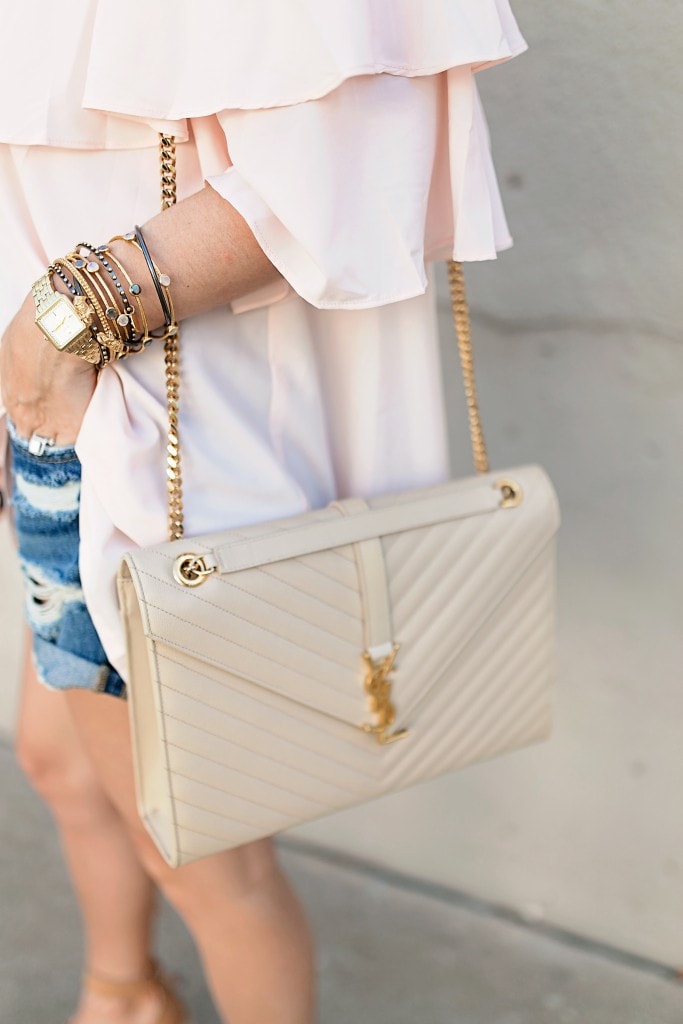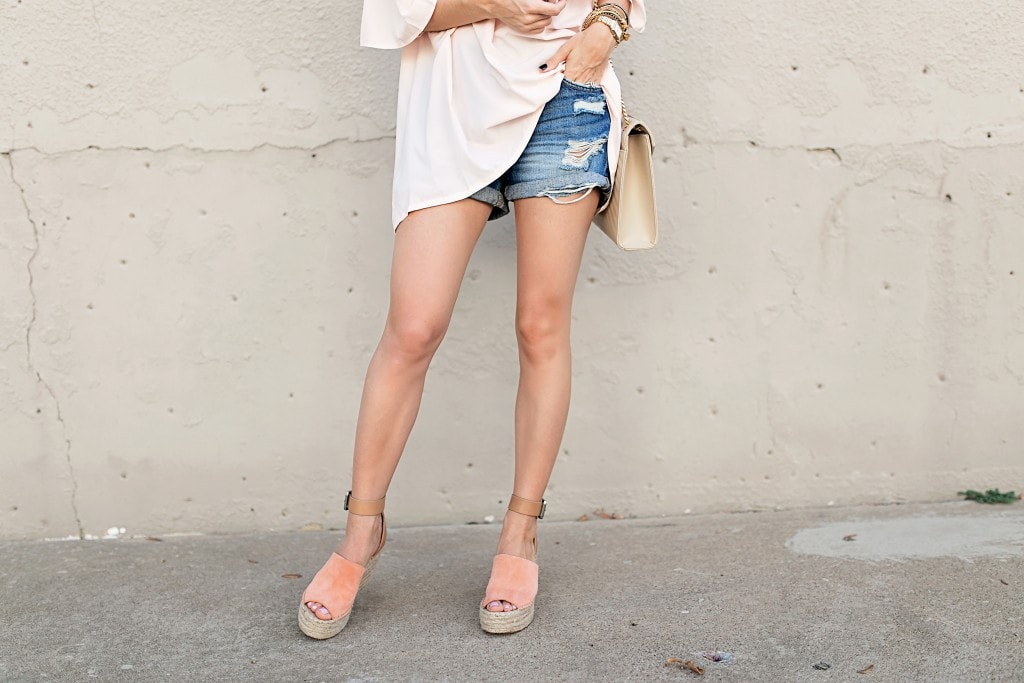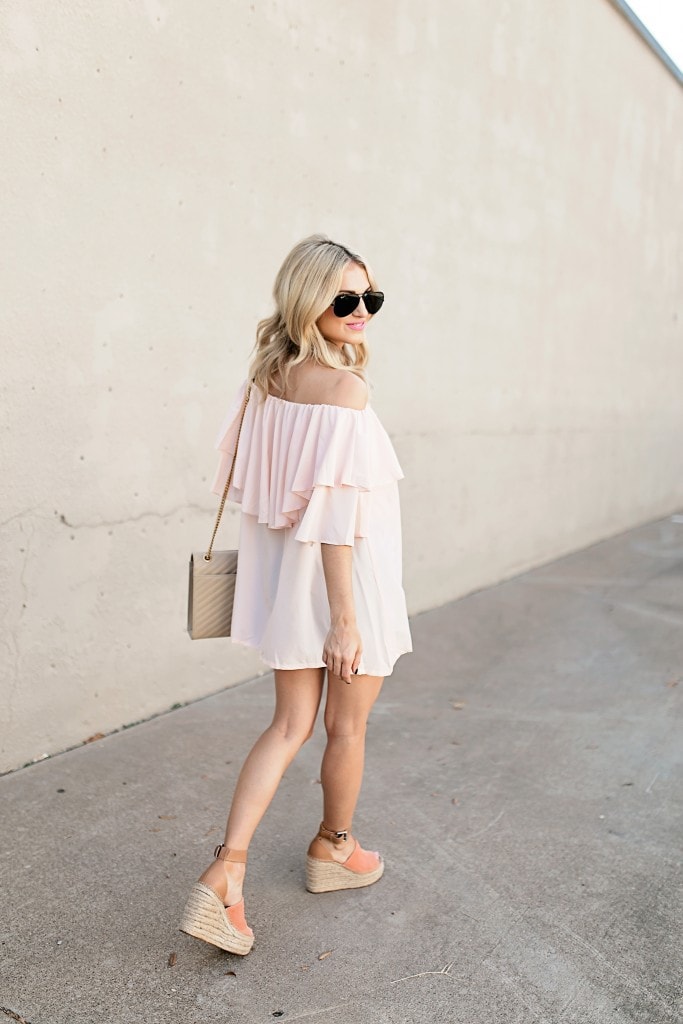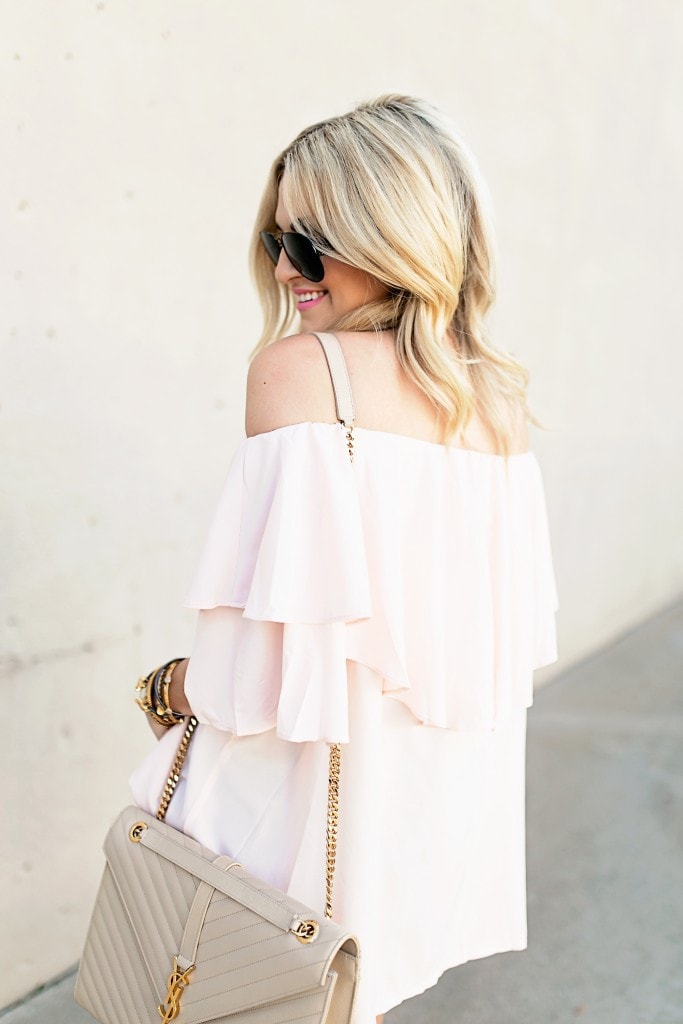 Top: Chicwish [c/o] | Shorts: Shopbop | Shoes: Marc Fischer, Similar | Bag: YSL, Similar | Lipstick: Rosa | Bracelets: Julie Vos [c/o] | Necklace: Baublebar [c/o] | Watch: Kate Spade [c/o]
Photography by: Angie Garcia
---
I was having a moment meltdown the other day while grocery shopping in 103 degree heat. One of those instances where you think, "That's it! I'm calling my husband! We are moving to San Francisco! I don't even care about the cost of living! I'll live in a park. A cool. Breezy. Park."
But since I can't jet set like a Real Housewife to whatever climate floats my boat, I'll stick with some affordable off-the-shoulder tops! This one is so light and comfortable and I love that the length will pair well with leather leggings [faux!] and a jacket come fall.
I know it's August 3rd, but I always love the first week of the month! Something about getting our budget, schedules and to-do lists in order is always inspiring and refreshing as we can forget mishaps from the previous weeks.
Sometimes I get so caught up with to-do lists that I forget to focus on what I need to grow. I'm listing three things I want to be better about this month and the reasons why. I'd love to know what you're working on!
1. Texting
I used to talk about texting a lot months back and my thoughts on it. Between e-mail, phone calls, snapchat, texting and everything in between our realm of what we think friendship is can be a bit skewed. I also think because social media is business for me, I really appreciate those moments of friendship you don't see. My friends who cry with me, my friends who check on me and my friends who drop anything for me. I don't put as much weight in texting or social media, because well, I fail at it a lot!
 A year ago I would respond to messages right as they came in which led to me being really absent in a person's presence. I hated it. So this year I decided to only respond during allotted times. I'd check my phone about 3 times a day or so, and leave it at that. I treated my text messages more as e-mails. I check them all at once. I thought it was a great system because I was able to be present with whomever or whatever I was working on and talking to.
But then I felt like the one with constant excuses. "Hi! Sorry!! Just checking my phone." And then responding. The guilt feels awful! I still don't want to check them as they come in, but I do want to be better about it. Do you have a system you follow for responding? Between e-mails, texts and social media I know it can be a lot so how do you respond best and make everyone feel valued?
2. Not Doubting Myself
My favorite form of humor is self-depracation. If I can't poke fun at myself, what's the fun in that?! But sometimes it leads to doubting myself.
Paul is a CPA but in our marriage I work on all the taxes [which takes time just because I'm self employed!], budget, savings, investments, tithes. There are a few reasons for that! First off, he works on financial statements all day long. The last thing I want is for him to have to come home and do it too. Secondly, being a business owner I'm always working on accounting, so it's easy to just also work on our budget as a couple. Of course, we talk about everything together and do everything together, but overall I lay things out/#crunchthenumbers and then we go over it.
The other day I had to take about half the day to work on some financial things for the blog and us and then when I showed him everything he was really thankful. He kept complimenting me and each time he did I made jokes. I said things like, "Well aren't you glad you married a CPA. Imagine if you had married a fashion blogger? You'd be out of luck."
He stopped me and asked why I said that. I didn't really think anything of it, except I was just not taking myself too seriously. But he went on to say how he just wanted to make sure I don't doubt myself and actually think those things.
And you know what? I think he is right. I love humility and people that are humble, but there is also a time to accept compliments, and they aren't mutually exclusive factors. Humor is nice, but sometimes those thoughts can get in your head and I need to be better about it!
3. Cooking What We Have
First off, I'm going to do the mature thing and blame Gwyneth Paltrow. I kept seeing her high-brow recipes on Pinterest thinking it would turn me into the epitome of health and wellness and making them. And you know what, Gwyn [can I call you that?] they all taste fabulous. So I'm going to keep blaming you! But then I'd be putting up my $18 specialty cooking oil up in the pantry and think, "Wait, I have these 14 things I should be making before they go bad!" I need to be better about meal planning while actually looking at the fridge and not Gwyneth. I'll work on that!
I hope you have a wonderful rest of your week! Thank you so much for reading!