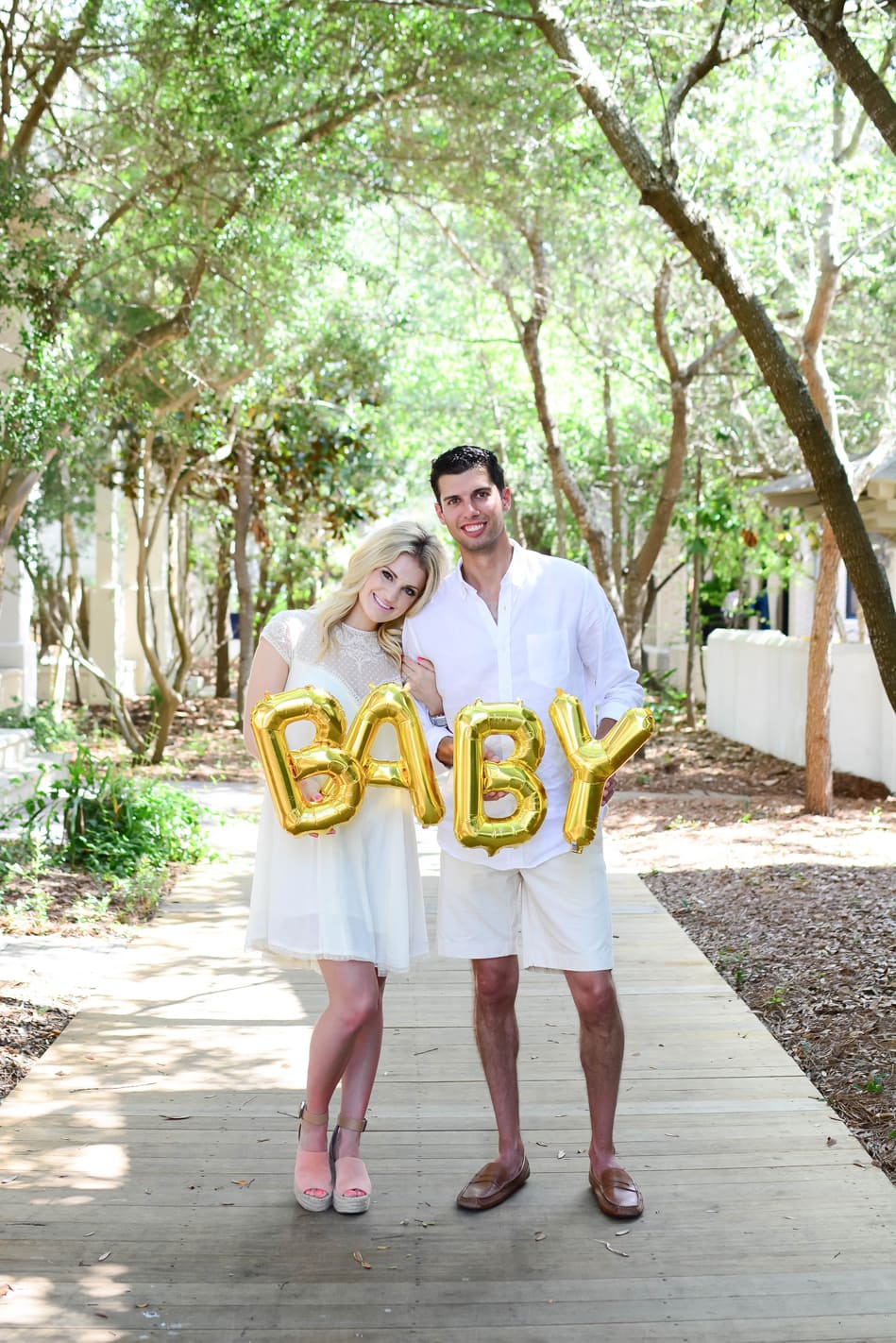 Dress: Urban Outfitters [on sale for $39!] | Shoes: Nordstrom | Lipstick: Stila [shade Rosa] | Balloons: Etsy
---
I can't even believe I'm typing this post! Baby H is due early February and next Valentine's Day we will be a sweet family of 3 or 4 if you count Peaches! 😉
I feel like I've been keeping a secret from all of my best friends by not sharing my first trimester and so I feel relieved, excited and so thankful that I'm able to share this post with you all today! Being married to Paul is the best decision I've ever made with my life and being his wife has brought me joy I had no idea I could ever have. Being a mom to his child is just another level of happiness I never knew was possible!
I apologize if this post is a little long, but I've got 13 weeks to catch you up on! I also want to be as detailed as possible in hopes that I can be an encouragement to any of you, as reading other blogger's pregnancy updates was such a help and an encouragement to me throughout this process. Google is terrifying. You have one odd pain and you end up in tears after googling, so a few weeks into this pregnancy I decided to just read blogs I followed and all their pregnancy updates, and it gave me so much hope that everything was okay!
First things first, our entire family keeps calling this a little miracle baby and for reasons I have yet to share. Last November I had surgery for endometriosis and have had it for the past few years. Before that, I've had emergency ovarian surgery due to my body's tendency to have cysts rupture and during one rupture an ovary became contorted and without consistent blood flow for 12 hours as a result. This happened all before I even was in middle school, so since the age of 12 doctors have told me, "You can be a mom one day, but it will be very hard to get pregnant and you may need a few more surgeries."
At 12, you think, "Um. Okay. When can I go back to school?" But as I got older it was a fear in the back of my mind. I've wanted nothing more than to be a wife and mom with Paul. So in November we decided to have my surgery taken care of and not worry much after. We knew this was all in God's hands and if it was a difficult journey, it was okay. We started trying to have a family but didn't want to worry or stress about it because we knew with endometriosis you typically have multiple surgeries as it comes back frequently.
A few weeks back in early May my mom and I were on the phone and she said, "Katey, I think you are pregnant. You need to take a pregnancy test." I thought it was so odd because I hadn't even complained to her of nausea, I just told her I was tired and starving all the time. I took 3 tests because I knew we had some trips coming up and if I was pregnant I wouldn't go on most in case I was sick. All 3 tests were negative and while I was sad, I knew that it was pretty early on so I just wouldn't dwell on it!
A few days after coming up negative, I had terrible blemishes and I was exhausted but because we had just arrived back home I thought nothing of it. I'd go to bed at 8 p.m. but had no desire to wake up even remotely early. I typically go to bed at midnight and am up by 5 or 6 a.m. I had one pregnancy test left and Paul told me to take it. I knew it would say I wasn't pregnant so I didn't really want to get my hopes up. I took it, left it on the bathroom counter and went and did laundry, forgetting about it. I came back in the bathroom, saw it was positive and I about screamed. For .2 seconds I thought about being a creative, sweet wife and keeping it from Paul so I could surprise him in a sweet way. Then that flew out the window and I ran into our bedroom and shoved it in his face and said, "READ THIS! WHAT DOES IT SAY?!"
He was so happy he started crying and he drug my pajama-clad bum to CVS at midnight so we could buy 10 more tests. I took all tests, called my mom and dad at 1 a.m. and told them.
Anyone who knows Paul knows that he is so selfless and a really giving person. But this whole pregnancy thing has taken it to another level. He won't let me do laundry, he cooks, he just tells me to lay on the couch. And the first few weeks it drove me crazy. I love to take care of our home and cook for him so I felt useless! But then at week 6 pregnancy symptoms hit me like a ton of bricks and I was so thankful. If I'm not sleeping I'm laying down in the bathroom about to vomit and if I'm not laying in the bathroom about to vomit I'm sucking on pregnancy pops working, holding back tears saying, "Please don't throw up, please don't throw up." Which is why I'm ALWAYS in bed while I'm on Snapchat. haha! I figured y'all had to know something was up!
I'm so thankful that conceiving was an easier process than what we were told and that my endometriosis and ovarian surgeries worked. Although looking back on it, it's been a process of doctor's appointments and surgery since I was 12, I know that it could have been SO much worse and the heartache could have been so much stronger. A girl at our church told us that she has never felt closer to God in her prayer life than while pregnant and I know exactly what she means. I can't stop thanking him for this blessing and I'm continually praying for our sweet baby to grow and be healthy.
I want to thank you all for all your support over the years with COF. I know I've shared before that I was never really sure how I would approach motherhood and blogging, but keeping this between our family and close friends our first trimester was a huge answer to me. It was so difficult because I just wanted to share with you all. From e-mails to comments and loyal readers, y'all have become such a huge part of Paul and I's life and I want to share it with you all. If you're just here for the fashion, home and beauty posts don't worry, that's not changing at all. I'm still a lifestyle and personal style blogger. If you want to follow this motherhood journey, I'll just be adding in that with extra posts for you!
Here's a little rundown of these first 13 weeks!
How far along: 14 weeks this week!
Due date: February 9th! I've always wanted a Valentine's baby and am so happy we will have our little Valentine next year!
Sickness: All day morning sickness, it starts at about 11 a.m. and lasts until midnight and I will sometimes wake up sick at 2 a.m. I've broken out a lot and I'm exhausted. This girl could hibernate! Heartburn started last week, so I've been trying to eat really light dinners and see if that will help.
Cravings: As nauseous as I am, I'm one of the pregnant mommas with morning sickness that can eat. I feel so bad on these forums when some girls can only keep down Gatorade! My nausea definitely spikes when I haven't eaten. I crave fruit, hard tacos and lemon water! I seriously drink like 120 ounces of lemon water a day haha. However, I have a ton of food aversions, so I typically stick to really "basic" meals. Before I was pregnant I would never want like spaghetti or chicken fingers, I wanted salmon or vegetables. Hence why if you follow me on Snapchat in NYC I kept canceling dinner reservations so I could eat chicken fingers from room service! 😉 I try to explain to people I just want very traditional American family dinners. To be honest, if a dinner costs over $8 I just can't even appreciate it and it is so gross to me. I have a food aversion to anything fancy! haha.
Aversions: I mostly have aversions to lettuce, salads and vegetables. I mean I could eat a salad if it had ranch on it, but that's not healthy at all! haha. Weeks 5 through 8 I couldn't eat one vegetable or I'd be running to the bathroom. I'd order a salad at every restaurant, smell it as it was placed in front of me and then ask my dad to eat it for me. My dad has been loving all my food aversions. He gets two meals at dinner every time!
Weight gain: I've gained 2 pounds.
Physical changes: I feel like I got a little bump last week overnight! It was around the end of 12 weeks and I was wearing a fitted black dress and thought, "I look pregnant!" haha. So far my chest had just grown a lot and I'd been breaking out so it was really exciting to see. I also have so many little baby hairs as my hair is growing a lot.
Gender: We actually found out the gender through a blood test! I never got to surprise Paul that I was pregnant because I ran into the room and was like, "You're right! You're right! I'm pregnant!" My doctor offered the test and so we chose to find out the gender because I wanted to have that moment of surprising him. I cooked him dinner and bought a baby gift with the outfit and the look on his face was seriously the best gift ever! Being so sick lately I feel like such a boring wife and so I was so happy I was able to give him a surprise that felt like such a special gift. However, we aren't sharing until we do the anatomy ultrasound! I will say I was 100% convinced it was a boy and Paul was 100% convinced it was a girl. We didn't care either way and with it being our first I think it's so special no matter what gender! All we care about is just hearing our little babe's heart beat each time we go to the doctor's office, it's honestly the best sound I've ever heard and I could listen to it all day long!
Thank y'all so much for sharing this excitement with us!